Nothing beats a good shower to wake you up in the morning or to wash off the accumulated city dirt and dust after a long day. Whether you prefer a hot or cold shower, each has their own health benefits. A hot shower relaxes all your stiff muscles and decongests your stuffy nose whereas a cold shower beats a coffee in jolting you awake from your slumber.
But before you even venture into the temperature, pressure, or aesthetic qualities, the technicalities of the shower equipment is a must-discussion. Since there are various types of slide bar shower head, we've made a guide for both old and new homeowners to achieve their #showergoals.
We have narrowed it down to our top 10 best slide bar shower head you could buy in the market. See the list below.
How to Choose the Best Slide Bar Shower Head
There are different types of slide bar shower head, and it can get confusing to choose the right one for you. But keep the following in mind when it's decision time:
1.  Easy and user-friendly installation
In this economy, most households do not have the cash to spend on full 360 degrees of renovations of their shower. Shower systems that are retro-fit to be installed to your existing shower rough in are the solution. The installation of retro-fit sliding bar shower heads is user-friendly and easy to follow that household handyman/woman can install their own shower heads themselves.
2.  Cost-effective
You can achieve the shower of your dreams yet still be within your budget. Cost-effective is not equal to the cheapest. A cost-effective shower head maintains quality and durability that is worth every penny you spend on it.
There are showers that require multiple installations since they sell each component separately. One of the best ways to save up is to purchase a shower 'kit' that has all the components like the hose, shower arm, diverter valve, diverter trim, etc. But if you have some cash to splurge on and you would like to mix-and-match some parts from brand X and brand Y, you can buy each component individually.
3.  Consider the needs of the household
If you are living alone, the adjustments you make to the diverter valve or to the slide bar will always be within your reach since it will stay in place. However, if your household has children, people with disability (PWDs), and/or the elderly, their needs must be considered as well.
The advantage with handheld shower heads is its height adjustability that accommodates the needs of those mentioned above. A wheelchair-bound person can shower on their own since they can easily adjust the shower head to a height that is comfortable and accessible without needing little to zero assistance.
The elderly can jump in the shower and adjust the shower head lower or adjust the pressure and temperature to hit the right spot and loosen those aching muscles.
4.  Water Conservation
Showering contributes the most to residential water consumption. Do your part in protecting the environment even as you shower by choosing shower heads with water conservation labels.
An average shower uses 2.5 gallons of water per minute. WaterSense label from the USA is for eco-friendly certification for low-flow shower heads that have demonstrated to use only 2.0 gallons per minute. According to WaterSense, an average family could save 2,700 gallons of water per year by installing shower heads with this label.
Top 10 Best Slide Bar Shower Head Reviews
1.  Waterpik VSS 563 MT Magnetic Adjustable Shower Head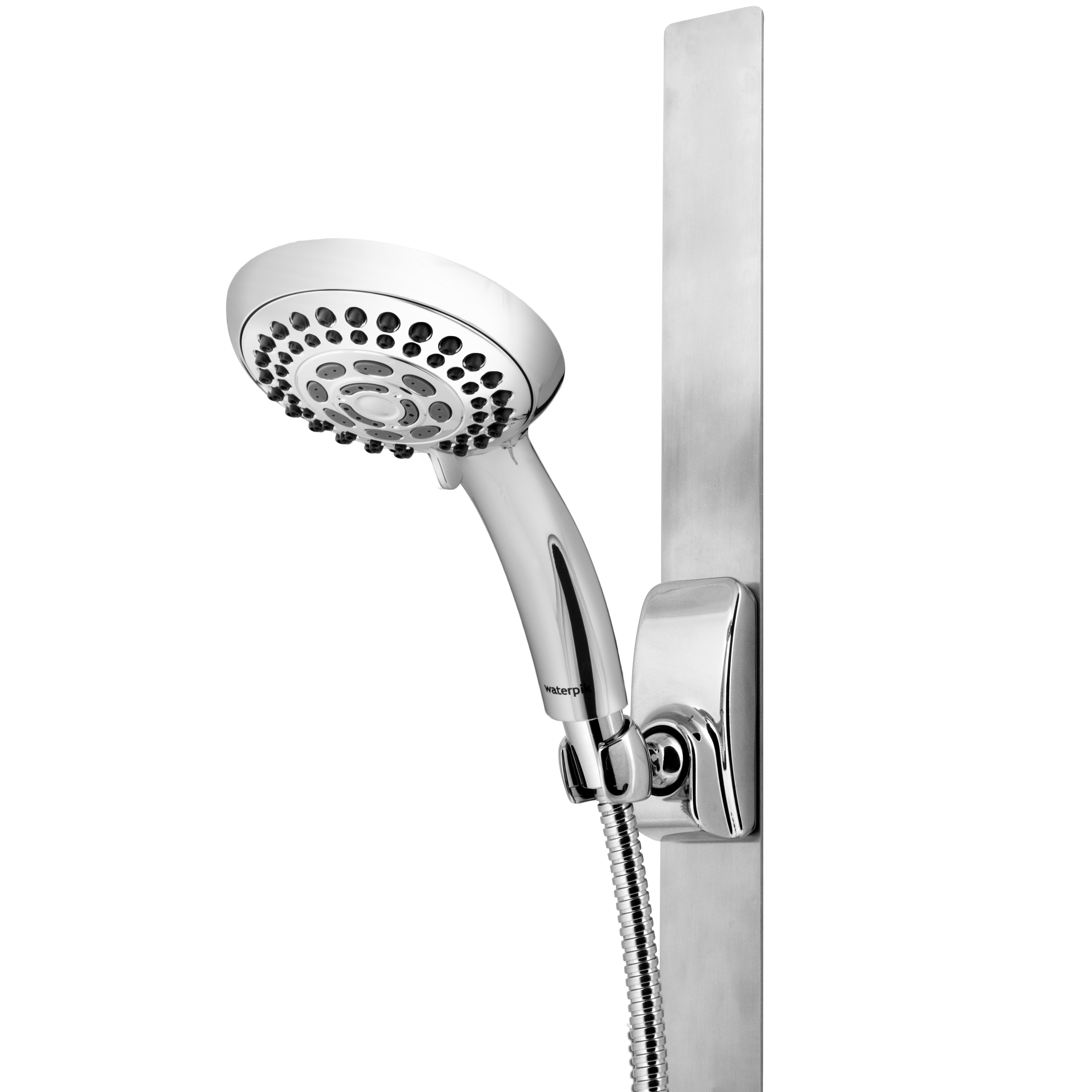 The advanced waterproof adhesive pads are user-friendly, that even those with zero plumbing experience can do. It has even a magnetic bracket that allows easy adjustment, pivoting, and sliding of our shower head to desired angle and height.
Best Features:
User-friendly installment
Conserves water with 2.0 GPM usage
Certified by WaterSense
Has 5 luxury spray modes: full body, power spray, and pulsating massage
Components come in a kit. This includes Shower head, magnetic bracket, stainless slide strip, metal hose, installation manual, installation template, surface prep wipe, extra adhesive tape
Slide magnetic bracket for easy shower head adjustment
2.  Grohe Euphoria Cube Rain Handheld Shower Head
It has SpeedClean nozzles that are perfect for a busy household to keep the shower head pristine. This shower system uses a 2.0 GPM water usage and is suitable for the instantaneous heater. However, for those wanting an option to shift from full coverage shower to massage shower, this product does not offer spray adjustability.
Best Features:
Conserves water with 2.0 GPM usage
Has a built-in SpeedClean anti-lime system
Shower hose is twist free
Can be installed with existing shower and tub spouts using a diverter valve or thermostatic valve
Has rain spray pattern
3.  Kohler K-99898-CP Awaken G110 Slide Bar Shower Head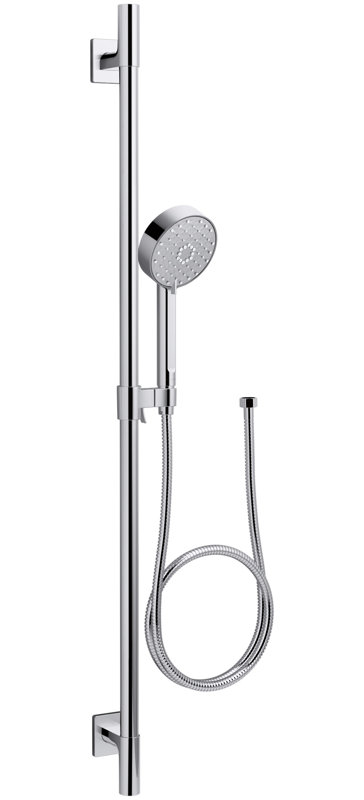 With its affordable price, this product already features advanced four-function spray, and it is easily adjusted with just a small movement of your thumb. It looks smart, minimalist, and luxurious that you would not expect for its price.
Best Features:
Four-function spray head with a rotation of a thumb tab: wide coverage, intense drenching, targeted massage spray, and reduced-flow spray
Good, comfortable grip design
Spray nozzle cover full area of the spray head
2 GPM for flow rate
Certified by WaterSense
4. Moen Twist Full S3870EP Handheld Shower Head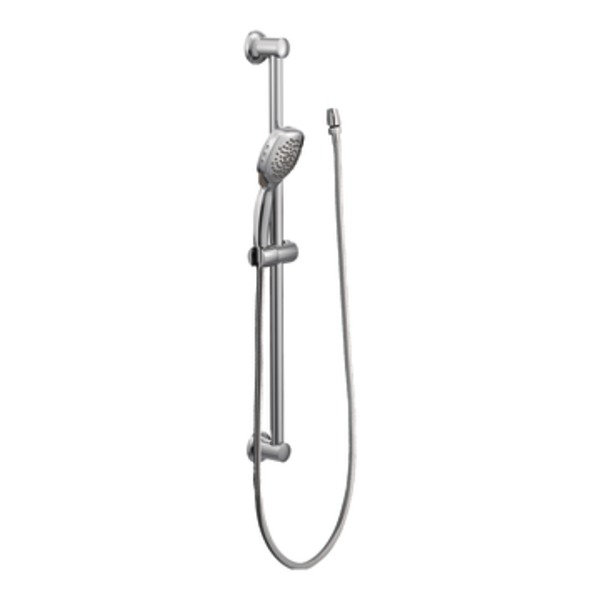 It has various spray options for each mood and need: (1) full coverage spray for the morning shower; (2) soothe spray for de-stressing me-time; (3) drench spray for your little kids and little pets; and (4) shine concentrated spray to rinse down the soap suds.
If you want to shower like a millionaire, splurge on this shower head with its oil rubbed bronze finish that complements the shower room of your dreams.
Best Features:
Four-function spray head: full coverage, soothe, drench, and shine concentrated spray
Vacuum breaker
Certified by WaterSense
Helps conserve water with its 2.0 GPM
Components are sold as a kit
5. Kingston Brass Made-to-Match 4-piece Shower Head Combo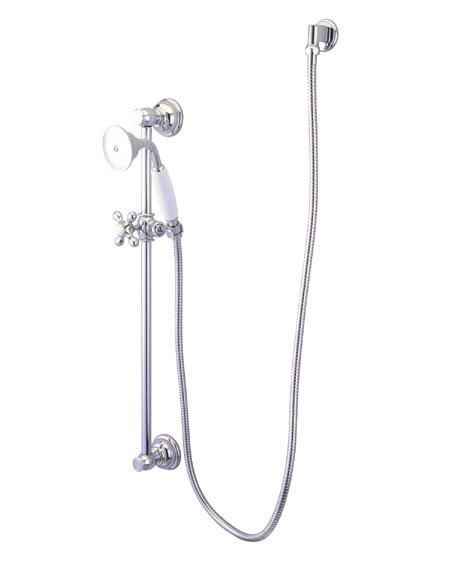 The brand is playing its role in water conservation. As of 2016, it has adjusted its products to meet reduce the flow rate to 2.0 GPM. The four-piece components– elbow, Victorian hand shower, hose, and shower slide bar— are all made out of brass material, and thus its durability is assured.
Best Features:
High-quality brass material
High-end looking yet still affordable
Components are sold as a four-piece kit
6.  Hansgrohe Unica S Rain Slide Bar Shower Head
This rain hand shower from Hansgrohe is worth every penny. It has three easily adjustable spray patterns for all your needs: Rain AIR, Balance AIR, and Whirl Air. The product features a shower hose, shower head, and a wall bar.
Its durability may be a concern due to the plastic construction of the components. However, the shower still gives a high-end look to your room.
Best Features:
Techniflex hose
Raindance S 120 3-jet hand shower with three spray modes: rain, balance, and whirl AIR
The angle of hand shower holder can be horizontally and vertically adjusted. It can also be easily locked in place.
Components are sold as a kit
7.  Pfister Arterra Slide Bar G16-3DED Shower Head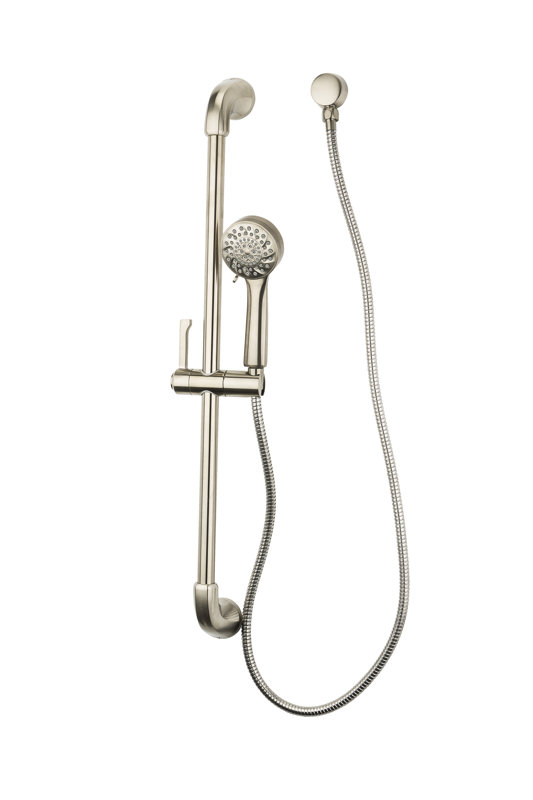 When you want to renovate your shower room, this brand gives you a lot of options. From the standard polished chrome finish for shower heads, it has expanded to other finishes such as Tuscan Bronze, Polished Nickel, and Brushed Nickel that other brands don't offer.
Best Features:
Variety of product finish to choose from
Has demonstrated to help conserve water by at least 20%— rated to meet or exceed CALGreen criteria, making it WaterSense certified
0 GPM of water flow
All metal components
Components are sold as a kit
8.  Elements of Design Professional Dual Shower Head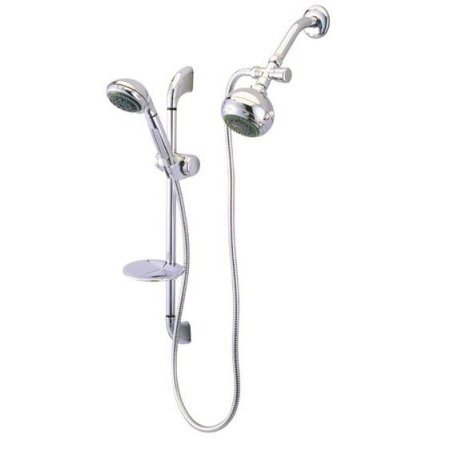 This shower system is perfect for those looking for the standard shower that is perfect for new or renovating homeowners but with not a grand budget to spare. This professional shower head package includes hose, shower head, and a plastic slide bar. It has a flow rate of 2.5 gallons per minute of water flow, a standard for most shower systems.
Best Features:
Adjustable spray with two available spray patterns
Components are sold as a kit
Clean and modern look
9.  American Standard Tropic Complete Shower Head System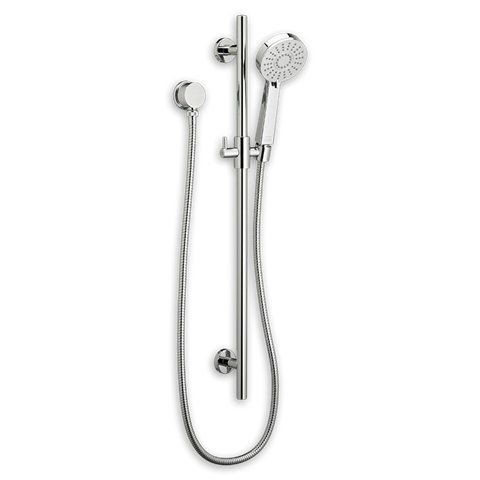 From the Tropic collection, this shower kit includes 1 hand shower, 1 shower hose wall supply, and 1 round slide bar. The accessible and easy adjustment of pressure is good for those with arthritic hands or the elderly.
Best Features:
Pressure can be adjusted with a flick of the thumb from full spray to pulsating massage to full/massage combo
The eco-friendly hand shower saves up to 20% in water usage
Certified by WaterSense
Components are sold as a kit
Includes double check valves that help prevent hot and cold water cross flow.
10.  PULSE ShowerSpas 1011-BN 5-Function Hand Shower Head
There are a lot of things to be done in renovated or a new home but with this retrofit shower system, it allows you to check the shower room off of your to-do list. The easy installation connects to water supply at your current shower head location. Moreover, it uses existing hot/cold shower valve
Best Features:
Retro-fit shower system— no need for expensive renovation or professional plumbing services due to easy installation
The rain shower head can easily be cleaned off of mineral buildup
Five-function hand shower
Components come in a kit that includes a wire basket soap dish
Conclusion
Among all the products reviewed above, the best slide bar shower head that is worth investing in is Waterpik VSS 563 MT Magnetic Adjustable Shower Head.
No Do-It-Yourself person could possibly go wrong with installing this shower head. It requires no power tools or screws since it already comes with a waterproof adhesive tape.
Waterpik VSS 563 MT Magnetic Adjustable Shower Head is homeowners' top pick because it is cost-efficient. For its affordable price, it already has advanced five-function sprays and a magnetic adjustable height. Since it can be assembled within minutes and without the help of professionals, the cash you saved can be set aside for other materials like soap and shower dispenser, towel rack, or shower curtain.