These days, small hot tubs are getting more and more popular because of the growing awareness of their benefits. The best part is that even best small hot tubs are now more affordable than they were in the past.
So, if you're interested to invest in one of the best hot tubs money can buy, we've got the list that can help you out.
Check out our small hot tub reviews for our top 10 choices:
Reviews of the Best Small Hot Tubs
1.  Aquarest Spas Premium 300 2-Person 20 Jet Hot Tub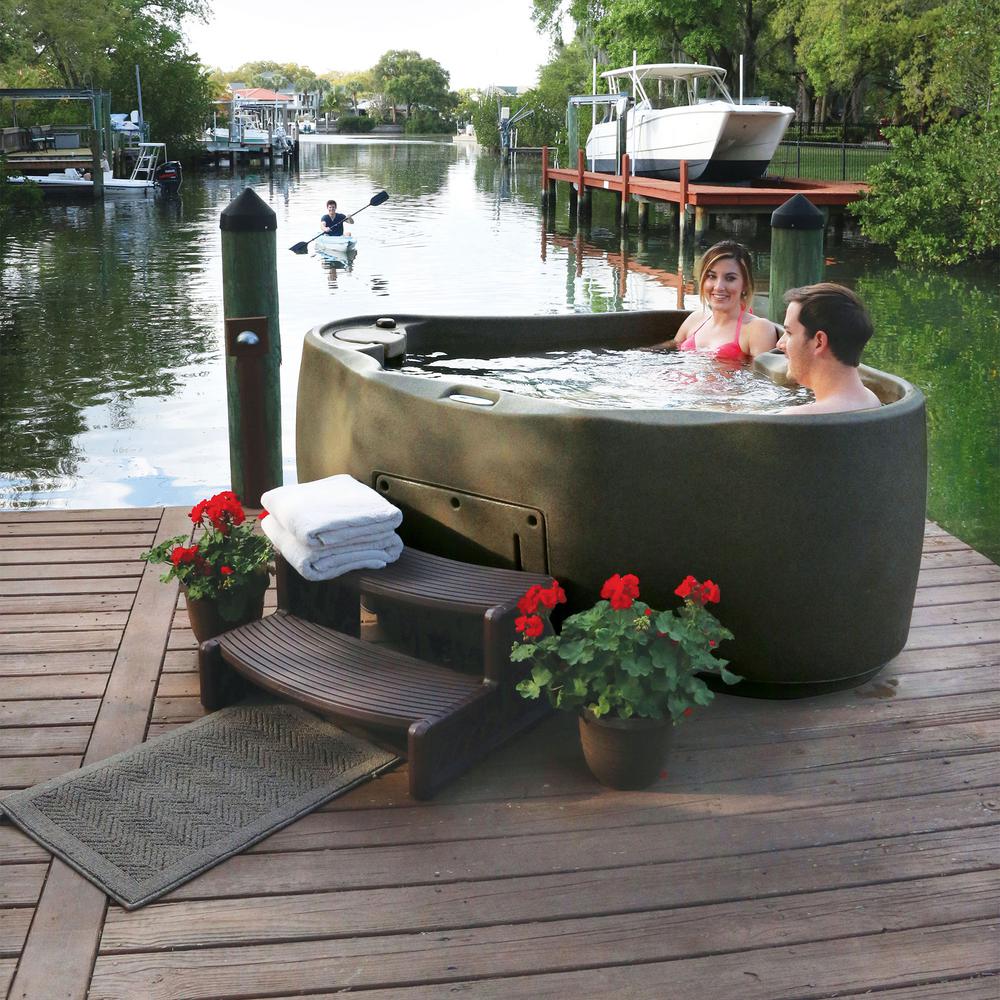 This spa can host 2 people comfortably, and it is very easy to install and maintain.
Besides, it comes with one of the most impressive upgrades with two-speed pumps, two bucket loungers, an ozone purification system, and 20 powerful hydrotherapy jets. These interesting features offer a fantastic wellness experience to users.
With this hot tub, you will get top-quality hydrotherapy for a very reasonable price. More importantly, you can convert the AR-300 Premium from 120v 1kW to 240v 4kW by installing a 30 or 50 Amp 240v electrical service.
Now you and your partner are able to enjoy the therapeutic relaxing experience without paying a lot of money. All you need to do is to install the hot tub and enjoy it whenever you feel tired or you need some quality time with your loved one.
The Pros of This Aquarest Spas Premium 300
Uses less water
Can fit comfortably in any small space
Easy to use with Plug and Play
Quick heating
Powerful and adjustable jets
Easy filtration and can be easily drained
Cons of The Aquarest Spas
Does not have a headrest
The shallow has rough tub surface
Who should own this model?
This model is designed for two people, therefore, it is perfect for couples or whoever owns a holiday home. Besides, it comes with a reasonable price, so couples who are tight on budget will be interested in it.
Features of the Aquarest Spas premium 300:
Spacious: The triangular form makes you feel like you have more room than other tubs with the same dimensions. There is no need to worry about bumping into the other person because you can stretch your legs in the same direction.
Keeps the heat well: It can retain heat well and save energy thanks to full foam insulation and an insulated cover.
Portable: It is lightweight so you can easily move it using a sledge.
Well design: It has an outstanding, luxurious design that will catch the attention of any person. It is also durable thanks to thick and solid plastic. It won't be broken if you jump in it.
Easy and quick setup: There are clear instructions for setup and installation. However, you probably don't need it because it is so easy with the Plug and Play feature.
Waterfall with LED lights: The lights give users different options for setting the right ambiance for a romantic evening or a relaxing night.
This model is an affordable and comfortable option
Customers Reviews
Almost everyone will look for customer reviews before they decide to purchase a product. Therefore, we will include this section in the Aquarest Spas premium 300 reviews.
"We love the hot tub! It was light enough for the delivery guy, myself and my wife to carry it into our backyard" That's how DomDuo feels about this model after purchasing it. Also according to him, "it works great on 120V! Only lost one degree after running the pump on high for one hour (the heater doesn't run when the pump is on high). The jets on our back and neck are very strong."
Another user Simxray reviews that it is "just the right size for two adults. Seems to heat up quite rapidly, only 190 gallons." In general, it has "good jets, two speeds, nice waterfall with rotating light colors. Thick insulated cover fits well and does retain heat. Can be folded and removed easily. Easy to get in and out."
However, an unknown user is not happy with it as "the spa started leaking two months after the 1 year plumbing warranty expired. With the roto molded construction, tracking down the leaks is nearly impossible." He also mentioned that "Aquarest customer service doesn't return phone calls."
Read more: Aquarest Spas Premium 300 Reviews
2.  Aquarest Spas Select 150 4 Person Hot Tub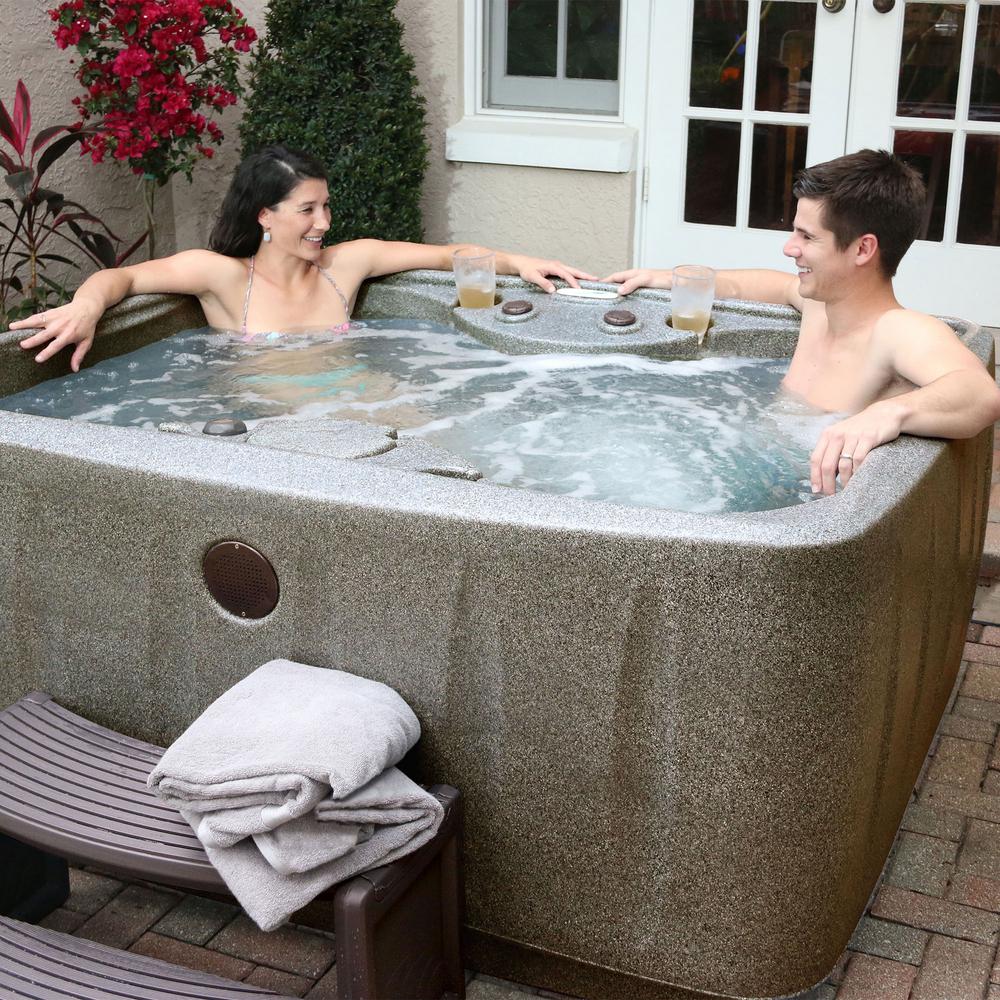 This hot tub allows you to enjoy the luxury of a spa without occupying much space. The cabinets are constructed using rotational molding technology that ensures durability regardless of the weather conditions. It is designed for 4 people. However, some reviewers note that it would be hard for 4 people to fit in comfortably.
It is equipped with 12 stainless underwater jets that deliver soothing pressure to relax your muscles. Besides, this model is energy efficient as it features a sealing cover, full foam cabinet insulation and a heater and pump that have efficiency features.
With the 100% filtration system, you can keep easy knowing that your water is clean and free from contaminations.
The Pros of This Aquarest Spas Select 150
Built to last
Energy efficient
Great performance
Allows for customizable experience
Made in the USA
Cons of The Aquarest Spas
Shallow instructions
Difficult to fit 4 people comfortably
Key features of the Aquarest Spas Select 150
12 Stainless Steel hydrotherapy jets: This model makes you feel comfortable and relaxing thanks to the hydrotherapy jets. It offers you a real spa experience at your own house.
Use less energy: You can spend a lot of time in your hot tub knowing that it uses less energy because of full foam insulation and locking safety cover.
Perfect for 4 people: The 4-seat hot tub is ideal for a family of three and four. As a couple, you probably don't need a lot of seats. However, if your family is growing, you should get this model.
It is easy to install and use
Frequently asked questions
What jets does it use? All models from Aquarest Spa come with stainless steel hydrotherapy jets. They are adjustable and excellent for you if you need to relax in the hot tub. Make sure to position your muscle groups at the right place so the jets could create the optimal spa experience.
Does it have enough power? This model can perform well with 110v with 15 amp service. But if you want to use a higher power, you can. Just make sure to connect it to a GFCI cord.
How to install it? As we mentioned earlier, it is easy to install the Aquarest Spa. All you need to do is to place the hot tub in a solid foundation and plug it to a standard electric outlet.
Customers Reviews
Since this model is an outstanding product from Aquarest Spa, you can expect many people have used it. Here are a few reviews you should take a look at:
According to a user named Jim, "the product overall is of very good quality." He had been using it for over 2 weeks and "everything works as stated. Seems to be durable and is holding heat very well with the included cover." It is "great for 2 people, ok for 3 and 4 is a stretch." He likes the "price, quality, LED lighting, Waterfall, 100% filtration daily." And what he doesn't like about the model is that "pump cover screws are just lazily tapped into the roto-mold and there are no retainer clips."
Another customer with an account name  svc1964 is happy with his investment as "this hot tub is affordable and well made". He and his wife love it. "I have had two back surgeries and this helps my back. It's my therapy and my wife has a very stressful job as a teacher of young kids. She finds this to be very relaxing at night when she gets home."
However, Warren who "owned it for about a year" is not satisfied with his hot tub as "temp control shot. Set temp then it counts down till it shuts off."
Read more: Aquarest Spas Select 150 Reviews
3.  Aquarest Spas Select 400 Hot Tub Reviews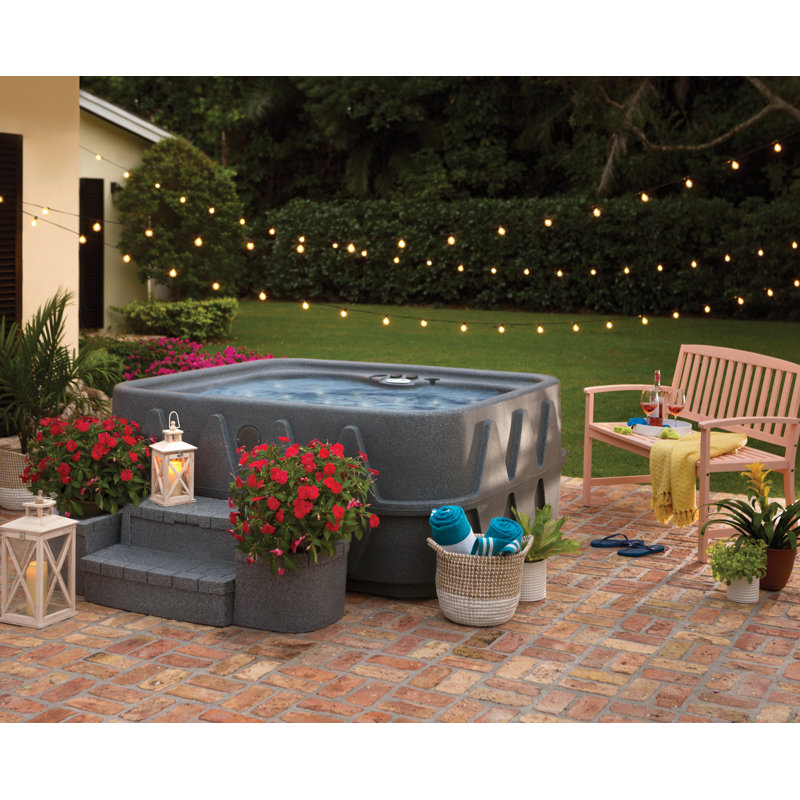 The Select 400 has a perfect size and design for 4 people. So if your family has two children, you must take a look at this model. The hot tub comes with four seating buckets so you and other members can sit comfortably inside.
If you don't have kids, you can relax in this home spa with your friends. The capacity of this spa is amazing, at 190-gallon weight lifting. That can explain to you why this model is such a great option for your family.
Similar to any other home spas from the famous brand, the Spa is made of stainless steel which makes it easy for maintenance and cleaning. And the full-foam insulation and a deluxe cover makes it durable.
Besides, this model comes with digital controls that allow you to control it with a few touches. That just tells you how easily this spa can be controlled and used.
Enjoy hot water massage and relieve your back pain or sore muscles with this hot tub is an excellent idea.
The Pros of This Aquarest Spas Select 400
Has 4 seats for 4 people
20 powerful jets for incredible massage and therapy
Durable with deluxe cover
Comes with LED waterfall and digitally controlled
It has full-foam insulation
Easy to set up
Cons of The Aquarest Spas
It is a little bulky
Not easy to move from one place to another
Key features:
Backlit LED waterfall: This feature creates a relaxing atmosphere for you while spending time in the hot tub.
20 hydrotherapy jets: These powerful jets will work on all muscles that need a treatment.
Easy to clean: It can be cleaned with the water draining method, which makes cleaning so easy for you.
Two side air controls: This feature allows you to adjust how much water pressure you want to get.
Customers reviews
Mark, a verified buyer from Saltillo, MS considers buying this hot tub a "great experience for me. The hot tub itself was easy to set up. We have used it almost every night since delivery. Great price for a good hot tub."
According to Kevin from OG: "So far so good. Perfect size really. It says 4 people but I'd struggle to get 4 of me in it as 3 is perfect. Keeps the temp so far with no issues and no leaks" and it was a "great buy if you ask me!"
Harold from York Haven, PA thinks it is a "great spa, just perfect." "The spa works great, heats great, space is perfect. I read the walls were rough, not at all, very comfortable. I run a bromine set up because its inside, spa selections chemicals, couldn't be easier."
Richard from Junction city, OR has a concern as it "works great but makes a loud whistling sound when the jets are running. Interior was slightly scratchy at first but I hope it will grind down a bit."
Frequently asked questions
Should I put the spa on grass, soil or cement?: The hot tub needs to be put on a solid and flat surface, either concrete slabs or decks to support the weight.
How do you drain the hot tub for cleaning?: The hot tub has a drain, so you don't really need to worry about it.
What comes with the spa?: Every Aquarest Spas model comes with standard accessories. They are cup holders, insulated covers, armrests, locking straps, foam barrier, filtration system, and backlit waterfall light system.
Read more: Aquarest Spas Select 400 Reviews
4. Lifesmart Spas LS100 4 – Person 13 – Jet Rectangular Plug And Play Hot Tub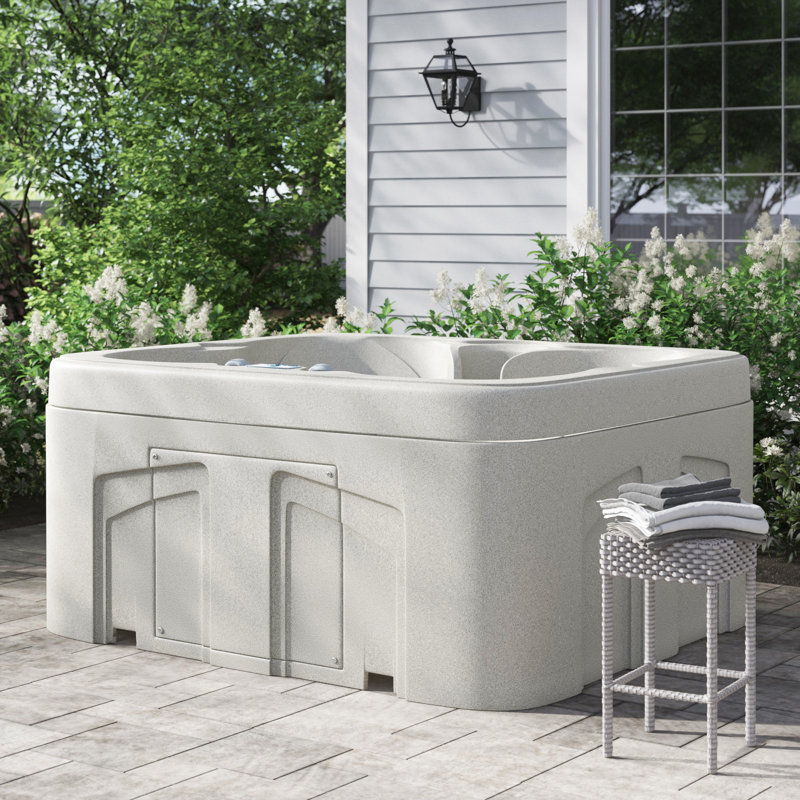 This hot tub with four bucket seats offers maximum relation without going overboard with your energy bill. It comes with adjustable jest, a smart digital control panel, an air control valve, and a 1.0 HP pump.
The product is made by Lifesmart, a company devoted to making durable and eco-friendly hot tubs to make it easier for homeowners to afford the luxury of a luxury spa in their own homes.
The Pros:
Has a digital control panel
Utilizes the latest Plug-N-Play technology
Comes with easy-to-use buttons
Has a full foam insulation feature
Energy-efficient
The Cons:
The interior texture is a bit rough
It does not come with a cover lift kit
Has no submersible bucket pump
Not fit for pregnant mothers
Highlighted Features:
Maximum capacity of 4 persons
Top temperatures of 104 degrees
Comes with thermal locking cover features
The product is durable, proven by many people who had them installed in their homes. It keeps your desired water temperature even during the winter season.
It's also pretty to look at aside from being convenient to use.
Lifesmart Spas LS100 – Who is this Product For?
Many Lifesmart Spas LS100 4-Person reviews will attest to how relaxing it is to use this hot tub. It's perfect for working individuals or stay-at-home moms to cap each day by soaking in its warm water and massaging features.
This is also for people who want to upgrade their inflatable tubs or older models that consume too much electricity.
Key Features and Benefits of the Lifesmart Spas LS100 Hot Tub
Adjustable easy–to–use controls buttons: The users can easily adjust the control panel to suit their needs. Anyone can easily have the settings changed, even if they are beginners.
Plug-N-Play technology: These spas are the best since they fit any 110V outlet without a struggle. The user will be required to have it fill it up first and then plug it into the outlet.
Full foam insulation and thermal cover features: The full foam insulation and the thermal cover features that these Spas have enabled them to work efficiently towards saving more energy. The hot tub also works perfectly in keeping high heat, which is required to deliver ideal therapy results.
Digital control panel: The easy-to-use digital control panel helps the users to easily control the settings for the lights, water jets, and filter cycles.
Customer Reviews
"The product comes with unmatched and incomparable features; I had an amazing massage upon using it." – Dave
"The product is our favorite. No regrets so far." – Shelby
"This hot tub surface does not feel abrasive when using it, but the sore red around the neck afterward, the manufacturer needs to probably put a rubberized coating or ensure the spa pads are fixed." Coney
"My Lifesmart spa didn't reach me on the date we agreed even after I had paid in advance." – Greg
FAQ & Additional Tips
Is it possible to increase the maximum temperature above 104 degrees? Unfortunately, 104 degrees is currently the UL code regulations for optimum temperatures on USA spas. Modifying the temperatures above the typical temperatures will void the warranty.
How should I clean the cover of this hot tub? Ensure the cover is kept free from dirt always. Clean the surface using a cover cleaner or warm soapy water. Avoid using silicone-based products since they get dry and develop cracks.
Do the Lifesmart hot tubs have a cover lifter covering the entire surface? This product has a complete insulated cover and thermal insulation features for consistent quality and energy efficiency.
Read more: Lifesmart LS100 Reviews and Buying Guide
5.  Lifesmart Spas LS200 4-Person 13-Jet Hot Tub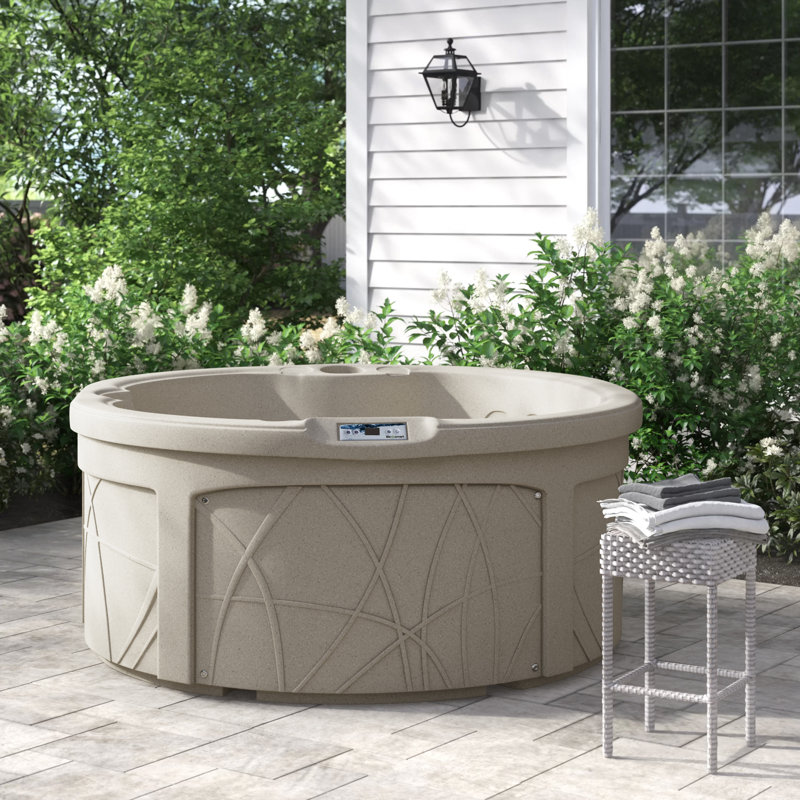 The Lifesmart Spas LS200, a plug and play hot-tub spa with an added waterfall feature and water capacity of 220 gallons, is a product by Lifesmart Spas. This company is known for manufacturing durable, high-performing, and energy-efficient products for personal and family use. They are certified to the APSP 14 national standard and the California Energy Commission (CEC).
The Pros:
Energy efficient
Lightweight and easy to maneuver
Easy installation
Great price for its durability
Includes built-in seating and cup holders
The Cons:
4 people are too crowded
Steps sold separately
Takes a while to heat (about 24 – 36 hours)
Highlighted Features:
Plug and Play
Includes Full foam insulation and thermal locking cover
Durable Rotationally Molded Polyethylene Construction
Has a waterfall feature
Includes a multi-color underwater LED light
Best Suits Who?
If you are looking for a great way to spend the weekend for relaxation and destressing without having to leave the comforts of your home, then bringing the spa in might do the trick! The Lifesmart Spas LS200 is best suitable for young professionals, small families, and newlyweds for not only does it provide immense comfort, but it is also a splendid way to spend quality time with the people close to your heart.
Key Features Explained
Plug and Play Feature – The LS200 can be easily installed into any 110v outlet, thus you spend less time and effort on the installation process and more time on relaxation.
Full foam insulation and Thermal Locking Cover – these inclusions are what makes the LS200 energy efficient. These features keep both the heat and electricity bill low, which means years-long usage with no fear of unreasonably high bills.
Durable Rotationally Molded Polyethylene Construction – If you're the inconsistent type, and is fond of rearranging things at home when boredom strikes, then you will have no problem with this product. It is made of durable plastic making it lightweight and easy to move around. Too much sunlight? Too exposed location? Just drain the tub and you're ready to move.
Waterfall feature and multicolor underwater LED lights – the product also includes fun features that will keep you distracted. Moreover, if you have kids then they will surely enjoy these buzzing colors.
Customers' Reviews
"I was surprised at its quality given the price, it was very nice although it takes about a day to warm. A lot of tubs I have tried to have a lot of wasted foot space because you sit on its bottom. This is honestly better than privet!" (5 out of 5 stars) –Brian, Sacramento CA, VERIFIED BUYER on Wayfair 
"I absolutely love it, and how it heats to 104. I use the bromine tabs and bobber, and whenever I don't want my whole body to get wet I could just sit on the built-in steps which is a plus. Foams too much when jets are on high though." (4 out of 5 stars) –April, Harpersferry WV, VERIFIED BUYER on Wayfair
"The Lifesmart Celestial Plug n Play Spa took us about an hour to set up. It works perfectly and exactly as how it was marketed. My wife and I adore it and am very satisfied." (5 out of 5 stars) –Hightechcamper, Fort Mill SC, Most Helpful Favorable Review on Samsclub.com
"The spa is overall amazing and comfortable and I love its cupholders. A downside, however, is that whenever the jets turn on every 30mins to heat the water it can get quite noisy and a bit annoying." (4 out of 5 stars) –Peter, Kissimmee FL, VERIFIED BUYER on Wayfair
Answering Frequently Asked Questions
"Are the steps necessary?" No, the steps are not required, but if you prefer easier access especially for kids, then it would be better to include the steps on your purchase.
"Can it be used in 20 degrees Fahrenheit or colder?" Yes, and it has been tested successfully up to -30 degrees Fahrenheit.
"What is the approximate cost for electricity?" It can increase from about $20 to $35 per month.
"Does this only have one temperature setting or can we select the preferred temperature?" You can select your preferred temperature setting.
Read more: Lifesmart Spas LS200 Review
6.  Lifesmart Spas Sereno 4 Person 22 Jet Hot Tub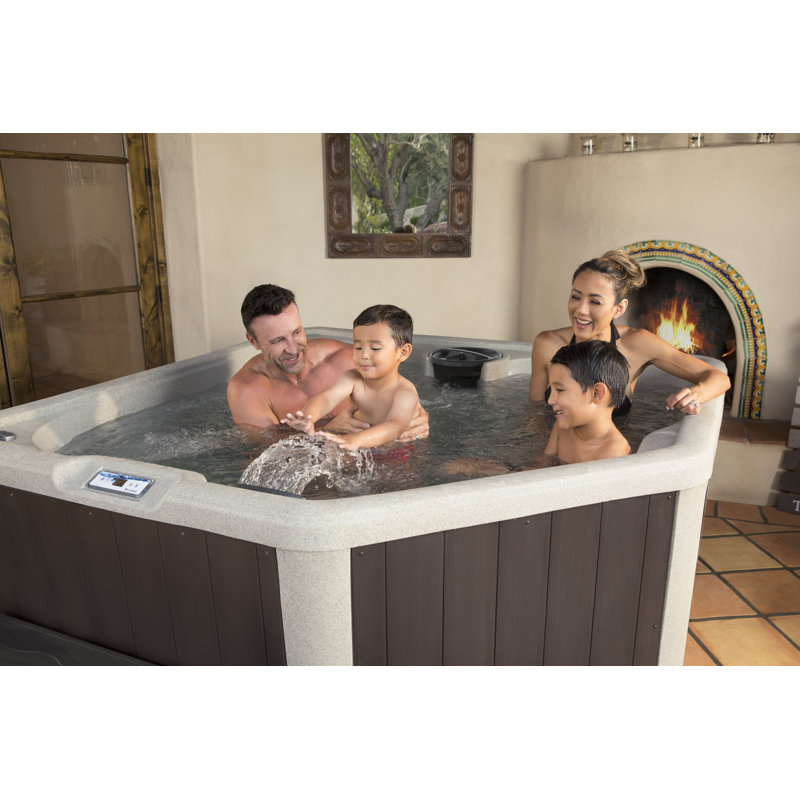 The Lifesmart Sereno 4-Person Hot Tub is a perfect way to relax and enjoy your backyard. This hot tub features 22 jets that massage your body as you relax in the 104-degree water. The digital control panel makes it easy to adjust the temperature and sprays, and the built-in speakers allow you to listen to your favorite music as you relax.
This product is from Lifesmart Spas, a leading manufacturer of hot tubs and spas. They make a variety of different hot tubs and spas, all of which are designed to provide relaxation and enjoyment.
The Pros:
Powerful jets
The tub is large enough for four people
Easy to assemble
Includes a built-in air purifier
The Cons:
It can be a bit noisy since the jets are so powerful
Difficult to get in and out of the tub because of its depth
Difficult to remove and replace the automatic cover
Verdict
Overall, this bathtub is a great choice for those who want a reliable and affordable hot tub. It is easy to set up and use, and it comes with various features that make it convenient and enjoyable.
Who is This Product For?
The product is meant for people who are 6'1″ or taller. It is also the best hot tub for people who find it hard to clean their tubs since it has a built-in water filtration system so that you can enjoy clean water all year long.
Key Features and Benefits:
High-Quality Construction: The Smart Spas Sereno 4 Person 22 Jet Hot Tub is made with high-quality materials for durability. The tub is made with a durable, UV-resistant PVC material reinforced with a stainless-steel frame. The tub also features a tough, non-slip floor.
Multiple Spa Configurations: The Hot Tub can be configured in various ways to provide you with the perfect spa experience. You can choose between a traditional configuration with two jets, or you can configure it as a whirlpool spa with four jets.
Multiple Water Levels: The multiple water levels help accommodate various users. The tub can be set at two different heights, so everyone in your group can enjoy the same spa experience.
Versatile Use: The Smart Spas Tub is excellent for use in any room in your home. You can place it near the pool or on the patio or use it indoors.
Built-in Air Purifier: The built-in air purifier can help remove pollutants from the water. This will ensure that you enjoy clean and safe water at all times.
Automatic Cover: This spa comes with an automatic cover that helps to keep the tub clean and protected from the elements
Customer Reviews:
Different customers have varying opinions when it comes to Lifesmart Spas Sereno hot tub. Some of the reviews include:
'My family and I love to spend our Saturday afternoons in this inflatable hot tub. '- Victor
'The BEST portable hot tubs on the market. I, however, had a difficult time getting out of the spa.' – Florence
'If you're looking for a great portable hot tub to enjoy in your backyard or at the park, be sure to check this out. I didn't experience a hard time setting it up and it complements my outdoor space' – Elena
FAQ & Additional Tips
Is Lifesmart a good hot tub brand? Lifesmart is a good hot tub with a great reputation in the market. The brand is known for its high-quality products that conserve energy.
How long does it take a Lifesmart spa to heat up? It takes about 60 minutes for a Lifesmart spa to heat up. However, this will vary depending on the outside temperature. If it is cold outside, it will take longer for the spa to heat up and vice versa.
What temperature should I leave my Lifesmart spa hot tub on overnight? It is recommended that you leave your Lifesmart spa hot tub overnight at a temperature of 104 degrees Fahrenheit. This will help keep the water warm and comfortable for you to use the next day.
Read more: Lifesmart Spas Sereno 4 Person 22 Jet Hot Tub Reviews: Read BEFORE Buying
7.  Lifesmart Spas 3 Person 34 Jet Acrylic Rectangular Hot Tub
The Lifesmart Spas 3 – Person 34 – Jet Acrylic Rectangular Hot Tub with Ozonator is a spa that seats up to three people and has 34 jets. It is made of acrylic and has an Ozonator. The Ozonator purifies the water and keeps it clean.
It is powered by a single pump and the 34 jets are digitally adjustable to provide the utmost comfort. The tub also comes with excellent insulating walls and covers to make conserve energy and conforms with the energy regulations of the state.
Pros:
A relatively low price point
Good for small spaces
The jets can be powerful
Cons:
Does not have steps
Has only one pump
Lifesmart Spas 3 Person 34 Jet Hot Tub Key features
230 volts with a dedicated 50 amp breaker for protection
Ozonator for guaranteed clean water free of excessive chemicals
A maximum temperature of 104°F and a minimum of 80°F
A single 2.5 horsepower pump with a two-speed configuration
Has an insulated cover for energy efficiency and includes a built-in lounger sits for maximum comfort
What I think of the product
This 3-person hot tub has a polyester resin enclosure with 34 stainless steel adjustable jets. The interior is made of acrylic and has a digital control panel.
One great thing about the product is it includes a lockable cover to keep away unwanted guests in your tub. It also comes with a specialized filter to keep debris out of the system.
Who is this Spa For
The Lifesmart Spas 3 – Person 34 – Jet Acrylic Rectangular Hot Tub is ideal for anyone looking for a spa that can seat up to three people. It boasts 34 jets for a massage-like experience, and the acrylic construction assures that it will last for many years.
Feature benefits
This unit's dynamic design is one of its most remarkable features. It is simple, yet elegant and appealing to the eye.
Everything is made easy for you by the practical digital control. You may customize the temperature, regulate the jets, and even turn off the LED light with digital control.
The unit is made of long-lasting polyethylene material. You may be confident that the hot tub will endure longer with this type of material.
Customer Reviews
"This is a fantastic 3-person hot tub It is simple to use and comes in a variety of mood-enhancing colors. When the locking lid is closed, the temperature rises a little. Even though the neck might need more jets, we still really like it!"
"I adore it with all my heart. The only thing that provides me relief for my ruptured disc. I adore the pillows, lighting, and bubble jets. The temperature doesn't change much after long use, so happy I have purchased this wonderful product."
"The ideal size hot tub for an upper patio. Only suitable for 2 to 3 persons. It is an excellent option given the cost."
FAQs and Additional Tips
"Is the hot tub insulated sufficiently for cold weather winters (meaning that it will maintain a consistent temperature and not require hours to achieve a hot temperature to use)?"  Yes, it has been tested for temperatures as low as -30 degrees Fahrenheit.
"Can the waterfall feature be switched off?"  Yes, the waterfall can be turned off by a valve.
" Does this model include a Bluetooth speaker system?"  No, the model does not include a Bluetooth stereo system.
Read more: Lifesmart Spas Playa 3 Person 34 Jet Hot Tub Reviews You Can Trust
8.  Futura Spas 3 Person 55 Jet Hot Tub
This jet-style hot tub is a decent option if you are looking for a good-quality hot tub that is spacious enough for three people. This hot tub is a product by the brand Futura Spas which is a US-based company that has been building great quality hot tubs and spas since 1988.
Pros:
The water in the tub heats up fast even in the cold winter months.
Can fit up to 3 people comfortably.
The water temperature is maintained for hours even in freezing temperatures.
The Ozonator in this hot tub ensures that the water is clean and pristine.
Cons:
The tub is not well-insulated.
The jets are not powerful enough.
It is significantly more expensive than its competitor hot tubs from other brands.
Verdict
Given the high-quality build and the excellent heating function of the Futura Spas 3-Person 55 Jet Hot Tub, I think this product is decent enough if you are looking for a hot tub from a reliable brand.
Who is This Product For?
The Futura Spas 3-Person 55 Jet Hot Tub is a great option for people who are looking for a tub that can accommodate up to three people. This is ideal for home use or at hotels and Airbnbs that are rented out to travelers.
Moreover, because this hot tub comes with jets, it is ideal for people who want to loosen up and get a good massage while relaxing in the hot water. This tub is a great investment for people who are often stressed and burnt out and are in need of intensive relaxation every now and then.
Key Features
Freeze Resistant: This tub heats up fast and maintains the water heat even in below-freezing temperatures.
Superior Hard Cover: This tub is built with an ultra-strong exterior cover that is sturdy enough for dependable weight support.
PureWater Ozonator: The Del Ozone Generator system ensures that the water in the tub is hygienic at all times.
Pressurized Filtration: The Power Filtration of this hot tub forces the spa water into the filter cartridge which captures all the dirt and contaminants.
Customer Reviews
"It is a great hot tub for its price point. However, it is not well insulated enough and I might have to do it myself."
"We have used this hot tub almost every night since purchasing it. The water heats up fast and stays hot for hours even in the winter. This jet hot tub is a great buy overall."
"For the price, I think this hot tub is decent enough. The water heats up quickly even in freezing temperatures. The only downside to this tub is that the jets are not powerful enough to give a good massage."
"Based on many Futura Spas hot tub reviews, I expected that this hot tub would be excellent. Unfortunately, this tub is quite disappointing, it is not well insulated and the build is not good enough. The hot tub pillows also keep falling off."
Frequently Asked Questions
Is this hot tub well insulated?  The Futura Spas 3 Person 55 Jet Hot Tub has an insulation rating of R-19.
Is this hot tub saltwater-ready?  No. This jet hot tub is not saltwater-suitable.
What are the weight and dimensions of this hot tub?  The overall weight of this tub is 515lbs and the overall dimensions are 2′ 9" H x 5′ W x 7′ D.
Does this hot tub come with a cover?  Yes, this tub comes with a cover.
Where can I find the electricity control panel?  The electricity control panel is located on the side to the touchpad control's right.
Read more: Futura Spas 3 Person 55 Jet Hot Tub Reviews You Can Trust
9.  Cyanna Valley Spas 5-Person 20-Jet Hot Tub with LED Light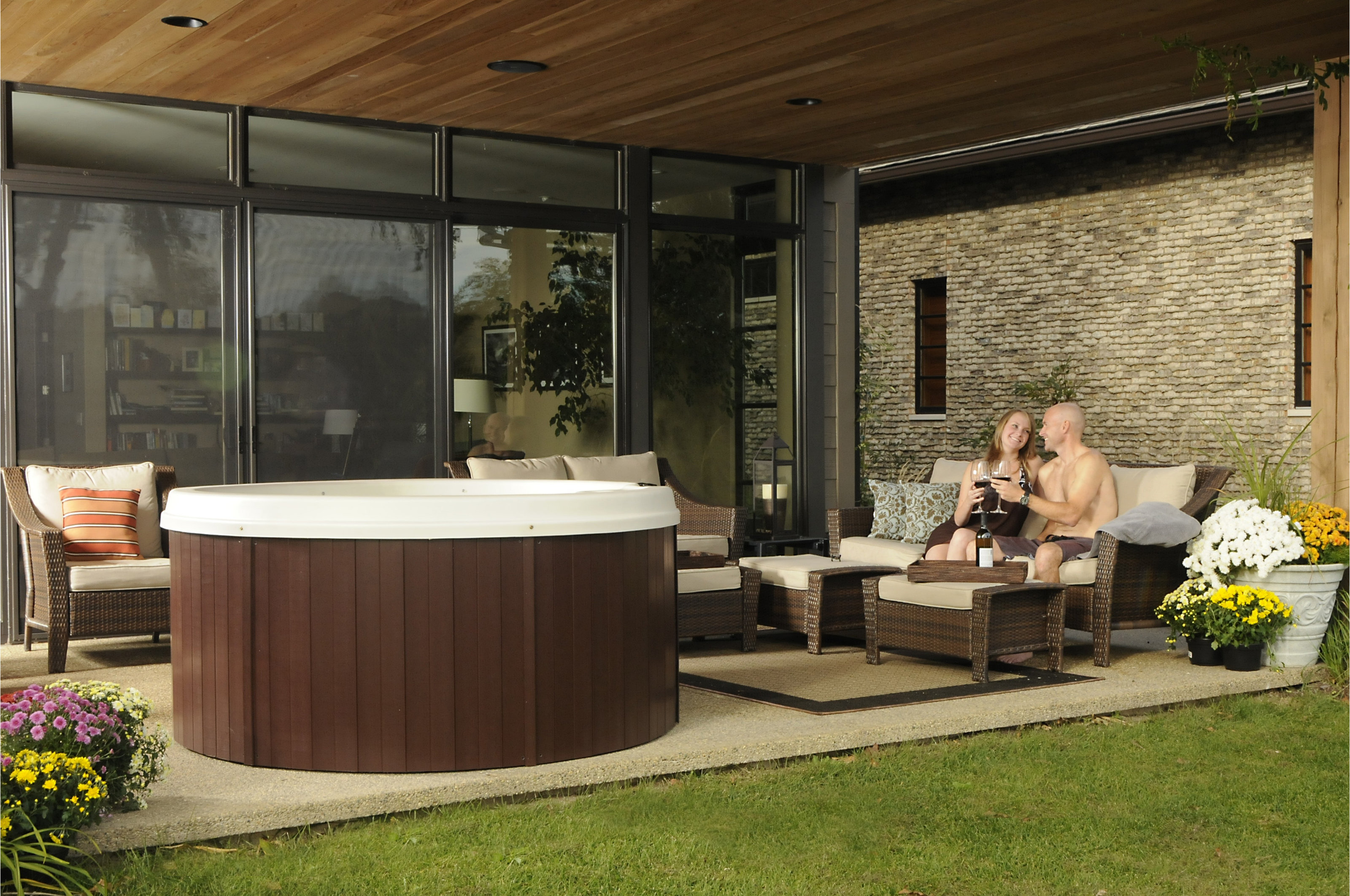 Pros of this Cyanna Valley Spas 5-person hot tub
Spacious
No odd angles
Affordable price
Excellent features
Several color options
Cons of the Hot Tub
Insulations are not included
The Plug-n-play feature does not work well outdoors
Key Features
Made with Polyethylene Material
5 Maximum Capacity
9 Adjustable Jets
240 Gallons Water Capacity
4 Color Options Available
Verdict
This is a simple hot tub that has excellent basic features. On top of that, its price is considerably more affordable compared to other tubs with a capacity for 5 people.
Who is This Product For?
This product is for homeowners or spa owners who are looking for a spacious yet affordable hot tub. It is also ideal for those who prefer circular hot tubs instead of squares with awkward corners.
Key Features and Benefits of the Product
Here are the key features of this product and the benefits that you will get from it:
Made with Polyethylene Material- This a durable and lightweight thermoplastic material that can withstand the test of time.
5 Maximum Capacity- This tub might look small, but it can accommodate 5 people thanks to its circular shape that maximizes space.
9 Adjustable Jets- Adjustable jets will enable you to customized the bubbles from your hot tubs according to your preference
240 Gallons Water Capacity- The large water capacity makes it possible for the jets to work properly and efficiently.
4 Color Options Available- Available in opal/charcoal, opal/mahogany, white/charcoal, and white/mahogany colors.
Customer Reviews
"It is not a fancy looking tub, but it does the job, and it heats up quickly. I bought this two years ago and so far, no problems yet."
"I love the circular shape because there are no uncomfortable areas even when it's in full capacity. I love its affordable price, too, compared to other spacious hot tubs out there."
"I am satisfied with my purchase because the hot tub works perfectly. However, I wish that the data package was more helpful, then I could have given this a 5 star."
Frequently Asked Questions and Tips
Can the Cyanna Valley Spa 5-Person be used outdoors? Yes. This model can be used outdoors. However, do take note that its plug-n-play features might be less efficient when exposed to cold temperatures.
Is this 240 volts or a 120-volt plug and play? This product is designed to connect permanently to 110 or 220 volts. You can find more information on this on the manual guide of the hot tub you purchased.
Does this come with a filter? No. It does not come with a filter.
Read more: A Comprehensive Cyanna Valley Spa 5-Person Review
10.  Ohana Spas Balance 6 – Person 25 Jet Hot Tub with Ozonator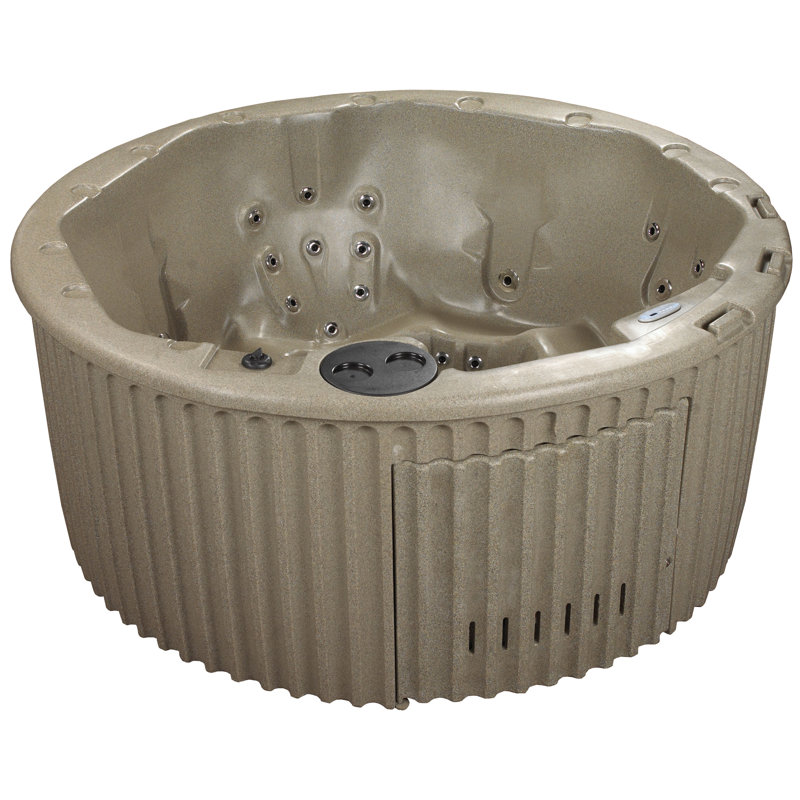 If you want comfort and ease, then this tub is for you. You can purchase this knowing you won't have trouble during installation and maintenance. According to ohana spas reviews, this is the perfect tub for bonding with family and friends.
It is spacious enough and can accommodate up to 7 people and is designed with contoured open seating for more comfort. It also features 25 stainless jets that target muscles and will revitalize your mind, body, and soul. Better yet, it comes with LED underwater lighting for ambiance and safety.
Controlling this unit has been made possible by the digital control that includes smart-temp. It has 3 programmable energy modes; standards, energy, and sleep for better customization. Overall, you should get this if you want an easy-to-install basic tub that has the same features as more expensive tubs at an affordable price.
However, it only has a plastic exterior and 1 pump. Its durability and massage strength will not be the same as the expensive ones.
Highlighted Features
Spacious and contoured seating fit for 7 adults
25 powerful stainless-steel jets
Energy efficient 1 x 2 BHP 2-speed pump
Super Shell exterior is made of durable plastic
Water capacity: 250 gallons
Material: Plastic
3 programmable energy modes
Ozonator
Pros of this Ohana Spas Balance Hot Tub
Easy to install, plug and play hot tub
Convenient digital control
Built-in purification and filtration system
CEC-certified
Freeze resistant
Cons of the Hot Tub
Plastic exterior may not be durable
No steps included
Read more: The Ultimate Ohana Spas Hot Tubs Reviews
Conclusion
With our top ten choices, you now have a narrowed list that you can refer to when looking for the best small hot tubs for the money.
If you were to ask us which one is our favorite, we'd probably tell you it's the Futura Spas 3 Person 55 Jet Hot Tub.
Although it's more targeted toward couples, it has some of the most elevated features that focus on luxury and overall experience while in the tub. With strong jets, cup holders and trays, and a digital control, you and your spouse can really enjoy being together in the hot tub.