These days, small hot tubs are getting more and more popular because of the growing awareness of their benefits. The best part is that even best small hot tubs are now more affordable than they were in the past.
So, if you're interested to invest in one of the best hot tubs money can buy, we've got the list that can help you out.
Check out our small hot tub reviews for our top 10 choices:
Reviews of the Best Small Hot Tubs 
1.  Aquarest Spas Premium 300 Hot Tub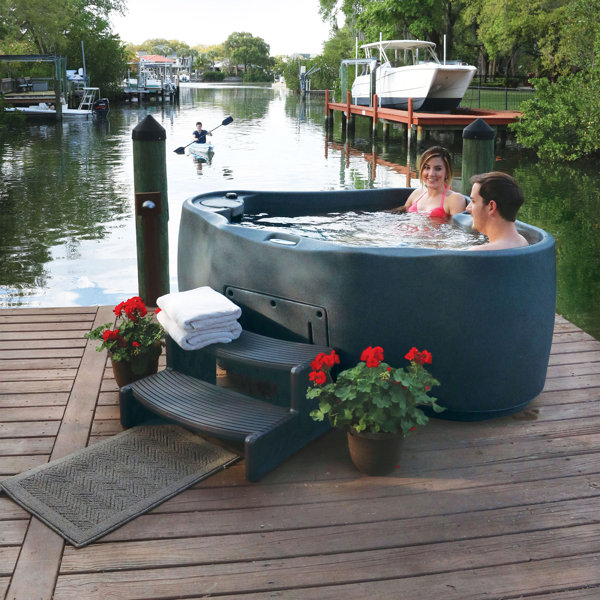 Aquarest is a pretty well-known brand in the hot tub market. That's why you'll find some of the best small hot tub products from this seller.
In particular, there's the Aquarest Spas Premium 300 Hot Tub, which is great for 2 people.
Aside from that, what else does this hot tub offer?
Well, this product also has an Easy Klean Filtration System, which gives you nothing but clean water that you can take advantage of. It also comes with an ozone system that can help fully clean your hot tub.
Best Features:
Efficient filtration system
Inclusive ozone system
2-person spacious fitting
Durable built
Powerful jet technology
2.  QCA Spas Cordoba 2-Person Play Hot Tub
The first thing that you'll notice about this hot tub is its shape. It's not circular or square unlike most traditional hot tubs. It's actually an oval shape and a little more cramped than usual. That's because it's designed for more intimate couples who want to feel closer.
It's got comfortable built-in seating and a smooth surface for you and your significant other to fully enjoy. It'll be a great experience for both of you to have.
Best Features:
Oval shape for intimate experience
Smooth seats
Comes with ozonator
Water capacity of 190 gallons
Cover included
3.  Home and Garden Spas 38-Jet Hot Tub with Stainless Jets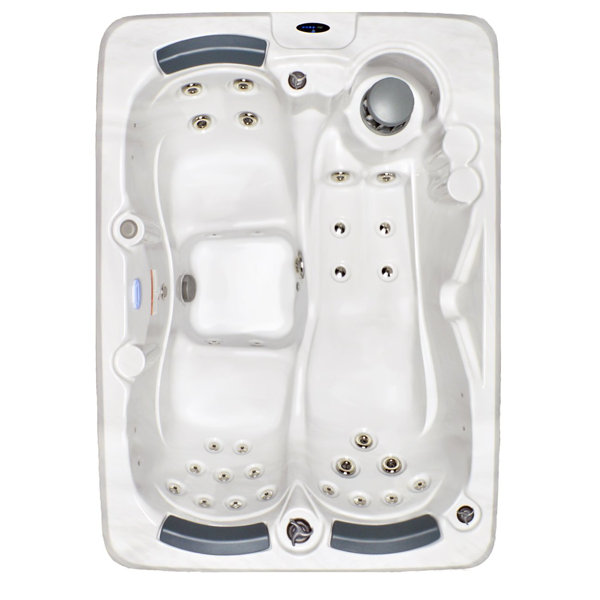 If you're looking for overall relaxation with a friend or two, this one is the product to choose. This 3-person hot tub offers 38 therapeutic jets that can hit the most important parts of your body. By hitting these parts, you can get a hydro massage that can loosen up muscles in these key areas.
To add to the whole relaxing vibe, it also comes with some LED lights for the experience.
Best Features:
38 massage jets
Stainless steel built for overall durability
Water capacity of 210 gallons
Has room for 3 people
Slip resistant threading
4.  American Spas 28-Jet Plug and Play Hot Tub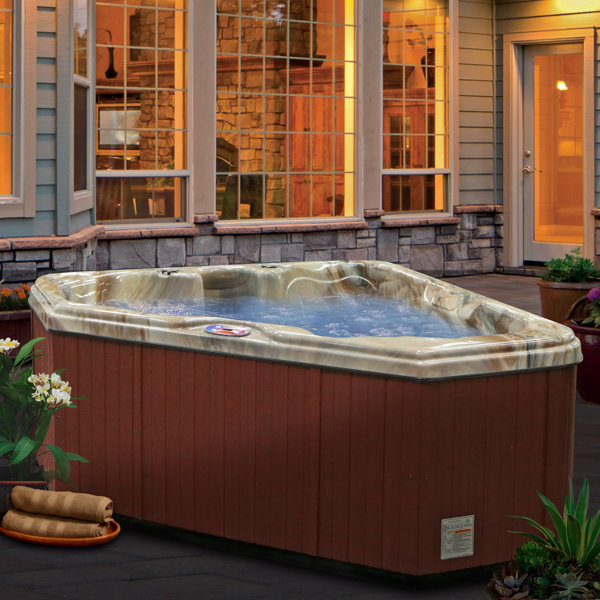 If you're the type of person who's very particular with cleanliness, we suggest that you get this hot tub. It's the best two person hot tub that you can find if you really want to ensure that there is no trace of bacteria left in the tub.
Wondering how's that possible?
aThis tub actually comes with a HydroClearOzonator. By far, this is one of the most efficient ozonators that we have seen. In fact, this particular ozonator can ensure crystal clear water.
Best Features:
Comes with HydroClearOzonator
Has very strong chemical removal properties
LED light feature
Has an air blower
Cover included
5.  Lifesmart Spas LS300 3-Person 17-Jet Hot Tub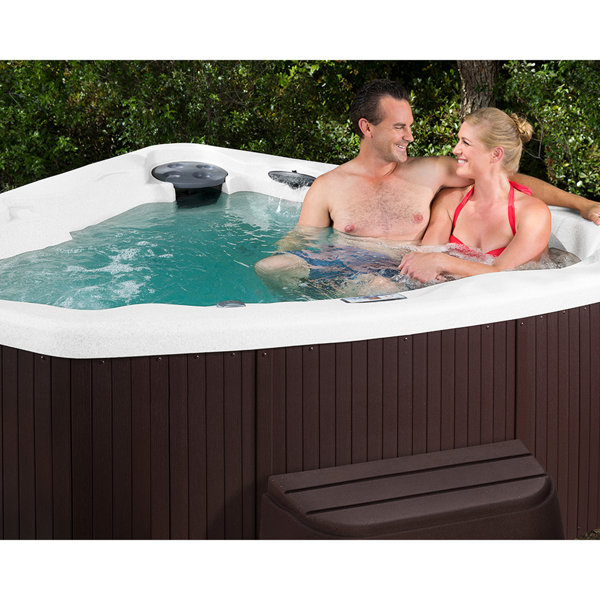 This LifeSmart Spas hot tub focuses on giving the users an overall luxury experience. It has a 3-person seating capacity but comes with two captain seats for overall spaciousness.
It also comes with luxury hydrotherapy jets as well as a waterfall that has adjustable settings. The cherry on top is the multi-color LED lighting which enhances the overall relaxing, luxury experience.
All you have to do is plug in the hot tub, and you can immediately use it.
Best Features:
Underwater multi-color LED light
Waterfall feature
17 hydrotherapy jets
3-person seating capacity
2 captain seats available
6.  Essential Hot Tubs Newport Lounger Hot Tub
For those who are looking for a more robust hot tub, we suggest this one. This hot tub has a 4-person seating capacity and comes with 14 very strong hydrotherapy jets. It's a great tub for those who want to invite friends over for some drinks.
Other than jet strength and seating capacity, it's also very easy to install. It doesn't require electrical connections, so it can be installed in your yard.
Best Features:
14 hydrotherapy jets
4-person seating capacity
Robust stainless steel built
Comes with insulated cover
Easy installation
7.  Essential Hot Tubs Gray Granite Arbor Hot Tub
Seating capacity is something that a lot of people take into consideration– especially if they like having friends over in the hot tub.
If you're one of those people, then this is a good choice for a hot tub. This one has a total seating capacity of 6 people. Thus, if you have 5 other friends who also enjoy lounging in hot tubs, invite them over for some drinks. They'll surely enjoy the spaciousness of the hot tub and the 20 jets for hydro massage.
Best Features:
20 stainless steel jets
6-person seating capacity
Beautiful granite style design
Comes with a cover with strong clips
Spacious circular shape
8.  IntexPureSpa Portable Bubble Massage Spa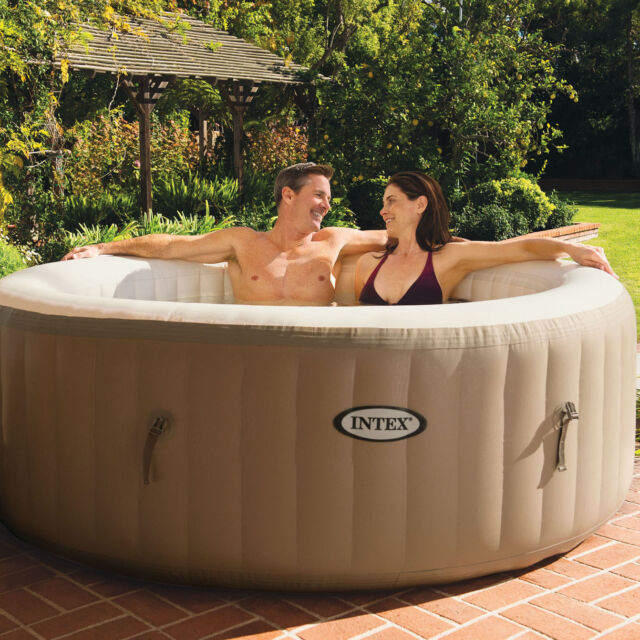 One of the most common problems of hot tub owners is the presence of hard water. Even with water treatment, it's possible for some hard water to retain, affecting the overall experience in the tub.
Luckily, the IntexPureSpaPortabler Bubble Massage Spa has a special built-in hard water treatment system that enables you to keep the water soft and smooth.
It's also low maintenance with a 2-step filter cartridge change system. You can totally keep your water clean and clear for a long time.
Best Features:
Comes with an insulated cover
Hard water treatment system
2 step filter cartridge replacement
210-gallon water capacity
4-person seating capacity
9.  Coleman Portable Spa Inflatable Hot Tub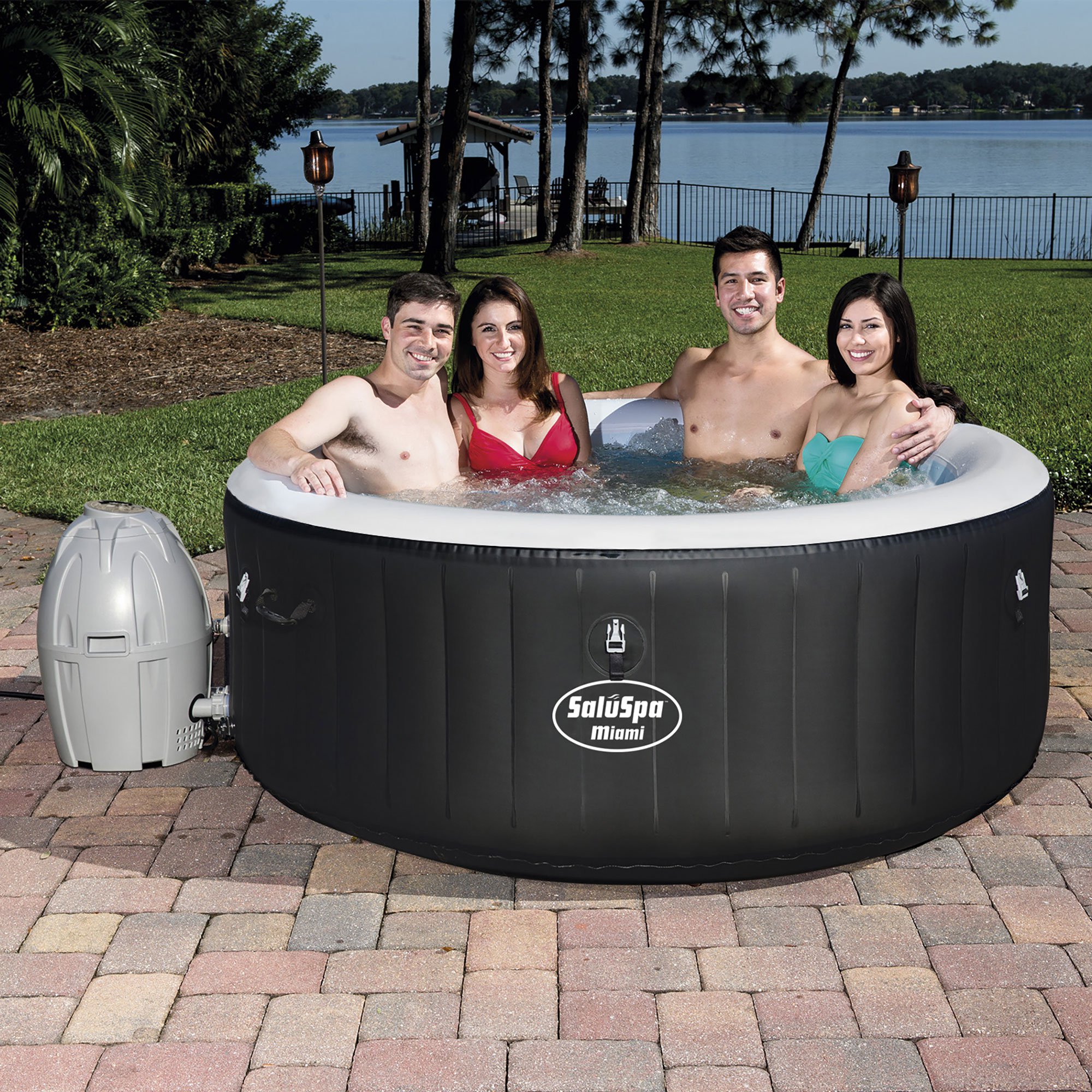 When you're in your hot tub, you're in it to relax. What better way to relax than to control your hot tub's settings via a digital control?
The Coleman Portable Spa Inflatable Hot Tub, known as one of the best inflatable hot tubs in the market, comes with a digital control panel that's touch screen. With it, you can control the pump strength and easily determine how strong you want the hydrotherapy jets to be.
Best Features:
Digital touchscreen control panel
Portable shape
Comes with 2 handles for lifting
2 step filter cartridge replacement
Comes with drain valve
10.  Aleko Oval 2 Person Inflatable Hot Tub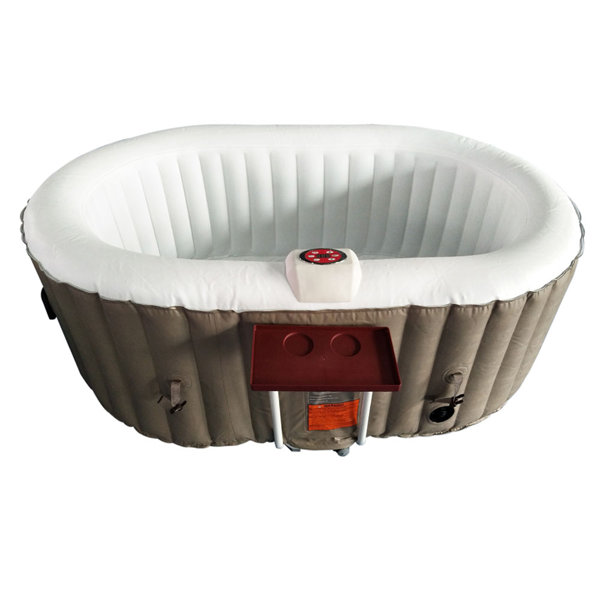 The wonderful thing about the Aleko Oval Inflatable Hot Tub is that it encourages intimacy between the two users but it isn't cramped. This hot tub caters to couples who want to bond over a relaxing experience. It also comes with a drink tray and cup holders if you want to bring in some coffee or wine.
You can also control it easily with a digital control panel. The control panel helps you configure the bubble jets, heating, and filtering. Best of all, it has a water capacity of 145 gallons, so you and your significant other can really soak in it.
Best Features:
145-gallon water capacity
Spacious two-person capacity
Durable pvc material
104-degree maximum temperature
1500-watt power
Conclusion
With our top ten choices, you now have a narrowed list that you can refer to when looking for the best small hot tubs for the money.
If you were to ask us which one is our favorite, we'd probably tell you it's the Aleko Oval 2 Person Inflatable Hot Tub.
Although it's more targeted toward couples, it has some of the most elevated features that focus on luxury and overall experience while in the tub. With strong jets, cup holders and trays, and a digital control, you and your spouse can really enjoy being together in the hot tub.