Nothing beats cooling off during summer than a refreshing swim in a pool. But summer only lasts so long, and your investment stands there, with the water too cold to swim in. Have you considered looking around for the best solar pool heater extend your swimming season, though? While a solar pool cover may heat or keep your water warm, removing it each time you want to swim may be tedious. However, the best solar pool heaters make life easier because they heat your pool water without the need for a cover.
Solar Pool Heater Reviews
Choosing the best solar pool heater for your particular needs may leave you puzzled. Take a look at the ones we have reviewed. It may give you a good idea of what to be on the lookout for, as well as what is available.
1.  SmartPool S601P SunHeater Solar Heating System for In Ground Pool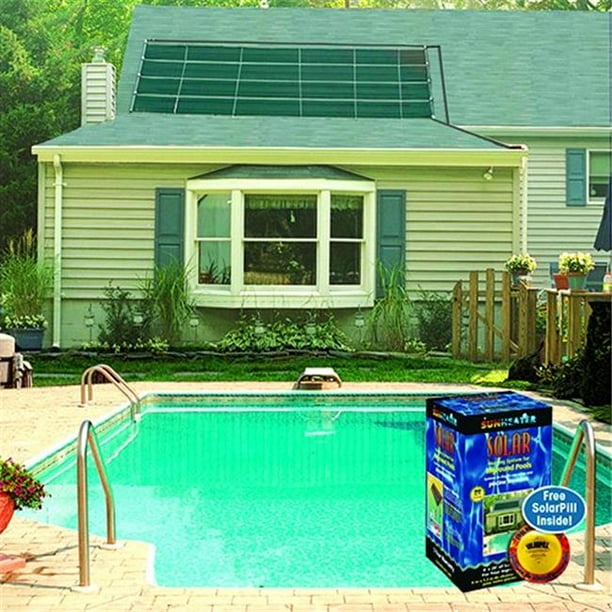 This product sports a polypropylene heat collector that ensures affordable pool heating. The only drawback is that the installation kit required is sold separately.
Highlighted features:
The system makes use of a polypropylene heat collector and a direct flow system, with one header hole for each heating tube.
80 square feet of solar panels are included
Panel array is 4 feet side by 20 feet long
It is capable of raising the water temperature in your pool by six to 10 degrees Fahrenheit
This product can be mounted on a roof
2.  6-2X12'SunQuest Solar Swimming Pool Heater Complete System with Roof Kits by SunQuest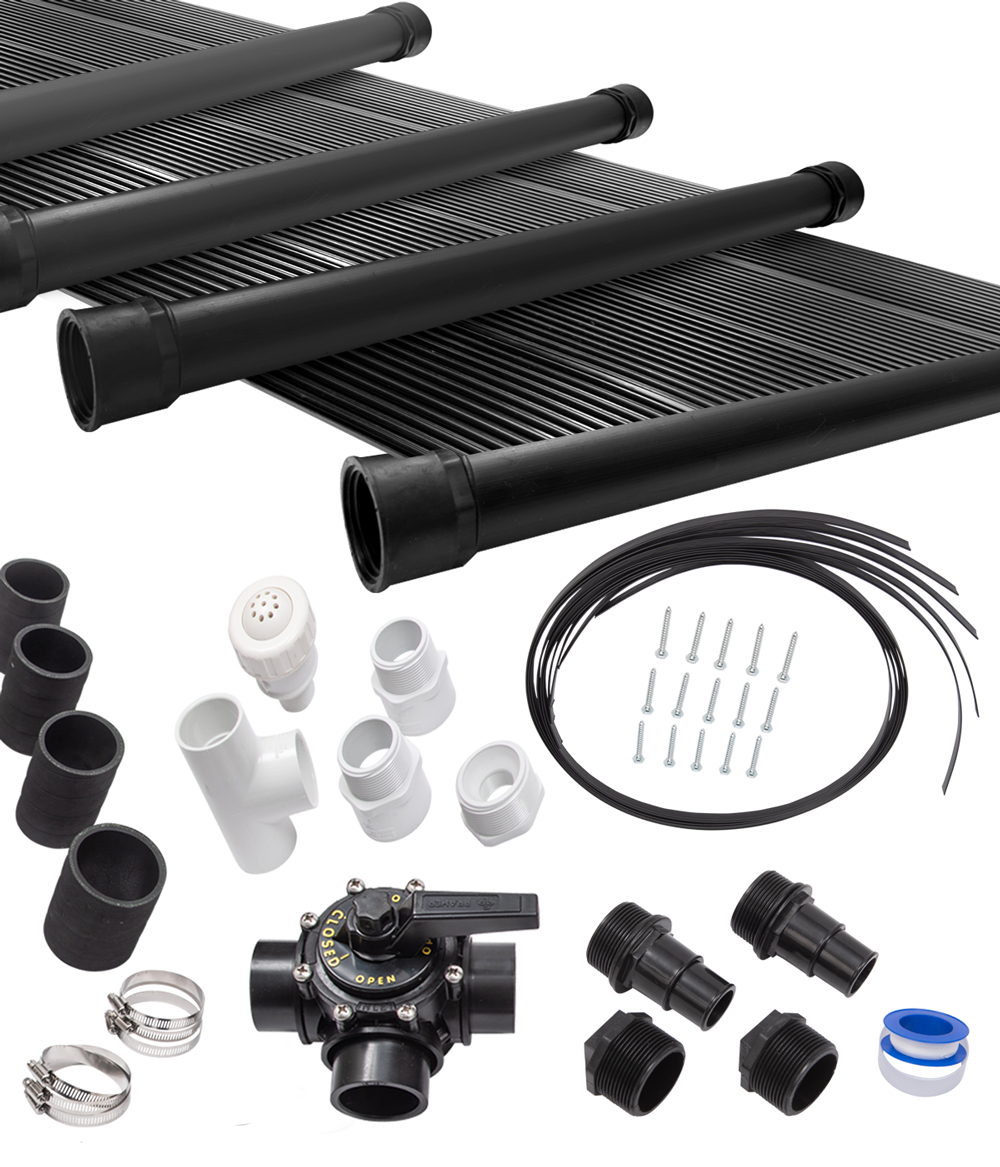 This system circulates your swimming pool water through solar panels and, by means of solar energy, warms the water as it returns back to the pool. These panels, which are of professional grade quality, allows you to enjoy your pool from early spring right through till late fall. This is a great do-it-yourself project.
Highlighted features:
These solar panels can be used for both in-ground and above ground pools
Better water circulation is ensured by means of the MAX-Flow design and 2" OD heaters
The product is compatible with most existing pool pumps
This product could increase y our pool's water temperature by up to ten degrees Fahrenheit
The kit comes complete with everything you need to install your panel system – all that you need to purchase as an extra is the piping that goes from the heating panels to your pool.
3.  Fafco Sun grabber Solar Panels by Fafco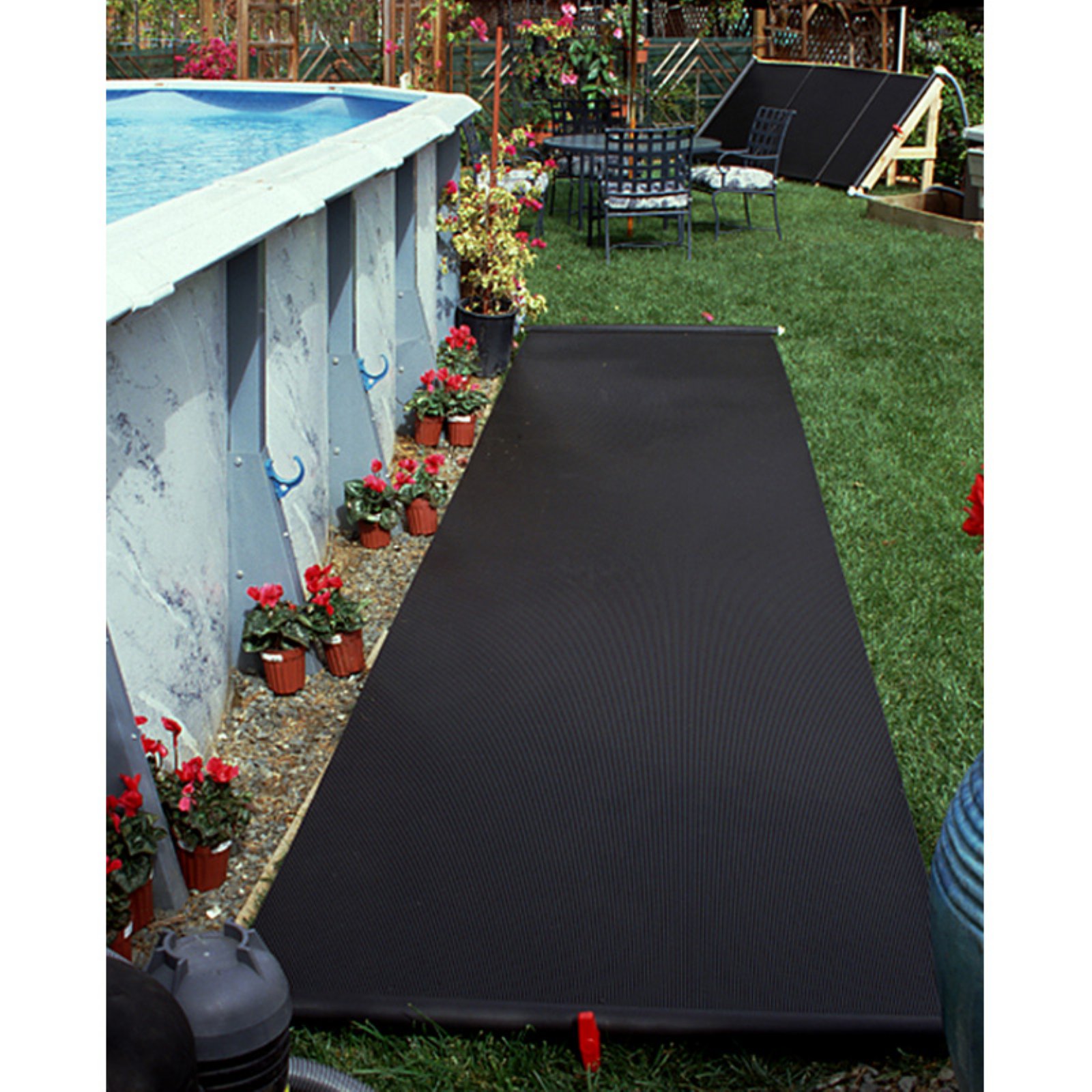 The universal Sungrabber Solar Pool Heater helps you reduce your water heating and electricity bills. The system includes parts that allow for roof mounting. If installing on the ground or a rack, you need to purchase an optional diverter bypass valve separately.
Highlighted features:
Reduces your electricity bill
All parts for roof mounting are included
You have a longer swimming season due to a water temperature increase of up to ten degrees Fahrenheit
Can be used with both above-ground and in-ground pools (not Intex Pools)
Can be used with most pool pumps
4.  Doheny's Solar Grid Pool Heating Solar Panels
Sturdy legs keep these solar grid pool heating panels at a constant thirty-degree angle, thereby maximizing sun exposure. In addition to this, the polycarbonate cover creates a greenhouse effect, thereby improving your pool heating experience. You do, however, have to acquire a separate bypass kit which is sold separately when connecting a solar panel to a pump of 1HP or larger for inground pools.
Highlighted features:
A compatible product that works equally well with the majority of in-ground and above-ground swimming pools
The 10-square surface of the product increases your pool's temperature by up to ten degrees Fahrenheit within five days of installation
Connecting multiple solar panels increases warmth and efficiency
Multiple drain plugs allow for easy drainage and storage
A leak-proof seal is created by means of easy access and brass fittings
5.  2-2'X20'Sungrabber Solar Pool Heater-Above-Ground Swimming Pools- Add-on Kit
The Sungrabber Solar Pool Heater for above ground swimming pools is compatible with most existing pool pumps. It may just have tubes per panel than the majority of other solar pool heaters.
Highlighted features:
Significantly reduces your electricity use
Features 1-1/2" headers that allow great circulation through the solar panels
Additional panels can be added for optimal heating capacity
A simple do-it-yourself project with instructions that are easy to follow
Currently unavailable.
6.  Garden&Park Above Ground Pool Solar Heater 48" x 20' 80 Sq Ft Inground
The Garden&Park Above Ground Pool Solar Heater is an efficient solar panel that could increase your pool's water temperature by up to 10 degrees Fahrenheit. It is also compatible with the majority of pool pumps.
Highlighted features:
May increase your pool's water temperature by up to approximately 10 degrees Fahrenheit
Produces over 80,000 BTUs per day
The pool heater is compatible with the majority of pool pumps around
These panels can either be mounted next to your swimming pool or on a roof
Currently unavailable.
7. SolarPRO Curve Solar Pool Heater for Above Ground and in Ground Pools (Intex & Bestway)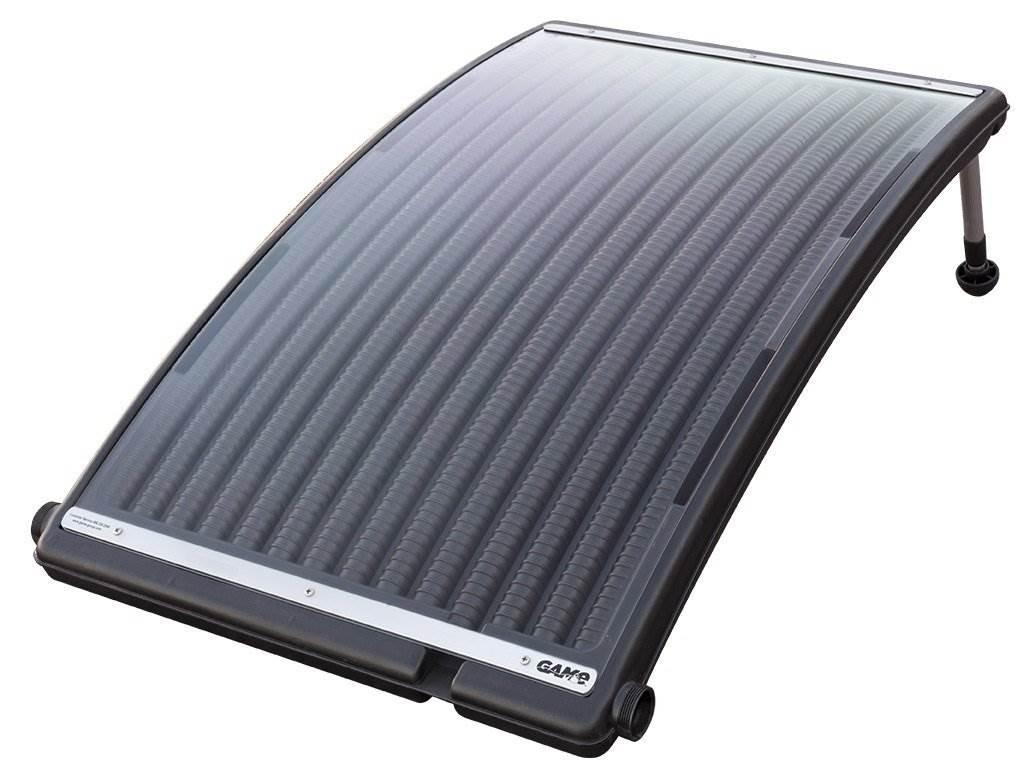 Heat is maximized by means of the unique curved shape of this solar pool heater. It can increase your pool's temperature by five degrees Fahrenheit in four days.
Highlighted features:
The product has commercial grade collectors and is of a durable construction
Has thread ports, thus giving you a number of plumbing options
The purchase includes two hoses as well as stainless steel hose clamps
Multiple units can be used
The curve in the design allows for the collection of maximum solar heat while deflecting cooling winds
Currently unavailable.
8.  Blue Wave NS6028 SolarPRO Curve Solar Heater for Above Ground Pools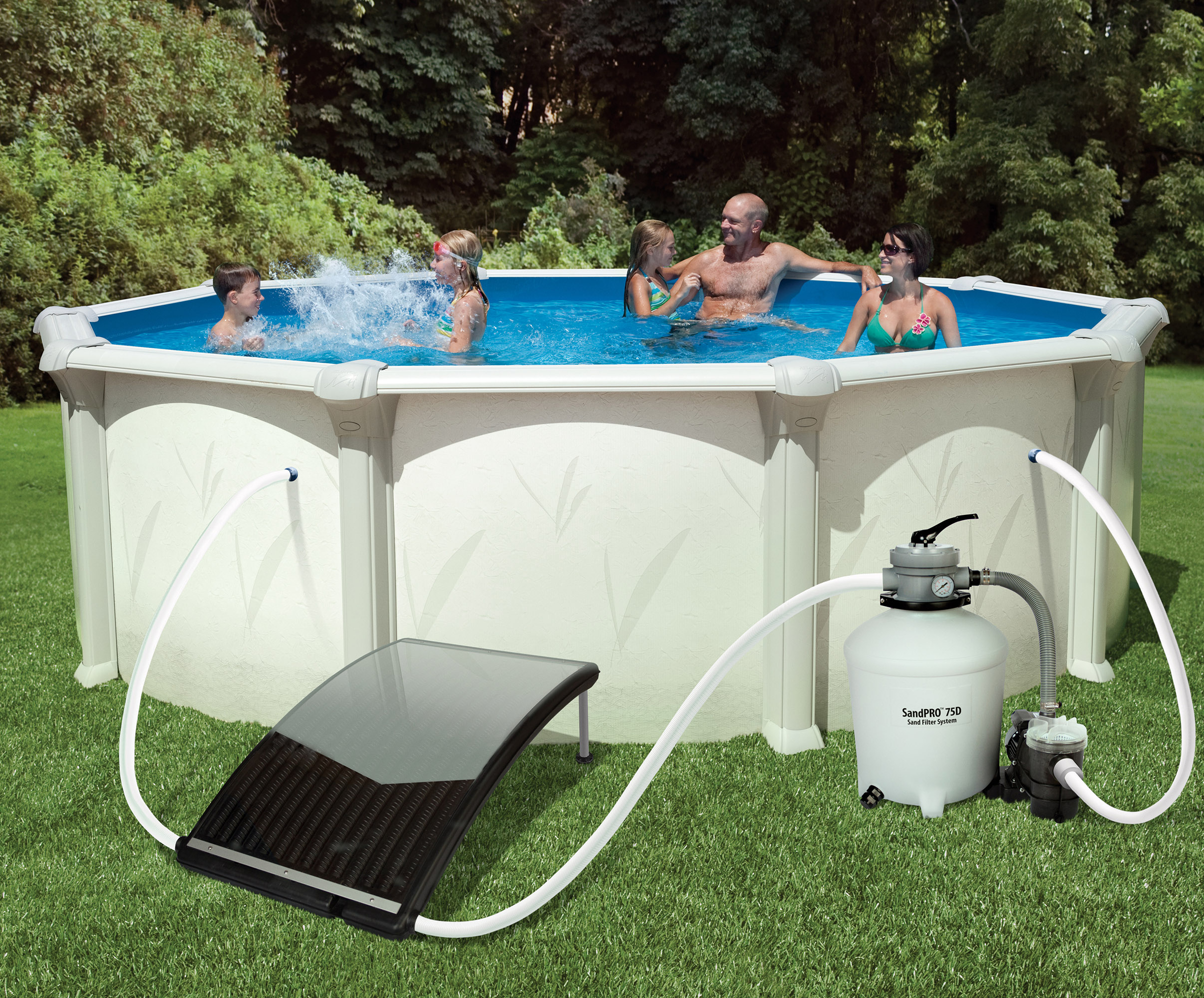 The Blue Wave has a curved shape that allows for maximum heat absorption along its 51-foot long, 1.2" solar coils that are housed within a heating station.
Highlighted features:
The solar pool heater sports 51-ft, 1.2" solar coils that are housed within the heating station
It has a curved shape that allows for the maximum amount of heat absorption
The product fits a 1.2" to 1.5" hose fitting and includes two installation hoses as well as stainless steel hose clamps
This is an easy do-it-yourself installation and comes with everything needed to set it up
Different Types of Pool Heaters
You can pick between three different types of pool heaters, i.e. an electric pool heater, a gas pool heater, and a solar pool heater.
Electric Pool Heater
Electric heat pumps pull in warm air, enhance it, and transfer the heat to the water. In order to function well, however, this heater needs air temperatures of about 55 degrees Fahrenheit, i.e. 12 degrees Celsius or more.
Gas Pool Heater
A gas pool heater uses either natural gas or propane in order to work. In order to heat water, your pool water runs through copper coils that are heated by means of heaters that burn the gas in a combustion chamber. The heated water is then returned to the pool, thereby heating it up.
Solar Pool Heaters
Solar pool heaters are an efficient way of keeping your pool water warmer for longer. It is even great for keeping it warmer all year round in the southern states of the US, while it extends your swimming season in the more northern states. Essentially, the sun's heat is used to heat water as it circulates through the heater. The only problem with a solar heater is that the size of such a system needs to be roughly about half the size of your pool's surface. In order for this pool heater to be effective, your pool's pump needs to be working so that the water can circulate and disperse the heat throughout the pool.
The best pool solar panels come in two main types: the best solar pool heaters for inground pools, and the best solar heaters for above ground pools. Some types of solar heaters can be used for either of these.
The Benefits of Pool Solar Panels
Pool solar panels have a number of benefits that other pool heating methods may not have.
They are environmentally friendly
Solar heating reduces your carbon footprint. It is the cleanest form of energy possible, as it does not produce any harmful emissions whatsoever. You could even put a pool blanket over your pool during the night time in order for your pool to reduce its heat loss.
They are energy savers
You may reduce your energy costs because your pool water is heated by means of the sun. Usually, these pool heaters pay for themselves within a few years of installing them.
They reduce noise pollution
Solar heaters are extremely quiet, meaning there is no loud humming when you are swimming.
You swimming time is increased
On average, most people can only use their pools for about three to four months of the year. The water is usually too cold during spring, fall, and winter. By installing a solar pool heater, however, your swimming time is extended, allowing you a few more months of swimming time and thus getting more out of your pool.
It requires very little maintenance
These heaters need little maintenance as they tend to last for between 15 to twenty years at the very least. They also run very cleanly.
What to Take into Consideration When Deciding on a Solar Pool Heater
Before deciding on buying a solar pool heat, first, ask yourself how much sunshine do you get in a day or over a year. This type of pool heating needs an adequate supply of sunlight in order to function optimally.
Another consideration is the fabric out of which a solar pool heater is made. Certain types last longer than others. Although those made out of better materials may be a little more expensive than their cheaper counterparts, they most certainly may last a lot longer.
Another thing to be on the lookout for is whether the system you want will fit the size of your pool and give you the water temperature that you want.
Not all of these pool heaters are do-it-yourself friendly, and in these cases, it is best to get the services of a reliable, qualified contractor to do the installation.
Although you may be tempted to buy the cheapest system available to you, do remember that many may be inferior. Rather look at the types of pool heaters that fit your needs and then make an informed choice.
FAQ
Is a solar pool heater cheap to run?
While you still need electricity to allow your pool pump to run in order to disperse the heat throughout your pool, a solar pool heater may be a cheaper option because no electricity or gas is needed for heating. It thus saves you on energy costs in the long run.
Conclusion
When it came to choosing the best solar pool heater, we opted for Doheny's Solar Grid Pool Heating Solar Panels. We particularly liked the fact that it was angled in order to make the most use of solar energy, while the greenhouse effect created by the polycarbonate cover keeps the heat in for even longer.