If you're looking for a great way to bring some character or set up a mood in your yard, stone fire pits are the way to go.
We'll run you through some of the best-selling stone fire pits in the world today so that you can find the best stone fire pit for you.
By the time you're done reading, you'll be ready to kick back and relax around your very own stone fire pit.
7 Amazing Stone Fire Pit Reviews
Here are some of our top selections from several stone fire pit reviews you can see online.
They contain some of the best outdoor fire pit models from various manufacturers that promise quality, style, and optimal functionality.
1.  Sun Joe Cast Stone Wood Fire Pit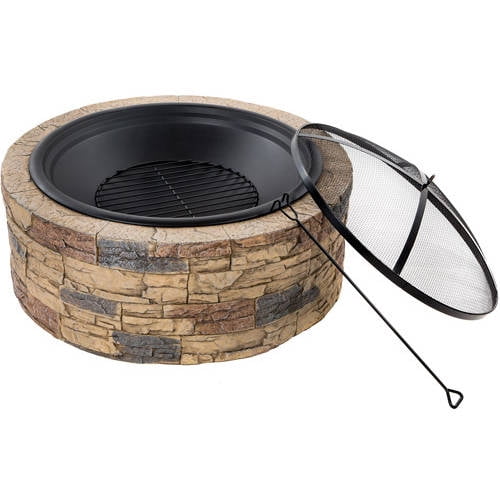 One of the best wood burning fire pit on this list, Sun Joe's stone fire pit comes in a modern twist on a rustic piece. Easy to use and maintain, this is a great addition to your lawn so that you can enjoy long nights of long conversations.
All you need is some fire wood and matches for you to sit back and enjoy the warm amber glow of this pit.
Best Features:
Includes a cooking grate for grilling
Comes with a Dome-shaped spark screen
Cast stone body with steel fixtures
Easy cleaning with detergent or baking soda only
2.  Peaktop

Wood Burning Fire Pit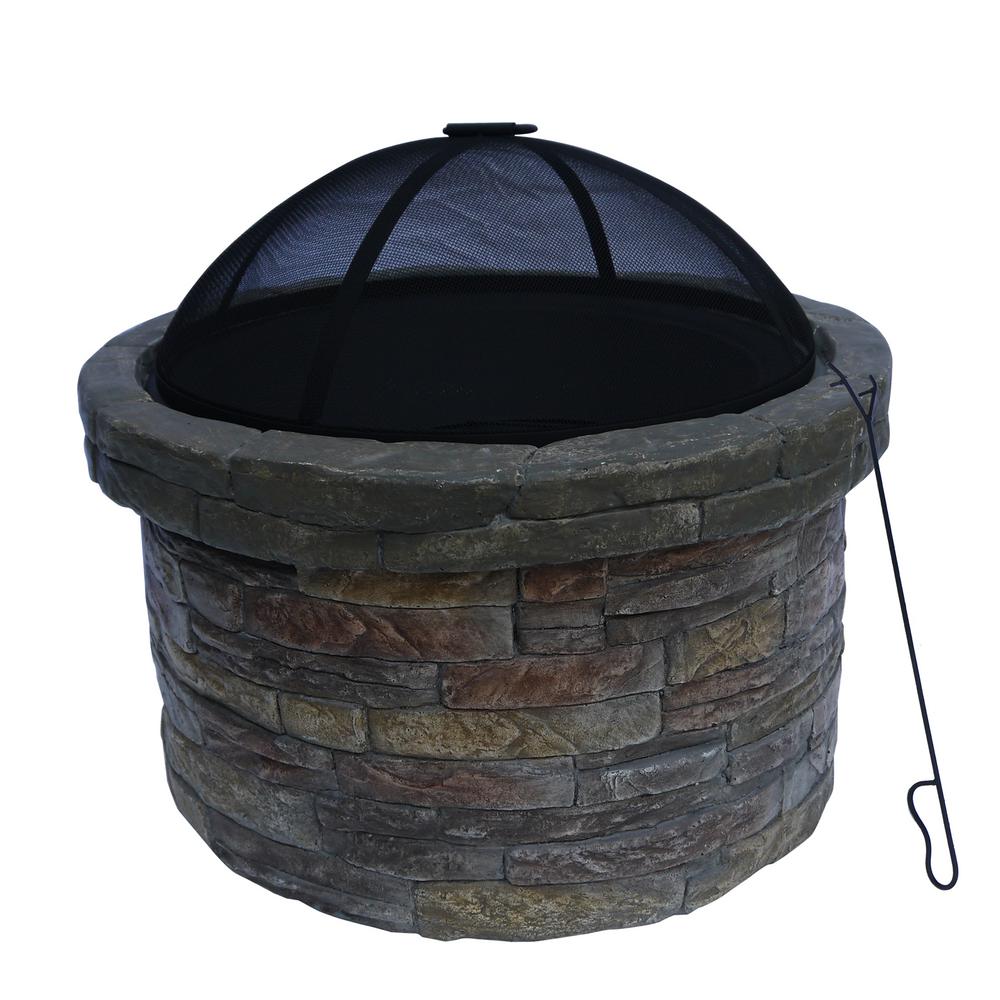 Similar to the Sun Joe model, the Peaktop Stone fire pit is a beautiful model with a dome-shaped steel mesh spark screen to protect you from sparks on a windy night.
It has a rustic brick overlay finishing on its body that comes with a starter filler of charcoal. It is weather resistant, rust resistant, and even comes with a storage cover.
Best Features:
Comes with a storage cover
Dome-shaped spark hood for safety
Poking stick included in package
Heat, rust, and weather resistant coating
Charcoal as starter filler included
3.  Martha Stewart

Wood Burning Fire Pit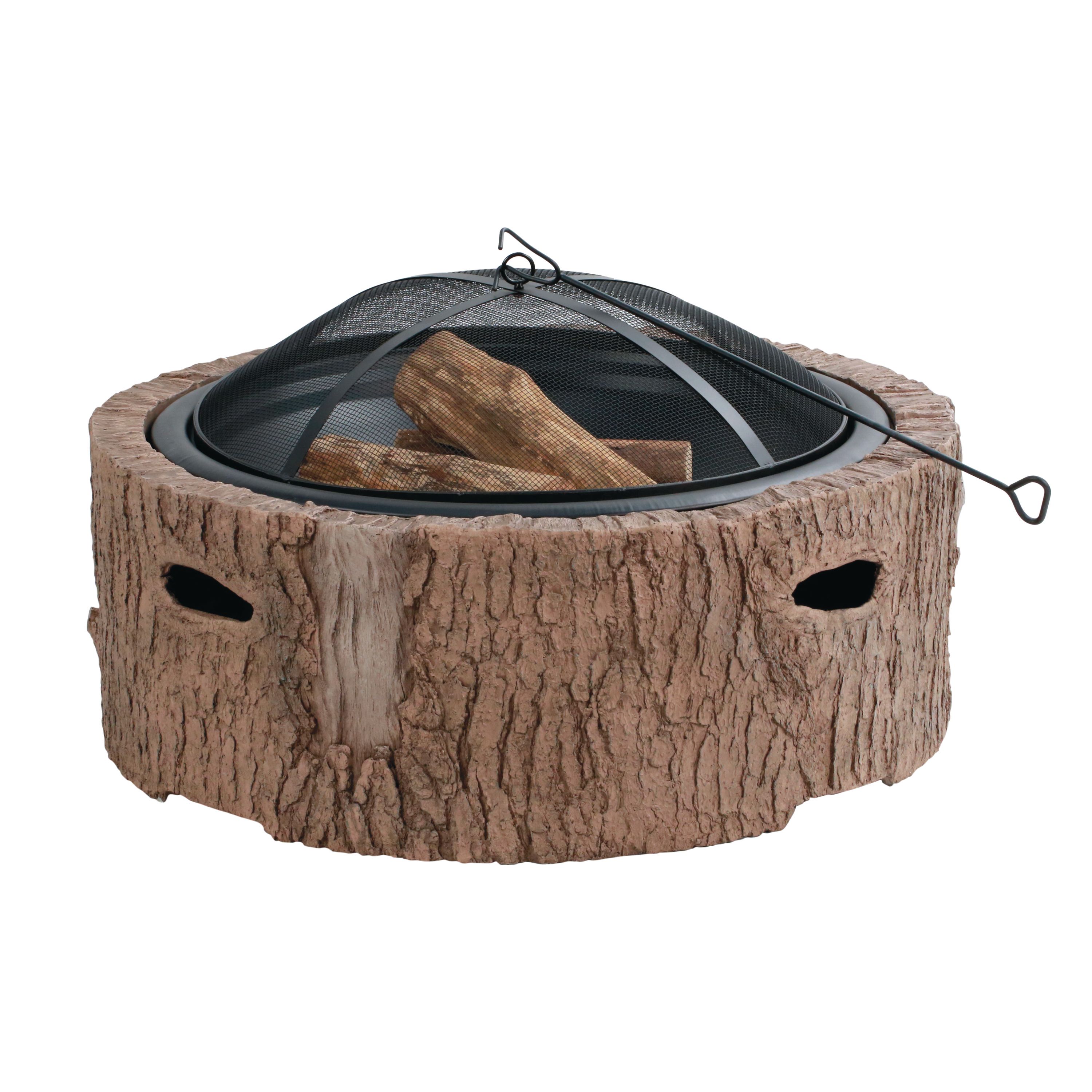 From the great lifestyle host Martha Stewart's very own home décor line, this stone fire pit comes in a unique tree bark finish for its exterior.
It sets up the mood for a cozy, cottage campfire vibe as you watch the warm flames crackle under the cover of the steel spark screen.
Best Features:
Portable model despite medium size
Easy cleaning with detergent or baking soda
Made for wood/log fueling
Weather resistant
4.  Peaktop Propane Fire Pit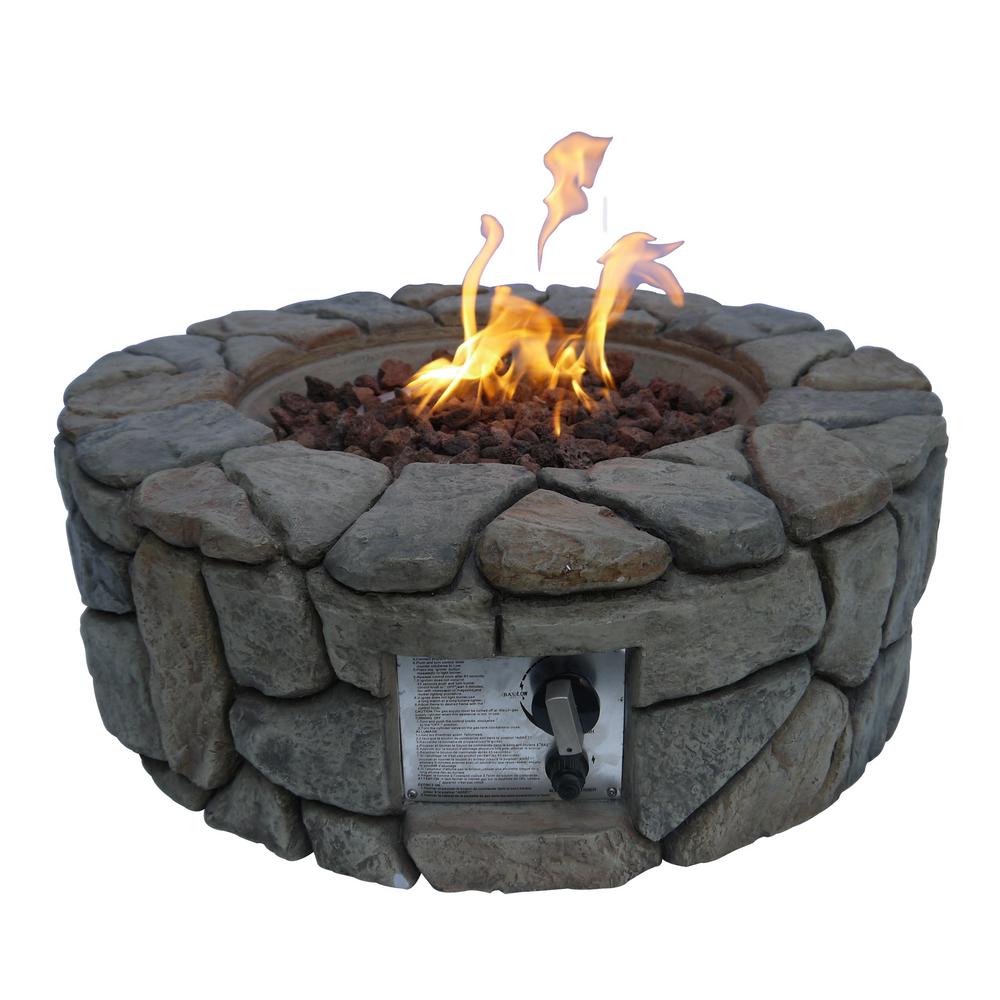 For people who prefer a more modern approach to their campfire, this is a faux-campfire fire pit. Powered by propane, this stone fire pit allows you to have more control over how much heat you will burn off.
It looks almost exactly like any other charcoal-fueled stone fire pit, its lava rocks pulling off the glowing ember look.
Best Features:
3 kilograms of lava rocks
Can be used on wooden decks or patios
Heat, Rust, and weather resistant
Includes a storage cover
Ignite with a push of a button
5.  Loon Peak Blaser Propane Fire Pit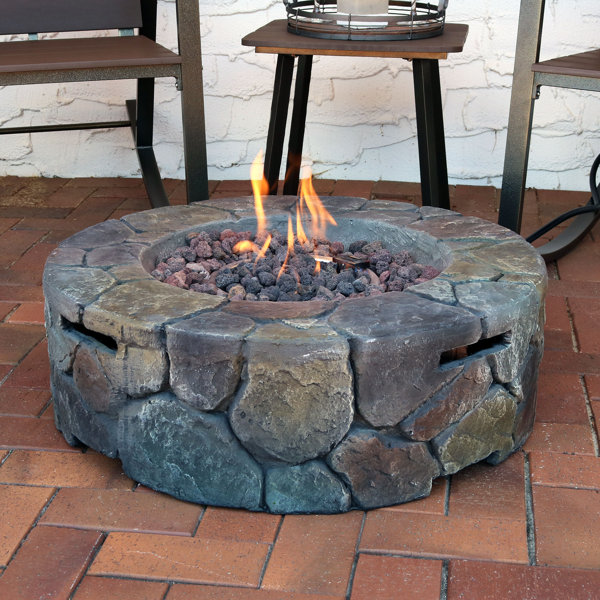 Another propane-fueled stone fire pit model, this one of the best outdoor fire pit units on this list. Not only is it safer to use as the flames are more predictable and there is no danger of rouge sparks. But the Blaser is also a great stone fire pit to own for a family who prefers to keep things low maintenance.
If you enjoy the occasional bonding by the fire before turning back home to sleep without having to deal with putting out the fire, this is for you.
Best Features:
Propane-fueled model
6 pounds of lava rocks
Storage cover included
Push-button ignition model
Comes with a polyester storage cover
6.  Bond Manufacturing Petra Propane Gas Pit Table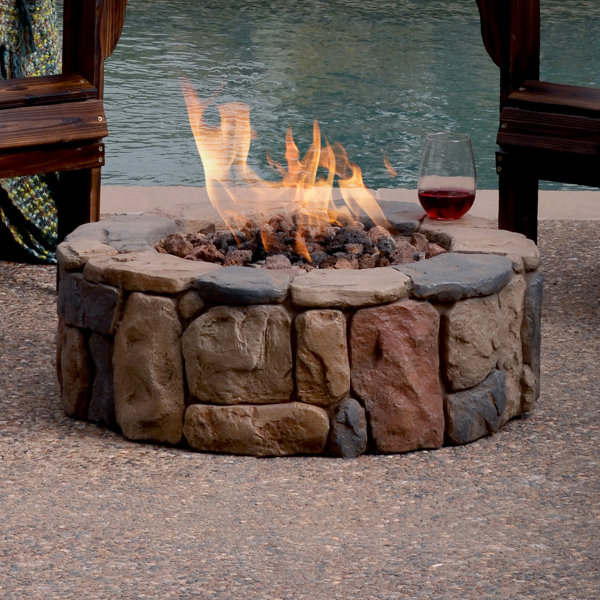 One of the pricier models on this list, the Petra by Bond Manufacturing is a classy fire pit. Made to look like bricks overlaying each other, it perfect for slightly chillier nights when you can stargaze with a glass of wine in hand.
It is also a propane-powered model, making use of glad fire beads and lava rocks to give the illusion that you are burning charcoal.
Best Features:
Comes with a PVC storage cover
Includes lava rocks and glass fire bead "fillers"
50,000 BTU output
Absolutely no assembly required
7.  Christopher Knight Home Crawford Square Pit
A uniquely-shaped model, the Crawford is a Propane-fueled stone fire pit that is built like a square pillar. It has a neat brick overlay and magnesium oxide and steel base for both aesthetics and durability.
Slightly on a higher price point too like the Petra stone fire pit, this one is definitely fit for a family that likes to entertain.
Best Features:
40,000 BTU output
Storage cover for entire unit included
Comes with Lava rocks for added mood
Custom internal shelf for propane tank
Ledge/Mouth of the pit can hold glasses and plates
Conclusion
Out of all the stone fire pit models we've gone through above, our pick as the best stone fire pit is definitely the Peaktop Propane Fire Pit.
Not only does it look absolutely amazing, it is also a relatively less hazardous option to have if you're not used to kindling your own fire pit with logs and coal. It has lava rocks and fire glass beads that still make the fire pit look the part of a traditional fire pit.
If you want to enjoy a nice, warm fire without having to start your own fire, keep it, and then clean it up afterward, this is the best stone fire pit for you.
Whether it's for a newlywed couple, a larger family, or just a family that likes entertaining, you should try one out now!