Do you happen to need a tabletop patio for your home? If so, then we can tell you which brands provide the best tabletop patio heater products, plus our top picks for the best products you can find in the market. We've also included a buying guide to help you identify which is most suitable for your needs.
This guide will be very useful for you if you need to pick a tabletop patio but don't know how.
Tabletop Vs. Traditional Full-Size Outdoor Heaters 
When most people compare the tabletop patio outdoor heater to the traditional full-sized outdoor heater, the first thing that they notice is the size difference. Yes, that is the most obvious difference between the two. Specifically, most traditional outdoor heaters are around 89 inches tall while their tabletop counterparts are around 38 inches tall.
Aside from the size, there are also other differences that you may want to know about. For instance, tabletop patio heaters use up way less propane than the traditional full-sized ones do. However, traditional full-sized ones are more powerful in terms of heat output. So, when we talk about tabletop patio heaters versus traditional full-sized patio heaters, we're usually talking about the purpose or the use of the heater.
If you need a heater specifically for your patio table so that your guests can really feel the heat for when they sit down, a tabletop patio heater is your best bet. It's also more practical to carry around and leave lesser carbon footprint. Hence, if you're not that particular with heating power, then the tabletop patio is for you.
Tabletop Patio Heaters Buying Guide 
Before we talk about the best tabletop patio heaters in the market, it's very important that you know how to choose one first. Even if we give you the best tabletop gas patio heaters or the best tabletop electric patio heaters ever to hit the market, you won't know which one to choose if you don't have a list of criteria. These criteria are there for the purpose of letting you find out which of the products best fits your individual tastes and preferences.
So, if you've never bought a tabletop patio heater before, these criteria that we've made will be extremely to you.
Take these factors into consideration when you choose your tabletop patio heater:
Fuel Type
The first thing you need to take into consideration is the fuel type. There are three fuel types that you can choose from for your heater— propane, natural gas, and electricity. Obviously, propane is the one that's least environmentally. However, it can provide very strong heat as compared to electricity.
Electricity, on the other hand, can provide more heat coverage. There are also some heaters that have the capacity to use natural gas and propane interchangeably. If you want to have the heat power provided by gas but with less carbon footprint, then you may want to get the natural gas-powered type. In any case, they all have their own individual pros and cons. You just have to decide which one suits you best.
Heat Output
Other than fuel type, another aspect that you need to look at is heat output. Heat output is usually measured in British Thermal Unit or simply BTU. The ideal power range that you should look at is around 10,000 BTU to up to 11,000 BTU. Anything less may not be ideal for you.
Heat Coverage
While most people may think that coverage is directly related to the BTU, that's not always the case. Sometimes, it is dependent on how far the machine itself can distribute the heat. The standard of most tabletop patio heaters is around 5 feet in diameter. If you want to have more coverage, there are also some that have a round 7 feet diameter coverage. It's really up to you as to how far you want the heat to reach.
Safety Features
You must also consider the safety features of your tabletop patio heater. It doesn't take a rocket scientist to know that playing with fire can be dangerous if you're not careful. Aside from being careful, it also pays for your heater to help you with some safety features such as a safety shut off feature, a tip over switch, and a safety screen. Other safety features will also be great, but these are some of the bare minimum.
Design
The last thing that you have to think about is design. There are so many designs that you can choose from. You have the usual pyramid design, the tabletop lamp design, or the shrunken garden style patio heater.
10 Best Tabletop Patio Heater Reviews
Now that we've already discussed some of the things that you need to take note of when you look for a tabletop patio heater, we can go to the tabletop patio heater reviews. We've chosen 10 products that we'd like to review. These are the 10 products that we think are the best based on features and benefits.
Let's check them out below:
1.  AZ Patio Heater Propane Heater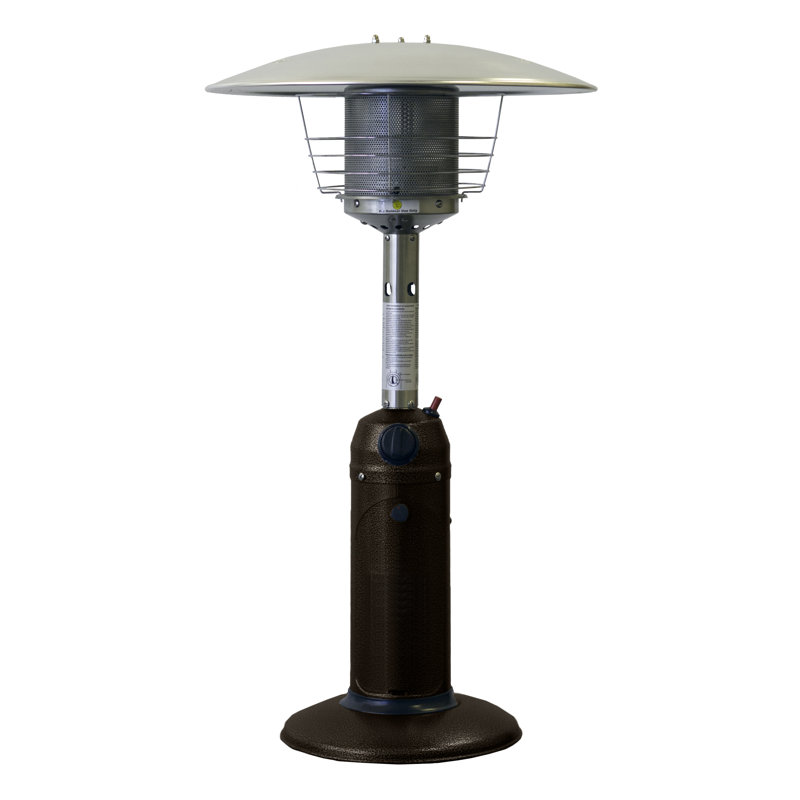 This is a great propane heater that you can have during the winter if you want to hang around in your patio. This tabletop heater has the power to keep you warm during this season because of its high heat output. It emits a total of 11,000 BTU and has a total coverage of 6 feet in diameter.
It is the ideal propane heater that you can keep throughout the winter, especially if you'd like to have dinner in your patio with family or friends during cold weather.
Best Features:
11, 000 BTU of power
6 feet coverage
Safety screen included
Safety shut off switch
Anti-tilt switch
2.  Napoleon Lifestyle Propane Tabletop Heater
Even if this tabletop heater emits only 10,000 BTU of power (1,000 BTU less than the previous one), it still has a higher coverage. Specifically, this one has a coverage of 7 feet in diameter. This is most likely because of the infrared bulbs that it makes use of. The infrared bulbs help radiate the heat more efficiently, allowing further reach.
Also, it heats objects around your area rather than air making the heat last longer than heat from traditional heaters. It also uses less fuel than normal heaters, cutting down carbon footprint.
Best Features:
Superior infrared technology
10,000 BTU of power
1 lb propane bottle usage
Fuel saving feature
Safety shut off switch included
3.  Sunheat International Propane Tabletop Heater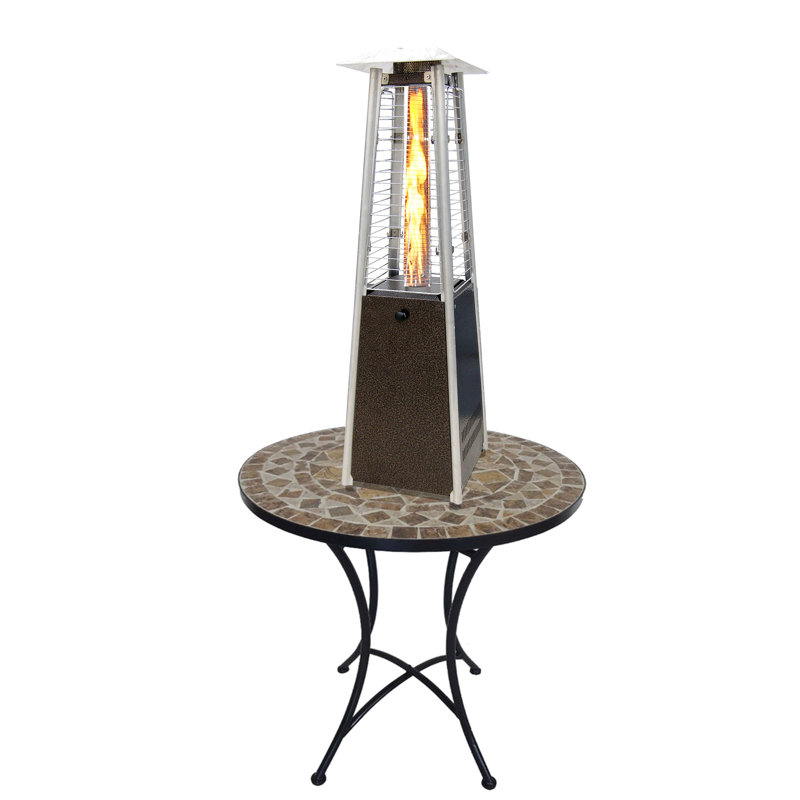 If you like contemporary designs or have modern patio furniture, then you'll look this Sunheat propane tabletop heater. It takes on the shape of a pyramid patio heater and has a dancing flame inside of it. Not only is it great for heating up a part of your patio but it also serves as a decoration that you can show off to friends.
Aside from its looks, it's also very efficient. It can run for 3 hours straight without scrimping on heat output.
Best Features:
11,000 BTU of power
Dancing flame feature
Beautiful pyramid enclosure
5 feet coverage in diameter
Portable built
4.  Garden Radiance Tabletop Heater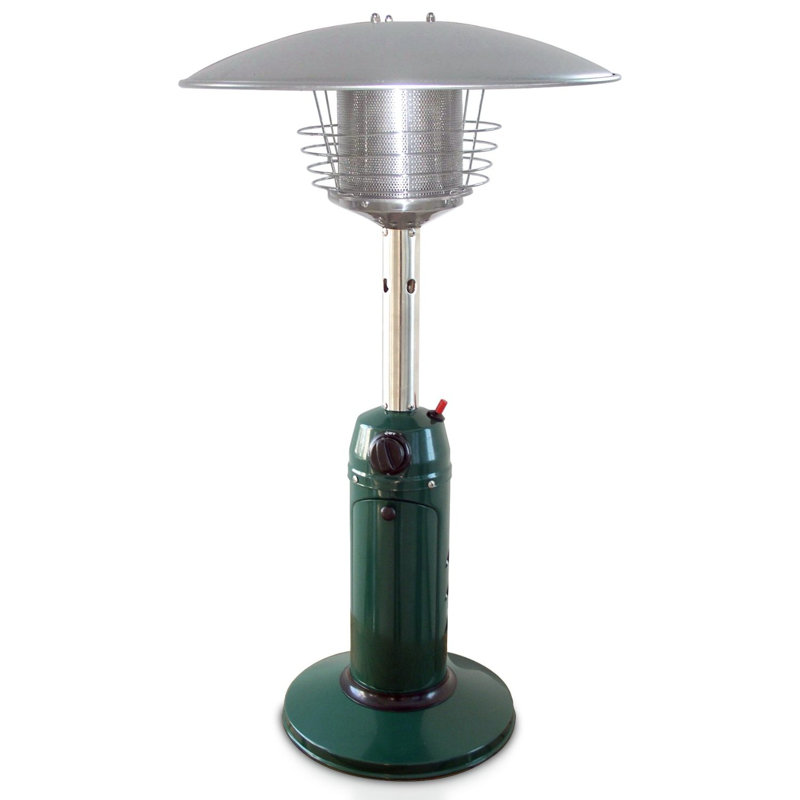 The beauty of Garden Radiance's patio heater is that it not only fits tables. You can also install it near your patio benches or your swimming pool chairs. It's also highly portable because of its lightness and small compact built.
Because of its garden look, it won't stick out. It's also very durable and have a very long shelf life. Lastly, it can be used along with a 5-gallon propane tank. So, if you don't want to keep on refilling your tank, you can just connect it there.
Best Features:
Green finish
11,000 BTU of power
Stainless steel structure
Comes with heating grid
Portable structure
5.  Hanover Mini Umbrella Patio Heater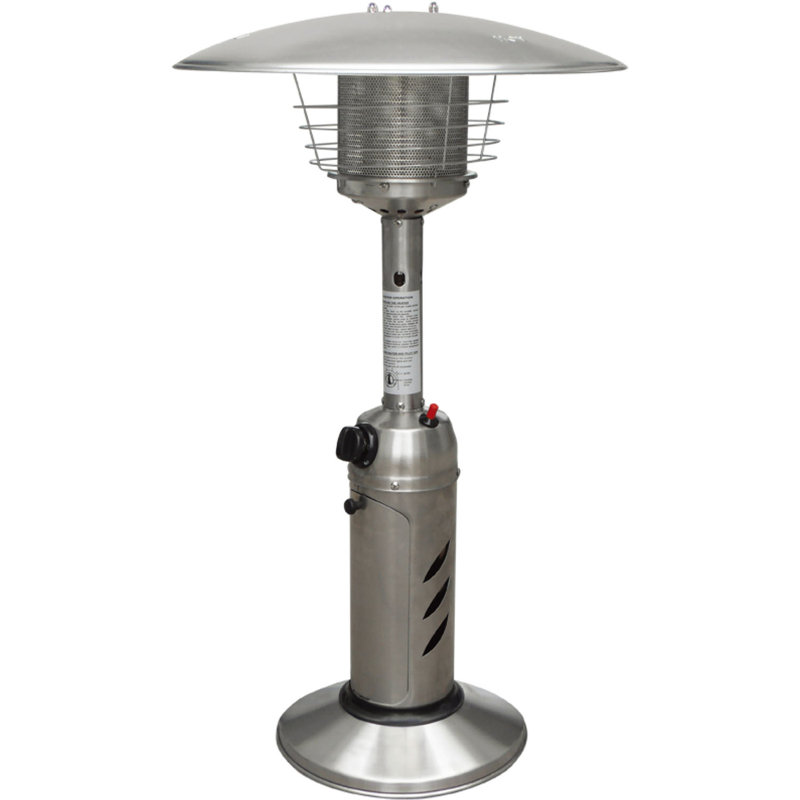 If you're looking for something that's easy to use, then this is the one you should buy. The Hanover Mini Umbrella Patio Heater comes with a piezo push button ignition. What it does is that it allows you to easily turn on the heater and set it to whatever heat settings you want.
In fact, you can lower the heat output to just 7,000 BTU from its high output of 11,000 BTU. You can do this if you feel like the heat is too much.
Best Features:
Umbrella shape design
1 hour running time
11,000 BTU max output
7,000 BTU min output
Easy ignition button
6.  AZ Patio Heater 1500 Watt Tabletop Heater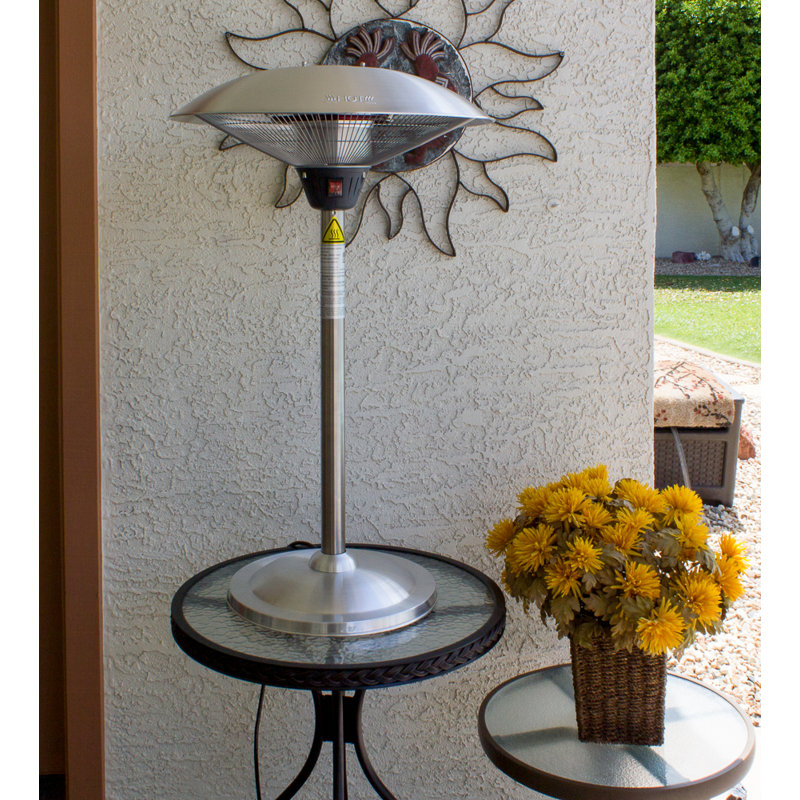 The AZ Patio tabletop heater is a very strong heater that uses 1500 Watts of electricity to power up the heat. Because of this raw electric power, the machine provides a total heat range of 15 feet in diameter, making it one of the longest reaching machines on our list.
You also have the chance to choose heating options by controlling the wattage. You can pick either the 1500W temperature or the 900W temperature if you like.
Best Features:
Eco-friendlier than propane heaters
Two heat settings
Portable size
Max of 1500 Watt power
15 feet range diameter
7.  Fire Sense Cimarron Halogen Heater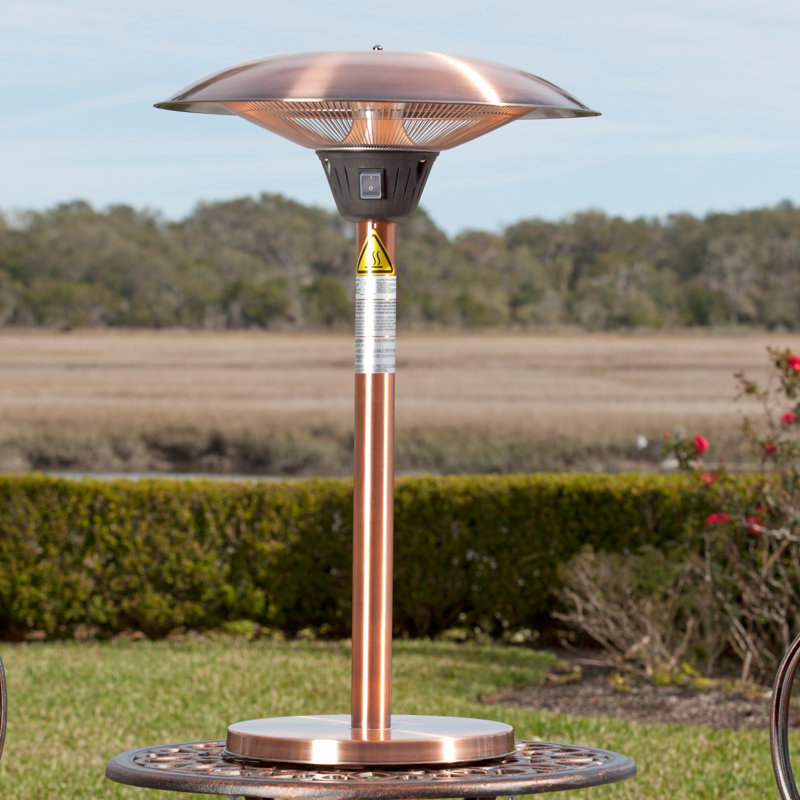 Fire Sense is a pretty well-known brand that a lot of homeowners love. The beauty of the Cimarron heater is that it can be used for both outdoor and indoor use. Thus, if you're done hanging around outside and want to heat up your living room instead, just bring it on. After that, connect it to an outlet somewhere in your home and it'll heat the place up for you. It's easy to use, versatile, and stylish all at the same time.
Best Features:
10 feet diameter range
Halogen lamp powered
For both indoor and outdoor use
Weighted base
8.  Westinghouse Tabletop Patio Heater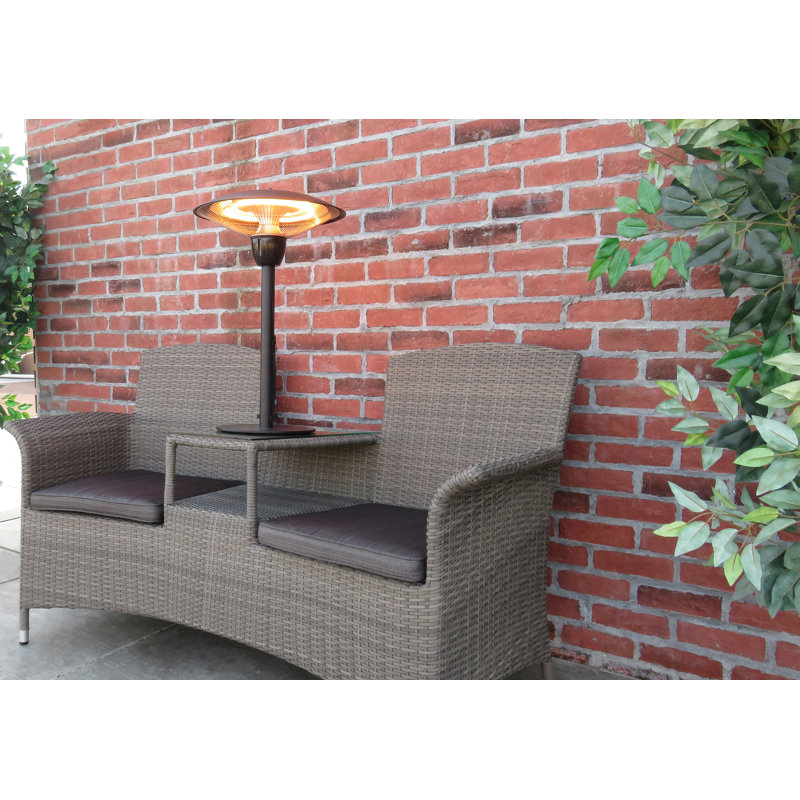 What you'll notice right away is the Zen design that this heater has. It is dark brown and has a very relaxing feel to it. It's great for Zen and nature inspired patios with dark brown wooden tabletops. Because of its powder coated finish, this happens to be one of the more durable heaters you'll find. To add to that, it is also water resistant and weatherproof. It also has a heat range of up to 50 feet in diameter, making it able to cover not only your table but also the whole porch.
Best Features:
High heat coverage
Zen design with matte finish
Weather and waterproof
1500Watt electric power
Anti-tilt switch
Overheat protection feature
9.  Blue Rhino Vacation Day Electric Heater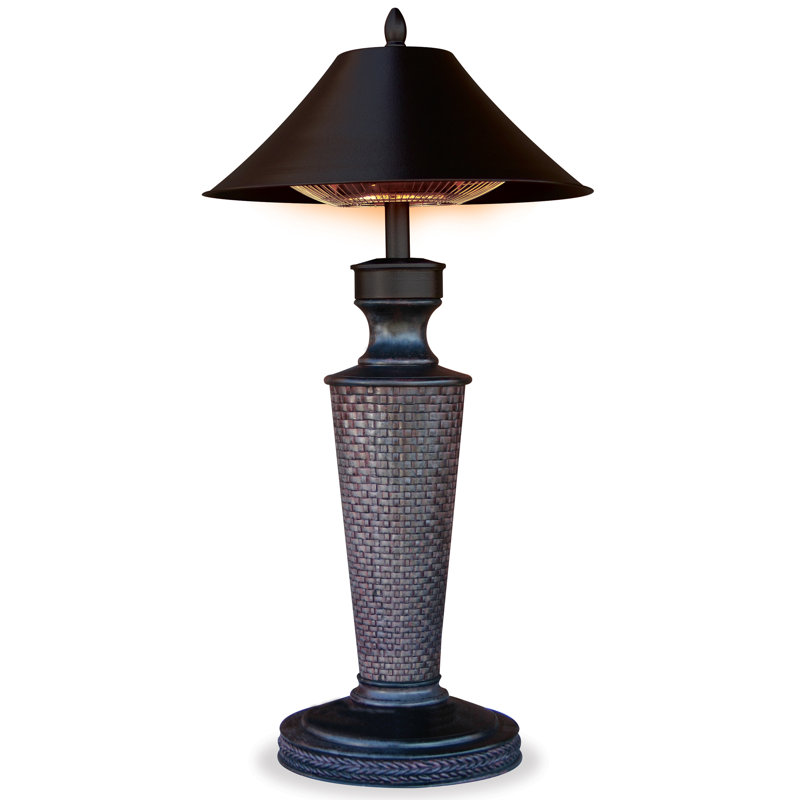 This is a pretty cool electric heater because it looks like an ordinary lamp. If you're into this kind of design, then you'll love having it on your tabletop. We can say that its feel is very relaxing and ideal for late night talks on your patio table. It's also completely weather proof so you can leave it on your patio table even during rain showers.
Best Features:
One push button for warmth
Very relaxing feel
Radiant heat producer
Durable steel frame
Portable design
10.  Energ Infrared Electric Tabletop Heater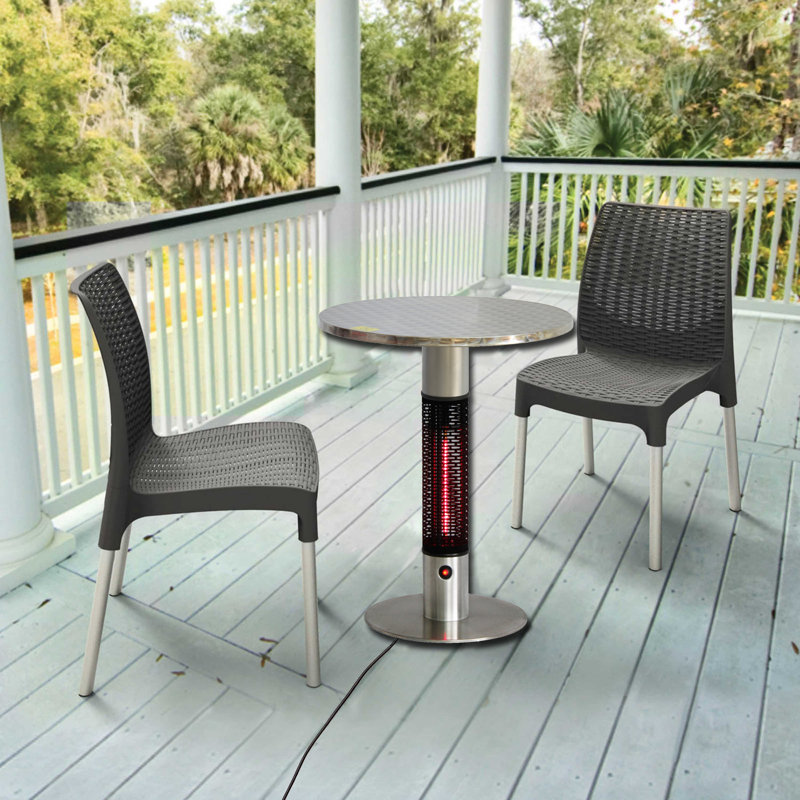 If you happen to have children or pets who like to run around the backyard, then this is the safest heater you can get. First of all, it has a "cool touch" technology which keeps the heat in check so that it never overheats. This technology makes use of a grill that cools itself, which is why it won't burn up to a high temperature. With this feature, it's very safe to even touch. Of course, this feature won't lessen its power. Just like any other electric heater, it maintains its standard of 5100 BTU (1500 Watts).
Best Features:
Futuristic design
Water resistant built
Stainless steel structure
Gold tube technology
Weatherproof
Conclusion
Now that we've reached the end of our guide, you may be asking what is the best tabletop patio heater out of the 10 choices we gave. Well, we still maintain our stand that the best one for you depends on your own needs, tastes, and preferences.
But if you were to ask us what we think is the best, we'll stick with the Westinghouse Tabletop Patio Heater. It has great coverage (50 feet in diameter), standard heat output for an electric heater, a great design, strong durability, and a very efficient overheat protection system. Overall, it's an all-rounder type of tabletop heater.