A nice, long, hot shower at the end of a hard day could be just the thing to ease aching muscles and get you in the mood for a sound sleep. Or even as a great pick-me-up first thing in the morning. Yet the cost of heated water increases with every rise in utility bills. But you may not have to worry about those heating bills rising if you buy the best tankless gas water heater you can afford. The most amazing part of these water heaters is that they are usually compatible with a handheld shower head as well as a rain shower head! That has to be a plus point, right?
Before looking at these heaters in more detail, let's first take a look at some of the best tankless gas water heaters around.
Read more: How to choose the best electric tankless water heater easily
Tankless Gas Water Heater Reviews
Below are reviews of some of the best gas tankless water heaters. We hope they help you in your search for the best gas tankless water heaterfor your buck.
Propane tankless water heater
On the lookout for the best propane tankless water heater? Here are a few to take a look at.
1.  Ridgeyard2GPM Water Heater 12L Digital Display LPG Propane Gas Tankless
This particular water heater has a minimum working water pressure of 0,025MPa and a maximum of 0,8MPa, and an automatic electric ignition that is powered by two qualified D batteries.
What customers have to say about the product:
Clients were very satisfied with both the product use and the price. They found the latter very reasonable, while the functionality of this tankless heater was found to be very sound.
The best features of this product include:
A built-in 20-minute timer for safety purposes
Highly efficient energy saving
Low water-pressure startup
The product has an overheating protection function and also an over water pressure protection function
It sports an open and force flue exhaust with a flue automatic gas discharge
It has an automatic pulse ignition system and a flame failure protection device
2.  i12-LP Indoor 3 GPM Liquid Propane Tankless Water Heater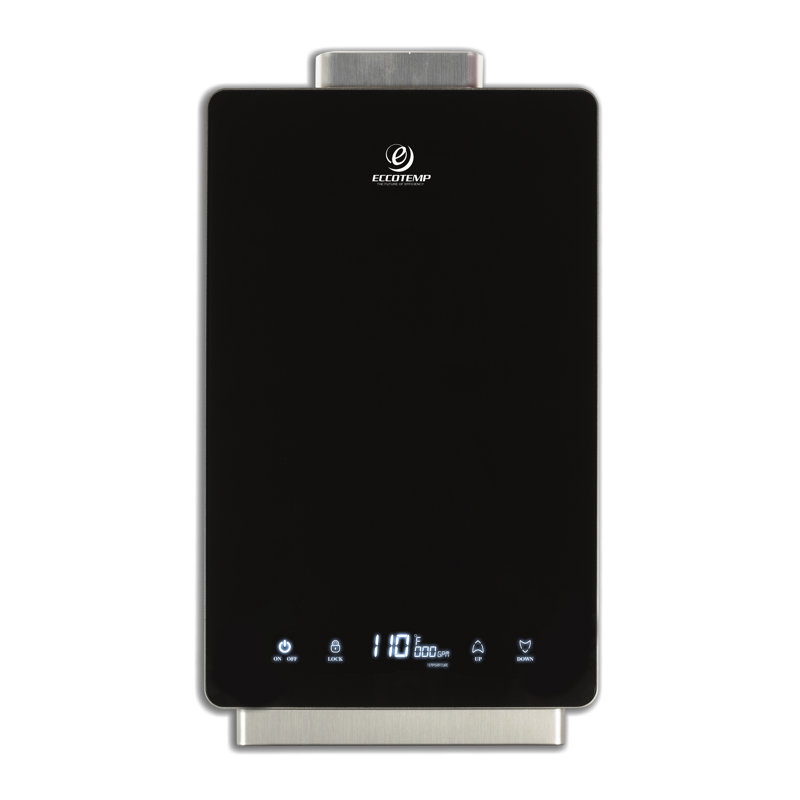 This product sports a new, revolutionary design that features a new, sleek acrylic black casing with fully automatic temperature controls and touch screen and LCD temperature display.
What customers have to say about the product:
Clients were impressed by the functionality of this product. Other comments referred to the ease of installation and the fact that heated water is available almost instantly.
The best features of this product include:
The unit features a clean, sleek, modern design
It has an LCD temperature display
The maximum flow rate is 3 gallons per minute
It gives a maximum water pressure of 80 PSI with a minimum water pressure of 22 PSI
It sports an adjustable thermostat
It has an overheat protection feature, allowing the product to turn off if the temperature of the water goes over 75 degrees Celsius
See more: Liqiuid Propane Eccotemp Systems LLC Water Heaters on Wayfair
3.  Marey 3.1 GPM Liquid Propane Gas Digital Panel Tankless Water Heater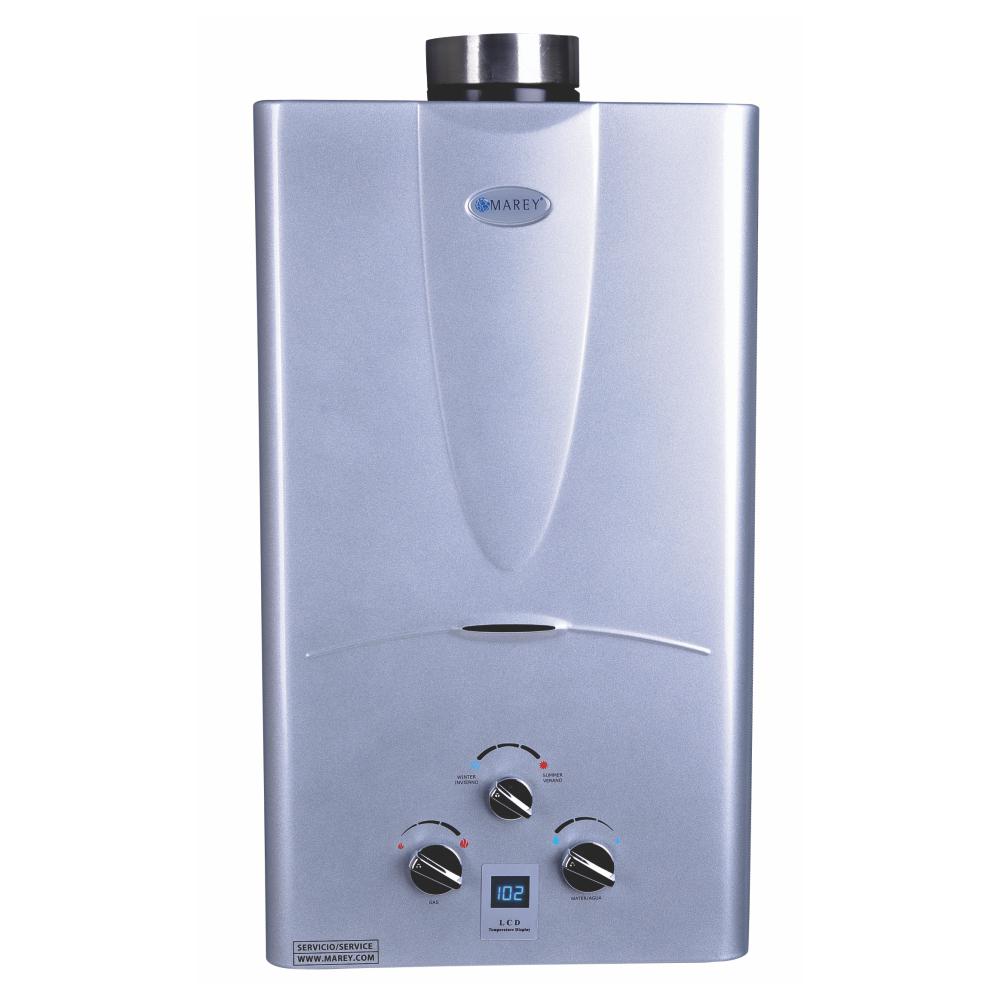 This tankless water heater has a compact design that saves you space. It is easy to install and could potentially save up to sixty percent on your electricity bill for water and heating. A plus factor is that no electrical connection is required.
What customers have to say about the product:
While this product surpassed most of the customers' expectations, those in areas that have extremely low temperatures during winter have mentioned the possibility of this cold air entering the vent and freezing the unit.
The best features of this product include:
The product has a compact, space-saving design
It allows for the water temperature to be controlled
Unlimited hot water is available within a few seconds
4.  EZ Supreme Tankless Water Heater, 6.4 GPM, Direct Vent Exhaust Included
This tankless water heater has the capacity of providing enough water for a four-bathroom home. It was, in fact, designed specifically to meet the needs of most larger homes across the U.S. and delivers up to 6.4 gallons of hot water per minute. This makes it an ideal replacement for up to a 100-gallon storage tank water heater.
What customers have to say about the product:
Customers commented on the ease with which they were able to install this tankless water heater themselves – besides the propane hookup for which the appropriate people were needed, of course. They were also impressed with the water temperature quality.
The best features of this product include:
Perfectly suited for use in larger American households
It delivers 6.4 gallons of continuous hot water per minute
Boasts a slim modern design in white
Features an easy to use digital control panel
The specially designed exhaust is included and incorporates a sealed dual-chamber forded air intake and exhaust pipe
5.  RheemPerformance Plus 8.4 GPM Liquid Propane Mid Efficiency Outdoor Tankless Water Heater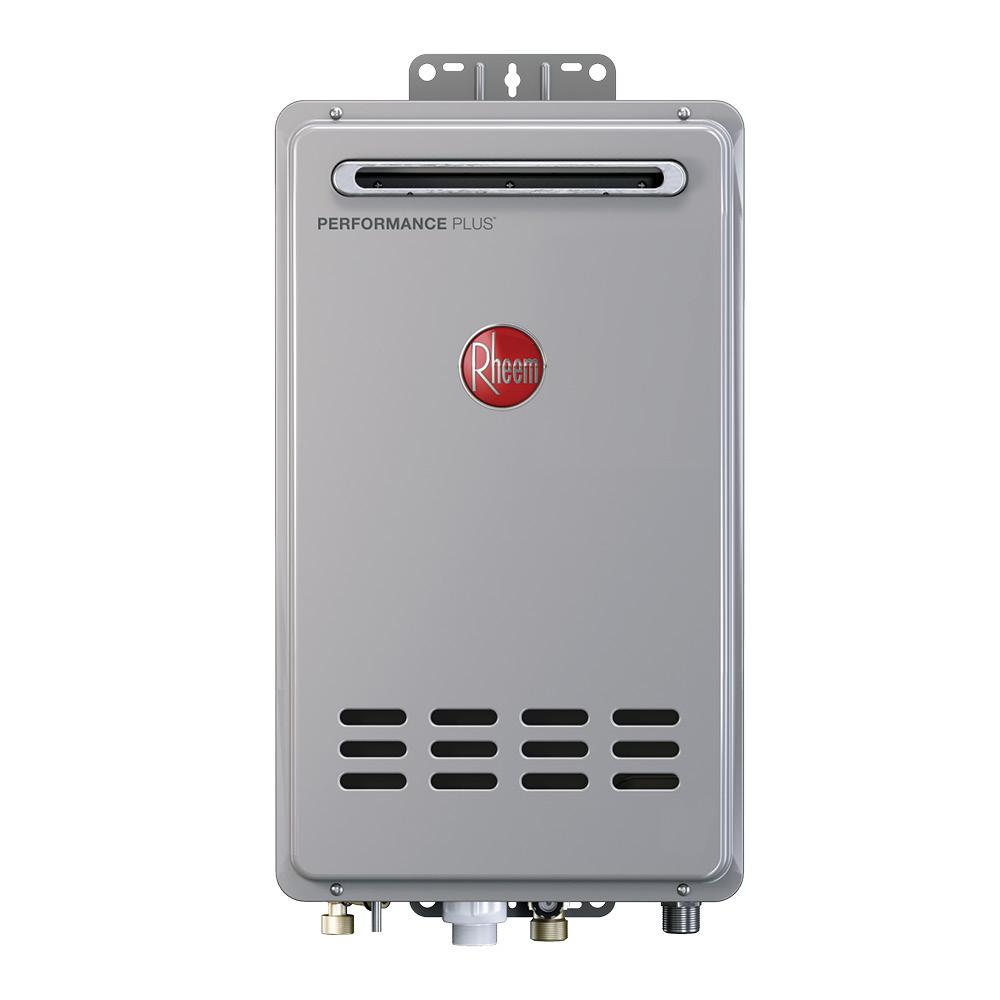 A great option for two to three bathroom homes, the Rheem 8.4 GPM tankless water heater can provide up to 8.4 GPM of warm water at a 35-degree temperature rise. It has a remote digital thermostat that can be installed in just about any convenient location in your home.
What customers have to say about the product:
Customers thought this was an awesome water heater and mentioned the ease of installation. The only drawback, as far as we could tell, was that the exhaust piping is not included in the sale.
The best features of this product include:
This tankless water heater can provide enough water for a two to three bathroom home
It has a 0.81 uniform energy factor that meets energy efficiency standards
A remote digital display indicates precise temperature settings as well as maintenance codes
The product can be converted for commercial applications
6.  RL75iP Luxury 7.5 GPM Liquid Propane Tankless Water Heater by Rinnai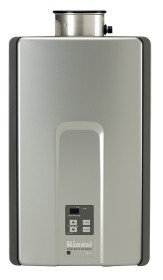 Incredibly efficient, this non-condensing unit gives you the convenience of a space-saving, modern design that satisfies the demand of most larger homers.
What customers have to say about the product:
Although customers found the need to install propane lines a little bit inconvenient, they found it well worth the effort, as the tankless water heater, according to them, made it well worth the effort. The small size of this unit makes it almost unnoticeable, according to them, while it works very efficiently and was installed without hassles.
The best features of this product include:
The product's enhanced scale detection reduces the possibility of serious, long-term damage
The product has a temperature lock which helps to prevent possible accidental or unauthorized water temperature adjustments
Property damage is reduced by the leak detection feature that shuts off your water supply to the interior unit
It is a continuous flow gas hot water system that is temperature controlled for ease of use and personal comfort
It can be installed in regular or mobile homes
See more: 7 of the Best Rinnai Tankless Water Heaters for Your Heating Needs
Natural gas tankless water heater
If you are thinking of going the way of natural gas, here are a few more to try out for size.
7.  VEVOR 16L Natural Gas Hot Water Heater 4.3GPM 32KW Tankless 
This natural gas hot water heater has a wonderful, thin design that takes up very little space. It works well for smaller homes.
What customers have to say about the product:
Customers tend to agree that this is a great option for a smaller home and that it is pretty easy to install depending on the type of exhaust used. Please note, however, that the manufacturers advise you use a qualified person to do the installation for you.
The best features of this product include:
The unit has an anti-freezing function
It also has a low water-pressure start up while it is an efficient way of saving on electricity costs
It boasts a manifold auto protection feature for your personal safety
The twenty-minute timer works well and should be equipped according to regulations
The product is constructed out of durable stainless steel
8.  EZ Ultra HE Natural Gas Condensing Tankless Water Heater by EZ Tankless
The UZ Ultra HE gives you the option of choosing either vertical or horizontal venting. This model gives up to 3.4 gallons of warm water a minute at a 45 degrees Fahrenheit rise of constant hot water.
What customers have to say about the product:
Customers were very impressed with this product. A particular point of interest mentioned was the choice of a vertical flue and the ease of installation was praised.
The best features of this product include:
A condensing tankless water heater
Uses exhaust gasses to preheat the inlet water
Allows for the capture and drainage of acidic condensation that prevents vertical venting
Can use Solid Core Schedule 40 PVC pipe for the venting
A back-draft prevention device and 28" stainless steel horizontal vent pipe are both included in the purchase
The product delivers up to 3.4 gallons of warm water per minute at a 45 degree Fahrenheit temperature rise
A good option for a home with either one or two bathrooms
9.  45HI-NG Eccotemp 6.8 GPM Natural Gas Tankless Water Heater See by Eccotemp Systems LLC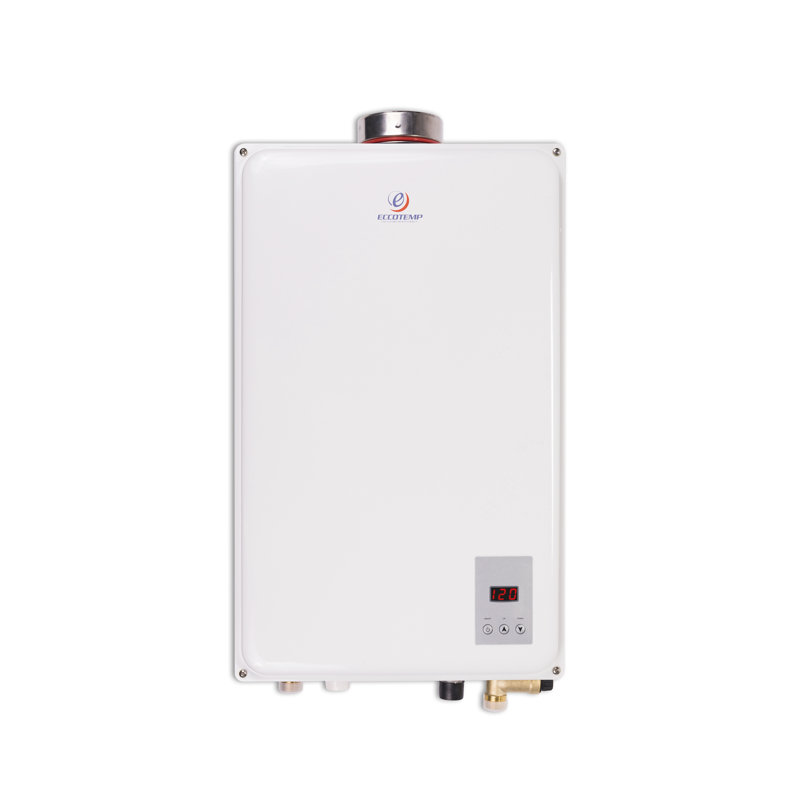 This tankless water heater is designed to supply hot water to any standard three bedrooms, two bathrooms home. It is designed for use with natural indoor gas only.
What customers have to say about the product:
Although most customers say this product works well, the fact that it only works with a metal exhaust system seems to be a little off-putting.
The best features of this product include:
The product is split system adaptable with increases both efficiency and the delivery speed of your hot water supply
It is powered by natural gas
The product features a digital remote with simple controls and diagnostics
10.  RUC98iN Rinnai Ultra 9.8 GPM Natural Gas Tankless Water Heater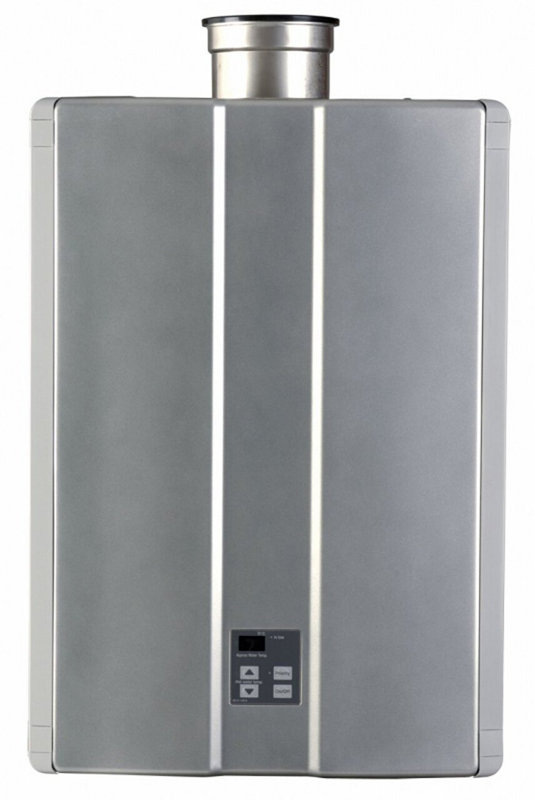 This natural gas tankless water heater boasts a stainless steel finish. PVC pipes can be used for the vents. It uses only natural gas.
What customers have to say about the product:
The majority of customers seemed very pleased with the style and function of this heater. The water heats up quickly and, most importantly, stays hot.
The best features of this product include:
Has a stainless steel finish
The minimum activation flow rate is 0.4 GPM
The product can be used with PVC vents
The maximum flow rate is 9.8 gallons per minute, and the minimum flow rate is 0.26 gallons per minute
The maximum water pressure is 150 PSI, while the minimum water pressure is 15 PSI
A thermostat is included in the purchase
How Does a tankless gas water heater work?
The moment you open a hot water tap, the sensor in the unit senses it. Your unit is now operating, and the gas burner fires up. The heat exchange warms up the flowing water.
Some of these units have what is known as a secondary heat exchanger that preheats your water. Here, heat is used from exhaust gases.
The quantity of gas entering the burner is controlled by a thermostat. In this way, a pre-set temperature is constantly maintained. The maximum temperature of a gas water heater is usually pre-set in the factory, with fifty degrees Celsius usually being the typical temperature for most homes. You can, however, with some of these units, change your temperature requirements as you deem fit.
Please do take note that this is only a brief description, as the exact working of this type of water heater largely depends on the particular unit's manufacture design and process.
Choosing a tankless gas water heater
There are, typically, two types of tankless gas water heaters: propane, or natural gas. The type you choose will largely depend on where you stay, as some areas have access to natural gas. Here, the natural gas option would work best as it is freely available.
In areas that do not have access to natural gas, you would probably look at a propane gas solution. Please remember that your propane gas tanks need to be in a safe, secure area, as per your area's restrictions.
When deciding on a specific type of heater, you would probably need to consider style, and function. What works well for a two-bedroom, one-bathroom home may not be suitable for a larger home sporting four bedrooms and three bathrooms. The needs are simply too different. The style of the product would also come into play, plus where you want to install it. In other words, is this heater going to be installed outside, or inside your bathroom, for example. Knowing this would help you limit your choices, thereby making the decision of which particular product to purchase just that much easier.
The Pros and Cons of a Tankless Water Heater
A gas heater is a great option if your home already has a gas line installed.
The pros of a tankless gas water heater:
These water heaters could potentially heat up water twice as fast as a conventional electric water heater
Gas water heaters are not only energy efficient, but your potential operating costs are also drastically slashed, meaning you make up on savings in the long run.
May work even when the lights are down
Unless your tankless gas water heater operates with an electric ignition, you are assured of a running supply of hot water even when the power is out.
The cons of a tankless gas water heater:
Initial installation costs may be quite high
The initial, upfront costs of a tankless gas water heater may be quite costly. Most of these heaters, however, pay for themselves in other savings relatively quickly.
Installation difficulties
This may be quite a complex installation and may need the services of qualified professionals.
Compared to an electric tankless water heater, these water heaters have a slightly shorter lifespan. This difference, however, is only a year or two so the effort is well worth the cost in the long run.
Conclusion
Installing the best tankless gas water heater for your particular needs is important, because up to a quarter of your home's energy costs usually goes towards heating your water. The water heaters offer you quite a number of benefits, though. Of those we reviewed, our vote goes to the RL75iP Luxury 7.5 GPM Liquid Propane Tankless Water Heater by Rinnai. We like the fact that this unit caters to larger homes while the modern, space-saving design makes it a great fixture to fit just about any home environment.