A nice, long, hot shower at the end of a hard day could be just the thing to ease aching muscles and get you in the mood for a sound sleep. Or even as a great pick-me-up first thing in the morning. Yet the cost of heated water increases with every rise in utility bills. But you may not have to worry about those heating bills rising if you buy the best tankless gas water heater you can afford. The most amazing part of these water heaters is that they are usually compatible with a handheld shower head as well as a rain shower head! That has to be a plus point, right?
Before looking at these heaters in more detail, let's first take a look at some of the best tankless gas water heaters around.
Tankless Gas Water Heater Reviews
Below are reviews of some of the best gas tankless water heaters. We hope they help you in your search for the best gas tankless water heater for your buck.
On the lookout for the best propane tankless water heater? Here are a few to take a look at.
1.  RL75iP Luxury 7.5 GPM Liquid Propane Tankless Water Heater by Rinnai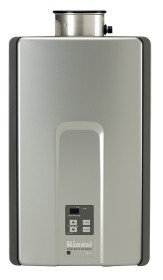 Incredibly efficient, this non-condensing unit gives you the convenience of a space-saving, modern design that satisfies the demand of most larger homers.
What customers have to say about the product:
Although customers found the need to install propane lines a little bit inconvenient, they found it well worth the effort, as the tankless water heater, according to them, made it well worth the effort. The small size of this unit makes it almost unnoticeable, according to them, while it works very efficiently and was installed without hassles.
The best features of this product include:
The product's enhanced scale detection reduces the possibility of serious, long-term damage
The product has a temperature lock which helps to prevent possible accidental or unauthorized water temperature adjustments
Property damage is reduced by the leak detection feature that shuts off your water supply to the interior unit
It is a continuous flow gas hot water system that is temperature controlled for ease of use and personal comfort
It can be installed in regular or mobile homes
If you are thinking of going the way of natural gas, here are a few more to try out for size.
2.  Rinnai 9.8 GPM Natural Gas Tankless Water Heater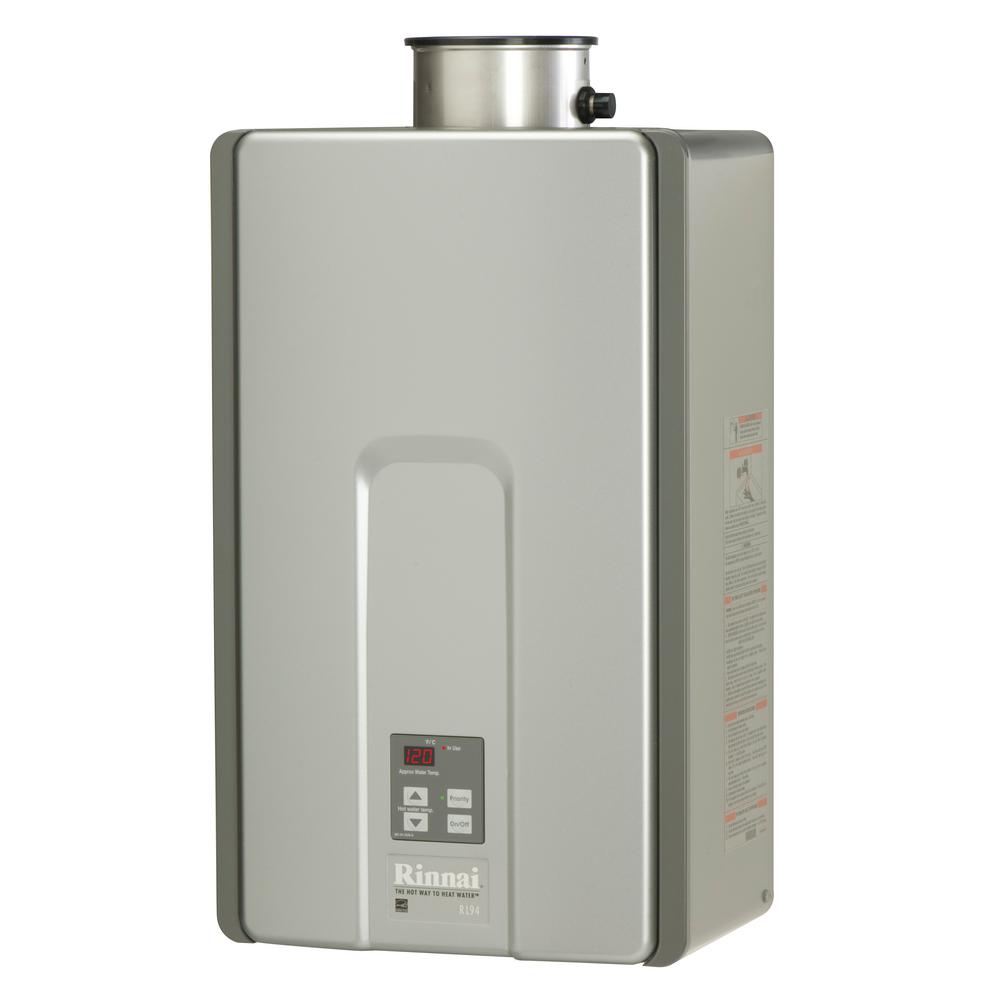 This Rinnai model has a strong 9.8 GPM gas use when you heat up your home. Perfectly made for residential buildings and homes, it uses an Energy Factor of 0.82, allowing it to have a strong maximum output. As for BTU, it dispenses 199,000 of heat.
Another great thing about it is its compact size which allows you to save space since it doesn't require that much installation. With performance and good spacial capacity, it's a great tankless water heater for any house.
What customers have to say about the product:
Due to its compact size, most customers stated that it's extremely easy to install and even use. With that, many customers commented that it's an ideal tankless water heater for small houses and even for condominium units.
Highlighted Features
199,000 BTU of power
82 energy factor
Compact size for space minimization
Efficient ventilation system
Scale detection feature to ensure longer shelf life
Temperature lock for keeping the heat constant
8 max gallons per minute
Makes use of both natural gas and liquid petroleum gas as well
5-inch vent diameter
10-year warranty for defects and for parts
3.  Propane Tankless Water Heater RL75eP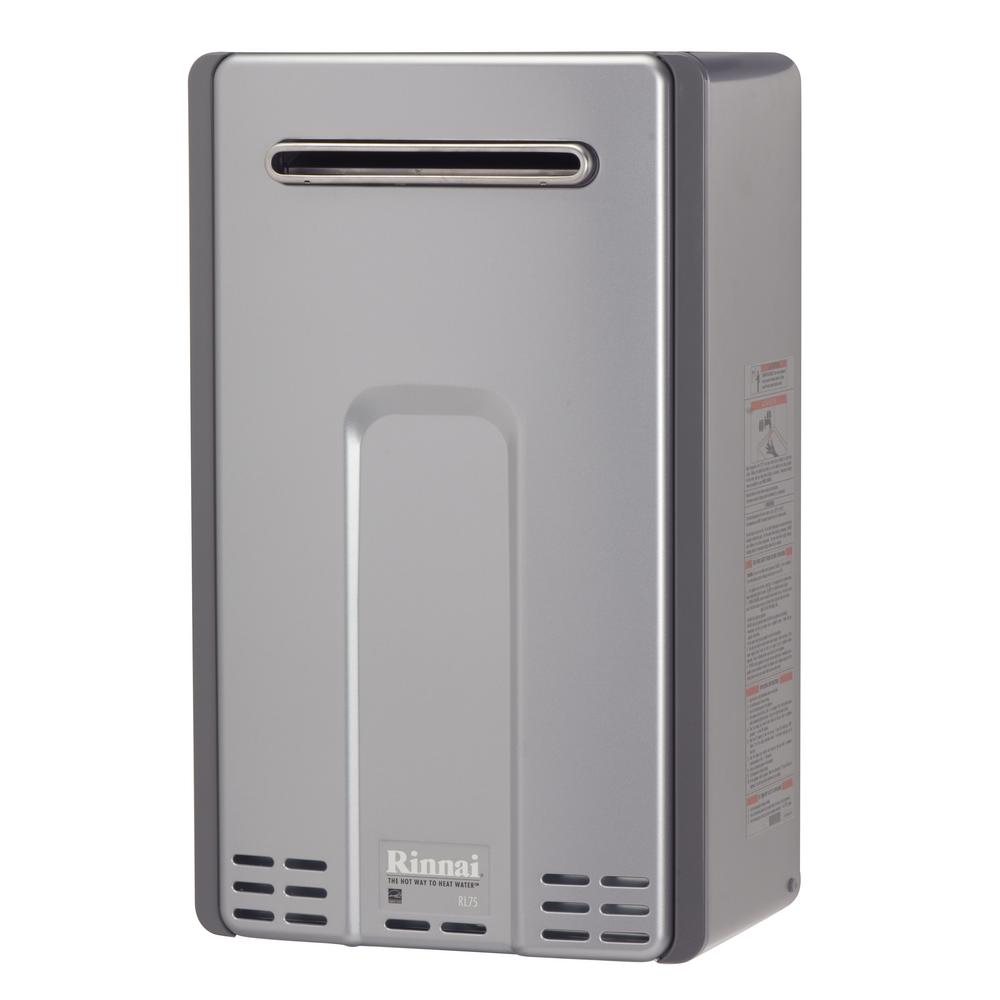 While the RL75iP model is for indoor usage, the RL75eP is more compatible for outdoor usage. As outdoor usage wears out water heaters more, this one comes with convenience features that make it very easy to maintain. Some of these features include the circ-logic technology and isolation valves.
These two features give it its long shelf life with little need for a lot of maintenance. The other specs are pretty much the same such as the 7.5 GPM, 180,000 BTU, and the Energy Factor of 0.82. However, you'll want this one if ever you need to have a tankless water heater for the outdoors.
What customers have to say about the product:
Most of the customers loved how easy it was for them to install this one outdoors. Since it is a mount type, there is hardly any installation that needs to be done. As compared to other water heaters, this one works really fast too. Customers have claimed that they don't need to wait so long for the hot water to come into their showers like with other water heaters.
Highlighted Features
180,000 BTU emission
Digital Controller with Error Code Indicator
Thermal Efficiency of 82%
Custom Commercial and Residential temperature settings
Isolation valves
Circ-logic technology
4.  RL94iP 9.8 GPM Residential Interior Tankless Water Heater
If you're looking for something that is both powerful and easy to use, this model is actually great for you. The RL94iP uses 9.8 GPM of propane gas, allowing the machine to emit up to 199,000 BTU of heat to your water tank. Unlike a lot of other heaters which only have 82% thermal efficiency, this one delivers up to 83% thermal efficiency for both residential and commercial structures.
Other than that, it's also got a nice gas saving mechanism allowing you to save up to 40% gas compared to other brands.
What customers have to say about the product:
If you look at most reviews, you'll see that customers do regard this model as one of the best tankless gas water heater products that they'll ever find in the market. They comment on this heater's energy saving ability (up to 40%) without compromising on power. That's why most customers would say this is worth the money that they paid for.
Highlighted Features
199,000 BTU
Digital Controller with Error Code Indicator
Heavy brass isolator valves for easy maintenance
Thermal efficiency of 83%
40% gas saving mechanism
Custom temperature settings for both residential and commercial structures
8 GPM
5.  RUS75EN Ultra Series White Water Heater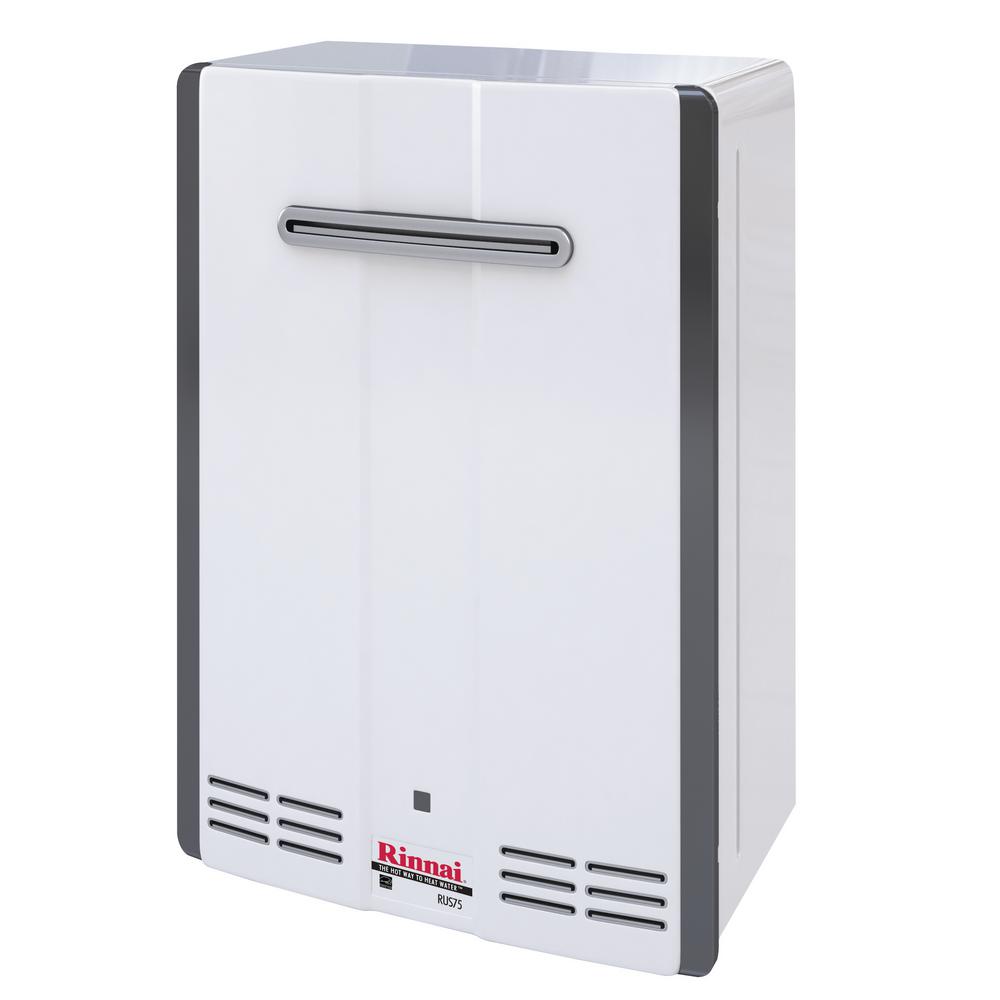 If you're looking for an outdoor water heater that has low NOx, then this is a good choice. This one has a temperature range of 120 to 140 degrees with pre-set temperatures. The great thing about this is that this one has very low NOx emissions and an easy outdoor mount installation.
Other than that, it's still quite strong with 7.5 GPM and a heat capacity of 160,000 BTU. What makes it great is that it has an energy factor of 0.93 which is the highest out of all the models in this list.
What customers have to say about the product:
While this model doesn't have as many reviews and ratings as the previously mentioned models, this one does have its own market to deal with. Most customers stated that this product is a great 7.5 GPM outdoor water heater that is also pretty eco-friendly.  They also liked the built-in status monitor which makes it easy for them to monitor and control temperature.
Highlighted Features
Built in freeze protection mechanism
Low NOx emission
Quiet and low vibration operation
Nice white finish
Status monitor with a remote controller
Four pre-set temperature setting
High altitude of up to 5,400 ft.
160,000 max BTU
Temperature range of up to 140 degrees Fahrenheit
Energy factor of 0.93
6.  Rinnai V65iN 6.6 GPM Low NOx Water Heater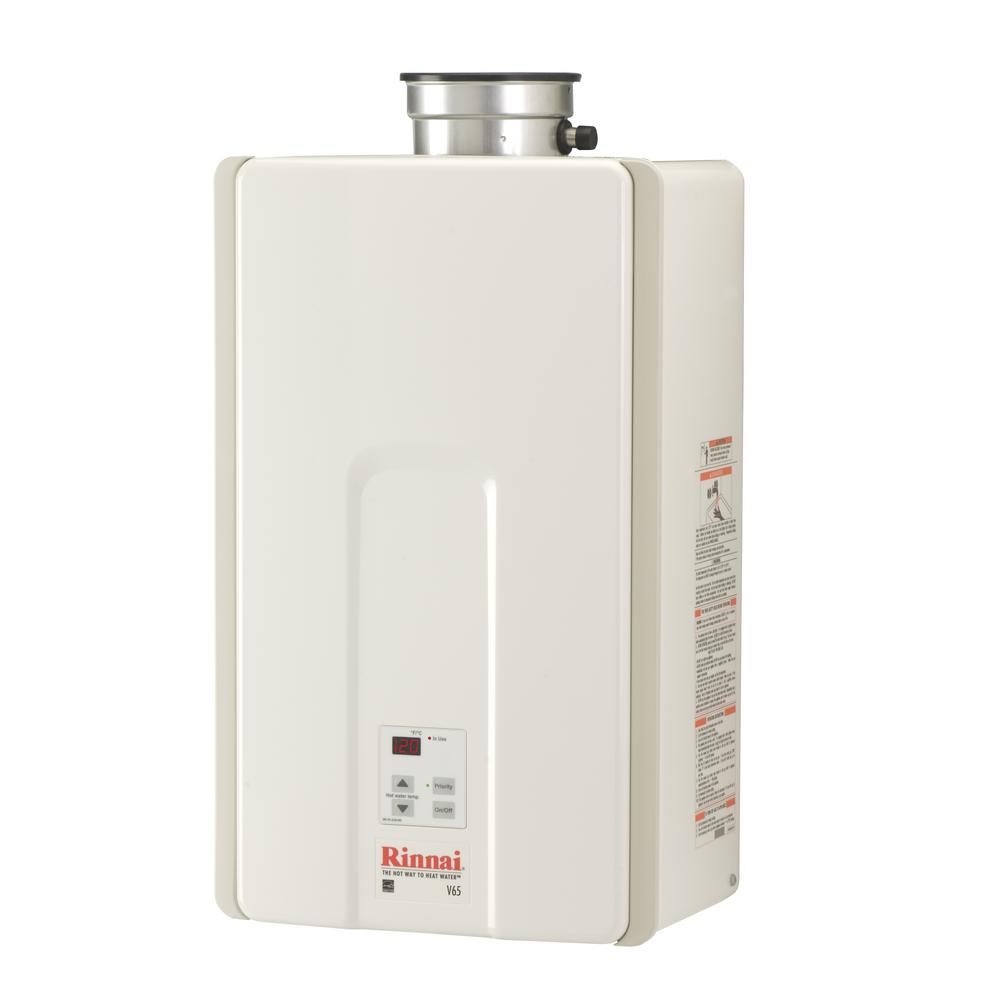 This one is another indoor tankless water heater that has low NOx emissions. Just like the rest, this one has an energy factor of 0.82. As for its BTU's, the max is 150,000 and the GPM is 6.6. What makes this a pretty attractive tankless water heater is its lightweight build.
In fact, this is one of the most lightweight water heaters offered by Rinnai. Because of the size and weight, it's extremely easy to carry it around and even install it indoors.
What customers have to say about the product:
Most of the customers don't know much about the installation of water heaters. That is why they love this model a lot. It is so easy to set up inside the house. It's also not bulky and heavy so they don't need to have a hard time lugging it around.
Highlighted Features
Energy factor of 0.82
Lightweight structure
Compact design
Low NOx emission as per California standard
150,000 max BTU
6 GPM
Read more: Best Rinnai Tankless Water Heaters for Your Heating Needs
7.  40 Gal Tank Replacement 6.2 GPM Natural Gas Indoor Tankless Heater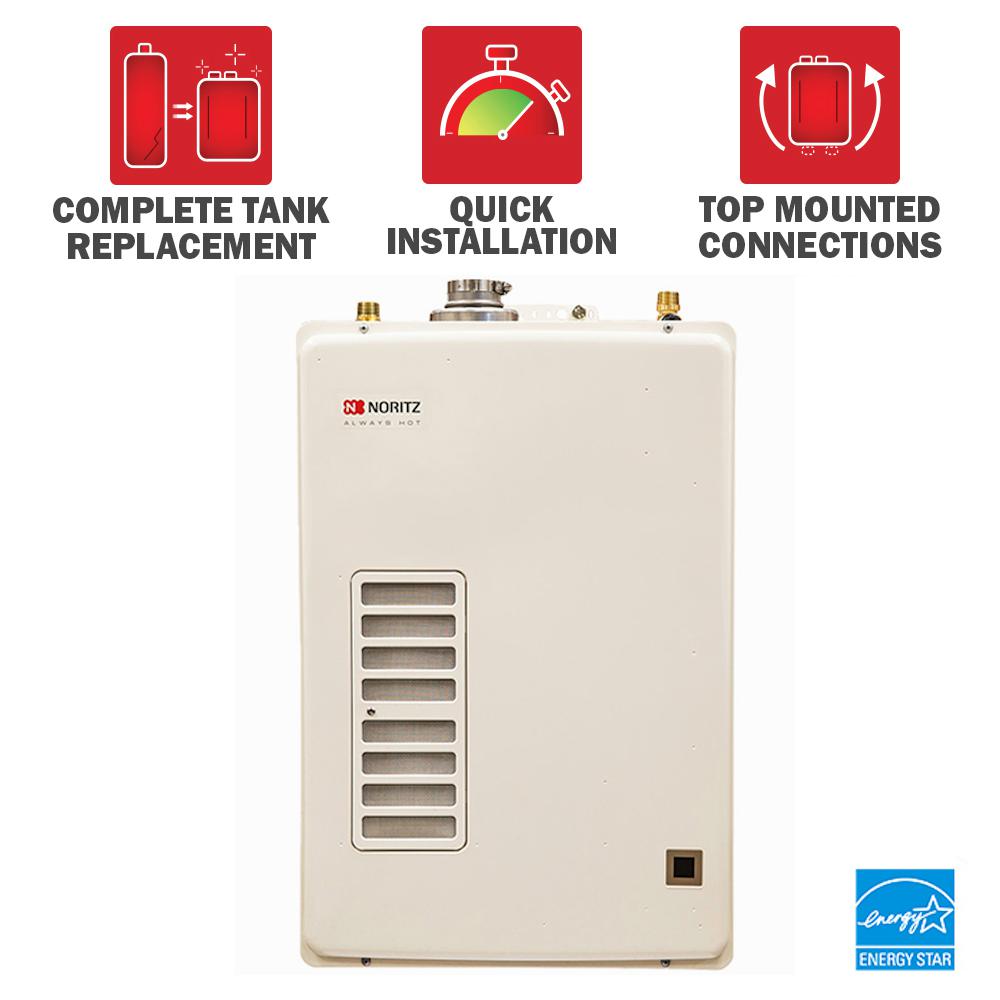 This NRC663 model from Noritz was the first water heater with tankless technology to reach the market. The water heater is specifically designed to replace 30 to 40 gallons tank water heaters and convert them into the tankless type. The hot and cold water connections are top-mounted for flexibility.
The product offers a decent water flow rate of 6.6 GPM, which is adequate to ensure a constant supply of hot water for regular use like bathing and dishwashing. Small households will undoubtedly appreciate its hot water offering.
Something that really stands out about this product is that it uses condensing highly efficient technology. Hence, users can make use of the available venting as a conduit and foundations for flexible PVC vent pipes. This makes the EZTR40 model easy and quick to install when compared to other tankless gas heater units.
In addition, the package includes extras like isolation valves and vent kits to help you install the heater with ease. For this reason, you don't have to be intimidated by the long and tiring installation process that is seen in the traditional models. The heater has 120, 000 BTUH requirements, and it can be installed in half an inch gas line.
One common issue that most homeowners have with natural gas tankless heaters is the level of noise. However, a good number of customers are pleased with this unit's quiet operation. The unit works effectively without causing clicking relays, allowing you to enjoy a serene environment.
Most reviewers also note that the model has no fluctuations or leakages as is the case with other models. This delivers smooth and trouble-free operation.
Highlighted Features:
Flow rate: 6.6 GPM
Energy factor: 0.87
Condensing technology
Weight: 85 pounds
Warranty: 12 years for heating exchanger and 7 years for other components
What We Like:
Suitable for small homes
Easy and smooth operation
Simple installation
Energy Star rated
Budget-friendly
WiFi compatibility
Top-mounted connections
What We Don't Like:
Only ideal for indoor use
8.  1 GPM Natural Gas Indoor Direct Vent Recirculating Tankless Heater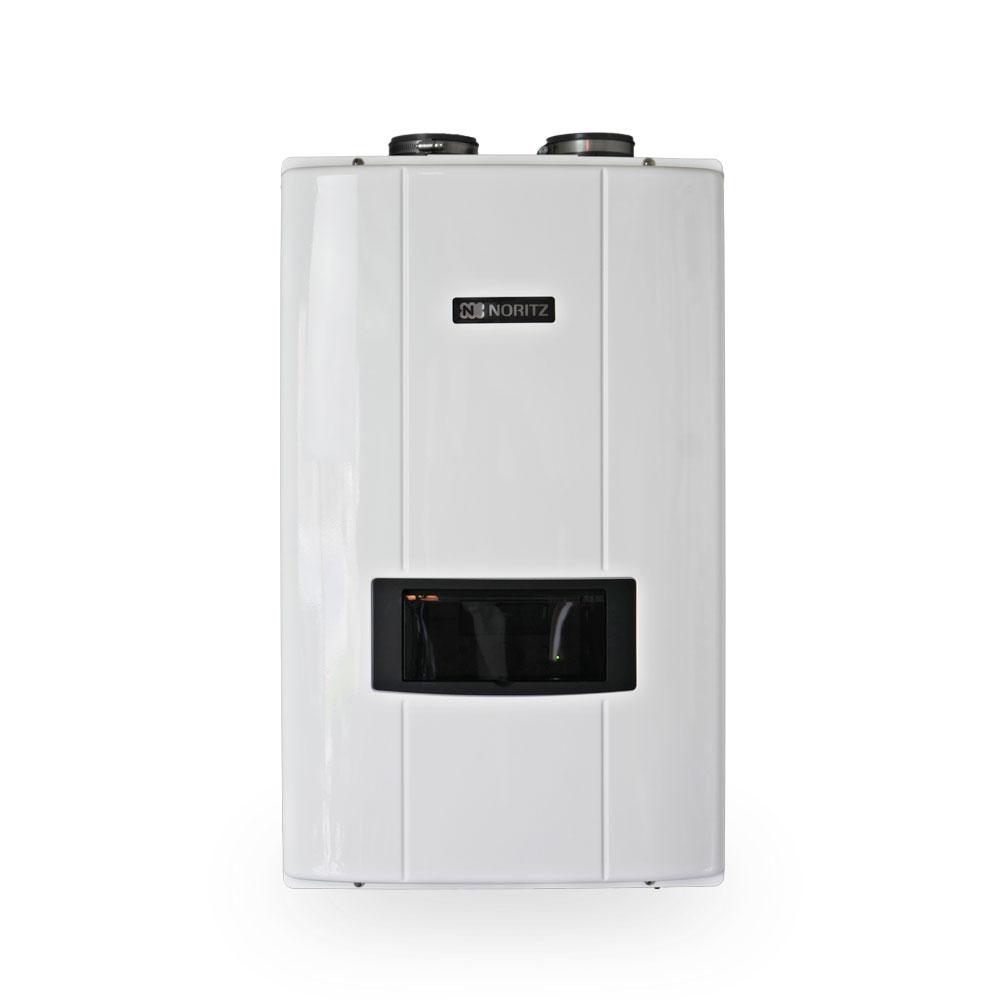 This is another best tankless gas water heater that has an incredible water flow rate of 10.1 GPM. A unique spec of the heater is the built-in recirculation pump that is designed to supply preheated water with a dedicated return line. The internal pump has to modes: the internal mode and the external mode.
If you are concerned about harmful environmental emissions, you will be glad to know NRCP98-DV-NG that a gas and water leakage detection is integrated. This way, you will be at peace knowing that your family is safe and no damage will occur to the product.
This Noritz product has a uniform energy factor of 0.94 and temperature settings of 100 degrees to 140 degrees F. It uses a high efficiency condensing technology and features a built-in weatherproof remote controller to help you customize the hot water.
An impressive feature is that this heater can be converted for outdoor use. This is despite the fact that it is specially designed for indoor use. One can also use it outdoors with the help of VCK-NRCP- 1 kit, which is sold separately
A feature that stands out is the crossover valve functionality that makes external circulation possible without needing a return line. You can also customize the temperature settings with ease, thanks to the remote thermostat included. According to customer Noritz tankless water heater reviews, it is evident that users love its smart heating technology.
Highlighted Features:
Water flow rate:10.1 GPM
Uniform Energy Factor: 0.94 UEF
Temperature settings: 100 degrees to 140 degrees F
Weight: 85 lbs
Gas consumption: 18000 BTU/H- 180,000 BTU/H
What We Like:
Includes durable stainless steel heat exchanger
Features internal pump with 2 modes
Highly efficient
Ideal for use both indoors and outdoors
What We Don't Like:
Read more: Top Noritz Tankless Water Heater of the Year – Consumer Reports
9.  RheemPerformance Plus 8.4 GPM Liquid Propane Mid Efficiency Outdoor Tankless Water Heater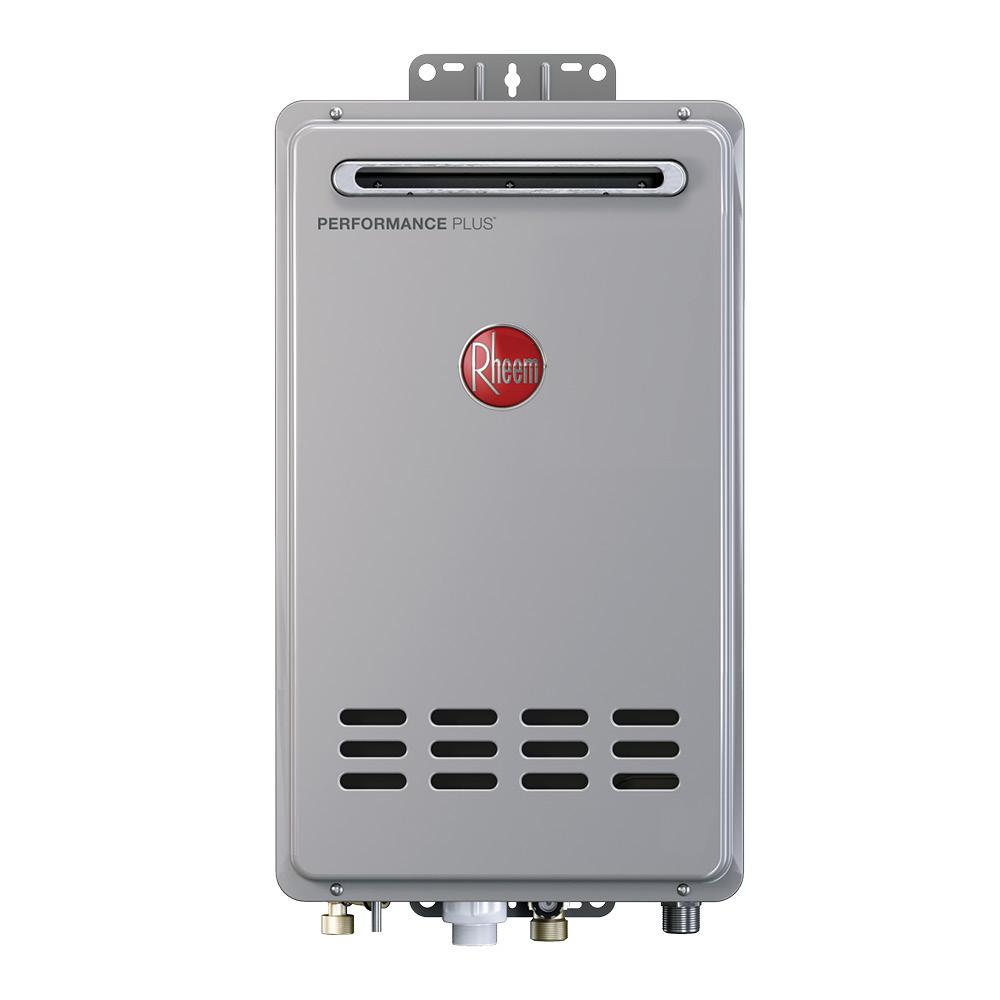 A great option for two to three bathroom homes, the Rheem 8.4 GPM tankless water heater can provide up to 8.4 GPM of warm water at a 35-degree temperature rise. It has a remote digital thermostat that can be installed in just about any convenient location in your home.
What customers have to say about the product:
Customers thought this was an awesome water heater and mentioned the ease of installation. The only drawback, as far as we could tell, was that the exhaust piping is not included in the sale.
The best features of this product include:
This tankless water heater can provide enough water for a two to three bathroom home
It has a 0.81 uniform energy factor that meets energy efficiency standards
A remote digital display indicates precise temperature settings as well as maintenance codes
The product can be converted for commercial applications
10.  5 GPM Indoor Platinum Natural Gas Tankless Water Heater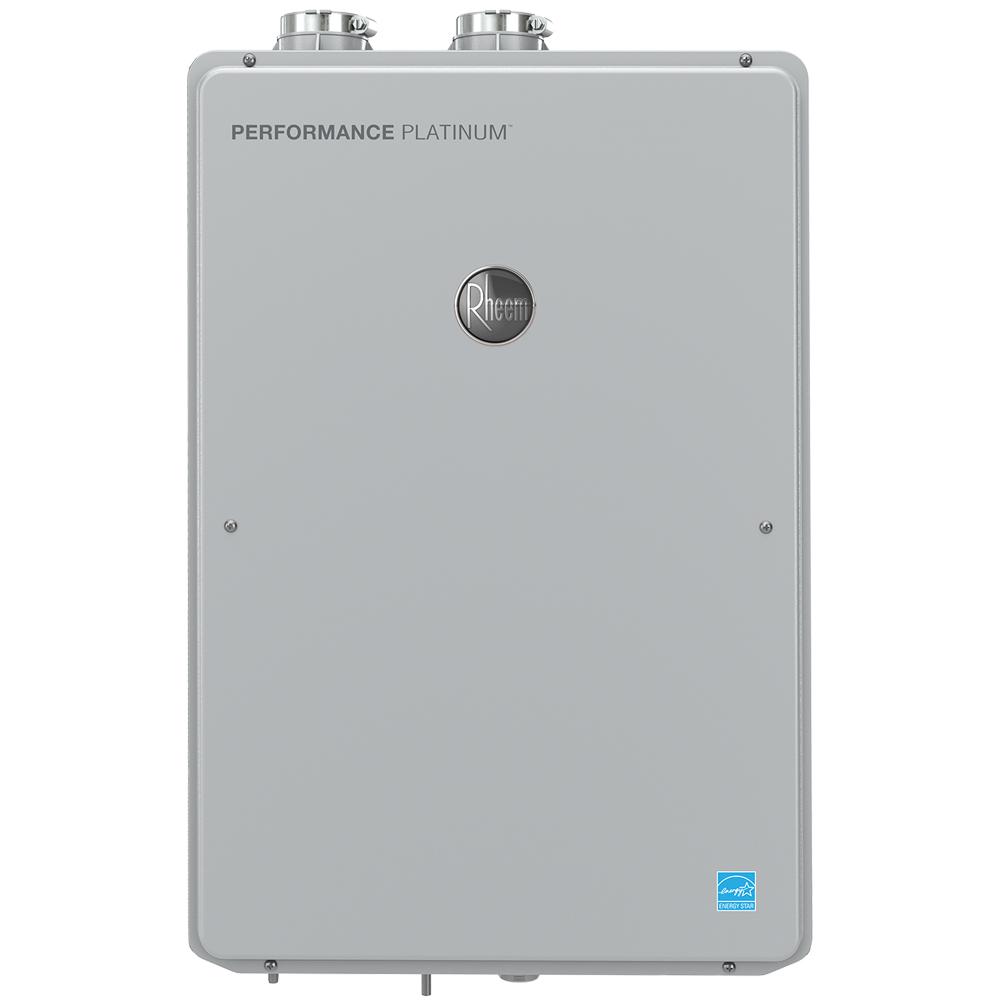 According to some Rheem performance platinum gas water heater reviews, you could save a lot from energy costs by using this indoor water heater. You can save an estimated amount of $1,100 in 12 years. Furthermore, it has an Energy Star rating. With a 0.93 Uniform Energy Factor, you can avail of the incentives and rebates. The water-saving setting feature could save you over a thousand gallons of water each year.
Highlighted Features:
Fuel type: Natural gas
Flow rate: 9.5 GPM
Application type: Residential
Temperature setting: 85- 140 degrees F
Uniform energy factor: 0.93
12-year limited warranty on heat exchanger, 5-year limited warranty on parts, and a 1-year warranty for home labor
Pros:
Value for money
Easy installation
Saves a lot of space
Consumes less gas
Continuous hot water to up to 3 bathrooms
Could save 1,000 gallons of water each year
Saves on energy costs
Cons:
A bit long for the tank to deliver hot water
Upfront costs are a little expensive
11.  Rheem 11 GPM Indoor Platinum Natural Gas Recirculation Tankless Water Heater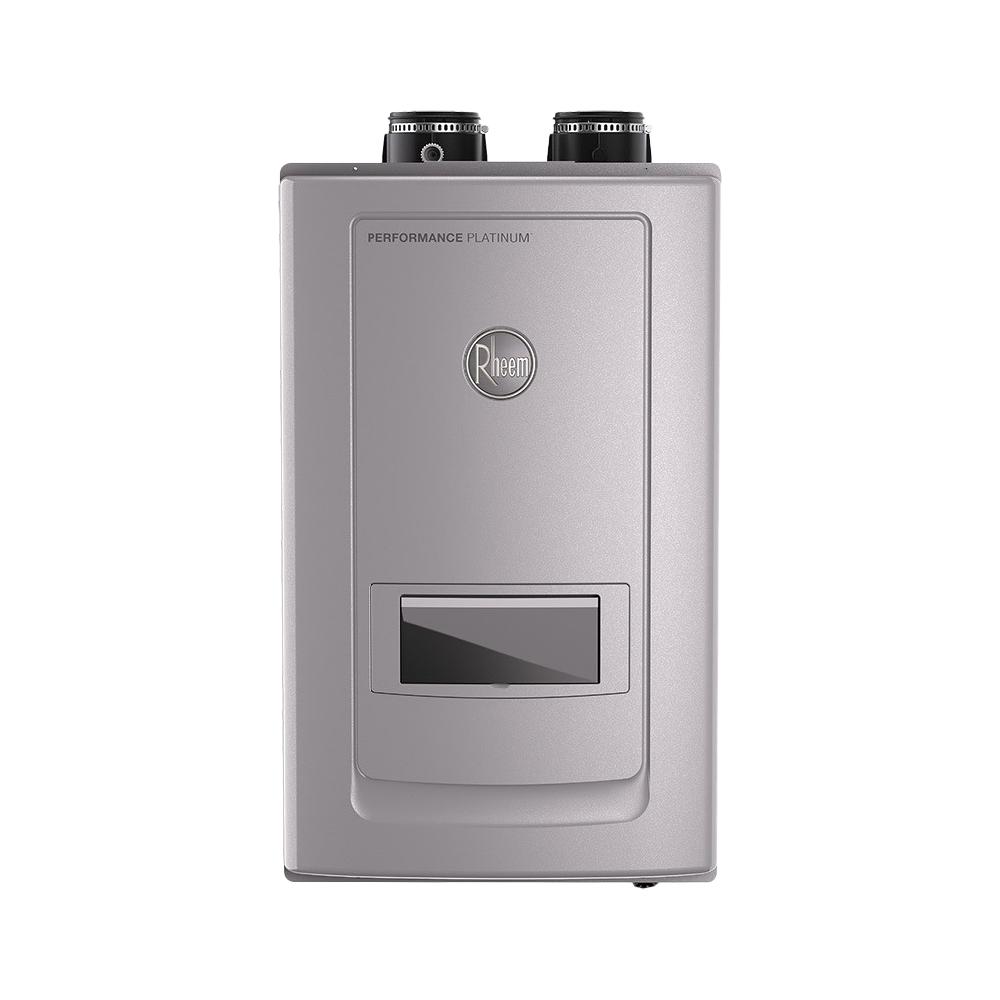 Because of its built-in recirculation system, this water heater has received many Rheem gas tankless water heater reviews. It sends hot water to faucets fast and continues to do so if you need hot water. It is also efficient and energy-saving. Thus, you can save a lot. It is a model with an Energy Star certified rating. Therefore, you could also save more money. You save more from installation-related expenses, space, water, and time.
Rebates are also possible for more savings. You could also take note that this is compatible with PVC vents.
Highlighted Features:
Fuel type: Natural gas
Flow rate: 11 GPM
Application type: Residential
Uniform Energy Factor: 0.94
Temperature setting: 100-140 degrees F
Wall mountable
Freeze protection
Ultra LoNox
Pros:
Easy installation
Operates quietly
The recirculation pump is great
Value for money
Recirculation technology features make hot water readily available
Venting compatibility saves installation expenses
Floor-space saving
Cons:
Additional costs for installation and parts
The inconsistent temperature when there is a change in the water flow
12.  5 GPM Indoor Rheem Performance Platinum Natural Gas Tankless Water Heater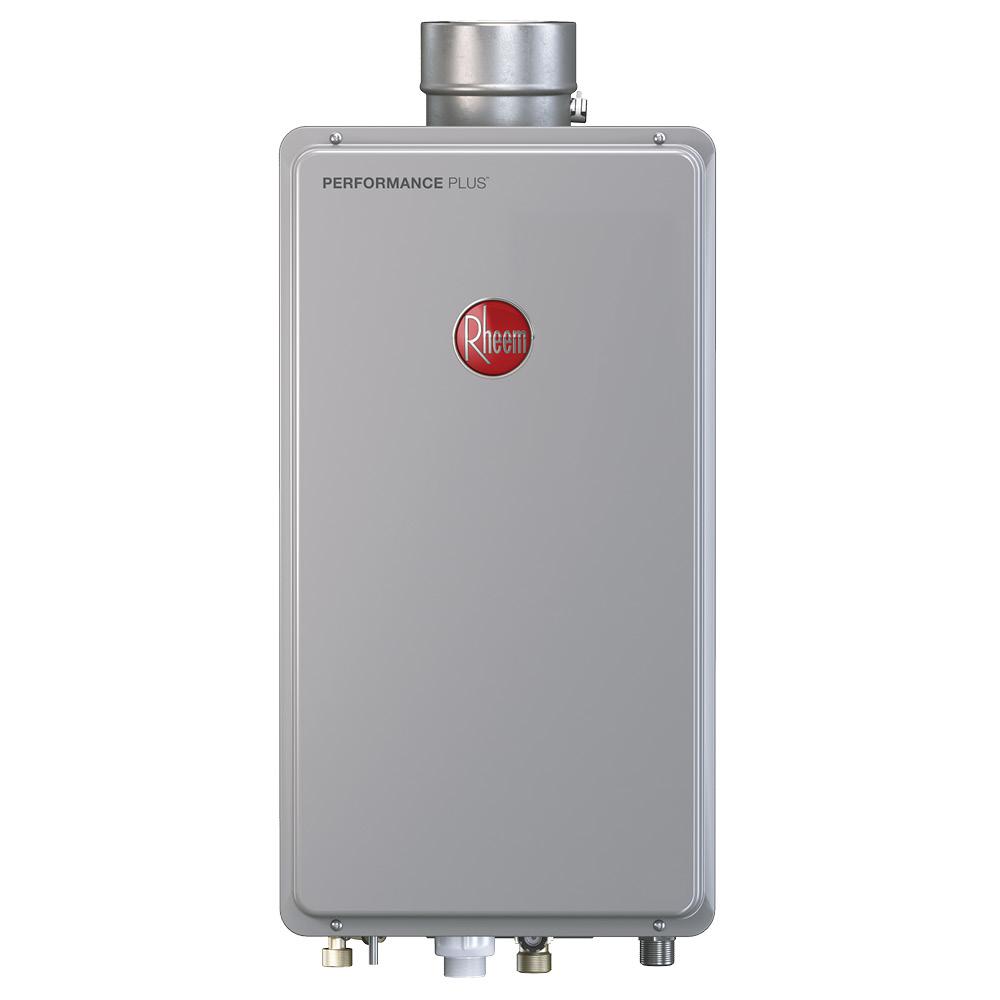 Aside from having 9.5 gallons per minute, this indoor natural tankless water heater can provide hot water at 35 degrees temperature rise.
It also has 199,900 British Thermal Units. This makes it possible to have hot water on demand. Even for people using 3 bathrooms at once, it is great.
This small heater is more than qualified for most utility rebates. Furthermore, the package also has remote digital temperature control. You can install it at any convenient part of your house. You can also purchase a separate direct venting for this heater. It requires stainless steel vents.
You can check a guide from Rheem. It will help you in purchasing the right water heater and accessories for you.
Highlighted Features:
Fuel type: Natural gas
 Flow rate: 9.5 GPM
Temperature setting: 85- 140 degrees F
BTU: 199900 BTU
Uniform Energy Factor: 0.82
Indoor installation type
The digital screen is the remote control
Pros:
DIY friendly
Provides enough hot water
An efficient water heater
Long-lasting
Great for homes that have 3 or more bathrooms
Cons:
Replacement costs are expensive
Some reports of plumbing issues
13.  Rheem 5 GPM Indoor Commercial Natural Gas Tankless Water Heater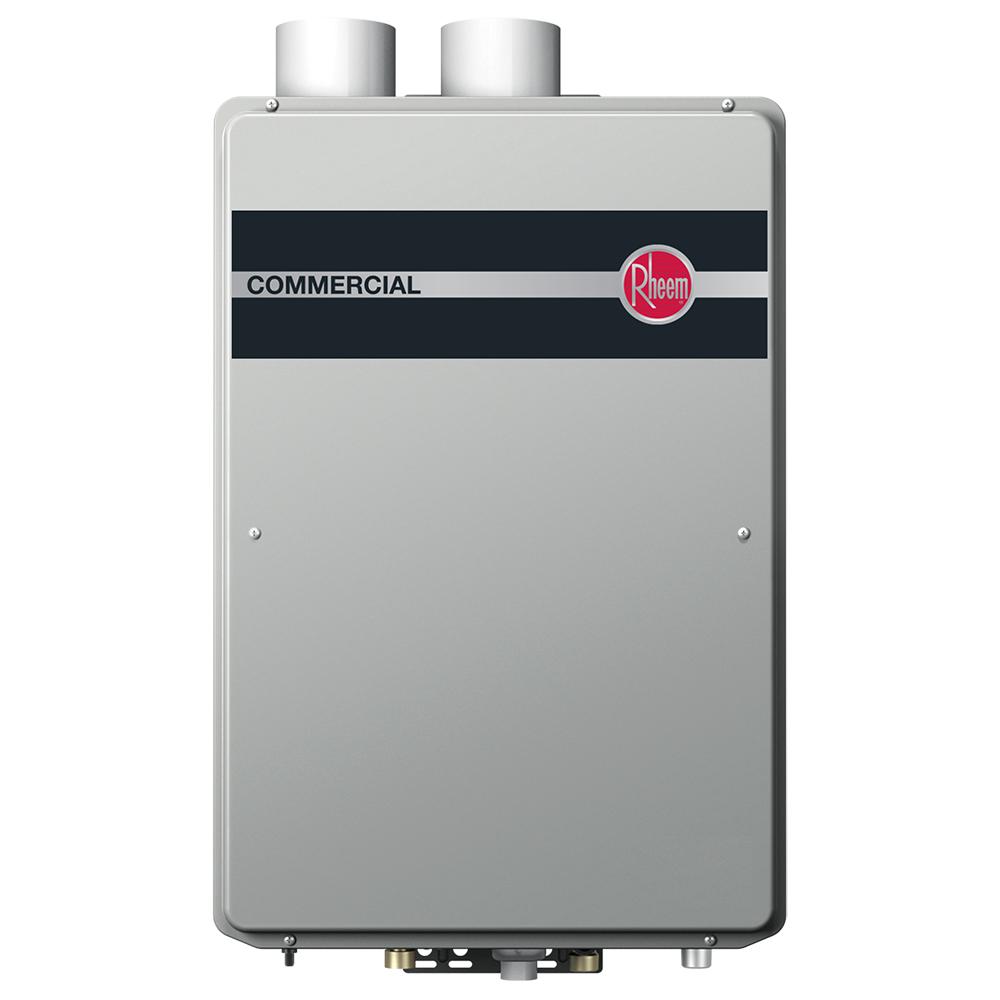 This commercial water heater is ideal for restaurants, offices, hotels, and many other commercial establishments. It is effective in energy saving. This is because of the high thermal efficiency of 96%. Furthermore, Rheem designed this to produce hot water when you need it.
Therefore, many contractors prefer this. You can save a lot on installation because of its great features. You also get a 5-year heat exchanger warranty and 1 year for the labor warranty. If you have any problems, you can contact the support team of Rheem. They understand that supply of hot water is important to keep the business running.
The water temperature can go as high as 185 degrees F. You can also add another tank with fewer units to ensure that there is hot water all the time.
Highlighted Features:
Fuel type: Natural gas
Flow rate: 9.5 GPM
Temperature setting: 85-185 degrees F
Application type: Commercial
Total BTU: 199000 Btu
Vent type: Single wall
Wall mountable
Ultra LoNox
Pros:
Installation is quick
Provides an ample amount of hot water
Performs well
Quiet operation
Meets or exceeds Ultra-Low NOX emission requirements
Made for commercial structures
Service valves provide more savings in installation
Compatible with most additional units
Cons:
Water temperature could be hotter
Read more: Rheem Tankless Water Heater Reviews: Everything You Need to Know and More
14.  VEVOR 16L Natural Gas Hot Water Heater 4.3GPM 32KW Tankless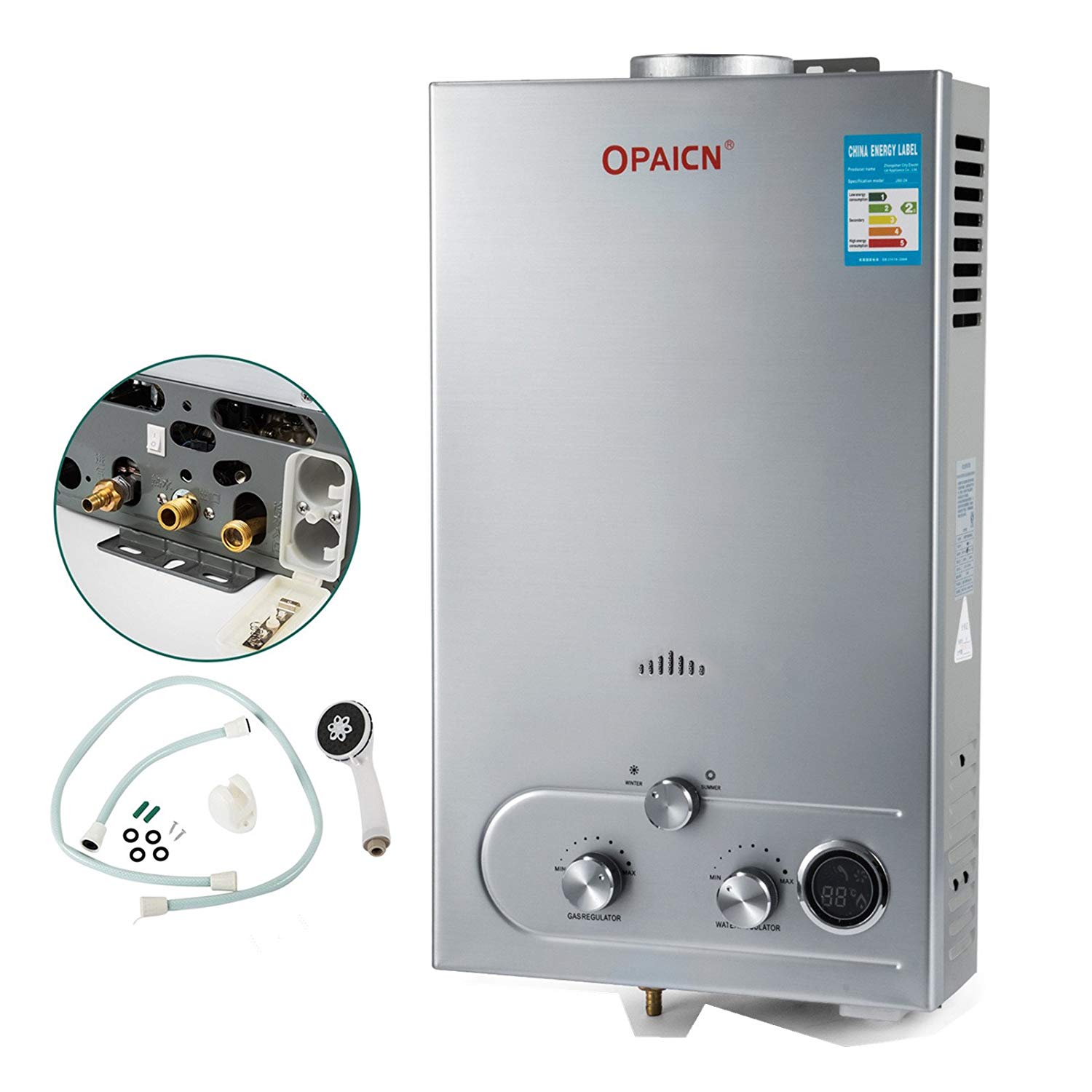 This natural gas hot water heater has a wonderful, thin design that takes up very little space. It works well for smaller homes.
What customers have to say about the product:
Customers tend to agree that this is a great option for a smaller home and that it is pretty easy to install depending on the type of exhaust used. Please note, however, that the manufacturers advise you use a qualified person to do the installation for you.
The best features of this product include:
The unit has an anti-freezing function
It also has a low water-pressure start up while it is an efficient way of saving on electricity costs
It boasts a manifold auto protection feature for your personal safety
The twenty-minute timer works well and should be equipped according to regulations
The product is constructed out of durable stainless steel
15.  EZ Ultra HE Natural Gas Condensing Tankless Water Heater by EZ Tankless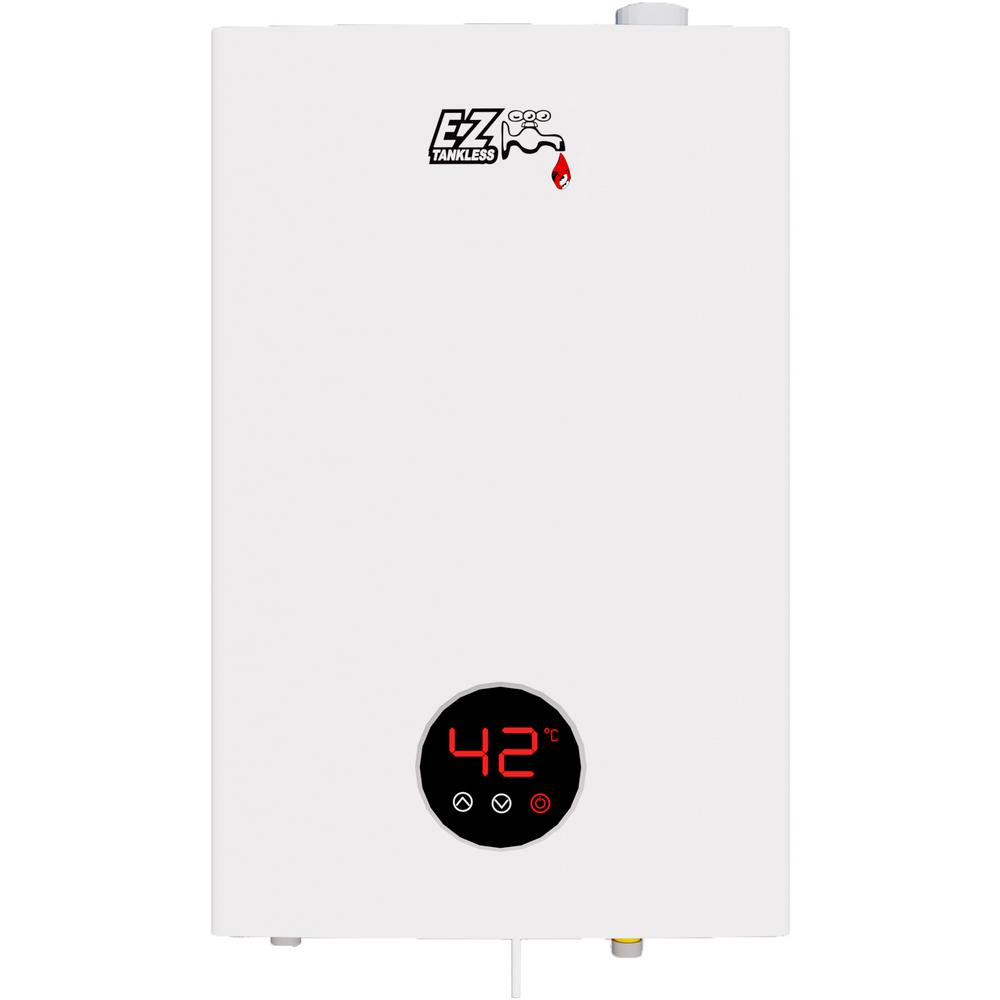 The UZ Ultra HE gives you the option of choosing either vertical or horizontal venting. This model gives up to 3.4 gallons of warm water a minute at a 45 degrees Fahrenheit rise of constant hot water.
What customers have to say about the product:
Customers were very impressed with this product. A particular point of interest mentioned was the choice of a vertical flue and the ease of installation was praised.
The best features of this product include:
A condensing tankless water heater
Uses exhaust gasses to preheat the inlet water
Allows for the capture and drainage of acidic condensation that prevents vertical venting
Can use Solid Core Schedule 40 PVC pipe for the venting
A back-draft prevention device and 28" stainless steel horizontal vent pipe are both included in the purchase
The product delivers up to 3.4 gallons of warm water per minute at a 45 degree Fahrenheit temperature rise
A good option for a home with either one or two bathrooms
16.  i12-LP Indoor 3 GPM Liquid Propane Tankless Water Heater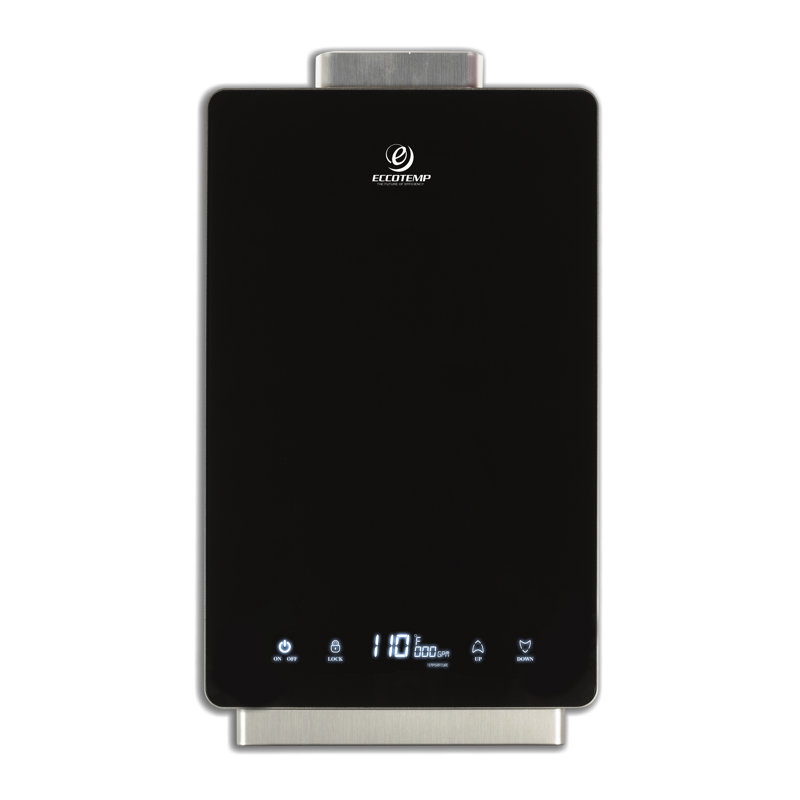 This product sports a new, revolutionary design that features a new, sleek acrylic black casing with fully automatic temperature controls and touch screen and LCD temperature display.
What customers have to say about the product:
Clients were impressed by the functionality of this product. Other comments referred to the ease of installation and the fact that heated water is available almost instantly.
The best features of this product include:
The unit features a clean, sleek, modern design
It has an LCD temperature display
The maximum flow rate is 3 gallons per minute
It gives a maximum water pressure of 80 PSI with a minimum water pressure of 22 PSI
It sports an adjustable thermostat
It has an overheat protection feature, allowing the product to turn off if the temperature of the water goes over 75 degrees Celsius
17.  EZ Supreme Tankless Water Heater, 6.4 GPM, Direct Vent Exhaust Included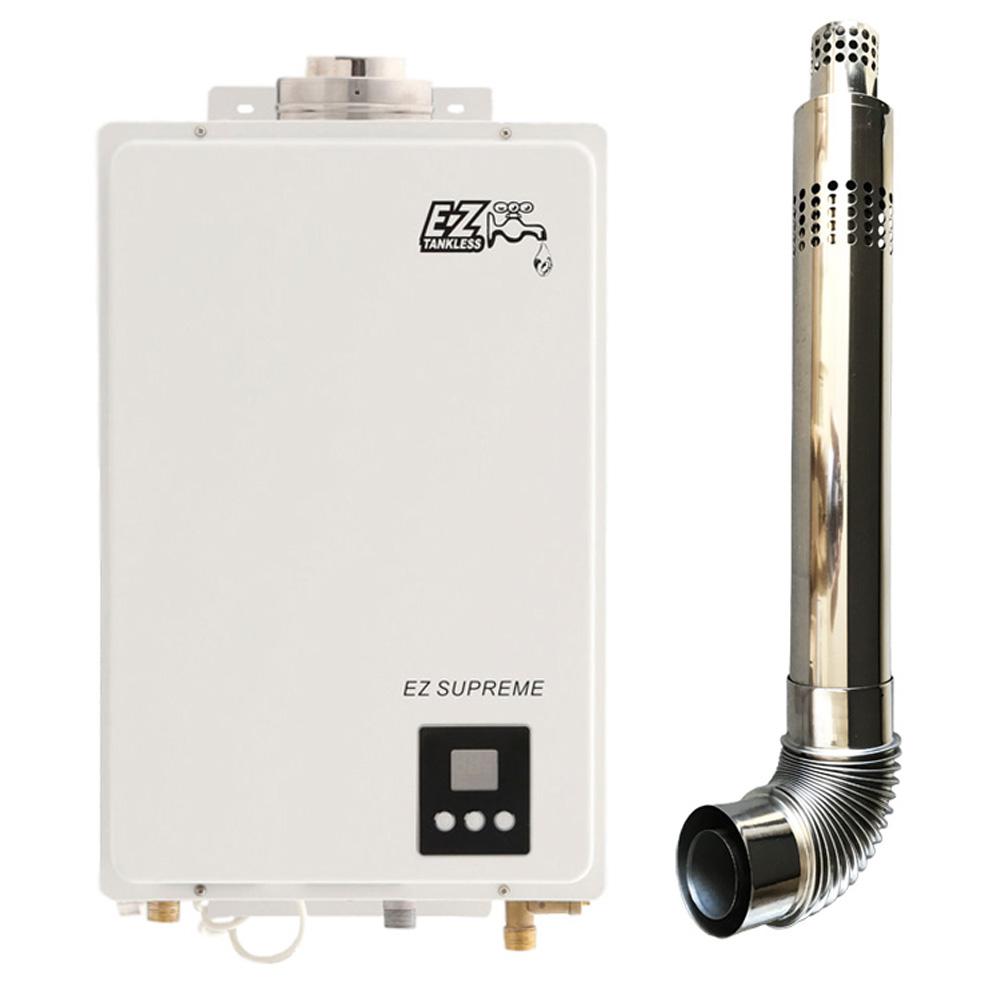 This tankless water heater has the capacity of providing enough water for a four-bathroom home. It was, in fact, designed specifically to meet the needs of most larger homes across the U.S. and delivers up to 6.4 gallons of hot water per minute. This makes it an ideal replacement for up to a 100-gallon storage tank water heater.
What customers have to say about the product:
Customers commented on the ease with which they were able to install this tankless water heater themselves – besides the propane hookup for which the appropriate people were needed, of course. They were also impressed with the water temperature quality.
The best features of this product include:
Perfectly suited for use in larger American households
It delivers 6.4 gallons of continuous hot water per minute
Boasts a slim modern design in white
Features an easy to use digital control panel
The specially designed exhaust is included and incorporates a sealed dual-chamber forded air intake and exhaust pipe
18.  45HI-NG Eccotemp 6.8 GPM Natural Gas Tankless Water Heater See by Eccotemp Systems LLC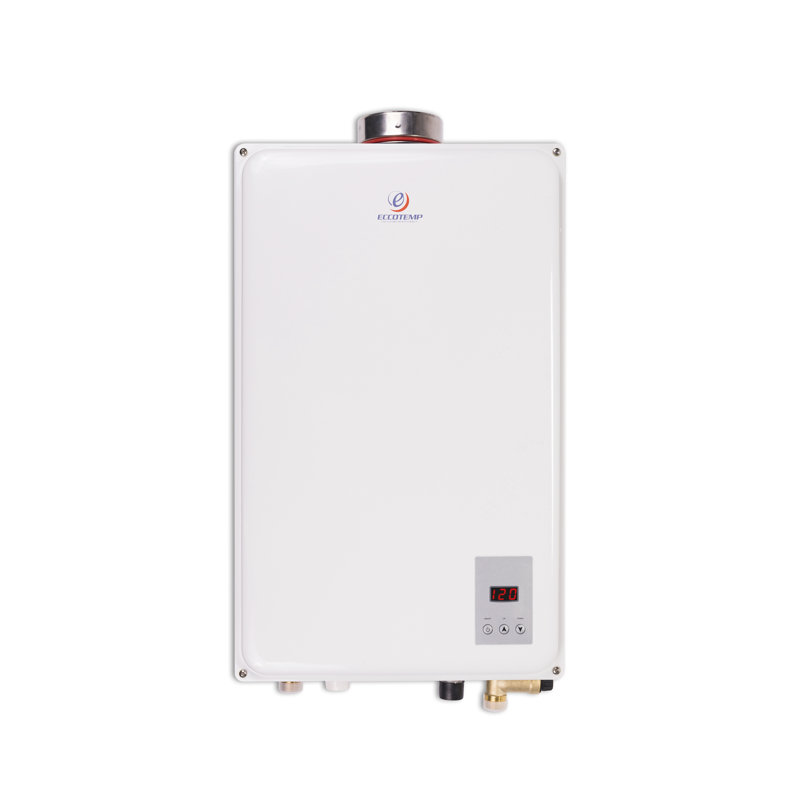 This tankless water heater is designed to supply hot water to any standard three bedrooms, two bathrooms home. It is designed for use with natural indoor gas only.
What customers have to say about the product:
Although most customers say this product works well, the fact that it only works with a metal exhaust system seems to be a little off-putting.
The best features of this product include:
The product is split system adaptable with increases both efficiency and the delivery speed of your hot water supply
It is powered by natural gas
The product features a digital remote with simple controls and diagnostics
19.  Takagi TK-u310-e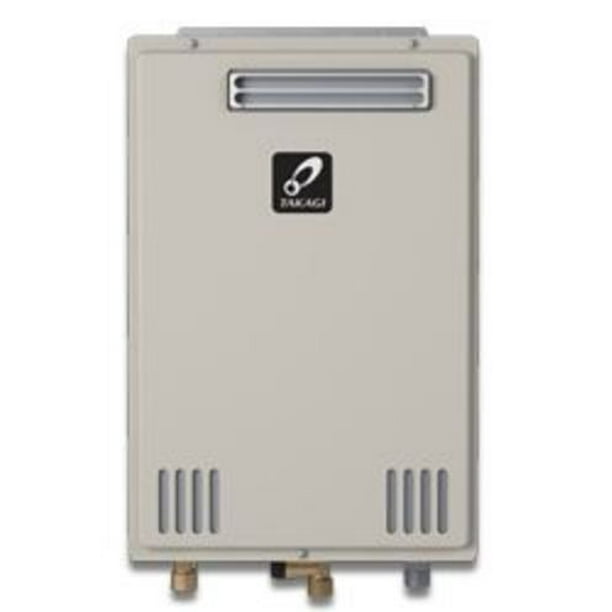 Takagi TK 310 is a gas-fired, non-condensing water heater. It can produce hot water for up to 3 baths. This makes it fit for small homes.
Besides, you can use it with recirculating systems and water tanks. The heater can combine domestic and commercial heating use. This make can be used both indoors and outdoors.
Key features:
It is remote controlled hence easy to use
It can use either natural gas or liquid propane
It's safety features include a freeze, surge and overheat protection
It is lit using electricity
The highest  BTU is 190000
It weighs 39 pounds
Dimensions 20.5″ x 13.75″ x 9.5″
Its vent is direct
It is non-condensing
It uses a maximum of 8 gallons per minute
It uses either propane or natural gas
It complies with lead-free standards
Read more: A review of Takagi tankless water heaters
20.  RUC98iN Rinnai Ultra 9.8 GPM Natural Gas Tankless Water Heater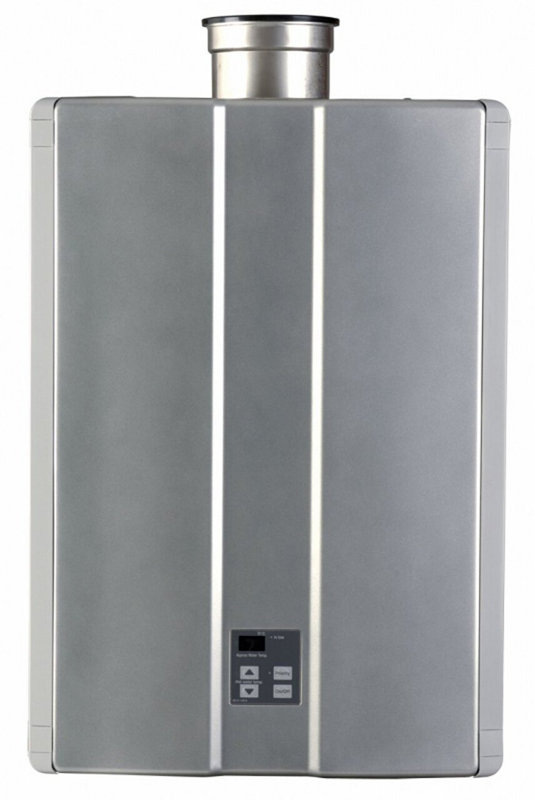 This natural gas tankless water heater boasts a stainless steel finish. PVC pipes can be used for the vents. It uses only natural gas.
What customers have to say about the product:
The majority of customers seemed very pleased with the style and function of this heater. The water heats up quickly and, most importantly, stays hot.
The best features of this product include:
Has a stainless steel finish
The minimum activation flow rate is 0.4 GPM
The product can be used with PVC vents
The maximum flow rate is 9.8 gallons per minute, and the minimum flow rate is 0.26 gallons per minute
The maximum water pressure is 150 PSI, while the minimum water pressure is 15 PSI
A thermostat is included in the purchase
21.  Ridgeyard 2GPM Water Heater 12L Digital Display LPG Propane Gas Tankless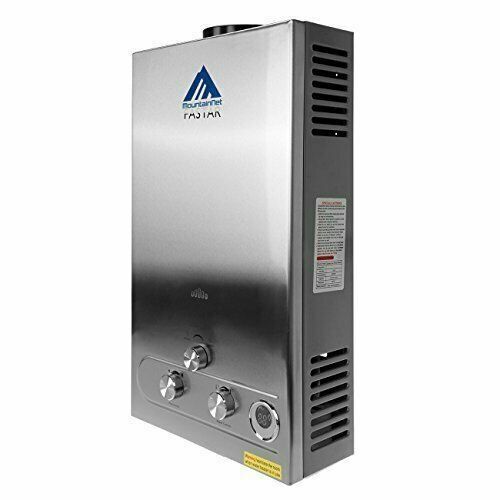 This particular water heater has a minimum working water pressure of 0,025MPa and a maximum of 0,8MPa, and an automatic electric ignition that is powered by two qualified D batteries.
What customers have to say about the product:
Clients were very satisfied with both the product use and the price. They found the latter very reasonable, while the functionality of this tankless heater was found to be very sound.
The best features of this product include:
A built-in 20-minute timer for safety purposes
Highly efficient energy saving
Low water-pressure startup
The product has an overheating protection function and also an over water pressure protection function
It sports an open and force flue exhaust with a flue automatic gas discharge
It has an automatic pulse ignition system and a flame failure protection device
22.  Marey 3.1 GPM Liquid Propane Gas Digital Panel Tankless Water Heater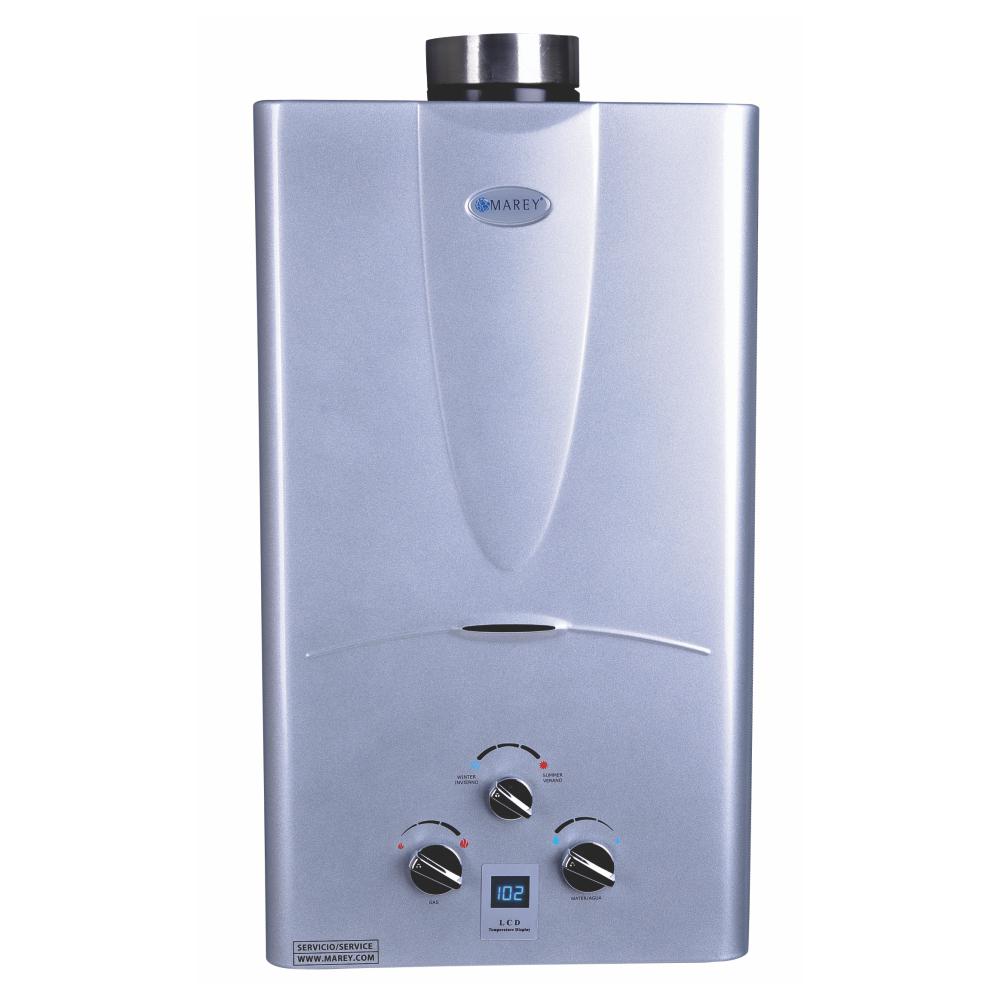 This tankless water heater has a compact design that saves you space. It is easy to install and could potentially save up to sixty percent on your electricity bill for water and heating. A plus factor is that no electrical connection is required.
What customers have to say about the product:
While this product surpassed most of the customers' expectations, those in areas that have extremely low temperatures during winter have mentioned the possibility of this cold air entering the vent and freezing the unit.
The best features of this product include:
The product has a compact, space-saving design
It allows for the water temperature to be controlled
Unlimited hot water is available within a few seconds
Read more: A Comprehensive Marey Tankless Water Heaters Review
How Does a tankless gas water heater work?
The moment you open a hot water tap, the sensor in the unit senses it. Your unit is now operating, and the gas burner fires up. The heat exchange warms up the flowing water.
Some of these units have what is known as a secondary heat exchanger that preheats your water. Here, heat is used from exhaust gases.
The quantity of gas entering the burner is controlled by a thermostat. In this way, a pre-set temperature is constantly maintained. The maximum temperature of a gas water heater is usually pre-set in the factory, with fifty degrees Celsius usually being the typical temperature for most homes. You can, however, with some of these units, change your temperature requirements as you deem fit.
Please do take note that this is only a brief description, as the exact working of this type of water heater largely depends on the particular unit's manufacture design and process.
Choosing a tankless gas water heater
There are, typically, two types of tankless gas water heaters: propane, or natural gas. The type you choose will largely depend on where you stay, as some areas have access to natural gas. Here, the natural gas option would work best as it is freely available.
In areas that do not have access to natural gas, you would probably look at a propane gas solution. Please remember that your propane gas tanks need to be in a safe, secure area, as per your area's restrictions.
When deciding on a specific type of heater, you would probably need to consider style, and function. What works well for a two-bedroom, one-bathroom home may not be suitable for a larger home sporting four bedrooms and three bathrooms. The needs are simply too different. The style of the product would also come into play, plus where you want to install it. In other words, is this heater going to be installed outside, or inside your bathroom, for example. Knowing this would help you limit your choices, thereby making the decision of which particular product to purchase just that much easier.
The Pros and Cons of a Tankless Water Heater
A gas heater is a great option if your home already has a gas line installed.
The pros of a tankless gas water heater:
These water heaters could potentially heat up water twice as fast as a conventional electric water heater
Gas water heaters are not only energy efficient, but your potential operating costs are also drastically slashed, meaning you make up on savings in the long run.
May work even when the lights are down
Unless your tankless gas water heater operates with an electric ignition, you are assured of a running supply of hot water even when the power is out.
The cons of a tankless gas water heater:
Initial installation costs may be quite high
The initial, upfront costs of a tankless gas water heater may be quite costly. Most of these heaters, however, pay for themselves in other savings relatively quickly.
Installation difficulties
This may be quite a complex installation and may need the services of qualified professionals.
Compared to an electric tankless water heater, these water heaters have a slightly shorter lifespan. This difference, however, is only a year or two so the effort is well worth the cost in the long run.
Conclusion
Installing the best tankless gas water heater for your particular needs is important, because up to a quarter of your home's energy costs usually goes towards heating your water. The water heaters offer you quite a number of benefits, though. Of those we reviewed, our vote goes to the RL75iP Luxury 7.5 GPM Liquid Propane Tankless Water Heater by Rinnai. We like the fact that this unit caters to larger homes while the modern, space-saving design makes it a great fixture to fit just about any home environment.