The best traditional steam sauna can be easily found in Finland where the first ever recorded evidence on saunas dates back to 1112. Saunas play a significant part of the country's culture until today. In fact, it is a common form of courtesy, so it is not surprising that saunas are not just an intimate place for personal relaxation but can also be a setting for business meetings.
Finland has an estimated number of 2 million saunas for a population of 5.3 million. However, you no longer have to travel to Finland to get the best and most authentic experience as you can already have this extremely relaxing and health-boosting installation in the comforts of your own home.
The Best Infrared Saunas and Their Many Benefits
How Does it Work?
There are currently different types of saunas available in the market: portable steam sauna, steam shower, and outdoor sauna. All of them works similarly; they heat up a room to a certain temperature, usually around 110℉ to 190℉. Some of the traditional saunas are heated by wood being burned in a stove. The burnt wood is then placed inside a room, allowing the ember to heat the room.
You can make a simple Outdoor Sauna
Benefits of Using a Sauna
Saunas are known for its many health benefits, and below are just some of them:
It can help with mental fatigue or stress.
Sauna rooms, or also known as dry rooms, can help lower stress. Being in an environment which temperature is higher than usual creates heat stress to the body; thus, it releases dynorphin. To counter that, the brain activates the production of endorphins, a type of chemical that creates a positive feeling to the body.
It increases blood flow and relaxes the muscle.
As the body releases endorphins, this gives the body a tranquilizing effect. The heat from the sauna increases the body's core temperature. This causes the blood vessels to dilate, which increases the blood flow. This also speeds up the natural healing effect of our body.
It gives you a healthier complexion.
When you produce sweat because of the steam, it opens up your pores. Sweating removes the bacteria from the upper layer of the skin and the sweat ducts, which makes the skin soft and glowing.
It induces better and deeper sleep.
Because of the high temperature in the sauna, the sudden drop in temperature in the environment, especially at night, reduces the endorphins being released, creating a calming effect to the body. Because of this, you will have a better sleeping experience.
It releases toxins.
The major organ for detoxification is the skin. Numerous studies have been published that clearly showed the relationship between frequent sweating and detoxification. Another study showed significant reduction of symptoms of chronic illnesses caused by methamphetamine exposure of police officers after regular sauna sessions.
Addressing the Controversies
Sauna aiding weight loss has been a subject of debates and discussions among skeptics and sauna users, for a good reason. Yes, it does help with weight loss, but only to a certain extent. Overheating causes the body to work harder as it tries to regulate the body's temperature, thus the sweat. A well-hydrated body effectively eliminates excess water; however, the increased salt percentage in the body causes water retention in the cells, resulting in water weight gain.  Sweating helps shed this excess salt.
Other health benefits claimed for using sauna are boosting the body's metabolism and assisting in muscle growth, but there few to no evidence to support these claims.
Lastly, there is the concern on athlete's foot. Some claim that using a sauna can cause athlete's foot; however, this is more on if the room is cleaned properly on a regular basis and not by the use of the room itself.
Do's and Don'ts in Using a Sauna
Here are some sauna etiquettes and safety tips:
DO'S
Rehydrate after use since you lost a lot of water through sweating. It is also recommended to stay no longer than 15 to 20 minutes.
Take a cold shower before and after using a sauna. This removes the sweat and helps your body relax with the sudden temperature change.
DONT'S
Do not wear any jewelry or bring electronics gadgets. The jewelry may heat up and burn the skin, and the electronic gadgets may get issues due to the heat and steam.
Do not eat or drink alcohol before going in. This will cause the blood pressure to drop, which might cause nausea.
What to look for in a sauna?
Here are some tips to look for when purchasing a sauna for your home:
Indoor or Outdoor
Indoor saunas are typically located near the bathroom of the home. It doesn't require proper insulation but requires proper ventilation. Outdoor saunas are typically located near the pool or garden. It requires proper insulation and foundation, on top of power connection and water supply fixings.
Heat Source
Currently, there are two major types of saunas: the traditional saunas and infrared saunas. The heat in a traditional dry-wet sauna comes from either an electric or a wood heat source. Infrared saunas are relatively new with two types, namely carbon far infrared and ceramic far infrared. Carbon panels can bring the temperature up to 140℉ in 10 minutes, but the ceramic panels can deliver a long-lasting heat as compared to carbon panels. These features make these type of saunas more affordable to operate than traditional saunas.
Electrical requirements
Modern saunas have moved way past from its wooden origin.  A modern-day traditional sauna steam room uses electricity by heating a basket of rocks. Moisture and temperature can be raised by sprinkling water over the rocks; however, it takes 20 to 35 minutes to heat. Its counterpart uses a heating element that radiates heat and takes lesser time to heat up the place.
Wood
Sauna interiors are made of softwoods that absorb steam and remain cool, making the room cozy and comfortable. Hemlock, a light-colored hardwood and is naturally stain-resistant, is a good choice for people with allergies since it's less aromatic. Cedar, long-lasting and aromatic, is naturally resistant to insects, which makes this material a good option for an outdoor home steam sauna. Aspen is usually used for indoor saunas because of its affordability.
The Top 11 Best Traditional Steam Saunas
1.  Almost Heaven Saunas Auburn 3 – Person Indoor Traditional Steam Sauna in Fir
Auburn 3-person steam sauna is a space-efficient sauna model from the Almost Heaven Saunas brand. This traditional indoor steam sauna is crafted with useful features to give you a warm and welcoming feel in the comfort of your indoor or outdoor space.
The Pros:
Excellent quality
Multi-level seating
Easy assembly
Interior LED lighting for great ambiance
Beautiful design
Cons:
Instructions for installation can be confusing
Key Features:
Material: Solid wood
Maximum temperature: 195°C
One heater that is heated through traditional steam style
Pre-assembled roof and wall sections
Multi-level seating in horizontal slant benches
It comes with a vent and searing benches
Verdict:
The Almost Heaven Auburn 3-person steam sauna is beautifully crafted and has what it takes to give you a relaxing and therapeutic experience. The only issue is that the instructions may not be apparent, making it hard to assemble for some people.
Who is the Almost Heaven Saunas Auburn 3-Person For?
If you want to enhance your lifestyle and complement your home setting, get the auburn 3-person from Almost Heaven Saunas. It is the best indoor traditional steam sauna for any space-conscious person who appreciates the health benefits and relaxation of sauna bathing.
Key Features and Benefits
3-Person Capacity: This traditional steam sauna can comfortably seat up to 3 people. This makes it one of the best small traditional steam saunas on the market.
Easy to Assemble: All the parts used to craft the Almost Heaven auburn 3-person are handcrafted. This makes it easy to assemble the sauna at home, with easy DIY instructions, in just a few hours.
Highly Versatile: The sauna can go on any tile, vinyl, ceramic, laminate, or concrete surface. Hence, it makes for an authentic sauna experience in almost any home. However, it is not recommended to use on a carpet.
Design: The sauna comes in a kit with pre-assembled roof and wall sections. There is a long bench, with a footrest, inside the sauna for added comfort. Also, it has a small sauna design, making it an excellent choice for those with limited space.
Outstanding Performance: The Auburn 3-person is capable of delivering an intense sweat bathing experience.
Customer Reviews
"It has been a great experience starting with fast cross country delivery. The customer service is professional, courteous and extremely knowledgeable."
"High quality design and construction was my big concern and it was fully met. There is no heat or moisture leakage into the room. Helpful staff in all stages of planning and setup."
"Outstanding sauna from a brand with outstanding customer service. The quality of the sauna is excellent, the installation went smoothly."
"My father and I had to spend over 7 hours putting together the sauna in a room just a little larger than the sauna. We had to stop and scratch our heads a couple of times over the instructions. We could have finished faster had the instructions been clear. We were also frustrated that they didn't include a 6 inch drill bit in the kit."
"This was our first experience with a sauna and it very refreshing. My gradson said that the experience was more than expected."
Frequently Asked Questions
What's included in the sauna kit? – Auburn 3-person comes with all the pieces you will need to assemble your sauna room, including stones, a lighter, and a heater.
What are the operational costs? – The unit only draws power when it is in use. It will operate efficiently on a 220v heater and draws about 40amps of power.
How long does it take to heat up? – This primarily depends on how warm or cold your area of residence is. But generally, the sauna will heat to 190F in under 60 minutes.
What sort of maintenance is required? – You require very little maintenance for this traditional steam sauna. Typically, you might need to tighten the bands or ASD filler staves after some time.
Read more: Almost Heaven Saunas Auburn 3-Person Indoor Traditional Steam Sauna Review
2.  Almost Heaven Saunas Worthington 4 – Person Indoor Traditional Steam Sauna
The Worthington Sauna is easy to assemble. It's made by one of the top brands when it comes to products of this kind, Almost Heaven Saunas.
It's a stylish indoor sauna with a front wall made entirely of glass. It features an L extension and full-length top bench enough to fit a maximum of four people.
The Pros:
Durable. All the interior space, including the ceiling, benches, duckboard floor, and walls, is high-quality spruce.
Easy to assemble. This indoor model only takes two individuals to complete four to six hours at most for experienced builders.
Offers an almost-authentic sauna experience. It features an 8kw electric heater from Harvia, which can heat up to 150F to 190F in just half an hour.
Cons:
Expensive. If you are on a tight budget, other models may be more suited for you.
Some people find it hard to assemble. This problem may be due to the pretty vague manual that comes with the product. I did not have this problem, but maybe it's because I'm an experienced handyperson.
Not that roomy. It was advertised to fit up to four people, but manage your expectations, especially if the users are mostly on the heavy side.
Key Features and Specifications
Material: Spruce wood and tempered glass
Heat Source: Traditional Steam with a maximum heat of 195F
Dimensions: Interior – 77"L x 57"W x 78"H; Exterior – 80"L x 61"W x 80"H
Verdict
If durability is an important feature for you, then you will love the Worthington Sauna. This could also be a good choice if you're into stylish and modern designs that add elegance to your home.
Who is This Product For?
The Worthington Sauna is built for individuals who want to achieve relaxation and elegance. It's also for people looking for saunas they can share with two or more people.
Key Features and Benefits
Designed for maximum relaxation. Each bench features a backrest for comfort. The model comes with interior LED lighting that offers soft illumination, giving you the authentic sauna experience.
Built for privacy. Worthington is made from a fully tempered glass wall that's lightly tinted.
High-quality heating. You can adjust the stainless-steel electric heater from Harvia up to 195F.
Straightforward and easy to build. It only takes 4 to 6 hours to complete the sauna.
Customer Reviews – Almost Heaven Saunas Worthington Steam Sauna
"Setting up the sauna was a breeze." – Albert
"The company's customer support is accessible any time." – Shawn
"I love that it's durable and looks elegant." – Jia
"It was almost perfect, but I had to pay a handyperson to set it up because the manual was hard to follow." Linda
FAQ & Additional Tips
How hot can the Almost Heaven Sauna get? The maximum sauna temperature varies per model, but on average, it can range between 150F to 195F. The Worthington unit, for instance, can heat up to 195F in less than an hour.
Where do Almost Heaven saunas originate? The company is in West Virginia and has been a leader in sauna manufacturing for over 40 years.
Which kind of sauna is best for home? We recommend buying an infrared sauna. It provides a milder temperature, which ranges between 120 to 150F.
How much does the Almost Heaven Worthington Sauna cost? You can buy the Worthington Sauna for prices ranging from $4,000 to $5,000.
Read more: Almost Heaven Saunas Worthington 4 Person Indoor Traditional Steam Sauna – Features and Product Review
3.  Almost Heaven Logan Cedar 1-person Electric Sauna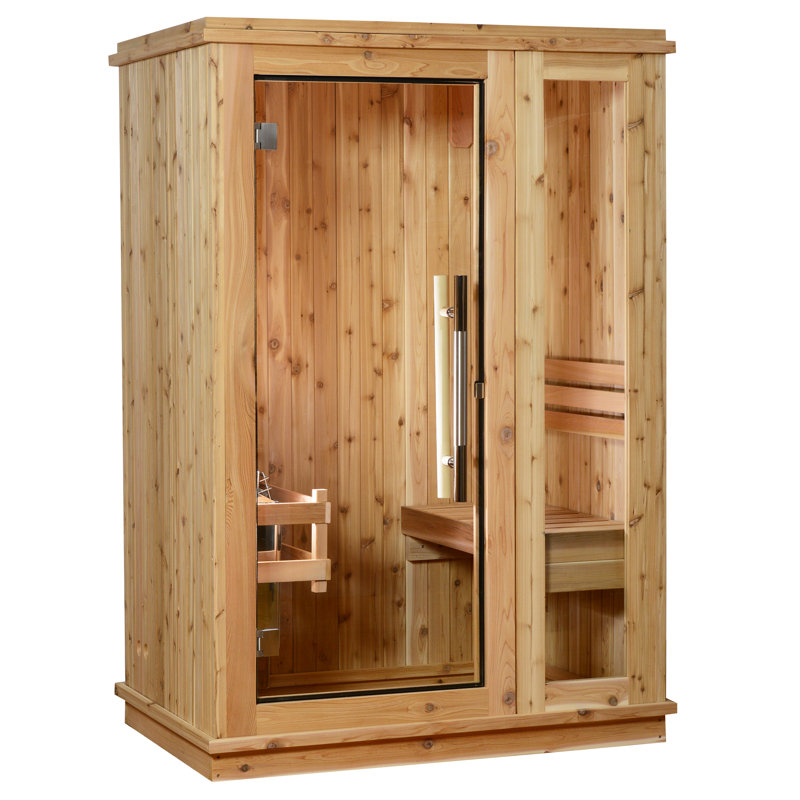 The Logan Cedar 1-Person sauna is the best home sauna for indoor use. This sauna comes with a double-window and is built with classy rustic cedar lumber. Also included is an accessory kit of red cedar which includes a robe hook, leg lift, back rest, magazine, and drink shelf. In addition, it has a wide horizontal slat bench which is ideal for one person to relax.
While the sauna has no flooring, it can use your existing floor. The type of floor can be laminate, vinyl, tile, concrete or any other solid material. However, use of a carpet is highly discouraged.
It has a dual-controlled 4.5kW Finnish-style water over-the-rock steam heater. This means that you may get either dry heat or pour some water using the spoon provided over the heated stones according to your preferred humidity.
Highlighted features
Pre-assembled rustic cedar wall and roof area
Comes with a red cedar fixture kit
LED light bulb of 110 volts and regular plug-in
Dial controlled 4.5kW stainless steel steam heater
5-year warranty
Has a tongue-and groove-lumbar section
Meant for single users
Pros
Flexible vent
Has a timer that can be delayed for up to 8 hours
Weather and mildew resistant
Ideal for indoor use
Cons:
Only one person can use it at a time
Can only be used indoors
Omits floor
4.  Almost Heaven Saunas Audra 4 Person Traditional Steam Sauna
The Almost Heaven Saunas Audra 4 Person Traditional Steam Sauna by Almost Heaven Sauna is an excellent option for those who want to enjoy the benefits of a steam sauna but don't have the space for one. The unit is designed for four people, so it's ideal for couples or families with children.
Here's a look at the pros and cons of the product:
Pros:
The sauna is made of high-quality materials and is durable.
It is spacious.
It has a nice design and appearance.
Easy to set up and use
Highly effective in reducing pain, inflammation, and joint discomfort.
Heats up quickly and retains heat efficiently
The heat comes from steam instead of electricity, making it eco-friendly.
Cons:
You must be careful when using it as it can get hot quickly.
Key features
Shape – barrel
Material – wood (cedar)
Source of heat- traditional heat
Adjustable temperature
Temperature – up to 195°F
Verdict
The Almost Heaven Saunas Audra 4 Person Traditional Steam Sauna is designed to provide an invigorating and relaxing experience. The heat and humidity produced by the product can increase circulation, detoxify the body and ease muscle tension.
Who is This Product For?
If you're looking for an affordable way to get into the relaxing world of steam baths, this product is a must-buy. This sauna is great for people who want to take a break from their everyday lives and unwind at home.
The sauna also has an LCD that allows you to monitor the temperature of the water inside.
Key Features and Benefits
The Almost Heaven Saunas Audra 4-Person Traditional Steam Sauna is a great choice for those looking for the best indoor traditional steam sauna.
Comfortable benches: It makes your sauna experience relaxing. The second area includes two more comfortable benches and has room for two people at once. The third area also has two more benches.
Overhead cabinet: You can use this to store your belongings in the sauna. There is also a small shelf on the wall.
Adjustable heat: The heated bench has two heat settings, which you can adjust between 104 and 195 degrees Fahrenheit.
Adjustable Air Flow Controls: They allow you to control the temperature in different areas of the sauna.
Customer Reviews
"I love its look, and it's very easy to use. The controls are easy to use, and there are many different options available from which you can choose how you want your sauna session to go." – Maddie
"The first issue was that the water level sensor did not work correctly and caused me to run out of water within 30 minutes of starting. I contacted customer support, who told me that they would check into it but never really followed up with me on solving my problem." – Ken
"This sauna is quiet enough for use at home without breaking up family time or bothering other people. You don't have to worry about being uncomfortable in this sauna because it has plenty of room!" – Bridgette
FAQ & Additional Tips
How hot do Almost Heaven Saunas get? Almost Heaven Saunas get hot, but they have adjustable temperature control. You can set the temperature of your sauna. They can be heated with wood or propane, ranging from 80 degrees to 195 degrees Fahrenheit.
Are barrel saunas good? Barrel saunas are the perfect solution for people who want to relax in a steamy hot room. Barrel saunas are usually made of wood, and they have a heating system that can heat the air inside the barrel to very hot temperatures.
Read more: Almost Heaven Saunas Audra 4 Person Traditional Steam Sauna – Product Review and Buying Guide
5.  Almost Heaven Princeton 6-person Electric Barrel Sauna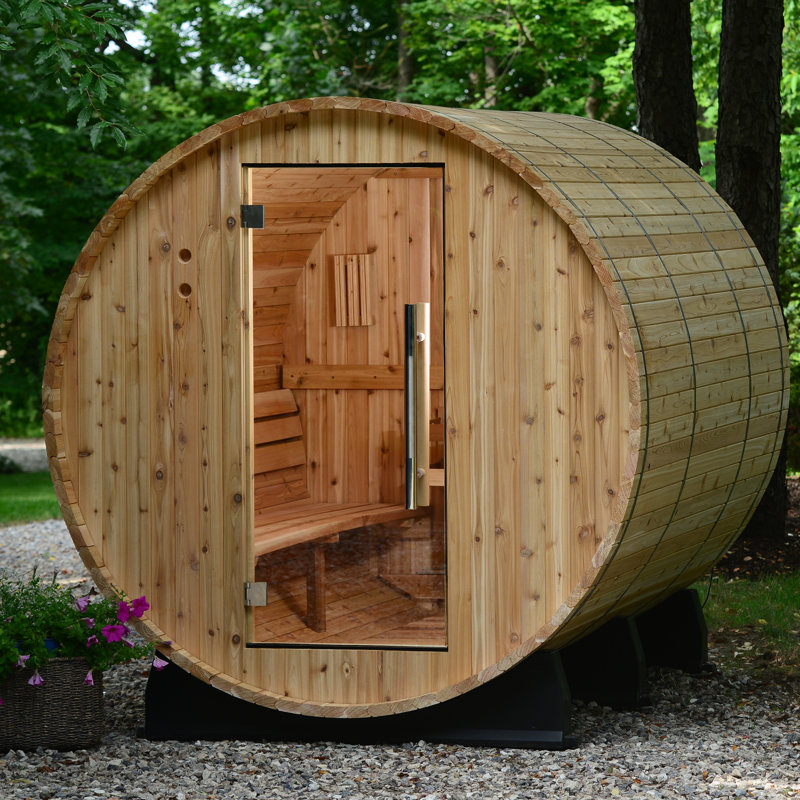 If you are looking for a traditional sauna to accommodate your entire family, then this 6-person unit from Princeton is the best traditional sauna for you. This traditional sauna features a classic barrel design. Its simple design is energy saving since it minimizes excess space. It is crafted from rustic cedar, which is a soft lumber known for its great insulation abilities. The interior is spacious enough to cozily seat 6 individuals.
It is also encouraging to know that it is designed using a ball-and-socket profile held in place by stainless steel bands. Few fasteners are used to show off the smooth wood. It allows for maximum heat circulation due to the curved walls.
Highlighted features:
Mounted on polymer support cradles
Stainless steel hinges, fasteners, and bands
Pre-fixed lumber profiles and end parts
Meant for indoor and outdoor use
Ball-and-socket cedar lumber
Two benches facing each other
Comes with red cedar 5-piece accessory kit
Contains a dial controlled 8.0kW KIP electric heater
40 pounds of sauna stones
Includes timer
Pros
Can be used both indoors and outdoors
Spacious
Energy saving
Long lasting
Cons:
Has a limited life warranty
Set up depends on size of home
6.  Almost Heaven Saunas LLC Salem 2-Person Traditional Steam Sauna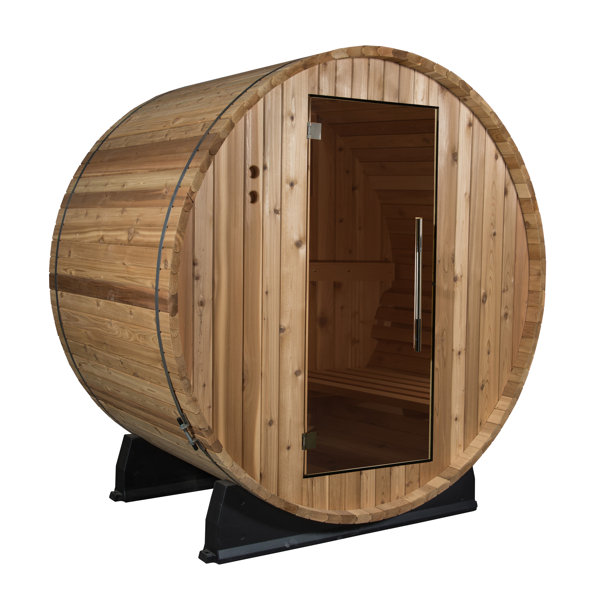 Almost Heaven is hailed as one of the most trusted traditional steam sauna brands in the market because of their efficient and effective products. The Salem Traditional Sauna is a coveted 2-person sauna among couples.
This is quite affordable, generate satisfying, powerful heat, and is constructed with high-quality materials to meet the user's need.
Pros:
Suitable for homes with small spaces
Sturdy build quality
Reasonably priced
Cons:
Only fits 2 people
Made from untreated red cedar wood
Requires raincoat for outdoor use
Key features:
Powered by Harvia 4.5kW electric heater
It can reach up to 185F in only 45 minutes
A sauna kit is included in the package
This product is the ultimate example of a beautiful and practical traditional sauna, suitable for anyone wishing for a true sauna experience at home. It is reasonably priced and, thanks to its size, can be fitted in the majority of homes.
Who is this product for?
Are you a young couple who likes spending weekends relaxing in a traditional sauna? If this is the case, the Almost Heaven Saunas Salem Traditional Steam Sauna is a fantastic option. Don't be worried about a lack of space; it can be placed in a little corner of your basement.
Benefits of the product
The compact design and powerful electric heater are the two primary advantages of this compact traditional sauna. It lets you have a fantastic sauna experience at home without spending a fortune!
And, don't forget about the health benefits you may get from having regular sessions in this sauna. For example, if you have reoccurring pains from arthritis or other severe ailments, this sauna may provide comfort.
What Do People Say About Almost Heaven Saunas Salem Traditional Steam Sauna?
"This small barrel sauna is the best buy I've ever made! I really recommend Almost Heaven. The cedar wood quality is excellent, and the Harvia heater is fantastic."
"It's a little smaller than I anticipated, but it's absolutely awesome. It will fit in my downstairs "yoga studio" and I love the thought of using it in the winter."
"What a fantastic purchase! The only drawback is that you cannot replace the heater with a bigger one. Otherwise, it would earn 5 stars."
"I've been using this sauna for a few days. My sauna was completely filled with water after the storm. I believe you should make people aware of the raincoat for the sauna ahead of time."
Above are some of the Almost Heaven Saunas Salem Reviews we found online. People are typically delighted with the product and have few complaints. However, as mentioned in one of the reviews, if you plan to use the sauna outside, you should get a raincoat.
FAQ & Additional Tips
How do you use Almost Heaven Saunas Salem Traditional Steam Sauna? Enjoying a sauna traditionally involves alternating between dry, wet, dry, wet, and cool-down periods. A cool-down period can be as simple as waiting outside the sauna or as extreme as leaping into an ice bath.
How does a traditional sauna experience differ from an infrared experience? A traditional sauna provides heat to deliver a full-body sensation, promoting joint and muscular relief as well as a slew of other therapeutic properties. Infrared saunas, on the other hand, do not heat the space but instead use infrared rays to permeate the body.
Read more: Almost Heaven Saunas Salem Traditional Steam Sauna Review: Is it worth it?
7.  Almost Heaven Saunas LLC Bridgeport Fir 6-Person Traditional Steam Sauna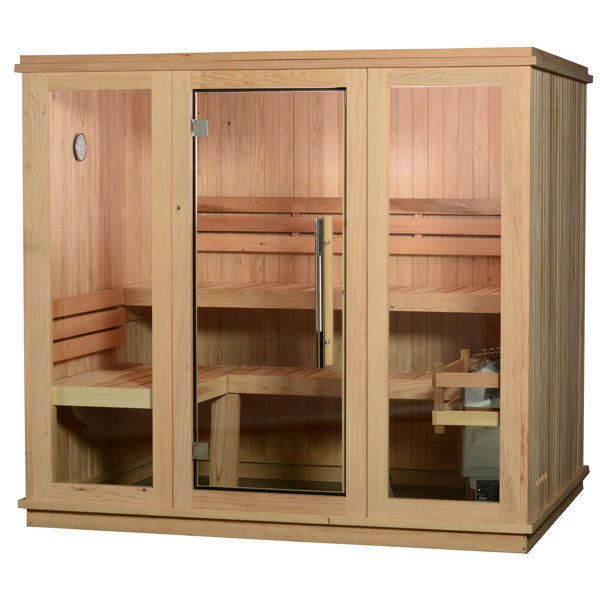 Another amazing entry from Almost Heaven is this 6-person steam sauna. This is a spacious sauna that is perfect for big families.
If you love all the features of the Salem and Grayson Fir saunas but want a much bigger size, then this is definitely the one for you.
Please note that this is best used indoors only.
Best Features:
Made from high-quality solid wood material with Rustic Fir finish
The maximum temperature is 195-degrees Fahrenheit.
You'll have a great view of the outside, thanks to its tempered glass door.
This amazing sauna is also rust-resistant.
With lifetime limited warranty on the sauna and a5-year warranty on the heater
UL and CE certified
8.  Baldwin 2-person Traditional Sauna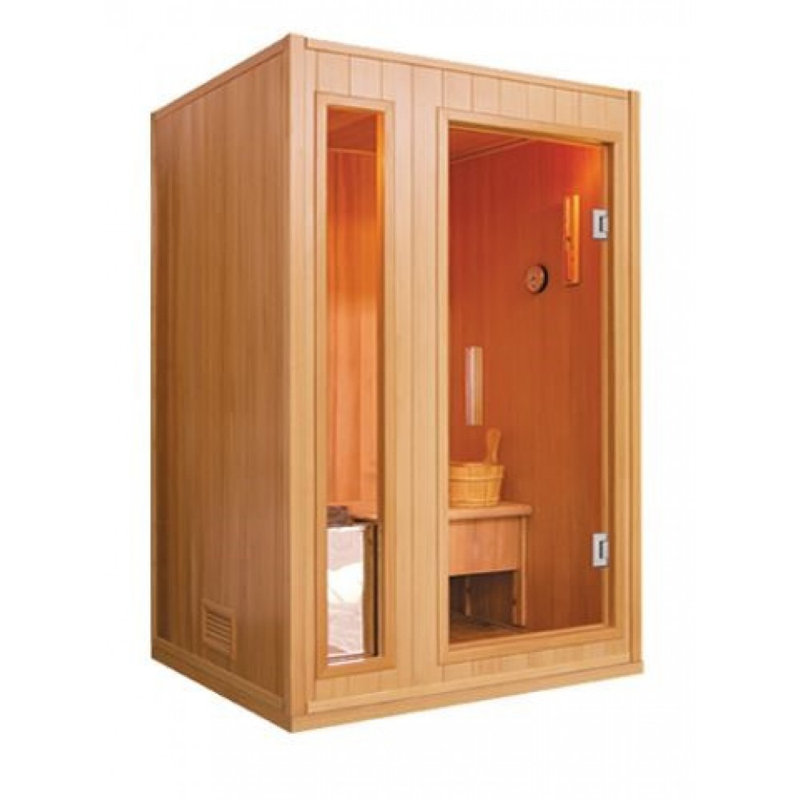 This Sauna is ideal for restoration and relaxing in the comfort of your home. It has a 2.3kW Harvia heater that can produce temperatures of up to 175°F. Also included is a water cask and spoon that lets you add water to the Finnish sauna heater stones to get your desired temperature.
Impressively, it has a tongue-and-groove construction that is easy to assemble and operate. It is a great addition to any home since the Canadian hemlock wood is smooth, durable, and naturally attractive
Highlighted features:
Tempered glass door
Finnish lava stones for intense heat and humidity
Flexible vent
7-year warranty against defects in material and workmanship
Weighs 325 pounds
Meets all Canada and USA safety standards
Has an adjustable temperature of up to 185°F
Pros
Can be used by 2 people
Has an inbuilt lighting
Features ergonomic seating
Comes with flexible vent
Cons:
Does not have its own floor
It can only be used indoors
9.  Almost-heaven Madison Cedar 3-person Electric sauna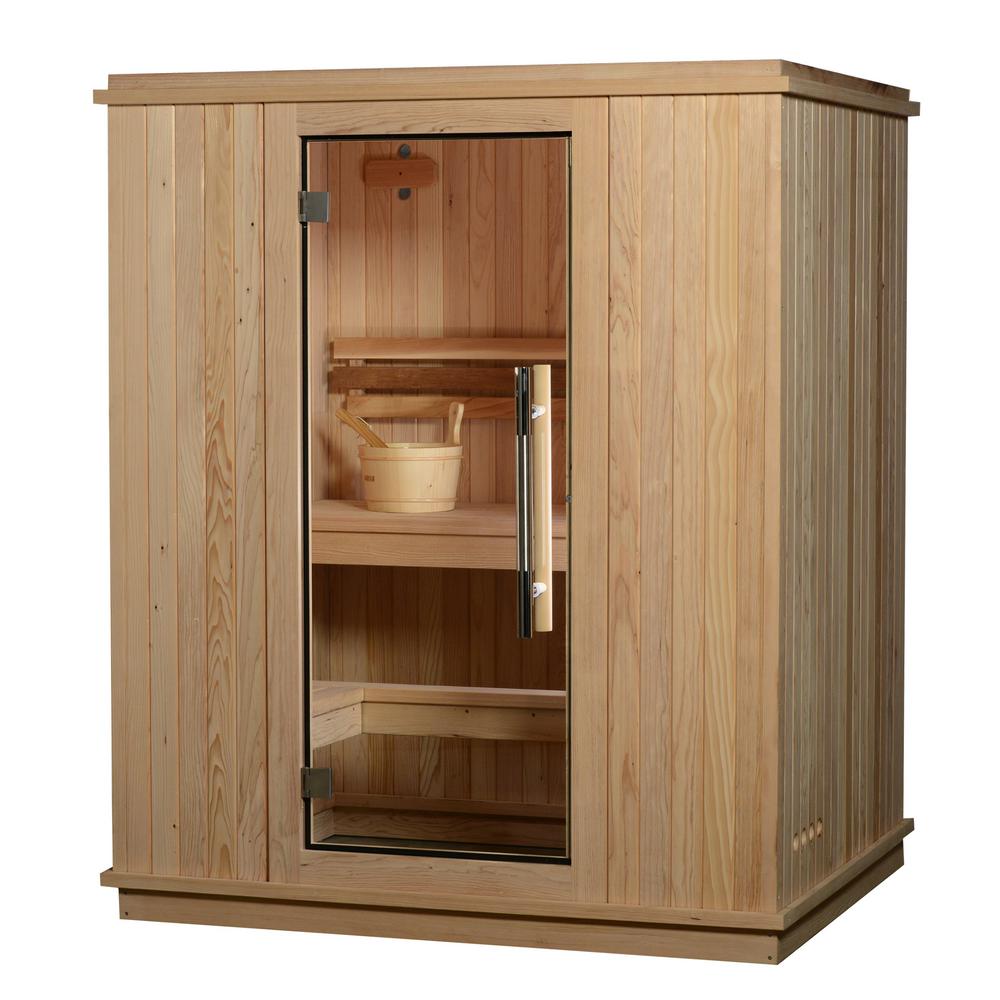 The Madison cedar comes in the form of a kit with pre-assembled walls and roof fittings. The 4.5kW heater is made of stainless steel and has a dial control. It takes about 30 minutes to heat up to about 150° F and will reach 185° F in less than an hour, making it one of the best traditional steam sauna models in the market. You can create a refreshing burst of stem by adding water to the stones.
Highlighted features:
Made of Finnish rustic cedar, the sauna comes with pre-fitted roof and wall fittings
Two benches for multi-sitting
The stainless heater is equipped with hinges and fasteners
It is fitted with an 8-hour delayed timer
Interior LED light of 110 volts and a plug-in feature
Its tempered glass door has a long handle
Contains a tongue-and-groove lumber section
5-year warranty
Indoor use
Its flexible temperature can reach a maximum of 195° F
Red cedar accessory (5-piece)
Pros
Its long handle makes it easy to open the door
Quick and easy to set up since it comes with pre-built wall and roof fittings
Mildew and weather resistant
The red cedar accessory equipment renders it fit and cozy
Cons:
10.  Almost Heaven Pinnacle Cedar 4-Person Electric barrel sauna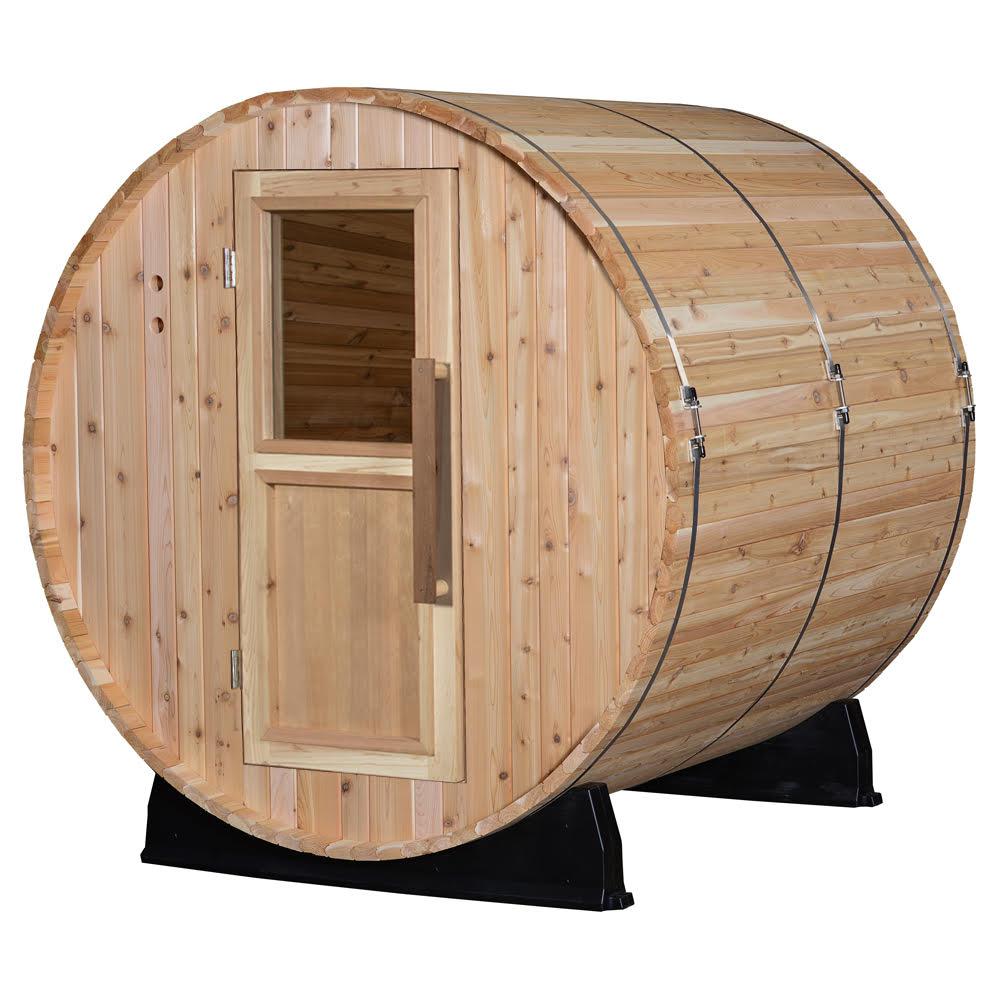 The pinnacle is built with thick and insulating rustic cedar. This design uses a ball-and-socket profile which is fastened with bands made of stainless steel. The steam barrel sauna is made in the USA and can service up to 4 people. Maximum heat circulation is allowed due to its round shape.
The natural and smooth wood is held using few fasteners. A tempered glass window is fitted on the strong cedar door. It is fixed on two polymer support cradles. In addition, there is a dial-controlled 60kW stainless steel heater and 40 pounds of sauna stones. Water can be sprinkled on the heated sauna stones for a refreshing feeling
Highlighted features:
Heats up to a maximum of 195° F
The lumber profiles and end- sections are handmade
Ball-and-socket cedar lumber: 1- ⅜ inch thick
It is controlled using a dial of 6.0kW KIP
Stainless steel bands, fasteners, and hinges
Door made of cedar with tempered glass window
Interior LED light, 110 volts plug-in
Cedar heater guard
Weather resistant plastic support cradles
Two benches across each other for reclining or sitting
Includes red cedar fixture kit (5 piece)
It has an electric Harvia heater of 220 volts and 30 amp
Pros
Can hold up to 4 people
Used both indoors and outdoors
Maximum heat circulation
Retains heat for long
Cons:
Limited life warranty on the sauna room
11.  Southport 3-Person Traditional Sauna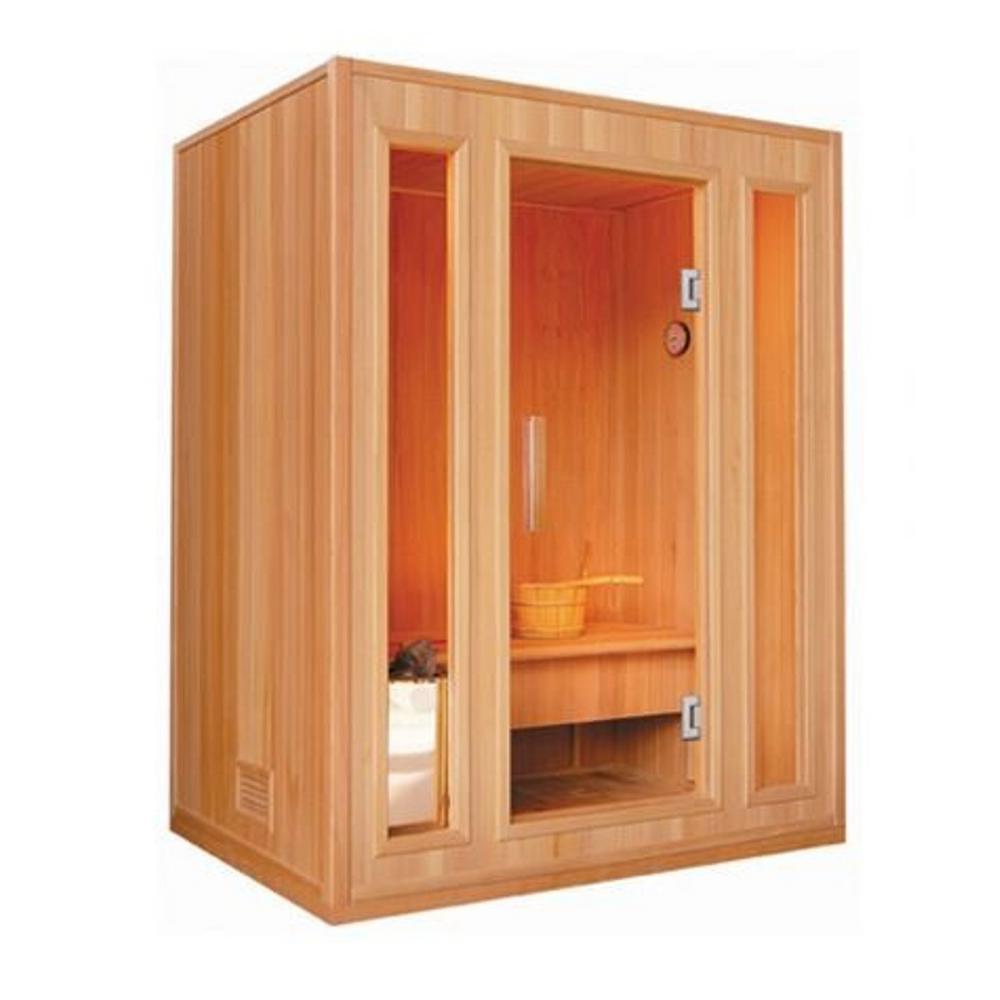 This spacious and large conventional sauna is designed to accommodate up to 3 people at a go. It can produce temperatures of up to 180° F, thanks to its 3Kw Harvia heater.
Better yet, it has standard features including an in-built light, relaxed seating, a thermo-hydrometer for displaying humidity level and a cabin constructed with natural Canadian Hemlock wood. The Harvia comes with 40-pound Finnish lava stones.
Highlighted features:
Occupied by 3 people
Comes with a floor of its own
Harvia 3kW heater with Finnish lava stones
Made of Canadian Hemlock wood
Meets all Canada and USA safety standards; 220 volts and 20 amp
Built-in lighting
Meant for indoor use only
Has a 7-year warranty against defects
Adjustable temperature of up to 185° F
Delayed timer of about 8 hours and turns off after an hour
Weighs 396 pounds
Pros
Can be used by 3 people
The delayed timer is handy for saving energy
It comes with its own flooring
The ergonomic seat promotes healthy sitting
Roof vent can be changed
Cons:
Conclusion
If the idea of a traditional sauna in your home gets you excited, then these 6 products should top your list. Nonetheless, the best traditional steam sauna overall is the Almost Heaven Princeton 6-person Electric Steam Barrel sauna. Compared to the Logan Cedar and Baldwin 2-person saunas, it is energy saving since many people can use it at a time. On one hand, the Princeton sauna heats faster because the barrel shape allows for maximum heat circulation. On the other hand, the rectangular shaped Logan Cedar and Baldwin 2-person saunas trap some heat at the top hence poor heat circulation.
Moreover, it is a good choice since it is spacious while with the other designs have limited space.  Again, one can sit comfortably as it has a variety of sitting positions while some others only have one sitting position.