A walk in bathtub has an inwards swinging sealing door and either has or does not have, a seat. This is to make it accessible to people with disabilities or the elderly who find getting into, or out of, a regular bathtub difficult.But what is the best walk in tub for your particular needs? Take a peek at our walk in tub reviews to help you make the perfect choice for your space and needs.
But first, did you know there are different types of walk-in bathtubs?
Try These Helpful Ways To Relax at Home after Work – Preventing Illness, Staying Healthy
Best Walk In Tub Reviews
So let's be frank with each other. Making the correct choice regarding the best walk in tub is difficult. Walk in tub reviews will all tell you this make of product or that make of product is the best. The reason is usually that walk in tub reviews are written by people for a specific company. So our team had a look at a number of walk in tubs and reviewed them for you. Here is our list of favorites.
1. Companion Massage Walk-In Tub
Made of durable, easy to clean acrylic, this tub doubles as not only a walk in tub but an air and hydro-massage system as well. This all-inclusive walk-in tub, with its delightful extras, thus meets the needs of even the most discerning of buyers.
Read more: Ella Walk-In Tubs Reviews
Made of durable, easy to clean acrylic with a stainless steel frame
Door is made of tempered glass
Has a built-in air and hydro massage system
Has a push control as well as thermostatic control valve
Has two seats for dual seating
System sports a pull-out hand mixer as well as ozone sterilization
A multiple color LED chromotherapy light is operated by means of an ON/OFF push control
The inline water heater helps keep water temperature constant when jets are in use
Large and bulky, so needs manpower to put in place
Very heavy, especially when filled with water,so ensure the floor's construction can carry it
You may need to employ qualified people to handle the plumbing and electrical requirements
2. Deluxe Dual Massage Acrylic Walk In Bathtub
If you like the term 'easy to clean' then this is the one for you. The white cast glossy acrylic coat of this bathtub ensures cleaning pleasure, while the pristine white gleam will brighten any bathroom interior.  To add to your pleasure, this is a dual massage bathtub, i.e. it has the functions of both an aerated tub and a whirlpool tub.
Textured slip resistant floor
Two safety grab bars
The two two-inch drains, stoppers, and overflows allow for 80 seconds drainage of water
The high-quality acrylic shell if reinforced with fiberglass for strength
The door and shell frame carry a lifetime warranty
All parts have a five-year warranty
The door is removable, making cleaning a breeze
The air massage system in this unit has 10 air jets, while the hydro water massage system has 12 water jets – with an inline heater
The tub has a great foot massage feature
Additionally, the unit is fitted with a ton of extras, including an ozone sterilization system, anti-scald thermostatic control valve, a flow rate control (for hydro massage), and LED chromotherapy lighting
Installation may need professional plumbing and electrical work
Older homes may need additional plumbing due to the fast drainage to prevent the sewerage system getting overwhelmed
3. Ella OA2660M-R Lounger Acrylic Microbubble and Hydro Massage Walk-in Bathtub
A sleek design added to its long, narrow design, allows you to lay back and stretch your legs. Add to this the micro bubble therapy technology and hydro massage jets, and your bathing experience is taken to the next level!
Has a grab bar and slip resistant floor for added safety
Sports an infusion microbubble therapy feature
The 9 therapeutic hydro massage jets helps rejuvenate tired muscles
There is an inbuilt inline water heater
Adjustable intensity control allows you to choose the settings of your choice
It has an anti-scald thermostat control valve
The 2-inch drain allows fast drainage
Made of durable acrylic with an easy to clean high gloss finish
Does not have a pump that allows for quick drainage
4. American Standard Exclusive Series 48 in. x 28 in. Walk-In Whirlpool and Air Bath Tub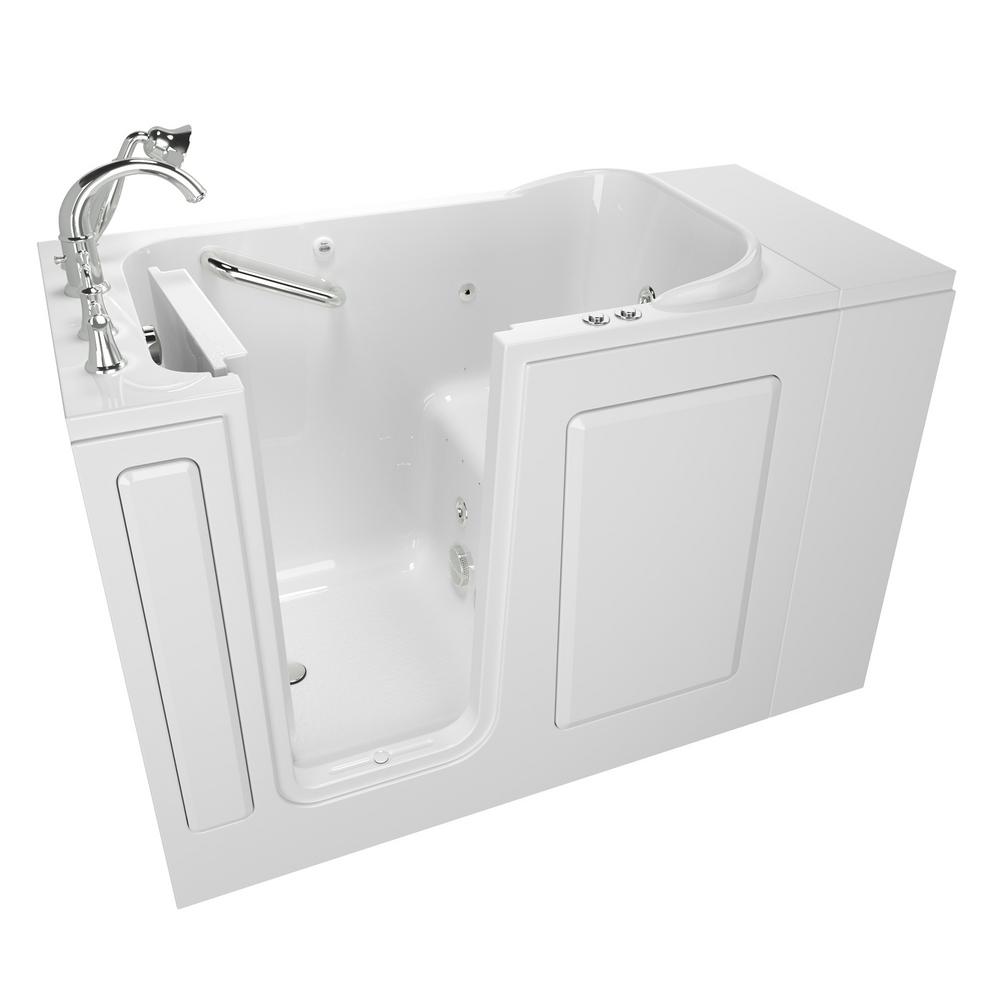 Experience a deluxe leg massage in the comfort of your own home, while relaxing in the comfort of your own home.
Read more: American Standard Walk in Tub Reviews
Has a quick drain function allowing for drainage in less than two minutes
Easily fits into an alcove
Low-entry walk-in feature
Eight water jets ensure a deep tissue massage
In-line heater keeps water at a constant temperature
Includes a hand-held shower wand
Build in seat and safety hand bars with textured floor allowing for safety
May need additional work on your sewage system due to the quick drain function
Product has a waterproof pillow for back and neck support that is not included but needs to be bought separately
5. American Standard Gelcoat Premium Whirlpool and Air Bathtub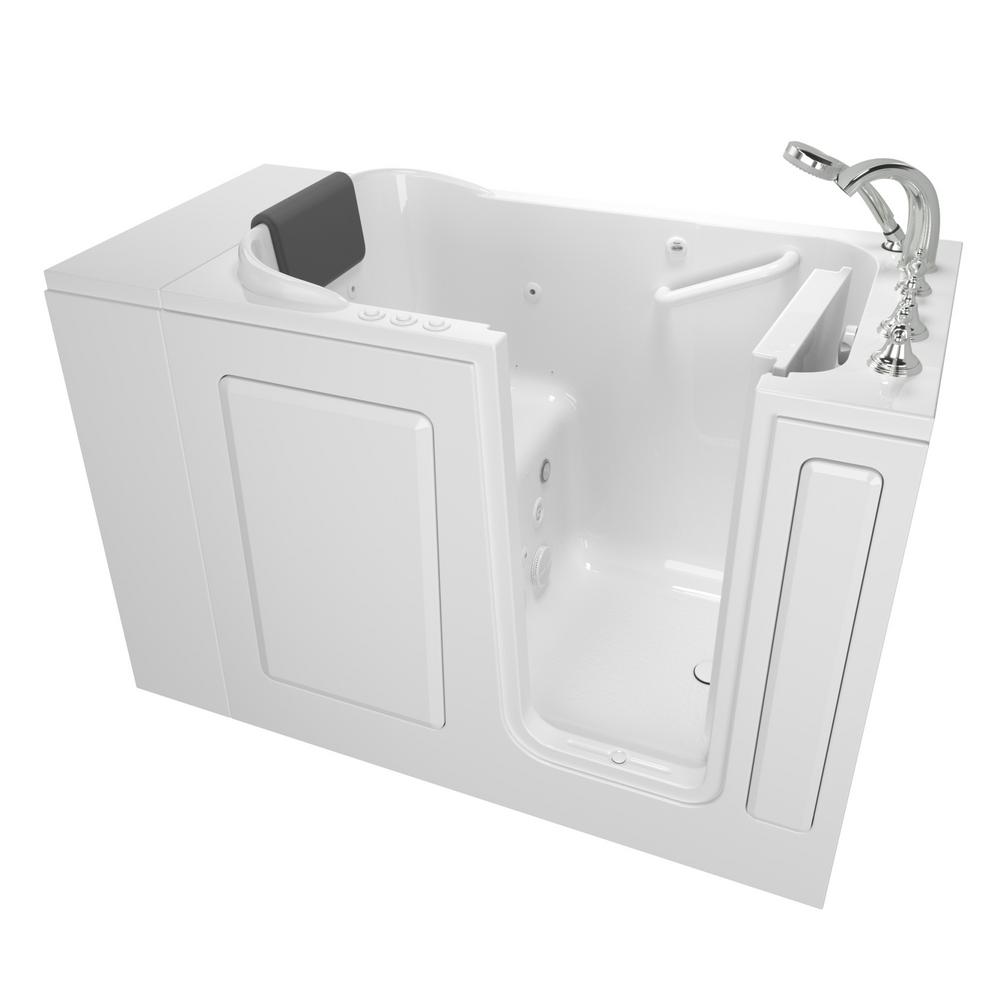 Gelcoat premium is one of the best product by American Standard. It is not only comfortable but also very safe to use. Moreover, it has advanced therapeutic features, which is useful to ease strained muscles.
The inline water heater helps maintain the water temperature.
The air spa system delivers advanced water-based therapy and relaxing massage.
The multi-colored light system produces lights of different colors, thus creating a pleasing environment.
The built-in contoured chair allows more room for soaking.
The door is watertight and has a lifetime warranty.
A textured floor and grab bars increase the safety by reducing the risk of slipping.
The water can be pumped out quickly with a quick-drain system.
The drain system doesn't pump out the water quickly on the first discharge. However, it works perfectly afterward.
6. Ariel EZWT-3060-DUAL-R 6
A heavy-duty walk-in bathtub with a high gloss finish, the built-in safety features ensure no slippage or falling if used correctly.
Read more: Ariel Whirlpool Tub Reviews
The bathtub is ADA compliant
The bathtub is made of heavy duty reinforced fiberglass with a resin coat and triple high gloss gel coat
The door is reinforced
There is a safety grab bar while the bottom is textured to stop slippage
The support frame is made of stainless steel
The feet are adjustable
Does not have a quick-drain function
7. Universal Tubs 4 ft. Left Drain Walk-In Whirlpool Bath Tub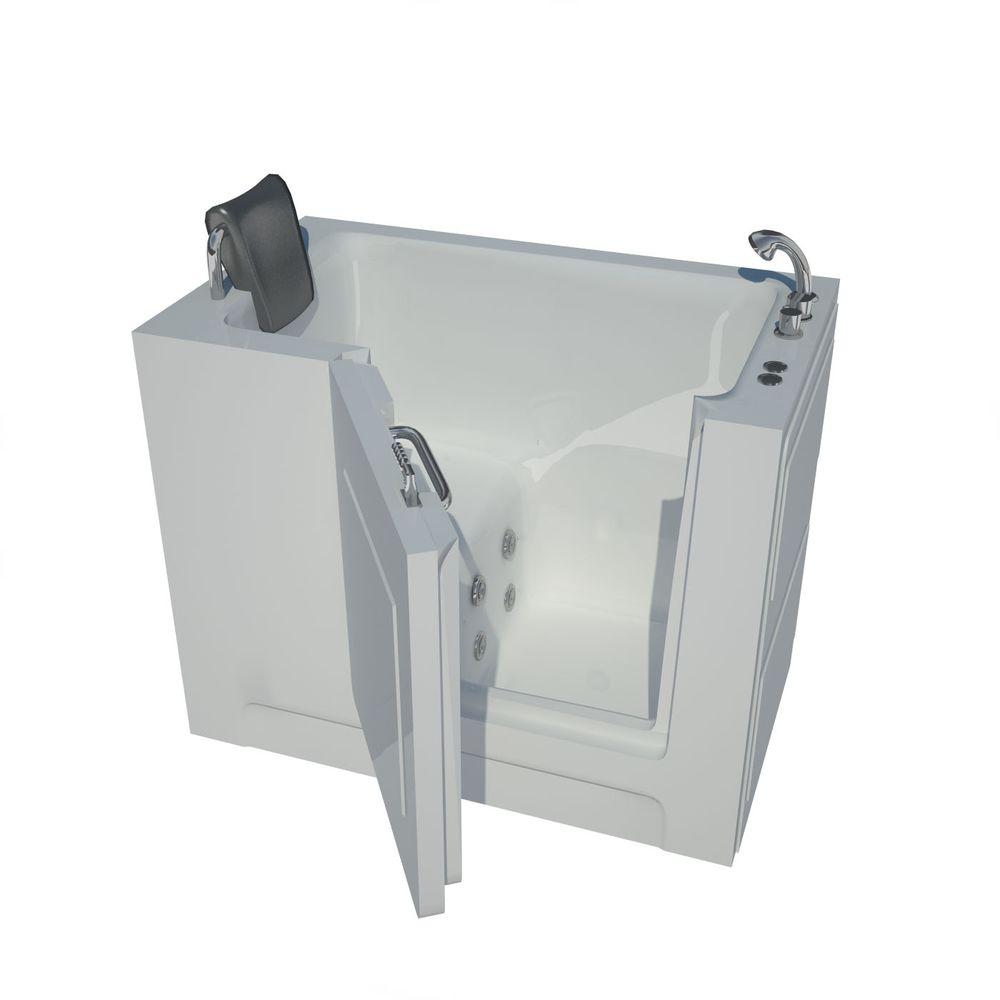 An independent bathing experience made possible by using the latest techniques in tub design. Enjoy the luxury of a soothing soak.
Read more: Universal Walk-in Tubs Reviews
A 1 HP pump powers 6 adjustable water jets
Has a pneumatic button control system
Front access panel can be removed for maintenance purposes
The three side panels included allow for installation flexibility
Besides the chrome finish faucets and tub filler spout, a handheld showerhead is also included
A cable operated waste and overflow feature is included
Tile flange is not included
Shower enclosure is not included
8. HandiTub Whirlpool & Air Jetted Wheelchair Accessible Bathtub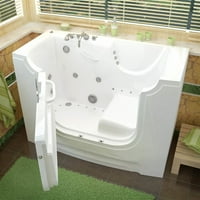 If you are looking for something nifty and easy to place with minimum fuss, this whirlpool and air unit is a great bet. All that is needed is an adequate water supply and drainage in the correct position.
A 4-piece roman faucet set is included
The stainless steel frame supports a fiberglass and trip gel coating
Unit has a slip resistant floor, molded bathing seat, and safety grab bar
The 26 air injectors are powered by a 1HP air blower
The unit has 12 fully adjustable whirlpool jets that are powered by means of a 1HP water pump
The front panel can be removed for maintenance
Water temperature is maintained by means of an inline friction heater
You can surround yourself with your favorite aromatherapy scents by means of the massage bubbles
Promotes health by means of chromotherapy lights
Unit includes a purge cycle and shower spray
The tub has no surround
It takes over ten minutes to fill with water
Installation directions are a little difficult to follow
The electric cord is not easily attainable
9. Telluride Whirlpool Jetted Bathtub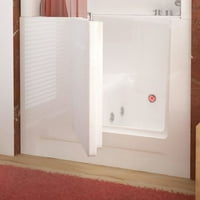 With side panels included for a three-sided enclosure plus an adjustable shower handle for easy use, this whirlpool tub is a sure winner.
Includes three side panels
The shower handle is adjustable
Sports a molded bath seat, safety grab bar, and resistant, anti-slip floor pattern
Door swings outwards for easy entry
65 gallon water capacity
Bathtub boasts six fully adjustable, directional whirlpool power jets
Comes with a fitted 1 HP water pump
Tub has no tile flange
You may need additional plumbing and electric work for installation
10. Prairie Whirlpool & Air Jetted Bathtub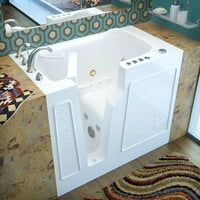 A great American brand tub with strong jets and air nozzles. This tub has a good, well-rounded finish.
Low threshold entry
Front panel is removable, making access for maintenance easy
ADA compliant molded bath seating
A safety grip bar and resistant floor pattern ensures added safety
Instructions are difficult to follow
Installation is quite difficult
Difficult to access valves, feet adjustment, drain, and pump
11. Aspen Whirlpool Bathtub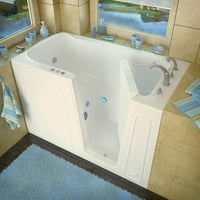 A whirlpool walk in tub that ticks all the boxes, resulting in a most relaxing, massaging soak.
The product boasts thirteen fully-adjustable directional whirlpool jets
Jets are powered with a 1HP pump
Front is removable to give easy access for maintenance
There is a bathing seat, safety grip bar, and slip resistant floor pattern to making bathing a safer experience
Water heat is maintained by an inline friction heater
Includes 1-speed air jets
Extra plumbing costs may be incurred due to the drain and overflow location
The large tub needs an adequate sized water heater
Some people may find the installation instructions a little tricky
12. Dignity 48" x 28" Whirlpool and Air Jetted Walk-In Bathtub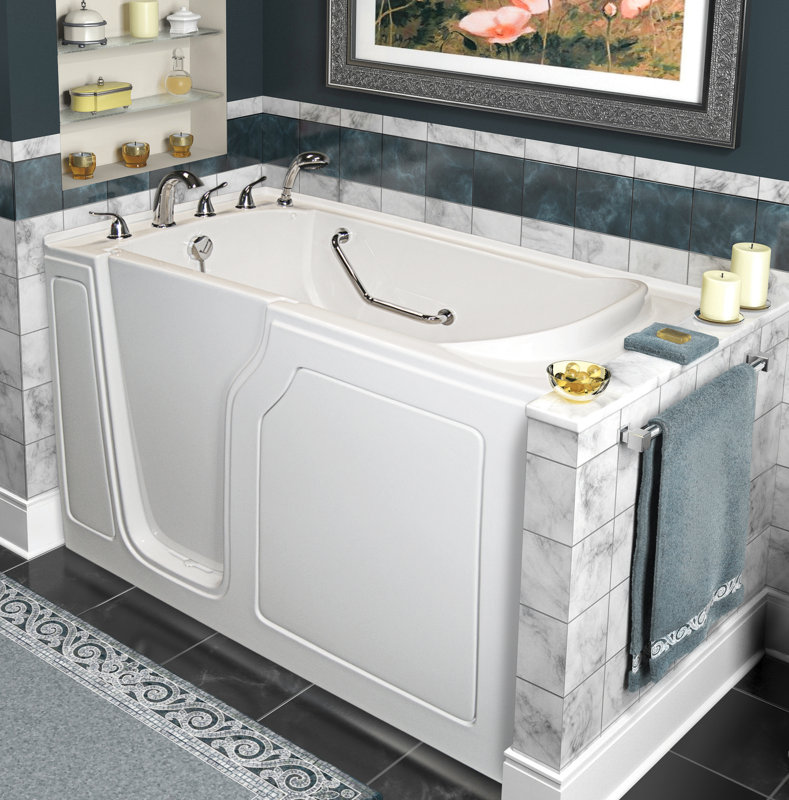 The bath comes with a 5-piece designer faucet set as well as an overflow protective drain and extension panel, shower rod, and curtain.
The tub has 20 air jets and 9 whirlpool jets
Two motors are incorporated into the design, one for the whirlpool and one for the air jets
Manufactured of durable fiberglass with a left or right side drain location
Has a non-slip surface and two safety grab bars
An extension panel that extends for up to sixty inches
Sports two access panels
Incorporates an overflow protective drain and drain kit
The verdict is still out as we have found no cons thus far
13. Safety Tubs Whirlpool Walk-in Tub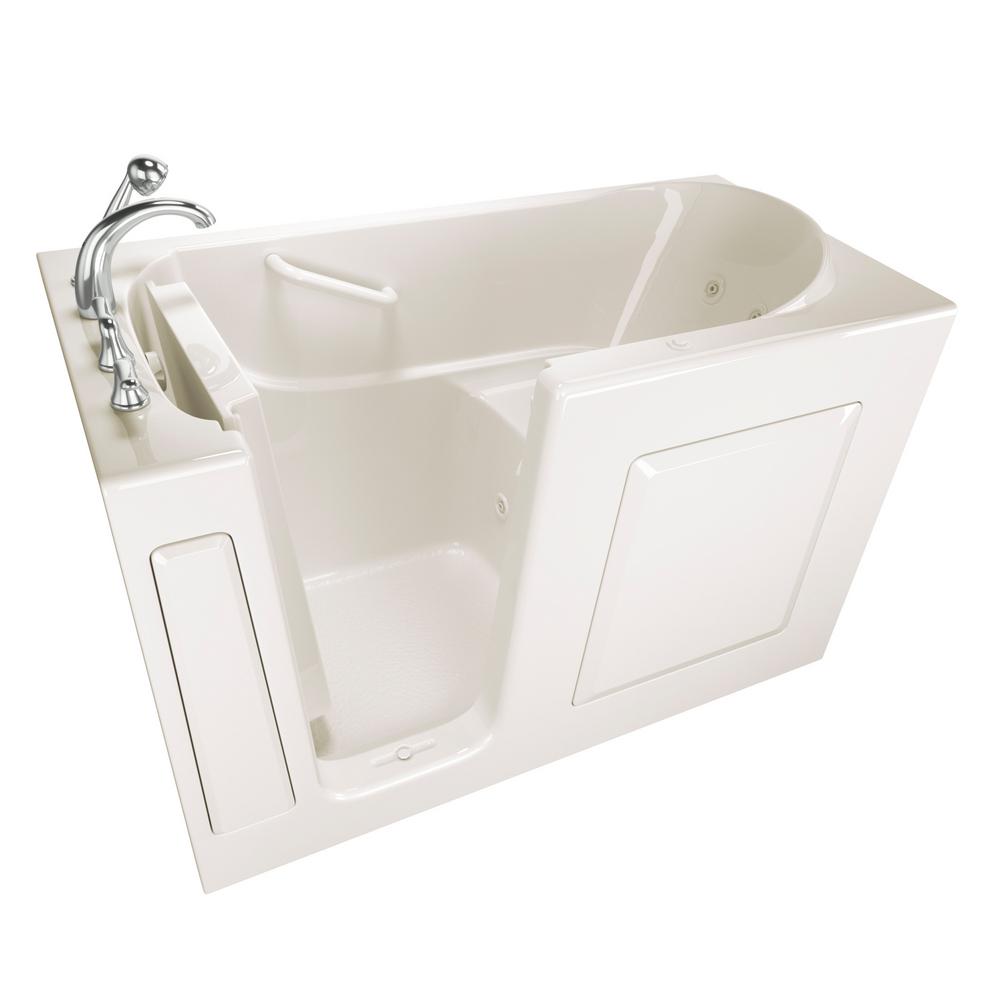 Safety tubs is a big player in the walk-in tubs industry. This whirlpool walk-in tub is their latest product with many popular features. If you want a tub that can give you a lot of health benefits such as improve blood circulation and ease sore muscles, then this tub is your perfect match.
It has a water-based therapy and massage system.
It also has a hand-held shower head or shower wand.
The door is watertight and comes with a lifetime warranty.
A textured floor and grab bars increase the safety and reduce the risk of slipping.
It does not have a quick-drain system.
The Whirlpool heater is not built-in.
14. Jacuzzi Almond Finestra Walk-in Bathtub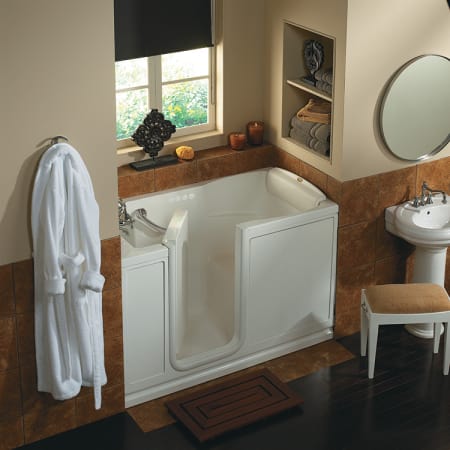 Jacuzzi is one of the most trusted brands of whirlpool walk-in baths. This Almond Finestra spa tub is one of their best models to date. It comes with many popular features, including quick drain and color therapy lightening.
It features both water and air therapy.
The door has two locks which make it very secure.
The inline water heater that helps maintain the water temperature.
The anti-bacterial additives embedded in the water line prevent bacterial growth.
The LED light is capable of producing 256 colors.
It is very expensive as compared to other walk-in tubs of its kind.
15. MediTub Air and Whirlpool Tub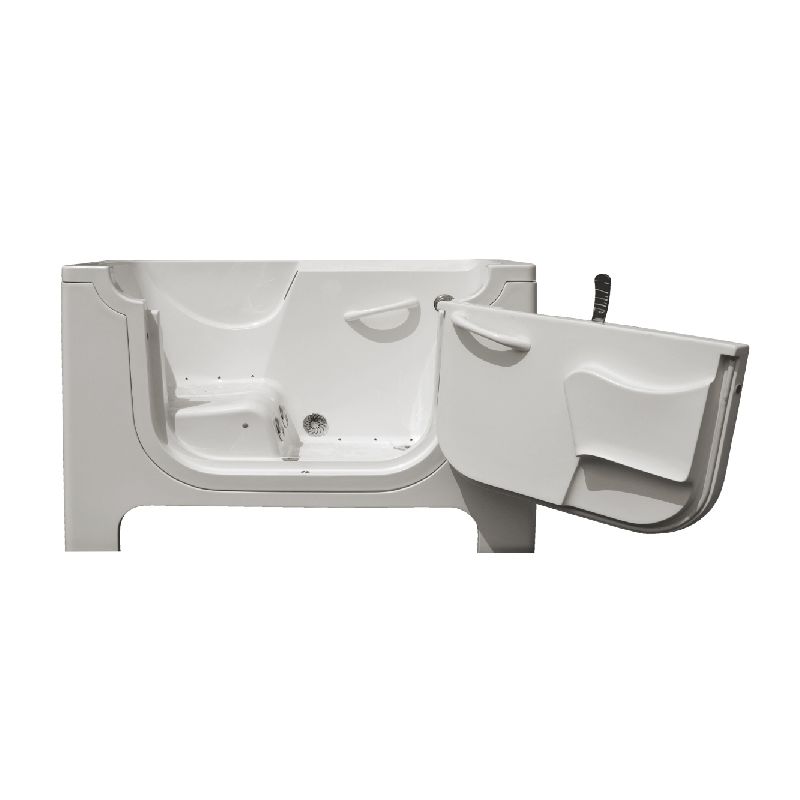 This walk-in tub by MediTub is considered to be one of the best walk-in tubs for seniors. It has many cool features such as slip-resistant floor and grab rail. With its senior-friendly features, it is not at all surprising why many seniors in the United States prefer this particular walk-in tub.
It has a very low door entry of just 15 inches.
The door seal has a lifetime guarantee.
The tub floor is slip resistant and grab rails are also installed.
It also has wheelchair access.
The inline water heater helps maintain the water temperature
It incorporates both air and hydro massage.
The tub warranty is limited to 10 years.
It is more expensive than the American Standard tubs and Safety tubs.
The Different Types of Walk In Bathtubs
As with regular bathtubs, walk-in bathtubs also comes in different types, so you can choose the best walk in tub that is just right for you.
Soaking Tub Walk In Bathtubs
A soaking Tub Walk in Bathtub gives its user the benefits of any of the regular best bathtubs around – a nice, long soak at the end, or beginning, of the day. Just because you are unable to get into a regular bathtub, it does not mean you should be denied the pleasure of using one, after all.
Whirlpool Walk In Bathtubs
A whirlpool walk in bathtub comes fitted with regular jets, just like the best hot tubs around. These jets circulate water throughout the bath,  sucking in water and pushing it out at high speed, giving you a great, relaxing massage after a long, hard, day.
The massaging action gets to sore muscles, giving almost instant relief due to a nice, deep massage without any of the hurt from going for massage therapy.
Whirlpool walk in bathtubs have higher maintenance needs than an aerated bathtub. This is because used water is filtered through the system, resulting in the system needing a regular cleaning session to ensure it works optimally.
Aerated Tub Walk in Bathtub
This type of walk in bathtub, much like the whirlpool walk in bathtub, also has jets. In this case, however, the massage action is provided by air pumping through the jets from an outside source to provide you with millions of bubbles that massage you all over.
The air is sucked into the system, heated, and pushed out at a high velocity, ensuring a warm, soothing feeling against the skin
Air and Whirlpool Walk In Bathtubs
With these bathtubs, you get the best of everything. You get the great message resulting from the water pressure shooting out of the water jets, or you can opt for a gentler experience from the air bubbles.
You could, of course, opt for both these systems to work at the same time, giving you a bathing experience not to be missed.
Read more: How to Choose the Best Baby Bath Tub
Different Features for Most Walk-In Tubs
In order to decide on the best walk-in bathtub for your buck, you need to first decide why you actually want one. Do you want one for therapy, safety reasons, or for comfort?
Therapy Reasons
Walk-in bathtubs have a variety of potential health benefits which include reducing aches and pains, improving your blood circulation, and improving mobility. For example:
Use in aromatherapy by adding natural oils that promote both physical as well as emotional wellbeing.
Chromotherapy, where colored lights pulse or change color, thereby creating a calming yet soothing effect.
Massage jets (known as hydro-jet therapy) that pulse out water, stimulating the skin and massaging the muscles.
Many have a water temperature control feature that ensures the water stays at a constant temperature without you ending up burnt.
Safety Reasons
Older people, those with disabilities, or those who are overweight may find it difficult to get into and out of a 'normal' bathtub. They also stand at a higher risk of slipping and falling. Walk-in bathtubs have a number of safety features that are not commonly found in a normal tub.
The floor is usually textured, giving a sure grip to your feet at all times
The built-in chair allows the user to stay seated during the bathing experience
Most of these tubs have a quick release drain that allows water to drain at a much faster rate than a normal tub
Or those who are in wheelchairs, the wide door allows for easier access to the tub
Most of these tubs have one or two grab bars that make it easier to enter or get out of the tub
Many of these tubs are fitted with anti-scald technology that ensures the water stays at a constant temperature without the fear of the user getting scalded
Can Walk-In Tubs be Customized?
With the wide variety of features that are available, you can most certainly pick the type of tub that suits you perfectly.
A Tub With the Convenience of a Shower
Many people feel safer using a walk in tub yet they still want to be able to shower. Many of these tubs are fitted with a hand-held shower that allows them to still sit while using it. This also saves on water costs as you use less water, while some of the hand showers have adjustable spray options.
You could, if you wish, add a shower holder to the wand in a fixed position, just like a 'regular shower, that can still be removed and held in the hand for when sitting.
Because these bathtubs are not built in, you may find there is a space between the tub and wall. A tub extender gets rid of this space and at the same time protects you from accidental electrical or water damage.
Getting into or out of a regular tub sees you having to lift your leg quite high. In the case of a walk in tub, the threshold is extremely low. This makes it much easier for those who are not very mobile to use.
There are tub options that have the door swing inwards, or outwards, depending on your needs. Those that swing inwards (towards the bathtub) stay closed due to the water pressure inside the tub and are usually cheaper than tubs with doors that swing outwards.
Tubs that have doors swinging outwards are usually a little more expensive because their closing mechanisms are quite complex as they are designed in such a way to resist the pressure coming from the water inside the tub.
The Construction Materials Used for the Shell
These tubs are either molded from fiberglass or acrylic. Fiberglass tubs are usually cheaper, are very strong, and usually given a triple gel epoxy coating. Acrylic shells, on the other hand, are very long-lasting and easy to clean.
There is, however, a third option: a combination shell. Here, the base of the tub is molded from acrylic and fiberglass is used for reinforcement purposes.
Some tubs have metal frames while others do not. Those that do not have frames usually have great design options, although the depth of the tub suffers as a consequence. They are also less strong than those with frames.
Frames are usually made of aluminum or composite materials and are less prone to sprouting leaks due to the way they are finished off. They are also usually cheaper than frameless tubs. Their doors, however, usually only open outwards.
Neck rests and Seating Options
It is generally a good idea to check out a hot tub's seating and neck rest options. As these vary, you may want to investigate the option that suits your needs best.
The Size of the Step-In Bath Tub
As with regular tubs, size here also varies – including length, breadth, and height. It depends on your available space and needs. In cases where they are shorter than your regular bath tub's space, you may want to use an extender in order to fill the gap.
You can opt for extras such as a padded seat or even neck cushions if you so wish. Many of these tubs come with a quick drain feature as you cannot exit the tub while it contains water and could get cold waiting for the water to drain. Tubs that have doors that open outwards are usually preferred for those in wheelchairs as they give much easier access to the tub.
How Do Walk In Tubs Work?
Walk in tubs are usually sold as a complete unit that only needs attaching to your water supply and a drain. If, however, you opt for a whirlpool or aerated walk in tub, or even one that has both, you would also need to take the power attachment into consideration.
A walk in tub is fitted with a door that either swings inwards, or outwards. You would open the door and transfer yourself (from a wheelchair) to the seat, if disabled, or simply walk in and sit down. The floor, which is usually slip resistant, and added arm handles, are added safety features that ensure you do not fall.
Most of these bathtubs are fitted with a quick-draining function, as you would, typically, have to wait for the water to drain before being able to get out.
The door threshold is usually very low to allow for easy access.
Pros and Cons of Walk In Bathtubs
As with all types of baths, even the best walk-in tubs have their own set of pros and cons attached.
Easy to use by those with mobility issues, including not only those in wheelchairs but also the elderly who find getting into and out of a bath challenging.
Most are designed to forestall the possibility of slipping, usually due to a non-slip floor
They usually have handrails, allowing people with mobility issues a grip in case of falling, slipping, or when getting up
Built-in seating gives the user independence as they can wash without the fear of falling
Some of these tubs allow for a shower enclosure and double up as a steam shower
You need to get into the tub before filling it up with water – this experience could be quite chilly
You need to wait for the bath to drain before getting out as there is the potential of your whole bathroom flooding – most walk-in tubs, however, have a special drain function allowing water to flow out much quicker
How Do I Choose the Best Walk In Bathtub?
Choosing the best walk in bathtub is a matter of perspective, i.e. your perspective.  You need to ask yourself: "What are my needs?"
One of the things that need thinking about is size. These bathtubs range in size, so you need to decide on the size that fits your bathroom, and your needs. In addition, do you want a soaking tub walk-in bathtub, a whirlpool walk-in bathtub, an aerated tub walk-in bathtub, or a dual function tub, i.e.an air and whirlpool walk-in bathtub? Price and personal preference play a role in making this decision.
Then there are door options to consider. Do you prefer an inward swinging or an outward swinging door? While an outward swinging door might be a better option for someone in a wheelchair, it does tend to take up quite a bit of bathroom space.
Are you thinking about renovating your bathroom? Consider these great options.
Safety Considerations
A walk-in tub is not only large but also very heavy, especially when filled with water. Most use water as well as electricity, so ensuring they are safe is an absolute necessity. One way of doing so is checking out their safety certifications.
If living in the United States of America, you need to ensure that it meets all of the American Standards Association's criteria. In Canada, this means the those of the Canadian Standards Association Safety Certification.
Although most manufacturers adhere to these certifications, the onus is on you to verify before installing your new tub.
Besides these certifications, you will also need to ensure your tub has the following certifications:
The Edison Testing Labs of North American Safety Certification for Electrical Equipment
The American National Standards Institute (product safety)
The American with Disabilities Act (for ADA compliance)
Do keep in mind, however, that not all tubs need all these certifications. For example, you may not need a tub that is ADA compliant if mobility is not a major issue, i.e. you are not wheelchair bound. A tub with no certifications whatsoever would, however, raise some red flags.
Frequently Asked Questions regarding walk-in bathtubs
Who needs to use walk-in bathtubs?
A walk in bathtub is recommended for everyone who has mobility issues, including those who are in a wheelchair, or those that have mobility issues such as the elderly or obese people.
Which would be better for a senior losing mobility, a walk-in tub or a walk in shower?
Although a walk in shower is a great option for seniors, a walk in tub is safer. The reasons are that it has a built-in seat as well as a non-slip floor and grab rails as added safety measures. These are precautionary measures that ensure an elderly person does not slip and fall, can be seated for comfort and has something to hold on to when entering or exiting the tub.
What are the features of a walk in tub?
Standard features include a door that ensures low entry (no lifting of legs to get in or out), a handrail or handrails, and a chair that is built in. More expensive models have extra features, such as water jets, a hot water regulator, neck pillows, and even therapy lights, plus a whole lot more.
Are there any health benefits of walk-in tubs or are they for comfort only
Besides the obvious safety benefits, these tubs may also have certain health benefits, especially those fitted with whirlpool jets as they relieve aches and pains by providing a great massage.
What are the safety benefits of walk-in bathtubs?
It provides those with low mobility a number of safety perks. The floor is usually constructed in such a way to avoid slipping, while the seating provides you a place to sit while bathing without the risk of falling. Additionally, the safety handles provide you with a place to grip when either entering or exiting the tub.
What is the most comfortable style of bathtubs?
Here, the answer depends on your personal needs. A regular walk-in bathtub meets most of your mobility needs. However, one with added features adds to your experience.
What should I expect to pay?
Please remember that when you buy a walk in tub you need to budget for installation as well. A walk in bathtub, depending on what type you choose, can cost anything between approximately $2,000 and $5,000. The installation costs (remember you need someone for the electrical and plumbing connections) could be anything in the region of about $2,000. The costs should thus not, generally speaking, of course, exceed approximately $10,000. If you are doing an entire remodel of your bathroom, however, you would have to add those costs to this estimate.
Conclusion
Taking the different walk in tub reviews into consideration, I have to say that my pick would be the Deluxe Dual Massage Acrylic Walk In Bathtub. For me, this one typifies the heights of luxury and ticks all the boxes. Add to this that it is a dual function bath, allowing for both the whirlpool and air massage systems, plus the extras, e.g.  the ozone sterilization system, and I am sold. I also like the fact that the parts have a five-year warranty and that the shell frame and door carry a lifetime warranty. The removable door is the cherry on top.