Bestway was founded in 1994. Since then, it has focused on research, development, design, and production of innovative and good quality leisure products used outdoors. With the wide range of outdoor products such as above ground pools, portable spas, and leisure boats, they can meet every outdoor need of customers.
Their departments work hard to meet their customers' satisfaction. They have laboratories, technology centers, quality assurance department, well-integrated manufacturing systems, and offices around the globe that work hand-in-hand.
 Their vision is to let people have enjoyable and memorable experiences through the use of their services and products.
Reviews of the 5 Best Hot Tubs from Bestway
Here are the Bestway hot tub reviews you can check out to help you choose the right hot tub for your needs!
1.  SaluSpa Miami Inflatable Hot Tub with Air Jet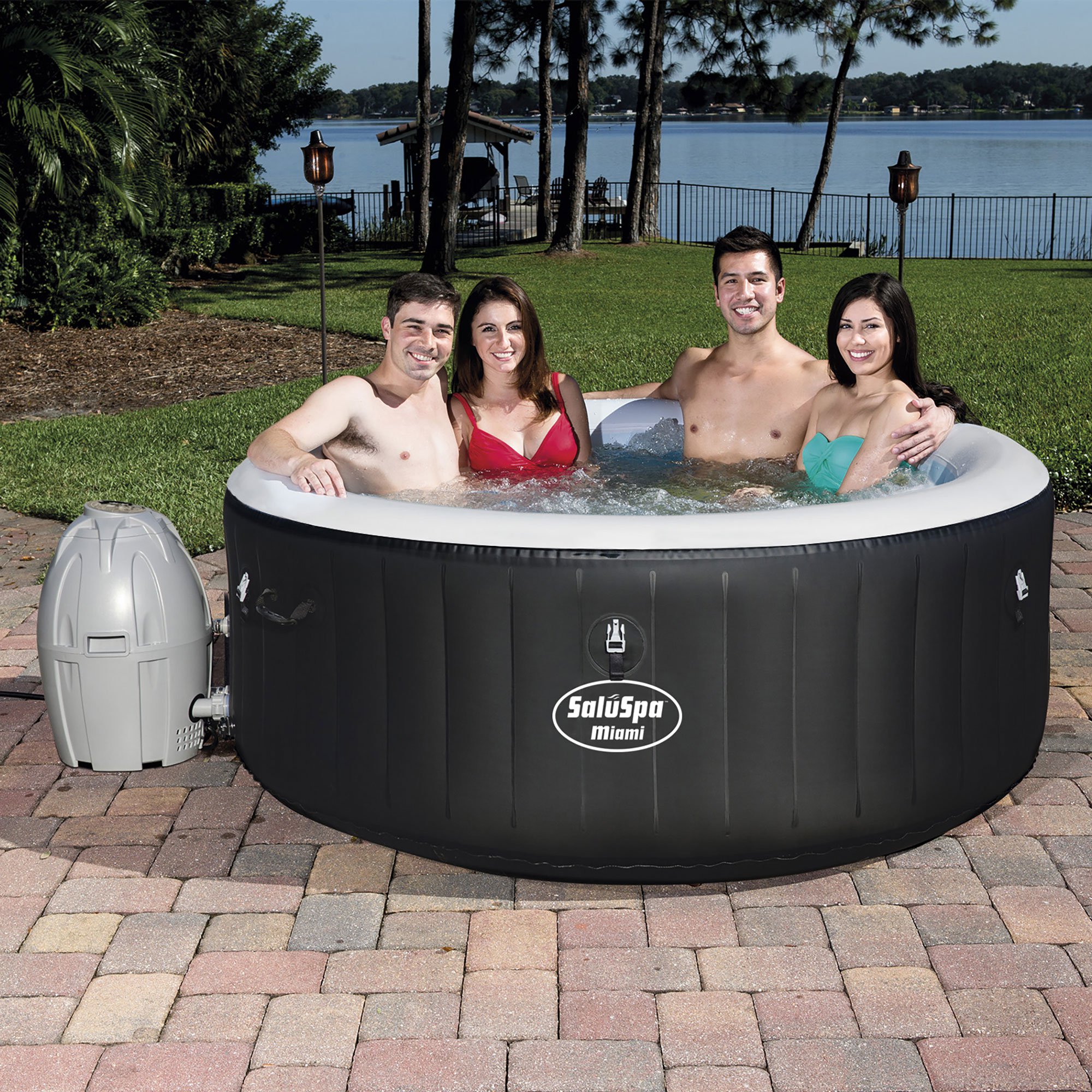 This hot tub is inflatable and has a premium design, so it can be considered as the best inflatable hot tub. Its design and size allow you to set it up easily indoors and outdoors. You do not need to hire a professional to install it for you. It can also accommodate 4 adults. There are numerous features this product can offer.
What Did Customers Have To Say:
Customer reviews have mentioned that this hot tub is priced reasonably, so you can have a piece of luxury without digging deep into your pocket. They also said that the structure of these hot tubs is durable, comfortable, and solid.
Security is another factor liked by customers. The bottom part that is padded with foam provides comfort. The levels of the bubble massage system and the heat pump are rather low. They also enjoy its portability.
Because of the digital controls, you can access the functions of this hot tub with ease. Auto lock and temperature control are two main functions you can control.
It utilizes bubbles that are preferred by most users. It has 120 bubbles that will give you a relaxing experience.
The heat pump provides the right amount of heat.
The inflatable cover is versatile.
It has a chemical floater that ensures the water is usable and fresh.
It has a limited temperature.
There are overhead costs you need to pay.
There are no chemicals included for the chemical floater.
2.  SaluSpa Paris Inflatable Hot Tub with Air Jet and LED Light Show Feature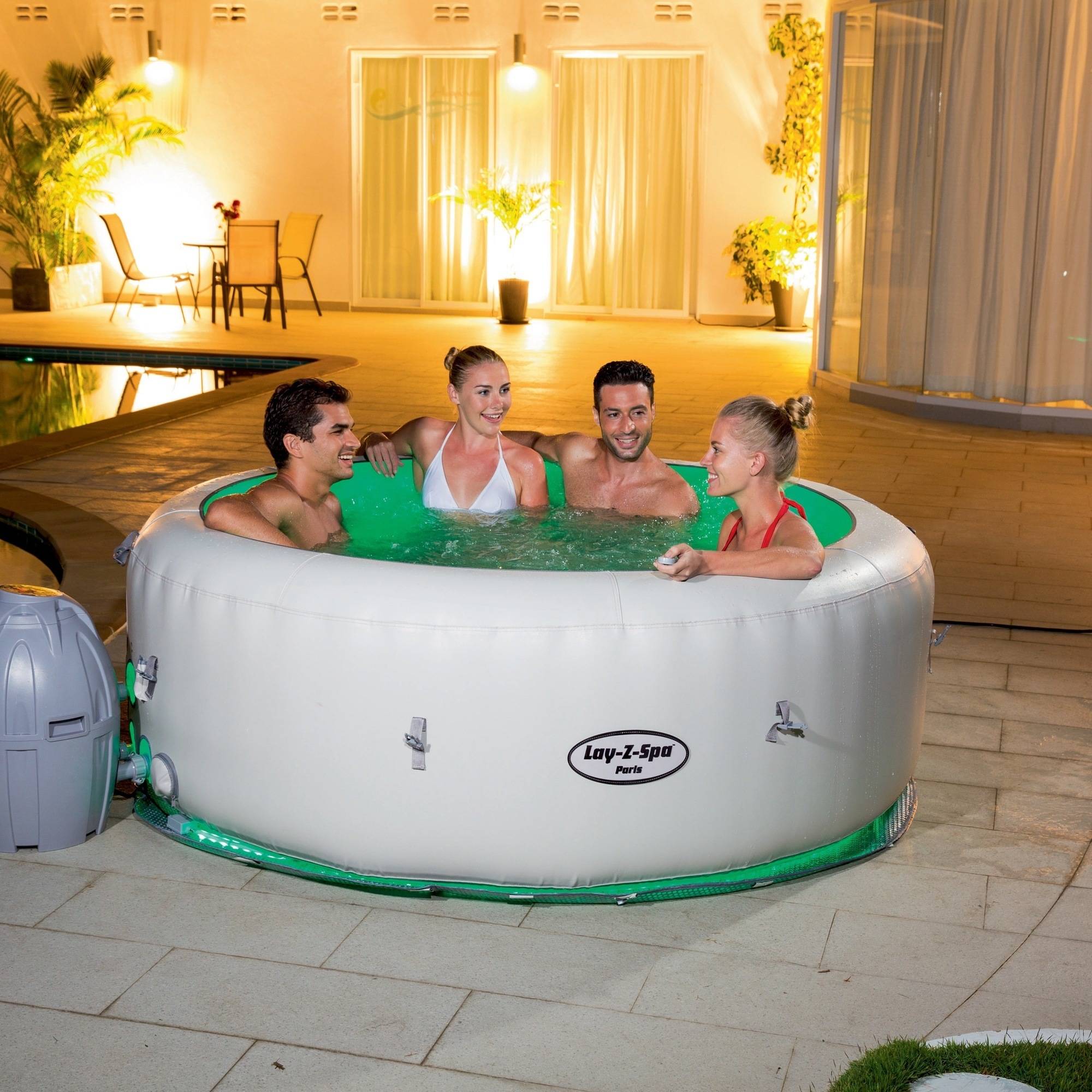 6 adults can be accommodated in this inflatable and portable hot tub. A filtration system that is built-in and a Lay-Z massage system are some of its features. It can also heat up 250 gallons of water fast. Also, you can plug it directly into any standard outlet in your house.
A drain valve, a cushioned flooring, and an LED light show with 7 lights are other great features it has. The interior and exterior have a cream color.
What Did Customers Have To Say:
Customers agree that this is a small but amazing spa. Some use it as a foot spa. The size and features give this hot tub the fun factor. Considering the features and size, its price is affordable.
The maintenance and installation are easy to follow.
People like this model more than the Miami model.
It is made of leather-like material.
The material surrounding the tub is soft and elegant to touch.
If you like hot baths, you can enjoy a 40-degree temperature of this hot tub.
The diameter is big.
The bubbles are not strong.
You need to purchase the batteries for the remote control separately.
The cover must be connected to the air pump since it does not keep air continuously.
If you will use your pool on a daily basis, you need to change the filters weekly.
You have to wait for the temperature to increase.
3.  Hawaii Inflatable Outdoor Spa with Air Jet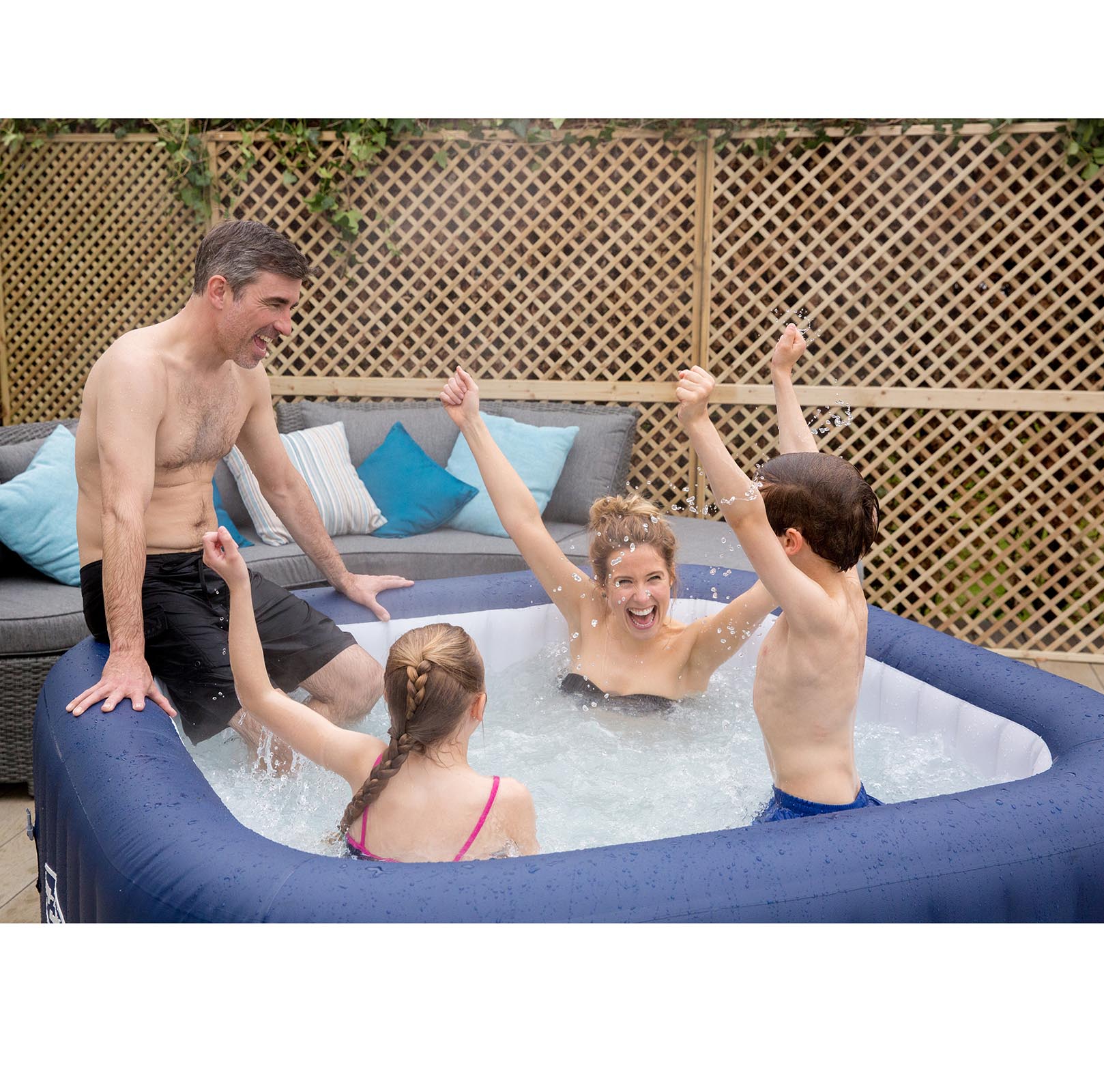 This is a product by Bestway that offers more than just a relaxing bubble spa. It has 8 hydrotherapy jets and a 120 comforting water massaging bubbles. Thus, the feeling when you use this is similar to being submerged in a jacuzzi.
Its design is visually pleasing which gives the impression of more space.
What Did Customers Have To Say:
Customers said that this tub cannot comfortably accommodate 6 people except if they have a weight of 50 pounds and a height of 5 inches. The hard water and salt water treatments are the features customers enjoyed. Because they use less chlorine for it, it is better for their skin.
It is fun to use by people of all ages anywhere.
You will enjoy many therapeutic effects.
There is no tube for draining, so water will drain on the floor.
4.  Bestway Helsinki Bubble Air Jet Massage Hot Tub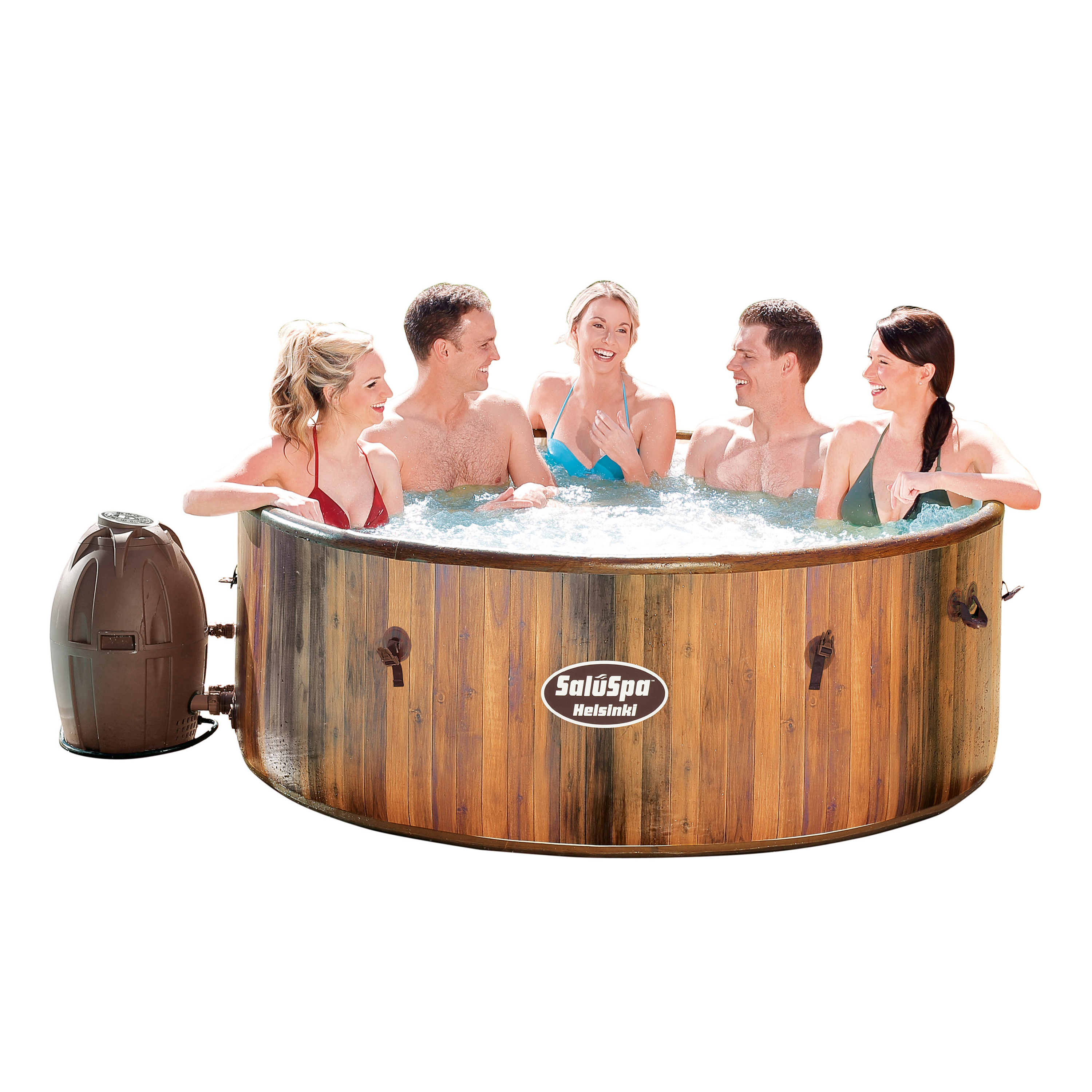 This Helsinki hot tub is one of the most acclaimed hot tub spas from Bestway. It is a round tub with a wooden panel design that gives it a luxurious look and really smooth feel.
But its amazing appearance is not the only thing that makes this hot tub popular among buyers. This is also a commendable hot tub packed with amazing features. One of which that sets it apart from other hot tubs out there is its soothing massage system.
What Did Customers Have to Say?
A lot of people absolutely love this hot tub in most Bestway hot tub reviews. Some of its well-praised features include the easy set-up instructions, heat retention, deep soak space, gentle and little air bubbles, and effective filtration system.
Can accommodate 4 people comfortably inside
Holds a total of 300 gallons of water
With 83 air jets placed at the bottom of the tub
Really durable and has a sturdy construction
Uses cartridge filters
With its own ChemConnect dispenser that is very useful during chemical treatment
Amazing heat retention ability
Can be set up within 20 minutes
Heats water up to 104 degrees Fahrenheit
Heavier than the inflatable ones
The wood panel design needs special regular cleaning
5.  Bestway palm Springs Inflatable Hot Spa
If you would rather have an inflatable hot tub in your backyard, then this is a great choice for you. An amazing portable hot tub that can soothe your aching muscle through its gentle yet targeted bubble massages.
It has a round shape that can fit in 4 adults or 6 kids inside. If you want an easy to set up and easy to maintain hot tub, then this one right here is an amazing choice. This undoubtedly received a lot of "thumbs up" in many Bestway inflatable hot tub reviews.
What Did Customers Have to Say?
Knowing what this hot tub can do and can't do has helped a lot of people love this hot tub even more. Many appreciate the fact that durable yet compact design and a reliable hot tub is now possible with the Palm Spring Inflatable Hot Tub.
Perfect for 4 people
With Freeze Shield sensor, making it a great buy
Durable material and has its own buckle-on cover
Has a power saving timer that allows you to preheat the tub 72 hours advance
Suitable for those adventurous and on-the-go people
Include its own pump
Customer support has to be improved
Not suitable people who are around 6 foot and higher
Conclusion
After doing the Bestway hot tub reviews, the best among these hot tubs is SaluSpa Hawaii Inflatable Hot Tub with HydroJet Pro Feature. Compared with other hot tubs, this does not only provide more relaxation but also more health benefits. It is also not difficult to maintain since it has the salt water treatment feature.
What about you? Which hot tub by Bestway is your favorite? Let us know in the comment section below! 🙂