The chilly season is just around the corner. This means you'll have to wrap yourself again under thick coats and multiple clothing, and if it's freezing cold at home, roll yourself like a burrito in your blanket. It may sound like a cozy thing to do, but I bet you wish it's not that difficult.
You probably have done your research several times trying to look for the best infrared heater you can utilize. The choices can really be overwhelming! We understand that you want something highly efficient, cost-friendly, and practical in the long run. Probably, you have come across Duraflame infrared heaters and ponder whether this brand worth a shot or not.
Well, Duraflame is one of the leading manufacturers of high-quality heaters on the market. In fact, they are known for using topnotch infrared technology in their products. Heaters engineered with infrared tech are proven to be more advantageous for household utilization. Since they have supplemental heating functionality, you can get to experience comfortable air temperature at a very low cost.
They're generally safe as well, explaining why these types of electric heaters are more popular compared to other techs. We'll talk more about those heaters in our Duraflame infrared heater reviews.
Why Choose a Duraflame Heater?
The heater market competition is pretty uptight. If you know nothing about heaters, you'll probably end up buying a model that's not suitable for your needs. Poor product consideration can cascade to every negative scenario such as health risks, fire hazards, wasted finances, and more.
However, with Duraflame and their power heaters, you are assured of their impressive credible product performance. According to Duraflame's description, their products are capable of evenly providing heat throughout an entire room. They proudly present these 4 key advantages and benefits when using their heaters:
Balance – When the heater ignites, it doesn't just warm one spot but will also keep the room's temperature balanced.
Silent Performance – Their heaters can optimally work with less unnecessary noises.
Fast – Their heaters can warm up your home not long after turning it on!
Budget-friendly – Their power heaters are designed to add supplemental heat only on rooms or spaces that are used often. This can help limit your energy consumption.
To better help you in your search for the best infrared heater hunting, we've prepared our informative Duraflame infrared heaters reviews below. You can use the following information as a guide to determine which model and unit is actually more suited for your winter needs.
Product Reviews
1.  1,500 Watt Electric Infrared Cabinet Heater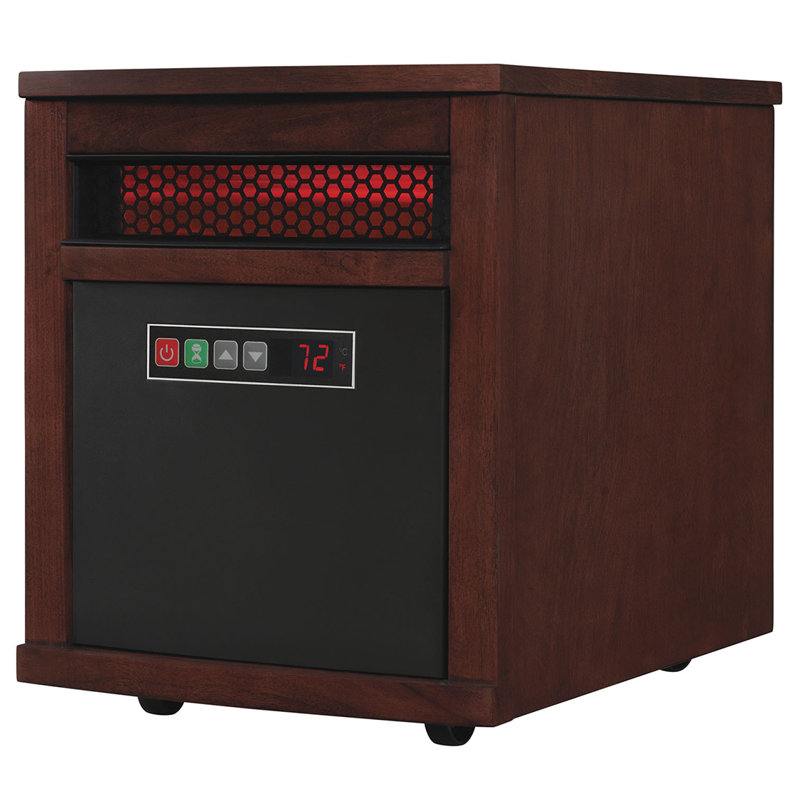 This design is perfect if you are into something classic. It's made of wooden material to allow it to complement your home décor. It may look a bit antique, but it is engineered using modern technology.
This Duraflame portable electric infrared quartz heater can evenly warm a room with a maximum width of 1,000 square feet. You can also use it right away upon purchase as it doesn't require installation at all. That said, even if you have limited knowledge about heater setup, you surely have nothing to worry about.
Highlighted Features:
Can maintain the natural humidity in the air to make sure your room won't completely dry out
Temperature is adjustable, and you are in control with your preferred heat level
Powered by SaferPlug, a technology that secures the appliance from catching short circuit and electrical fire
High energy-efficiency
Safe for use
Can heat up a room fast
Even temperature
Useful timer feature
Quiet operation
No installation necessary
Won't dry out your room
Portable design
Ideal only for small room use
A bit small, so proper positioning will be a factor when warming a room
2.  1,500 Watt Electric Infrared Tower Heater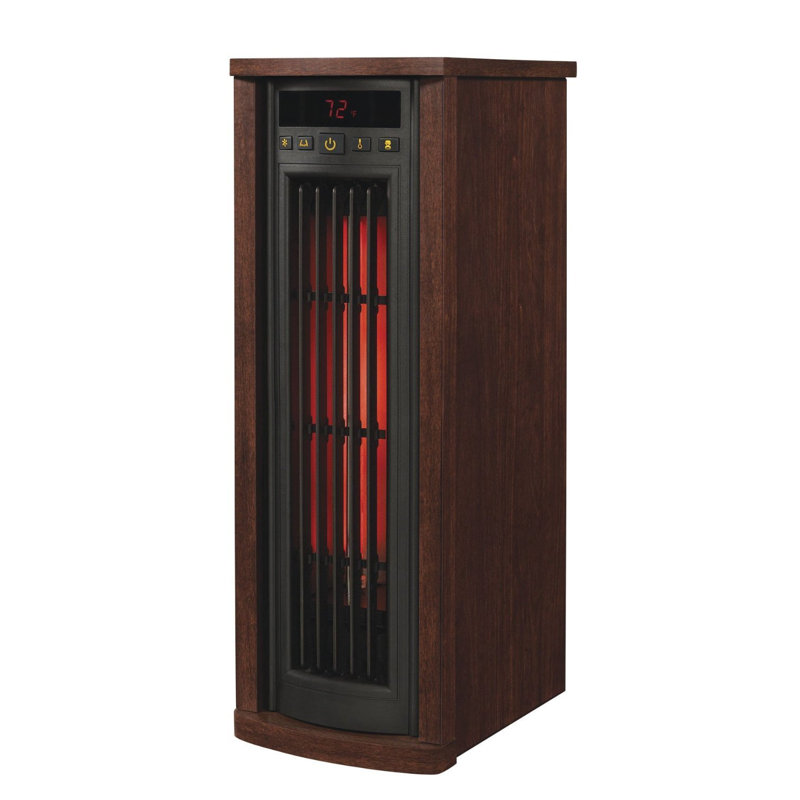 This unit is perfect for households with pets and kids. Thanks to its height, the heater is unreachable by toddlers and fur babies. It's built from real and solid hardwood, so you can be assured that it's sturdy. You'll also love its tower-like appearance that would go well with your other furniture while warming you up.
Since it doesn't emit that much heat on the unit's surface, it can be placed near other furniture. This means you won't have a hard time finding a spot where you should place.
Highlighted Features:
The unit doesn't overheat
Provides a supplemental heat in a room as huge as 1,000 square feet
Oscillation feature
Efficient timer function for automatic power off, allowing you to set the timer from 30 minutes to 9 hours
LCD display
Powered by SaferPlug
Safe to place over a carpet
Not that dangerous around kids
Doesn't cause fire or short circuits because of SaferPlug feature
Stylish
No assembly needed
Comes with natural humidity
3.  3D Flame Effect Infrared Quartz Electric Stove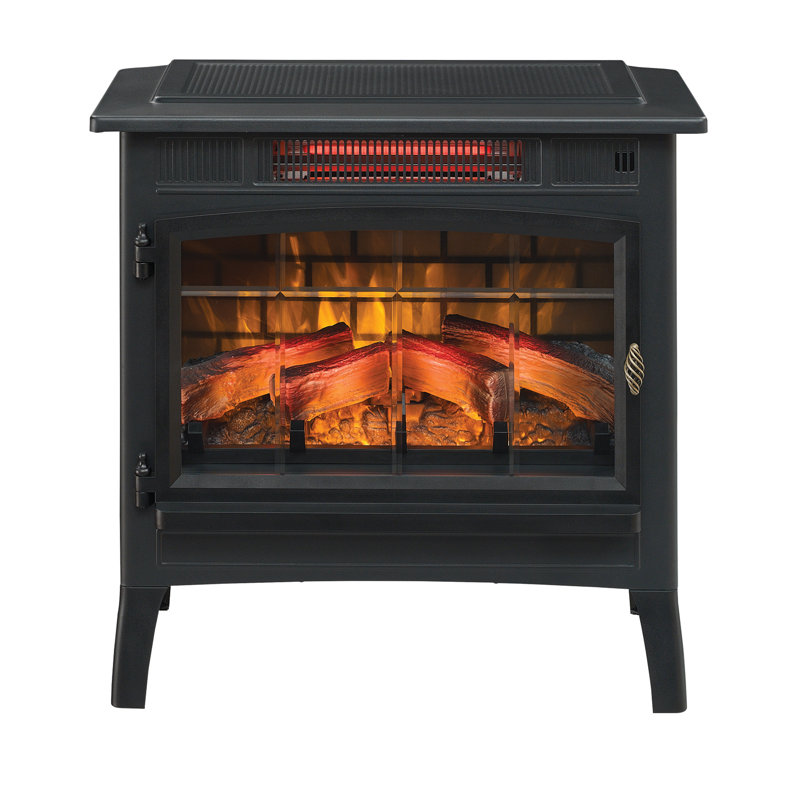 This unit's electric stove design is made from durable metal. It features a viewing window that lets you see the 3D flame effect. Needless to say, you'll surely find its fire replica mesmerizing and fun to watch. The flame light can be adjusted based on your preferred brightness level.
Its flame effect is basically from the glowing log that may be utilized with or even without heat. Most Duraflame infrared quartz heater reviews would say that it's got great ambiance and gives out ample heat in the room.
Highlighted Features:
Adjustable thermostat
Remote-controlled settings
LED light
Stylish and sets the ambiance right
Flame light and intensity adjustable
Features automatic room temperature control
No unnecessary sounds when operating
The legs must be assembled before use
Furniture must be at least 36 inches away from the heater
Reachable by kids and pets
Not that portable
FAQs 
How do you calibrate a Duraflame infrared heater?
To successfully calibrate your unit, simply press and hold the timer button. Do this until the 00 flashes transition to a single digit from -9 to 9 degrees. Release the timer button once done. To manipulate the temperature, use the arrow buttons.
If there's no control within 10 seconds, the calibration will automatically exit. For other technical details as well as troubleshooting guides, read this document. 
How does Duraflame infrared heater work? 
An infrared heater typically works pretty similarly to the sun. It emits infrared light that can be absorbed by objects as well as the body. When you turn on your Duraflame heater, it uses a series of reflectors and coils to efficiently direct the light on an outward motion. You can learn more about a heater's infrared technology here. 
How long can you run a Duraflame heater? 
In general, infrared heaters are proven safe to run overnight. Although infrared tech transfers heat on objects, they don't usually cause stuff to overheat. That makes these heaters more recommended than other heater technologies.
However, just to make sure that you don't use the machine exceedingly. Don't leave it running when you are out and no one is at home. Using the timer feature is also helpful to automatically turn it off when no longer needed.
How do you reset Duraflame electric heater? 
There are two types of reset options on an electric heater. They're as follows:
To do a manual reset on your heater, you should turn it off first. Make sure to unplug the unit from your power outlet and leave it like that for at least 5 minutes. After 5 minutes, you may go ahead and plug the unit back to your power source, then turn it back on.
To work on the Master Reset, turn the heater off and unplug the unit from the power source. Press the main power button, the one you see on the unit itself. You have to continue holding the button as you plug it back in. Five seconds after plugging the unit back, you can release the button. You may turn the unit back on. Afterward, it will display the immediate room temperature it is detecting. Go ahead and adjust the heat if necessary. 
How to clean the filter in a Duraflame Heater? 
Maintenance is one of the best ways to keep your heater functioning properly for a long time. Cleaning its filter must be done as often as necessary. However, you don't have to worry because it's not as complicated as you think it is. Just follow these steps closely and you're set:
Wear safety precautionary clothing such as gloves, thick clothing, and so on.
Turn the heater off and make sure to unplug it from the power source.
Lift the filter cover up. The filter is found at the back of your unit. If there are screws that lock the filter cover, unscrew it.
Remove the air filter out from your heater.
Use a vacuum cleaner to effectively get rid of the debris.
Replace the filter.
Put the filter cover back firmly and tightly. 
Can a heater be plugged on an extension cord or an outlet?
As much as possible, refrain from plugging the heater in an extension cord or relocatable power strips. This is not recommended and may be unsafe in general. It would be better to have an electrician add a direct outlet to make room for your heater instead of using extension outlets.
Conclusion
This sums up our Duraflame infrared heaters reviews. We hope you find these information useful and informative. You can refer to this buying guide when you're out there looking for a reliable Duraflame infrared heater. To summarize everything, always look at these top five key aspects a heater must have:
Safe
Cost-effective
Optimal performance
Consistent
Fast and efficient