We may not think about bathroom upgrades as much as we do for the rest of the spaces in our home because of how little time we spend in them. Nonetheless, having innovative and effective fixtures in your bathrooms can not only make things easier for you, it can also make the area safer, especially if you live with an elderly member of the family.
Luckily, you can make bath time safer and less anxiety-inducing for the elderly with the EcoSmart ECO 27 water heater.
Together, let us go over how this bestselling tankless electric heater that has gained its prominence by going over EcoSmart ECO 27 reviews.
EcoSmart ECO 27 Water Heater Reviews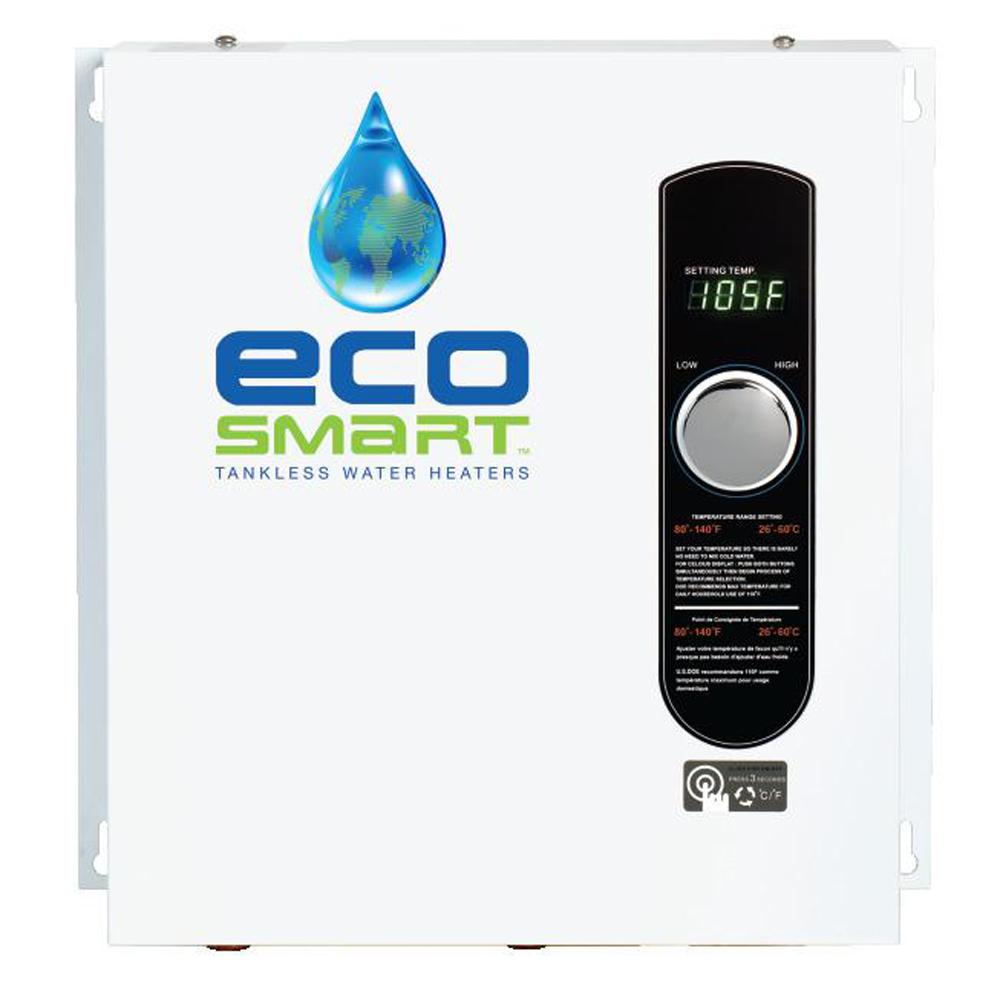 This is most known as one of the best and the largest electric water heaters that can heat up to 3 to 6 gallons per minute with its tank – less design, and it can even accommodate 2 – 4 showers running simultaneously. It is most known for its patented self – modulating feature and conveniently adjustable temperature settings.
Besides the unit includes internal jumpers that allows you to set the maximum temperature of the water released at a certain safe degree. This helps to avoid accidents when the children or the elderly twist the knob improperly.
This was manufactured by EcoSmart, a company that had introduced the best of tankless water heaters in the market.
Even though it is hailed as an outstanding product, I had to go over a good number of EcoSmart ECO 27 electric tankless water heater reviews to achieve a fair judgment. It seems though, that the brand has done a good job in producing a reliable bathroom appliance.
Pros:
White encasement with sleek compact design that matches any bathroom interior.
It is not bulky so there are reduced chances of the elderly bumping into it and hurting themselves.
Temperature is easily adjustable
Energy-efficient since heater only provides heat required by the load
Compact design
Cons:
Requires monthly to annual maintenance especially when water is hard
EcoSmart ECO 27 electric tankless water heater reviews complain of poor customer assistance when troubleshooting is needed
This product is great for the whole family and especially the elderly. Unlike other models in the market, the unit is not bulky; hence there are reduced chances of the elderly bumping into it and hurting themselves.
Key features:
Temperature range (80-140 degrees F)– Configured to heat incoming water up to 80 degrees F temperature drop, you can expect high and consistent flow rates from this product to accommodate a varying demand for water usage.
Adjustable temperature– The temperature can easily be adjusted so no one will get shivers or get burnt while trying to set the heat and water flow.
Patented sensor technology of self – modulation– This allows for a more energy-efficient usage by properly regulating the water flow and the temperature as needed. You can see how the temperature control can be adjusted to minimal increments.
Convenient design– The products features a convenient design and provides a wealth of information by means of manuals, plumbing and electrical diagrams, setting up guides, as well as water system requirements and warnings.
A Well – deserved Bath
Each one of us, whether we have tried and wrote our EcoSmart ECO 27 electric tankless water heater reviews or not, deserve a stress – free and relaxing bath experience. We all do not want to run out of hot water or have the water temperature turn too hot then too cold. You probably also do not want to have the water flow fluctuate mid – bath.
It is for this reason that we recommend the installation of this bath equipment to any home that includes the elderly.
The older members of our families usually do not find new technology intuitive to use, so they might hurt themselves with heaters that seem too complicated for them.
They might even resort to just bathing in cold water, which may not be good for their bodies in the long run. The same goes with children.
However, when you have this electric tankless water heater, you can have everything set before they go in. This way, you will be assured that both the elderly and children stay safe while practicing their independence.
This is also an effective way of allotting more time on other home errands and activities. Unlike other heaters, you will not spend time watching over it or checking up on our family members while they bathe to ensure that they are alright.
Customer Feedback
I have gathered a few of the most reliable feedback we could find amongst the many EcoSmart ECO 27 electric tankless water heater reviews online to serve as a testimonial on how the product has worked for them.
According to one review, he will give the unit a 5 out of 5-star rating because of how good of an investment it is, while remaining durable and reliable even after years of usage. The EcoSmart ECO 27 comes with a lifetime warranty, and while the initial installation is done by a professional, all the maintenance work can be dealt with using a Phillips screwdriver.
He also reiterates how it is also so lightweight that he can carry it with one arm. However, he mentions that this is not the largest tankless electric water heater available in the market, but it is the largest of the readily accessible sizes.
More reviews discuss their feedback as an annual update on how the product continues to work well for them. One review says that their bath time as a couple had taken much longer because of how relaxing and convenient it has become.
The couple also notes that they tracked their electrical consumption and it turns out that it had a 20 – 30% drop. Indeed, you can save more in the long run with this product.
One thing that customers would repeatedly suggest on the reviews section is that installation will require a professional, so do not do it on your own. Maintenance may be done by you, but always check for calcium scaling and sediments and have them removed immediately so the unit can continue working seamlessly for you.
FAQs
Where can I get the product?
You can get your product from Walmart, Home Depot, Amazon, eBay, or any online supplier store. You can also check the furniture and fixture warehouse nearest to you.
How long does the warranty last?
This product comes with a lifetime warranty honored by EcoSmart.
What are the electrical requirements?
The unit has an electrical requirement of 27kW at 240 V, three 40A double pole breakers with 112.5A at maximum, and a recommended panel of 200A.
What is its water capacity?
Its accurate heated water capacity runs up to 92,000 BTU/hr. if you are looking to use this for a hydroponic system or a hot water baseboard.
Final Verdict
To seal the deal, we have to say that this is a product that can give you the best bang for your buck. I recommend it for those who are in the market for an exceptional tankless water heater for the whole family.
Not only is it a game-changer, but it can also make your household friendlier towards children and the elderly. For the price given, you are not only offered the convenience but also lesser things to worry about in your own home.
I hope, as you joined me in going over all these EcoSmart ECO 27 reviews, you find what you truly need. Get yourself the best because you deserve it. We hope this has been of help to you!