For more than 80 years, Hayward has provided its service for pool owners around the globe with their pool equipment. Their dedication, research, and development had led to the production of efficient and technologically advanced pool solutions.
Hayward has been serving pool owners with the mission of creating a comfortable and hassle-free pool experience. Thus, their team of engineers has worked hard together to achieve this goal. Today, their products cover a complete line of heat pumps, pool filters, automatic pool cleaners, heaters, controls and salt chlorine generators, fiberglass pools, among many.
In this article, you can check out the most popular Hayward Pool Pump Reviews that can help you in selecting the right equipment for your pool.
The Top 5 Best Pool Pumps Reviews by Hayward
1.  Hayward Pool W3SP2303VSP Max-Flo Variable Speed Pool Pump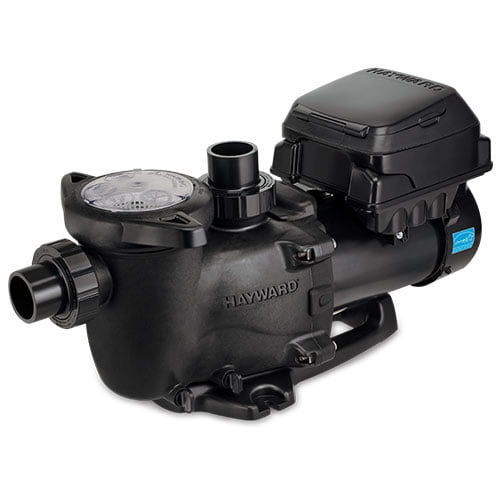 The Hayward SP2303VPS MaxFlo VS is a variable speed pool pump that is designed for small to medium-sized below ground pools. It is rated as one of the most efficient variable speed pool pumps in the market for in-ground swimming pools.
Pros of this Hayward SP2303VPS MaxFlo VS
Exceptional design and performance
Easy to install
Programmable interface
Self-priming function
Cons of the Hayward Pool Pump
Can be noisy when operates in high speed
Dubious durability
Wiring may require professional help
Key Features:
Manufacturer: Hayward
Product dimensions: 24 x 10 x 11 inches
Item weight: 40.6 pounds
65 horsepower
Speed range: 600- 3,450 revolutions per minute
Verdict:
The 230V is an upgraded version with industry-leading design and exceptional performance for small and medium-sized pools. It is fully programmable and a good way to enjoy your pool without worrying about the surging energy costs.
Who is This Product For?
The Hayward sp2303vsp maxflo variable-speed pool pump might be the best variable speed pool pump for those that want to invest in an energy-efficient and less-noisy in-ground pump. This is thanks to its permanent magnet and totally enclosed fan-cooled motor.
Key Features and Benefits
Energy Star Identification: A great spec about this pump is that it has been identified as an energy saving pump. The manufacturer claims that it can save up to 80% electricity more than single speed pool pumps.  Hence, it is not only good for the environment but also for your pocket. Also, to ensure significant energy savings, this model is equipped with an enclosed fan motor which has permanent magnet.
Speed: The Hayward SP230SVSP has a 1.65 horsepower and its speed ranges from 6000 revolutions per minute to 3,450 revolutions per minute. The speed setting is electronically controlled.
Hydraulic Technology: I like the hydraulic design of this pool pump because it enables it to operate in stealth mode, unlike traditional single-speed pumps. This technology boosts the pump's efficiency and also reduced the noise footprint in the background by a considerate amount.
Fully Programmable: When compared to most pumps on the market, the Hayward Max-Flo SP2303VSP Variable Speed In-Ground Pool Pump is very easy to program. The pump is equipped with a user interface and has an easy-to-use touchpad that for controlling the programming functions. Hence, you won't need to hire an expert to set it, saving you both money and effort in the long run.
Compatibility with Hayward Automation System: Just like other Hayward models, the Hayward SP2303VSP is compatible with the Hayward Automation System. Furthermore, it is also compatible with other automation systems, but this will need a relay system. Better yet, it can be installed in stand-alone mode.
Built-in Controller: This model has been upgraded with a built-in controller that is more advanced. Plus, it can be used with external controllers.
Self-Priming: When installed correctly, the Hayward MaxFlo pool pump is self-priming. It has a suction lift of 8 inches above your pool's water level.
Customer Reviews
"I recently replaced my single speed pump with this variable pool pump and I am impressed. I love that it is powerful and silent and you won't hear it run if installed correctly. Although it does make some noise when running on max speed, it cannot be compared to my previous model."
"I just bought a new house and was planning on replacing my old and noisy Pentair pump. I just bought this new pump and it was easy to install, I did it myself. This is because this new pump comes with quality unions. It has a quiet operation and it shows you Watts so you know what energy you are saving."
"This new pump operates as expected and came with everything needed to run it. It is also very quiet. However, I am disappointed that it only lasted for a few months. The manufacturer also took long to honor their warranty. After waiting for a month or so, they made the replacement and the pump has been running well since then.
FAQs
Why is my pump not priming?
The Hayward Pool W3SSP2303VSP Max-Flo Variable Speed Pool Pump 230V is designed to be self-priming if it installed correctly. However, if your pump does not prime properly, it may be due to one the reasons below:
Loose connections or the valves in the suction pipes are leaking.
The strainer housing may still be full of water.
The strainer basket or suction side piping may be clogged with debris.
The o-ring may not be properly lubricated, cleaned, or seated in its grooves.
Do I need to plug in the Hayward SP2303VSP?
No, you don't need to plug in this model anywhere. Instead, you just need to hire a licensed professional to do the wiring. They will make sure that the wirings are of the correct size and there are no loose connections. They will also ensure that the motor is bonded and grounded to avoid any fatal electrical shock.
Read more: Hayward SP2303VSP MaxFlo Variable Speed Pool Pump: Review and Buying Guide
2.  Hayward SP1580X15 Power-Flo LX Series 1-1/2-Horsepower Pump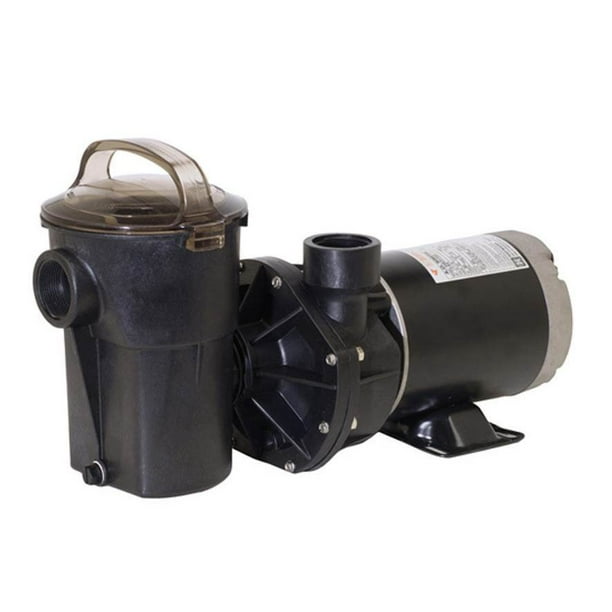 This pool pump is one of the best above ground pool pumps in the market. Aside from above ground pools, it can also be used on in-ground pools. It is very useful and can deliver good results to pool owners.
Furthermore, it has durable corrosion-proof construction which makes it long-lasting; this means that this pump will be of long service to you. This product offers true value for money and high-level performance which every pool owner will love.
In addition, its advanced design reduces the requirement for frequent maintenance and cleaning. Plus, its easy-to-install feature will make your pool a lot easier to maintain. This is a pump that can perform best for your pool without too much cost. And as from pool owners, Hayward is one of the best brands when it comes to pool pumps.
Key Features:
Heat-resistant double-sized seal
1 ½ inch intake and discharge impeller
Clear cover to easily see the amount of dirt in the basket
Drain plug
Corrosion-proof reinforced thermoplastic housing
Pros:
Dependable
Quiet operations
Energy efficient
Easy set-up and installation
Cons:
Difficult to remove the lid from the basket
No filter and heater included
Customers say:
'I was surprised at how easy to install and how powerful it was'
'Great above ground pool pump'
3.  Hayward W3SP2607X10 Super Pump, 1 HP
Power is what this pool pump banners. As compared to other pool pumps, this product is so powerful that your pool will have effective water circulation. This pump is considered by many pool owners as the best inground pool pump around in the market today, for it has set the industry standard for its efficiency and reliability.
This is reliable and can give utmost satisfaction to pool owners and users. It is also part of the world's best selling medium-head pump. This brand also brags its unique no-service design that has 4-bolt access to all internal components. It is specifically designed for in-ground pools but can also be used for spas of all types and sizes.
This is highly useful, efficient, and worth keeping. The best thing about this pump is that it can withstand wear and tear effectively despite heavy-use. Pool owners will enjoy its long and efficient service for their pools.
Key Features:
High power motor for efficient pool water circulation
Airflow ventilation for noiseless operations
Extra-large debris basket
See-through strainer covers that allow you to easily see the debris in the basket
Corrosion-proof thermoplastic construction
Pros:
Noiseless
Heavy-duty functionality
Easy installation
durability
Cons:
Customers say:
'Meets all needs'
'This pump saved me big bucks'
4.  Hayward W3SP3206VSP TriStar VS Variable-Speed Pump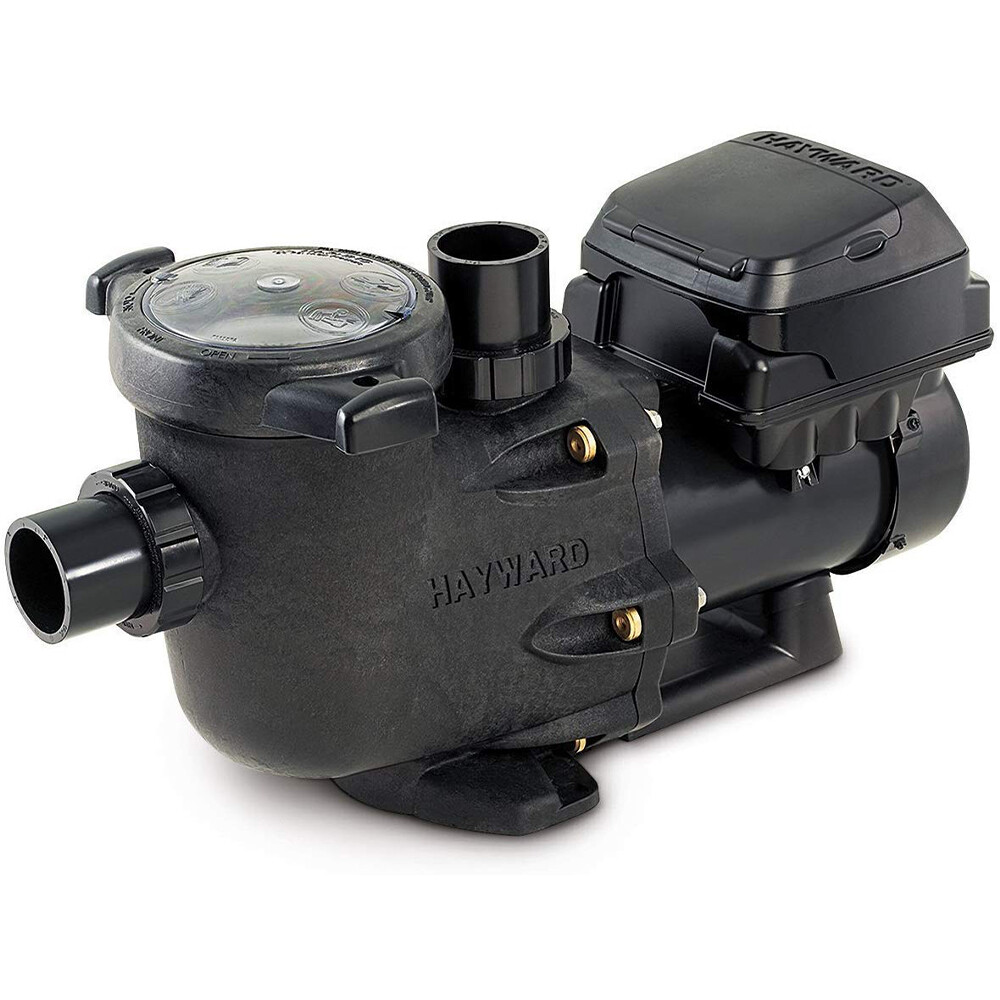 Variable speed pool pumps are the favorite of many pool owners because of the savings that it can give even when the pump is used heavily. This variable speed pool pump from Hayward gives the ultimate energy efficiency. Even its installation is easy, as there is no expensive rewiring needed.
Pool owners are particularly looking for a pump that is effective in improving the water circulation and flow but will not empty their pockets. Because of its intelligent all-in-one controllability, it can easily integrate with new or existing automation system. Likewise, it is easy to use from installation to operations making it an ideal swimming pool pump to own. Pool water operations have never been this cheap but very efficient.
Key Features:
Upgraded motor drive
Dual-voltage capability
Totally enclosed fan-cooled motor
Integrated and programmable digital interface
Speed and timer controls
Pros:
Energy-efficient
Easy installation
Efficient in keeping water circulation flowing
Reliable with long-lasting service
Cons:
Customers say:
'Truly saves money and headache'
'Great pump worth the money'
5.  Hayward Pool SP15932S PowerFlo Matrix 1.5 HP Dual-Speed Above-Ground Pool
Its integrated design and large profile have been engineered to meet the durability and high performance fit for large swimming pools. This pump is for pool owners that are looking for an energy efficient and high-performance pool pump. It is suitable for on-ground and above-ground swimming pools.
What Did Customers Have to Say:
Based on the Hayward pool pump reviews, customers enjoyed its dual speed features. It allowed them to use the low speed when swimming and the high pressure for vacuuming purposes. Generally, they rated this pool pump with a 4.4 rating out of 5 stars. Most of this rating had been generated due to its soundless feature. Customers shared a common liking about the motor operation being quiet even when used at both high and low speed.
Overall, the customers appeared to be pleased with the product and value.
Pros:
It has a strainer basket in an industrial size for a wide debris collection; it requires little maintenance.
The motor is designed to be heavy-duty for a lasting lifespan.
The impeller has been built with wide openings in order to avoid clogging from debris, leaves, etc.
Its discharge orientation can be converted into horizontal or in a vertical position through a button.
The set-up and installment are simple and easy.
Cons:
The filter basket lid when under the preset vertical discharge position is hard to remove.
Conclusion
Among the Hayward pool pump reviews, it has appeared that the Power Flo Matrix High Performing Above-Ground Pool Pump excels the most. This result was reflected after considering the features, functionality, energy efficiency, and customer ratings of all top 5 Hayward pool pumps. Our top choice holds features that outshine in terms of energy efficiency, long-shelf-life, durability, high performance, and quietness in operation.
This variable-speed pump is ideal for people who aim to get the best value for money.