Not every home has the luxury of outdoor space for a garden pool, but many sure want to go for a dip on the days that get too hot – whether it's summertime or not.
Then again, you don't have to worry because the markets have something to ease this predicament. You can enjoy the simple comforts of life with the best above ground pool sets from Intex Prism.
This comprehensive review can help you find the one product that will suit your home superbly.
Choosing an Intex Prism Frame Pool for your Home
Frame pools are called such because of their construction, which consists of lightweight frames assembled to hold waterproof tear-resistant materials.
Also known as above ground pools, these are the easiest build and the cheapest options of all pool types but are also the least durable. With that, you must consider all the essentials before making the purchase.
It is essential to consider who might be using the product – if it will be exclusively for the children in the home, or if the adults may be using the pool. For example, toddlers may be safe in frame pools with lower walls, and more users may require a large pool size to accommodate all.
While the depth of choice will depend on particular users' safety needs, the pool's size and shape will depend on the dimensions of your lawn or backyard. Generally, a larger size and a higher wall will contain a more extensive pool water volume.
Pumps and filters are beneficial additions to a frame pool because they significantly improve the swimming experience.
Pumps keep the water circulating, thus facilitating the aeration process. On the other hand, filters keep the water free from dirt, debris, and other harmful particles. These may come in handy if you have your frame pool built up and contain pool water for quite some time. 
Intex Prism Frame Pool Reviews: Top Picks of 2021
According to many Intex prism frame pool reviews, the following models are some of the best in the market these days.
1.  Intex Prism 10ft dia x 30″ Above Ground Backyard Pool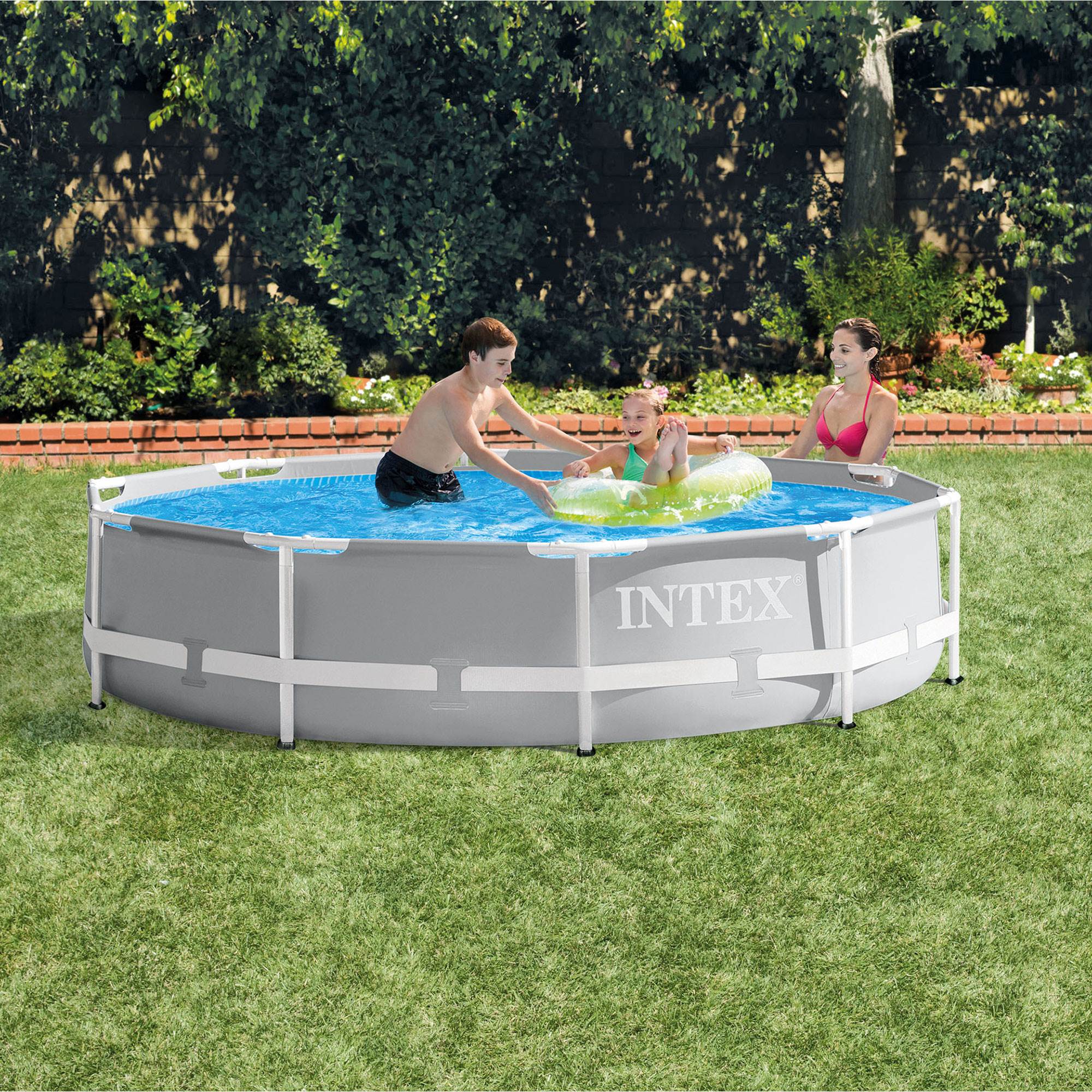 Simple, straightforward, and the smallest option is this list; this round backyard pool from Intex Prism is the best choice if the product's primary users are young children.
Aside from being easy to assemble and build, it comes with an instructional DVD for additional assistance. Its attractive blue color will make you want to go for a dip to battle the heat, and this is a product that will surely last you a long while.
Highlighted Features:
Its framing is made with lightweight steel tubing that is powder-coated and durable
The pool wall material is resistant to wear and tear and has high weatherability.
Its construction is prefabricated and uncomplicated to assemble.
It weighs around 40 pounds and can hold a volume of 1,185 gallons at 90% capacity.
Pros of This Intex 26700EH 10ftx30 inch Pool Set
Affordable with great quality
The safest choice since it fits most backyards
Easy to assemble
Comes with a cloth layer at the bottom and a cover 
Cons of the Intex Prism Pool
An individual product; does not come with a pump or filter
Not as resistant to corrosion
2.  Intex Prism 12ft dia x 30″ Above Ground Backyard Pool with Pump and Ladder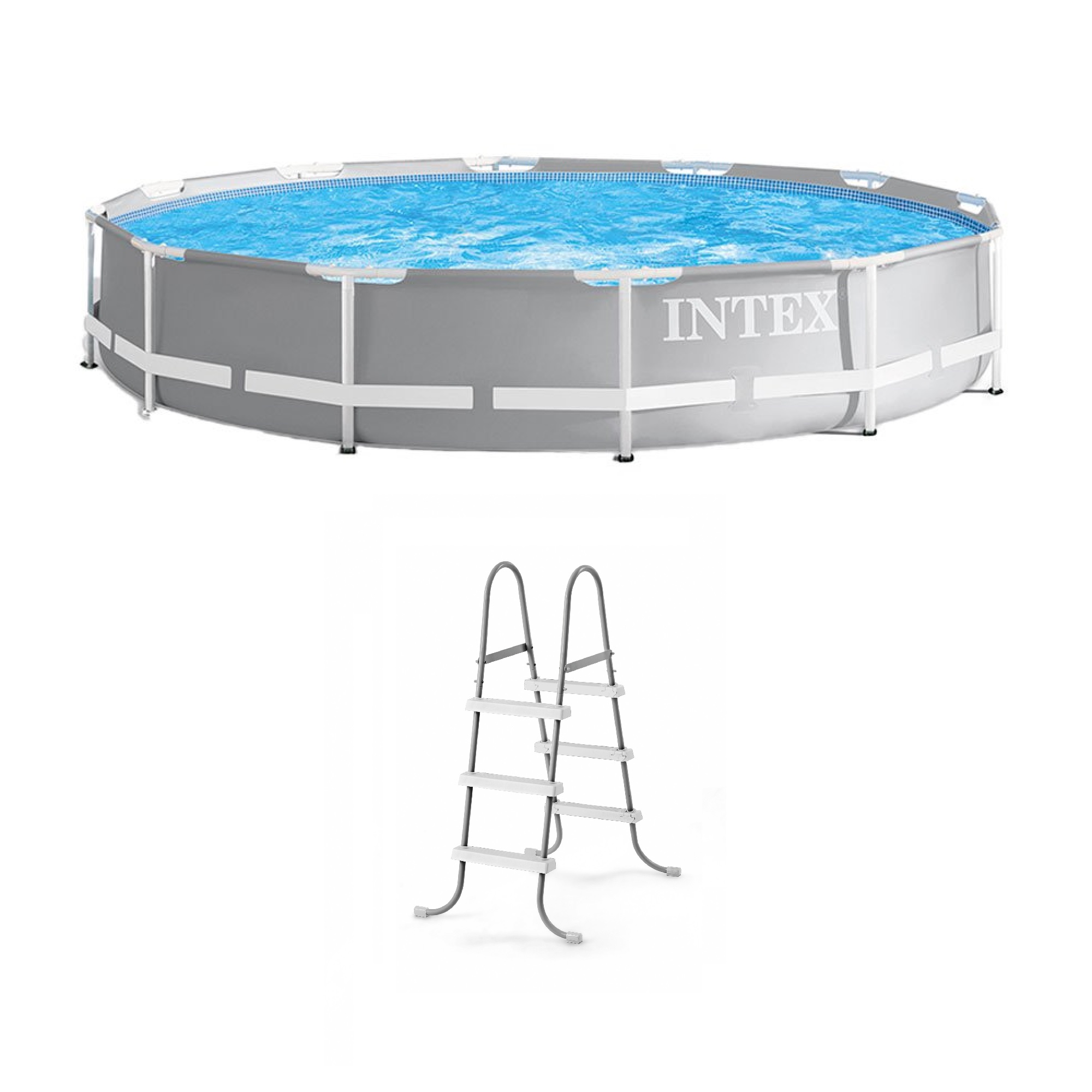 If you're one to host small get-togethers and backyard picnics, this product may be for you. This Intex Prism round frame pool comes in a set that includes a pump and a pool. It's also constructed with durable materials to ensure the product's long shelf life.
It is relatively easy to set up, reasonably priced, and can be your family and friends' great summer companion for many years.
Highlighted Features:
This pool's 3-ply liners are puncture-proof and are held stable with powder-coated metal tubing.
It can hold up to 1,718 gallons at 90% capacity while its pump has a flow rate of 530 gallons per hour.
This is a round pool that can hold up to 6 people.
It includes a ladder that allows for easy going in and out of the pool without damaging the walls. 
Pros of this Intex Prism Frame Above Ground Swimming Pool – 12ft. Dia. x 30in.H
Reasonably priced for a pool that can hold a family of average size
Linings have excellent weather ability
Works best if placed on the leveled ground or concrete
Simple to assemble and set up 
Cons of the Intex Prism Pool
The color of the lining may fade over time
May leak when continuously used above maximum capacity
3.  Intex Prism 14ft dia x 42″ Above Ground Pool Set with Filter and Pump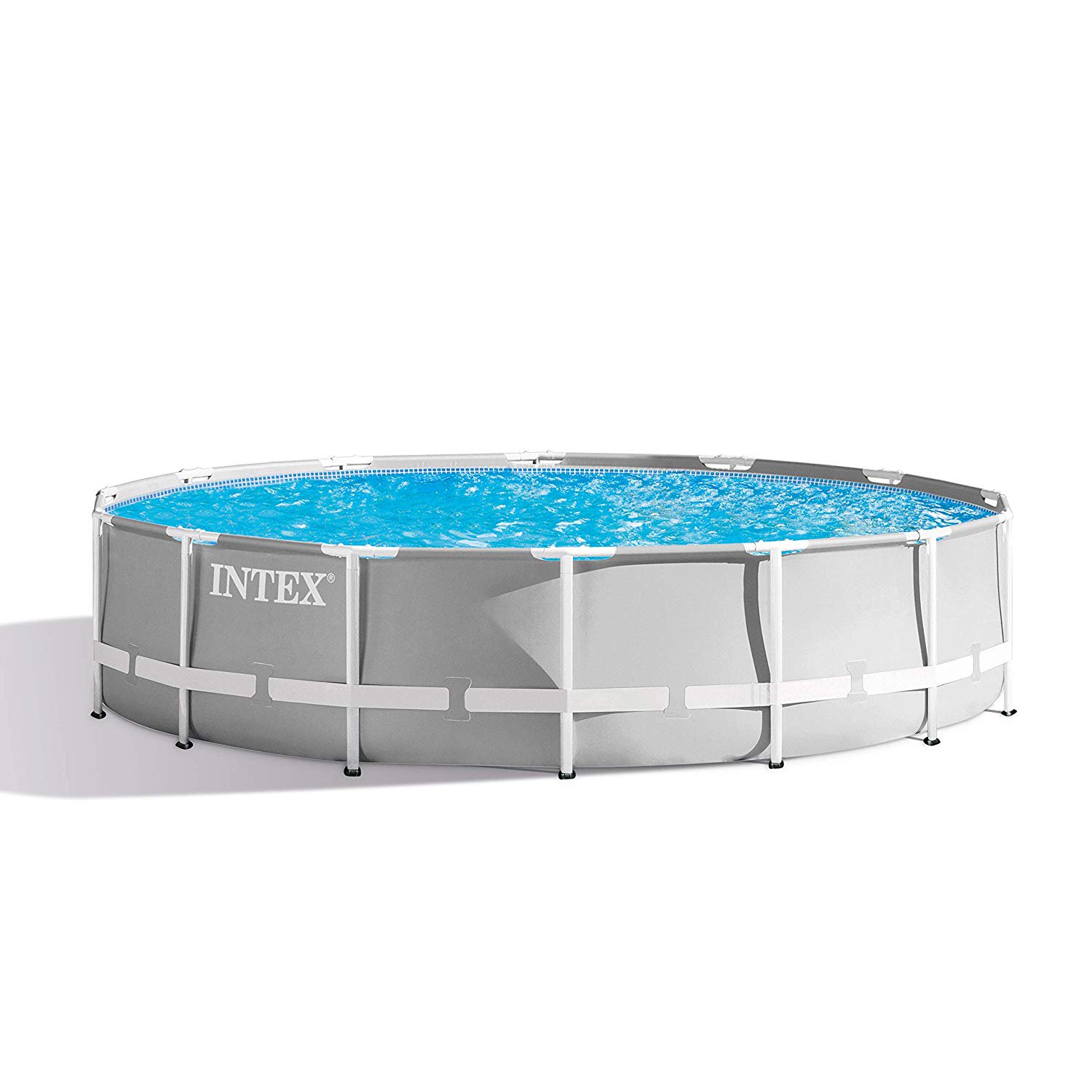 A large enough size with a complete set of features, this pool set is large enough so many people can join in and take a dip.
This Intex Prism round frame pool is ready for some summer fun after a quick installation, and this is guaranteed to last you for years. This can only mean more enjoyment is in store.
Highlighted Features:
The product has a puncture-resistant lining with an upscale blue tone of visually pleasing seafoam.
The stable metal framing is also powder coated and holds together a pool with a water capacity of 3,357 gallons at 90%.
It weighs around 128 pounds and includes a filter-pump that utilizes Hydro Aeration Technology for enhanced circulation and filtration. 
Pros of this Intex 14ft X 42in Prism Frame Above Ground Pool Set
The pump and filter allow usage for more extended periods
Has improved technology to ensure pool water cleanliness and clarity
This is an excellent option for adult groups 
Cons of the Intex Prism Pool
Some products may have missing components, so contact customer service immediately
Metal frames may rust after half a year.
4.  Intex 15ft x 42in Frame Above Ground Swimming Pool set w/ pump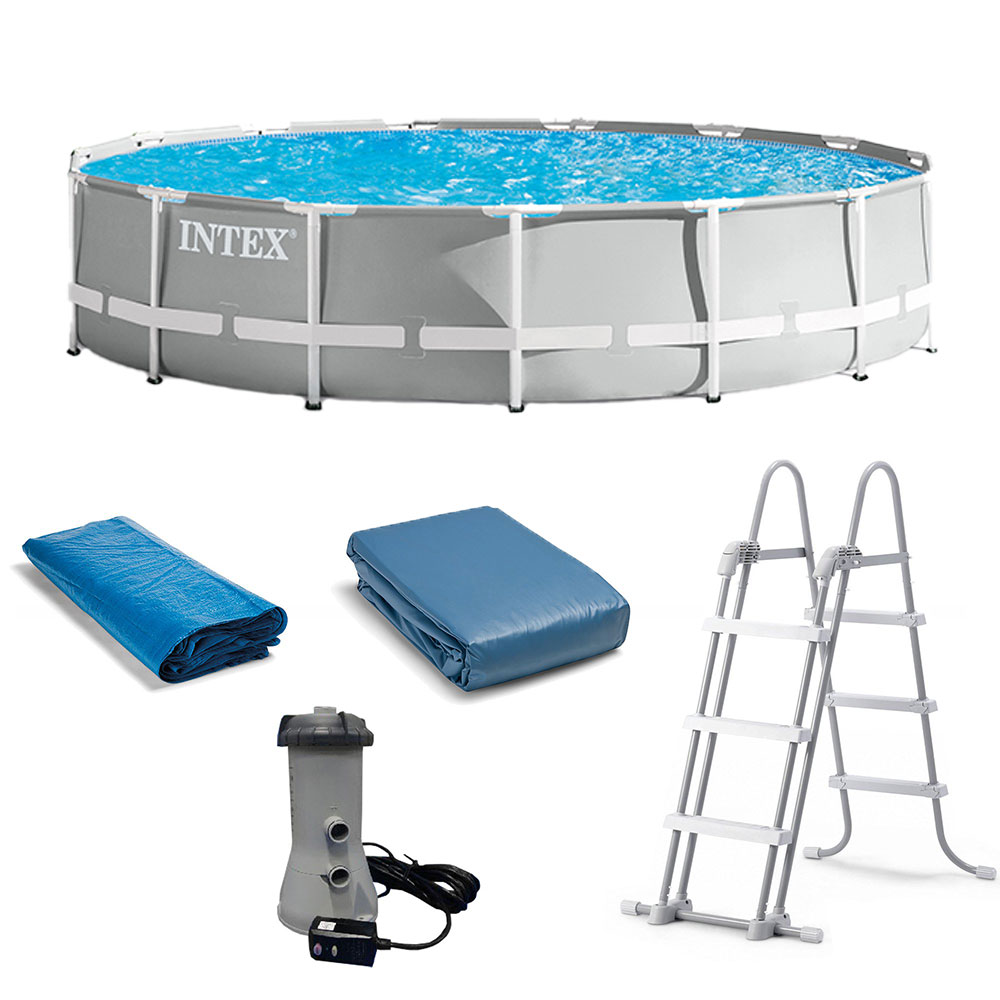 This Intex 15ft Prism frame pool set is a great investment if you're one to invite friends over to join a family picnic or barbecue in the yard.
Just a little larger than the previous option, but it still works as a complete package. This summer addition to your home will surely make more people enjoy the experience.
Highlighted Features:
This above ground pool incorporates a Hydro Aeration Technology pumping and filtration system to keep the pool water clean since the product holds more users at a given time.
It can hold 3,861 gallons of water at 90% capacity and has a pump flow rate of 1000 gallons per hour. 
Pros of this Intex 15ft X 42in Prism Frame Pool Set – 26723EH
This makes for a good adult pool
Pool water remains relatively clean and usable for weeks because of the pump and filter.
Easy to assemble and can be left on standby during the cold months 
Cons of the Intex Prism Pool
Bottom lining may be punctured when placed on unleveled ground
Children should not be left unattended when swimming in the pool
5.  Intex 16.5ft x 9ft x 48″ Above Ground Oval Pool and Pump Set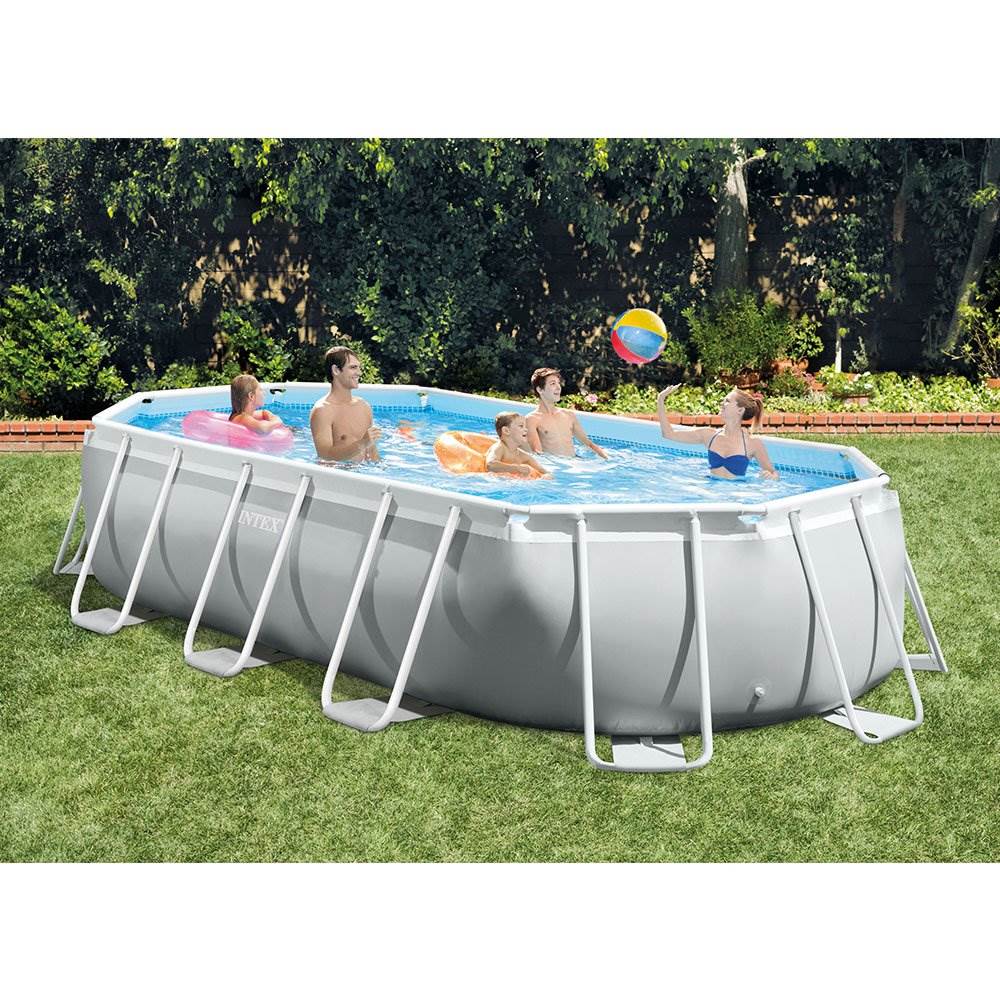 The only semi-rectangular option on the list is this adult oval pool set with a pump, filter, and ladder. Not only will you enjoy yourself with your companions in it, but you will also grow to appreciate cleaner pool water that is free from harmful particles and debris. This can only mean more fun for the summer.
Highlighted Features:
This product shares similar basic construction features with other products.
It is equipped with a Hydro Aeration Technology pump and filter system.
It can hold 3,531 gallons of water at 90% capacity and includes a plug for easy pool water draining. 
Pros of This Intex 16ft 6in X 9ft X 48in Prism Frame Oval Above Ground Pool Set
Best choice for larger groups of adult users
This is an excellent option for yards with longer lengths than widths
Leaving it covered during the cold months will not cause irreparable damage 
Cons of the Intex Prism Pool 
Lining may be damaged if the pool is filled to maximum capacity at all times
Access without the ladder may damage the walls
Conclusion
Choosing a frame pool may not seem like a daunting task, but not putting in the effort to research may cost you a good deal of your hard-earned dollars.
Hopefully, this comprehensive guide and review have proven to help you search for the best above ground pool to suit your needs and preferences.