Showering is one important daily task, and I know you want to greet your day with a refreshed mindset and a cleansed appearance. According to most Kohler Converge shower head reviews, their best-selling shower heads can provide you with not only standard bathing but also the much-needed relaxation.
The complete bathing experience depends on the quality of your shower equipment. In order to guide you on the variety of choices of Kohler products, here's a review of one of the best shower heads they have on the market.
Kohler Converge 5-Spray Handheld Shower Head Reviews
Overview of the Product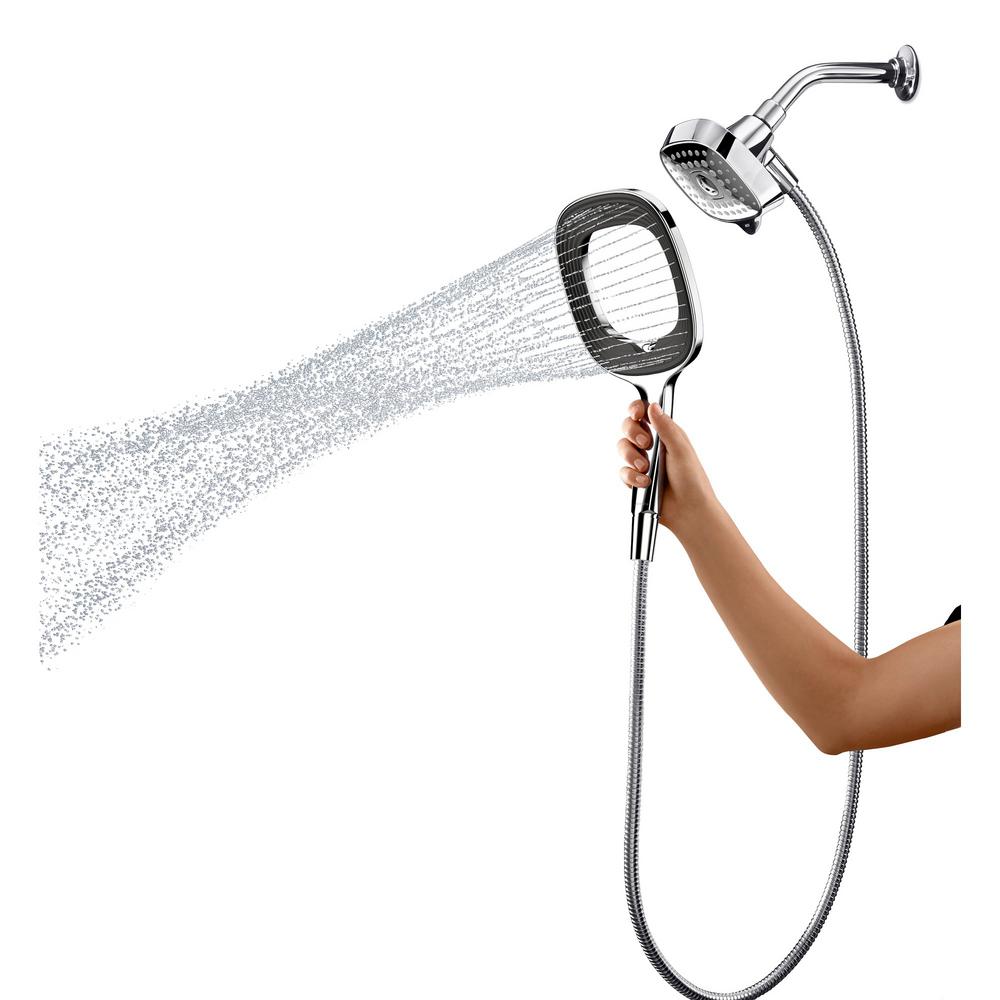 Market: Homeowners; Hospitality business owners
Brand Name: Kohler   – https://www.kohlercompany.com/
Brand Message: We are dedicated to building a better business and quality of life through innovative designs and passionate craftsmanship.
Kohler has been in the bath business for a long time now and has been constantly improvising as they cater to the needs of their clients. One product that reflects its excellence is the Kohler Converge shower head. This specific shower head comes with the following pros and cons:
Pros:
It offers different variations of water flow and can stimulate relaxation
As a handheld shower, it can be easily hanged in place with its magnetic docking
When handheld, the shower head is designed with a rectangular hole in the middle while the water is sprayed on the remaining area
When docked in place, the shower head becomes "complete" and performs like the standard shower heads.
It comes with a 60-inch metal hose that allows you to handle the shower head with much versatility.
Cons:
Like all chromed designs, it might not be immune to scratches during maneuvering
Its 1.8 GPM capacity is only compensated by the wide coverage of the water spray
For a metallic handheld component, hot water for showering might not be a good idea since the shower head is a conductor.
Verdict
Overall, based on the many Kohler Converge shower head reviews, it is applicable to use in most regular situations. For a scenario where quick showering is needed, it may not be suitable due to its relatively low flow rate that emphasizes more on bathing experience.
Intended Users of the Product
The Kohler Converge shower head helps make the most of your shower experience by keeping you relaxed with its wide variety of shower functions. This makes it ideal for any homes that have shower rooms.
For people owning a hospitability business such as a travel inn, an apartment complex, or a hotel chain, the shower head can be a great addition to keep potential customers comfortable during their stay.
Key Features and Benefits
Five Spray Experiences
The shower head's five spray experiences allow you to manipulate water flow. You can find 3 main spray experiences which are:
The full coverage for normal water flow
The silk spray which outputs a dense water flow for rinsing
The infinity spray which provides a crazy pattern of water flow with 3 sections that cater to rinsing, massage, and cleansing.
Meanwhile, the other two spray experiences are variations of silk spray and infinite spray.
One-Click Spray Navigation
In order to fully enjoy all the spray experiences easily, the shower head has spray navigation that can be activated with just a single click. It is located at the bottom portion of the docking component of the shower head if it is being handheld.
Dual Shower Functions
With its magnetic head, you can easily switch the shower head from a fixed position to handheld and vice versa.
Customer Reviews 
Positive Reviews from Homedepot Page
Reviewed last January 3, 2018: Remodeled bathroom
"I find myself enjoying this way more than I thought I would. One of the settings is like a rainfall while another one is a direct spray. This is truly a 'lux' shower head if I ever came across one."
Reviewed last May 27, 2019: old man handyman
"I liked the design of this Kohler shower head and Kohler's reputation for quality products. This head was well made at a fair price point."
Critical Reviews from Homedepot Page
Reviewed last December 28, 2017: UnhappyBuyer
"I really wanted to love this hand shower, but it is just not that great. Installation instructions were very clear and it was super easy – just needed a little bit of plumbers tape, but the joy stopped there. I have nickel finishes, and even though it said chrome, the picture looked like it would be close. In person, it is not and looks awful."
Frequently Asked Questions / Additional Tips 
How long can I receive the product after buying, and how much does it cost? 
Homedepot priced this product about $ 69. The price can be quite high compared to other shower head brands, but the stylish design and the variety of functions make it a worthy investment. Unfortunately, delivery from Homedepot is not available, but you can try on other online selling platforms if necessary. 
What can the five spray experiences do?
The five spray experiences of the Kohler shower head can help manipulate water flow. They aim to provide either just the basic bathing or a more varied method of relaxation. The main three experiences are the full coverage, the silk spray for rinsing, and the infinite spray for a contorted water flow. The other two are combinations of the main experiences. 
Can the product be immune to sediment buildup?
Sediment buildup is only normal for hard water, and it is a common, recurring problem. It can severely restrict the flow of water if left unchecked, so you might need regular maintenance from time-to-time.
Final Verdict
Overall, Kohler shower heads can vary in design to suit varying preferences. You can opt for a wall-mounted shower head if you need a quick yet relaxing bath or choose one with a handheld feature if you prefer to have some leisure time in the bathroom.
Based on the Kohler Converge shower head reviews, the product is a good investment because of the mixture of functionality and design uniqueness. It can be applied for residential and business purposes in order to provide a flexible bathing experience, so if ever you wanted an upgrade, then consider adding this item to your list.