If you're reading this Kohler shower head reviews, then you are probably in the middle of choosing the best shower head to buy.
Kohler is a well-known company that manufactures kitchen and bathroom parts and accessories. One of their best-selling products is their shower heads. Since the company's foundation in 1873 by John Michael Kohler, the brand continues to grow and is now one of the biggest manufacturing company in the U.S.
Below is a list of their top products in the shower head line. Check them out now!
See all Kohler shower heads on Wayfair
Reviews of Top 12 Kohler Shower Heads
1.  Kohler K-15996-CP Flipside Multifunction Shower Head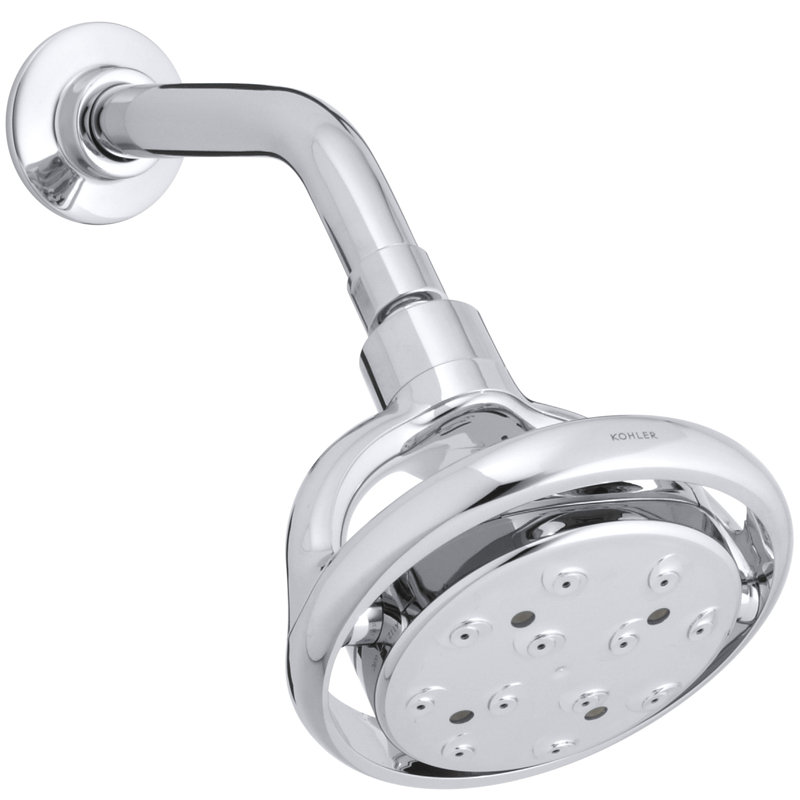 The Kohler K-15996 is a multi-functional shower head that is designed with four distinct spray types including spray, soft spray, circular spray as well as targeted massage spray. Plus, the elegant transition design allows for smooth water flow.
To switch between the different modes, you just need to flip the head along the axis. With this, you will enjoy an indulgent shower experience and choose whatever spray options work for you, even if your hands are wet with soap. Because of this, most users claim that this shower head is easy and straightforward to use.
Not only does this shower head perform well, but it also looks good. Featuring a rounded design, it is crafted from high-quality metallic material with four finishes that include; polished chrome, oil rubbed bronze, vibrant, glossy nickel color, and vibrant brushed nickel. Also, with a water flow rate of 2.5gpm, you will save plenty of water.
Pros:
Highly versatile with four spray options
Slipstream technology for switching between sprays
Elegant transition design
Saves water
Durable construction with multiple finishes
Easy operation
Cons:
Shower arm and other accessories purchased separately
2.  Kohler K- 72425-CP Awaken B110 Multifunction Shower head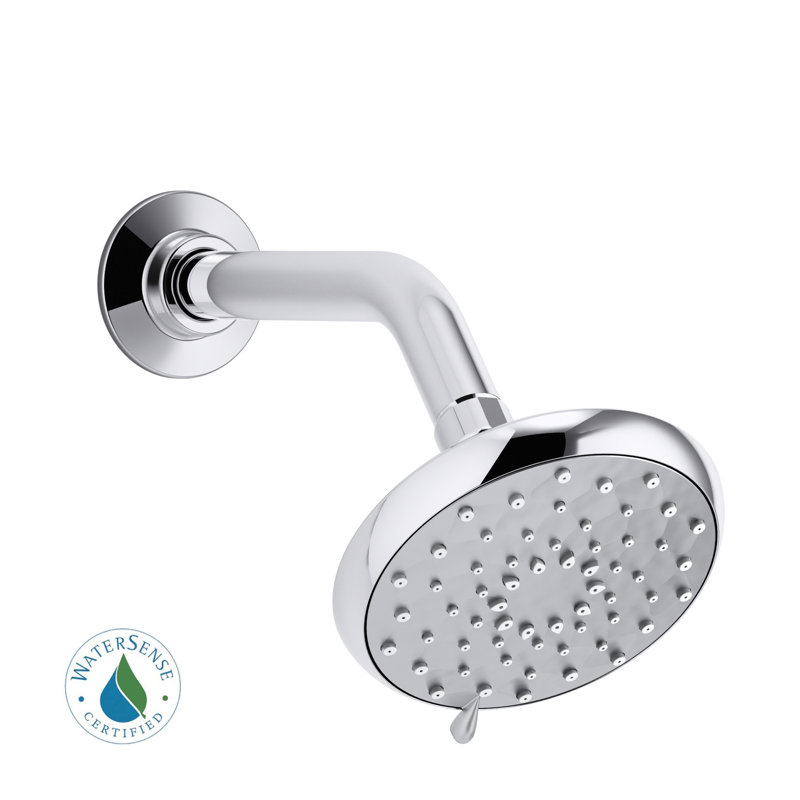 Are you in the market for a multifunction shower head that is water efficient and still performs well? Well, look no further than the Kohler K-72425 Awaken multifunction shower head. This unit has a flow rate of 2 gallons per minute, which allows it to release water very efficiently.
On its performance, it is designed with an advanced spray engine that provides three distinct water sprays. They include full coverage, intense drenching spray, and lastly, the targeted spray. Furthermore, shifting from one spray setting has been made easy by the ergonomically designed thumb tab located near the spray nozzles.
The unit is made from a metallic material with a polished chrome finish that is corrosion-resistant. Since this shower head is wall-mounted, you need to purchase the shower arm and flange separately.
Pros:
Three function spray engine
Thumb tab allows for smoother spray transitions
Excellent quality for a comfortable bath
Water-efficient
Wall-mounted design
Easy to operate
Polished chrome finish that resists corrosion
Cons:
Shower head only with no shower arm or flange included
3.  Kohler K-10282-BN Forte Single-Function Shower head
It is without a doubt that the Kohler K-10282 shower head is one of the best Kohler shower head in the market today. This is probably because this product has a MasterClean feature that resists any type of hard water build-up, which can make it very hard to clean the shower head. Therefore, you can be assured that cleaning this shower head is quite easy.
Something else that stands out about this single-function shower head is the fact that it uses Katalyst air-induction technology to give the user an exceptional shower experience. Besides, the technology helps the shower head to maximize the air/water mix resulting in a powerful and even water flow. Better yet, it infuses 2 liters of air every minute to deliver a voluptuous spray as well as larger and fuller water drops on the skin.
Interestingly, this wall mounted shower head features a metallic construction that is available in 3 different finishes.
Pros:
Air induction ensures even and powerful water flow
Resists hard-water build-up
Minimal water flow rate saves water
Durable construction
The nozzle is easy to clean
Offers optimal water coverage
Easy to install
Affordable price
Cons:
Doesn't include shower arm and flange
4.  Kohler K-98361 BN Awaken G90 Multifunction Handshower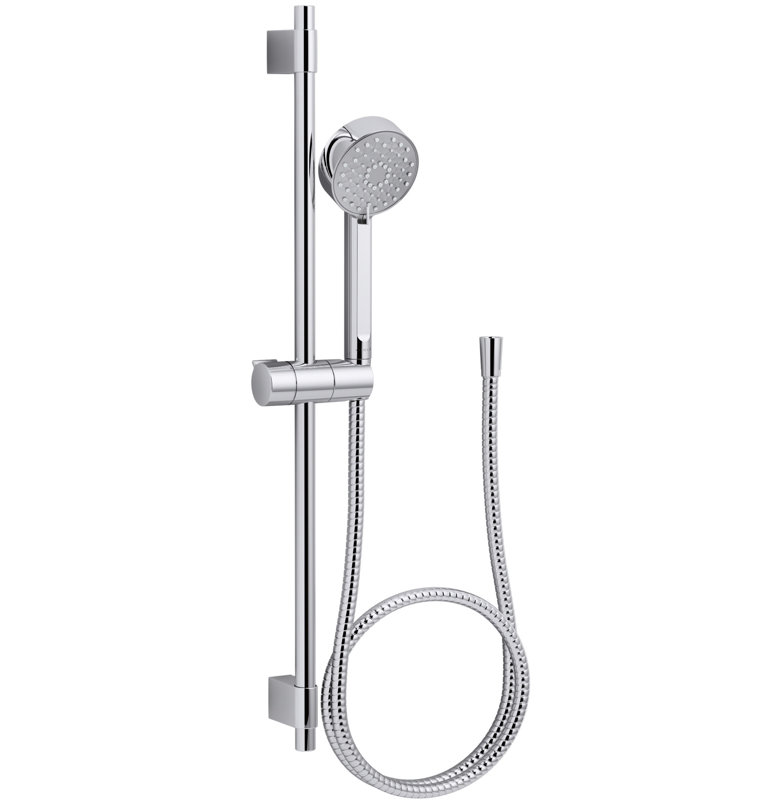 This is a high-quality multifunction shower head from Kohler that features an advanced spray engine, enabling the user to choose from three types of shower experiences based on their need and requirement.
So whether you want comprehensive coverage for everyday use, targeted spray for easing those sore muscles, or intense drenching for rinsing soap from your hair, you can relish your shower time with this multifunction hand shower.
Also, this shower head comes with a 24-inch slide bar that includes adjustable mounting brackets to aid in installation. Construction-wise, it is covered with a vibrant brushed nickel finish that complements most shower rooms. It has an ergonomic design for ease of use, and the spray face style is designed to complement most minimalist and contemporary baths.
According to Kohler shower head reviews, a good number of users like the fact that this product offers three spray settings. However, most customers don't like the fact that this hand shower features of plastic construction than metal. Also, many have complained that the hose is too stiff for their liking.
Pros:
Multifunction shower head
Offers three different spray settings
Ergonomic design for ease of use
Easy to install
Easy to adjust in height and angle
Cons:
The hose is exceptionally stiff which limits mobility
Poor quality plastic construction
5.  Kohler K-8520 PB MasterShower Handshower Kit
When you purchase this multi-functional hand shower, you will get three spray settings; soft coverage, soft aerated, and slow pulse massage. Switching between these spray options is very easy as the unit is equipped with a natural grip ring.
Its nozzles are flexible and easy to clean, and it has a water flow rate of 2.5 gallons per minute. Apart from this, the shower head is made from vibrant polished brass that does well in resisting any corrosion.
To meet all your needs, this wall mounts hand shower also comes with a MasterShower slide bar kit with soap dish, 60-inch metal hose, vacuum breaker, wall supply elbow, and adjustable mounting brackets for easy installation.
Pros:
Three spray types for a personalized shower experience
Simple but functional design
Superior and corrosion-resistant finish
Easy to use and install
Delivers good water flow
Cons:
Difficult to adjust down
Cheap construction
6.  Kohler K-8487-BN Hotel Handshower Kit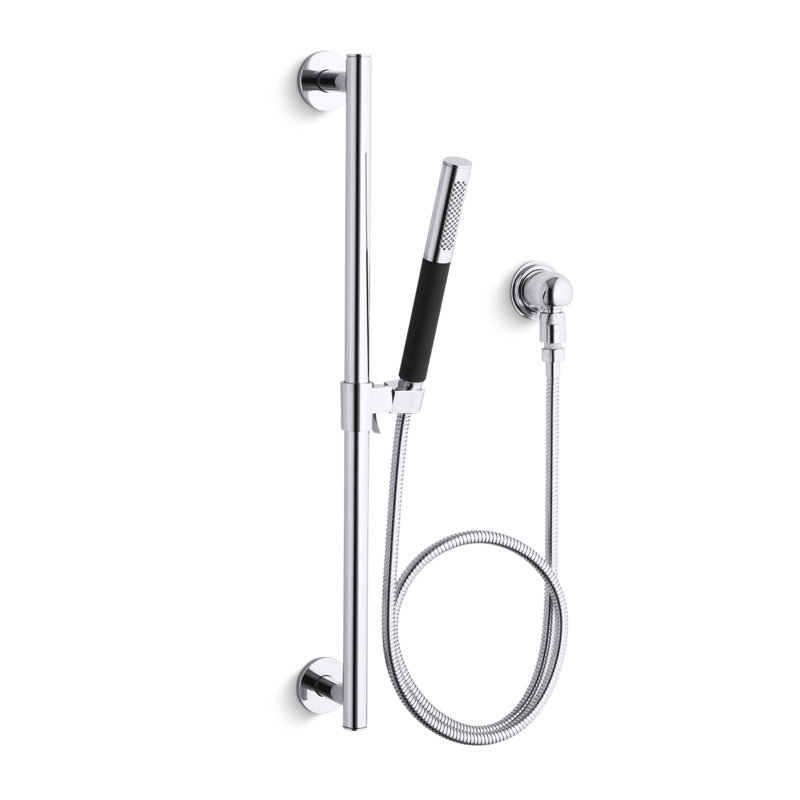 The Kohler k-8487 is a multifunction hand shower that is perfect for anyone that wants to make their shower time thrilling. Designed to offer better performance and functionality, this unit comes with a shifted ellipse, a spec that is no found in most shower heads.
Hard water build-up can make it extremely hard to clean the nozzles of the shower head. But this will not be a problem for this shower head as the MasterClean is designed to resist hard water build-up for less clogging, easy cleaning, and durability of the product.
This unit is built with durability in mind as it exceeds the durability standards of the industry by two times. As if that is not enough, the vibrant brushed nickel finish resists tarnishing and corrosion. Kohler shower head reviews note that most users like its stylish design and excellent quality. Other features included are slid bar with trim, vacuum breaker, supply elbow, and 60-inch hose.
Pros:
MasterClean resists hard water build-up
Durable design with a vibrant brushed nickel finish that doesn't corrode
Multi-functional
Includes shift ellipse
Simple installation
Stylish design
Cons:
Cannot be placed horizontally
7.  Kohler K-13688-SN 8-Inch Contemporary Round Rain shower head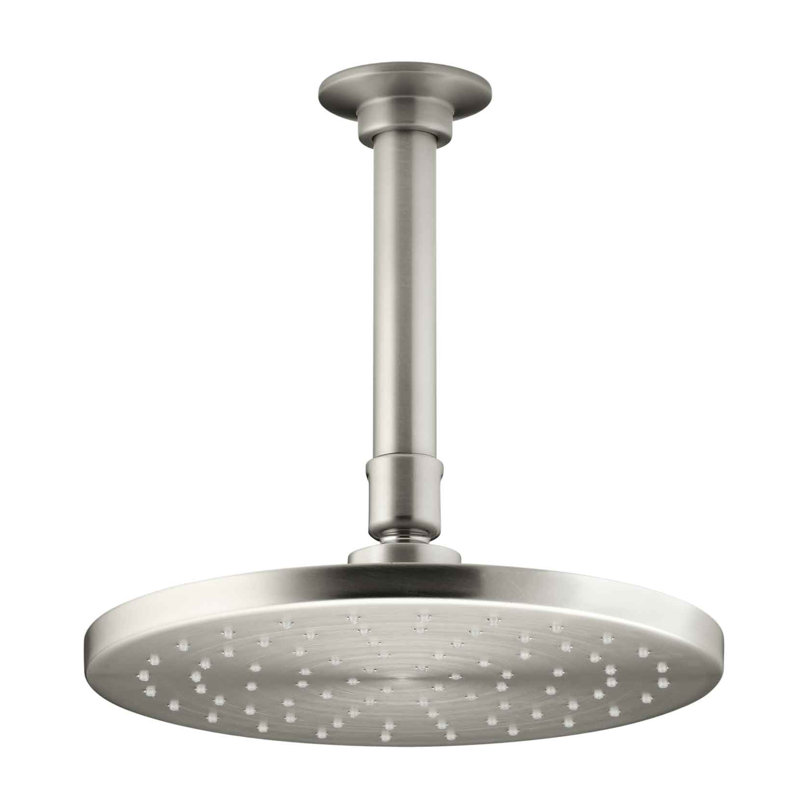 The Kohler K-13688 rain shower head offers an easy way to enjoy a luxurious rain shower bath. This unit uses the Katalyst air-induction technology that mixes air and water to leave thicker water droplets on the skin. On top of that, the spray face design has been optimized to offer a vibrant uniform spray pattern for consistent coverage and overall comfort.
Apart from this, it features the MasterClean technology that resists mineral build-up for easy nozzle cleaning. The low profile design of the shower head complements most bathrooms' interior décor. The brass construction is also durable and reliable. Moreover, this rain shower head has met the industry standard water flow of 2.5 gallons per minute.
Pros:
Low profile design
Rich spray pattern
Offers a luxurious rain shower experience
Resists hard water build-up
Utilizes Katalyst air-induction technology
Cons:
8.  Kohler K-13696 CP Shower head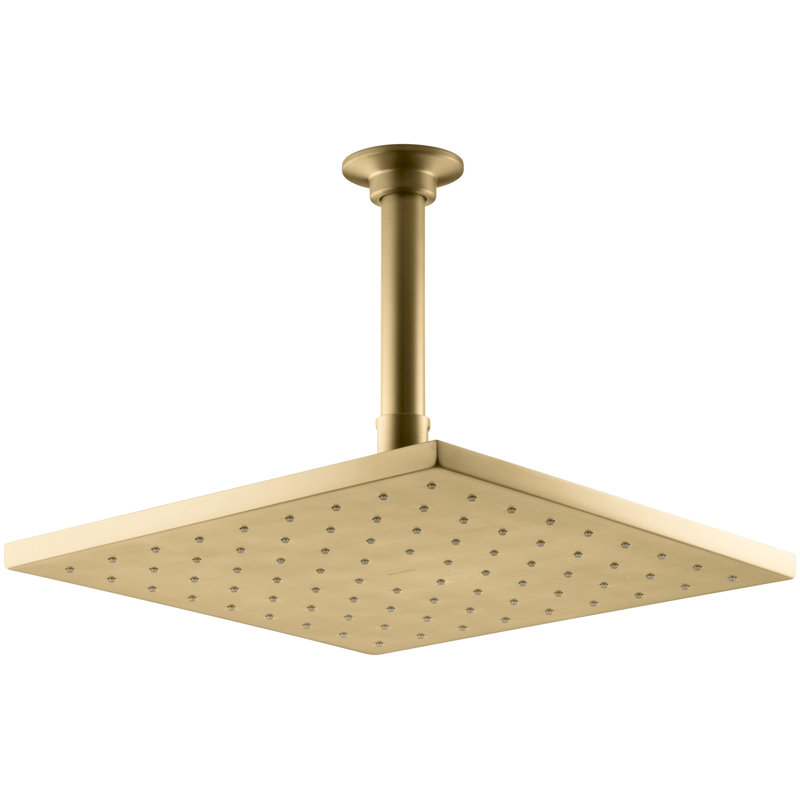 This is another railhead from Kohler that delivers a great shower each time. Being a single-function shower head, this unit is an excellent choice for those who do not need diverse spray options. Nonetheless, it delivers maximum performance thanks to its optimized spray face.
Besides, the MasterClean spray face resists the build-up of mineral while the Katalyst spray technology maximizes the water flow to ensure full water coverage. Another notable feature is the solid brass construction that gives durability to the shower head. Plus, it is available in various finishes that resist corrosion.
Pros:
Features Katalyst spray technology
Provides nice water coverage
Decent water flow
Subtle finish that doesn't corrode.
Cons:
Requires professional installation
9.  Kohler K-9245 0.25 GPM Moxie Shower head and Wireless Speaker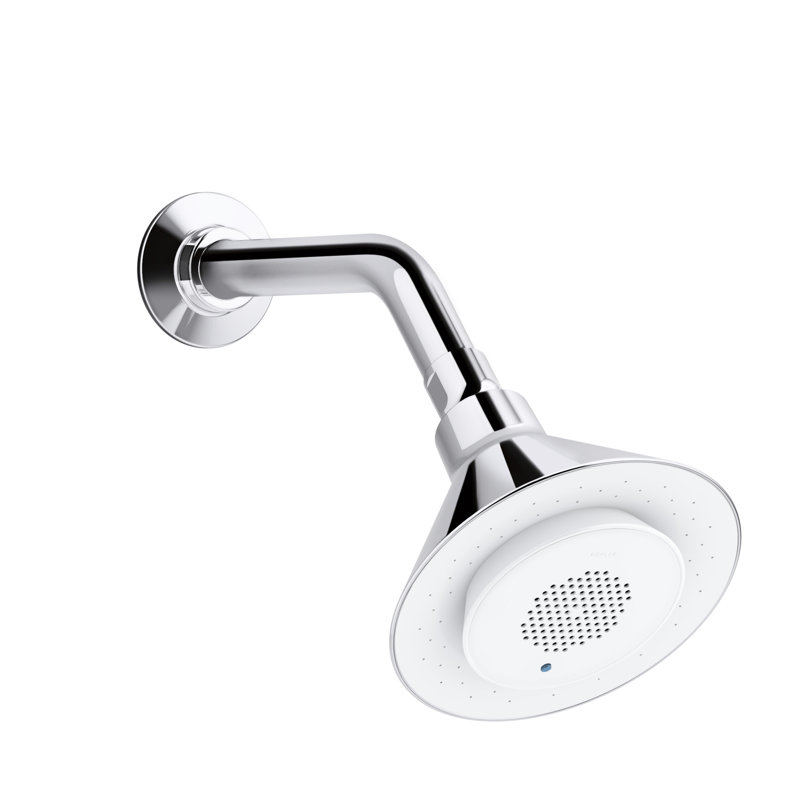 Do you love listening to music and wouldn't mind doing so in the shower? Well, this best Kohler shower head will make your dream come true as it features wireless speakers that are water-resistant. The speakers are compatible with Bluetooth enabled devices like smartphones, tablets, and more to allow effortless streaming of your favorite music.
Plus, the shower head comes with a USB charging cable and a built-in rechargeable battery that lasts up to 7 hours. The shower head has excellent performance as it offers extensive spray coverage. Moreover, the shower head has a polished chrome finish and is easy to install.
Pros:
Features water-resistant speakers
Bluetooth compatibility
Easy to install
Attractive and stylish design
Cons:
Doesn't include shower arm or flange
Doesn't last long
10.  Kohler K- 10257-A –CP Shift Handshower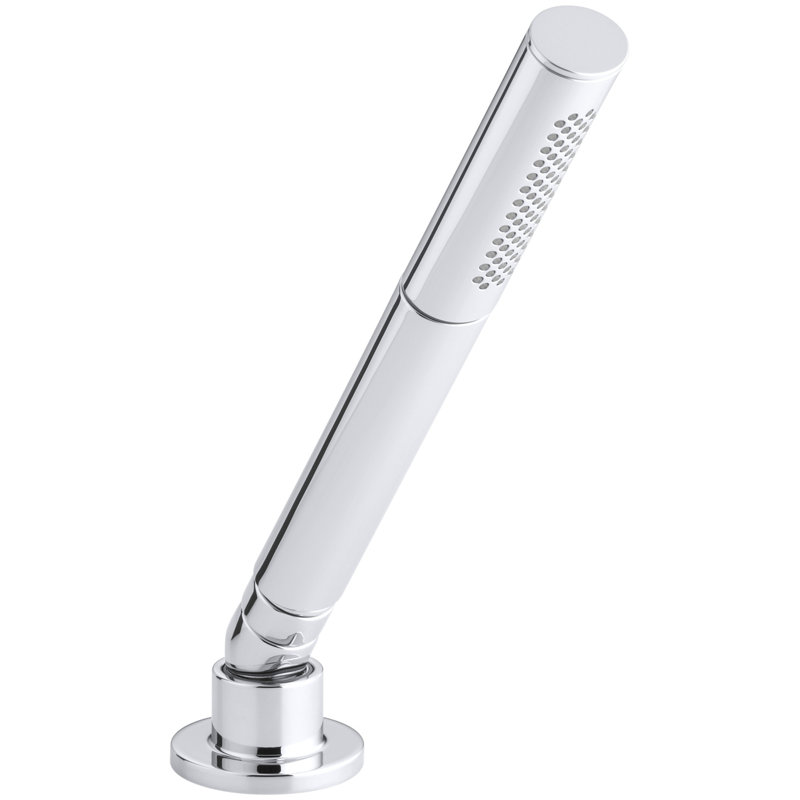 This hand shower is designed to deliver an invigorating shower experience thanks to its choice of concentrated and coverage sprays. The unit is one of a kind as it features an ergonomic design that is easy to grip.
Most Kohler showers have a MasterClean spray face, and this unit is no exception. Hence, it is easy to clean and lasts long. Furthermore, it comes in a variety of Kohler finishes that are resistant to tarnishing and corrosion.
Pros:
Wide range of concentrated and coverage sprays
Ergonomic design
Highly functional
Can easily be adjusted between high and low settings
Easy to clean
Built to last
Cons:
Seem to have a mixture of brass and plastic construction
11.  Kohler Katalyst Air Induction Shower Head
This particular shower head model from Kohler tops most Kohler Katalyst showerhead reviews. With its air induction technology, you'll get large droplets of shower for a full shower experience.
Pros:
It features an air induction technology which does not exist in most shower heads.
The air induction spray allows the air to mix with water, thus producing refreshing large droplets of water. This is why some users think this is also the best rain shower head from Kohler brand.
It's easy to maintain and clean. Just apply the cleaner and wipe immediately using a damp cloth.
This is also an adjustable spray.
It has a lifetime limited warranty.
It has a flow rate of 2.5 GPM.
Cons:
The hose is not included in the package.
It has only one spray pattern, which is the Full pattern.
The entire shower head is made of plastic. Hence, this is not as durable as the metal shower heads.
12.  Kohler Watertile Rain Overhead Shower
Many interior designers consider this model as one of the best luxury shower head options. With 22 nozzle spray and a pivoting head spray, this shower head is able to produce a relaxing shower experience.
Pros:
It is a rain shower type, which means you can expect a rain-like shower experience.
This is an all-metal shower head. No plastic material is used.
It has rain and wide spray patterns.
This is made in the U.S.
It can be used for both residential and commercial purposes. However, this might be too expensive for homeowners. Commercial buildings, on the other hand, can afford to buy and maintain this shower head.
It is Energy policy compliant. Thus, it has no energy consumption and production issues.
You can get this shower head in five finishes, perfect for those who want a contemporary design in their bathroom.
It has a lifetime warranty.
Cons:
This is very expensive.
This does not have an adjustable spray.
Conclusion
Kohler has indeed a wide range of shower heads available, from contemporary handheld shower heads to luxurious lines such as the Kohler Watertile Rain Overhead Shower and the Enlighten 5-spray Shower Head that always tops most Kohler enlighten shower head reviews online.
But focusing on the list above, the best Kohler shower head for commercial use is Kohler Katalyst Round Rain Head Shower Head with Air Induction as it has the best full rain shower spray and is very durable.
Meanwhile, we recommend the Kohler Katalyst Air Induction Shower Head for residential use. It is affordable but packs amazing features like air-induction spray, low maintenance, indulgent full shower experience, and a limited lifetime warranty.