LifeSmart is one of the most promising brands when it comes to heaters and other HVAC systems. Its wide range of products include heaters, cooling systems, and grilling equipment. With mostly positive LifeSmart infrared heater reviews, the brand has surely earned a positive reputation from most of its customers.
In particular, LifeSmart offers a number of general-purpose infrared heaters. You can also find tabletop or personal heaters, and if those aren't enough, there are also or garage heaters that serve as supplementary heaters. The company also provides answers to the most common questions you might have – from heater cost to how much you can save with infrared heaters, etc.
Why LifeSmart Heater
LifeSmart's heaters use infrared technology to heat indoor spaces. Through infrared heating, these heaters are able to promote clean and efficient use of energy. Some of its heaters may come with a wooden finish while others have a slimmer and more modern look. There are also some that have compact builds. Regardless, they remain to be portable and mobile, and there are even some models that have a slim design that can be easily mounted on walls.
Despite the modern approach to design and heating, LifeSmart maintains affordable prices within its product line. This is clearly seen when you view their LifeSmart infrared heaters reviews.
7 Best LifeSmart Infrared Heaters Review
Each review will talk about a product's highlights alongside its pros and cons. Let's get started.
1.  LifeSmart 1500-Watt 3-Long Vertical Element Heater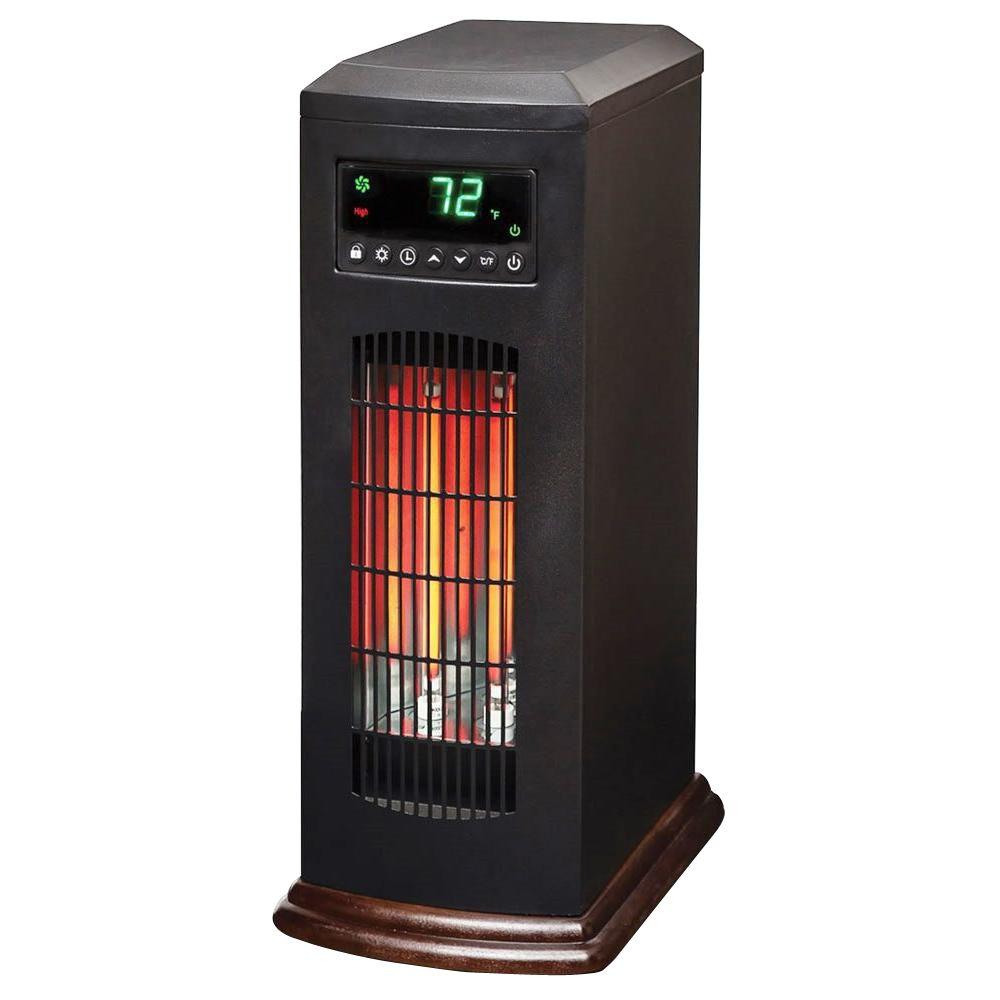 If you prefer a robust but very portable heater, then this one is for you. This 21-inch tower heater can heat up a room with its 1500-Watt power. It comes with three extra-long infrared elements attached in order to provide even heating in a chilly environment.
The heater's ECO mode allows it to self-regulate and control its power output. Meanwhile, it also features user-friendly control buttons. There are also safety features such as child lock, tip-over, and overheat options to make you more confident in using the product.
Highlighted Features:
Digital thermostat
Provide infrared warmth to a large room
Three-long heating elements to ensure reliable heating
Saves you space, thanks to its compact design
A lifetime supply of air filter
Doesn't promise easy handling
2.  LifeSmart 6-Element Heater with Oak Cabinet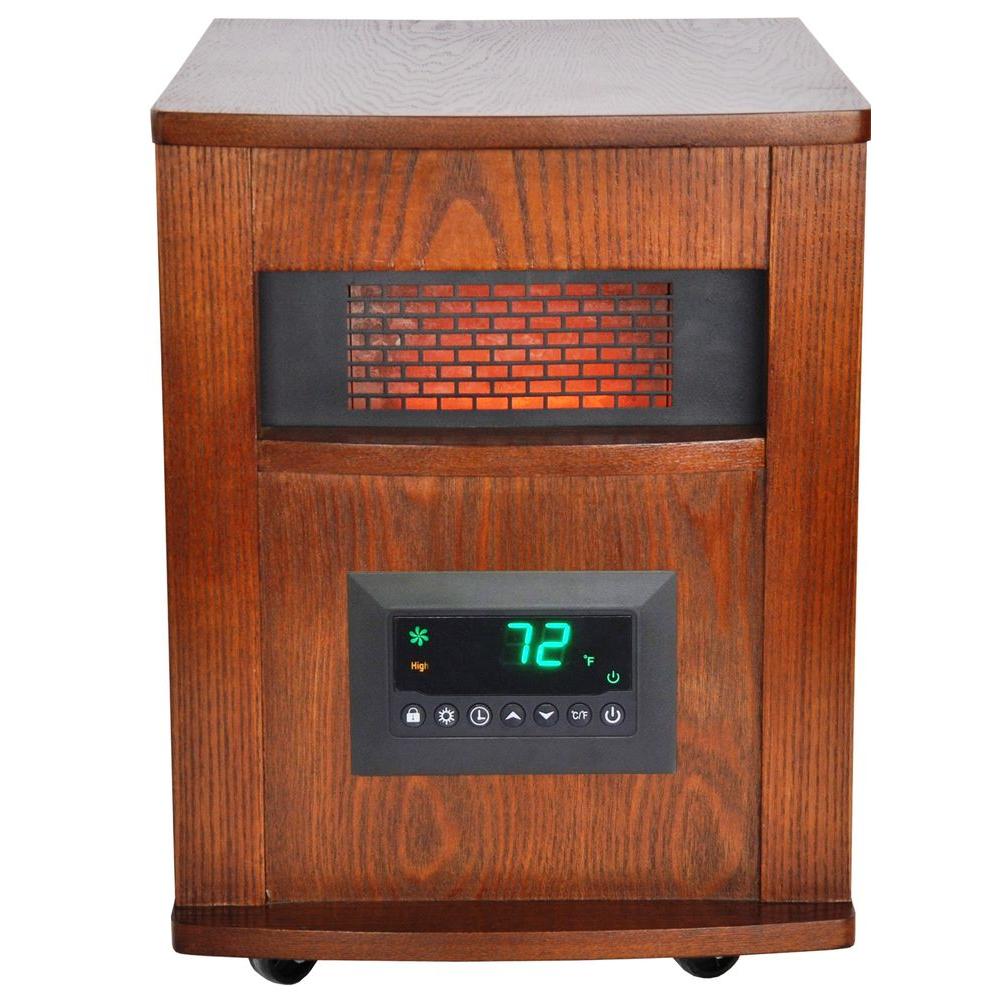 Its heating capability is the true highlight of this product. The 6-heating elements are a vast improvement from the 3 elements which are the standard in generating heat via infrared. Regardless, it's still is highly energy-efficient even though the heating capacity has been increased.
With its oak wood finish, no one would think of it as a heater. Add to that the cool to touch exterior. Lastly, its EZ Glide casters give the heater portability, allowing you to move it from one room to another with ease.
Highlighted Features:
Six superior metal wrapped infrared quartz elements
Three energy-saving settings including 500-watt eco setting
EZ glide casters
Not durable enough compared to metal-based heaters
3.  LifeSmart 6-Element SlimLine Heater Unit with Smart Boost Technology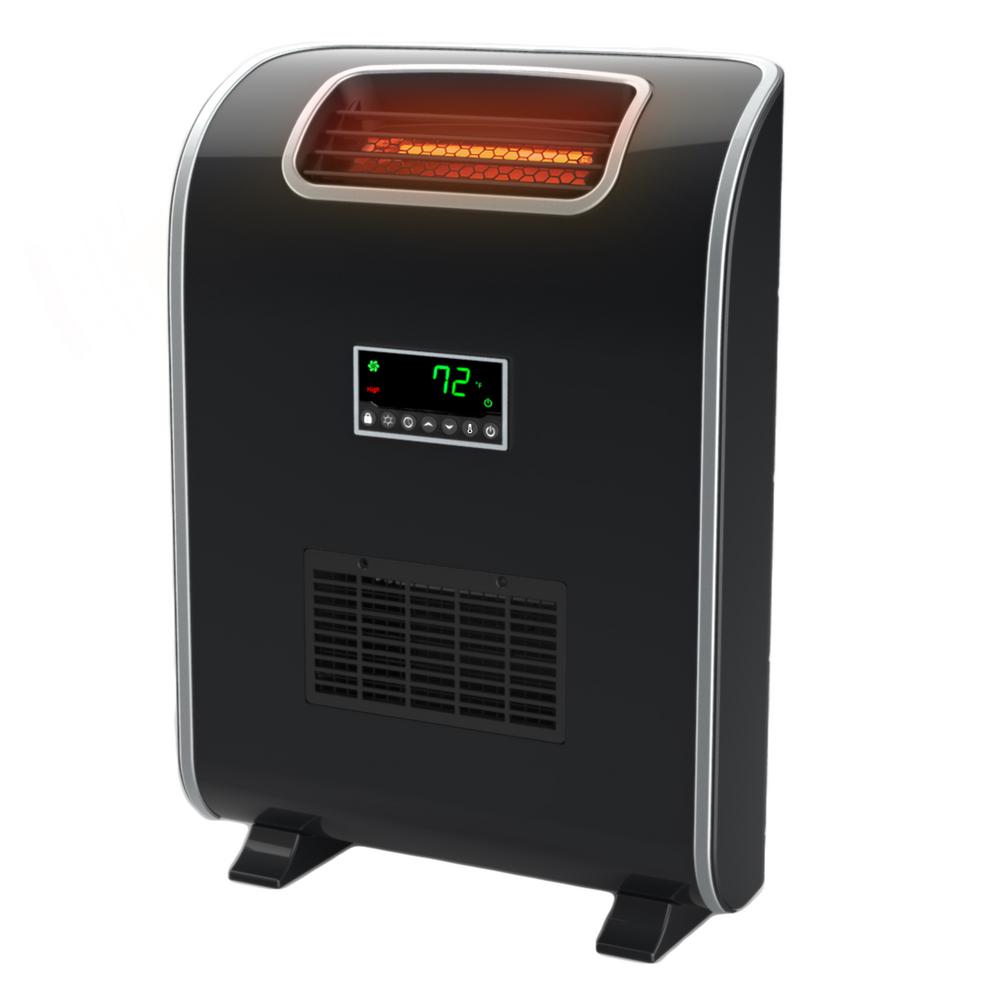 This LifeSmart heater is intended as a supplemental heat source as its added Smart Boost Technology makes it possible to heat up rooms faster. It's basically a unique technology intended for a supplemental heat source.
The slim build and intake vent of the SlimLine heater makes it mountable on walls. In addition to a more modern build, new options were added. There are now two heat settings that provide you with more options alongside an energy-saving ECO mode to help you save electricity.
Moreover, an integrated 12-hour programmable timer has been put in place to give you control over the heater. This is all done to make you comfortable without worrying about anything else.
Highlighted Features:
Cool-touch exterior cabinet is safe to be near kids and pets
Electronically controlled thermostat
Mounting hardware included for optional wall mount
Lifetime washable filter
Slim and compact design
Less durable compared to a metal-based heater
4.  LifeSmart LifePro 4-Element Heater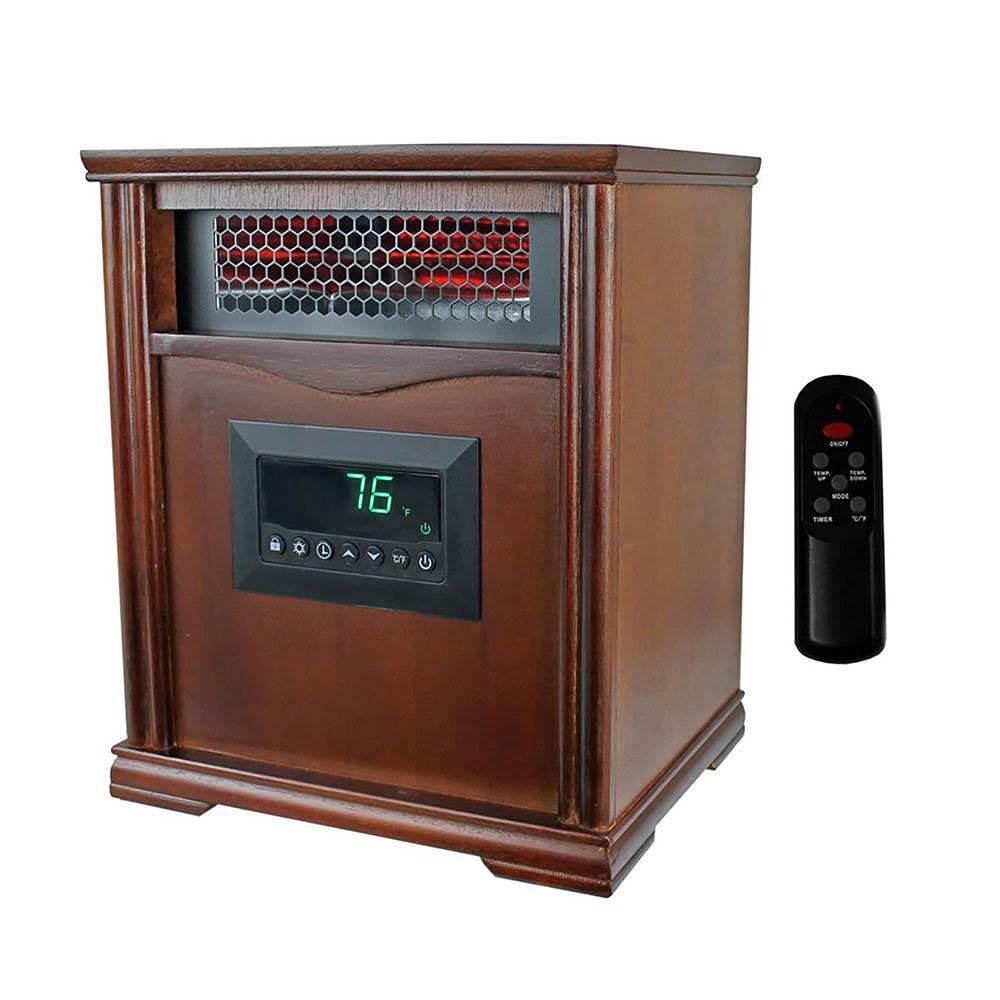 In this LifePro infrared heater review, we'll take a look at this budget-friendly heater that promises to cut your utility cost significantly. Although the heating capacity is pretty average, it can still provide an above-average performance. The control units are secured by a metal covering while the overall build has been made from wood.
There's also a dark brown coating that covers its exterior. Inside the heater are 4 quartz heating elements which are higher compared to the standard 3 heating elements. This translates to a heating capacity that is more than your average heater.
Apart from that, a digital readout has been integrated for easy temperature reading with added remote and 12-hour programming timer. This allows you to have more control over your heater. Lastly, there's an overheat and tip-over feature to ensure safety and comfort in your homes.
Highlighted Features:
4 infrared heating elements
Raised button remote control with LED indicator
Control panel with digital readout
Above-average heating capacity
Nice wooden finish
Less durable compared to metal-based heaters.
5.  LifeSmart Infrared Tower 1500-Watt Heater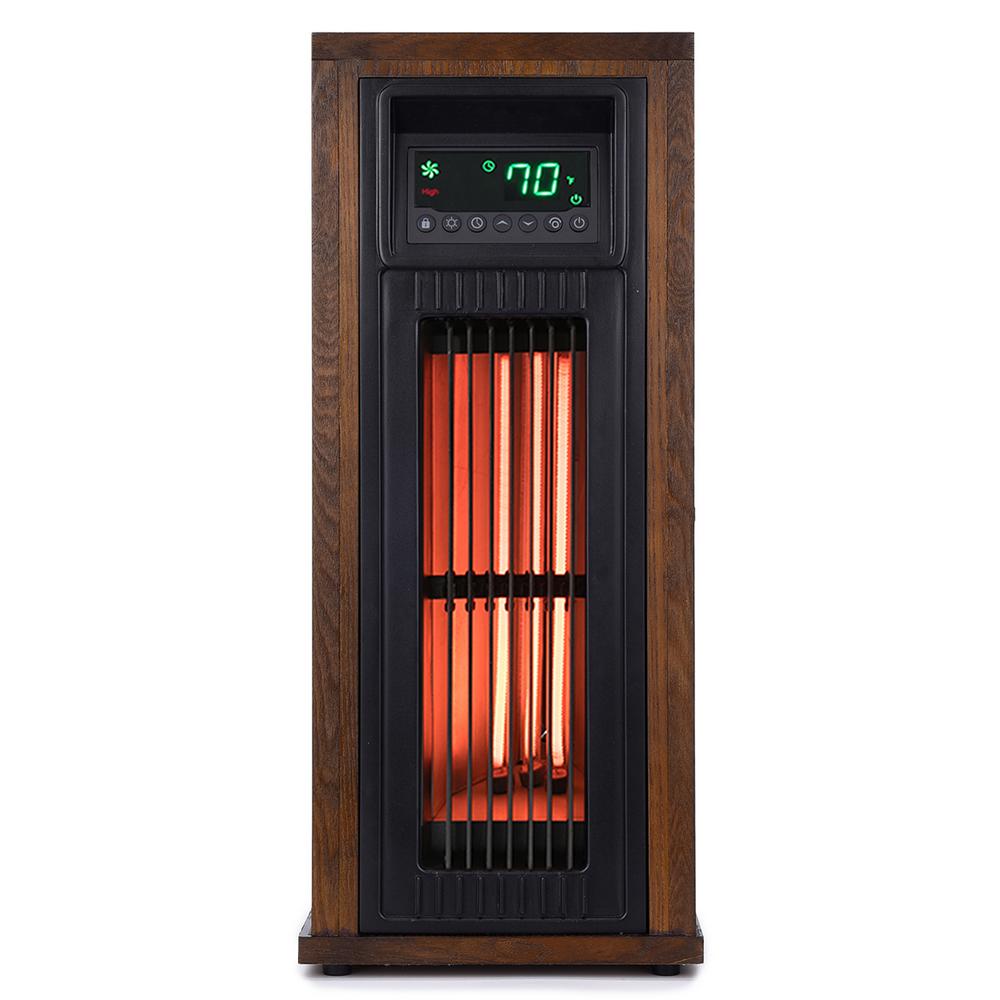 This heating tower features 3 oversized infrared elements to allow for a more even spread of heat into your room. However, the build is unusual with this particular heater as it was built to fit in spaces with enough vertical clearance. As a result, you will be able to have more space to work with.
The controls are easy to use. Additional features were also put in place to ensure the safety of the heater. There's even a child lock feature to make sure that vital heater components are out of your child's reach. The composition and exterior coating also contribute to the overheating mechanism of this heater.
Thanks to its wooden build, this heater will remain cool when touched. In the same regard, the wooden build also provides the heater with its overall stability, making it less susceptible to tipping over. All these features have been added for ultimate safety and peace of mind.
Highlighted Features:
3 vertical heating elements for even heating
Cool to the touch exterior
Additional heating options on top of the ECO setting
Capable of selective or isolated heating for energy efficiency
Comes with a number of safety features
Stable design
Due to its tower build, it can be less stable compared to other heater designs
6.  LifeSmart Zone 1500-Watt 8-Element Infrared Heater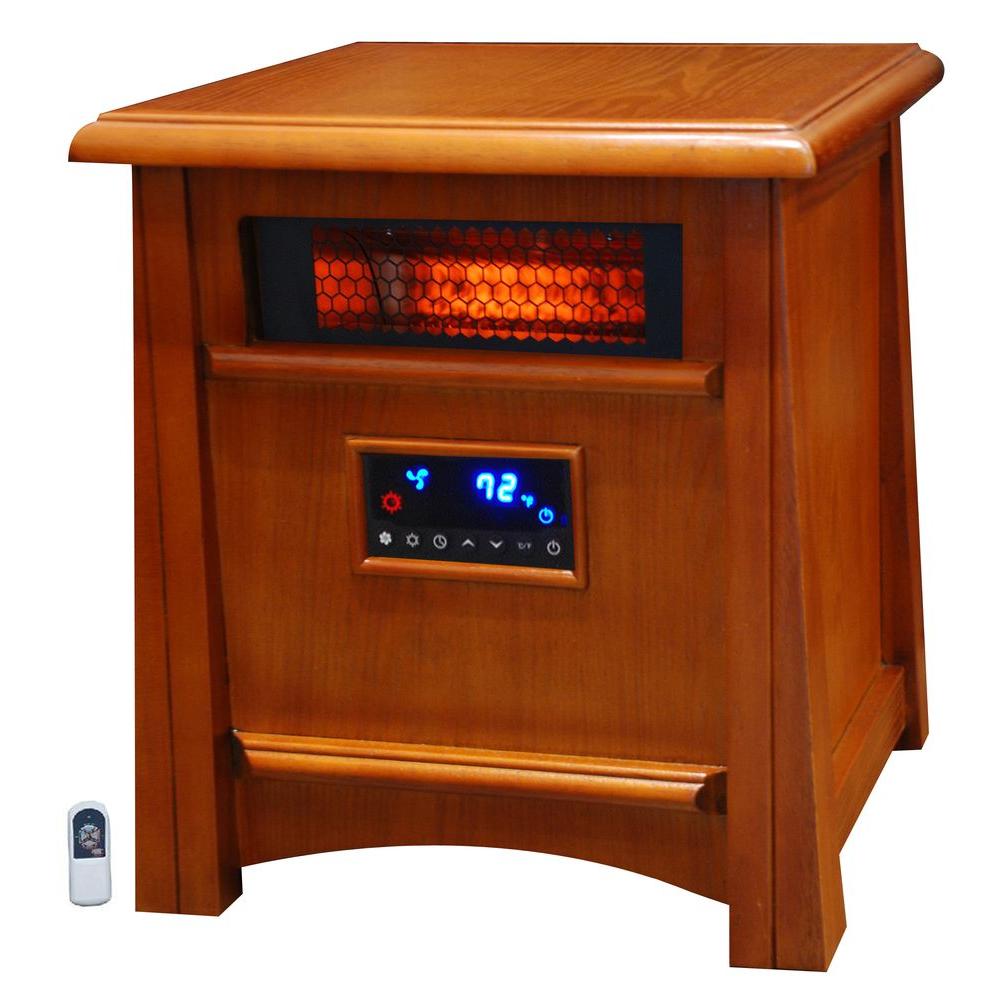 This heater is ideal for a very large room. Eight of its quartz elements are wrapped in a metal heat exchanger coil to maximize heat production. As a result, it will remain efficient despite drawing an 1800-Watt power which is more than the average power output of infrared heaters.
There's also a digital thermostat and a dual timer inside, allowing you to easily monitor your heater's condition. Despite its immense appearance, this heater features  EZ Glide casters to make it less troublesome to move from room to room.
Highlighted Features:
Digital thermostat control
EZ glide casters
Quiet scroll motor fan
ETL listed for safety
Lifetime air filter
Features even heat distribution
Allows easy heat monitoring
Relatively high power output
7.  LifeSmart 1500-Watt 8-Element Infrared Heater
More power means more energy wasted. However, when it comes to this heater, energy-efficiency is still possible to achieve. Due to its 8-element feature, this heater is capable of producing more heat than the other heaters on this list. Compared to other types, the heating elements of this heater benefit from each other as each element can function at peak performance and still extend their lifespan.
This heater is made of wood and comes with a black finish covering the exterior. Meanwhile, the control unit is covered by a fireproof metal safety cabinet. As far as safety goes, this cabinet prevents electrical components from overheating while maintaining the heater cool when touched at the same time.
There are also three energy savings settings included, with an Eco Setting capable of balancing power consumption while keeping your room warm. EZ Glide casters are also present to provide mobility. Then there's a digital thermostat and a dual timer setting to make you comfortable and be more in control over your heater.
There are tons of LifeSmart 8-element infrared heater reviews that can attest to the efficiency of this product.
Highlighted Features:
Upgraded 8 powerful infrared elements
Three energy-saving options E
Eco setting
EZ glide casters
Washable air filter
ETL listed for safety
Highly efficient heating output
Easy to move around your house
Produces a high infrared heat output
FAQs on Infrared Heaters
Is an infrared heater better than an electric heater? 
You can't completely claim that an infrared heater is better than an electric heater. After all, each of them has its own strengths and weaknesses. Electric heaters generate power through the electricity coming from the wall socket. Infrared heaters, on the other hand, can work with the use of electricity, propane, or natural gas. This allows infrared heaters to be more flexible with their power source.
However, the need for a direct view is a downside for infrared heaters. It's difficult for the elements to heat up if the infrared radiation can't "see" the object. To address this problem, some infrared heaters have fans attached to them. This allows the heat coming from the heater to dissipate.
How much does it cost to run a 1500 watt heater for 24 hours?
In terms of cost, infrared heaters have an advantage. A 1500-watt power rating is a standard for a LifeSmart infrared heater. This will cost you around $0.25 per hour. Multiply the cost by 24 hours and you will get a result of $6. Do note, however, that the cost of electricity is state-dependent.
Compared to other heating systems, infrared heaters can help you save more on fuel consumption. Infrared heaters are also more reliable than other systems. They work in such a way that the heating process would start in an instant – a feature that is not common to traditional heaters.
Conclusion 
You can always opt for expensive heating systems. However, you can also choose to go for the products above since they are available at affordable prices. Infrared heaters will guarantee that you will save some cash, especially if those are LifeSmart heaters.
The products are unique just so you have a lot to choose from. The brand also has heaters that will save you space, some have much higher heat capacity, and more.
Hopefully, our LifeSmart infrared heater reviews can help you decide which infrared heater from LifeSmart will be the best choice for your indoor space. Just make sure that you know your heating needs are and how much you can afford to spend for an infrared heater before finalizing your decision.