You now can enjoy the luxury of a high-end spa experience in the comfort of your own home. Please continue reading below to know our takes on Luxier shower panel reviews.
A shower panel is extremely versatile. It can be installed as part of a complete bathroom renovation or as an improvement to your current bathroom.
You get to choose from a range of shower panel models offered by manufacturers. A standard model should include at least two shower heads: one which is set and the other which is handheld and come with a varying number of body jets.
Luxier SP26-CEC-SLR Shower Panel Reviews
One of the best shower panels you can find out there is Luxier SP26-CEC-SLR. It is one of the best-selling shower panels from the famous European brand Luxier.
Just like any other Luxier products, this shower panel is made from long-lasting materials and outfitted with cutting-edge technology.
This product's front panel is made of tempered glass while the dials and fittings are made of stainless steel.
You will also find an 8″ rainfall showerhead on this shower panel. It is a tastefully designed hand shower which also has 6 massage jets with adjustable angle features.
Pros of this Luxier SP26-CEC-SLR Shower Panel
Pretty and modern design with expensive-looking material
Adjustable shower modes for different showering needs
Built-in shelf
Long and flexible handheld shower hose
Cons of the shower panel
The water pressure sometimes is not strong enough on the head shower
No digital display to know exact water pressure and temperature
Requires professional help to install it
Verdict
It's simple to configure and install, doesn't take up much space, and looks great in your bathroom. This model from Luxier is a perfect way to jazz up your shower without breaking the bank.
Who is Luxier SP26-CEC-SLR Shower Panel for?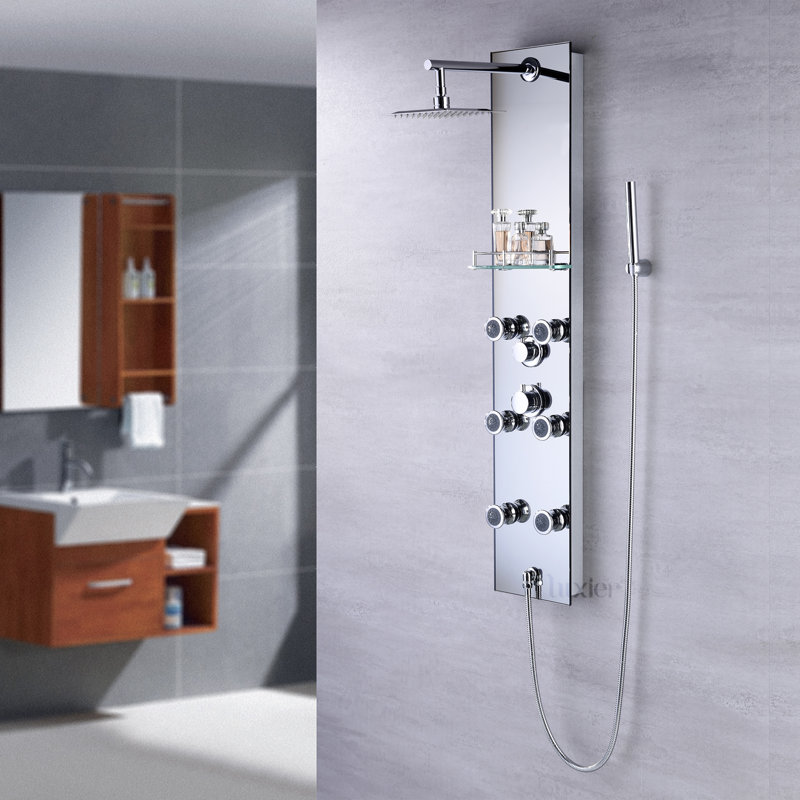 The Luxier SP26-CEC-SLR shower panel is an excellent product that offers high quality at a reasonable price. It is recommended for those looking for a stylish panel with a bunch of useful features.
Key Features and Benefits
Spa-like experience:  The Luxier SP26-CEC-SLR will provide a spa-like atmosphere in your bathroom. Also, all of its features are easily accessible in a single location, making it much simpler to use. This way, you won't have to instinctively feel your shower's walls to find the knobs because any function you need is within arm's reach.
Fun shower time: Besides the ease of use, Luxier SP26-CEC-SLR should also make you feel more energized after taking a shower. You'll have a lot of fun cleaning your body with all the different features and shower modes.
Water-saving feature: Another point to consider is that Luxier SP26-CEC-SLR uses much less water. With an effective pressurized water delivery system, this shower panel should be able to help you save some money from the utility bill.
Customer Reviews 
Many of the Luxier shower panel system reviews on SP26-CEC-SLR said they fell in love with its look. Here are some comments about this product:
"The delivery process is very fast. I did not find any defect when I unboxed it and it was very easy to install. Overall, I feel like it's worth every penny" Laura M.
"I am beyond satisfied with my purchase. I do wish the water pressure is stronger but that's just my preference." Kenneth P.
"Kudos Luxier! Excellent quality product and superb customer service." Gareth D.
Frequently Asked Questions
Does it come with a warranty?  It has a two-year limited product coverage.
Is it available in any other color? There are four available color options: Aqua, Black, Silver, and White.
Should it be installed by a professional? When installing a shower panel, it is often best to seek professional assistance. However, if you believe you have the necessary skills, you can install them yourself. Always make sure you understand your home's water delivery system well.
The Verdict 
If you want a gorgeous and durable shower panel, the Luxier SP26-CEC-SLR is the product for you. With its rainfall, massage, and jet shower modes, it has pretty much everything you might want in a shower.
So, what is holding you back from getting a brand new Luxier SP26-CEC-SLR? Stop reading this Luxier shower panel reviews, go to your nearest home improvement store now, and get it installed in your bathroom as soon as possible.