When it comes to hot tubs, the options are seemingly endless. Moreover, there are many options you can consider, such as price, brand, and style.
You can go for something less costly and easy to install or splurge for the luxury models that offer features like a music system and massage jets. However, before you decide which is the right hot tub for you, it might be a good idea to read through our Luxuria Spas hot tub reviews.
Here, we look at the highest-rated models that Luxuria Spas has manufactured. This is because we want to make sure any customer shopping for a Luxuria Spas hot tub can make an informed decision.
After all, we want to ensure that you get the ultimate experience from your hot tub by choosing the one that matches your preferences. So, without further ado, let's check them out.
Why Luxuria Spas?
So, why choose Luxurious Spas? Well, this is the go-to company if you're looking for an impressive line of premium inflatable hot tubs that have won numerous accolades, including ones from notable names like Forbes, Wired, and CNBC, among other publications.
Luxuria Spas is also the premier destination for various wellness products and a brand that believes customers deserve more. Moreover, the company has top-quality products, customer service expertise, and sales follow-up that anyone can admire.
They have continuously improved the product line, bettered customer service, and built an impressive track record over the years.
Lastly, their commitment to providing quality products at a fair price makes Luxuria Spas stand out in the market, as attested to by various Luxuria Spas reviews. 
Luxuria Spas Products Review
In this guide, we'll be looking at six Luxuria Spas hot tub reviews to analyze the different features, pros, and cons and help you make a good choice. Check them out below.
1.  Luxuria Spas 3 – Person 47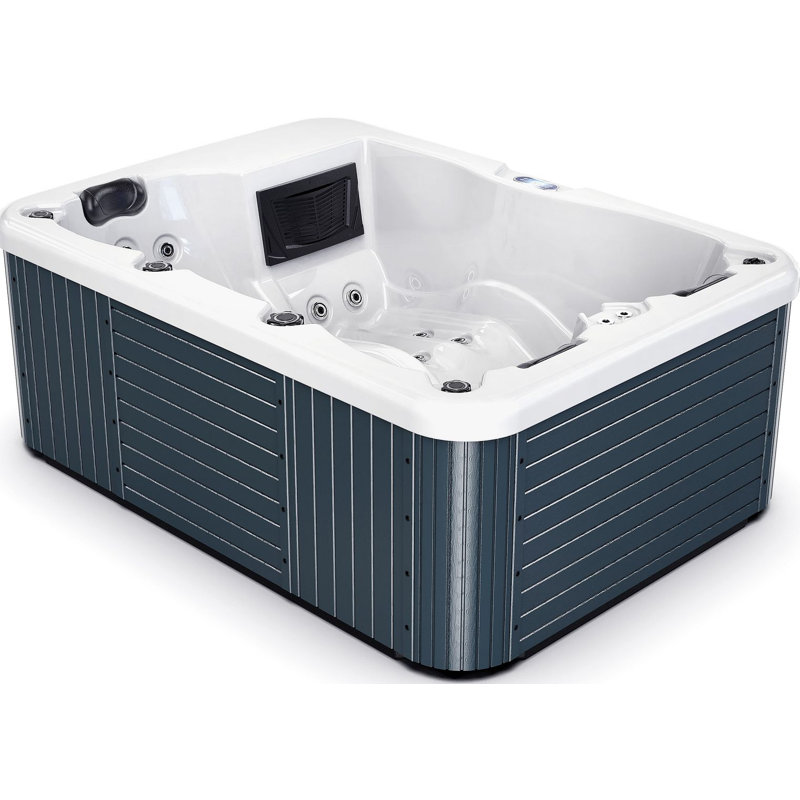 The Luxuria Spas 3 is a simple and elegant hot tub that offers the ultimate relaxation experience. This model has fantastic features, including LED mood lighting and an easy-to-use control panel.
It also has a vacuum-cleaner system that keeps the water clean and clear, as well as an insulated cover and lockable safety covers on all sides.
Luxuria Spas 3-Person 47 also offers three hydrotherapy massage jets and a soothing ozone system for the ultimate home spa experience. Aside from that, the high-density foam insulation keeps you warm while the water maintains its therapeutic temperature.
Lastly, with plenty of space, this model is perfect for a family or a couple and can be used in various ways. The lounge seating and backrests are perfect for those relaxing moments when you want to put your feet up.
Features:
3-person hydrotherapy spa with 47 hydrotherapeutic jets
3 manual and 3 digital water delivery options
Color LED mood lighting
Adjustable headrests and cup holders
An intuitive computer system for more effortless operation of your spa
Pros:
Constructed with highly durable PVC material
Features an inflatable floor for added comfort and safety
Has a filter system helps keep your water clean
Comes with multiple jets for your back, neck, shoulders, and arms
Uses less energy
Cons:
Can only accommodate 3 persons at once
Doesn't have a commercial warranty
2.  Luxuria Spas 5 – Person 39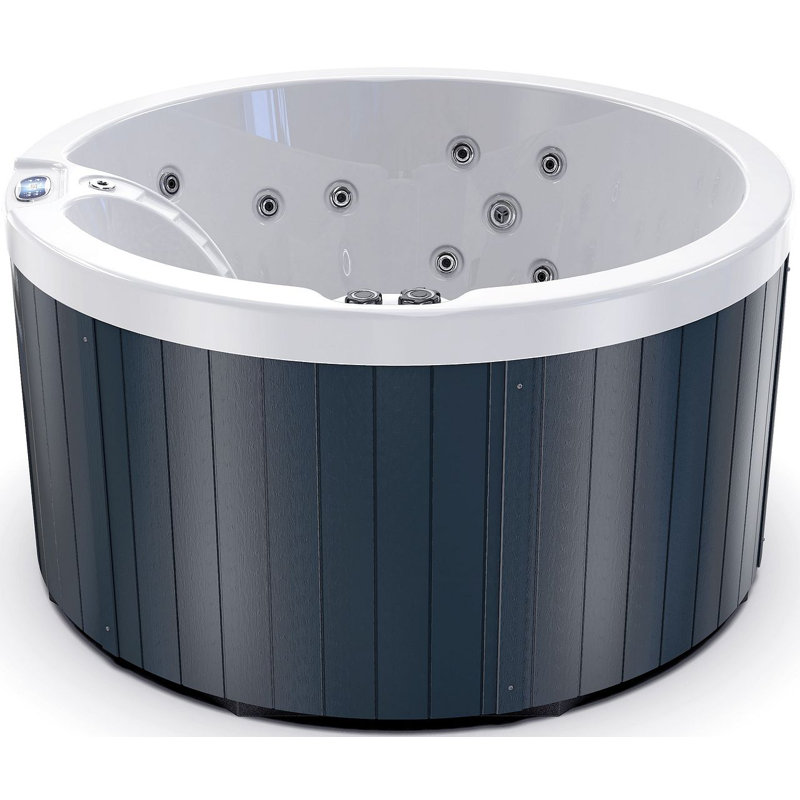 If you're looking for the ultimate relaxation experience, the Luxuria Spas 5 – Person 39 hot tub is a perfect choice, allowing you to sit back and relax as you gaze out over the landscape.
Moreover, with its built-in tile LED light, a waterfall, and Bluetooth speaker, your hot tub experience will be nothing short of luxurious.
The top cover was also designed for easy access so that you can get inside quickly. The convenient opening is also large enough to accommodate 5 people.
Apart from these, the Luxuria Spas 5 – Person 39 hot tub features a soft-touch digital control panel to simplify its operation. This control panel is located on the outside of the tub, so you can easily adjust the temperature even while sitting in its soothing water.
Lastly, it has an infiltration system that draws water from its 375-gallon water storage capacity and filters it through its two filter cartridges before returning it to the tub for your enjoyment.
Features:
Double-walled stainless steel
Premium acrylic finish
Soft-touch digital control panel
An adjustable water filtration system
Air pump for rapid heating
39 Hydrotherapeutic Stainless Steel Jets
375-gallon water capacity
LED lighting
Pros:
Easy installation
Heats up quickly
Control panel is easy to use
Cons:
Takes up a lot of space
Area around the control gets too hot when the jets are on
3.  Luxuria Spas 6 – Person 57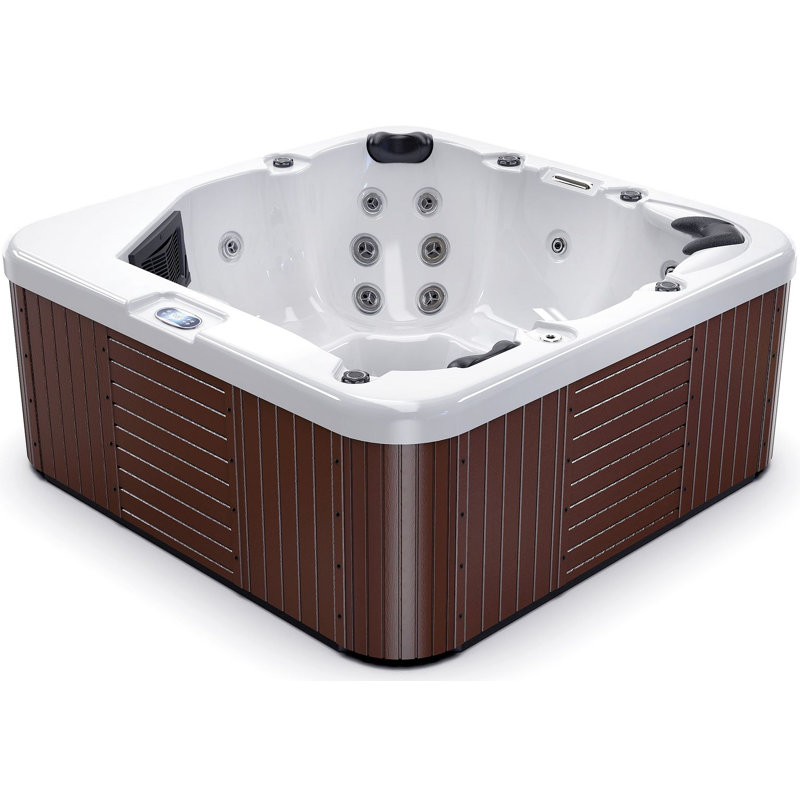 Thanks to its six-person seating capacity, the Luxuria Spas 57 is another fantastic option for a hot tub, especially if you're using it with family or friends. You'll also appreciate the built-in hard water treatment system, making the water softer and easier to clean.
This hot tub is also made from the highest quality components, including a high-strength, maintenance-free acrylic panel. Aside from that, the Luxuria Spas 6- Person 57 hot tub has thick cushioning that provides both comfort and thermal protection.
The acrylic shell is also reinforced with stainless steel for improved durability. Lastly, the spa was designed to be easy to install and maintain, as well as energy-efficient, so you can enjoy it for years to come.
Features:
A built-in hard water treatment system
57 hydrotherapy jets for full body massage
LED lighting system
Insulated foam core and acrylic panels
Pros:
Spacious enough for family or friends
Durable
Easy to maintain
Cons:
4.  Luxuria Spas 6 – Person 88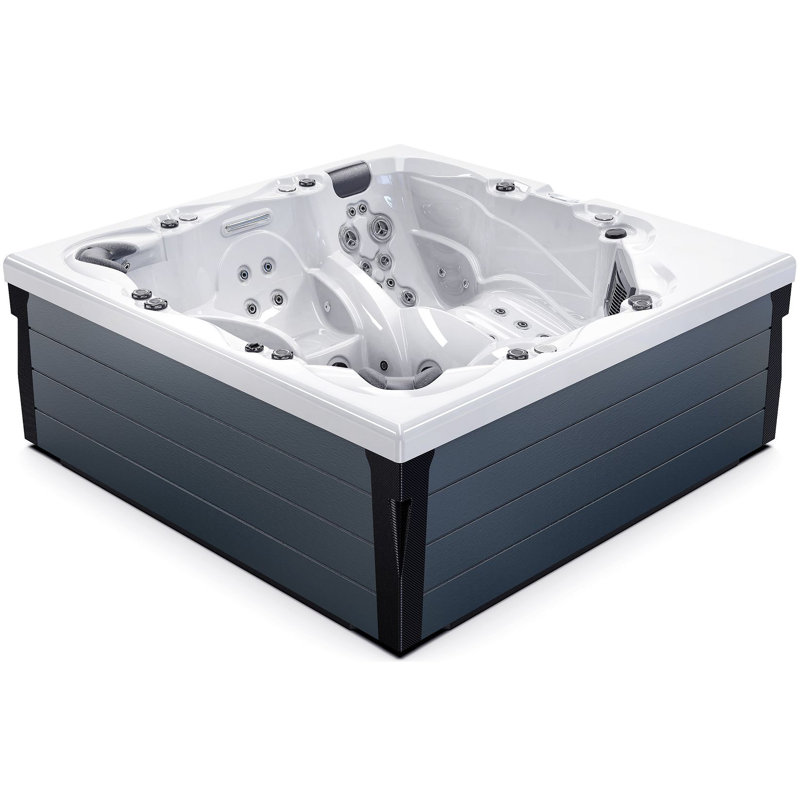 The new Luxuria Spas 6 – Person 88 is undoubtedly a throwback to those early days when hot tubs were only available in one size. However, this particular model is different because it's considered big enough for six people.
Moreover, the Luxuria Spas 6 – Person 88 is an excellent choice for those looking for a hot tub that will provide several years of carefree use. It's designed to be easy to use and comes with several fantastic features.
For example, it includes a built-in water filtration system, a heater, and a chemical floater pump. This hot tub also comes with several convenient features like an insulated cover, cushioned floor mat, and a thermal ground cloth.
This hot tub spa also comes with two air controls. This feature is unique and allows you to adjust the air and water jets separately. Each seat has its own separate control for air jets, which means that you can adjust each seat independently from one another.
Features:
Electronic control panel
Hydrotherapy system with powerful adjustable jets
Heavy-duty PVC material
Tethered by a Hot Tub Cover
LED light system
Built-in stainless steel cup holder
Bluetooth compatibility
Pros:
Heats up quickly
Comfortable and spacious
Sturdy to accommodate 6 people
Equal circulation of water to all seats
Cons:
Ample space to store the tub is required
5.  Luxuria Spas 7 – Person 100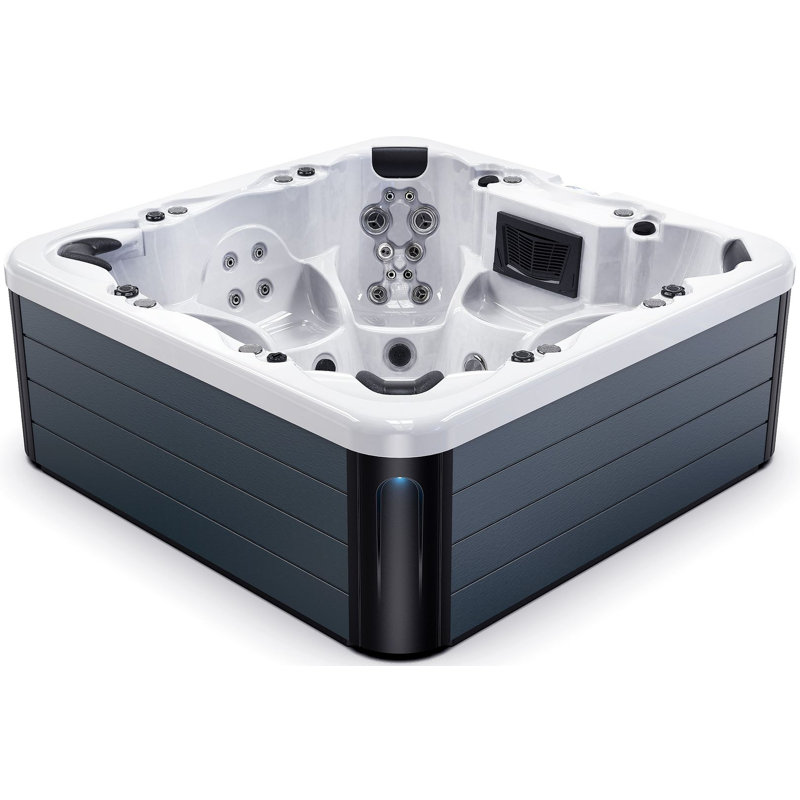 The Luxuria Spas 7-Person 100 Jet Spa is another excellent option that can give you everything you need to relax and unwind. This model features an outstanding combination of form and function. It boasts seven people-sized loungers for a luxurious experience with friends or family.
You can even adjust the loungers to fit different body types comfortably and enjoy the various massage settings. This model also has a waterfall feature for a more relaxing experience.
Aside from that, you can also choose from five additional power jets that circulate water from side to side, front to back, and top to bottom for a unique massage experience each time.
What's also notable is that the water temperature can reach 104 degrees Fahrenheit and the hot tub heats in as little as two hours, allowing you to enjoy it almost immediately.
Lastly, the built-in hard water treatment system is an added benefit for anyone with hard water, leaving the skin feeling tight after soaking in the spa.
Features:
Larger seating capacity that accommodates up to 7 people
Multi-layered foam, vinyl, and gel coat exterior for easy maintenance
100 adjustable body jets
Automatic Cover Lifter
425 gallons water capacity
Self-Cleaning Filter System
Fiberglass shell built to last and resist cracking
Ozone Sanitization System
Pros:
Easy assembling
Durable
Powerful, customizable jets
Firm to stand on all types of surfaces
Easy to maintain
Cons:
Requires big space
Does not come with filters or water chemicals
Cover isn't removable for cleaning
6.  Luxuria Spas 8 – Person 65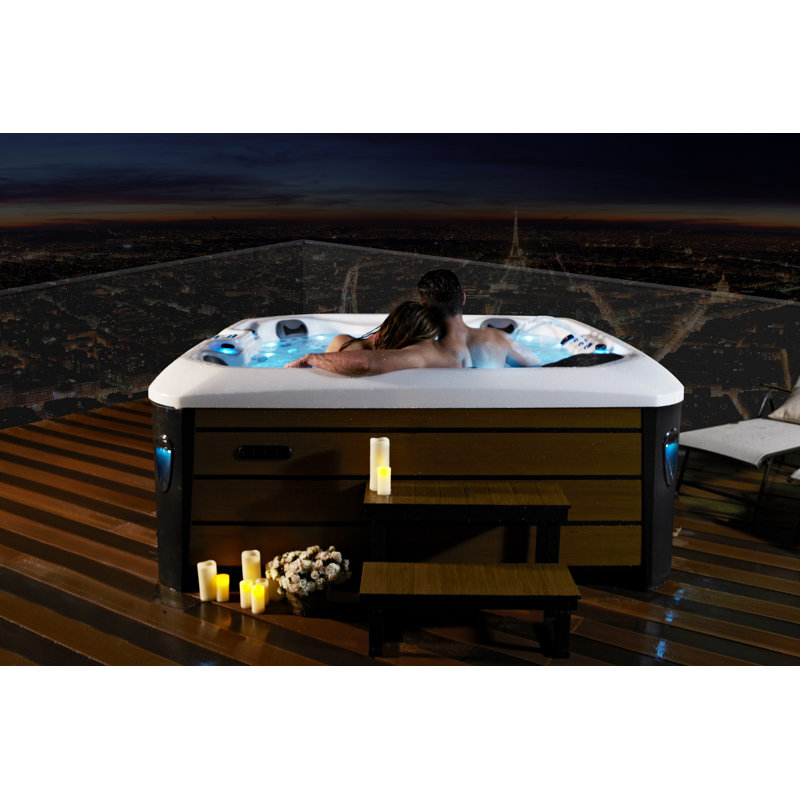 The Luxuria Spas 8 – Person 65 hot tub can undoubtedly be the perfect match for your big family or a small group of friends since it has a maximum occupancy rate of 8 adults.
It also has a powerful pump, which can move over 6,000 gallons per hour and circulate water at temperatures up to 104 degrees Fahrenheit. In addition, it also comes equipped with an upgraded digital control panel with LED lighting and a chromatherapy system for mood lighting.
It's also very portable, making it easy to move if you need to relocate it. Furthermore, the hot tub can be set up on a deck or in a backyard or patio area in your home.
Lastly, the fiber-tech construction used in this model resists damage from UV rays, so the shell won't fade or crack over time.
Features:
A built-in hard water treatment system
Safety cover
Water heater
Insulated spa cabinet
400-gallon water capacity
Waterfall feature
Filter cartridges
Pros:
Easy-to-use control panel
Easy to maintain and highly durable
Energy-efficient heater
Uses less space than a swimming pool
Has a quiet pump
Cons:
Might not be enough to accommodate 8 big-bodied adults
Cover is not insulated
Conclusion
Overall, Luxuria Spas offers some of the best hot tubs on the market today. The company provides a 5-Year Transferable Limited Warranty with their models. Plus, all of their models have a limited lifetime warranty on their parts.
In addition, the significant differences reviewed from the above Luxuria Spas reviews are in their sizes, water capacity, and price. Therefore, when buying one, it's best to look out for the one that matches your family's needs and think about where to keep it in your apartment.
With that said, hopefully, these Luxuria Spas hot tub reviews and guides have given you some inspiration and a better idea of what to look for before shopping for hot tubs.