There are a lot of bathroom and shower fixture brands out there, but of the popular ones is Moen.
This Moen shower faucet reviews is created to help you choose the best shower faucet that suits your bathtub and bathroom motif. To make it even more useful to you, we also wrote a step-by-step guide on how to fix a Moen shower faucet that has a leaking problem.
If you are interested in either of these topics, then read on!
9 Best Moen Shower Faucet Reviews
1.  Gibson Matte Black Shower Head and Faucet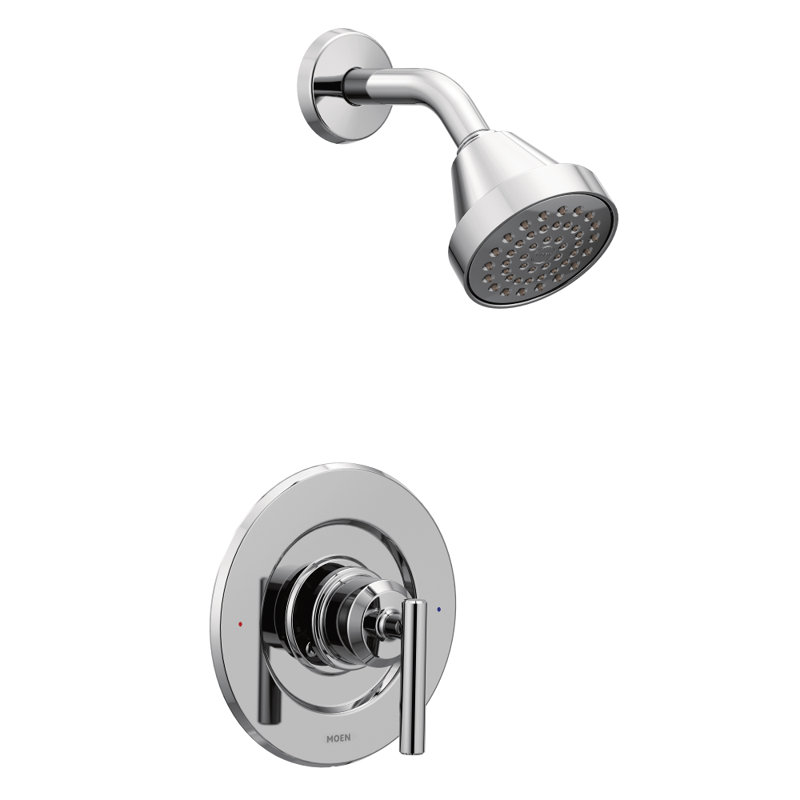 If you want to add a bit of darker tone fixtures to contrast perhaps a light-colored tiled wall, then the Gibson is pretty much a great choice.
It has a matte black finish with a smooth yet stunning look to it. Those who love to have a monochromatic black and white room would appreciate this one.
Best Features:
Durable
Comes with Trim kit for installation
Uses common valve system
Makes a brilliant residential shower head faucet
2.  Brantford Brushed Nickel Shower Head and Faucet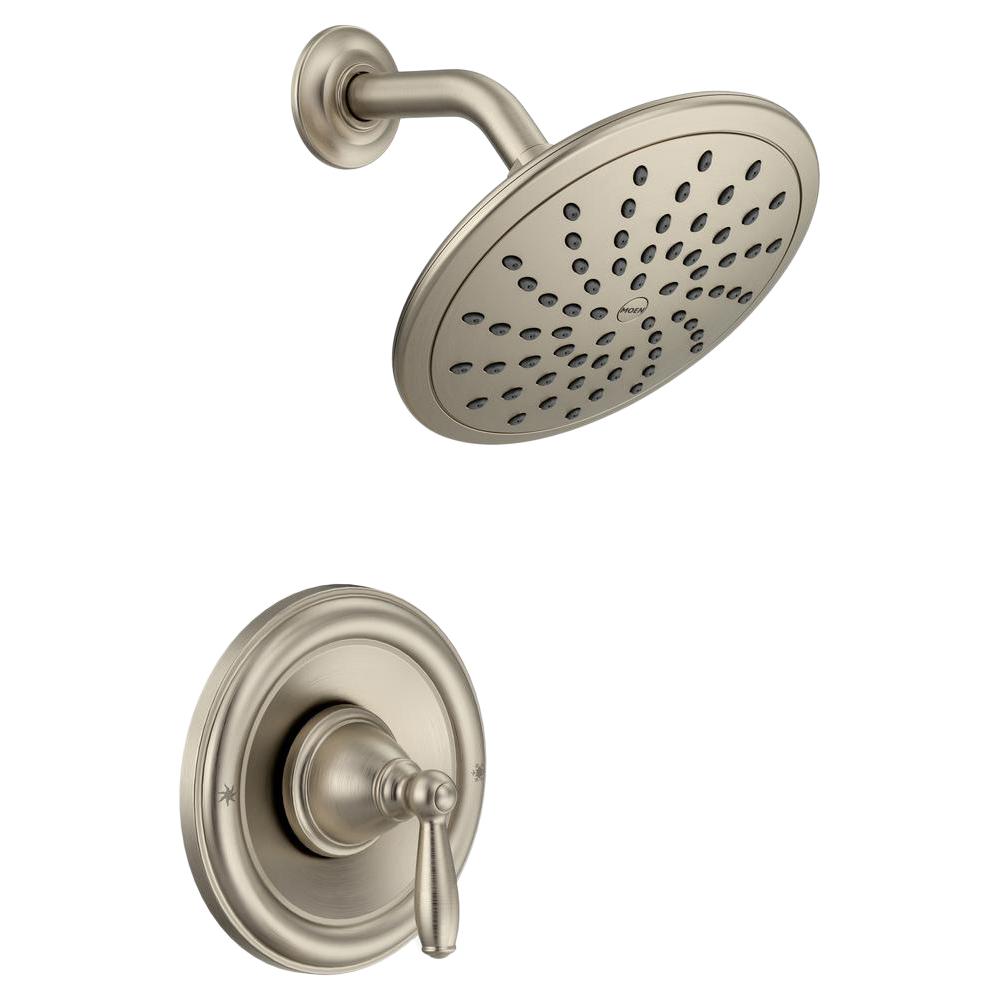 The Brantford model is an 8-inches rain shower faucet. This makes the perfect choice for those looking to add some shine in their bathroom. The Brushed nickel finish makes this look something out from a Mediterranean castle.
It is suitable for bathrooms with glass materials and those with a lot of mirrors.
Best Features:
Has the perfect metallic look
Flexible and durable
Gives a full rainshower performance
ADA compliant
Has the 1.75 GPM water flow rate
3.  Genta Matte Black Shower Head and Faucet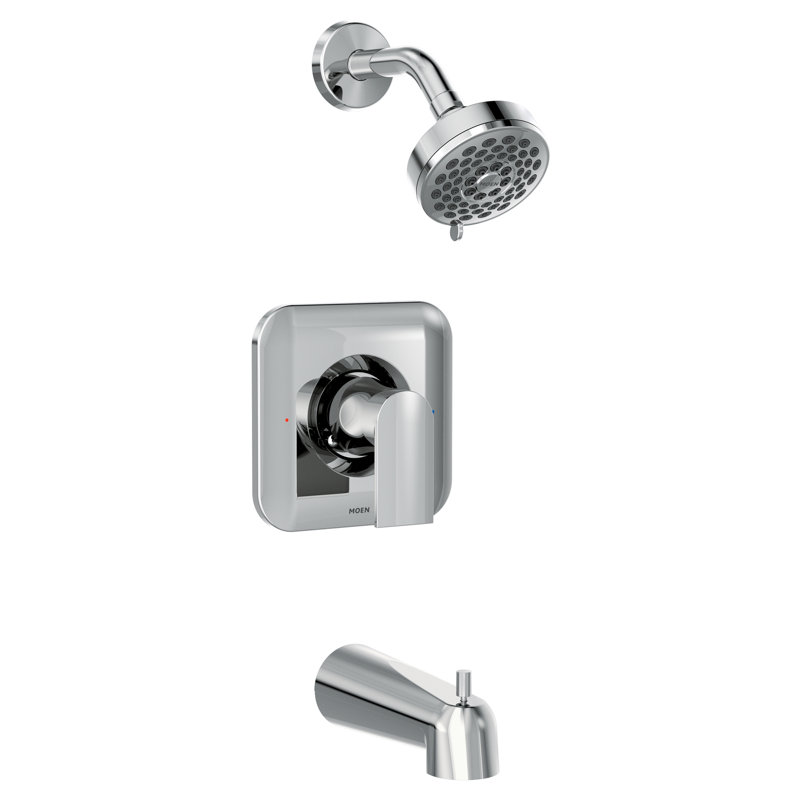 Here's another matte black option from our list. Unlike Gibson, the Genta Moen shower faucet has a square flange handle.
This, too, is a favorite by many bachelors' bathroom because of its masculine feel and practical look.
Best Features:
Makes a good bold statement
ADA compliant
Uses Moen m-pact common valve
Produces comfortable water temperature
With 2.5 GPM water flow
4.  90-Degree Chrome Shower Head and Faucet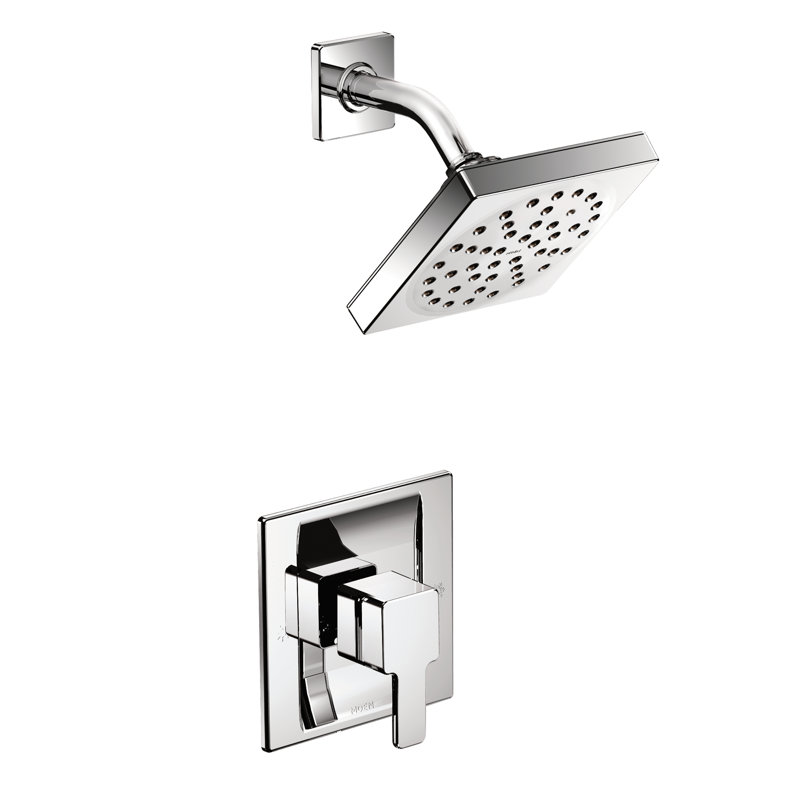 This is an advanced Moen shower faucet that is built to last. It is made from premium metal with a chrome finish. This self-pressurizing shower faucet has three times more spray than other shower head faucets in the market.
Best Features:
Adjustable water flow
Has Water saving technology
ADA compliant
Gives full rain shower experience
Impressive temperature control and pressure-balance
Perfect for residential use
Has 2.5 GPM water flow
5.  Belfield Chrome Shower Head and Faucet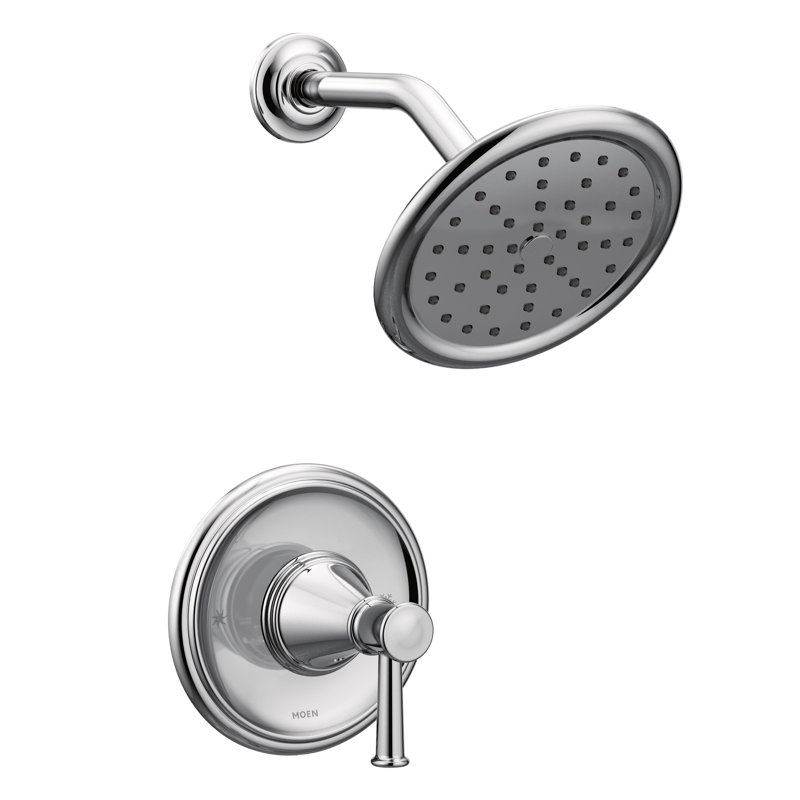 Another incredible shower faucet from the Moen Immersion collection is the Belfield shower faucet. This also has a self-pressurizing technology that has incredible spray pattern and pressure.
Many considers this a really good alternative for the 90-degree chrome option.
Best Features:
Wall mounted
With impeccable temperature control
Water efficient
Has adjustable water flow technology
ADA compliant
Has two spray patterns, namely the standard and full shower
Available in 2.5 GPM and 1.75 GPM flow rate
6.  Voss Chrome Shower Head and Faucet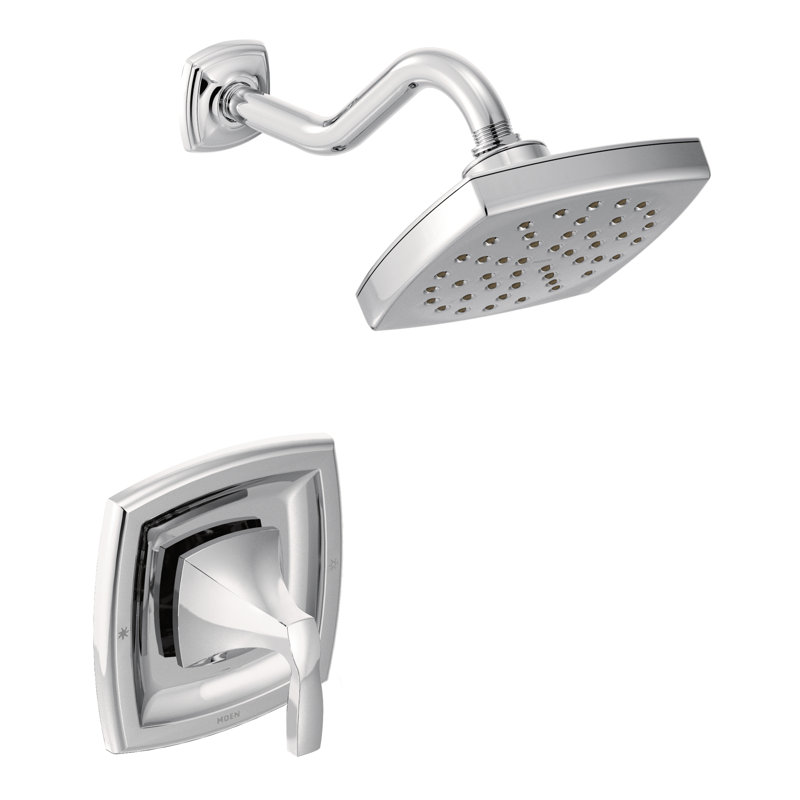 Another wall-mounted shower faucet we highly recommend is this Chrome-finished shower faucet named Voss. The showerhead and the shower handle have a square shape.
Instead of an 8-inches rain shower spray, this one offers the 6-inches variants. If your shower area has an enclosure, the 6-inches showerhead is an excellent choice.
Best Features:
With LifeShine finish that is non-tarnish, corrosion resistant, and flake off resistant
Built with the M-pact common Moen valve
ADA compliant
Makes use of diverter as the faucet control type
5 GPM flow rate
7.  Waterhill Brushed Nickel Shower Head and Faucet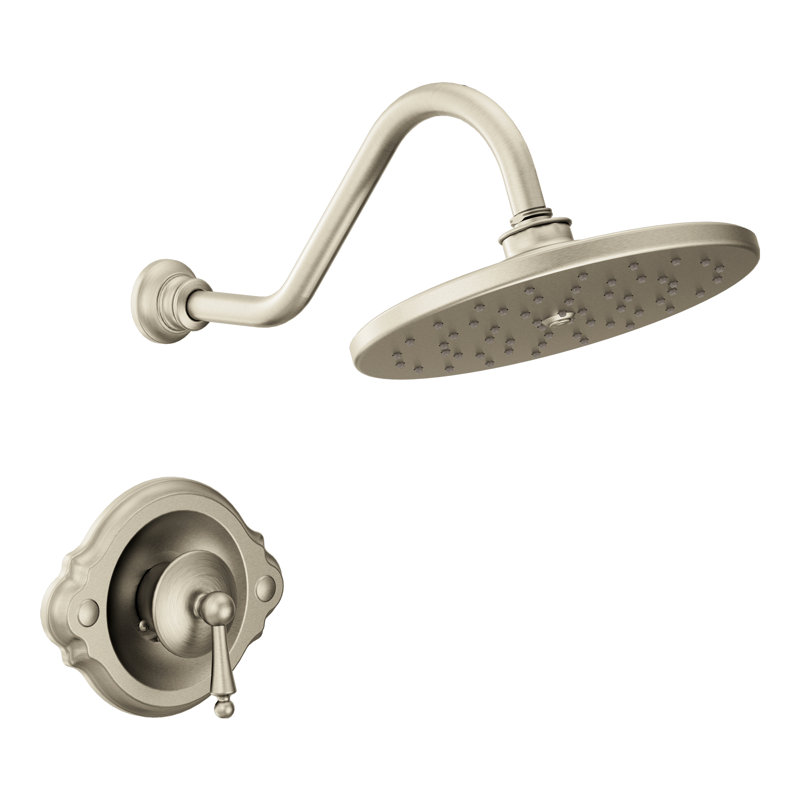 Perhaps you want a shower head and faucet set that can instantly give your bathroom a luxurious feel, the you need a shower head and faucet with gold, rose gold, or brushed nickel finish.
The Waterhill model from Moen is chrome finished and has intricate design on the shower handle while the shower head has a delicate curve.
Many homeowners who previously bought this product reported they are satisfied with its performance despite the pricier cost.
Best Features:
Has an advanced self-pressuring and pressure control settings
Produces three times more shower spray power
Has a satisfying full rain shower
The shower head also swivels should you want to use that
With a flow rate of 2.5 GPM
Stunning appearance, perfect for both residential and commercial
Best shower faucet in terms of luxurious features
8.  Arris Brushed Nickel Shower Head and Faucet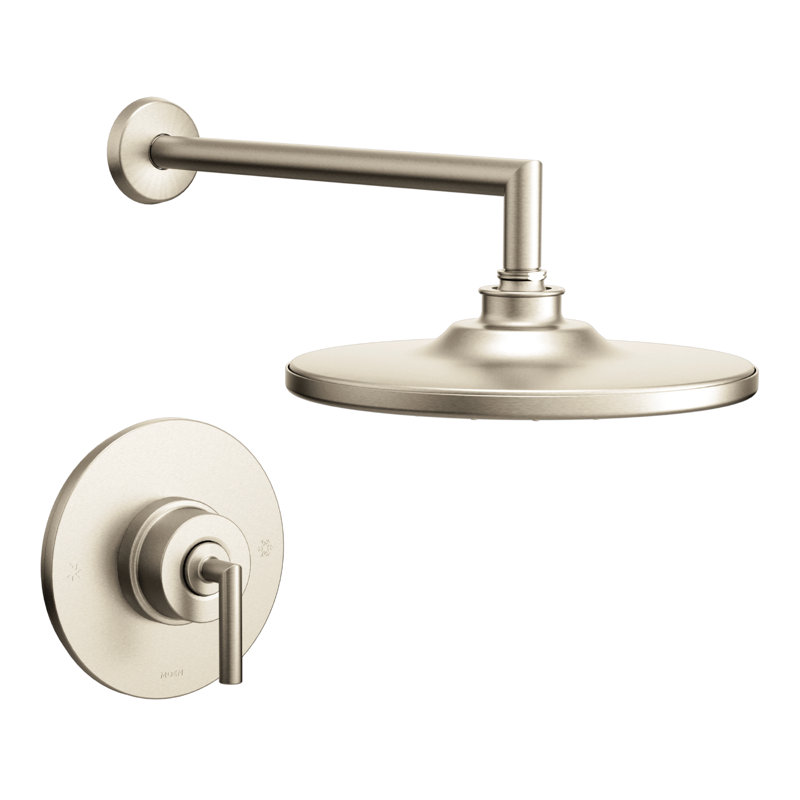 Arris is a pretty straightforward shower faucet from Moen. The shower head is big and circular in shape. This also gives a full rain shower. Even the handle is minimalist with only the brushed nickel finish, making it stand out.
If you want the best Moen shower faucet that can easily blend in with your existing bathroom design, then Arris is a great option. Its amazing finish color is enough to catch attention.
Best Features:
Comes with shower arm and handle
ADA compliant
Gives invigorating and satisfying rain shower experience
Has an adjustable water flow
Has a 2.0 GPM water flow
Impressive temperature control and pressure-balanced
Stylish and comes with limited warranty
9.  Weymouth Chrome Shower Head and Faucet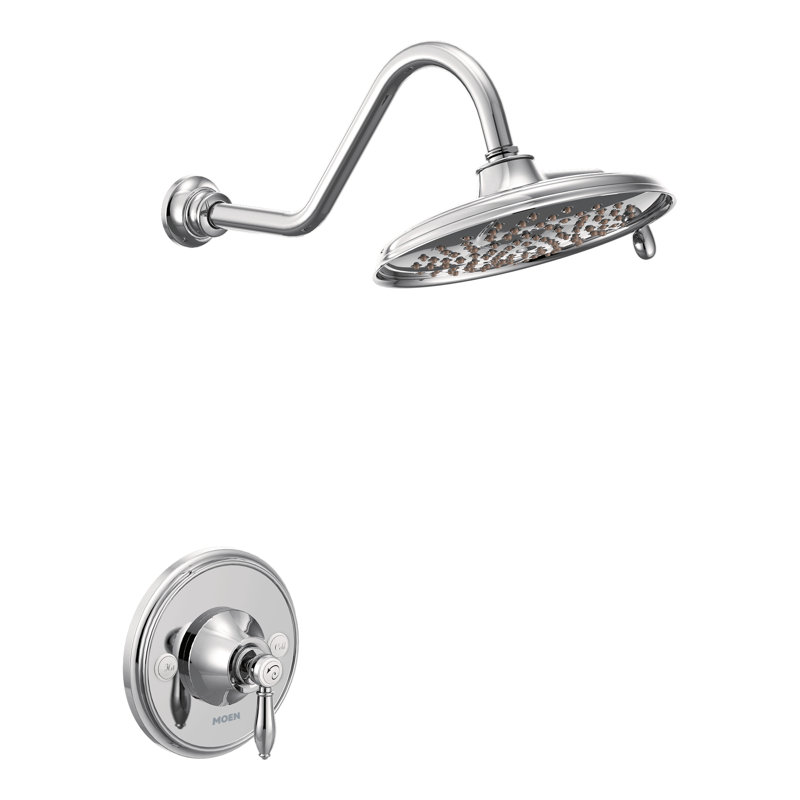 Finally, the last entry on the list is the Weymouth Moen Shower Head and Faucet. It has a round shape and a chrome finish. This indeed makes a really good decorative and functional piece in your bathroom.
Modern bathrooms and big and those with a lot of open spaces would benefit the most of this product.
Best Features:
Has a distinctive look and amazing features
Uses the M-pact Moen common valve
With adjustable water flow
ADA compliant
Offers full rain shower
How to Repair a Moen Shower Faucet Step-by-Step
Has your Moen Shower faucet been leaking recently? It's time to that with just one tool.
Find out the step by step guide below:
1.  Prepare the tools.
There are only a few tools you need for the repair:
Allen Philips
screwdriver
Linesman plier
needle nose plier
plumber screws
Moen replacement cartridge
Buy the Moen replacement cartridge model number 1225. This is a very useful tool to fix a leaking single handle faucet.
2.  Turn the water off. Make sure you shut the main water source. So, it is best to do the repair on hours where no one is using the water your house.
After turning it off, check that no water is coming of the faucet by turning it on (both hot and cold).
3.  Close the tub drain.If the drain has its own cover, then use than one. If not, you can use a coaster made from rubber to avoid any screws accidentally dropping into the drain.
4.  Locate the Allen screw and unscrew it. Get the 760 Allen wrench and put it right underneath the handle where the Allen screw is and twist it to unscrew.
After which, the shower faucet handle will then come off.
5.  Unscrew the Philips screw at the center of the plastic insert. Using the Philips screwdriver, unscrew the screw and set it aside, including the plastic insert.
6.  Take out the metal flange behind the plastic insert. You can just use your hand to do that.
7.  Grab the linesman pliers or the needle nose plier to take out the valve clip on center top part. The clip is the one that keeps the cartridge in place so that the water does not leak because of the water pressure.
8.  Use the linesman plier and remove the cartridge out. Some are easy to pull out while others may need a bit more force.
9.  Get your Moen 1225 replacement cartridge and add a bit of grease on it. Before you re-install the cartridge, just check that there are no calcium deposits in the pipe. If all is clear, put the new cartridge in and secure it tightly.
10.  Put the clip right back in as well. Next, the flange is also reinstalled, followed by the plastic insert that you take out earlier.
11.  Put the Philips screw back in (or a new one if the old screw is kind of ruined because of deposits).
12.  Lastly, put the handle back and then the Allen screw that secures the handle goes in as well.
You can turn on the water source back and see check that there is no more leaking.
Conclusion
If we were to choose the most luxurious Moen shower faucet, we would definitely recommend the Moen Waterhill Brushed Nickel Shower Head and Faucet. The intricate design is really what caught our attention. What's more, the brushed nickel finish makes it even more expensive-looking.
Meanwhile, we recommend the Moen Brantford Brushed Nickel Shower Head and Faucet for those looking a budget-friendly option. It only cost a bit more than 100 bucks, yet the finish and features of this shower faucet is outstanding. Surely many would agree if we say that you get more than what you paid for from this product.
Hope you find this best Moen shower faucet reviews helpful. Until the next blog!