The Noritz Company was first established in 1951, where it operated under the name Noritsu Bath Industries in Japan. The company manufactured gas bath broilers and furnaces before it expanded to the production of oil broilers in 1963.
In 1966, the company produced its first tankless heater and introduced gas water heaters in 1970. It was in 1981 that Noritz introduced tankless water heaters that are electronically controlled.
Since then, the company has continued to break new ground to become the pioneers in the water heating industry. The company is also renowned for its energy conservation efforts, as they strive to create eco-friendly and simple tankless water heaters.
Why Noritz Tankless Water Heater
The Noritz tankless water heater comes with impressive features that make it stand out from competitor models. Here are some benefits that can be accrued from using these water heaters: 
Noritz water heaters are very easy to install which makes them perfect even for first-time users. This is because they come with extras like isolation valves and vent kits for a painless installation process.
You can be assured that tankless water heaters from Noritz meet the Energy Star Standard for efficiency. These units only turn on when you need a hot water supply, enabling you to cut down your water bills and save on energy. Besides, the company has been recognized for its efforts to use green technology in order to manufacture eco-friendly heaters.
All Noritz water heaters are designed with durability in mind compared to traditional tank-type models. The products feature top-notch craftsmanship and are crafted from quality parts. Besides, the products are backed up with the best warranties in the industry.
It is impressive that Noritz water heaters come with a compact and space-saving design that ensures installation flexibility. Besides, most of these heaters are designed for both indoor and outdoor application.
Noritz offers three lines of tankless water heaters for customers to choose from. These models include the Combination boilers (CB and NRCB series), mid-range model (NR series), and the EZ series.
Exceptional Customer Service
The company's professional, warm, and qualified customer service is available at all times to help you with any Noritz tankless water heater problems that you may have.
Noritz Tankless Water Heater Products Review
1.  40 Gal Tank Replacement 6.2 GPM Natural Gas Indoor Tankless Heater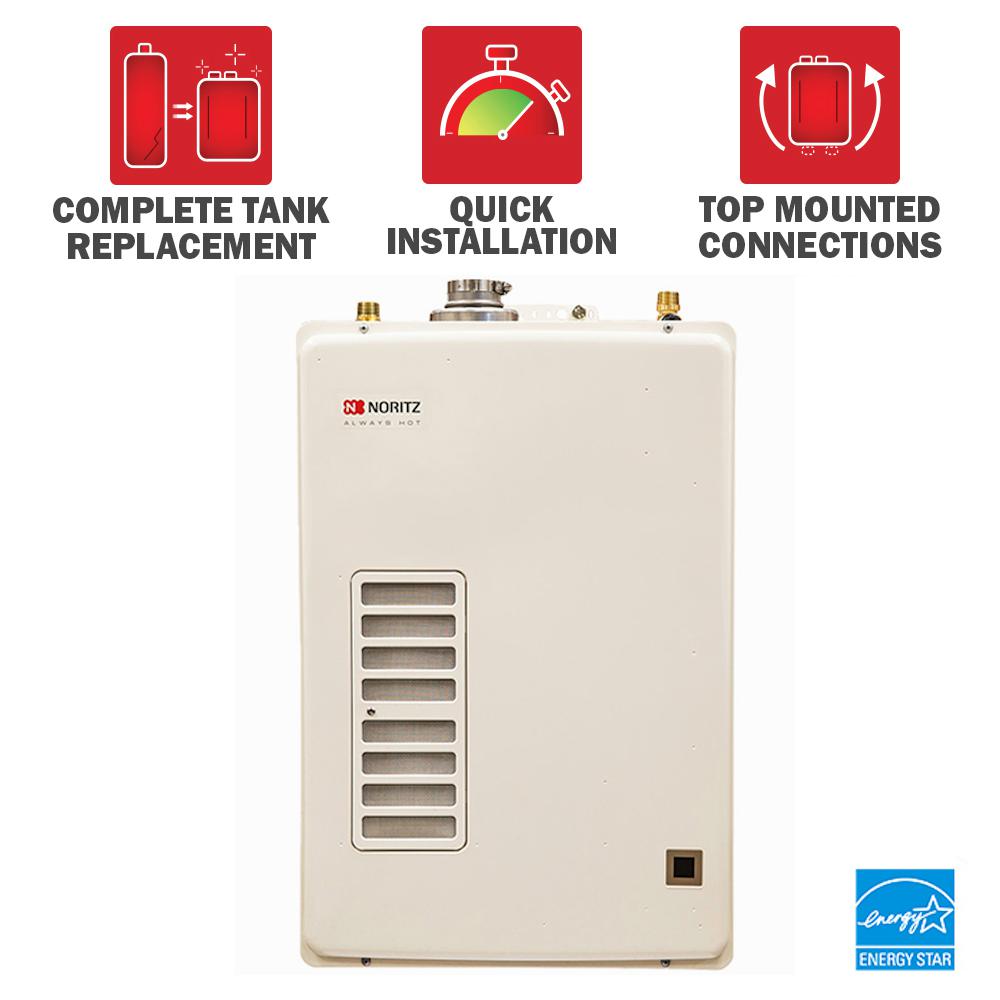 This NRC663 model from Noritz was the first water heater with tankless technology to reach the market. The water heater is specifically designed to replace 30 to 40 gallons tank water heaters and convert them into the tankless type. The hot and cold water connections are top-mounted for flexibility.
The product offers a decent water flow rate of 6.6 GPM, which is adequate to ensure a constant supply of hot water for regular use like bathing and dishwashing. Small households will undoubtedly appreciate its hot water offering.
Something that really stands out about this product is that it uses condensing highly efficient technology. Hence, users can make use of the available venting as a conduit and foundations for flexible PVC vent pipes. This makes the EZTR40 model easy and quick to install when compared to other tankless gas heater units.
In addition, the package includes extras like isolation valves and vent kits to help you install the heater with ease. For this reason, you don't have to be intimidated by the long and tiring installation process that is seen in the traditional models. The heater has 120, 000 BTUH requirements, and it can be installed in half an inch gas line.
One common issue that most homeowners have with natural gas tankless heaters is the level of noise. However, a good number of customers are pleased with this unit's quiet operation. The unit works effectively without causing clicking relays, allowing you to enjoy a serene environment.
Most reviewers also note that the model has no fluctuations or leakages as is the case with other models. This delivers smooth and trouble-free operation.
Highlighted Features:
Flow rate: 6.6 GPM
Energy factor: 0.87
Condensing technology
Weight: 85 pounds
Warranty: 12 years for heating exchanger and 7 years for other components
What We Like:
Suitable for small homes
Easy and smooth operation
Simple installation
Energy Star rated
Budget-friendly
WiFi compatibility
Top-mounted connections
What We Don't Like:
Only ideal for indoor use
2.  Indoor Natural Gas Wall Mounted Boiler and Tankless Heater
If you don't have much space in your home, the CB199-DV-NG model from Noritz would be a brilliant choice. As the name suggests, this product includes a combination of a tankless water heater and a boiler to supply hot water for domestic use as well as for radiant heating systems.
Customers love it because it allows for both plumbing and hydronic (hot water) heating applications. The CB combination broiler not only meets domestic hot water needs but also space-heating needs.
It offers a two in one benefit, as it is designed to act as a water heater as well as a small furnace. Plus, it allows for concurrent water and space heating so that the room temperate of the water is not affected. This will undoubtedly give you value for your money.
If you are worried about the safety of your family, you will be pleased to know that this water heater uses condensing powers. This means that harmful fumes will be broken in the box so that only safe and non-toxic air is dispelled through the vents.
This indoor condensing heater is designed with fuel-saving performance in mind. Unlike other units in the market, it is designed to heat and supply hot water at 95 percent efficiency. This means that cold water will be heat to present temperature and little fuel will be lost in the atmosphere.
The domestic temperature mode is 90 degrees to 140 degrees F while the heating mode is 100 degrees to 140 degrees F. Better yet, the unit features an outdoor temperature sensor, a built-in programme for energy savings, and dual stainless steel heat exchangers. Plus, this product is designed with safety features such as water pressure sensors, gas leak detection, and water leak detection device.
However, according to Noritz tankless water heater reviews, it was reported that the boilers are poorly constructed and fail after a short period of time. Some also noted that it doesn't include the Noritz tankless water heater manual.
Highlighted Features:
Water flow rate: 0.5- 9.3 GPM
UEF: 0.95
95% thermal efficiency
Capacity: 18000- 199,000 BTU/H for domestic mode : 18000-120,000BTU/H for heating mode
Built-in outdoor reset control
Weight: 90 lbs
What We Like:
Delivers hot water quickly
Easy installation
Best for indoor use
Temperature controlled
Compact design
What We Don't Like:
Omits installation instructions
Only suitable for indoor use
3.  1 GPM Natural Gas Indoor Direct Vent Recirculating Tankless Heater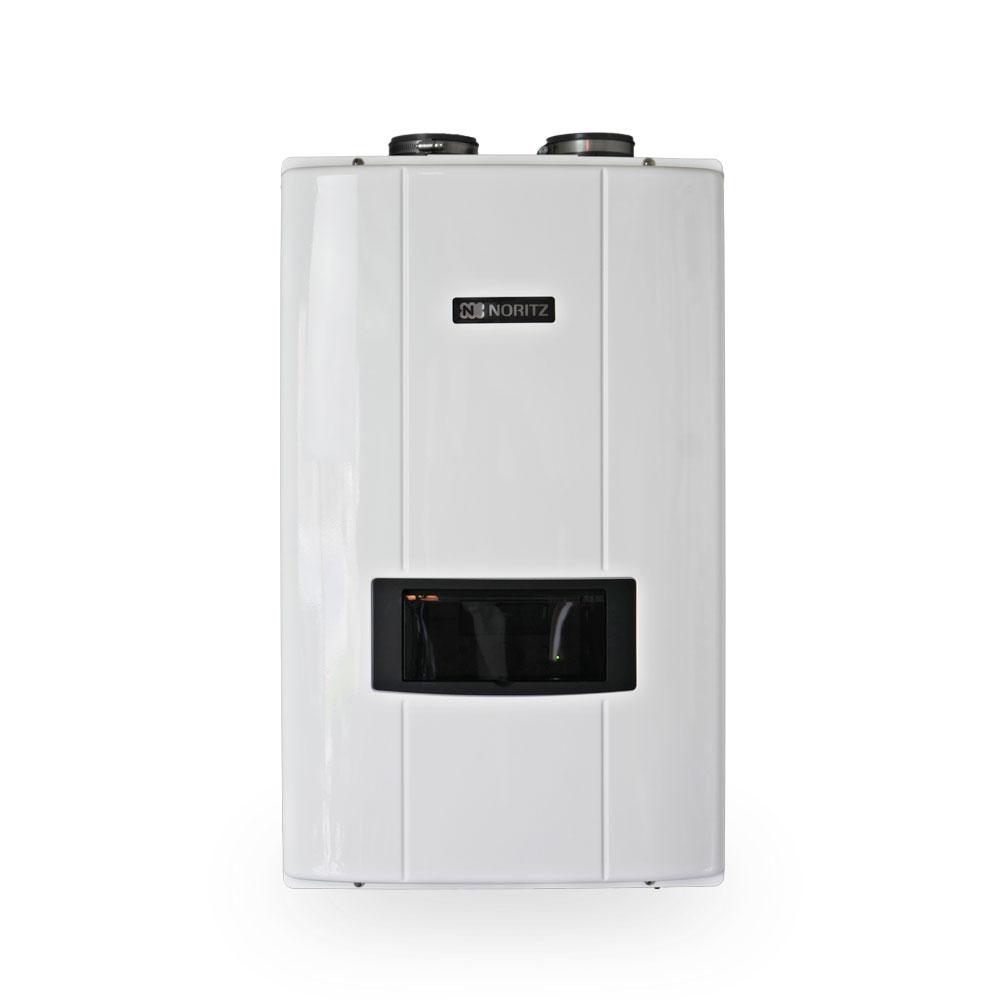 This is another best tankless gas water heater that has an incredible water flow rate of 10.1 GPM. A unique spec of the heater is the built-in recirculation pump that is designed to supply preheated water with a dedicated return line. The internal pump has to modes: the internal mode and the external mode.
If you are concerned about harmful environmental emissions, you will be glad to know NRCP98-DV-NG that a gas and water leakage detection is integrated. This way, you will be at peace knowing that your family is safe and no damage will occur to the product.
This Noritz product has a uniform energy factor of 0.94 and temperature settings of 100 degrees to 140 degrees F. It uses a high efficiency condensing technology and features a built-in weatherproof remote controller to help you customize the hot water.
An impressive feature is that this heater can be converted for outdoor use. This is despite the fact that it is specially designed for indoor use. One can also use it outdoors with the help of VCK-NRCP- 1 kit, which is sold separately
A feature that stands out is the crossover valve functionality that makes external circulation possible without needing a return line. You can also customize the temperature settings with ease, thanks to the remote thermostat included. According to customer Noritz tankless water heater reviews, it is evident that users love its smart heating technology.
Highlighted Features:
Water flow rate:10.1 GPM
Uniform Energy Factor: 0.94 UEF
Temperature settings: 100 degrees to 140 degrees F
Weight: 85 lbs
Gas consumption: 18000 BTU/H- 180,000 BTU/H
What We Like:
Includes durable stainless steel heat exchanger
Features internal pump with 2 modes
Highly efficient
Ideal for use both indoors and outdoors
What We Don't Like:
4.  75 Gal Tank Replacement 11.1 GPM Natural Gas Indoor Tankless Water Heater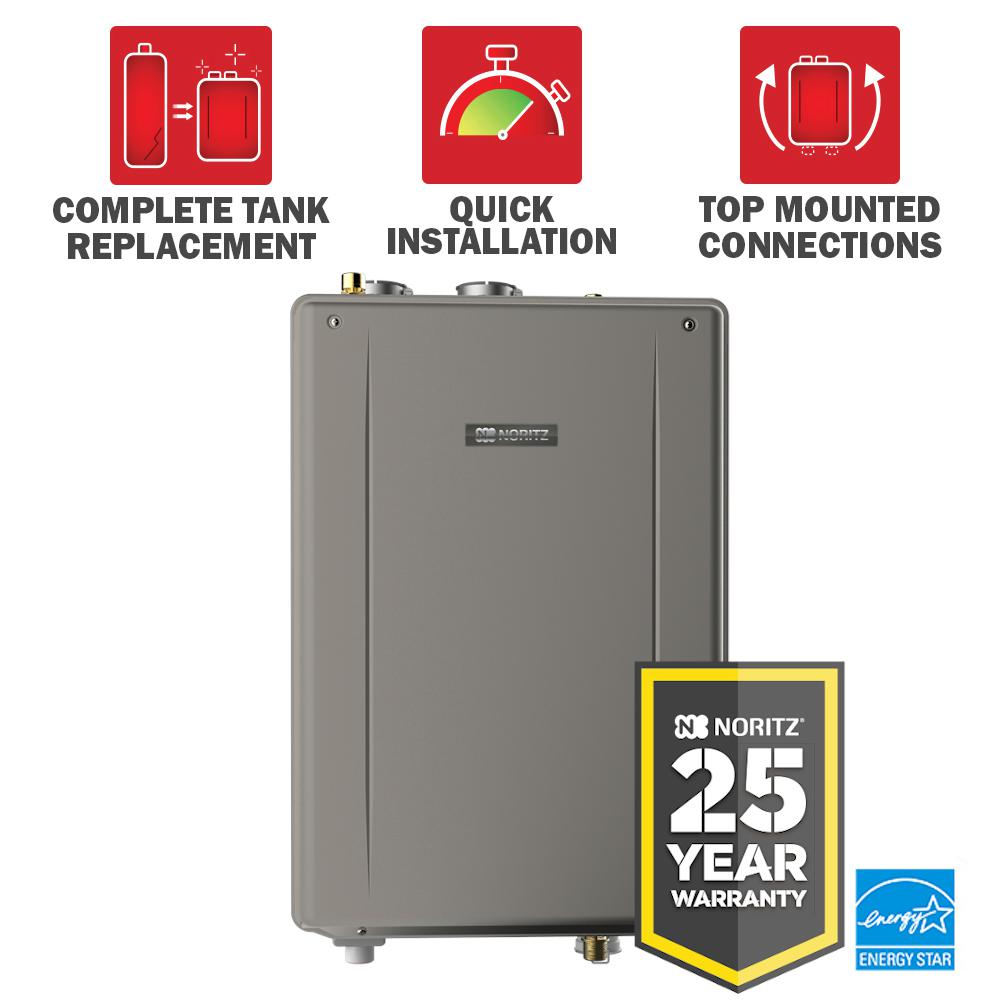 To start our list of Noritz tankless water heater reviews is the EZTR75 model that is designed for direct tank replacement. Therefore, if you have a 75-gallon tank water heater, this unit would be the most suitable option for you.
With a water flow rate up to 11.1 GPM, this unit is ideal for apartment and medium homes. Unlike traditional tank heater, this product is crafted with the hot and cold water connections at the top. For this reason, you will have an easy time making the replacement.
It is crafted for better efficiency as it uses the best air/fuel ratio depending on the demand. Not only is this tank highly efficient, but it is also wireless compatible, allowing you to control the heater, adjust the temperature, view usage, and receive maintenance alerts.
Based on Noritz tankless water heater reviews, it is evident that this product is quick and easy to install. The pack comes with everything you will need to get your heater up and running in no time.
Highlighted Features:
Water flow rate: 11.1 GPM
Uniform Energy Factor: 0.96
Weight: 81 lbs
Gas consumption: 18,000 – 199,900 BTU/H
25-year warranty
What We Like:
Includes installation materials
Top-mounted connections
Versatile venting options
Includes dual stainless steel heat exchangers
Long warranty
What We Don't Like:
5.  EZ111DV-NG Series Natural Gas Indoor/Outdoor Tankless Water Heater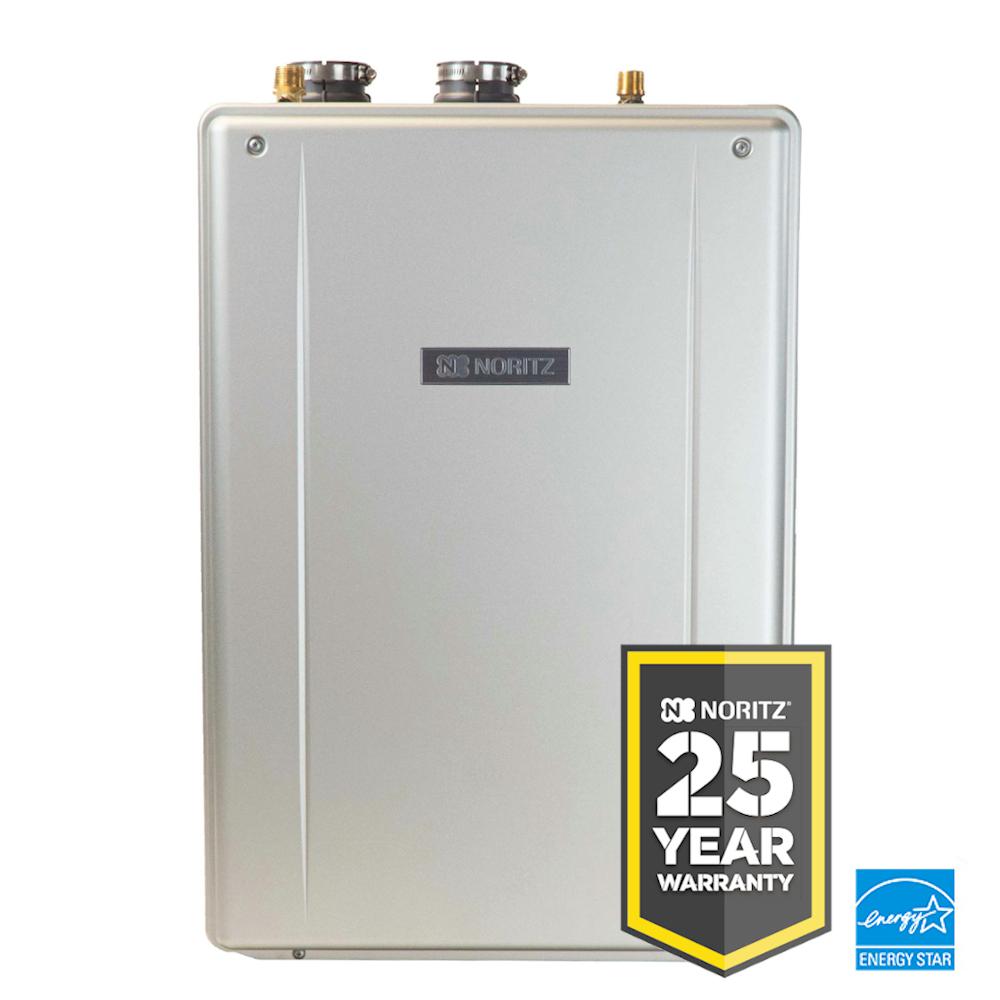 Are you planning to switch from your old tank heater to a stylish tankless water heater? Well, the Noritz EZ111 Indoor Tankless water heater would suit you best. This tankless water heater is an excellent choice for replacing your old tank without much difficulty.
With a standard GPM of 11.1, there is no doubt that this unit is unmatched and one of the best tankless water heaters in the market. This is the largest model in the EZ series, making it suitable for commercial purposes. Besides, large families and households with 3 to 4 bathrooms can be guaranteed endless hot water.
In addition, this product has a relatively higher energy factor when compared to other products in the market. It has a UEF of around 0.96, and it consumes from 18,000 to 199, 900 BTU.
This product features 2 stainless steel heat exchanges that can withstand scale build-up and corrosion. This helps to prolong the life of the heaters and boost their efficiency.
Installation of this tankless water heater is quite simple thanks to the top-mounted water connections included. Furthermore, the bundle features all venting and isolation valves that will make installation straightforward.
It is worth noting that this heater is designed for both indoor and outdoor use. The outdoor installation is made possible with the aid of a vent cap. You, however, need to purchase it separately.
Highlighted Features:
GPM: 11.1
Uniform Energy Factor: 0.96
Fuel type: Natural gas
Capacity:
Installation type: Indoors
Weight: 81 lbs
Temperature settings: 100-140 degrees F
½" gas compatibility
What We Like:
Suitable for large homes and commercial use
Energy efficient
Endless hot water supply
High water flow rate
WiFi compatibility
What We Don't Like:
Requires gas and water plumbing
Noritz Tankless Water Heater FAQ
What is the warranty?
All Noritz tankless water heaters are backed up with a 12-year non-prorated warranty for the heat exchanger, 5-year warranty for general parts, and a 1-year warranty for labor. This backs-up the quality and craftsmanship of the products. 
Do you have service technicians?
Yes, we have highly qualified service technicians that are trained to offer Noritz tankless water heater service. They can also help you with Noritz tankless water heater troubleshooting.
Where can I buy a Noritz tankless water heater?
Noritz water heaters are not sold through retailers but can be found at professional wholesale distributors like Amazon, Home Depot, and Build.com.
Conclusion
If you are looking for the best tankless water heaters to meet your family's hot water demands, look no further than Noritz tankless water heaters. Noritz is a reliable and reputable brand that constantly produces top-notch and highly efficient water heaters, as we have seen in our Noritz tankless water heater reviews above.
When shopping for a unit for your needs, make sure to consider all the important factors like functionality, ease of installation, size, power, gas size, rate of flow, weather readiness, safety, and price.  These parameters will help you choose a product that works best for your needs.