Looking for the best way to cool off this summer? Why not get yourself a nice, oval ground pool? Of course, doing that is easier said than done. It can be quite a challenge to find the best oval above ground pools out of all the choices out there.
That's why we created a list of Pool reviews for the best products to make narrowing down choices easier.
7 Best Oval Ground Pool Reviews
1.  Intex 18x10x42 Oval Frame Above Ground Pool
To start our list, let's talk about an Intex model. Now, Intex pools are very well-known for their high durability. After all, one of the main advantages of Intex is the fact that they create pools that list really long.
True to the nature of the brand, this Intex pool model was created for strength since it was made with extremely durable, powder-coated steel frames. Not only are they really sturdy, but they're also rust and corrosion-resistant as well. So even if they're exposed to water all day, they won't wear.
Highlighted Features:
Made out of powder-coated, sturdy steel frames
Very easy to set up
Has a full water capacity of up to 2,885 gallons
Has very strong laminated PVC sidewalls
Comes with Krystal Clear cartridge with 1,000 GPH
2.  Intex Prism Oval Swimming Pool Set
This is another Intex pool that also features the same type of durability shown by the last one. This one also has a powder-coated steel frame. The difference between this one and the first one though, is that this model has a much more elegant design.
It is elegantly shaped with 48-inch walls covering a great volume of water. If you're more particular with aesthetics, then this is a great choice to have for an oval above ground pool.
Highlighted Features:
Powder-coated steel frame
Elegant shape and design
Comes with 1,500 GPH pump
3,531-gallon water capacity
3-ply material liner used
3.  Bestway Power Steel Oval Swimming Pool
What we completely love about this Bestway pool is that it comes with two great maintenance features– the ChemConnect Dispenser and the control drain valve. The ChemConnect Dispenser is a specially made dispenser that provides a consistent and stable chlorine for the pool so that the water can be kept clean and safe for use.
Also, there's the control drain valve that makes it very easy to drain the pool. All you need to do is attach a garden hose with the adapter and you're good to go.
Highlighted Features:
Comes with a Chemconnect Dispenser
Tritech constructed side walls
Frame is made of corrosion resistant metal
In-built control drain valve
Ladder included
4.  Bestway Power Steel Vista Swimming Pool
This is probably one of the most uniquely designed oval above ground pools you can find. This above ground pool actually looks like it is made out of a basket woven material. However, the frame is made out of durable metal. When you get inside the pool, it's actually like you're inside a huge basket.
Aside from just the design though, it also has some pretty good features as well. For instance, it comes with a ladder, ground cloth, drain adaptor, and a ChemConnect dispenser.
Highlighted Features:
Attractive metal built
4-foot depth
Comes with a ChemConnect chlorine dispenser
3-layer PVC wall
Very easy to assemble
Comes with adaptor and drain plug
5.  Lake Effect Galeria Swimming Pool
While most of the above ground pools we've mentioned have frames that are powder-coated, this one's a little different. This one has a frame that's made out of resin-coated steel which not only protects from corrosion but from rusting as well. So, when it comes to overall longevity of your above ground pool, this is the most ideal.
Other than just durability, this pool also has a great design. It has a bedrock pattern liner, which is a pretty unique look that most above ground pools don't have.
Highlighted Features:
Resin coated steel frame
Bedrock pattern design
Hot dip galvanized steel
Corrosion resistant body
52-inch height
6.  Wilbars Meadows Swimming Pool
The best thing about the Wilbars Meadows pool set is that it contains everything you need to own an above ground pool. The package already includes a ladder, a widemouth skimmer, a sand filtering system, and a 1 hp pump.
You could say that this brand offers the most complete pool set that you can ever find. With this set, plus a really detailed instruction manual, you're all set to bring up your oval pool.
Highlighted Features:
Complete package
Comes with a slide and lock ladder
Boulder swirl design
Patriot sand filter included
Includes a 1 hp pump
7.  Blue Wav Martinique Oval Pool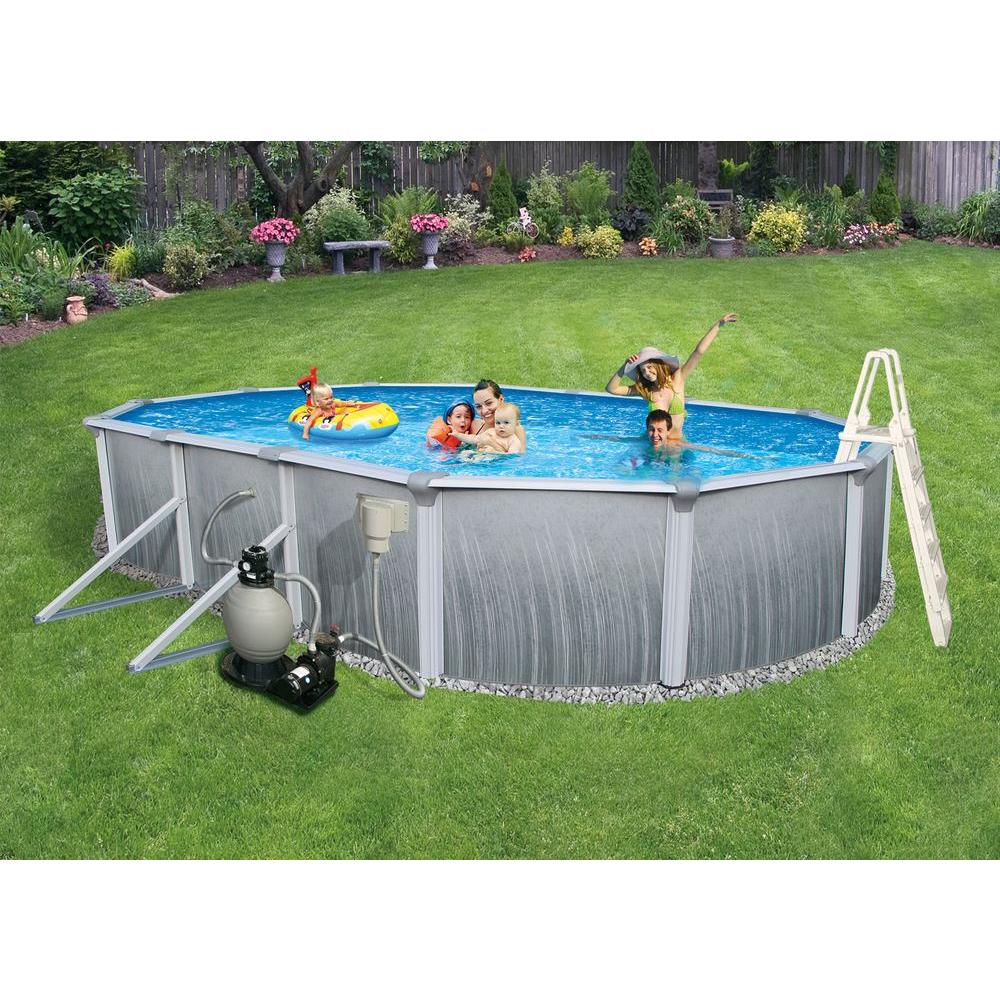 Last on the list is the Blue Way Martinique Oval Above Ground Pool. This one probably has the highest water capacity out of all the pools on this list. Considering the large size of the pool, that's actually no surprise. To be specific, this model can hold up to 15,000 gallons of water. If you have a big family or a lot of friends who use the pool (like around 10 people ) very often, then this is the brand to consider getting.
Highlighted Features:
Steel frame
Comes with both a return system and skimmer
Has a height of 7 inches
Comes with sand filter and pump
Has a water capacity of up to 15,000 gallons
Conclusion
Now that we're done discussing the 7 best oval above ground pools, why don't we reveal the best above ground pool out of all the choices here?
When picking the best of the best, we usually choose based on the features given. We want the most well-rounded above ground pool as our winner.
With this in mind, we believe that the Bestway Power Steel Vista Oval Above Ground Pool is the best. This pool has an extremely unique look, an efficient chlorine dispenser, a drain plug, and a very durable steel frame. Plus, it's one of the easiest pools to assemble. That's why it's our favorite pick and the top 1 product out of the 7.