Rheem Corporation is one of the largest water heater manufacturers in the industry. They are renowned for producing commercial and residential boilers as well as water heaters. It was established in 1925 by brothers Donald Rheem and Richard Rheem.
Operating for over 95 years, the company has since established itself in the industry as the only manufacturer that produces products like high-quality water heaters, commercial refrigerators, and more.
Their products can be found everywhere in the US and even abroad. The company is also recognized as the leading producer of heating products in North America.
In this article, we will look at 3 of the best 40 gallon electric water heaters from Rheem.
Reviews of the 3 Best Rheem 40 Gallon Electric Water Heaters
1.  Rheem Performance 40 Gal Medium Electric Tank Heater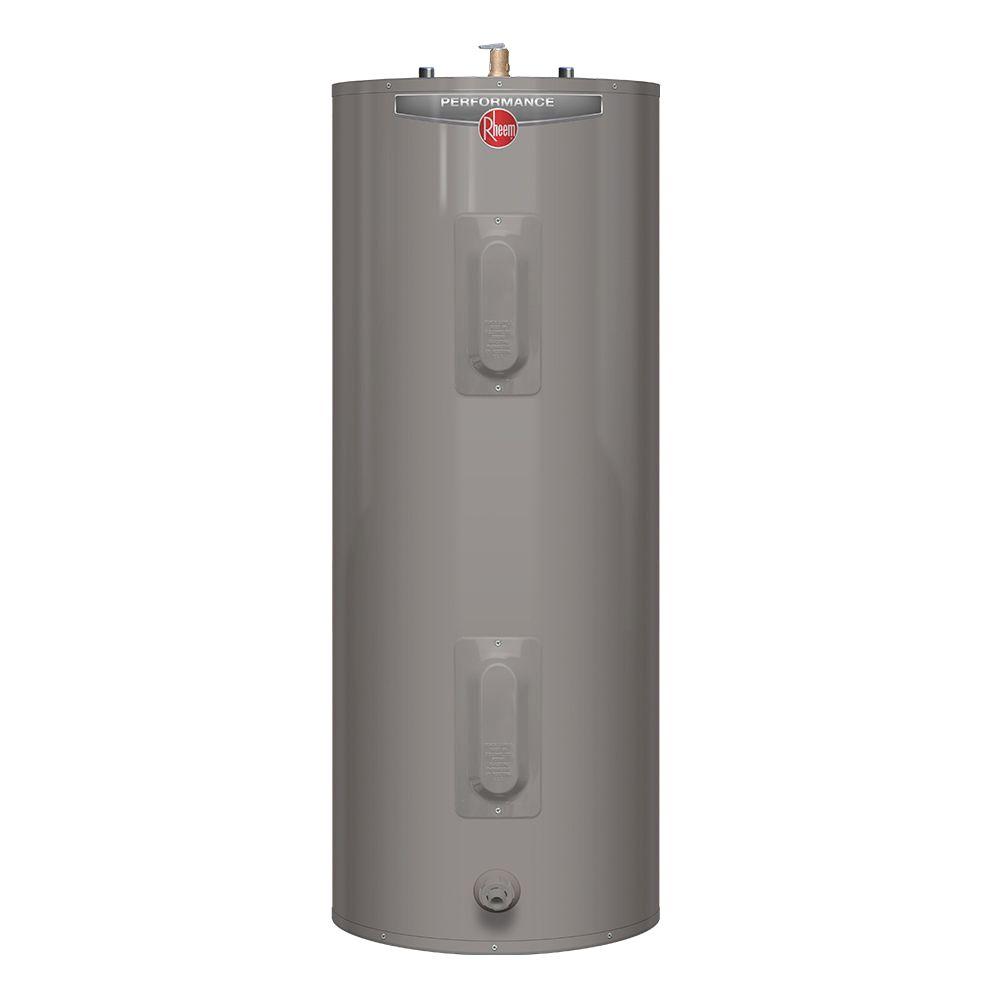 If you are in the market for an electric tank water heater that will provide your home with a steady supply of hot water at all times, then the Rheem Performance 40 Gal is a good choice.
As the name suggests the tank measure 40 gallons and can deliver adequate hot water for 2 to 4-person households, even with daily water usage. Besides, its first-hour rating is 53 gallons.
What stands out about this product is its energy factor of 0.93. With this rating, you can guarantee that this electric water heater tank is extremely efficient and prevents heat loss.
Rheem Performance requires a 240-volt connection, the usual for large heaters. This makes it possible for it to supply ample power needed to heat large volumes of water.
The tank features a dual 4500-watt heating element that heats the water almost instantly. The heating element stores the hot water in the tank until needed. This way, you and your family will be able to enjoy endless hot water whenever you want.
Many consumers note that installation is pretty simple and straightforward. This is because it includes a pressure relief valve, factory installation temperature, and ¾ inch water connection.
Furthermore, it is designed in such a way that it is easy to replace an already existing water heater.
According to a recent Rheem 40 gallon electric water heater review, it also noted that this water heater fits well in a variety of door spaces. It features a medium profile and can fit even limited spaces.
However, some noted that they had problems connecting the pressure relief valve which led to leakage.
Highlighted Features:
Tank capacity: 40 gallons
The first hour of delivery: 53 gallons/hour
Fuel type: Electric
Uniform energy factor rate: 0.93
A dual 4500-watt heating element
240-volt connection
Temperature: 90-150 (F)
Warranty: 6 years
Benefits:
High efficiency– This water heater uses low energy while ensuring a constant supply of hot water in your household.
Long warranty– Rheem offers a 6-year limited warranty for the tank parts and one year for home labor warranty. This is due to the premium anode rod that adds to the tank's life and lowers maintenance needs.
Anode Rode– As mentioned above, the Rheem Performance features a magnesium-crafted anode rod and comes with a special resistor to offer protection against corrosion.
Heats water pretty fast
Medium, compact size
Energy efficient
Decent first-hour rating
Suitable for households of up to 4 people
Quiet operation
Not suitable for outdoor use
Prone to leakage due to poor connections
2.  Rheem Performance Platinum 40. Gal Hybrid High-Efficiency Smart Heater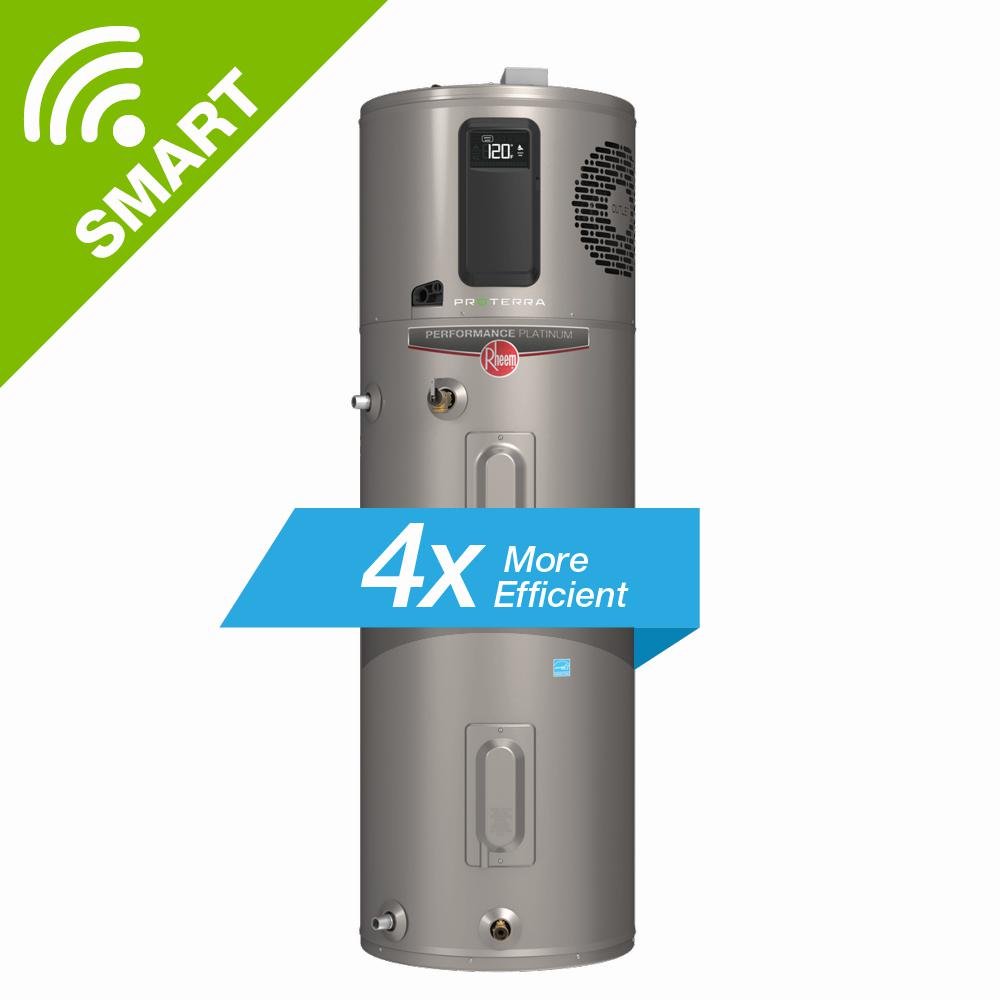 Another Rheem water heater that is well-known for its high-efficiency rating. If you are an environmentally-conscious consumer, then this Performance Platinum electric tank is the best choice for you.
The hybrid pump design increases this tank's efficiency to a rate that's 400% higher than standard electric water heaters.
It also boasts an energy factor rating of 3.75 and Energy Star approval. This combination results in high energy savings, reaching up to $460 per year for 10 years. Plus, the tank is highly sustainable as it reduces carbon footprint by 75%.
Sediment build-up is a major issue of electric water heater tanks. However, this unit doesn't have that as it incorporates a self-cleaning system. This is designed to reduce sediment build-up at the bottom of the tank.
As a result, the tank will provide hot water while ensuring efficiency and prolonging the life of the tank.
Impressively, this unit features Smart technology that includes a built-in EcoNet WiFi app. The WiFi kit comes in handy as it enables the user to remotely control the unit and receive instant mobile alerts.
With the EcoNet app, you will have an easy time managing the availability of hot water and tracking your water usage. This app allows you to track your weekly, monthly, and even yearly usage. Additionally, you will be able to manage the heating schedule and control the modes from your phone.
When it comes to installation, you will be amazed by how easy it can get to install the Rheem Performance Platinum Hybrid Electric tank. Most customers have reported that they were able to install this unit without much difficulty. Besides, the electrical junction box can be accessed with ease for clear-cut hook-up.
This heater delivers 36 gallons of hot water, making it suitable for 2 to 4-person households with 2 bathrooms. It features quiet operation and the temperature settings can be adjusted from 110 to 150 F. Moreover, you can use your phone to schedule the temperature so that it matches your routine.
However, some consumers note that the tall profile of the heater can make it difficult to install.
Highlighted Features:
Tank capacity: 36 gallons
Temperature settings: 110-150 (F)
Fuel type: Electric
Volt connection: 240 V
WiFi compatibility
Water heater profile: Tall
Benefits:
Incorporates Smart technology– This water heater features built-in WiFi, allowing you to control the unit from anywhere.
Uses 75% less energy- Energy-wise, this heater is very efficient and will drastically lower your energy bill.
Self-cleaning system- This system protects the electric water heater by lowering sediment build up.
Tank Lining- This tank is designed with a glass lining that prevents corrosion and extends the tank's life.
Ultra-high energy efficient
Extremely easy to install
WiFi compatible
Self-cleaning system for low maintenance
Heats quickly
Offers unmatched savings
Exceptionally quiet
Tall clearance may cause installation issues
3.  Rheem Marathon 40. Gal Tall Lifetime Electric Water Heater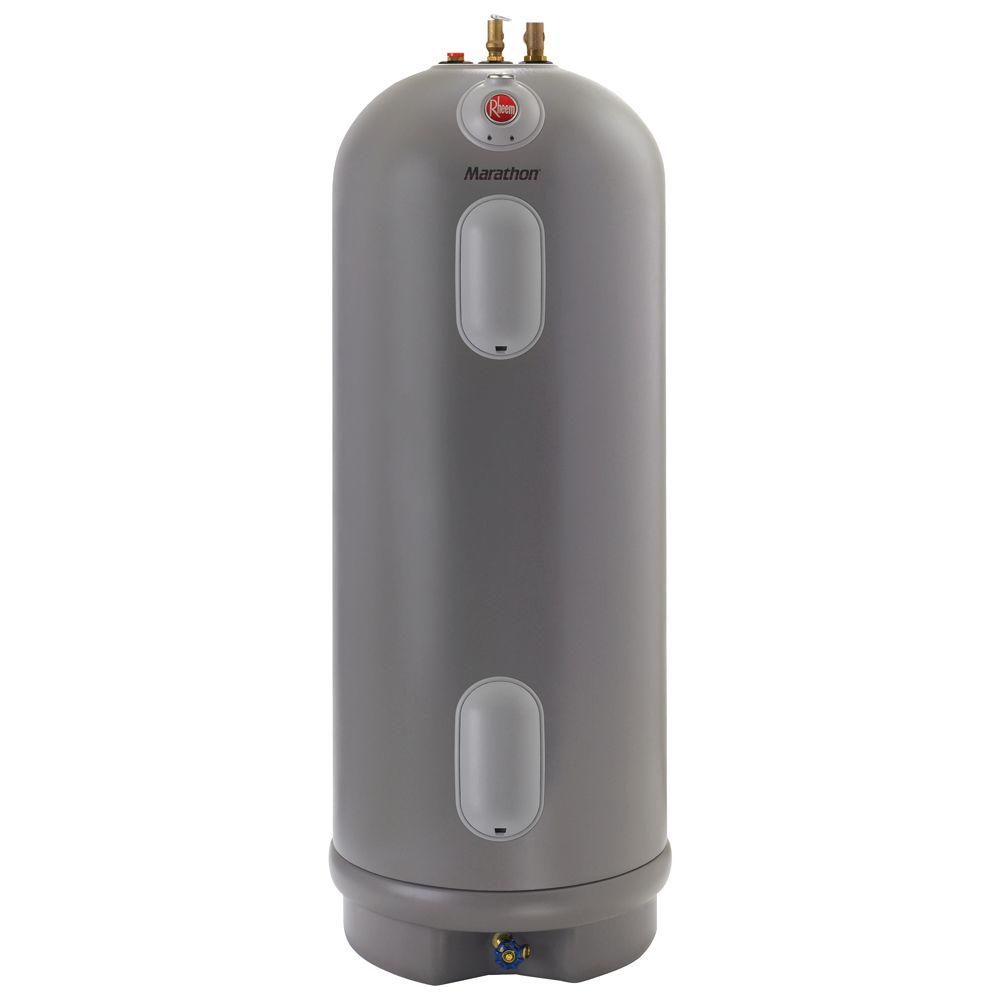 Next on our list of the best Rheem 40 gallon electric water heater reviews is the Marathon 40 gallon electric water heater. Featuring a cylindrical plastic construction, the Rheem Marathon electric water heater is designed for those who are after a non-metallic heater.
Residential owners can install this water heater to provide constant hot water for both their bathroom and kitchen. Its 40-gallon capacity can easily sustain a 3-person household.
Because it's non-metallic, this heater is entirely corrosion-resistant. Additionally, it is designed with a lower titanium heating element that ensures superior lime-build up resistance. Therefore, this makes it suitable to install in areas with hard water. Furthermore, it doesn't use an anode rod. This means you won't have to deal with smelly water.
If durability matters to you, then you will be pleased to know that this electric heater is constructed with sturdiness in mind. It is without a doubt one of the most durable electric Rheem water heaters. The product comes with a lifetime warranty that guarantees its durability and top-notch quality.
Also, unlike other heating elements that are made from stainless steel, the heating element of the Marathon is made from titanium. This gives it added durability. On the other hand, the upper element is thermally-fused for adequate dry-firing protection. Despite its durability, most users love that the unit features a lightweight design.
Apart from the non-metallic body, this heater also boasts a bowl-shaped bottom designed to improve drainage. This will make eliminating sediments and maintenance easier.
The Rheem Marathon water heater has a 0.92 Uniform Energy Factor and a 4500W wattage. It heats water at a minimum temperature of 90 F and a maximum temperature of 150 F. The 40-gallon heater has an impressive 51 gallons per hour first-hour rating.
According to Rheem 40 gallon electric water heater reviews, most users love its easy installation. However, a good number of them reported experiencing leakage issues right after installation.
Highlighted Features:
Tank capacity: 40 gallons
Temperature setting: 40F -90F
Fuel type: Electric
First Hour of Delivery: 51 gallons/hour
Voltage connection: 240 volt
Wattage: 4500 watts
Tank Warranty: Lifetime
Benefits:
Lifetime warranty– This water heater is supplied with a lifetime warranty and 6-year warranty for replacement parts. The lifetime warranty makes it the best rheem 40 gallon electric water heater in the market.
Added durability– The tank is designed with a non-metallic body that is highly durable and corrosion-resistant.
Maximum efficiency– The tank is covered with rigid foam insulation to ensure its efficiency.
Omits Anode rod- Due to its plastic construction, the water heater is corrosion-resistant. The lack of an anode rod prevents foul smell in the water.
Non-metallic construction
Easy to install
Doesn't need an anode rod
Superior resistance to corrosion and lime-build-up
Highly durable yet lightweight
Lifetime warranty
Conclusion
In the market for a water heater but aren't sure which model to get? Hopefully, this Rheem 40 gallon electric water heater review will guide you in choosing the most suitable heater for your hot water supply.
These electric water heaters will ensure exceptional hot water supply suitable for you and your family. Whether for bathing or cleaning, these water heaters can provide you with the hot water you need.
When making your selection, make sure that you keep important factors in mind. This includes tank capacity, efficiency rating, recovery rate, first-hour rating, durability, and storage space.