Water heaters provide hot water that can be used to shower, clean, or cook daily. Because of this, a lot of people depend on water heaters for their everyday activities like showering, cleaning, and cooking.  Water heaters can be great investments, so it is important that you pick the right model for your house.
A lot of people choose to get their water heaters from Rheem, and it is not without reason. Being a reputable water heater producer in the industry, Rheem offers a lot of water heater models to choose from.
Before you head out shopping, it is important to read the best Rheem tankless water heater reviews. This can help in answering the question, Which Rheem tankless water heaters are the best? Below is a rundown of the best Rheem heaters and more, to help you make an informed decision.
Reasons Why You Should Consider Rheem tankless water heater
There is a particularly good reason why Rheem is considered one of the most famous and reputable water heater producers in the market. Compared to other brands, they have a vast number of water heaters. Furthermore, their units usually get above-average feedback from Rheem tankless water heater reviews.
Many customers prefer Rheem's water heaters because they are very efficient in terms of heating water. As a result, they have constant access to hot water. These heaters can also save you money and the environment. This is because it consumes less energy and lessens gas emissions. There are also additional advanced troubleshooting diagnostics.
Moreover, you can also connect their tankless water heaters to a feature called EcoNet. It gives owners the chance to enjoy the advantages of different smart features.
Here a more reasons to get a Rheem tankless water heater:
Durability- Aside from having stainless steel heat exchangers, it can resist corrosion.
Superior power and performance
Energy-saving- Compared to other brands, Rheem has more ratings from Energy Star.
Lower emissions- Tankless water heaters from Rheem follow the strict requirements of Low-NOx.
Innovative design and heating system
Compact, space-saving design
Wide -range choices
Rheem Water Heater Types
Here are the different types of water heaters models from Rheem.
Electric Tankless
This type of water heater has systems that is run by electricity and it only heats water when needed. Since it is a water heater tankless type, it does not need a water storage tank.
The water gets heated when it moves from the source to the tankless water heater to the faucet.
Moreover, this type of water heater saves more energy compared to gas models. It is easier to install since there is no required ventilation from the outdoors. You might find the best electric tankless water heater on our product list.
Gas Tankless
This kind of water heater is like the electric tankless water heater since it also provides hot water as needed. Nevertheless, its source of power is natural gas or propane. Unlike electric tankless, it needs ventilation, and it could be more difficult to install.
It also consumes more energy and has a larger size. However, it is cheaper than electric types. Later, you might see the best gas tankless water heater for you on our list.
Hybrid Series
Many know the hybrid series of water heaters as heat pump water heaters. These water heaters utilize electricity to carry already generated heat instead of producing more heat. The process as to how it heats water is more technical.
Nevertheless, it makes this type more energy saving. If the demand for water is too high, it acts as an electric tankless water heater and heats the water by using electricity.
Rheem Tankless Water Heaters – Product Overview
Rheem Standard Features
Rheem water heaters are known for their standard features as we see below: 
Flow Rate
The electric tankless water heaters from Rheem have various Gallons per Minute or GPM rates. GPM is the amount of water that water heaters produce at a given time. If the GPM is high, you can use more hot water at the same time. For showers, the GPM is 2.1. Some heaters have 8.8 GPM. This is ideal for big houses. The RTEX-04 has the lowest GPM, and RTEX-36 has the highest.
Source of Power
You can choose different power sources for your Rheem water heater. Some of these sources are natural gas, electricity, liquid propane, and solar power. Each has advantages and disadvantages. Therefore, it is best to weigh these.
To illustrate, if you have an RV, a water heater that uses liquid propane is great. This is because of its portability, but it is more expensive. Solar-powered heaters are energy-saving but installing them can be pricey. Though gas heaters are cheaper, electric heaters are more efficient.
Heat Output
The unit of measurement for heating output in Rheem heaters is British Thermal Units or BTU. There is greater thermal energy produced at a single time if the BTU is higher. To put it more simply, your unit will produce more heat if the BTU of your unit is high.
The highest BTU available at Rheem is 199,000. Some units have a starting BTU of 160,000.
Energy Efficient
All the water heaters from Rheem are energy-saving. They also have Energy Star ratings. The efficiency rating of tankless water heaters can reach up to 99.8%. Therefore, only 0.2 of produced energy from these units are lost. The heaters use the rest of the energy to heat transferred water.
Use for Indoors or Outdoors
You can opt to get water heaters that are for indoor use, outdoor use, or both. Therefore, it is important to check the product description of the water heater you want. This is to see that you get the ideal one for your needs. Moreover, you should check where you plan to install or use it. Water heaters from Rheem are available for indoors and outdoors applications.
Safety
There are water heaters from Rheem that have additional features to make them safer to use. Some of these are auto shutdown function and temperature controls. Therefore, you can think of the safety features you want. This can help when you consider the best tankless water heater for you.
Warranty
The Rheem water heater warranty is usually 5 years. This is unlike other water heater manufacturers that only offer a 1-year warranty. Thus, the one from Rheem is considerably good. Besides, the units from Rheem are amply reliable because they could function for 5 to 10 years.
Tankless Water Heater Installation

 Cost
If you need professional help for installing your Rheem tankless water heater, you may need to pay between $600 to $1500.
The prices depend on various factors. Some of these depend on the venting while some depend on whether it will be installed outside or inside. The installation price can also vary on whether you need to have a gas line for the heater.
For the Rheem Professional Series, the installation could be part of the price. Nevertheless, you can only avail it to local dealers.
You can read more here.
9 Best Rheem Tankless Water Heater Reviews: Our Top Pick
Here are 9 best tankless water heaters from Rheem. 
1.  36 kW, 6 GPM Electric Tankless Water Heater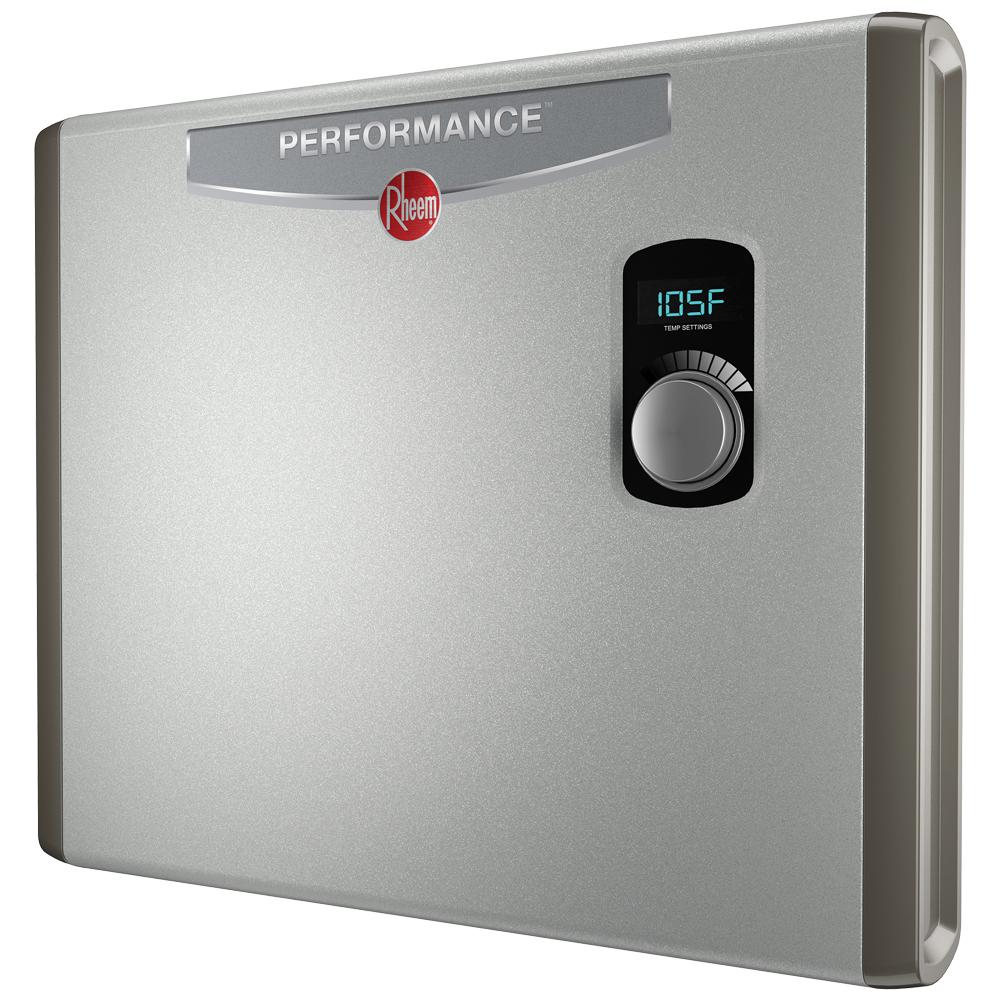 If energy efficiency matters to you, then this 6 GPM model could be an ideal choice. Because of this water heater's self-modulating feature, you can save money from energy costs. Moreover, this is ideal for your home because it provides a non-stop supply of hot water. You get hot water when you need it.
You could save up to 50% of water heating expenses in the point-of-use application and 34% on the whole-home application. The controls for adjusting the temperature are easy with a degree increment.
Its compact size is perfect for tight spaces such as under the sink or cabinet. It is also easy to install. Furthermore, you do not need venting or T and P valves.
Highlighted Features:
Fuel type: Electric
Wattage: 36000
Amperage: 150
Flow rate: 6 GPM
Application type: Residential
Temperature setting: 80-140 degrees F
Electronic temperature control
Wall mounted
Pros:
Heats up water fast
Provides plenty of hot water
Works well even if multiple sources use hot water
Quiet
Easy to install
Heating elements are easy to replace
Compact size
Cons:
Reports of light flickering when customers use hot water
Connectors in the unit could be too small
2.  13 kW, 2.14 GPM Electric Tankless Water Heater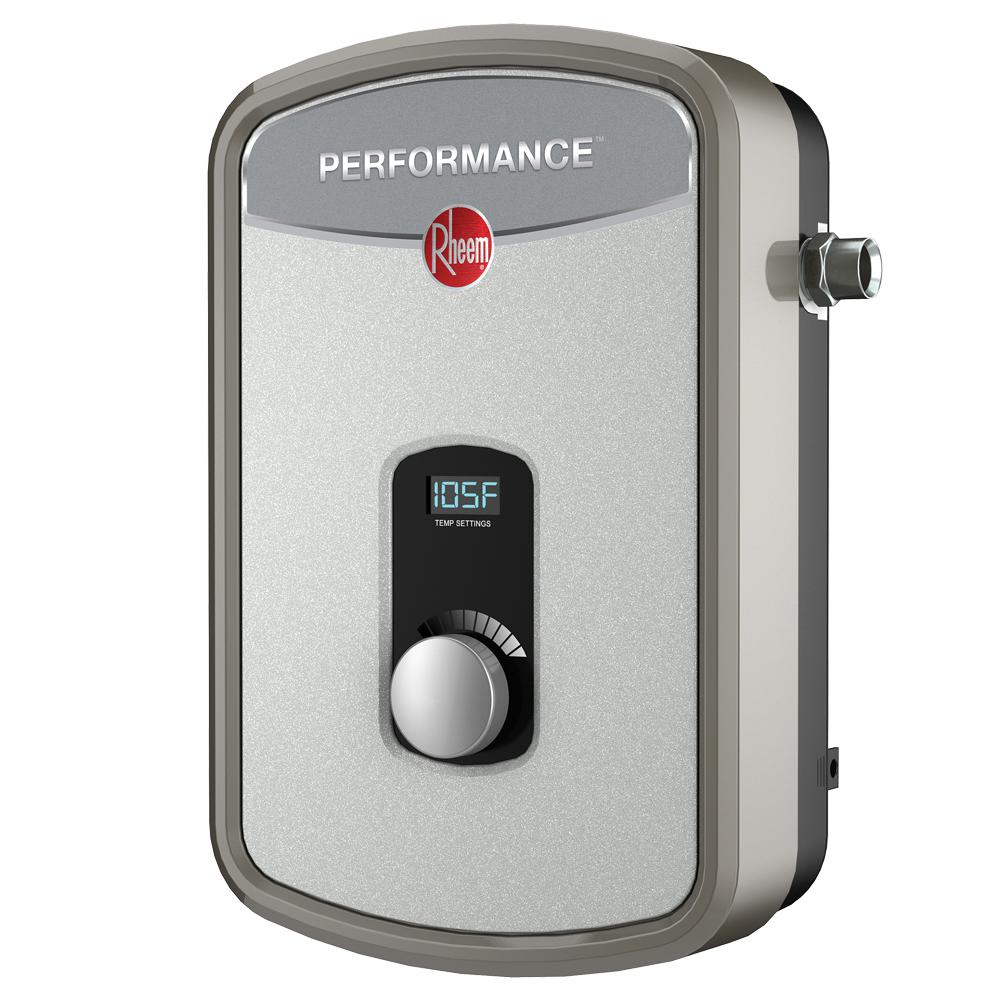 This water heater has received good Rheem tankless electric water heater reviews. This can be the water heater for you because it has good quality for its price.
The flow rate is not too high or low. For people with 1 bathroom or medium-sized household, this is ideal. They will not likely experience problems with regards to the supply or temperature of the water.
The water temperature is always regulated. When you shower at a high temperature, there is a small variation in temperature. Moreover, the showerhead helps to conserve water. There will not be any problem with the water flow even if you use three at a time.
Although it runs on electricity, it is 99.8% energy efficient. Nevertheless, Rheem has yet to register this unit for an Energy Star rating. Still, you can notice a reduction in your energy costs by choosing this unit.
Highlighted Features:
Fuel type: Electric
Temperature setting: 80-140 degrees F
Wattage: 13000
Flow rate: 2.14 GPM
Application: Residential
Amperage: 57
LED display digital thermostatic control
Wall mountable
 Pros:
Provides hot water to different sources simultaneously
Installation instructions are easy to follow
Heats water quickly
Easy to adjust
Energy efficient
Simple installation
Saves water
Cons:
Warranty of the unit itself could be longer
Reports of needing minor adjustments
3.  6 KW Point-of-Use Electric Tankless Water Heater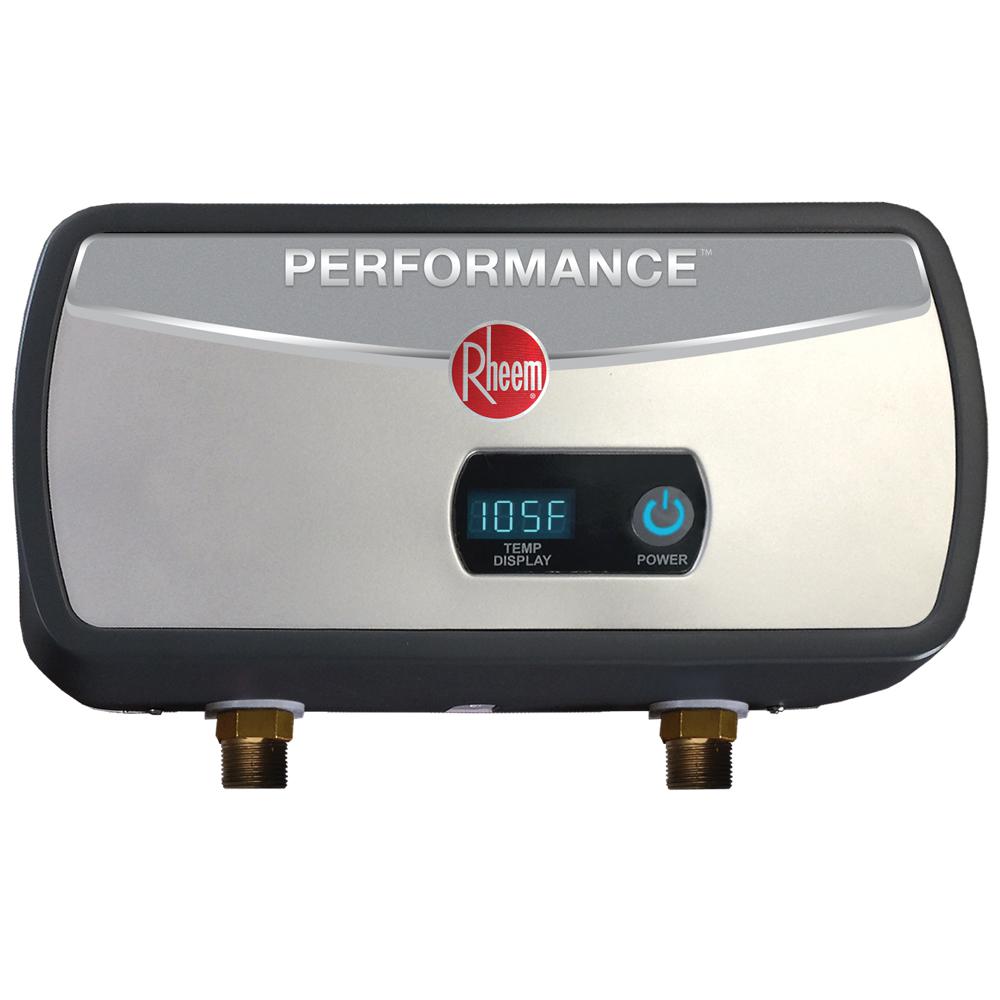 This is the best point of use electric tankless water heater from Rheem. this is because it lessens the use of energy. As a result, you save more money. The water heater only gives hot water on demand.
It is compact, making it great for small spaces. With 1.0 GPM, the unit could provide enough hot water for 2 faucets depending on the location. For convenience, it has electronic controls for temperature that you can adjust from 80 to 140 degrees F with a degree increment.
Furthermore, it is low maintenance. However, you need to get help from a professional to install it. If you will do flex hose installation, it matches with half-inch water connectors.
Highlighted Features:
Fuel type: Electric
Flow rate: 1.0 GPM
Uniform energy factor: .98
80-140°F temperature range
Wattage: 6000
Amperage: 29
Wall mountable
Pros:
Great for apartments and small spaces
Straightforward installation
Gives hot water on-demand
Nice quality
Money, space, and energy-saving
Temperature is easy to adjust
Heating elements are easy to replace and durable
Cons:
Inconsistent flow rate at times
Could trip the breaker
4.  5 GPM Indoor Platinum Natural Gas Tankless Water Heater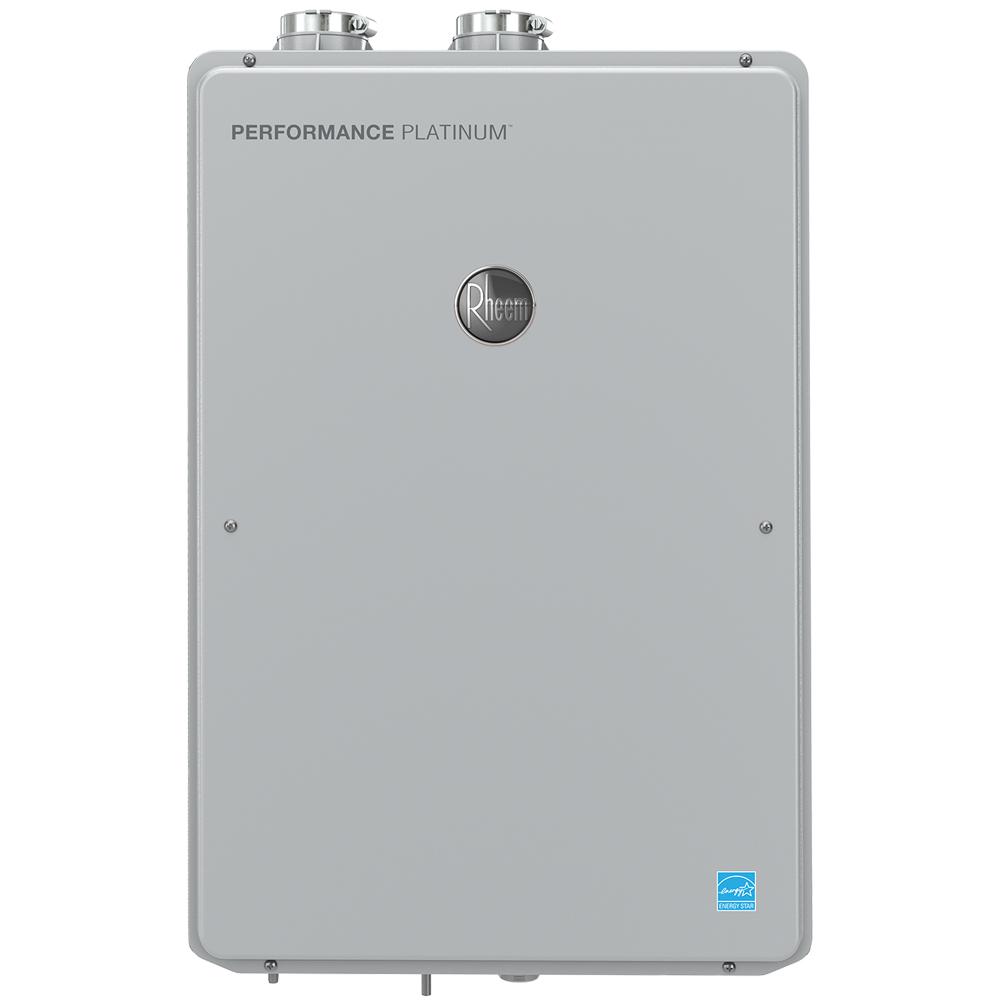 According to some Rheem performance platinum gas water heater reviews, you could save a lot from energy costs by using this indoor water heater. You can save an estimated amount of $1,100 in 12 years. Furthermore, it has an Energy Star rating. With a 0.93 Uniform Energy Factor, you can avail of the incentives and rebates. The water-saving setting feature could save you over a thousand gallons of water each year.
Highlighted Features:
Fuel type: Natural gas
Flow rate: 9.5 GPM
Application type: Residential
Temperature setting: 85- 140 degrees F
Uniform energy factor: 0.93
12-year limited warranty on heat exchanger, 5-year limited warranty on parts, and a 1-year warranty for home labor
Pros:
Value for money
Easy installation
Saves a lot of space
Consumes less gas
Continuous hot water to up to 3 bathrooms
Could save 1,000 gallons of water each year
Saves on energy costs
Cons:
A bit long for the tank to deliver hot water
Upfront costs are a little expensive
5.  11 GPM Indoor Platinum Natural Gas Recirculation Tankless Water Heater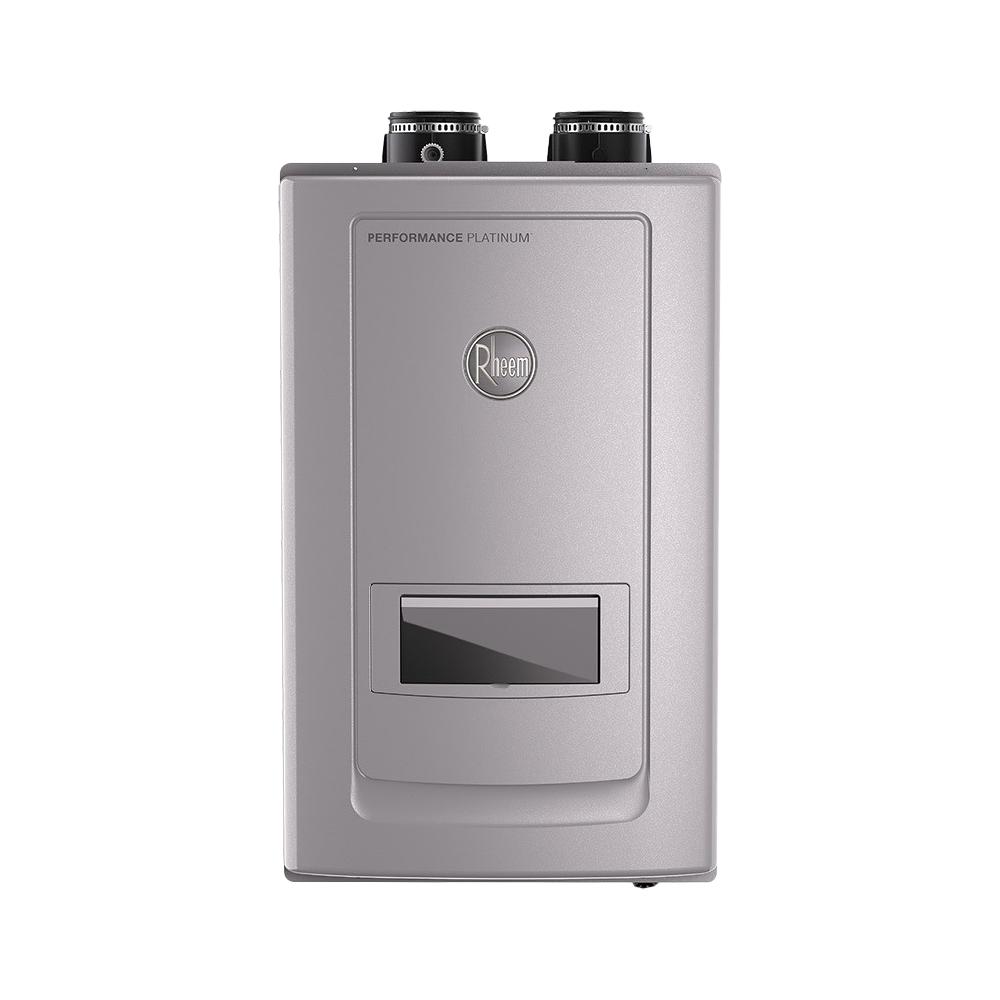 Because of its built-in recirculation system, this water heater has received many Rheem gas tankless water heater reviews. It sends hot water to faucets fast and continues to do so if you need hot water. It is also efficient and energy-saving. Thus, you can save a lot. It is a model with an Energy Star certified rating. Therefore, you could also save more money. You save more from installation-related expenses, space, water, and time.
Rebates are also possible for more savings. You could also take note that this is compatible with PVC vents.
Highlighted Features:
Fuel type: Natural gas
Flow rate: 11 GPM
Application type: Residential
Uniform Energy Factor: 0.94
Temperature setting: 100-140 degrees F
Wall mountable
Freeze protection
Ultra LoNox
Pros:
Easy installation
Operates quietly
The recirculation pump is great
Value for money
Recirculation technology features make hot water readily available
Venting compatibility saves installation expenses
Floor-space saving
Cons:
Additional costs for installation and parts
The inconsistent temperature when there is a change in the water flow
6.  5 GPM Outdoor Natural Gas Tankless Water Heater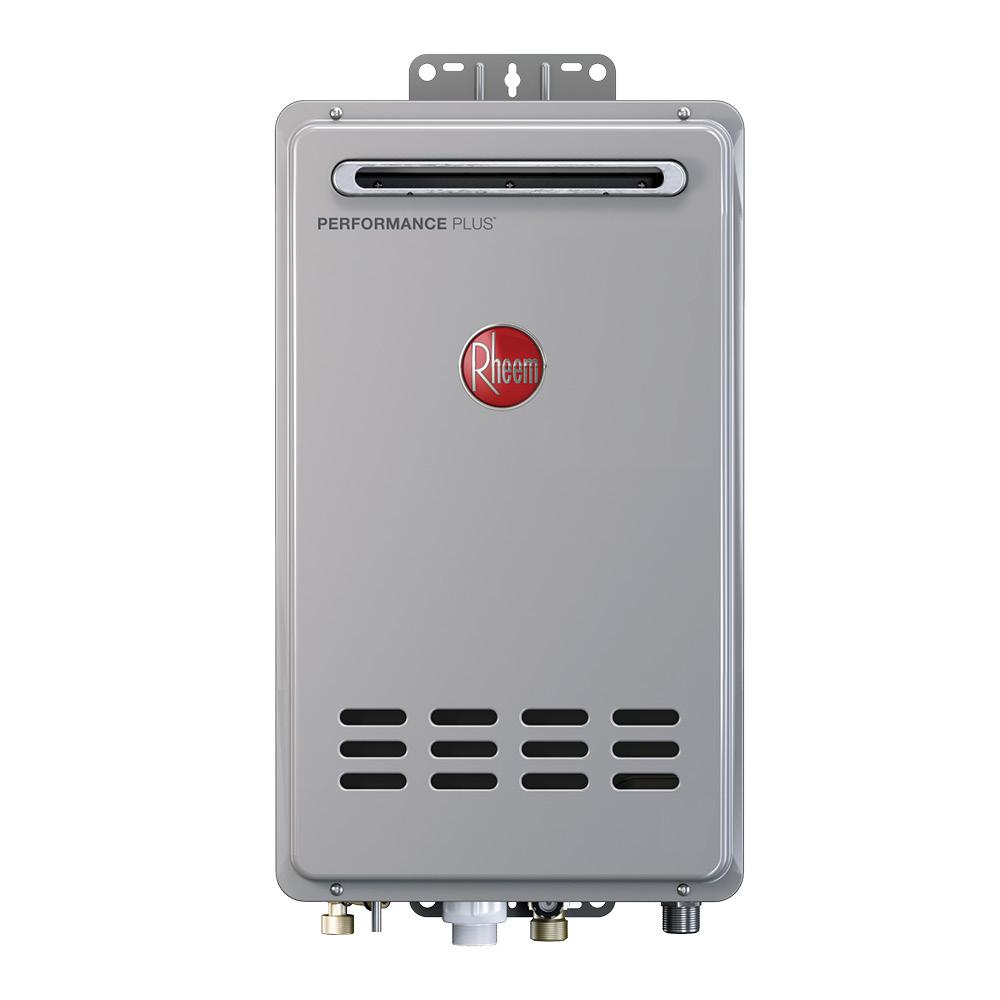 This outdoor tankless water heater is an excellent natural gas water heater. It is unique because you can install it outdoors. Therefore, it saves you space indoors.
You do not need to worry about changing weather conditions. It can withstand even very cold climates. It has freeze protection. Thus, it can hold temperatures up to -30 degrees. Beyond this temperature, it could freeze. Except if you live in the Arctic, the water heater will not freeze.
The best features of this water heater are the pump and hot start feature. First, the pump recycles the water that was heated in your plumbing. As a result, it improves efficiency. The water-saving technology feature could save you over much water every year.
Second, the hot start feature reduces the flow rate. This is until the water has reached the desired temperature. Therefore, it lessens occurrences of cold-water bursts. It is unlikely to get shocked with cold water in a shower early in the morning.
Do you not prefer an electric tankless water heater? This outdoor water heater is a great option.
Highlighted Features:
Fuel type: Natural gas
Flow rate: 9.5 GPM
Temperature setting: 85-140 degrees F
Uniform Energy Factor: 0.81
Application type: Residential
Water-saving technology feature
Hot start programming feature
157,000 British Thermal Units of gas consumed every hour
With freeze protection (up to -30 degrees) so it is great outdoors
Pros:
Great even for small houses
Has easy venting
Comes with almost everything you need for installation
Supplies endless hot water
Cons:
You need to buy venting separately
Additional costs are pricey
7.  5 GPM Indoor Rheem Performance Platinum Natural Gas Tankless Water Heater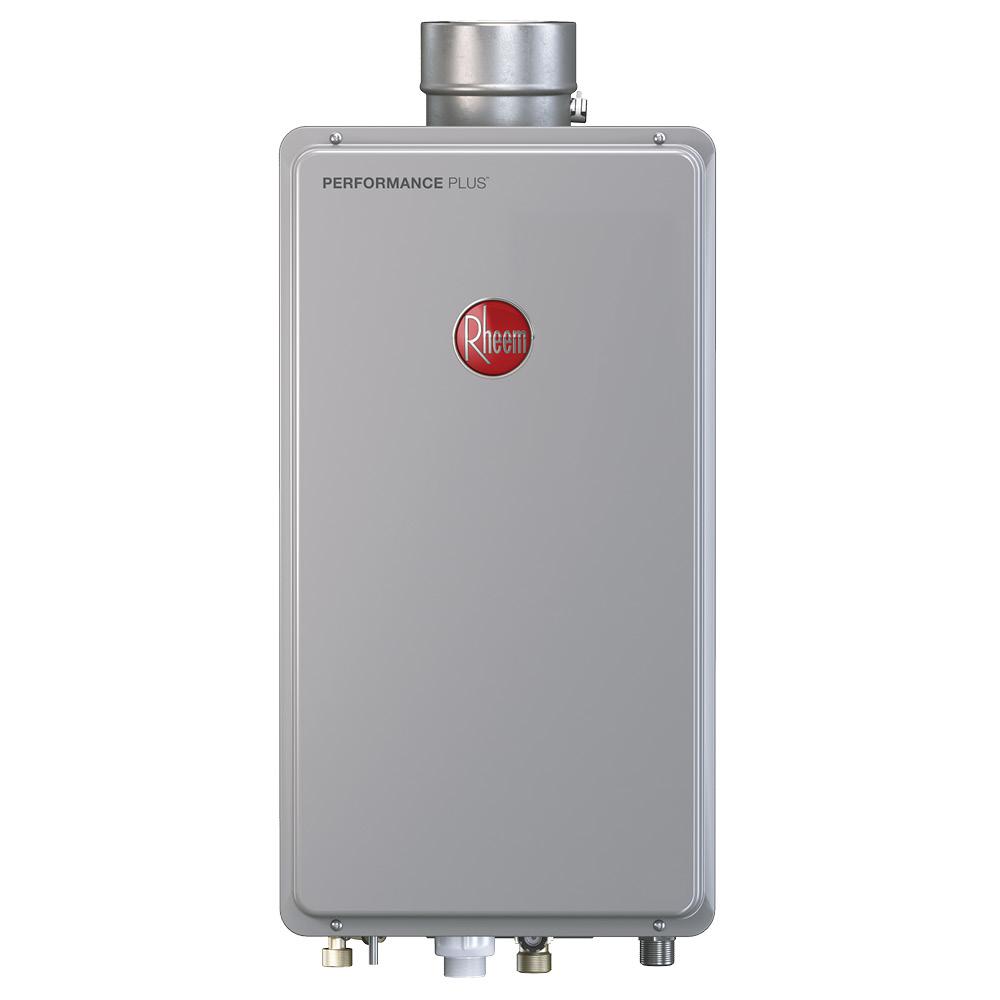 Aside from having 9.5 gallons per minute, this indoor natural tankless water heater can provide hot water at 35 degrees temperature rise.
It also has 199,900 British Thermal Units. This makes it possible to have hot water on demand. Even for people using 3 bathrooms at once, it is great.
This small heater is more than qualified for most utility rebates. Furthermore, the package also has remote digital temperature control. You can install it at any convenient part of your house. You can also purchase a separate direct venting for this heater. It requires stainless steel vents.
You can check a guide from Rheem. It will help you in purchasing the right water heater and accessories for you.
Highlighted Features:
Fuel type: Natural gas
 Flow rate: 9.5 GPM
Temperature setting: 85- 140 degrees F
BTU: 199900 BTU
Uniform Energy Factor: 0.82
Indoor installation type
The digital screen is the remote control
Pros:
DIY friendly
Provides enough hot water
An efficient water heater
Long-lasting
Great for homes that have 3 or more bathrooms
Cons:
Replacement costs are expensive
Some reports of plumbing issues
8.  5 GPM Indoor Commercial Natural Gas Tankless Water Heater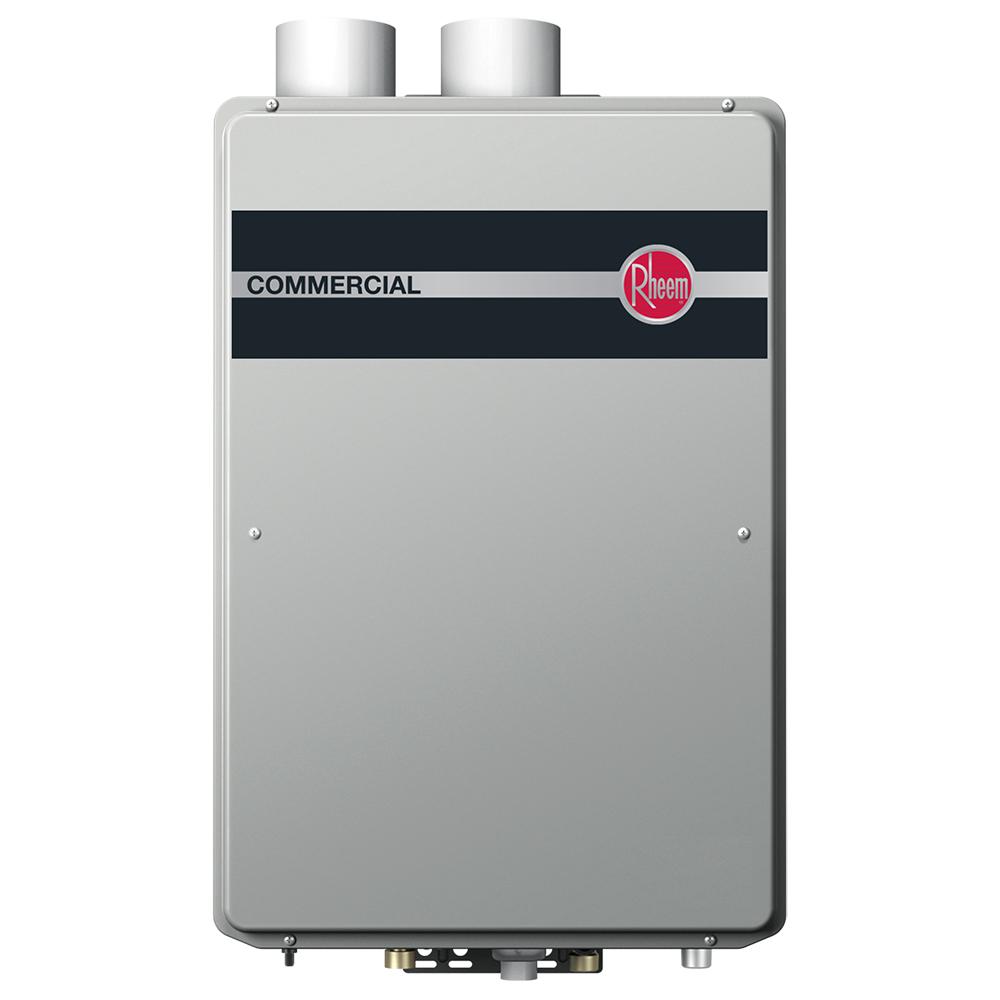 This commercial water heater is ideal for restaurants, offices, hotels, and many other commercial establishments. It is effective in energy saving. This is because of the high thermal efficiency of 96%. Furthermore, Rheem designed this to produce hot water when you need it.
Therefore, many contractors prefer this. You can save a lot on installation because of its great features. You also get a 5-year heat exchanger warranty and 1 year for the labor warranty. If you have any problems, you can contact the support team of Rheem. They understand that supply of hot water is important to keep the business running.
The water temperature can go as high as 185 degrees F. You can also add another tank with fewer units to ensure that there is hot water all the time.
Highlighted Features:
Fuel type: Natural gas
Flow rate: 9.5 GPM
Temperature setting: 85-185 degrees F
Application type: Commercial
Total BTU: 199000 Btu
Vent type: Single wall
Wall mountable
Ultra LoNox
Pros:
Installation is quick
Provides an ample amount of hot water
Performs well
Quiet operation
Meets or exceeds Ultra-Low NOX emission requirements
Made for commercial structures
Service valves provide more savings in installation
Compatible with most additional units
Cons:
Water temperature could be hotter
9.  5 GPM Platinum Smart Outdoor Natural Gas High Efficiency Tankless Water Heater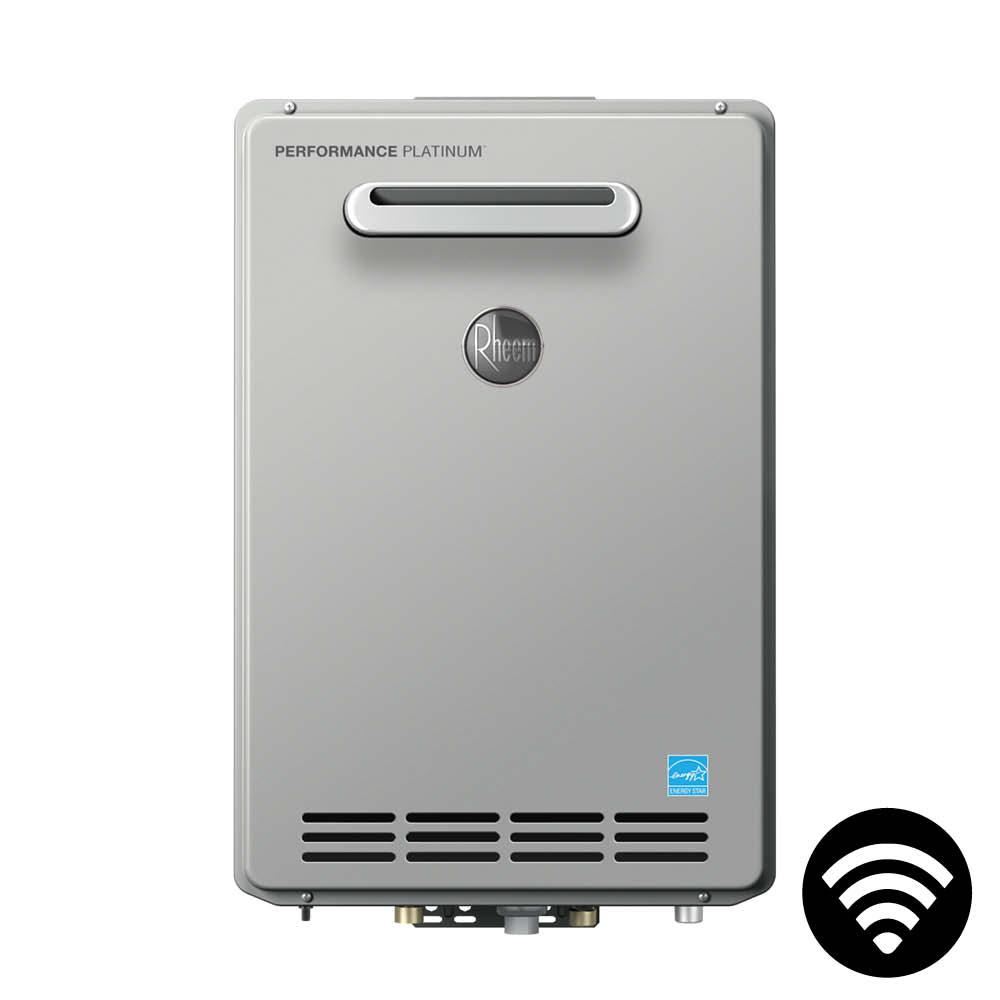 You can control this outdoor natural gas water heater from your smartphone. With its smart feature called EcoNet, you can access it through your phone. You can also get alerts and vital reminders. You can save from energy costs because of its Energy Star rating. In 12 years, you could save over a thousand dollars. Also, you can qualify for incentives and rebates. The water-saving settings also make it possible to save a lot of water.
Highlighted Features:
Fuel type: Natural gas
Flow rate: 9.5 GPM
Application type: Residential
Total BTU: 199900
Temperature settings: 85-140 degrees F
Ultra LoNox
Pros:
Takes up small space
Never runs out of hot water
Works well
Can supply water to 3 bathrooms without issues
Equipped with EcoNet technology for convenience
Outdoor installation frees up space
Ready for a recirculation pump kit
Has exclusive water-saving settings
Cons:
A bit tricky to install for beginners
If you do not use it for a long time, it could take longer for the water to reach your sink
Rheem Water Heater FAQ
What is the warranty for Rheem water heaters?
Water heaters from Rheem have different limited warranty duration. This could range from 5 to 12 years.
According to some Rheem tankless water heater reviews, this can cover damages due to manufacturing errors for a certain period. This could cover the transportation and price of replacing elements and parts. For other water heaters, there is also a labor warranty. However, it is shorter.
After you buy a Rheem water heater, you can confirm the warranty. You need the serial number on hand. If you want to extend the warrant, you can register the product.
To avail or request for the warranty, you could contact your local Rheem office. Again, you need to have the serial number ready.
Does Rheem have service technicians? 
You will read in some Rheem electric tankless water heater reviews that Rheem has service technicians. They offer online and face-to-face training for its technicians. Therefore, these authorized Rheem technicians are updated with the latest developments in technology.
You could be assured to get quality service from them. Moreover, the service technicians' services are not only limited to product installation but also repair and maintenance.
Read here to find more FAQs.
Conclusion
Finally, we hope that these Rheem tankless water heater reviews will help you find the best Rheem tankless water heater for your needs. Nonetheless, you can be assured that the above models will always give you and your family the comfort of continuous hot water supply.
Since Rheem has a lot of water heater models, you can better understand them from the types and features mentioned above. Before you make your purchase, make sure that you consider all the features that matter to you and it will not be too long to before you find right one for your space.