Being one of the more trusted brands of gas appliances, Rinnai has been a well-established manufacturer of both gas and electric tankless water heaters. Being in the water heater business since 1964, Rinnai has already produced and served over 30 million tankless heaters worldwide.
With the many models they have made, the million-dollar question is which one is the best for you? Each of the models has their own special features distinct from the other models. In order to choose the best one, you have to compare all of the features of each model that you think is good for your home. Of course, this is going to take a lot of time and effort.
That's why we decided to cut the process so that you don't need to go through the whole ordeal of choosing products and comparing all the features to choose the best one. We've narrowed down the choices to just seven of what we think are the best models to buy. As long as you compare the features of these top picks with our Rinnai tankless water heater reviews, then you'll definitely find the one that's most suited for you.
Without any further ado, let's start taking a look at the best Rinnai tankless water heaters that we've picked out for you.
Rinnai Tankless Water Heater Reviews 
1.  Rinnai 9.8 GPM Natural Gas Tankless Water Heater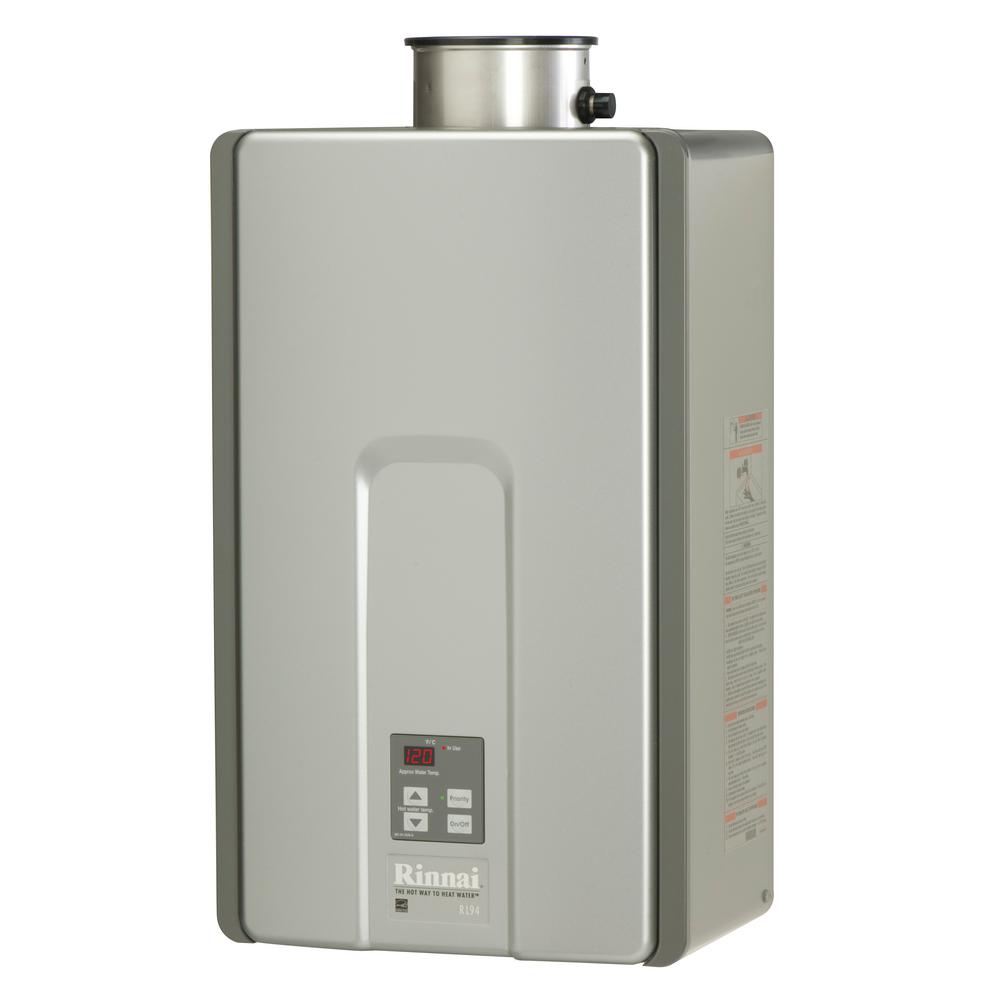 This Rinnai model has a strong 9.8 GPM gas use when you heat up your home. Perfectly made for residential buildings and homes, it uses an Energy Factor of 0.82, allowing it to have a strong maximum output. As for BTU, it dispenses 199,000 of heat.
Another great thing about it is its compact size which allows you to save space since it doesn't require that much installation. With performance and good spacial capacity, it's a great tankless water heater for any house.
What customers have to say about the product:
Due to its compact size, most customers stated that it's extremely easy to install and even use. With that, many customers commented that it's an ideal tankless water heater for small houses and even for condominium units.
199,000 BTU of power
82 energy factor
Compact size for space minimization
Efficient ventilation system
Scale detection feature to ensure longer shelf life
Temperature lock for keeping the heat constant
8 max gallons per minute
Makes use of both natural gas and liquid petroleum gas as well
5-inch vent diameter
10-year warranty for defects and for parts
2.  Propane Tankless Water Heater RL75eP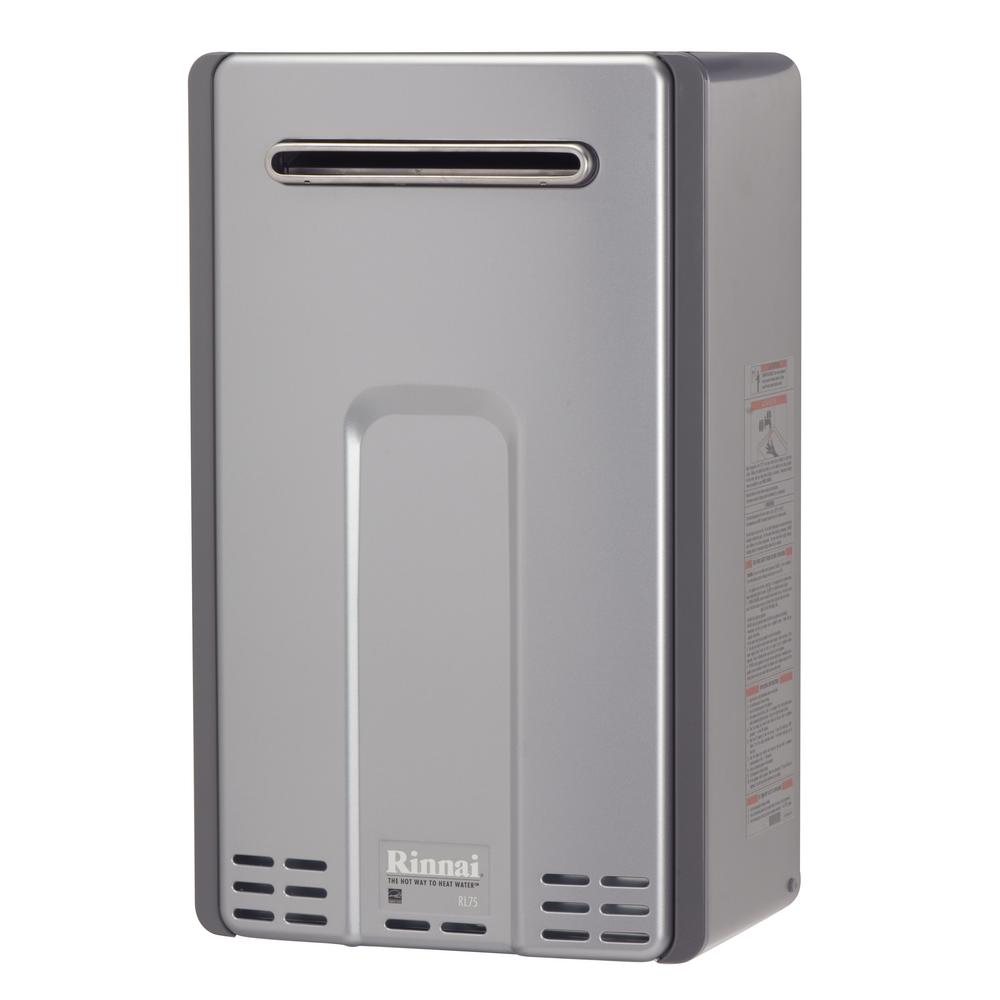 While the RL75iP model is for indoor usage, the RL75eP is more compatible for outdoor usage. As outdoor usage wears out water heaters more, this one comes with convenience features that make it very easy to maintain. Some of these features include the circ-logic technology and isolation valves.
These two features give it its long shelf life with little need for a lot of maintenance. The other specs are pretty much the same such as the 7.5 GPM, 180,000 BTU, and the Energy Factor of 0.82. However, you'll want this one if ever you need to have a tankless water heater for the outdoors.
What customers have to say about the product:
Most of the customers loved how easy it was for them to install this one outdoors. Since it is a mount type, there is hardly any installation that needs to be done. As compared to other water heaters, this one works really fast too. Customers have claimed that they don't need to wait so long for the hot water to come into their showers like with other water heaters.
180,000 BTU emission
Digital Controller with Error Code Indicator
Thermal Efficiency of 82%
Custom Commercial and Residential temperature settings
Isolation valves
Circ-logic technology
3.  RL94iP 9.8 GPM Residential Interior Tankless Water Heater
If you're looking for something that is both powerful and easy to use, this model is actually great for you. The RL94iP uses 9.8 GPM of propane gas, allowing the machine to emit up to 199,000 BTU of heat to your water tank. Unlike a lot of other heaters which only have 82% thermal efficiency, this one delivers up to 83% thermal efficiency for both residential and commercial structures.
Other than that, it's also got a nice gas saving mechanism allowing you to save up to 40% gas compared to other brands.
What customers have to say about the product:
If you look at most reviews, you'll see that customers do regard this model as one of the best tankless gas water heater products that they'll ever find in the market. They comment on this heater's energy saving ability (up to 40%) without compromising on power. That's why most customers would say this is worth the money that they paid for.
199,000 BTU
Digital Controller with Error Code Indicator
Heavy brass isolator valves for easy maintenance
Thermal efficiency of 83%
40% gas saving mechanism
Custom temperature settings for both residential and commercial structures
8 GPM
4.  RUS75EN Ultra Series White Water Heater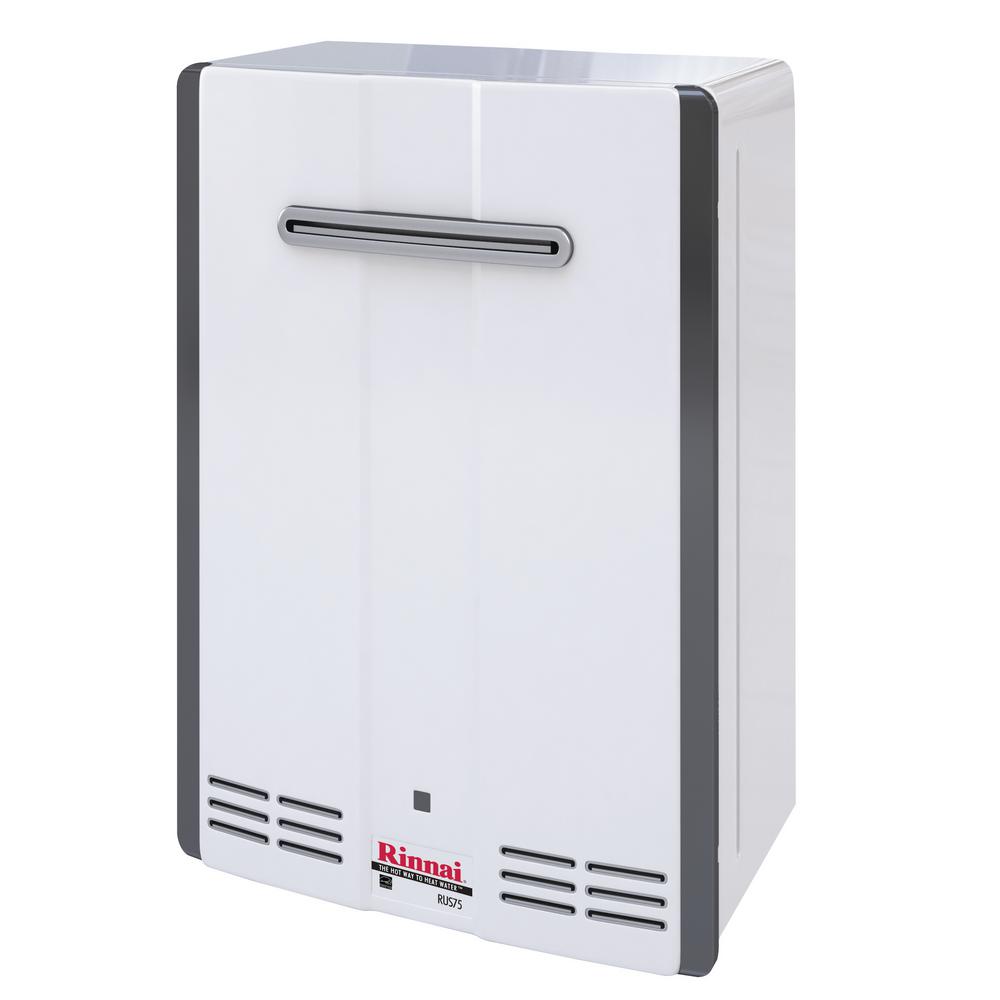 If you're looking for an outdoor water heater that has low NOx, then this is a good choice. This one has a temperature range of 120 to 140 degrees with pre-set temperatures. The great thing about this is that this one has very low NOx emissions and an easy outdoor mount installation.
Other than that, it's still quite strong with 7.5 GPM and a heat capacity of 160,000 BTU. What makes it great is that it has an energy factor of 0.93 which is the highest out of all the models in this list.
What customers have to say about the product:
While this model doesn't have as many reviews and ratings as the previously mentioned models, this one does have its own market to deal with. Most customers stated that this product is a great 7.5 GPM outdoor water heater that is also pretty eco-friendly.  They also liked the built-in status monitor which makes it easy for them to monitor and control temperature.
Built in freeze protection mechanism
Low NOx emission
Quiet and low vibration operation
Nice white finish
Status monitor with a remote controller
Four pre-set temperature setting
High altitude of up to 5,400 ft.
160,000 max BTU
Temperature range of up to 140 degrees Fahrenheit
Energy factor of 0.93
5.  Rinnai V65iN 6.6 GPM Low NOx Water Heater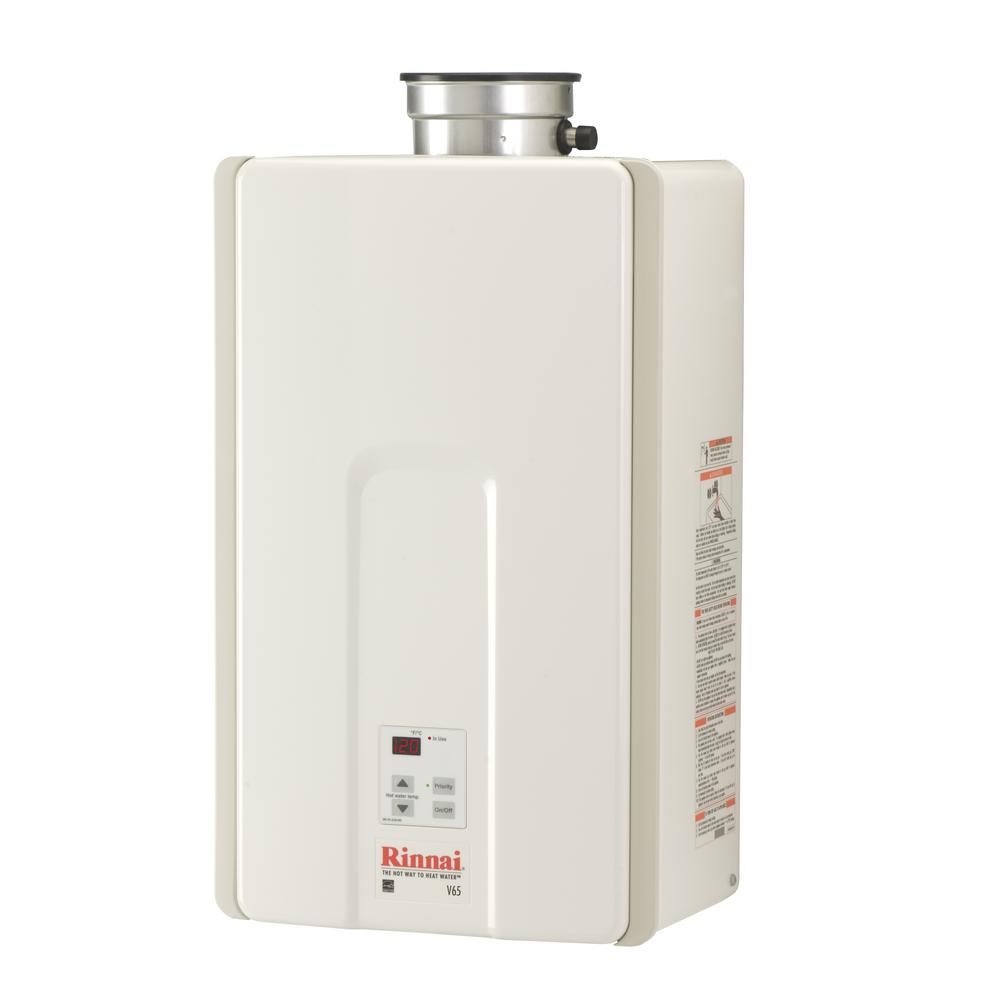 This one is another indoor tankless water heater that has low NOx emissions. Just like the rest, this one has an energy factor of 0.82. As for its BTU's, the max is 150,000 and the GPM is 6.6. What makes this a pretty attractive tankless water heater is its lightweight build.
In fact, this is one of the most lightweight water heaters offered by Rinnai. Because of the size and weight, it's extremely easy to carry it around and even install it indoors.
What customers have to say about the product:
Most of the customers don't know much about the installation of water heaters. That is why they love this model a lot. It is so easy to set up inside the house. It's also not bulky and heavy so they don't need to have a hard time lugging it around.
Energy factor of 0.82
Lightweight structure
Compact design
Low NOx emission as per California standard
150,000 max BTU
6 GPM
6.  Rinnai Propane Tankless Water Heater RL75iP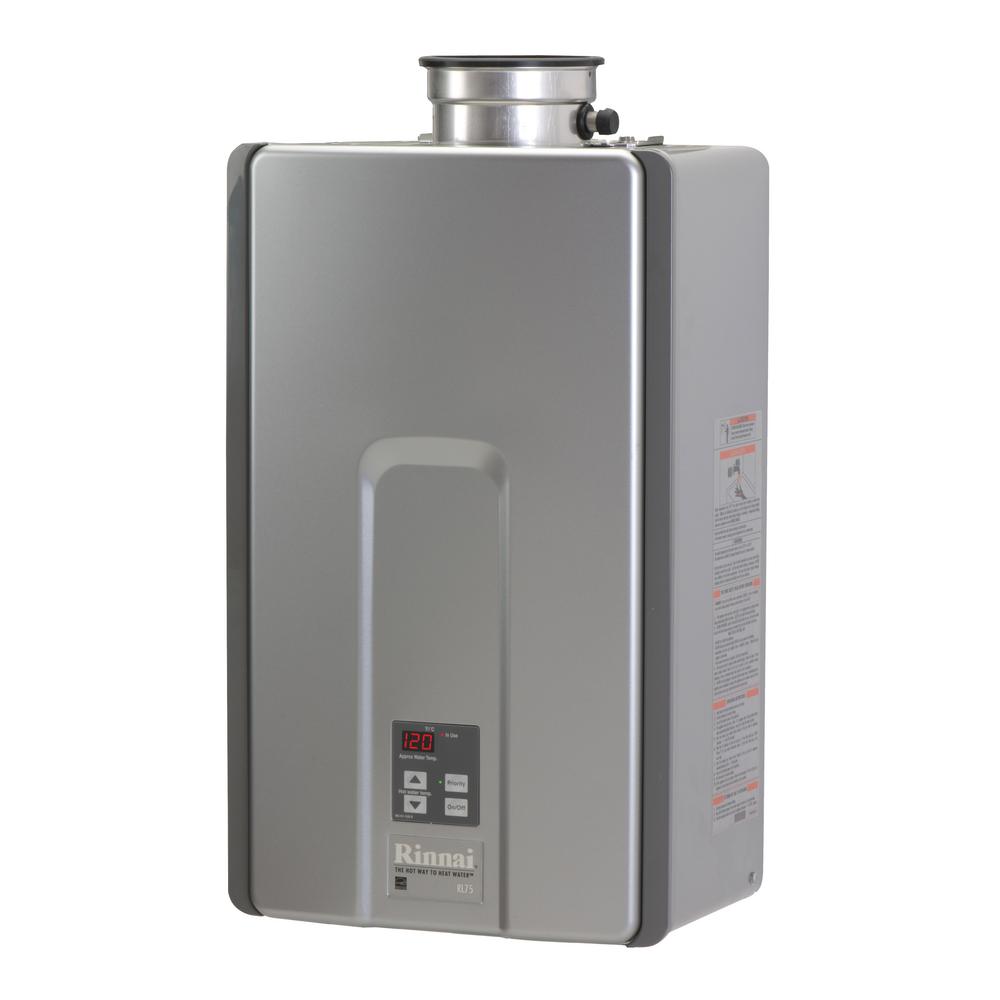 The RL75iP Rinnai Propane water heater is similar to the previously mentioned one except that it uses less gas. Instead of 9.8 GPM, it uses 7.5 GPM instead but still has an Energy Factor of 0.82. Of course, this means that it emits less BTU than a 9.8 GPM type (it emits 180,000 BTU compared to 199,000).
However, you don't need that much BTU if the area you are trying to heat does not require that amount (you can check the area of the water tank).
What customers have to say about the product:
A lot of people use this for heating up hot water in their house as a whole. Most of them would commend it for being a perfect size and providing the perfect temperature for their needs. But most of all, they are quick to comment on how safe it is to use because of its enhanced scale detection and leak detection features.
Temperature lock function
Chrome finish
Capacity of 7.5 gallons per minute
Enhanced scale and leak detection shut off feature
Single wall vent penetration
Easy mounting
7.  V65eP 6.6 GPM Residential Low NOx Water Heater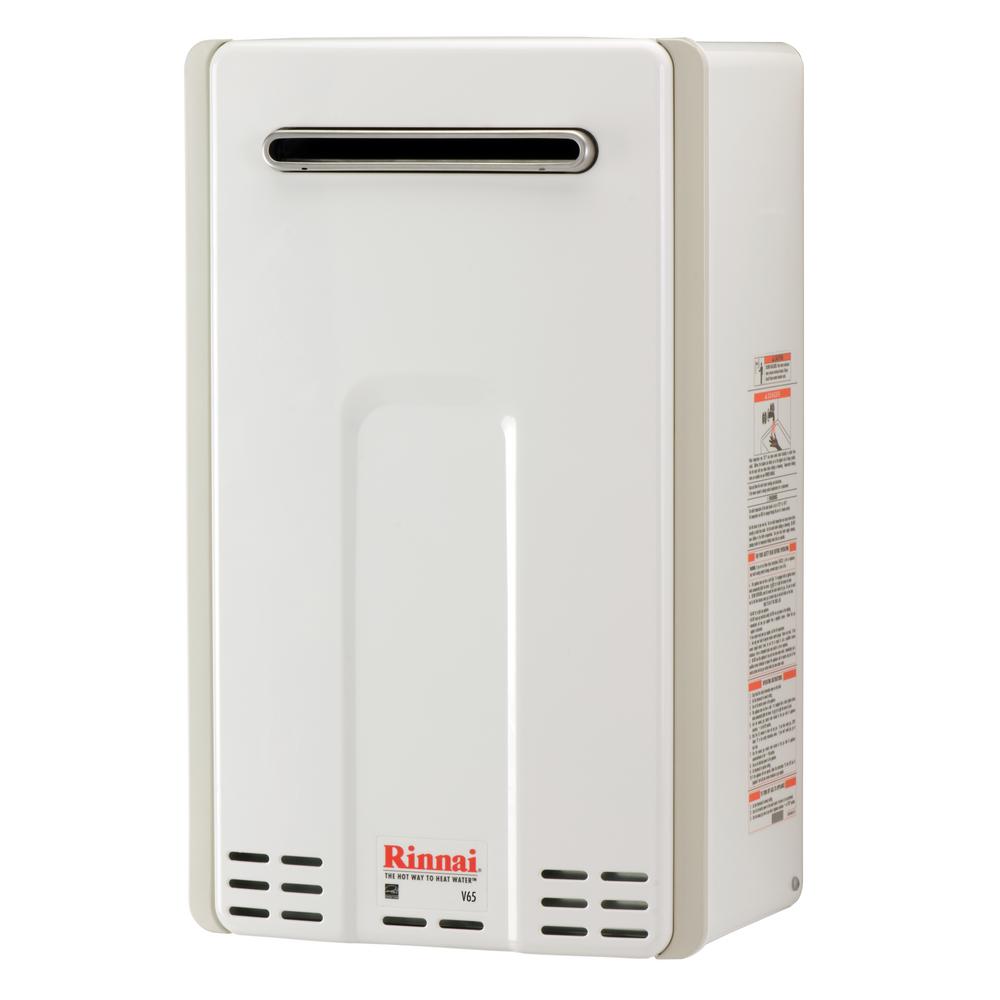 If you're the type of person who worries about Nitrous Oxide emissions from gas appliances, then this is the one that you'd be more inclined to look for. The power may be a bit low at 6.6 GPM and 150,000 BTU at max. However, it still has an energy factor of 0.82 and doesn't scrimp on performance.
At this low heat, it doesn't produce as much NOx as other products. You also have the choice to use natural gas if you're that worried as this machine is compatible with both liquid propane and natural gas.
What customers have to say about the product:
While most people picked out this product because of low NOx, the majority of the customers loved it because it produced heat really fast. The average time for water to heat up using this heater is 15 to 30 seconds max unlike other brands which may take up to a minute to heat.
Compatible for both natural gas and propane gas
South Coast Air Quality Management District compliant
Low NOx emission
150,000 BTU and 6.6 GPM
Enhanced scale detection
½ inch Gas line compatible
Fast heating capacity
How to install a Rinnai tankless heater
Conclusion
These are the seven best Rinnai tankless water heater models as per our own evaluation. By comparing the features of each model, you'll now have a breakdown of what you need so that you can pick which of the models you like the best for your home.
Of course, if we were to pick one of the choices based on these Rinnai tankless water heater reviews, we'd definitely pick the Rinnai RL94iP 9.8 GPM Residential Interior Tankless Water Heater. This is because it is one of the models with the highest heat capacity, making it one of the strongest. It also has a very high thermal efficiency of 83% as compared to the standard's 82%. It also can save gas of up to 40%.
Other than those features, it's also very easy to use because of its digital controller. This allows you to monitor the temperature and custom set it to whatever configuration you want.