Traditional water heaters have left many flaws for technology to fill in. In order to fill these gaps, manufacturers have gone to invent the tankless water heater. Needless to say, tankless water heaters are considered to be an upgrade of their traditional counterparts. Besides, they're more convenient to use.
However, having to switch from the usual tank water heater to a tankless one is not that easy. Aside from being expensive, choosing the right electric tankless water heater is also difficult. Hence, to help you in your decision making, we have compiled our list of Stiebel Eltron water heater reviews for you.
Why Stiebel Eltron? 
There are tons of Stiebel Eltron Tankless water heater reviews out there that might persuade you to buy one right away. However, you don't want to trust all of them.
You have to keep in mind that tankless water heaters are a bit pricey. But once you get to know their benefits, you'll realize that you are making a worthy investment. That said, here are some of the reasons why Stiebel Eltron water heaters are worth your money:
Advanced Technology
Inconsistent hot water temperature is a usual problem that tank water heaters experience. However, this has been remedied by Stiebel Eltron using its microprocessor technology. The microprocessor technology is meant for temperature control. With that, you can set the temperature according to your desired heat. The unit undergoes normal heating stages from minimum to maximum transition.
Small and Stylish Design
All Stiebel Eltron units are small, compact, and lightweight. Hence, you can install yours anywhere inside your house regardless of your space. As much as there are Stiebel Eltron units for indoor use, there are also units suitable for almost all weather conditions.
Accurate Temperature Control
The Stiebel Eltron units have therapeutic and thermostatic properties, not to mention they provide precise temperature control. They can also work with cold water, pre-heated water, and solar heating system. You just have to set the temperature to 92 F which is the best point of use water heater temperature up to 140 F.
Power-Saving
Huge electric consumption is one of the notable downsides of the traditional tank water heater. Fortunately, this has also been improved by tankless water heaters. The former works 24/7, though you are not using hot water. The latter, however, only functions when in use. For this reason, you can guarantee a big amount of saving from your monthly electric bills. 
Ease of Installation
Installing any Stiebel Eltron unit can be demanding at first as you may need to undergo electric rewiring. However, the installation will be a piece of cake afterward. There is no venting required during installation. This is a big saving on your part. Moreover, some Stiel Eltron models might need an electrical service upgrade. For this reason, careful installation is necessary. It is recommended to hire an electrician for installation matters.
5 Best Stiebel Eltron Tankless Water Heaters Review
Let's now move on to our Stiebel Eltron reviews. Here are the products we believe are among the best in the market:
1.  Stiebel Eltron Tempra 29 Plus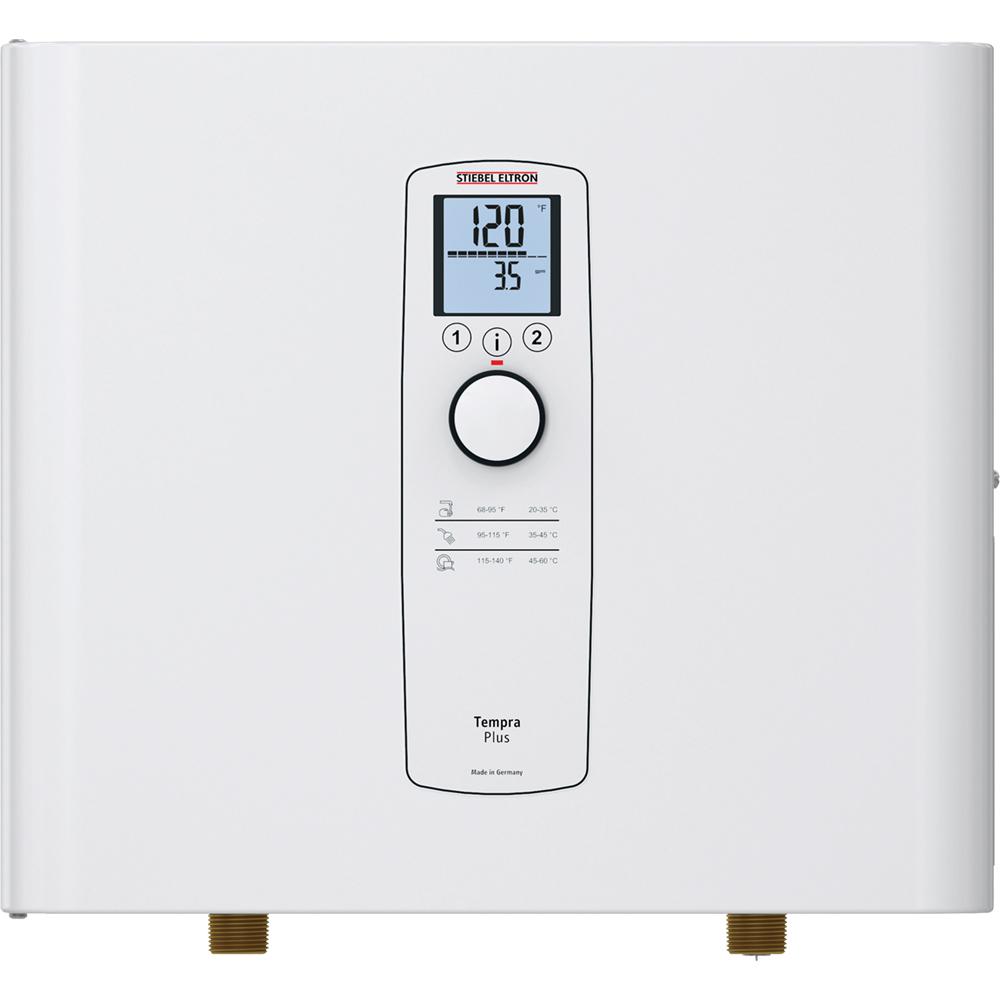 The Tempra Plus series is pretty much the same as the Tempra series. The only difference is that the former is more technologically advanced. The Tempra Plus is the second largest unit within the Tempra series. It has a 5.6 GMP output when the water temperature reaches 36 degrees.
All Tempra series are more affordable than the other Stiebel Eltron units. If you wish to avail of one, you need to determine the number of water sources you have at home. If your house is huge, it is recommended to purchase one from the Tempra Plus series.
The product is suitable for 2 couple showers and a sink or 2 bathrooms at home. The installation is a bit complicated though. It may require an utmost reading of the Stiebel Eltron Tempra 29 Plus installation manual or a careful reading of any Stiebel Eltron Tempra 29 review online.
Furthermore, most Stiebel Eltron Tempra 29 plus reviews are so sure about the product being utilized for commercial use. However, considering its size and energy capacity, it is more appropriate on average-sized homes.
Highlighted Features
Advance flow control
German patented technology
240 Voltz capacity
120 amperage capacity
Endless supply of hot water
Uses 15-20% less of energy
6 GMP
Pros:
Energy-saving
Ease of installation
Sleek design
Space friendly
Will fit any corner at home
Cons:
Not the best fit for huge houses with at least 3 bathrooms
Separate hardware is needed for installation and maintenance
There's a 10-second waiting time for the temperature to heat up
2.  Stiebel Eltron Tempra 29 Trend Self Modulating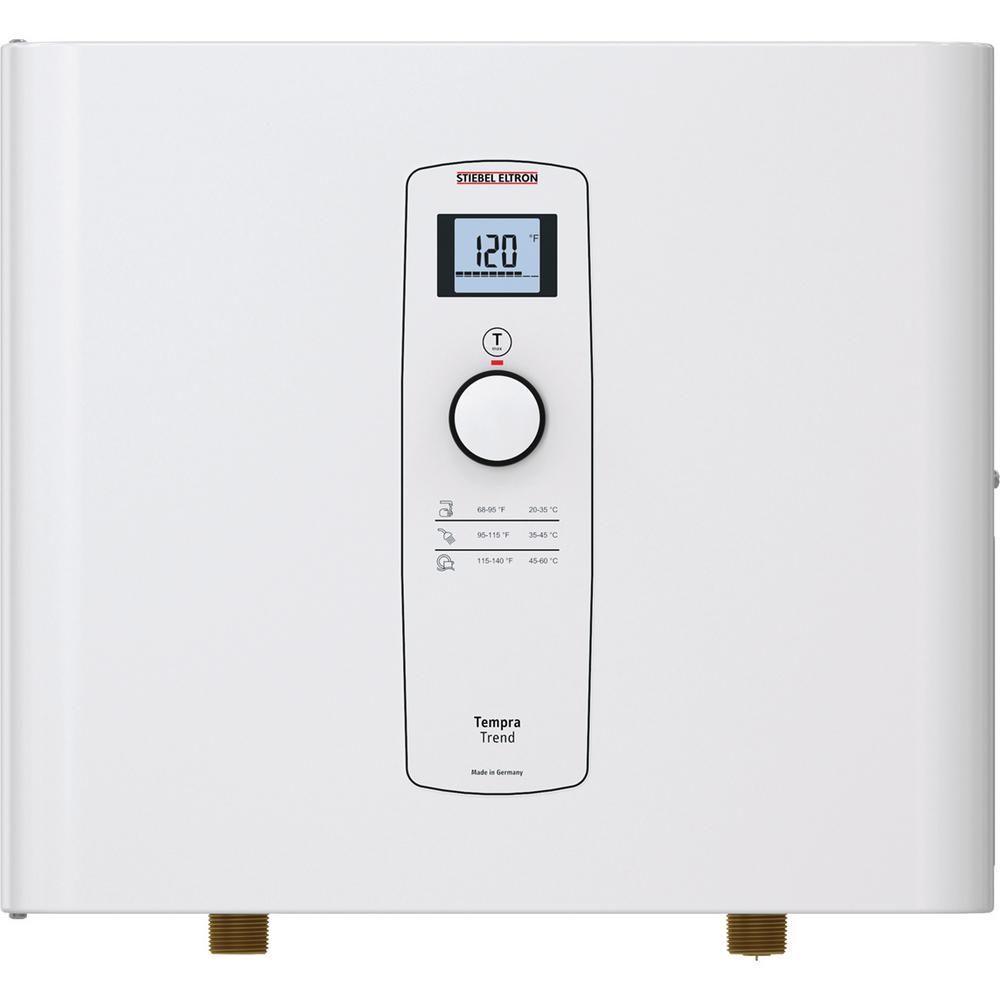 Next on the list is the Stiebel Eltron Tempra 29. Some Stiebel Eltron tankless water heater reviews are confused with the self-modulation technology as the water flow control. The feature, however, is meant for energy-saving water heating purposes.
The product comes with a digital computer display for precise temperature control. It is perfect for residential use and is suitable for 2 bathrooms in places with cool climates and 3 bathrooms for warm ones.
The Tempra 29 Trend can cater up to 120 amp and requires 240 Voltz. The product promises an endless supply of hot water and consistent temperature from 68 to 140 degrees F.
Highlighted Features
Advanced technology
120 amp
240 Voltz
3 heating modules
Digital computer display
Pros:
Small and compact size
Can save 15-20% off your total electric consumption
Doesn't use natural gas
No extra ventilation
Maintains hot temperature
Endless hot water supply
Cons:
The installation procedure is costly and complicated
Not suitable for commercial use
3.  Stiebel Eltron Tempra 36 Plus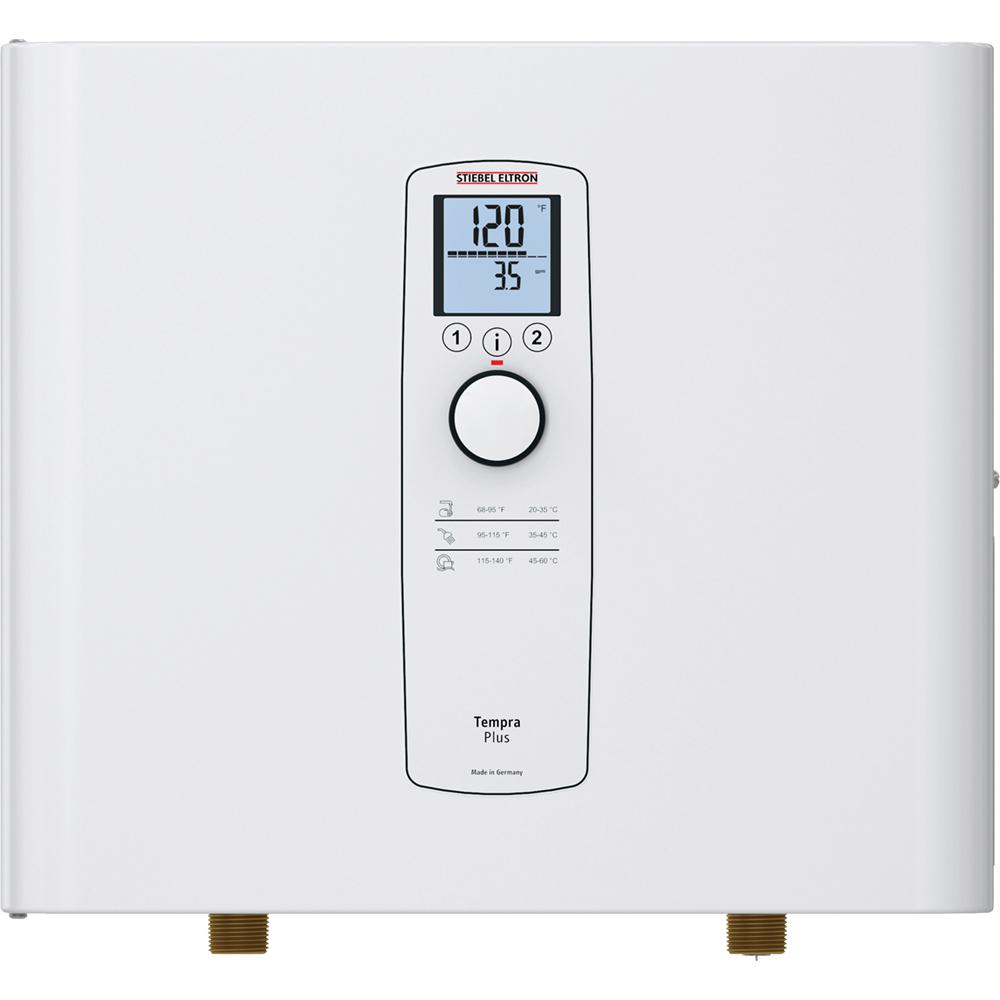 The Tempra 36 Plus is the largest model among all Stiebel Eltron. It requires at least 208 V to 240 V and a minimum power of 27 kWh to 36 kWh. The model comes with three heating modules offering 82 F as maximum temperature and provides a 55 GPM output.
Some Stiebel Eltron water heater problems often involve installation and household electric capacity. Due to that, a trained electrician is needed in both cases. However, don't get intimidated by the cost of the electric upgrade. Once you're over this, you will enjoy the product with no limitations.
300 amp is the minimum electric service required for Tempra 36 plus installation. For more detailed information about the installation and energy requirement, the Stiebel Eltron Tempra troubleshooting manual is very-well crafted for your guidance.
The Tempra Plus is also corrosion-resistant. Therefore, it is suited to be installed outdoor. If you are in a country with a colder climate, this unit is for you. Various Stiebel Eltron Tempra 36 plus reviews have also recommended this product in places with a high demand for hot water. It can accommodate up to four bathrooms at home.
Highlighted Features
Corrosion-resistant
Up to 240 V
Up to 300 amp
Self-modulating technology
Digital display
Temperature and advanced flow control
Pros:
Endless supply of hot water
Energy-saving model
Cab be utilized Commercial use
Adjustable digital controls
Cons:
Electric service upgrade may be of need
Water flow delay once used simultaneously
A professional is needed for installation
4.  STIEBEL ELTRON DHC 8-2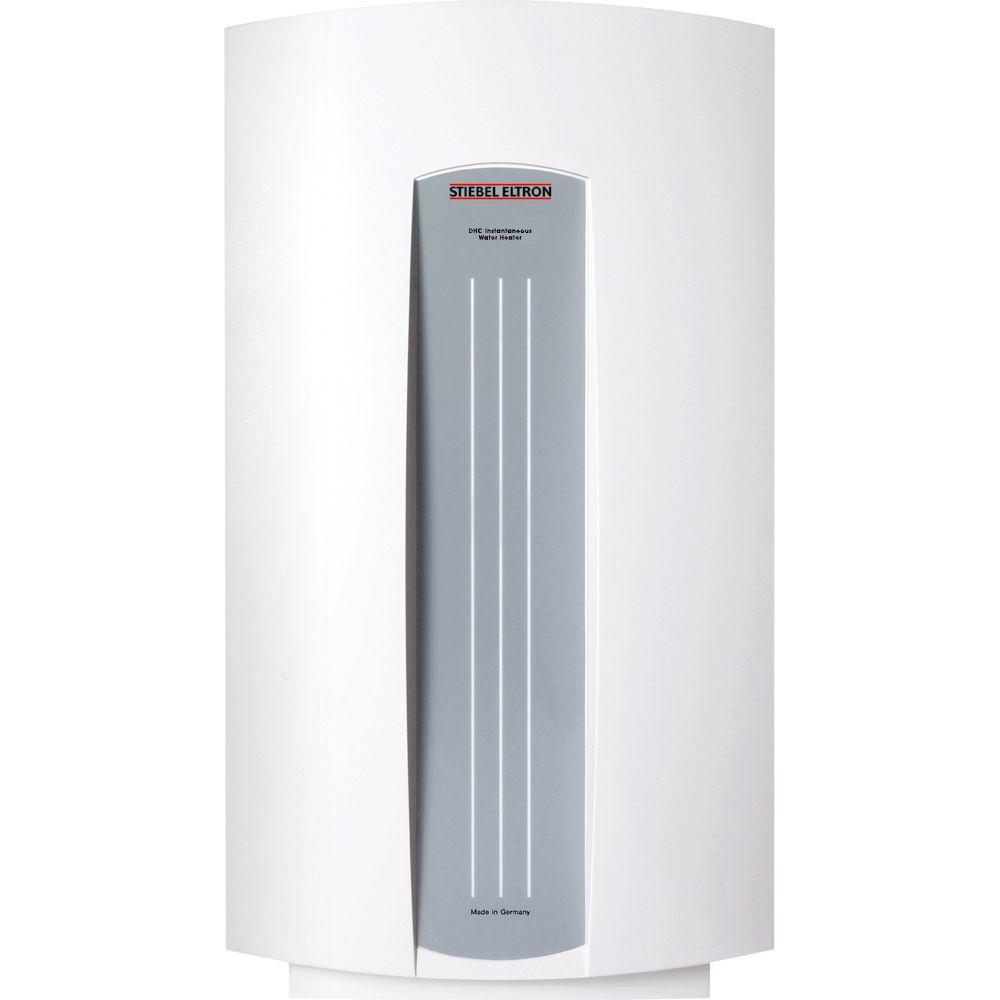 Designed for quiet operation, this Stiebel Eltron DHC 8-2 is hydraulically-controlled. This product is famous for commercial uses such as in schools, gas stations, and any business establishments.
This energy-saving model utilizes a minimum power of 7.2 kW. It has a minimum flow rate of 0.69 which makes it good for those having low water flow problems. Also, the unit is equipped with a good flow rate to avoid premature failure and dry firing.
The Stiebel Eltron DHC 8-2 features a sleek, compact design with a gorgeous high-impact polycarbonate shield. Besides, the unit is safe and does not require regular maintenance. However, you want to make sure that you use non-salt water, otherwise, it will fail prematurely.
Highlighted Features
208-240 Voltz
26 amp
Manual reset
Copper-clad materials
High-impact polycarbonate shield
Pros:
Compact
Insensitive
Energy-efficient
Adjustable temperature
Perfect for commercial use
Cons:
Expensive
More demand for electric service
5.  Stiebel Eltron DHC E-12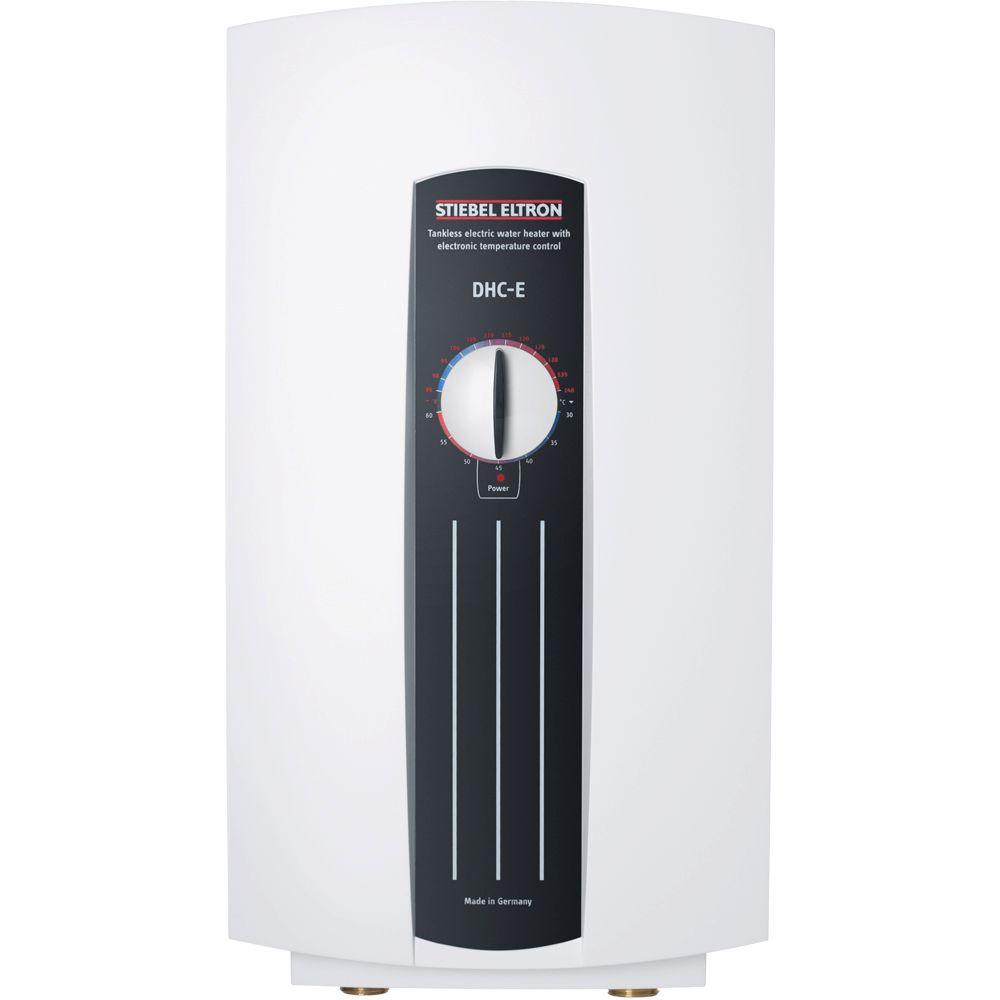 If convenience, productivity, and size are the characteristics you are looking for in a tankless heater water, then you can never go wrong with the Stiebel Eltron DHC E-12. Weighing 5.94 pounds, this unit is such a space-saver. It is very tiny and lightweight, making it suitable to be placed in little spaces you have at home.
The Stiebel Eltron DHC E-12 may be the smallest unit from the brand, but it should not be underestimated. Its size is not determining factor of its level of efficiency. In fact, many Stiebel Eltron tankless water heater reviews gave it a rating of 4.5 to 5 stars as a residential water heater. If your home has 3-4 showers and 2-3 faucets, this is unit is a good catch. Not bad, isn't it?
Moreover, this tankless heater has a digital dial for temperature control. You can set the temperature from 86 F to 125 F. This range allows you to take a hot shower at whatever temperature your body may bear. Aside from that, the unit comes with smart microprocessor technology and electronic temperature control for temperature stability.
Installing this unit at home will cost you less than 20% in your electric bill. This is because of its automatic feature. When not in use, rest assured that this product will not also consume power.
Highlighted Features
Digital dial
Smart microprocessor technology
Electronic temperature control
240 V
60 amp
Pros:
For both commercial and residential use
Ease of installation
No venting required for installation
Space saver
Cons:
Not suitable for high pH level
Only runs on electricity
How to Install Stiebel Water Heater
Frequently Asked Questions
What is the warranty? 
Stiebel Eltron units have a 3-year warranty for the parts and a 7-year warranty against leaks. You can refer to the complete guide on your product manual to know how you can avail of a service warranty. 
Do you have service technicians?
Yes. Service technicians are free of charge if their services as long as they're near your location. However, owners living 30 kilometers away have to cover the service fees.
You can find more questions here
Conclusion 
This brand which came from a German manufacturer is famous for its topnotch quality and cost-efficient performance. It is seemingly expensive, but the truth is that it's actually budget-friendly.
The Tempra models are among the most popular units for smaller heaters. They're also among the best electric tankless water heaters you can find. If you are looking for an affordable unit of this kind, then you can never wrong with the Tempra series. If you want a more advanced one, the Tempra plus units are the best choices.
If you are planning to buy a tankless heater for a larger house, we highly recommend the Stiebel DHC units. If your house has many fixtures, go for the DHC 8-2. This unit is less hassle to assemble as it doesn't need much of electricity work. Meanwhile, the DHC E-12 is for apartment and condo-type homes. It is safe, affordable, and convenient to use.