These reviews of Takagi tankless water heaters give related details on choosing the right water heater fit for your home. Takagi tankless water heaters are a brand made by Takagi company in Japan. They do not need the traditional tank to work.
They are sized according to the types of use and temperature rise events among other factors. Takagi water heaters use a uniform energy factor for control.  They are gas-lit tankless models. Some make use of both propane and natural gas.
Why Takagi water heaters?
First, Takagi water heaters provide an endless supply of water. Second, heaters come in many sizes hence you should choose the right size for your home. Due to their wall mount design, they take up less space. Also, they promote a thermal efficiency rate of as much as 95%.
Models made for indoor use, have a direct vent which leads to higher energy saving. These water heaters are more long-lasting. Its materials are made up of copper alloy and stainless steel.
Also, water heated before is kept for a long time. These water heaters are made of high-quality materials with handy safety features. Besides, they only need a yearly service.
Again, the fixing process is fast as it takes about an hour. Also given, is a Takagi tankless water heater manual for every buy.
Best Takagi Water Heater Products Reviews
To help you decide on the right water heater, here are a few Takagi tankless water heater reviews.
1.  Takagi Tk-110u-e-ng
This model is a completely adjusted, non-condensing gas lit water heater. It is suited for use in small homes. The heater can produce enough water for up to two baths.
Moreover, there is an endless amount of hot water. Water does not need reheating. In the long run, TK-110 is cost-friendly. The energy factor is low at 0.82. Changing temperature levels is easy because it comes with remote control.
Key features
It has an output of up to 140,000 BTU
It ejects a  top of 6.6 gallons per minute.
It has a remote control for easy use.
It can produce enough water for 2 bathrooms.
There is no need for vent piping.
It complies with lead-free standards.
It is lit using electricity
2.  Takagi TH3SDV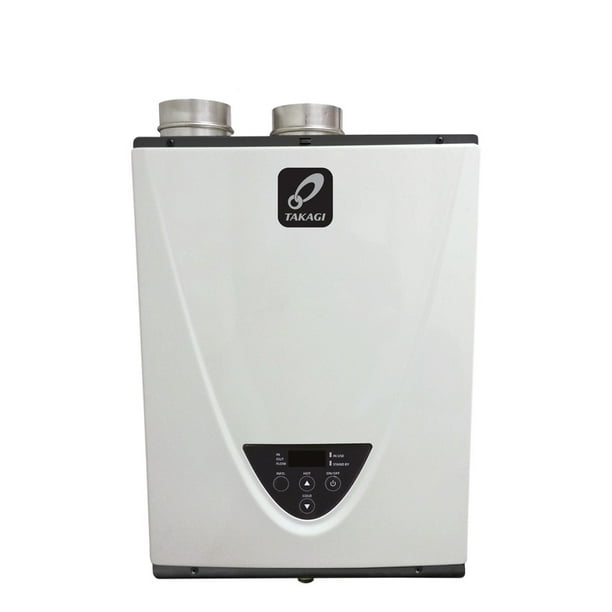 This condensing, high-efficiency tankless water heater has an energy factor of 0.95. There is a built-in automatic computer system with remote control. It has a heat exchanger made with commercial-grade copper.
In addition, its power output is high at 199,000 BTU. One saves money in the long run. This is as a result of its high energy regulation. It has a high water-holding size of 4 to 5 baths.
Key features
It is eco-friendly
It stores water for 2-3 showers as per the climate
The heat exchanger is built with commercial-grade copper
It has a high output of 180,000 BTU
Its water pressure is 150 psi
It complies with lead-free level
It can heat up to 10 gallons per minute
It has a remote control hence easy use
It can use either propane or natural gas
It ejects a maximum of 10 gallons of water per minutes
3.  Takagi TK-u310-e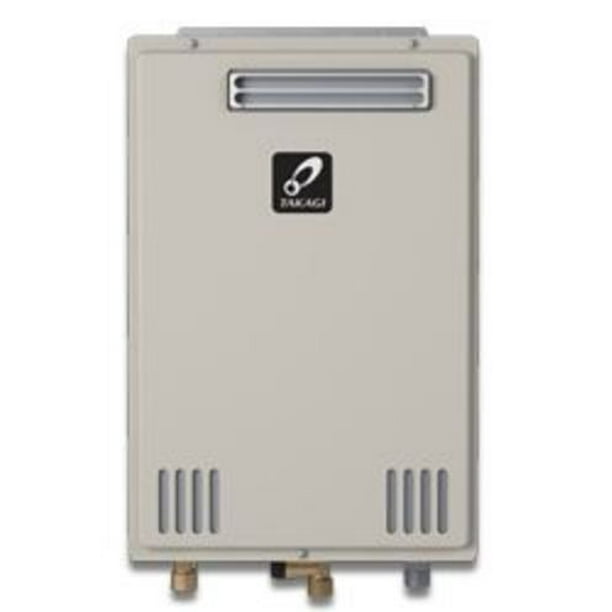 Takagi TK 310 is a gas-fired, non-condensing water heater. It can produce hot water for up to 3 baths. This makes it fit for small homes.
Besides, you can use it with recirculating systems and water tanks. The heater can combine domestic and commercial heating use. This make can be used both indoors and outdoors.
Key features
It is remote controlled hence easy to use
It can use either natural gas or liquid propane
It's safety features include a freeze, surge and overheat protection
It is lit using electricity
The highest  BTU is 190000
It weighs 39 pounds
Dimensions 20.5″ x 13.75″ x 9.5″
Its vent is direct
It is non-condensing
It uses a maximum of 8 gallons per minute
It uses either propane or natural gas
It complies with lead-free standards
4.  Takagi T-H3-OS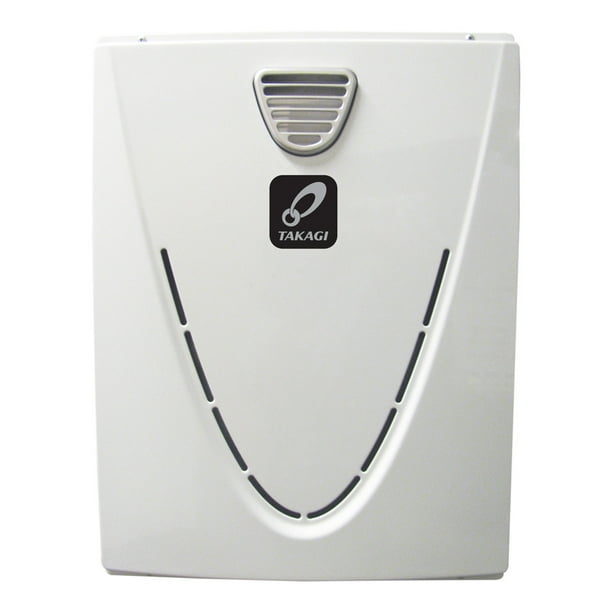 Takagi T-H3-OS supplies water to home hot water systems directly or indirectly. It can be used in recirculation systems or storage water tanks. This model can be set to work with up to 4 other tankless heaters without a system controller and up to 20 others with a system controller.
Furthermore, the heat exchanger is made up of commercial level copper alloy. Its efficiency is therefore better. No vent piping is needed as it is meant for outdoor fixing only.
Key features
It can heat water for 3 to 4 baths
It has a remote control for easy use
It has many safety features to protect against surges and overheating
The heat exchanger is made of commercial level copper
It is energy saving
Its secondary heat exchanger is made up of stainless steel which is resistant to corrosion
5.  Takagi TM-50 ASME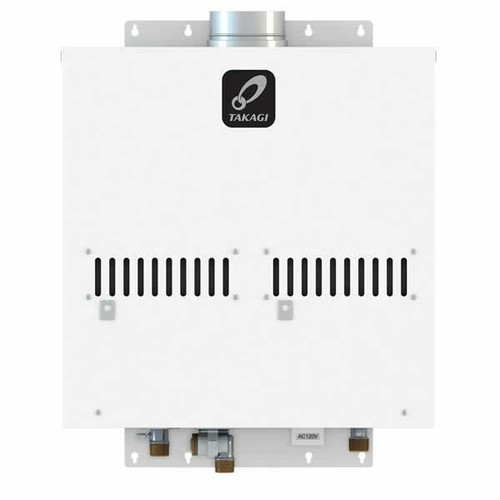 This model is specifically made for business use. It can be joined with 4 to 10 other units to meet hot water needs. Also, it has 2 heat exchanger systems. In case one system fails, the other one will remain running.
In addition, the TM-50 ASME uses the most long-lasting copper in the sector. This means that it does not spoil easily.
Key features
It gives between 200 to 500 gallons of hot water every hour
It is non-condensing
It obeys lead-quality needs
It is lit using electricity
It uses natural gas input of 150,000 BTU to 380,000 BTU
It works with all attachments
Its size is 25.3″ x 24.8″ x11.8″
Things Consider When Buying a Takagi tankless water heater
When choosing the best tankless gas water heater, it is key to consider a few things. These include:
The use of the heater, that is home or commercial use.
The number of people in a home.
Its energy efficiency.
The type of home one is in.
The cost of the water heater.
Whether a new gas line must be put in.
The type of vent and materials used for indoor units.
Takagi tankless water heater problems and their solutions.
Use of wrong vent pipe
The use of a standard B-vent pipe may damage the heat exchanger. This is because of the type of material used. It may further lead to gas leaks and explosion. A sealed stainless vent pipe should be used instead.
The problem with the gas supply line  
Joining the Takagi tankless water heater to an existing gas line may lead to a gap. This gas line is usually a half-inch in diameter. Experts should follow the Takagi tankless water heater manual to get the correct gas line gauge.
Use of wrong gas
The gas used for the tankless water tank must be the one in the manual. One should confirm whether to use propane or natural gas for the given make. Also, refer to the Takagi tankless water heater reviews below before placing an order.
Use of hard water
Hard water may have large deposits of minerals. These may destroy the heat exchanger in the long run. In this case, you should use a water softener.
Moreover, softening will increase the length of service of the machine. Thus increasing time between servicing. Another option is to lower the temperature to reduce scale build-up when using hard water.
Water and temperature changes
There is a chance of the water flow being low. This can occur if there is a clog or dirt in the water filter. Similarly, there may be changes in the amount of hot water. Filters need to be cleaned and replaced often.
Lack of ignition
Fixing should be done by a tested technician. This ensures the right gas pressure is provided to the water heater. Take note that burners fit well and that the unit is properly grounded.
Frozen heater
During cold seasons, chances are high that the heater will freeze. Then, the heat exchanger will burst. To avoid this, one needs to install a freeze protector.
Impure combustion air
Fixing a make with a direct vent is highly suggested for dusty areas. Dirty air may enter the heater and ruin it. Therefore, the motor and fan should be kept clean and dust-free.
Takagi tankless water heater FAQ
What is the warranty?
Home warranty for heat exchangers is 15 years and 5 years for other parts. In business use, the warranty is 10 years for heat exchangers. There is also a 1-year warranty for work. However, the overall warranty is canceled if the person who fitted the water heater is unqualified.
Do you have service technicians?
The service provider and factory for Takagi tankless water heaters is the Amor Plumbing company. Our offices are found in the USA, Japan, and Canada. In countries where we do not work, you can call an expert to help you in the fixing process.
Conclusion
This Takagi tankless water heater review will guide you in choosing the right make. Most of their products are sold online or from specific shops. The cost of these heaters is rated as low as 600 dollars to higher than 2000 dollars per unit.
Also, free delivery is provided when products are bought in large numbers. The installation costs are between 1000 and 1500 dollars.
Lastly, there`s great interest in the effects of climate change in the world. Takagi tankless water heater system is one of the latest solutions to water heating. It helps the use of eco-friendly ways to save energy. This is as a result of low carbon emissions into the air.