Have you been wondering which are the Best Hot Tub Brands? Well, this article will lead you through the brands that hold the top positions. A hot tub is a spacious tub or tiny pool filled with water that is used for hydrotherapy, relaxation, or enjoyment. Some have jets for massage purposes.
Also, by using the hot tubs, you will get hydrotherapy benefits, including relief from muscle aches and pains, improved circulation, and reduced stress and anxiety. Relaxation benefits include increased feelings of well-being and pleasure. Hot tubs are also used for social gatherings and parties.
Your Personal 'All You Need to Know' Guide About the Best Hot Tubs Around
Let's look at the top 5 best brands that sell hot tubs;
The brand was Founded in 1996. Frog Spas was born from the vision of a couple of entrepreneurs with a passion for hot tubs. Their experience in the industry and focus on quality led them to develop a range of hot tubs known for their high quality and customer satisfaction.
Some of the features that make Frog Spas hot tubs unique include their easy-to-use controls and comfortable seating. In addition, all of the hot tubs come with various features to enhance your spa experience. The tubs from this brand are energy efficient and have a system that can control the jets and the temperature.
The brand offers a limited warranty and a lifetime warranty. It offers tubs with spaces of three to ten people at an average price of $10000. An example of their hot tub is Bullfrog Spas Model M8.
Jacuzzi is one of the Best Hot Tub Brands that is known for its high quality and durability. Jacuzzis are made with various materials, including acrylic shells, fiberglass, and metal. The acrylic material is more potent than other materials.
Their prizes range from 6000 dollars to 17000 dollars. They come in a variety of sizes and styles and are often equipped with jets and bubbling jets. The brand provides a seating package of two to six people.
There are a few things that make Jacuzzi hot tubs unique. For one, they are one of the only hot tub brands that offer a built-in stereo system. They also have a variety of features that other hot tub brands don't have, like jets that massage your back or a waterfall that cascades into the tub. The massage is enabled by water and air equally distributed in the tub.
Jacuzzi hot tubs are also known for their luxurious feel, and many people enjoy using them to relax after a long day. Some of the most popular Jacuzzi brands include La-Z-Boy and Coleman.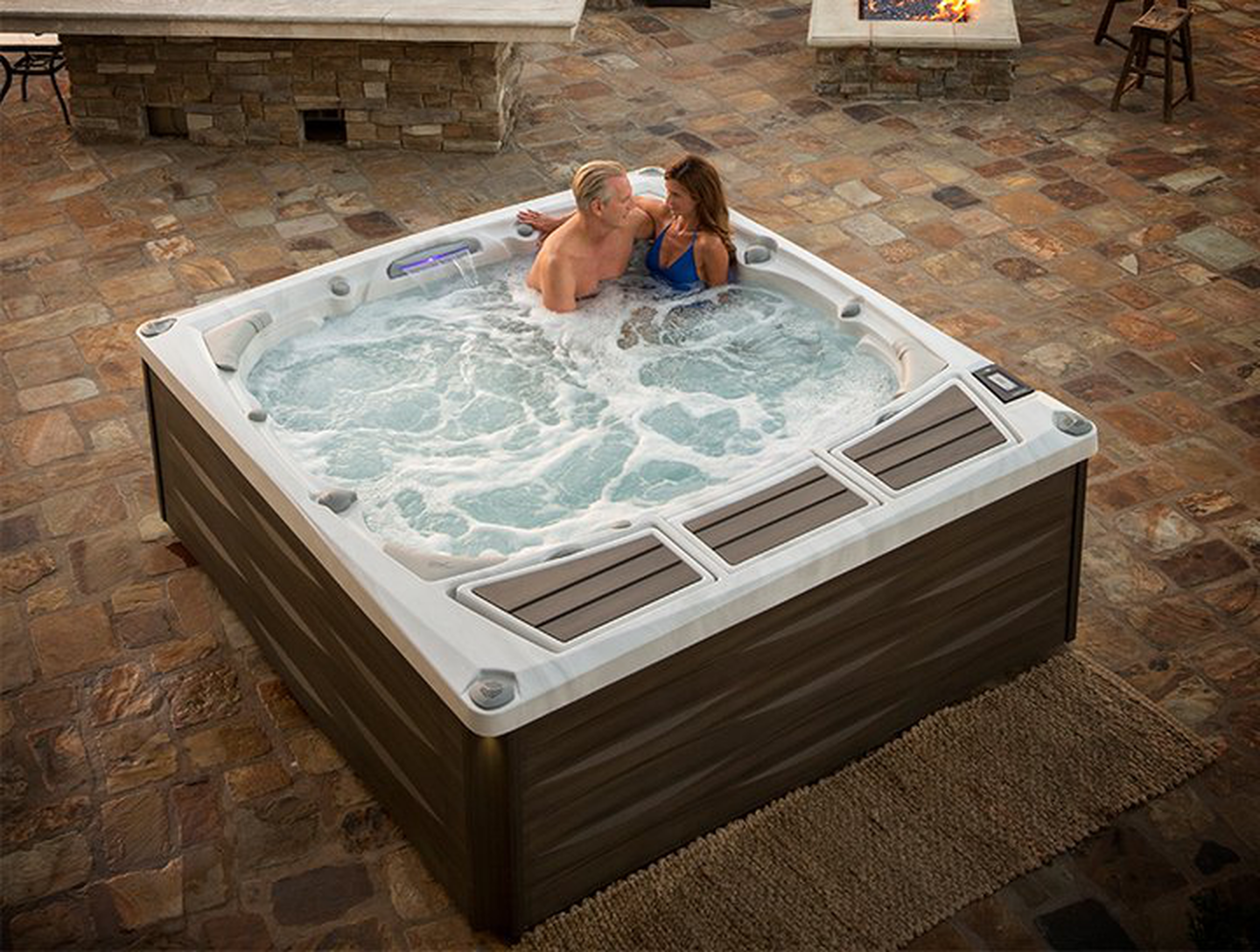 Sundance Spas is a hot tub manufacturer that was founded in 1979. The company produces a wide range of hot tubs, from small, two-person models to large, seven-person ones. The company is known for its innovative designs, high-quality construction, and superior customer service.
The brand sells its hot tubs at an average price of $10000. Sundance also offers a variety of spa features, including massage jets, waterfalls, floor lighting, energy efficiency, and syncing enabled by an intelligent device.
The company's products are sold through a network of dealers and retailers. Sundance is headquartered in Fort Lauderdale, Florida. Sundance Spas were founded by two entrepreneurs, Ray and Lynne Sundance.
Examples of their tubs include Peyton–680 Series and Splash Series–Brook.
ThermoSpas is a brand of hot tubs and spas with over 125 jets. It offers a warranty of 20 years to its customers. The company is based in the United States and provides various products, including hot tubs, spas, and decks, and it has been in operation since 1983.
The company also offers a variety of services, including installation, repair, and maintenance. Their maximum price is $19000. It produces hot tubs with ten maximum number of seats.
ThermoSpas hot tubs are known for their quality and features. The company's hot tubs come in various shapes and sizes and offer multiple options, including whirlpool and relaxation jets.
ThermoSpas also offers a variety of spa treatments, including massages, aromatherapy, and hydrotherapy. The brand provides the best for its customers with its energy-efficient products. Also, the company's decks are popular. An example of their product is ThermoSpas 5-Person 57-Jet Hot Tub.
Caldera Spas is one of the most well-known Best Hot Tub Brands on the market. It offers a warranty of ten years to its customers. Caldera Spas has a wide variety of hot tubs to choose from, so you're sure to find one that fits your needs. These hot tubs are designed with seats from one person to eight people.
Caldera Spas hot tubs are known for their high quality, durability, and performance. Caldera Spas' hot tubs are also very easy to maintain, so you can enjoy your hot tub for years to come. The tubs produced by this brand are energy efficient and have in-built heaters that regulate the water temperature.
If you're looking for a high-quality hot tub that will provide years of enjoyment, then look no further than Caldera Spas. Their hot tubs are some of the best on the market, and they're sure to meet your needs.
The Takeaways
In conclusion, hot tub brands offer various options to meet every consumer's needs. Whether you're looking for an affordable option or something with more features, a hot tub out there will fit your needs. However, whether you're new to the hot tub scene or have been using one for years, research different brands and find the perfect fit! Don't forget to enjoy your hot tub while it lasts – it can be a great way to relax after a long day!
Reference
https://modernize.com/hot-tub-spas/best-hot-tub-brands
https://www.bobvila.com/articles/best-hot-tub-brands/