Saunas have been popular in many cultures across the globe for centuries. While they way they operated may vary, they all had one thing in common: heat that induces sweat, followed by a cooling off period, resulting in a feeling of wellbeing. These days, saunas come in many different shapes and sizes and with added features. In this vein, you have probably come across some infrared sauna reviews and thought it was 'something new'. In a sense, it is an old principle with an added feature – infrared wavelengths.
Because things could get a little confusing, we have done some research on infrared saunas and come up with some infrared sauna reviews, taking a look at some of the best infrared saunas around.
What is an Infrared Sauna?
A traditional sauna heats your body by means of the heat that is radiated off surfaces in a sauna room. An infrared sauna, on the other hand, has infrared heaters that give off infrared waves. This radiant heat is absorbed by your body and is said to have quite a large number of health benefits.
The interesting thing about an infrared sauna is that the infrared waves penetrates and heats up your skin directly but does not heat up the air itself. They also have lower temperatures than a regular sauna. This makes it easier to use for those people that are not able to tolerate the high heat in a regular sauna.
Best Infrared Sauna Reviews – Top Pick Brands on the Market
Knowing the benefits of infrared sauna therapy is one thing. Choosing the best infrared sauna for you is another.  To this end, our team has provided the reviews of infrared sauna so that you know exactly what the pros and cons are before deciding on the one that suits your needs.
1.  JNH Lifestyles Joyous 1 Person Far Infrared Sauna
Looking for an affordable yet efficient sauna for personal use? The Joyous far infrared sauna by JNH Lifestyles is for you.
This is designed for 1 person use but equipped with amazing features that will make your sauna experience satisfying. From carbon fiber heaters to premium wood material, everything about this sauna is worth the investment.
This is one of our favorite saunas for personal use as it is affordable but provides great heat for an ultimate sauna experience.
The 6 carbon fiber heaters are not just economical but efficient as well. The carbon fibers turn all the electricity used into heat. Thus, saunas can heat up faster and provide more warmth.
Despite its small space, this sauna has its own speakers with AUX control.
Includes a digital control for temperature and sauna time duration adjustment
Made from 100% Canadian Hemlock wood
Proven safe to use; with ETL and UL certifications
Has a 5-year warranty program!
Only recommended for personal use and accommodates only 1 person
Doesn't come assembled
2.  Dynamic Saunas Venice 2 Person Far Infrared Sauna
Dynamic Saunas are one of the favorite saunas for families. This is because they offer a wide range of sauna styles and each has different functions.
The Venice sauna model, for instance, is great for new couples as it can only seat 2 people inside. The sauna's color is also more of a neutral tone to match your house's interior.
Has a total of 6 carbon fiber heaters which are efficient in delivering heat to all corners of the sauna
Emits zero EMF, so harmful radiation is not an issue with this product
The Canadian Hemlock wood material has a natural finish without any chemical or stain added.
The door is made from premium tempered glass that has great visibility of the outside view.
The Venice sauna is a special sauna with chromotherapy. It has a lighting system that changes color to uplift your mood. This way, you are not just detoxifying your body, but you are also getting rid of negative energies by boosting your mood through the frequencies from the lights.
Users of this sauna said that they feel better in terms of health as the time spent inside the sauna helps improve their blood circulation and muscle pain.
Also has 2 built-in speakers
You need an expert hand during assembly of this sauna.
The sound of the speakers is weak as compared to the premium speakers of other brands.
3.  JNH Lifestyles 2 Person Far Infrared Sauna
An infrared sauna specifically built to maximize your heating area
FSC certified "Green" Wood with no added chemicals or plywood
Has 7 carbon fiber Far infrared heaters situated for maximum effect
Dual wall insulation
Specially designed safety glass for the door tolerates higher temperatures
Assembly is easy – panels are buckled together
Easy to transport
Sound system includes two speakers with an amplifier – works with all portable audio devices
Comes equipped with LED lights
Digital control panel
Plugs into a standard 110V 15 Amps output
Your unit may have a few manufacturing defects, e.g. latches needing a new location on the sauna
Audio inputs do not support iPhones – an adaptor is necessary
Although temperature should reach 140 degrees Fahrenheit, the reality may be less
Colder air may enter around the feet area
4.  BetterLife BL6109 1-2 Person Carbon Infrared Sauna
The BetterLife 102 person sauna is easy to use and assembles very easily. It also makes use of a 15 amp110-volt outlet, making installation a breeze.
Fitted with eight carbon FAR infrared heating pads
Energy efficient
Very easy to assemble
The soft touch control panel and LED display indicates temperature and time
The bench and floor heaters have a reduced wattage, reducing burning sensations in these areas
The Chromo therapy system enhances your relaxation experience
It is a full spectrum sauna, i.e. emits far, medium and near spectrum infrared rays
The heaters go up well above head level
It may be a tight fit for two people
5.  DYNAMIC SAUNAS Barcelona 1-2 Person Far Infrared Sauna
Using reforested Canadian hemlock for production, these saunas are environmentally friendly.
Walls are double paneled to retain heat more efficiently
Offers 6 Low EMF infrared carbon energy efficient heating pads as well as foot heater
Easy to assemble
A dual soft touch control panel and LED display shows sauna temperature and time
Built in MP3 connection with speakers
Plugs into any 15 amp 100-volt outlet
Door is made of clear tempered glass
Bench and floor heaters may not produce adequate heat
You may find it a little draughty due to gaps at the side of the door
There is a newer model of this item:
6.  2-Person Hemlock Deluxe Infrared Sauna
A great place for relaxation and rejuvenation after a long hard day at the office.
Sports 6 carbon heaters pushing out 1725 watts of heat and operates up to 141 degrees Fahrenheit
Easily powered by a home's 120 volt 15 amp outlet
Buckle assembly allows for easy setting up
Stereo sound system includes built-in speakers, radio, CD player, and an AUX mp3 connection
Comes with a 7mm tempered glass door
Has an interior and exterior LED control panel
The sauna may not reach the advertised temperature of 140 degrees Fahrenheit, settling at around 130
The thermostat or heaters may be faulty
The three ventilation holes in the floor cannot close
Radio tends to lose its settings when the sauna is plugged out
7.  JNH Lifestyles NE2HB1 ENSI 2 Person NO EMF Infrared Sauna
The only sauna that sports a zero EMF, Intertek tested and certified heater!
7 ETL approved, commercial grade carbon fiber far infrared heaters
Sports a double layer of Canadian hemlock, FSC certified wood with no chemicals or plywood
LED lighting on the inside
Has 2 premium speakers with a built in AUX control and volume rocker
LED digital control panel for temperature and time control
Uses a standard USA 110 volt 15 amp power outlet
Floor stays cold
Relatively poor instructions
Speakers are not of the best quality
iPhone tends to heat due to being inside the cubicle
The product is Currently unavailable.
Product for 2020: JNH Lifestyles Joyous 2-Person Far Infrared Sauna
8.  JNH Lifestyles NE3HB1 ENSI 3 Person NO EMF Infrared Sauna
The carbon fiber far infrared heaters are situated such that they provide the maximum amount of heat for your relaxation pleasure.
The 8 zero-EMF carbon fiber infrared heaters are dispersed in order to give maximum heating pleasure: 3 shoulder heaters, 2 leg heaters, 2 calf heaters and one general heater
Requires no special wiring
Long-lasting interior LED light
Digital control for temperature and duration of use
Built in speakers with an amplifier and auxiliary plug with a volume rocker works on all portable audio devices
Dual wall construction ensures better insulation
Specially designed safety glass door tolerates high temperatures
A tight squeeze for more than two people
Plugs into an 110 volt 20 amp socket so you may need the help of an electrician to complete the installation
The product is Currently unavailable.
Product for 2020: JNH Lifestyles Joyous 3-Person Far Infrared Sauna
9.  Sequoia Luxury FAR Infrared Sauna By SunRay Saunas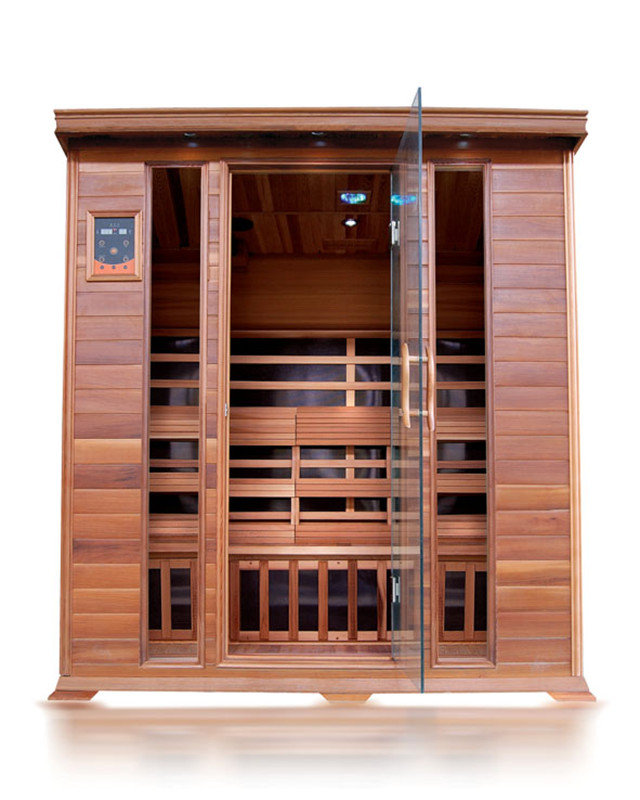 SunRay is best known for their aesthetically pleasing sauna designs without compromising comfort and quality. This Sequoia Luxury line can fit four people inside. This beautiful sauna is made of cedar wood in red color. Among its best features include ergonomic backrests, chromotherapy with 7 colors, oxygen ionization system, and an FM radio complete with CD and MP3. It even has a space for cups in case you want to enjoy a  sip of tea while relaxing in the sauna.
The natural red cedar wood complements well with both modern and rustic room decor.
You can enjoy listening to music, thanks to its FM radio with CD player and MP3 that are ready to use.
No more uncomfortable sitting positions with Sequoia's ergonomic backrests.
It has a total of 10 heaters. So, rest assured you'll get the infrared treatment that you deserve.
The air filtration system purifies the oxygen inside, allowing you to breathe only clean air.
If the best infrared sauna with luxury features is one that suits your taste, then the dual control pads and 7-color chromotherapy of this sauna are perfect for you.
It has a product warranty of 7 years.
Prepare to fish out a big amount of cash since this beautiful sauna costs 4 figures.
You need a Phillips screwdriver for the assembly of this sauna.
This is good for indoor use only.
10.  4-Person Cedar Corner Infrared Sauna
A solid Canadian Red Cedar Wood sauna that tucks neatly into a corner.
Unit sports 10 carbon InfraWave FAR heaters
The roof vents are adjustable
Air is purified by means of an electronic oxygen ionizer
Interior and exterior LED control panels
Unit has a 7-color chromotherapy system
Designed to emit extremely low EMF levels
Very easy to assemble
Added extras include a CD player with mp3 plug-in, towel hooks, backrests, and magazine rack
Power cord is situated in a difficult spot
Because of the 120 volt 20 amp power requirement, you may need an electrician to complete your installation
11. HeatWave Tuscon Monticello 4 Person Infrared Sauna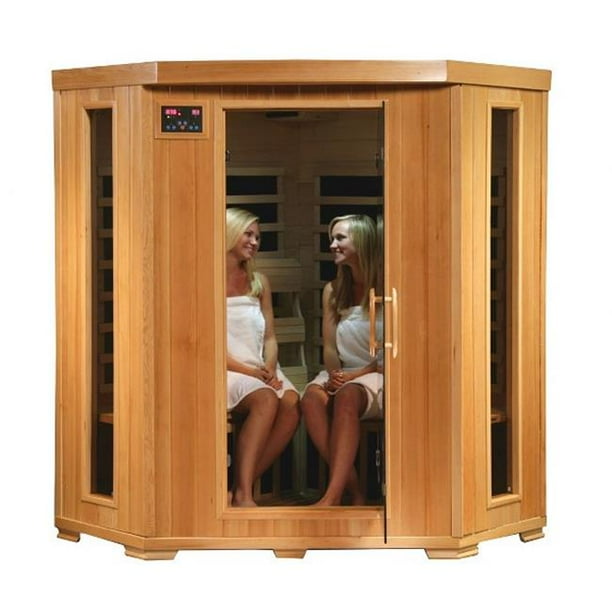 A presentable corner unit with a lot going for it.
10 Carbon heaters
Unit has a built-in color mood light
Comes with a CD player with a mp3 plug-in
Contains a 2120 Watts oxygen ionizer ensuring clean air
Boasts an interior and exterior LED control panel
Extras include towel hooks, backrests, and a magazine rack
Unit is easily assembled
The back rests do not stay in place
The 120 volt 20 amp power requirement implies the need of an electrician for final installation
Power cord may be in a difficult position
CD player is not the best around but fine for the price
12.  Dynamic Saunas Monaco 6-person Far Infrared Sauna
Monaco is yet another popular sauna model from Dynamic Saunas. It's people's fave for a reason, of course!
If you want a bigger and warmer sauna for your entire family, then you'll have no better option than the Monaco sauna. This is a spacious far infrared home sauna with compact and solid construction.
Has a total of 15 carbon fiber heaters, giving you the desired temperature to release all that toxins in your body.
The heat it produces is soft so as not to damage your skin. It helps improve skin condition instead.
Made from 100% reforested Canadian Hemlock wood. Hemlock is a softwood but is known for being durable yet lightweight.
This sauna offers great visibility of the view outside as the walls and door in front are all made from tempered glass.
In this sauna, you can also lie down if you want to fully relaxed as the benches have sauna backrest for maximum comfort.
Just like the other Dynamic Saunas models, this one also has a chromotherapy feature. The changing lights match your mood.
Great for muscle pain, fatigue, and ultimate detoxification
This is exclusively an indoor sauna. The way this sauna is designed will not be suitable for outdoor use.
A little complicated to assemble, so hire an expert to do the installation for you
Only available with curbside delivery
The Health Benefits of an Infrared Sauna
Most infrared sauna reviews tend to tell you about the great product. However, they do not answer certain fundamental questions. The main and most important question should be: What are the health benefits associated with an infrared sauna?
Let's take a quick look at the health benefits associated with an infrared sauna before having a look at some of the best infrared saunas around.
1. Detoxification
One of the most natural ways in which to detoxify the body is through sweating. An infrared sauna heats up your body and makes your core temperature rise. This results in detoxification at a cellular level, where the toxins are usually stored. Infrared saunas have the ability to help you eliminate up to seven times more toxins than traditional saunas.
But what are toxins exactly?
In a nutshell, toxins are any 'poisonous' or 'harmful' elements that enter the body. This could be by way of what we eat or drink, or even the air we breathe.
2. It improves your circulation
Not only does an infrared sauna increase your core temperature, it also improves your body's circulation. When your blood circulation improves, your muscles recover quicker, and there is a decrease in both pain, inflammation, and other health issues normally associated with poor blood circulation.
3. It provides pain relief
Besides stimulating blood flow and the associated decrease in pain and inflammation normally associated with bad circulation, infrared saunas also help with pain relief due to muscle and joint strain. This is usually the result of exercise or when overtaxing your body.
4. It helps with weight loss
An infrared sauna session of thirty minutes burns about 600 calories. This is because, when your core temperature increases, so does your heart rate. As a result, your body has to actively work harder at keeping your core level and heart rate down. The result is more calories being burnt, and thus, weight loss.
5. It is great for your skin
Because your circulation increases while toxins are removed during an infrared sauna session, impurities are eliminated from your skin's pores, leaving it softer and clearer.
6. A great way to relax
Contrary to what is experienced in a regular sauna, an infrared sauna therapy session penetrates your muscles deeply while giving a better relaxation experience at a much lower temperature.
7. It is an immune booster
Infrared sauna therapy boosts your immune system, especially during the process of healing by working at the cellular level. By boosting your immune system, you are less at risk of contracting diseases.
8. It fights cancer
Studies suggest that infrared sauna therapy helps with the fight against cancer.
9. Provides stress relief
Research indicates that infrared sauna therapy works on the body's parasympathetic nervous system and helps you deal with stress.
Which types of Saunas you can select for home
Many people are under the impression that a dry sauna and a steam sauna are both saunas. This is not really the case. A sauna makes use of dry heat, while a steam sauna is more accurately a steam room. While both use heat, a steam bath operates at a much lower temperature and has a very humid environment. Sitting in a sauna could generally speaking be described as 'sweat bathing' due to the high temperatures encountered causing you to sweat.
There are a number of sauna options available.
Indoor sauna, outdoor sauna, portable sauna, and mobile sauna
Depending on your personal needs, you could opt for any one of these three options. Typically, an indoor sauna would be smaller in size while an outdoor sauna would be larger. These types of saunas are also built to certain specifications.
A portable sauna roughly describes any sauna that is easy to take apart and reassemble, although most people think of them as fabric-lined frames that are heated up. They can be constructed and deconstructed virtually anywhere.
Mobile saunas, on the other hand, are smaller saunas that are typically built 'on wheels'. In other words, on the back of a truck, or trailer. They can be towed around to new locations as needed.
Wood-Heated Saunas
Wood-heated saunas are the most common types of sauna. It features a wood stove and a chimney that will provide ventilation for the smoke emitted by the burning wood. The wood will be placed inside the wood stove and it will be burned similar to a fireplace. Sauna purists consider this traditional method the best way to heat up a sauna.
"Savu saunas" or Smoke Saunas
The Savu Sauna or smoke sauna is a kind of Finnish sauna that does not require a chimney. It works by burning wood in a large stove and the smoke from the burning wood will be made to fill up the room. The smoke heats up the entire room and when it is hot enough, the fire is extinguished and the smoke is ventilated out of the room.
Electric Saunas
As its name suggests, electric saunas are powered by stones that are heated with the use of electricity. This is the preferred kind of sauna for apartment owners as it is a lot less messy than a wood-heated sauna.
Electric saunas are very easy to use. A push of a button is all that's needed in order to start heating the room. It doesn't require wood and can work well as long as there is electricity.
What's not so great about electric saunas is that it adds up to the electric bill of course. Some people also expressed dislike for this kind of sauna because it doesn't have that authentic sauna feel that wood-heated and Savu saunas have.
Infrared Saunas
An infrared sauna heats your body much the same way as the sun does. This makes it vastly different to more traditional saunas where the air is heated to a high temperature and the air, in turn, heats your body.
There are two types of infrared saunas: far infrared saunas and near infrared saunas. The question is, what is the difference? It mainly has to do with the light spectrum.
Near infrared
About half of the sun's energy is released in the near infrared spectrum. Our bodies use this energy to make vitamin D in order to be healthy. Near-infrared saunas are great for the skin, gives relief from pain, raises the core temperature of your body, and helps to improve your body's circulation.
Far infrared
Far infrared works just like near infrared except that it works on a different wavelength. Besides the benefits of near infrared, far infrared also helps relieve stress, boosts your immune system, helps with weight loss, increases your metabolism, and detoxifies your body.
Steam Baths
Steam baths use heated water in order to draw out the toxins from the body. A person would normally submerge his body in a shallow pool of heated water in order to get rid of the toxins in the body. In some cases, steam baths do not require the person to submerge himself in the water. Instead, they are only encouraged to stay inside the room where steam would permeate the room.
Barrel sauna
As the name suggests, a barrel sauna is shaped like a barrel. Heat is derived from either an electric source or an outside wood source.
Manufactured Sauna Rooms
Manufactured sauna rooms are rooms that come built in with the things needed in a sauna. Some are made with wood-heating capabilities while others are made using electric saunas. Rooms like this are usually small and detached from the house.
Difference between the infrared and traditional saunas
According to some infrared sauna reviews, the traditional saunas differ greatly from For one, infrared saunas do not use fire to make the body feel heated. It also does not need to be constantly watched as it regulates itself automatically.
Another difference between traditional and infrared saunas is that the surroundings don't feel hot in infrared saunas. The light waves from an infrared source would heat up the body directly to its core so it does not need to make the entire room feel hot to be effective.
Traditional saunas are also more cumbersome to build, use and maintain. Infrared saunas are easy to use and won't require a lot of wood in order to function properly.
Carbon fiber infrared sauna vs ceramic infrared sauna
These are the two heating systems commonly used in an infrared sauna. The difference is what they are made of.
Carbon fiber heating systems generally have a few advantages over a ceramic heating system:
Even distribution of heat
Provides more heat coverage
Has a lower surface temperature
Penetrates deeper into the skin
Is more energy efficient
Common sauna room equipment
In order to make your sauna room experience a pleasant one, you may need some basic equipment, depending on the type of sauna you choose.
Firstly, if going with a traditional steam sauna, you need a sauna heater.  Different options are available, depending on the type you choose. If you choose a more traditional variety of sauna room, you will need a sauna heater stove to provide heat. Add to this a sauna bucket to hold your water, and a sauna ladle with which you can pour water over hot sauna rocks in order to create a wealth of soothing, hot steam. While you are at it, do not forget your special sauna backrest for your seating comfort. Picking the right one is important when it comes to your comfort.
The best sauna rocks are igneous rocks such as granite, diorite, and andesite. They all contain iron and magnesium, which means they are great at conducting heat. Another type that also works well is black basalt.
Another important piece of equipment is your sauna thermometer. This allows you to determine the temperature you want, without you ending up boiled from the heat. Remember, things can get too hot for comfort!
If you have a dry sauna, a basic thermometer is fine, but a steam sauna may need a thermometer (to measure temperature) as well as a hygrometer so that you can gauge the humidity in the sauna. If the humidity is above 35%, it means that your rocks are not warm enough.
Then, lastly, your lighting. Sauna lights are important in creating the perfect ambience and atmosphere to any sauna experience. Here, you can allow your imagination to go wild, and select either overhead lighting, floor lighting, or even indirect lighting. There are many options to choose from, giving you the experience you both want and deserve.
But expand the luxury…
Ply your hot sauna stones with special herbs, oils, and salts to further enhance your mood or even for healing purposes.
There are a number of sauna oils you can use to make your sauna experience even more special, but do take care, as undiluted sauna oil is very strong and may do more harm than good. Typically, you would four drops of essential oil to a liter of water and use this to splash onto your sauna stones.  The benefits of sauna oils include:
They can top the signs of aging
Heal certain skin problems
Improve your hormones
Help with pain management
Fight the symptoms of colds and flu
Relax you
Help ease sore muscles
Improve digestion
Sauna herbs are also of great benefit, especially for healing purposes, and can be used for many ailments, such as insomnia, stress, depression, and even the common cold! The herbs can either be infused into the water you use on your hot stones, or placed onto the hot sauna rocks directly. Either way, you get the benefit.
The great thing about using herbs in your sauna is that the steam opens your pores, allowing the oils released from the herbs to penetrate your skin and do their work. Using lavender, for instance, helps to get rid of anxiety, helps you relax, and also has a positive effect on depression. But it does not stop with lavender. There are many herbs to choose from. Each has their own benefits.
Using Himalayan Salt of part of your spa experience leaves your skin feeling soft and smooth, while the healing benefits are varied, e.g. it is relaxing, clears the head, and may also help combat anxiety. This is a relaxation aid to die for.
Of course, nothing tops up a sauna experience like a nice shower and drying off with a sauna towel. If you are going to be sharing the sauna experience, you might consider wrapping yourself in one while enjoying yourself. Either method, i.e. sitting in the sauna without a towel, or with one, is fine. That is your choice alone. Just make sure your towels are large and fluffy, giving you that extra luxury experience.
Things Consider Before Choosing Far Infrared Sauna
1. Capacity & Dimension
Infrared saunas are usually designed to fit up to three people inside. Anything bigger will also require installation of additional heating. Consider the number of people that will use the sauna before buying one. The dimensions of a sauna should also be considered. If it is intended to fit 3 persons at a time the dimensions have to be bigger.
2. Type of Heaters
Heaters comes in carbon, ceramic and mica. Chose the right type of heater that suit your needs and budgets. Ceramic heaters are fairly inexpensive but can provide uneven distribution of heat. Carbon is more expensive but provides a more even distribution of heat.
3. Heating Surface Area
Wider heating surface areas are better than smaller ones. They heat up faster the smaller surface areas. Just remember to factor in the cost of a wider heating area before buying one.
4. Build materials
Consider only using the best building materials in order to get the most out of your sauna. Cedar wood is a good choice in building materials according to some infrared sauna reviews.
5. Potential Toxins
Heat from the sauna could melt the glue that holds the wood together. These could contain toxic fumes when inhaled. Purchase infrared saunas from reputable manufacturers to avoid inhaling or absorbing potentially dangerous toxins used with constructing the sauna.
6. Heater Covers
Heater covers should adequately cover the heat source so that it does not come in contact with the skin of the occupant. Ensure that heaters are covered properly prior to use. Find good types of cover and not cheap ones that break easily.
7. Safety
Again, make sure to get infrared saunas from reputable sources. These manufacturers have standards that they follow in order to build their saunas. Look for companies that are ISO certified or CE certified. Other certifications are also available so be sure to check those out too.
8. Warranty
Like every other appliance infrared saunas can also experience wear and tear with continued use. Many experts recommend checking the warranties carefully before purchasing to ensure that your unit is covered in case in breaks or parts of it need to be replaced.
Frequently Asked Questions About Infrared Saunas
1.  Is it safe to use the sauna everyday?
Yes, it is safe to use the sauna every day, but you need to limit the time spent inside the sauna. To avoid any health problems, make sure to use the sauna only 15 minutes daily. It is also recommended to consult your doctor beforehand and ask for a go signal.
2.  Do saunas help with acne?
There is no direct connection between sauna and acne. However, one of the benefits of using a sauna is improving skin conditions.
On the other hand, some people believe that the sauna makes acne worse because you sweat a lot in saunas. But experts have debunked this belief saying, sweating actually helps lessen breakouts because it flushes out the clogged pores on your face.
The key here is to know your temperature. Don't set the sauna to the highest temperature if you have acne to avoid irritating the skin even more.
3.  Is it safe to use the iPhone while sitting in the sauna for 20 minutes?
Some smartphones like the iPhone have a certain temperature ambient that allows you to use the phone up to 35-degree Celsius.
In the sauna environment, the temperature can go as high as 40-degree Celsius. Thus, it is much better to just leave your iPhone outside.
Also, isn't it the reason why you want to use the sauna is for you to relax and unwind? You cannot do that with an iPhone in hand.
4.  What are the best temperatures for a sauna?
It actually depends on your preference. But most saunas have heat temperature range between 120-degree to 175-degree Fahrenheit.
Experts suggest you avoid using saunas at a very high temperature on a regular basis. It is more effective to alternate the temperatures; like go for a high temperature 4 times a week and the other days, you just have the medium temperature.
5.  How can a sauna affect a sunburn?
At first, you'd think that the sauna can worsen your sunburn. But truth be told, sauna actually produces soft heat that stimulates your skin to produce new cells. Hence, in the long run, sauna actually helps reduce the pain from sunburn and improve its appearance.
Conclusion
There is an overwhelming body of evidence even more infrared sauna reviews that attest to the myriad benefits associated with infrared saunas. In our opinion, the best sauna of those reviewed is most definitely the JNH Lifestyles NE3HB1 ENSI Collection 3 Person NO EMF Infrared Sauna. This sauna ticks all the right boxes and has an added element of luxury that just makes the whole relaxation experience worth every minute – and it is good for you too!