What's the best way to add style to your bathroom no matter the size and available functionalities? Bluetooth bathroom fans are the new home décor "it" item.
Pick out the best Bluetooth bathroom fan for you from our review and add style, function, and even entertainment to your bathroom now.
Top Benefits of Bluetooth Bathroom Fans
Unlike the regular bathroom ventilation fans that most bathrooms typically come with, Bluetooth bathroom fans provide you with extra features to make bath time an all the more amazing experience for you and your family.
Regardless of how big your bathroom is, what kind of aesthetic it follows, and what you and your family's needs are, there will always be a Bluetooth bathroom fan model that will be perfect for you out there.
Functionality
Bluetooth bathroom fans perform just as well as some of the best bathroom fan or ventilation fans out there in terms of circulating the air in the bathroom and eliminating odor from the room effectively.
Just like any technological advancement though, Bluetooth bathroom fans come with more than the basic function. Depending on the model you purchase, Bluetooth bathroom fans can also come with light fixtures on them, oftentimes with controllable settings like dimming, brightening, changing colors, and even strobe functionality.
Other times you can even chance upon models that allow you to put deodorizers or air fresheners too that can be set to spray at intervals or upon command. In fact, depending on the unit, you can also have sensor-operated Bluetooth bathroom fans that activate upon entering the room or sitting on your toilet bowl.
Style
Some of the best Bluetooth bathroom fans out there boast of varying sizes, styles, finished, and colors.
You can choose models that come in standard, blend-into-background styles you can add into almost any bathroom regardless of style and aesthetic.
Or you can even look around for more unique models that can come in different shapes and designs that can make your exhaust fan look like a great accessory piece or attention-catcher in terms of bathroom décor.
If you are more serious about keeping a harmonious aesthetic in the interior design of your home, you don't have to worry too much about not being able to find a Bluetooth bathroom fan that suits your taste because there are just that many models to choose from.
Most Bluetooth bathroom vents don't limit you in terms of where you can position them too. As long as you wire them properly, you can have models installed directly above your shower and bathtub too.
Entertainment
One of the more interesting points of Bluetooth bathroom fans is probably the fact that they can serve as entertainment for your bathroom, making showering or simply getting ready in the morning a more exciting and entertaining moment to set the right mood for the day.
A lot of the best Bluetooth bathroom exhaust fan and ventilation fans on the market right now include a Bluetooth speaker system that can be connected to your mobile phone or any other electronic device, allowing you to listen to all sorts of music, podcasts, and even news programs while you're doing your business.
This comes in handy especially if you have strobe light setting available on your Bluetooth bathroom fan model because this means you can literally bring the party anywhere.
If you have children, this is also a great way to have them start enjoying bath time more than they ever did before.
The Best Bluetooth Bathroom Fans 2021
Now that we've run through what bathroom fans are and why you should get yourself one, here are some of the best Bluetooth bathroom fan models in the market today.
Reading through them will give you a general idea as to what the top availabilities in the market are. This way, you know how items are typically priced and what kind of features they are more likely to have.
Your choice of Bluetooth bathroom fans, however, is not limited to the ones on this list so after browsing what we have, you should try going to your local appliance store too.
1.  BroanSensonic Bathroom Exhaust Fan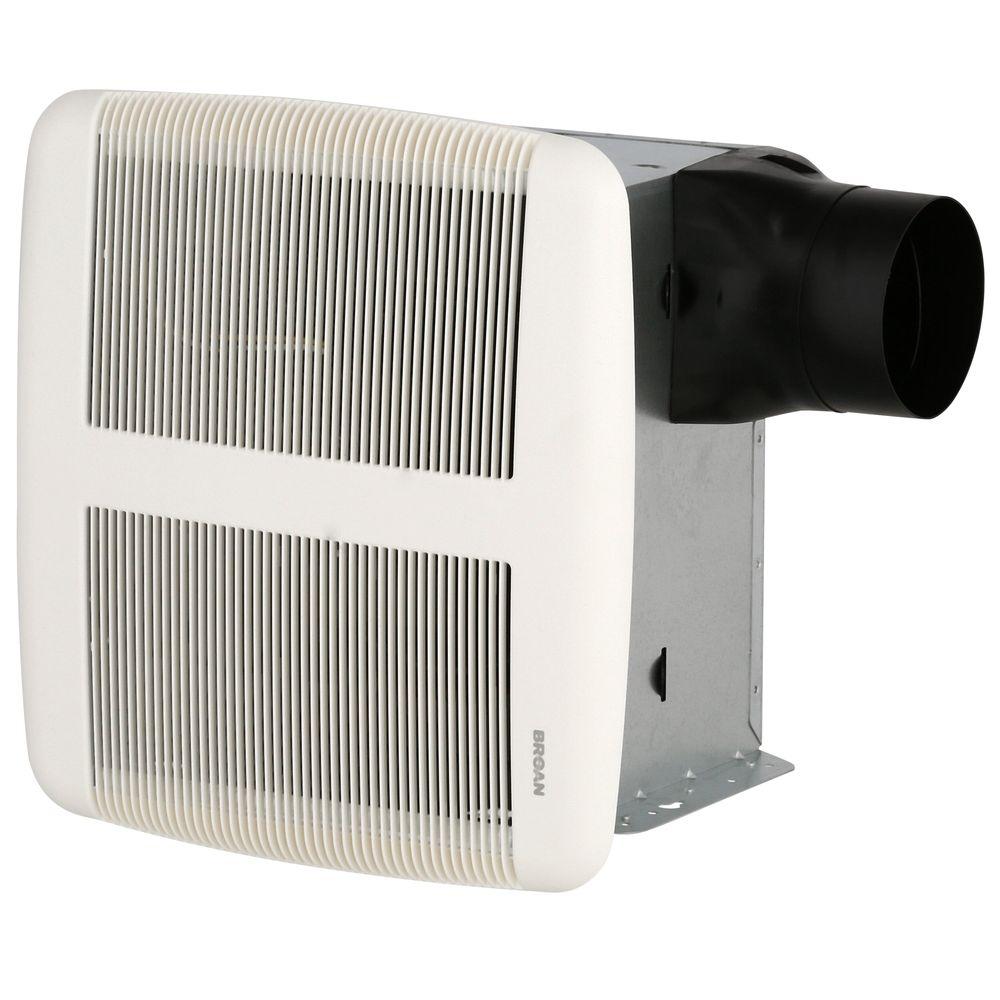 Manufactured by Broan-NuTone, this bathroom exhaust fan is a Bluetooth bathroom fan that comes with a dual high-fidelity Sensonic speaker built-in system that is safe for installation even directly above your shower or bathtub.
It is a no-nonsense design with a plain white grill face that can blend into any wall fixture. This is probably the Bluetooth bathroom fan that is most similar in terms of look to your regular bathroom exhaust fan, only, better and without the rambling noise.
The Pros of this BroanSensonic Bathroom Exhaust Fan
Easy installation on existing ventilation fans (2 inches by 8 inches ceiling construction)
Sound coverage up to 105 square feet
Audio component hidden behind grilles
Energy Star qualified
Operates at 110 CFM and 1.0 stones
Cons of the Bathroom Exhaust Fan
Basic Bluetooth speaker model
Requires GFCI protected branch circuits for installation above bath tubs
Basic design aesthetic
Light bulbs sold separately
2.  VFB25ADBT Delta BreezSignature Series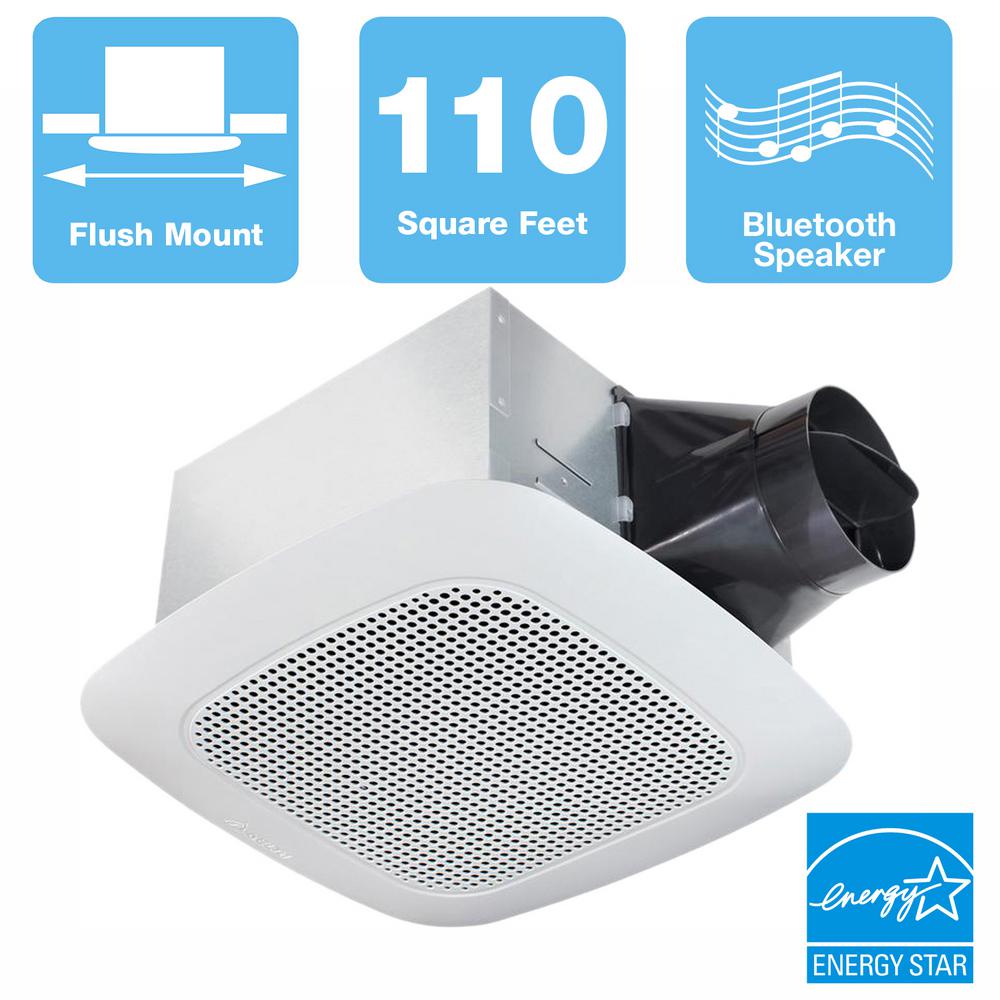 Part of the BreezSignature series of Delta Products Corporation, the VFB25ADBT is also a Bluetooth bathroom fan that comes with built-in speakers.
It is a ceiling mounted model that promises to operate and create lower noise or sound compared to other models so that you can listen to your music more than the buzz of your exhaust fan.
Another no-frills and no-nonsense design, it comes with a porous face with rounded edges that can easily blend into the typical white ceiling of any family bathroom.
The Pros of this VFB25ADBT Delta BreezSignature Series
HVI, UL, and cUL certified model
110CFM fan operating at 1.0 stones for quiet operation
IPX4 water resistant speaker systems
Cons of the Bathroom Exhaust Fan
Requires GFCI-protected branch circuit wiring for installation above shower or bath tub
Fan needs to be running for speakers to work
Loud chiming or ringing sound when device is turned on or off
Bluetooth speaker becomes fuzzy when hitting bass or treble notes
3.  HOMEWERKS WORLDWIDE 7130-02-BT Bluetooth Bath Fan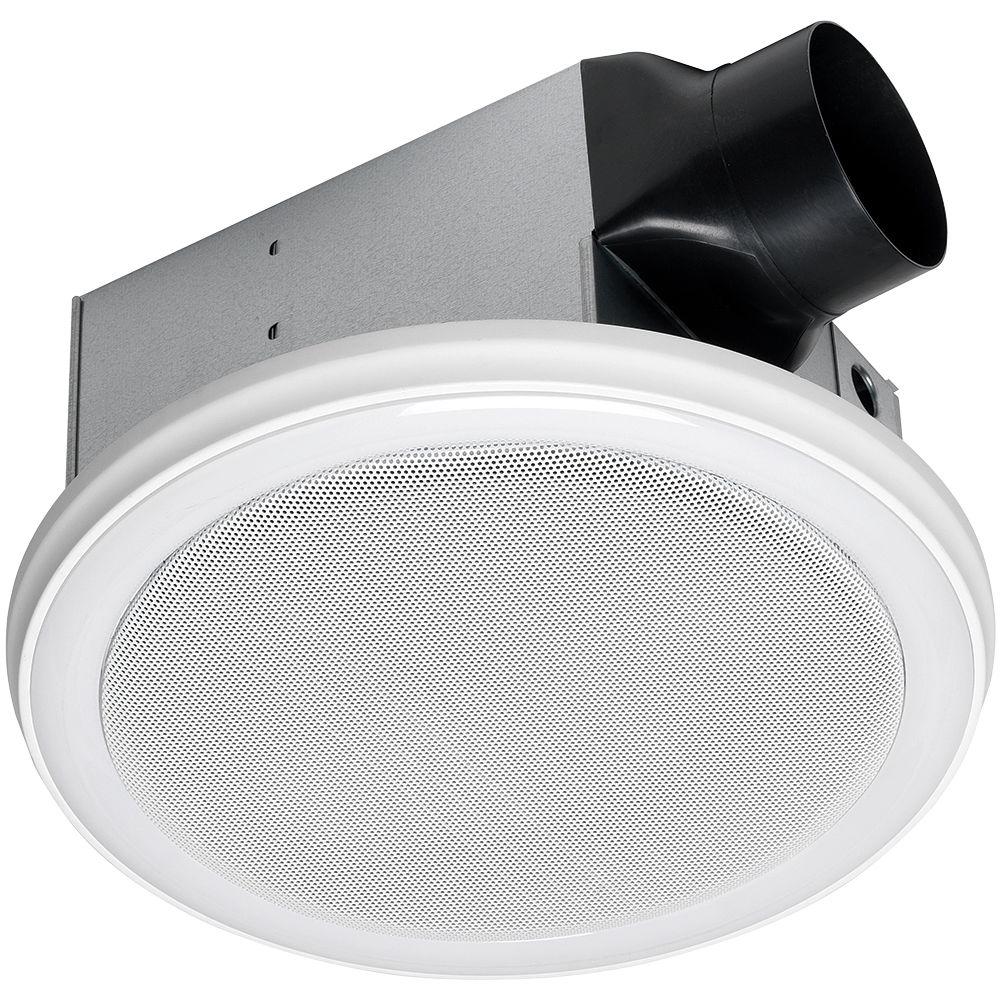 Homewerks Worldwide has come up with the 7130-02-BT Bluetooth bathroom fan that comes with not only a built-in speaker system.
However, it also comes with an LED lighting that includes a blue night light feature that is great for kids and adults who need just the right amount of light to help them use the bathroom at night.
This is a more expensive model as compared to the two latter ones mentioned above.
The Pros of this Bluetooth Bath Fan
Stylish circular shape with miniscule almost mesh-like grilles
Speaker capacity of 30 feet away from the fan
No charging or recharging needed
4 switch panel that controls exhaust fan, speaker, LED light, and night light separately
Cons of the Bluetooth Bath Fan
Noisier than other fans, operating at 1.5 stones
Brackets do not support fan properly
Mounting screws strip easily
Low quality control for packaging and item material sourcing
4.  Delta BreezIntegrity ITG70BT Bathroom Fan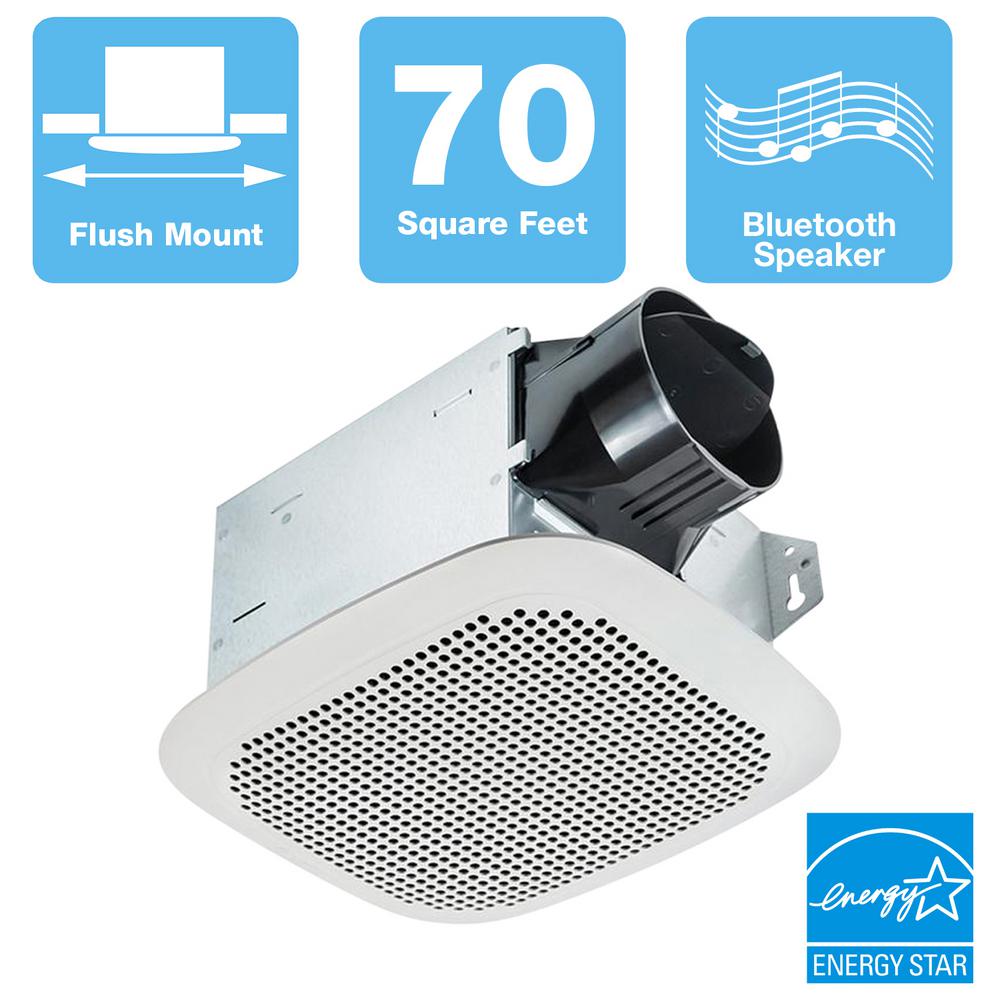 Part of the BreezIntegrity Series of Delta Electronics, the ITG70BT Bluetooth bathroom fan is an upgrade from the BreezSignature model because this one can have the fan and speaker run separately using a two-switch panel.
Like the BreezSignature, it comes in a white, square shaped grille with rounded corners and a porous face.
BreezIntegirty Series models can be selected accordingly to different CFMs and additional functionalities they could come with like Bluetooth speaker functions, LED lighting, and additional humidity-absorbing mechanisms.
The Pros of this Delta BreezIntegrity ITG70BT Bathroom Fan
Operates quietly at 70 CFM and 1.0 Stones
Electricity consumption saving guaranteed
Energy Star qualified
Straightforward installation process
Cons of the Delta Bathroom Fan
Reviews say that fan and speaker have to be on simultaneously to function
Functionality must be selected among series
No model with all functionalities available in series
Loose damper outlet
Does not pull humidity out effectively
5.  Decorative White 110 CFM Ceiling Mount Bluetooth Fan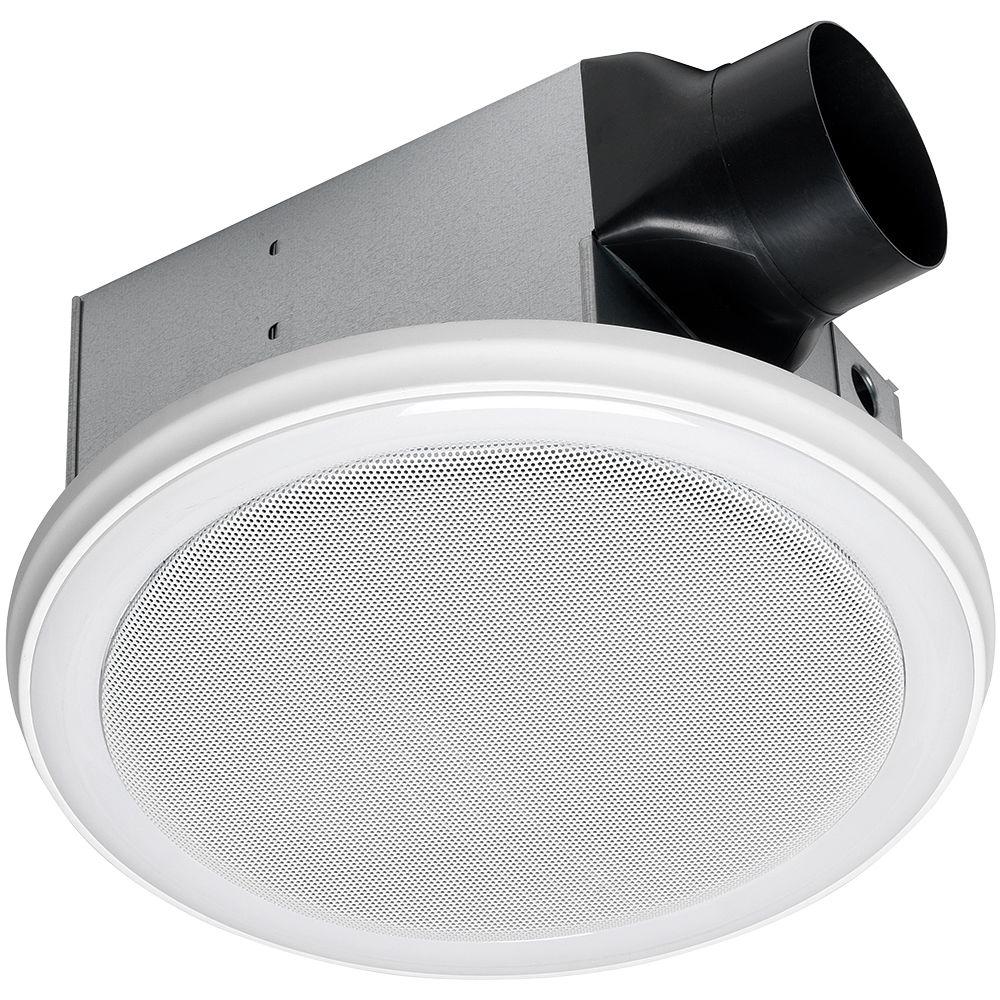 Manufactured by Homewerks Worldwide, this Bluetooth bathroom fan is a step up from the latter Homewerks model mentioned above.
It comes with an exhaust fan, a Bluetooth speaker, LED lighting, Blue Nightlight, and an Amber-colored nightlight. It is the perfect fan to have if you are the type to enjoy more mood-setting lighting either to suit the theme of your bathroom or to fit the music or mood you are in at the moment.
The nightlights are also useful for families who do not like bright lighting when they use the bathroom at night, or family homes with kids who need light to scare the monsters away.
The Pros of this Decorative White 110 CFM Ceiling Mount Bluetooth Fan
Powerful but silent operation at 110 CFM and 1.5 stones
Three light settings—white light, blue night light, amber night light
Back-to-back, hot and cold reversibility
90 day return policy
3 years warranty for fan
1 year warranty for Bluetooth speaker
Cons of the Ceiling Mount Bluetooth Fan
Poor humidity pulling strength
Fuzzy or spotty Bluetooth connection
Low quality control for packaging and item material sourcing
Larger unit at 15 inches may not suit all existing vents
Conclusion
When it comes to which model offers you the best over-all value for the money you spend on them, the VFB25ADBT of the Delta BreezSignature Series is our pick as the best Bluetooth bathroom fan.
Not only is it a pretty standard design, looking more like a speaker than an exhaust fan, it also has the least number of cons considering that installation and operations are more or less spotless.
If you're looking for good music while you about the bathroom at a great price point, this is a must-try model for you. The Delta BreezSignature is a great investment, bringing the party to your bathroom.