Dogs need to cool down, especially during summer when the weather is hot or if you and your pet are living in a country where the weather is warm. Having a pool in your yard can prevent your buddy from overheating and suffering from a heatstroke. Swimming can also be a great exercise for them. So, you might as well consider buying the best dog pool. Hence, we are here to help you out.
In this article, we will review the best dog pools in the market that can be a good choice for your pet. We will also be giving you some buying tips to make the most of your purchase.
Best Dog Pool Reviews
1. Jasonwell Dog Bath Pool (Foldable, Collapsible)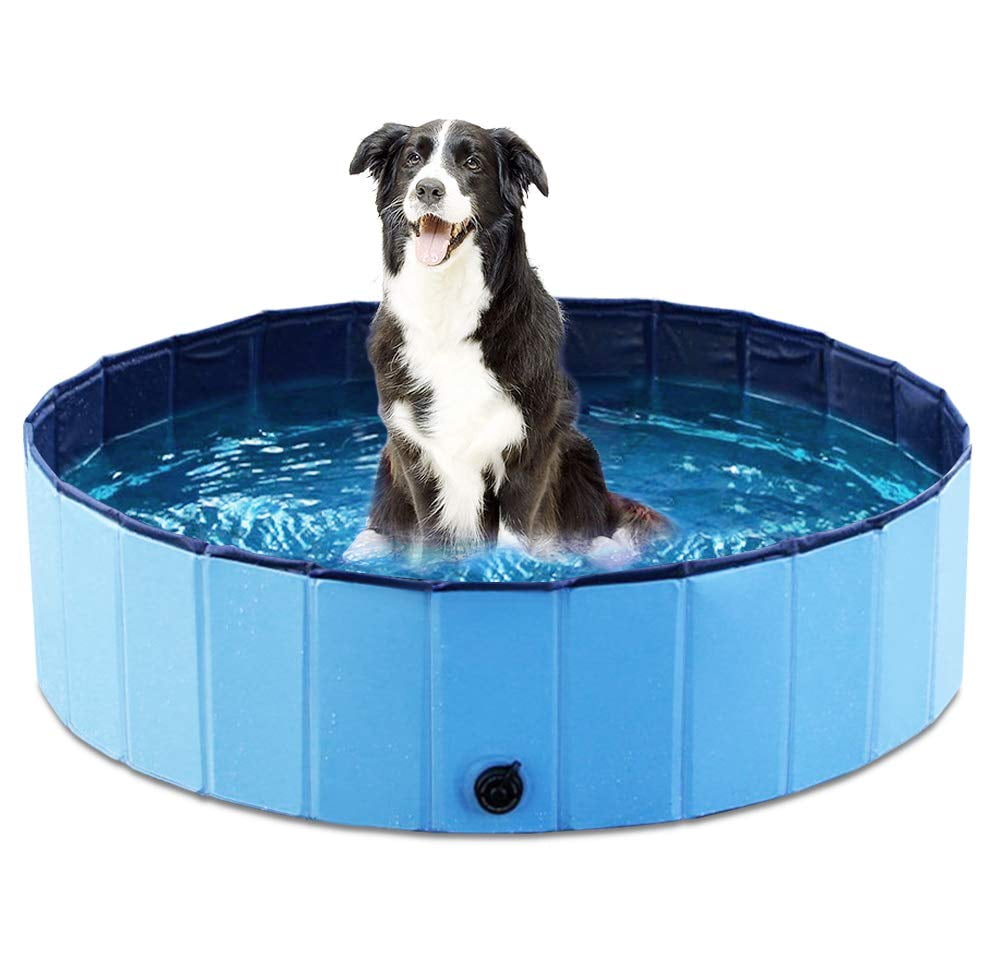 If you have always been a fan of environment-friendly products, then this is the one for you. This pool also comes in 5 sizes. So, you can choose the one that fits the size of your dog.
What Did Customers Have To Say:
Customers said that the pool is quite sturdy and compact. Yet, it provides an ample amount of space for their dogs to move around.
Pros:
It is portable. You can easily store it and bring it outside whenever you think that your dog wants to go for a swim.
This dog swimming pool is easy to drain as it has a bottom/side drain. You don't need to flip it over.
It is easy to set up. It does not require inflammation, which can be a great time saver for you.
It does not leak water, keeping your area clean.
It is made of durable materials, especially at the bottom part. Hence, it's not likely to rip or leak water.
Cons:
This pool has no frame, making it quite impossible to clean.
2. Frontpet Foldable Pool Tub For Bathing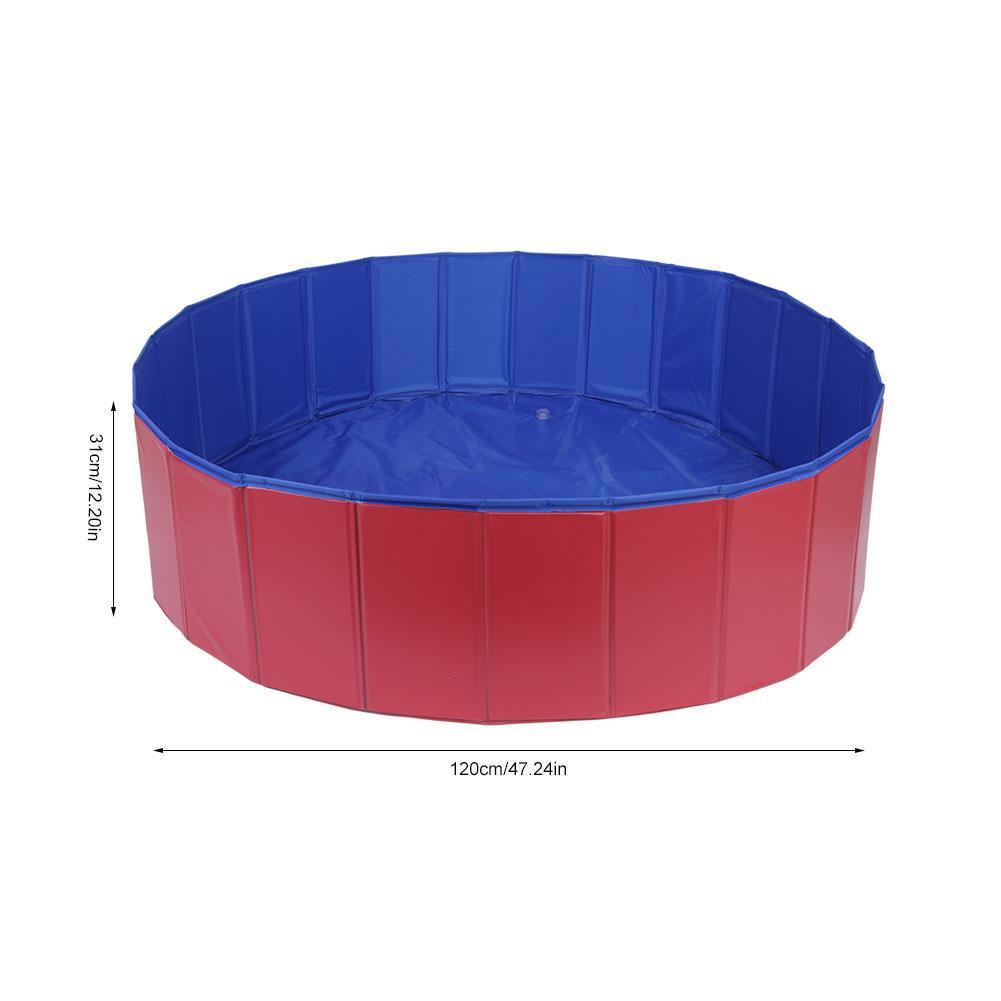 This pool is 12" deep and 50" diameter, which makes it spacious enough to be used for pet bathing sessions. It is also made from durable PVC material.
What Did Customers Have To Say:
Customers love how their dog fit perfectly in the pool. They also noted that this pool is easy to clean.
Pros:
You can just fill it with water and once you are done using it, you can just open the drain, which makes it hassle free.
Not only can it be used for bathing, but it can also serve as a mini pool for your buddy to play in the water.
It is easy to transport. You can even bring it with you in your trips with your dog.
The bottom part of the pool is thick. It does not easily tear.
It is compact due to its paneled segments. You can easily store it.
Cons:
It is not advisable to be used on hard surfaces. You need to place something durable at the bottom.
Currently unavailable.
3. FurryFriends Folding Dog/Cat Pool
Dogs can fully submerge themselves in this large-sized pool. Also, dog owners can use this pool to give their buddy a good bath.
What Did Customers Have To Say:
So far, customers had no problem in using this pool. They love how this pool can accommodate their dog as they grow older and get bigger.
Pros:
It is made of the multi-layer durable material that can support long time use.
It is portable and foldable. You can take it anywhere.
It can hold up big dogs.
A drain plug is attached to this pool that lets you empty the water out easily.
Even when it's not filled with water, it can stand on its own.
Cons:
Currently unavailable.
4. PYRUS Inflatable Bathtub for Cats or Dogs
Like other above ground pools, the PYRUS Bathtub can be used for different applications like fish pond, outdoor pool, and a dog/cat bath.
What Did Customers Have To Say:
People who have bought it stated how happy they were with the fact that they were able to set it up in less than 60 seconds. Their dogs were also able to go in and out of it with ease.
Customers are satisfied with this pool, especially upon seeing how their dogs love it. They think that this pool is a good purchase.
Pros:
When folded, it is small in size. So, you can easily pack it.
The pool's bottom is not slippery.
It comes in 2 large sizes. Meaning to say, even large sized dogs can fit in it.
Even if the dog slightly scratches the bottom, it is not likely to rip.
The pool can be folded easily.
Cons:
The sides are a bit flimsy, especially when they are filled with water.
5. Cool Pup Blue Dog Pool
This easy-to-use dog pool can provide dogs a place where they can freely play with the water. It can be used in the patio, yard, or deck, considering its large size (12" deep, 63" diameter).
What Did Customers Have To Say:
Overall, customers were happy with this pool, especially as it saves them a lot of space. Moreover, it was able to stand the abuse from their dog.
Pros:
It won't take a lot of space on your storage since it has a collapsible design.
The PVC material used in this pool can be easily cleaned after use.
The pool holds up nicely.
It can fit pups of all sizes for it comes with 3 sizes– small, medium, and large.
Dogs are not likely to slip as they walk and play inside it, ensuring that your pup is safe.
Cons:
The storage bag is not that great.
6. KOPEKS Portable & Foldable Swimming Pool
This pool for KOPEKS may be the best dog pool for those who are looking for something that they can use to give their pet a bath.
What Did Customers Have To Say:
Customers recommend this product to others as it is flexible enough to be folded for a compact storage. It was also able to stand up to everyday use.
Pros:
To drain this pool, you just need to twist off the cap.
It is bendable. So, it can fit in the limited space in your home.
Draining it is not a hassle as it empties out well.
It can also be used as a large litter box for cats.
It is spacious enough for even 2 children can fit in it.
Cons:
Water may leak from the sides.
7. Dog Bone Pool Made From Truck Bed Liner Material
This cute dog pool has been crafted with materials that are used in making truck bed liners. What makes it different from the other dog pools apart from its unique shape is that it stays cool even during warm months.
What Did Customers Have To Say:
Customers are very much satisfied with this pool in terms of durability, shape, size, and ease of cleaning.
Pros:
It is UV and chew resistant. Meaning to say, it is suitable for long lasting use.
The drain makes it easier to replace the water.
It is lightweight yet durable enough. It can withstand wear and tear.
It is long enough for dogs to lay in.
It is not too flimsy for you to store.
Cons:
The water may leak in the area where the drain is located.
Currently unavailable.
Tips To Buying Dog Pools
If you want to buy the best pet pool, then definitely consider our tips below. For sure, your furry friend will appreciate it if you put in more effort in buying them one.
Durability
Make sure that you buy a pool that is made of durable materials so that it will not easily pop or break when your pet is using them. The best materials to use are Polyurethane and heavy-duty PVC as they can withstand the scratches from your dog's paws.
Draining and cleaning
Dogs drool and shed. So, it is important for you to keep the cleanliness of the pool.  There are pools that are easy to clean with a drain located on the side.
Size
The size of the pool shouldn't be too small or too big for your dog. So, consider the size of your dog. For dogs like Labradors, a 64 inches pool is suitable.
Storage
Your dog will not be using the pool all the time. So, you should also consider the storage space that it will consume. The more compact the pool is, the better.
Reviews
Before you buy a pool for your dog, you should read some reviews first— both negative and positive ones— so that you will have an idea on what you can expect from it.
Conclusion
Considering the size, features, and functionality of the pools that we have reviewed above, we would like to declare Frontpet Foldable Pool Tub for Bathing as the best dog pool. It can be an ideal choice for dog pool parties or just simply for dog bathing sessions.
As it is foldable, it is easy to store away and bring with you in your travels. It is also very durable. In fact, it can stand dogs tumbling around in it. Draining and cleaning this pool is also not a problem. There is also no need for you to fill it with air just, so your dog can start using it.