Finding the best patio umbrella can significantly enhance your outdoor experience. Not only does the right umbrella provide much-needed all-weather protection for you and your guests, but it can also add style to your outdoor space.
With so many products of its kind available on the market, searching for a garden umbrella can be quite tricky. This guide will help you find the best umbrella for your needs.
Patio Umbrella Reviews
1. Coolaroo 10' Cantilever Umbrella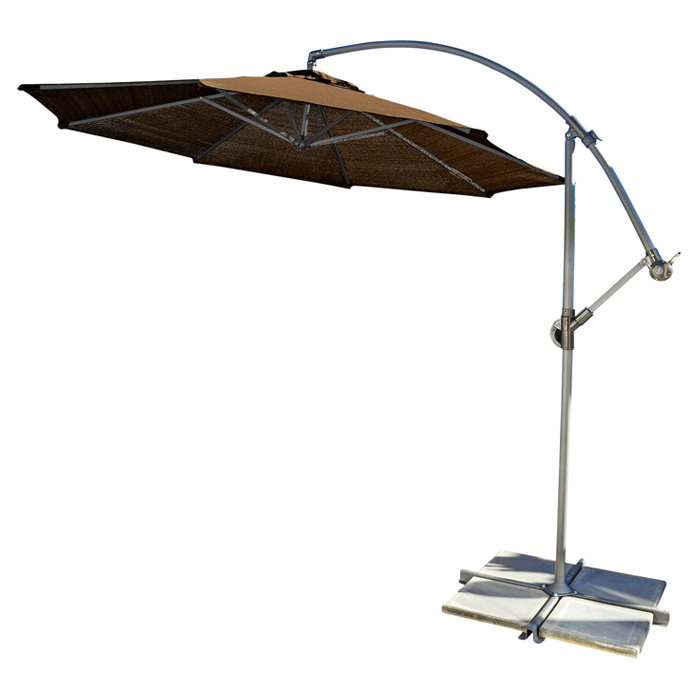 The Coolaroo 10' Cantilever Umbrella is perfect for large outdoor spaces that need some shade. Its cantilever design is both stylish and effective, and it does its job without taking up too much space.
It is made of knitted fabric that blocks more than 90% of UV rays. Its lightweight yet durable aluminium frame and crank lift mechanism makes this umbrella easy to set up and store.
What We Like:
Large coverage without sacrificing space
Easy to assemble
Can withstand most weather disturbances
What We Don't Like:
Its mass makes it uneasy to set up for some people
Base needs more reinforcement
2. SimplyShade Skye 8.6' Square Cantilever Umbrella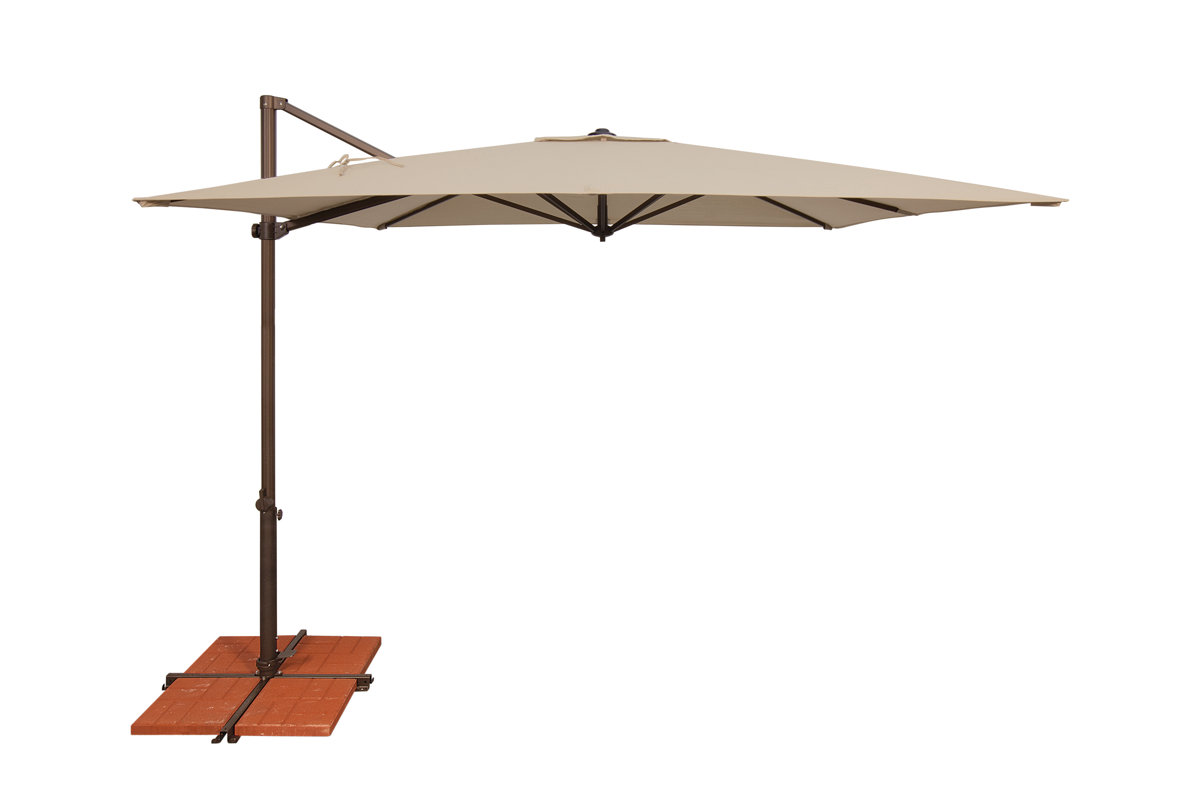 This product from SimplyShade is a cantilever-style umbrella that can cover an area of up to 8.6 feet. It utilizes an olefin canopy with UV protection that's very effective in deflecting both rain and sunlight.
It comes with a rectangular base that can be filled up with sand for added support. The knob allows for a large tilt range, and the umbrella can be mounted on a wooden deck.
What We Like:
360 degree movement range provides superior versatility
Adjusting the height and tilt are both simple
Great choice of colors
What We Don't Like:
The base requires weighting
3. California Umbrella 11' Cantilever Umbrella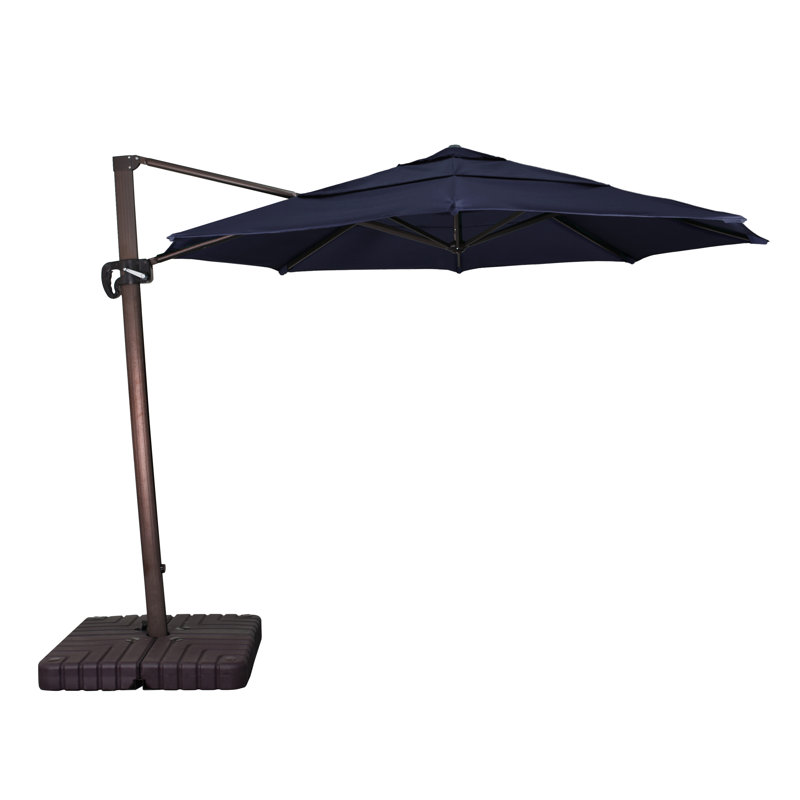 This product from California Umbrella boasts of a 360-degree rotation system, making it perfect for anything from gardens to above ground pools. Combine this with a tilt function, and you get an umbrella with superior deflecting abilities.
It uses an aluminium frame design that is intended to withstand even adverse weather conditions. The canopy is made using high-quality fabric and comes in different colors.
What We Like:
Provides wide canopy coverage
Superior tilt and rotation functions provide superior versatility
Relatively simple to assemble
What We Don't Like:
Comes with multiple parts that might be easy to lose
4-piece base may confuse you at first
4. Beachcrest Home Reid 11' Cantilever Umbrella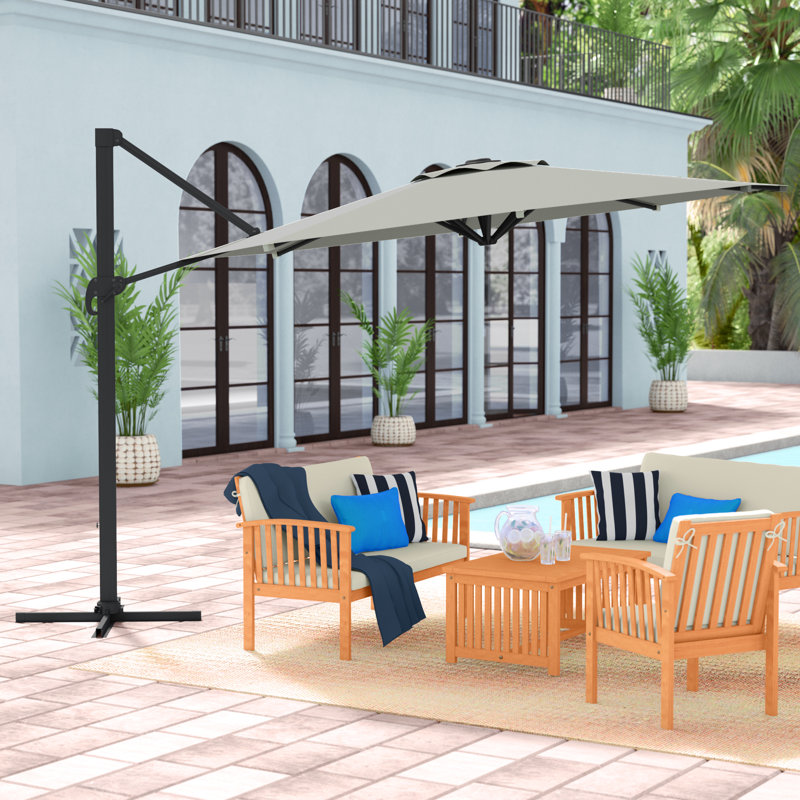 Specifically designed for those outdoor moments, it is one of the best pool umbrellas on the market today. This offset umbrella can be used for providing shade for tables, pools, and open grounds.
A frame made from aluminium and steel provides superior sturdiness, while a UV-resistant fabric provides all-weather protection. Its contemporary style makes it a perfect fit in most outdoor spaces.
What We Like:
Easy to assemble for its size
Simple enough to be set up by 1 person
360-degree rotation provides superior versatility and coverage
What We Don't Like:
Finding suitable weights for the base is a little tricky
No tilt function
5. Brayden Studio 10' Square Cantilever Umbrella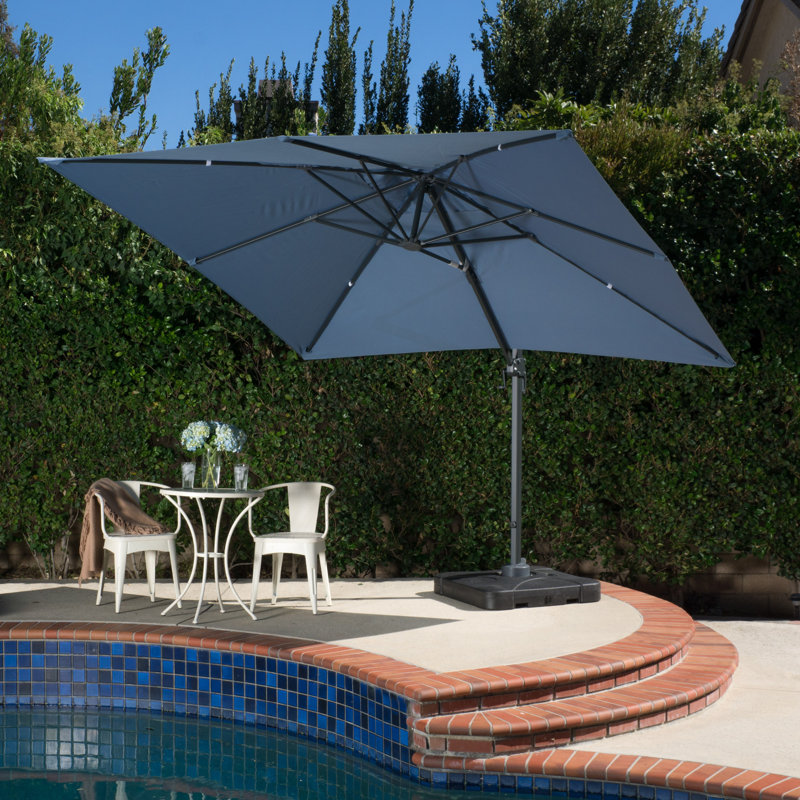 This Brayden Studio umbrella packs a combination of style and substance. A square-type umbrella, it features robust protection from both sunlight and rain.
The polyester canopy provides all-weather protection, while its rotating aluminium frame is both flexible and strong. The base is already weighted, but it can be further reinforced by adding water into the base.
What We Like:
Great coverage thanks to wide canopy and rotating frame
Materials used are of great quality
The base is easy to set up
What We Don't Like:
Can be challenging to assemble
Base needs more weight
6. Alcott Hill Mendon 10' Square Cantilever Umbrella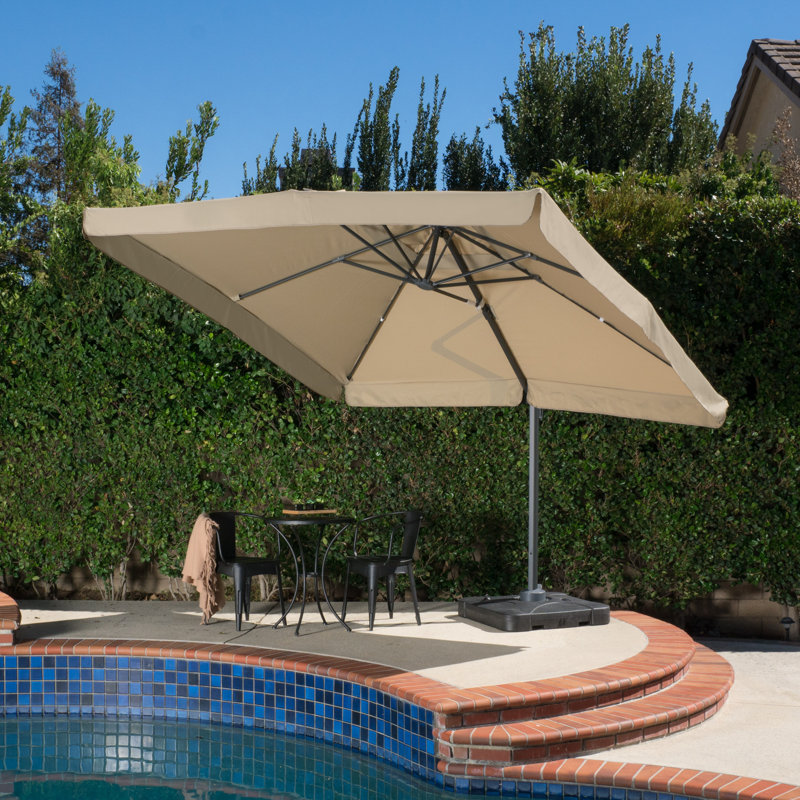 For those looking for a nice deck umbrella, this product from Alcott Hill is an intriguing option. Its 118" x 118" coverage provides more than enough coverage for most outdoor happenings.
Its use of solid colors and a black base makes it attractive enough to be used in any outdoor setup. Its sturdy frame combined with a tilting function provides both flexibility and stability.
What We Like:
Provides ample coverage
Attractive design
Simple to assemble
What We Don't Like:
Cannot withstand strong winds
7. Andover Mills Bormann 10' Cantilever Umbrella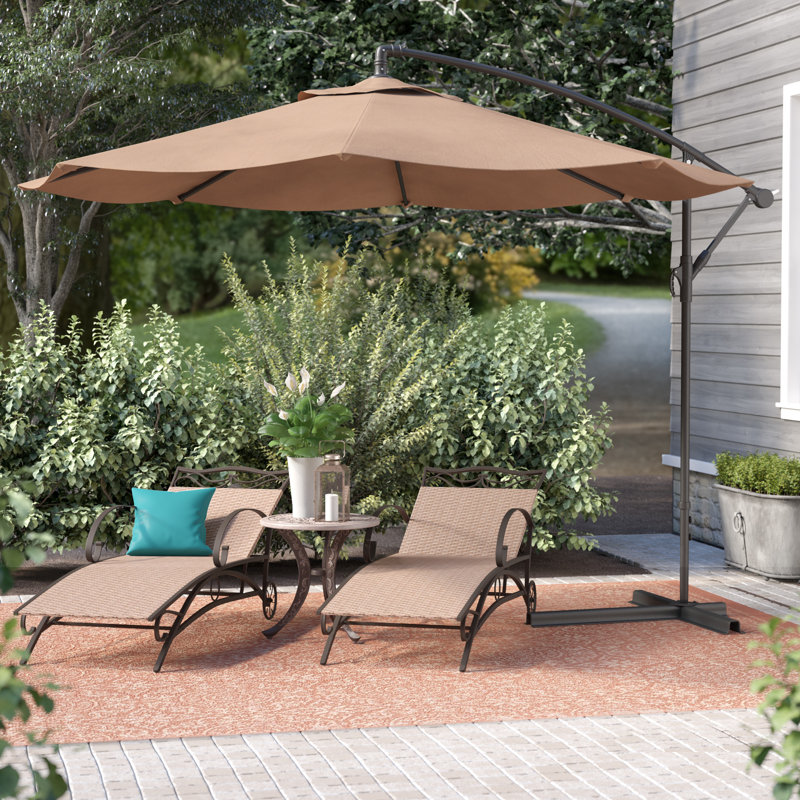 Designed for use in just about any kind of outdoor space, this patio umbrella has a solid design that makes it an intriguing choice for umbrella buyers.
It uses waterproof polyester fabric for its canopy, complete with wind vents to provide stability during gusts. A powder-coated steel frame provides added durability, a crank lever opens/closes the canopy, and tilt control provides superior sun protection.
What We Like:
More than capable in covering sunlight
Frame and moving parts are rock-solid
Has multiple attractive color options
What We Don't Like:
The base needs to be secured
Gets unstable in strong winds
8. Abba Patio 11' Cantilever Umbrella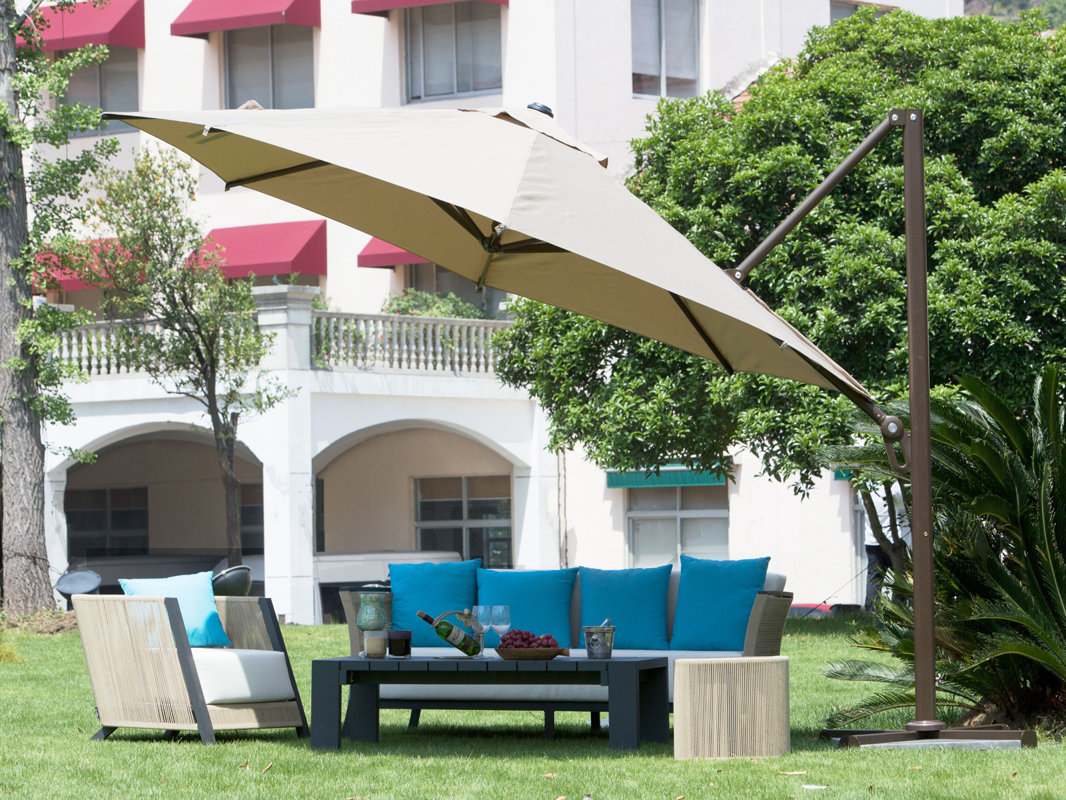 This umbrella can cover up tables and everything else better than your conventional table umbrella can. An auto crank open system makes it easy to use.
Specifically designed for deflecting sunlight, this umbrella has fully adjustable height and tilt. Its attractive yet effective round canopy makes it a great fit for both home and commercial use.
What We Like:
Solid construction
Easy to assemble, adjust, and tilt
Very stylish
What We Don't Like:
Not ideal for use in rain
9. Red Barrel Studio Wardingham 9.8' Square Cantilever Umbrella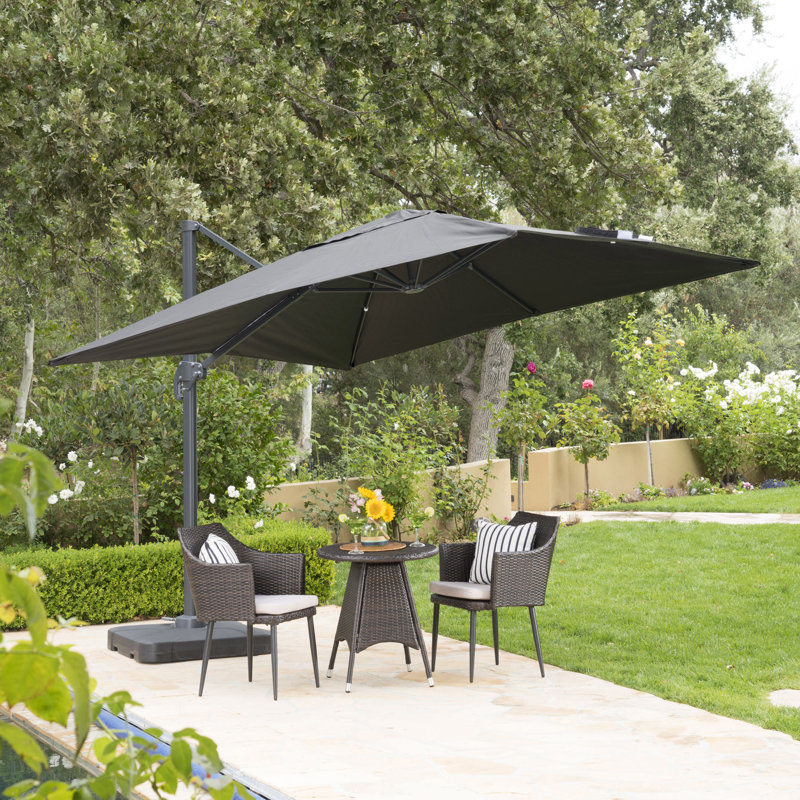 Designed with both sunlight and rain in mind, this umbrella from Red Barrel Studio boasts of a robust construction. A metal frame and pole combined with a polyester canopy provides the framework for an umbrella that can withstand years of use.
The canopy has resistance to both water and ultraviolet rays, giving it all-weather functionality. Available in 2 neutral colors, this umbrella can fit into just about any outdoor space effortlessly.
What We Like:
High quality materials are used
Adjusting height and tilt is relatively simple
Attractive color options
What We Don't Like:
You need a lot of weight at the base to keep it stable
10. Longshore Tides Jaelynn 11.5' Cantilever Umbrella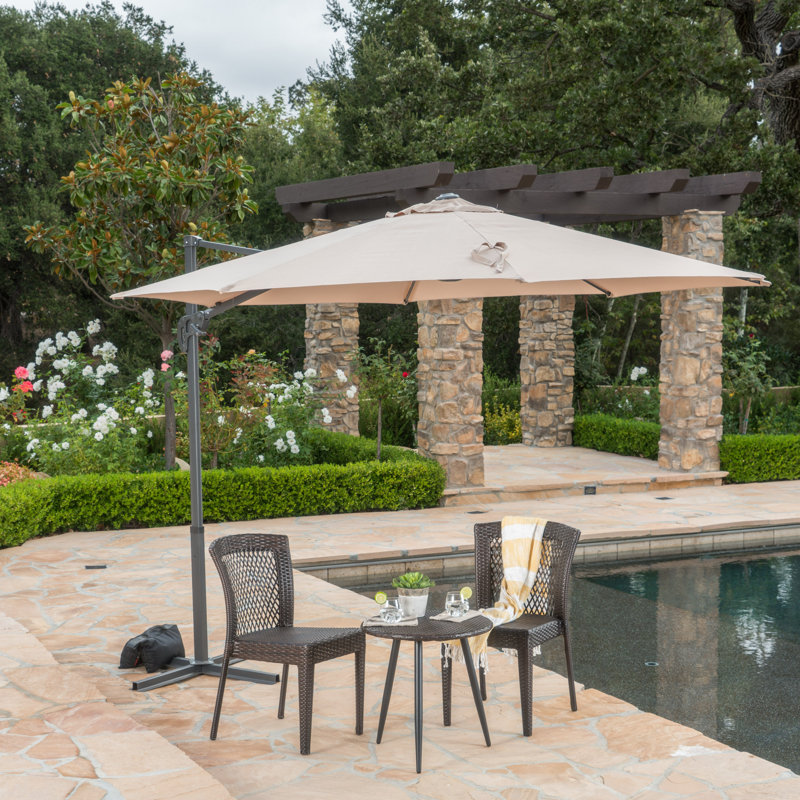 This umbrella from Longshore Tides is specifically designed for deflecting sunlight, making it a great choice for those long, warm summer days. Its 11.5 feet coverage provides more than ample shade for your patio, pool, or hot tub.
A steel frame provides much-needed stability and a sturdy base for this umbrella. Its tilt can be adjusted to block the maximum amount of sunlight at any time of the day.
What We Like:
Easy to assemble
Effectively deflects sunlight
Easy to adjust and tilt
What We Don't Like:
Needs base weights and/or brackets for optimal stability
Not recommended for rainy/stormy days
11. Le Papillon 10' Cantilever Umbrella
Featuring an offset design and 360-degree rotation, this cantilever umbrella can cover everyone from the sun at any time of the day. Powder-coated steel is used to construct the framework of this umbrella.
Its Easy Open Lift system opens and extends the cantilever in one motion. Its UV-resistant solution-dyed polyester provides ample protection and can withstand years of use without fading.
What We Like:
Simple to assemble
Easy to use and adjust
Highly attractive design
What We Don't Like:
Weights for the base are not included
12. Cover Valet Spa Side Umbrella
If you'll go by its name, the Cover Valet umbrella seems to be the best hot tub spa umbrella in this list. Specifically designed for use in spas and hot tubs, it has an under mount design that makes it ideal for such setups.
This umbrella is capable of spinning 360 degrees and also can be tilted for more effective blocking of sunlight. While mainly advertised as a spa umbrella, this should also prove useful in pools and gardens.
What We Like:
An umbrella specially designed for tubs and pools
Setup is relatively easy
Can be used for protecting against rain
What We Don't Like:
Needs to be bolted to be secured in place
How to Choose the Best Patio Umbrella for Your Garden, Pool, or Hot Tub
There are specific things you should look for when finding the ideal umbrella for your outdoor space. Whether you use it on a garden or an outdoor hot tub, the right patio umbrella can provide you with maximum value.
Size is an important consideration when shopping for a patio umbrella. You won't like to pick a model that is either too big or too small for the job.
An umbrella that is too big will create too much shade and will also overwhelm the look of your outdoor space. An umbrella that is too small will provide too little space, rendering it virtually useless.
As a rule, the size of the umbrella should at least be enough to cover the area you desire to be covered. For example, if you want to cover an area of 6 square feet, your umbrella should at least be 6 square feet in area.
The materials used for building the umbrella is also an important consideration. It affects your umbrella's look, its durability, and its price.
Umbrella frames are constructed using materials such as wood, aluminium, and fibreglass. It is important that you select a frame material that's appropriate for local weather conditions.
You should also consider the type of material being used for the shade. You should choose a fabric that is durable, effective in deflecting both rain and sunlight, and ideally have features such as UV protection.
When finding the best pool umbrella, you must note that there are multiple types of outdoor umbrellas currently available. Each of these options can prove to be exactly what you need for your outdoor space.
A cantilever umbrella is a great choice for covering larger areas. Its frame is designed to not get in the way of most spaces, and it provides a lot of shade for most areas.
A table umbrella can also prove to be a great option if you intend to provide coverage for a table. Commonly built into the frame of the table, these umbrellas usually have more than enough surface area to cover the table.
A freestanding umbrella is incredibly versatile because they occupy minimal space. Available in both movable and permanent variants, pick a freestanding umbrella with a base that can support its entire weight.
Patio umbrellas these days now come with features that can come in handy for all users. These features can greatly enhance the functionality of your umbrella.
A folding umbrella can provide shade for you when you need it, and can be folded away when you don't. Use this umbrella if you don't need permanent shade in a specific area.
A tilting umbrella can be very useful, especially in areas located right at the middle of your outdoor space. The angle of the umbrella can be adjusted, providing extra shade for different hours of the day.
FAQs
1. How do I clean patio umbrellas?
Cleaning methods depend on the type of material used for both the frame and canopy. Check the user manual and use cleaning methods appropriate for your umbrella's materials.
2. Will my umbrella fade?
It takes years of use before high-quality umbrellas show any signs of fade. With proper care, these umbrellas can look like new for its entire lifespan.
3. How do I measure patio umbrella size?
The total diameter of your umbrella when fully opened will give you an idea about the umbrella's size and consequently the area it covers.
4. Can I install lights in the umbrella?
You can choose to install lights along the frame of your umbrella. Just make sure that they are securely fastened and they are not too heavy for the frame and stand.
Conclusion
Each item in this list is actually great, based on our testing. However, the product that we can recommend the most is the California Umbrella 11' Cantilever Umbrella.
Great for use for multiple weather conditions, it is easy to use, easy to assemble, highly adjustable, and very sturdy. Its versatility allows it to be used at virtually every outdoor setting imaginable.
This product from California Umbrella is our pick as the best patio umbrella available today. You absolutely cannot go wrong in picking this product for your outdoor space!