We believe that everyone needs a pool in their home. During the summer, it's great to take a dip to escape the blistering hot sun. Of course, pools take a lot of space and are hard to install– unless you get a permanent above ground pool.
But which brand provides the best permanent above ground pool products?
With all the choices available in the market, it can be challenging to choose. That's why we listed a few permanent above ground pool reviews for you to check out.
Permanent Above Ground Pool: Are You Making the Right Choice?
Before we go on to the top choices, we'd first like to teach you how to make the right choice. Each pool has its own set of features that may or may not cater to your needs.
In order to make the best choice, you need to know how to choose the best one. This guide will tell you how to do just that by providing you with a complete set of criteria:
Size
Size is one of the most important factors to consider simply because you need to know how much space to free in your yard. There are many sizes to choose from, such as 15 feet, 18 feet, 21 feet, 23 feet, and 30 feet.
All you have to do is measure the available space in your yard that you want to set aside. From there, you can buy the pool with the size that's most suitable for your free space.
Material Used
There are so many materials that can be used to construct a permanent above ground pool. Taking this into consideration allows you to pick the level of durability for your pool.
Some are made out of resin-coated steel while some are made out of aluminum. There are also others made of plastic such as PVC or vinyl.
For durability, we recommend that you get steel or aluminum above ground pools. However, these are not very flexible in terms of stretching when water is added. If you want a pool that stretches, we recommend you get the vinyl or PVC types.
Design
The design encompasses the shape and the overall look. Now, this factor is rather subject and is more dependent on your own tastes. For the shape, you can choose either an oval-shaped pool or a circular pool.
As for the design, it will also depend on what you deem as beautiful and suiting for your yard. There are those with a plainer design while there are also others that have pebble engraved walls and such. You will have to decide what type of design you'll pick.
Safety Features
When you choose the best above ground pool, you must also look at the safety features that the pool offers. Always remember that there will be children who may swim in the pool. It pays to keep the pool safe for everyone to use so that no unfortunate accidents can happen. When it comes to safety, you must pay very close attention to the ladder.
What are some of the important safety features that you may want to look out for in the ladder?
First, you'll want to make sure that the ladder has treaded steps that are slip-proof. Extra treading lessens the chances of slipping because the rough surface allows users to still keep a grip on the ladder steps even when wet. You'll also want the pool ladder to have a barrier so that children won't just go in without any adult supervision.
Brand Quality
Lastly, you'll want to put a lot of focus on brand quality. In order to narrow our list down to only the best permanent above ground pools, we took into consideration the reputation of the brand of each product we examined.
We had to make sure that our top picks all came from reputable brands that have high ratings among customers. From there, we were able to determine the quality of the products.
That said, brand quality is very important because it will tell you if a product will perform up to your expectations or not. If you stick to cheap brands, you can expect low-quality performance. But if you go with good brands with products that are reasonably priced, you'll be very satisfied with your purchase.
7 Best Choice Permanent Above Ground Pool Reviews
1.  Aquarian Phoenix 18′ x 52″ Round Steel Frame Above Ground Swimming Pool w/o Liner

The Aquarian Phoenix is x 52 is an above-ground swimming pool that is perfectly designed for people of all ages. The pool is manufactured by Cornelius, an industry-leading brand for above-ground pools. 
Pros:
Easy to assemble
Durable construction
Includes assembly kit
Easy to maintain
Filter works effectively
Rust resistant
Great value for money
Cons:
It does not include some accessories
May need mechanical knowledge
The liner may puncture if not padded on the ground
Key Features:
Measurements: 18-foot diameter x 52 inches high
Material: Alloy steel, resin
Accessories included: A pump, a ladder, 12-inch filter tank, an 18-foot liner, a skimmer, a pool net, and a chemical kit
Verdict:
The Aquarian Phoenix above-ground pool is a safe, affordable, and durable solution for keeping cool in warm weather. It comes with everything you need to get started. 
Who is This Product For?
This pool may be an excellent choice for anyone that wants to get outdoors and have some fun in the water without the cost of an in-ground pool. We also recommend this pool if you are in the market for a medium and sturdier pool than the usual kid's pool.
Key Features and Benefits
Here are key features of the Aquarian Phoenix:
Durable Construction: This above-ground pool features a long-lasting construction to ensure that you and your family have years of fun. All components of this pool are crafted using steel to ensure the utmost durability. With galvanized rust-resistant walls, this pool may last for many years.
Sand Water Filter: To ensure the efficiency of this pool, it comes with sand and a pump filter. The pump can work at 12,000 gallons per hour to keep impurities and debris out so you can enjoy clean and safe water. What's more, it features a transparent debris trap that gives you a view of the pump's effectiveness. There is also a gauge that will alert you when there is a lot of debris on the filter. To flush out the debris, the 4-position multiport valve will reverse the flow, leaving your filter clean.
Accessories Included: This pool comes with helpful accessories for easy setup. It comes with an A-frame ladder, ½ HP pump, 12-inch filter tank, and a skimmer with a vacuum plate and a return fitting.
Easy-to-Assemble: Most homeowners are hesitant about getting an above-ground pool because of the work involved in setting it up. Along with the above-ground pool kit, this unit also includes 5-inch steel vertical posts and 6 inch steep top rails that are a breeze to set up. Furthermore, it also comes with a two-piece injection-molded resin connector for quick and straightforward installation.
Customer Reviews
Below are some Aquarian Phoenix 18 x 52 Above Ground Swimming Pool reviews from previous customers.
"It is now 4 weeks since we installed this pool and so far so good. My family loves that it is sturdy and the filter does a pretty good job. I highly recommend upgrading the pool pump for better efficiency."
"This was a good buy for the money. My family enjoys being in this pool. We recommend installing it if you have mechanical knowledge. The liner should also be padded on the ground to avoid puncture."
"Everything works well and setting up the pool was quite easy. My wife and our son can't get out of it. Great value for money."
"I bought this above-ground pool after going through the reviews. I must say that I am impressed by its durability. It matches well with my landscape, and the pool pump does not disappoint. It is also effortless to maintain, and the ladder serves its purpose."
FAQ & Additional Tips
Does Aquarian Phoenix 18 x 52 include a filter tank? Yes, this pool comes with a filter tank that can accommodate up to 42 pounds of sand.
Does the liner come with a warranty? Yes, the liner of this pool comes with a warranty that guarantees it is high quality.
Read more: Aquarian Phoenix 18′ x 52″ Round Steel Frame Above Ground Swimming Pool w/o Liner Review
2.  Lake Effect Fallston Round Steel Sided Above Ground Pool with Solid Blue Liner and Skimmer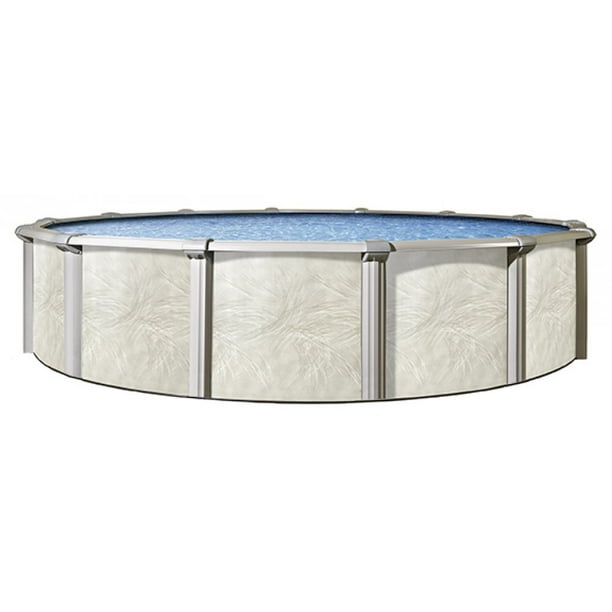 This is an elegant round pool with a durable steel wall that offers extra protection through galvanization. Moreover, it's hard not to be impressed with its design.
Of course, aside from that, this product can be installed in one go since all parts have been provided. Among other things, it also comes with a skimmer and solid blueliner in its package.
Pool Size: 21 x 21 x 6.33 feet
Highlighted Features:
Elegant design
Round form
Galvanized steel with resin coating
Skimmer
Solid blue liner
Huge size
Interlocking stabilizer rails
What Customers Have to Say:
Customers have expressed their happiness with this product. In fact, they were pleased to see how impressive the quality of the pool is. On top of that, they admired how much thought went into its aesthetic appeal and design.
The Pros:
Gorgeous design
Skimmer inclusion
Easy setup
Sturdy materials
Good quality
The Cons:
Expensive
Needs level ground
3.  Independence Round Metal Wall Above Ground Hard Side Swimming Pool Package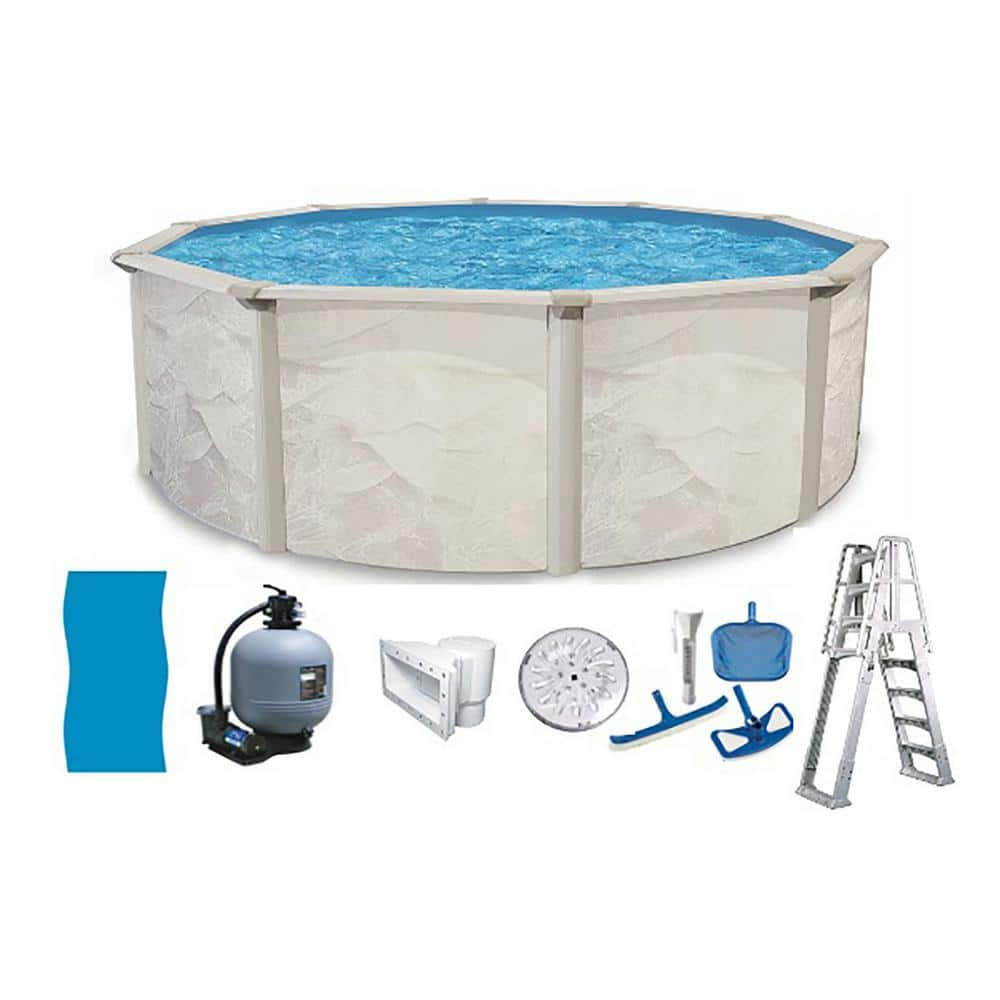 If you're looking for an entry-level pool, you should consider this. It's an all-steel above-ground pool with galvanized components that ensure longevity and durability.
Aside from these, its pool wall also comes with a gorgeous design that makes it look upscale and modern. So, this is an excellent addition to any home.
Pool Size: 18 x 4.3 x 4.3 feet
Highlighted Features:
Stunning design
Corrosion resistance
Solid blue liner
A-frame ladder
Widemouth skimmer and return
LED pool light
Easy assembly
What Customers Have to Say:
Based on customer reviews, this is an excellent product that offers top-notch quality. They were also thrilled with the design. Moreover, it's good to know that you can set it up all by yourself. However, it requires having level ground for the best experience.
The Pros:
Elegant design
Sturdy materials
Useful LED pool light
Huge size
Good pump
The Cons:
Quite expensive
Report of sand filter leak
Read more: Buyer's Guide For The Best Above Ground Pool
4.  Meadows Wide Mouth Above Ground Pool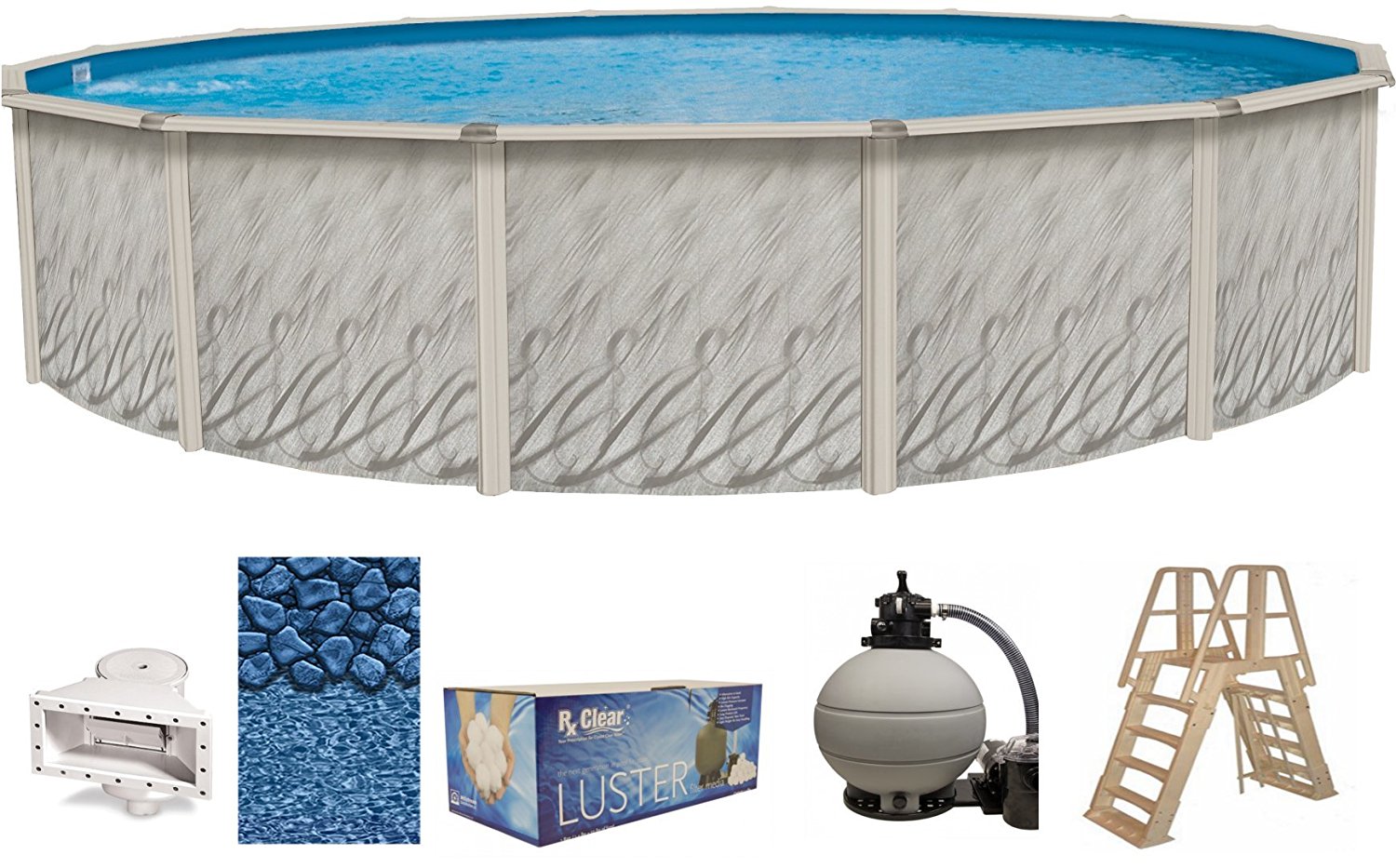 First up is the Wilbar Meadows Above Ground Pool. The first thing you'll notice about this pool is how nice the design is. It sports a lovely boulder swirl pattern with blue rocks. The combination of the embedded pebbles and the shade of blue makes it a very versatile for any yard.
It is also made in a way that it doesn't crease or wrinkle. It's basically very durable and can last a very long time without much maintenance. If you're looking for both aesthetic appeal and longevity, then this is the pool we recommend you get.
Highlighted Features:
Boulder swirl pattern
Stylish blue color shade
Resin coated steel material
Hot dip galvanized exterior
Complete package with pump, ladder and more
How to Install Your Wilbar Above Ground Pool
5.  Cornelius Phoenix Above Ground Pool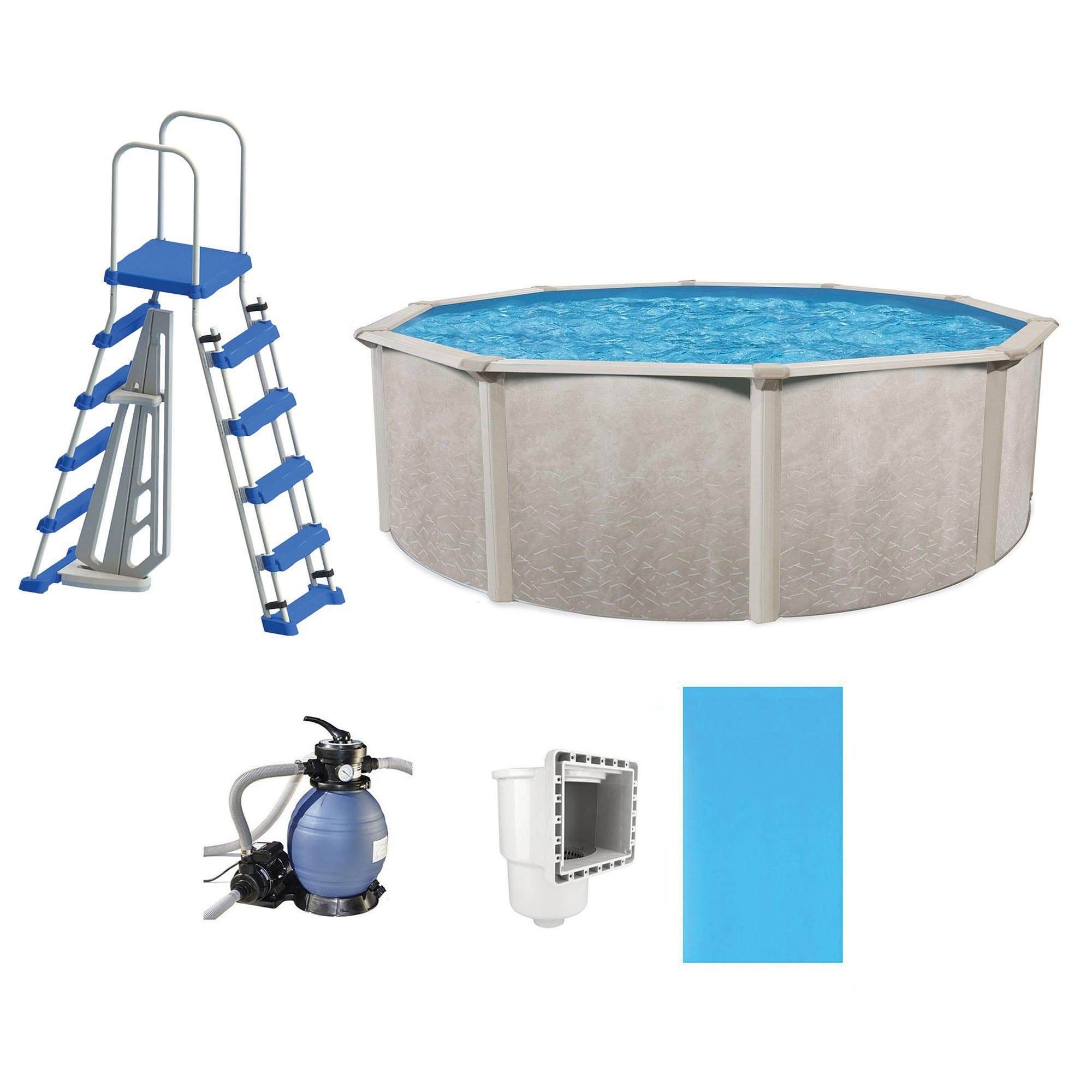 We consider this one of the products with the highest value for money. It's also a very easy DIY project that doesn't really require professional help. This product is also a complete package with all the things you'll need for a pool.
It comes with a sand pump, filter replacement, 15-foot pool liner, ladder, and even a chemical kit. Once you install it (and yes you can install it on your own if you carefully follow the step by step instructions), you can easily maintain it and use it with all the things included.
Highlighted Features:
Easy DIY assembly and installation
15-foot diameter
52-inch depth
Comes with sand pump filter that can pump 1200 gallons per hour
Steel exterior
Cornelius Pools Installation
6.  Meadows Oval Above-Ground Swimming Pools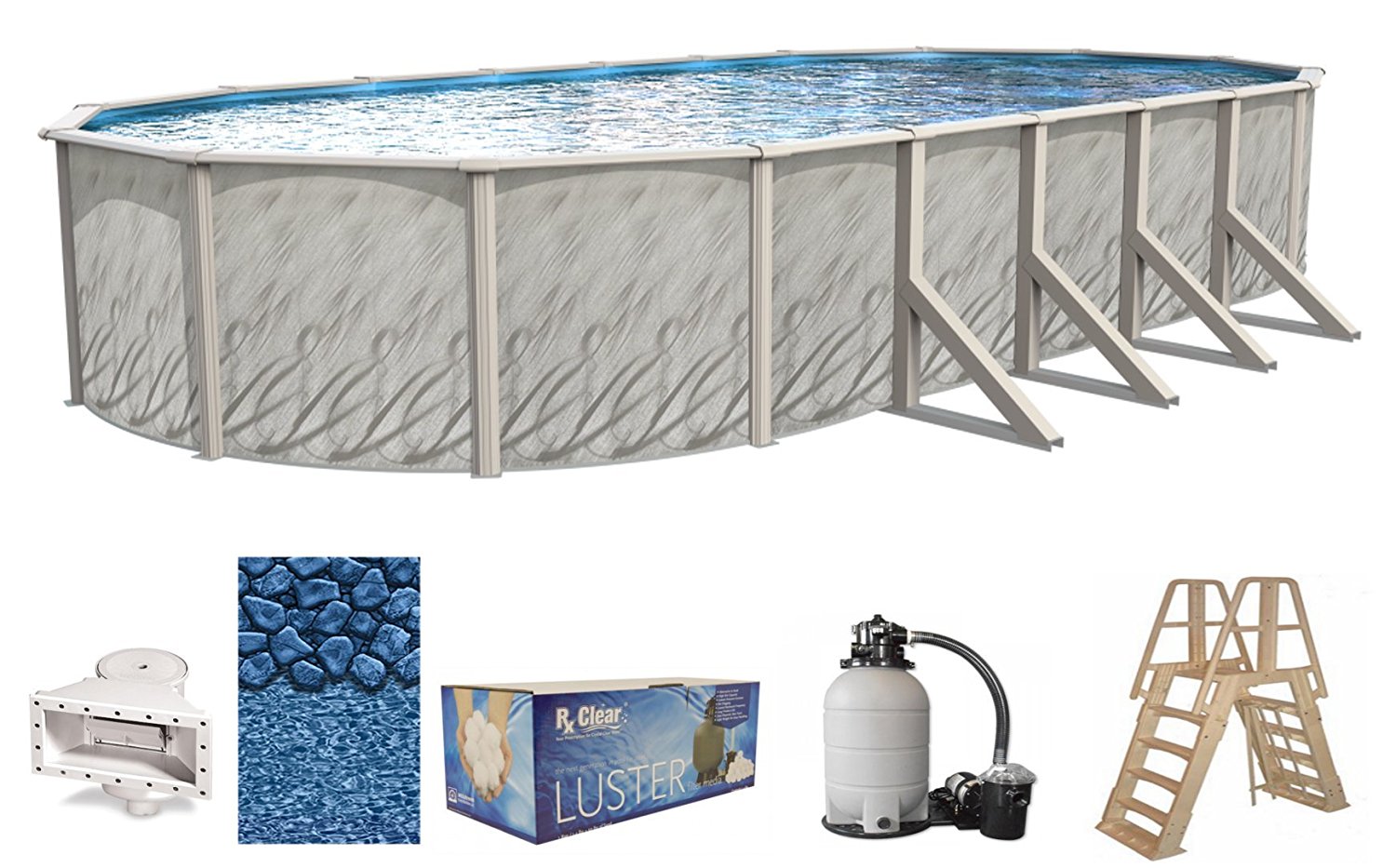 This above ground pool is a really long one that allows you to fit in a lot of people at the same time. At the same time, it has a 48-inch height, so it's deep enough for you to really practice swimming.
This is the ideal above ground pool to have if ever you have a big family or a lot of friends that come to your house very often. Aside from just its size and shape, it is also known for its high-level durability being made of resin-coated steel. It's sure to last you a long time without wearing out.
Highlighted Features:
Long size
48-inch height
Bedrock pattern liner
Resin coated steel exterior
Interlocking stabilizer railing
7.  Lake Effect Meadows Reprieve Oval Steel Sided Above Ground Pool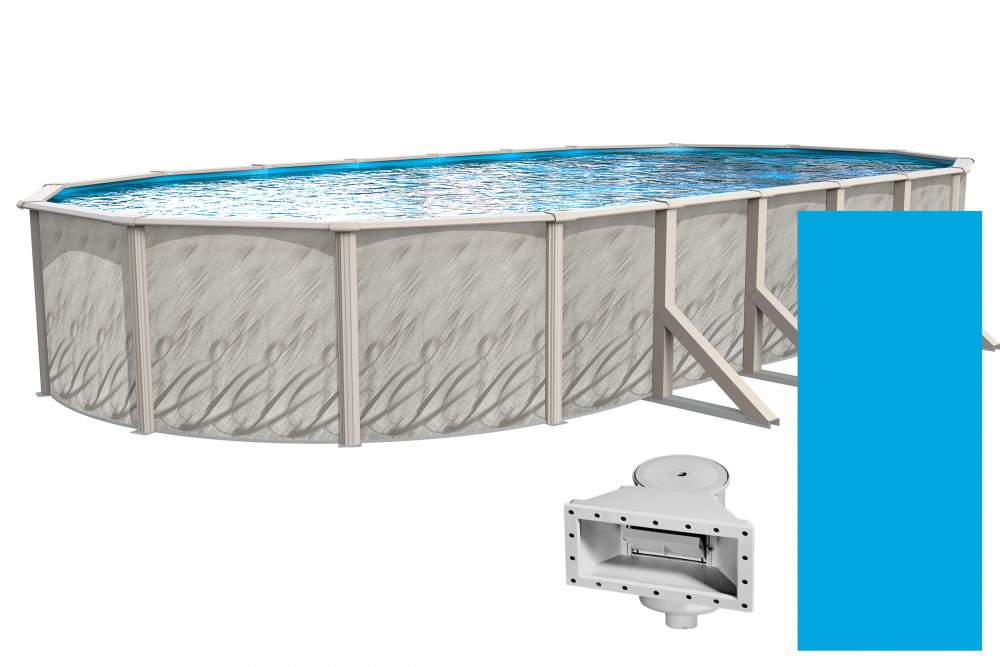 The design of this pool is actually very similar to the Wilbar Meadows above ground pool. The only difference is that this one doesn't just sport lovely bedrock patterns, but also seashells on the floor.
Somehow, the floor pattern also allows you to have better grip on the pool so that it will be easier to climb out. Just like most of the pools we mentioned, this one also comes with a resin coated steel exterior making it as durable as them.
Highlighted Features:
Bedrock and seashell pattern flooring
One-time installation package
Resin coated steel exterior
Rust proof built
Hot dip galvanization
Our Top Pick!
Now that you know our top picks for the best permanent above ground pools, we'd like to share with you our favorite pick of them all.
Our top pick is none other than the Palisades Metal Wall Above Ground Pool.
We believe that it's the most complete product taking the buying guide into consideration plus other factors. It's definitely one of the most durable ones on this list and the most beautiful as well. It also has a sturdy entry system to ensure safety when going in and out of the pool. But most of all, it does come from Cornelius, one of the best brands in the industry. So we're totally assured of quality.
Final Thoughts
So, did you enjoy our little guide on choosing the best permanent above ground pool for home?
We're also glad to share what we know about choosing above ground pools. Always remember that when you choose one, do your research so you'll know which product suits you the best.
Avoid falling for a good sales pitch and buying in haste so you can enjoy a product that can satisfy what you're looking for in an above ground pool.