When it comes to maintaining your hot tub, one of the key aspects is effective sanitization. While there are various sanitizers available, bromine stands out as a popular choice among hot tub enthusiasts. In this comprehensive guide, we will delve into the world of hot tub maintenance with bromine. From understanding its benefits to step-by-step instructions, we've got you covered. Join us as we explore the ins and outs of hot tub maintenance with bromine and ensure a clean and enjoyable hot tub experience.
Understanding the Benefits of Bromine
Bromine offers several advantages when it comes to hot tub maintenance. Here are the key benefits that make it a preferred choice:
Resilience to Sunlight and Heat: Unlike chlorine, bromine has the ability to withstand exposure to sunlight and high temperatures. This makes it ideal for hot tubs, which often experience both.
Gentle on the Eyes and Skin: Bromine is known for being milder on the eyes and skin compared to chlorine. You can say goodbye to that strong chlorine smell and the discomfort it may cause.
Longer Lasting: Bromine tablets dissolve slowly, providing a longer-lasting sanitization effect. This means you don't have to add sanitizer as frequently, making maintenance more convenient.
Step-by-Step Guide to Hot Tub Maintenance with Bromine
Maintaining your hot tub with bromine is a straightforward process. Here's a step-by-step guide to help you navigate through it:
Step 1: Prepare the Floater
Use a floater specifically designed for hot tubs.
Open the floater and place three to six bromine tablets inside.
Step 2: Adjust Tablet Quantity Based on Usage
Consider your hot tub's usage when determining the number of bromine tablets to use.
For normal use, three to six tablets per week should suffice.
If your hot tub sees increased usage or a large number of users, lean toward the higher end of the tablet range.
Step 3: Place the Floater in the Hot Tub
Set the floater on the edge of the hot tub, ensuring it is secure.
Avoid placing the floater directly in the water to prevent accidental contact with the jets.
Step 4: Monitor Bromine Levels
Regularly test the bromine levels using test strips designed for hot tubs.
Dip the test strip in the water for approximately two seconds, then shake off excess water.
Compare the test strip to the color chart provided to determine the bromine levels.
Step 5: Adjust Bromine Levels
If the bromine levels are too low, consider adding an additional tablet or two to the floater.
If the levels are too high, wait for them to decrease naturally before entering the hot tub.
Regular monitoring and adjustment of bromine levels will help maintain optimal sanitization.
Step 6: Shock the Hot Tub (Optional)
To maintain water clarity and eliminate contaminants, you may choose to shock your hot tub.
Use a chlorine shock specifically formulated for hot tubs.
Follow the manufacturer's instructions regarding the quantity of shock to add.
Wait for approximately 30 minutes after shocking before using the hot tub.
Frequently Asked Questions (FAQs)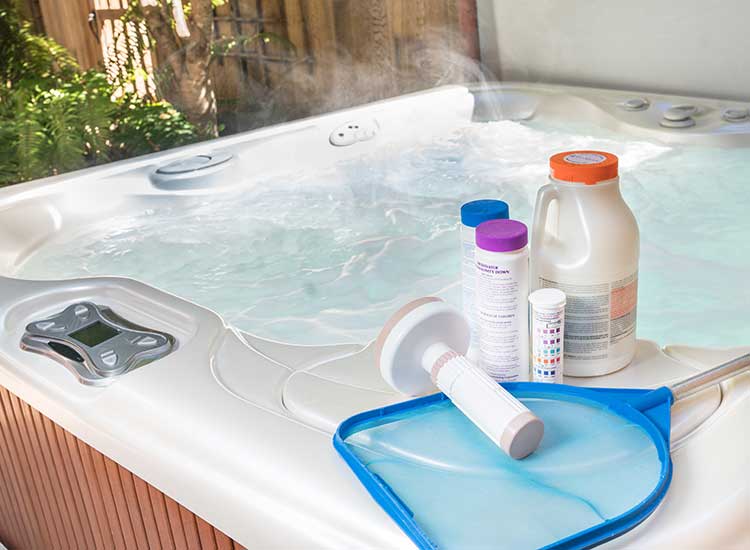 1. Can I switch from using chlorine to bromine in my hot tub?
Yes, you can switch from chlorine to bromine as a sanitizer in your hot tub. However, it is essential to ensure that there is no residual chlorine in the water before making the switch. Drain and refill the hot tub or wait until chlorine no longer appears on the test strip.
2. Is bromine safe for hot tub use?
When used correctly, bromine is safe for hot tubs. However, direct contact with bromine powder or liquid should be avoided. If handling bromine tablets, it is recommended to wash your hands afterward. Always maintain appropriate bromine levels and follow the manufacturer's guidelines.
3. Can I use chlorine shock alongside bromine?
Yes, you can use chlorine shock in conjunction with bromine. While it is important not to mix the two sanitizers directly, chlorine shock can be used separately for maintaining water clarity and eliminating contaminants.
4. Why do some hot tub manufacturers advise against using bromine?
Certain hot tub manufacturers discourage the use of bromine due to its potentially corrosive effects over time. Additionally, wooden hot tubs are not suitable for bromine sanitization. It is always recommended to consult your hot tub manufacturer's guidelines to avoid any warranty issues.
5. How often should I test my bromine levels?
It is recommended to test your bromine levels regularly, ideally every few days. This allows you to monitor the levels and make adjustments as needed to ensure optimal sanitization.
Conclusion
Hot tub maintenance with bromine is a reliable and effective way to keep your hot tub clean and enjoyable. With its resilience to sunlight and heat, gentleness on the eyes and skin, and longer-lasting effects, bromine proves to be an excellent choice for hot tub sanitization. By following the step-by-step guide and addressing frequently asked questions, you can confidently maintain your hot tub and indulge in its soothing waters. Keep in mind the importance of regular testing, adjustment of bromine levels, and proper use of shock for a hassle-free hot tub experience. Embrace the benefits of bromine and revel in the bliss of a well-maintained hot tub!
Resources Mentioned:
Hot Tub Owner HQ – Jeff's YouTube channel providing comprehensive hot tub maintenance guides and tips.