Embark on an epic hot tub party journey! Be it a special event, friendly gathering, or simply unwinding in style, meticulous planning and attention to detail elevate a hot tub party from ordinary to extraordinary. This guide divulges the secrets of hosting the best hot tub party that'll have your guests buzzing for weeks.
A well-planned hot tub party is crucial. It's not just about having the best hot tub; it's about crafting a cozy, delightful, and secure environment that caters to your guests' preferences.
To make your hot tub party memorable, focus on ambiance, activities, and personal touches. Perfect playlists, captivating lighting, and delectable refreshments contribute to an unparalleled experience. So, dive into hot tub parties and make your next event the talk of the town!
1. Picking the Ideal Date: Timing Your Hot Tub Party to Perfection
The perfect date can make or break your hot tub party. Juggling various factors ensures a memorable experience for everyone involved.
Factors in Selecting the Date
When choosing the date, weigh your guests' availability and preferences. Weekends are popular for hot tub parties, offering ample leisure time without work looming. Holidays and long weekends can be tempting too, but remember that guests might have other plans. Early invitations are key.
Weather Forecasts: Friend or Foe?
Weather plays a pivotal role in setting the hot tub party atmosphere. Monitor forecasts closely, aiming for a clear, mild evening. If the weather is uncooperative, consider rescheduling or improvising with tents or outdoor heaters.
With the best hot tub and an impeccable date, your hot tub party is destined to leave a lasting impression.
2. Sending Out Invitations: Crafting the Perfect Prelude to Your Hot Tub Party
Invitations set the tone for your hot tub party, piquing guests' interest and laying the groundwork for an unforgettable experience. Spice up your invites with creativity, and manage RSVPs for a smooth event.
Creative Invitation Ideas
Ditch traditional invites for something unique. Consider themed designs that hint at the party's ambiance or use puns and wordplay to spark curiosity. Digital invitations offer versatility, with animated e-cards or personalized video messages as engaging alternatives.
RSVPs and Guest List Management
Tracking RSVPs ensures you accommodate all attendees. Include RSVP deadlines on invitations, and follow up with reminders. Utilize event management platforms or social media groups to streamline communications and keep track of guest responses.
By combining creativity and organization, your invitations will captivate guests, setting the stage for an exceptional hot tub party.
3. Setting the Scene: Crafting an Enchanting Atmosphere for Your Hot Tub Party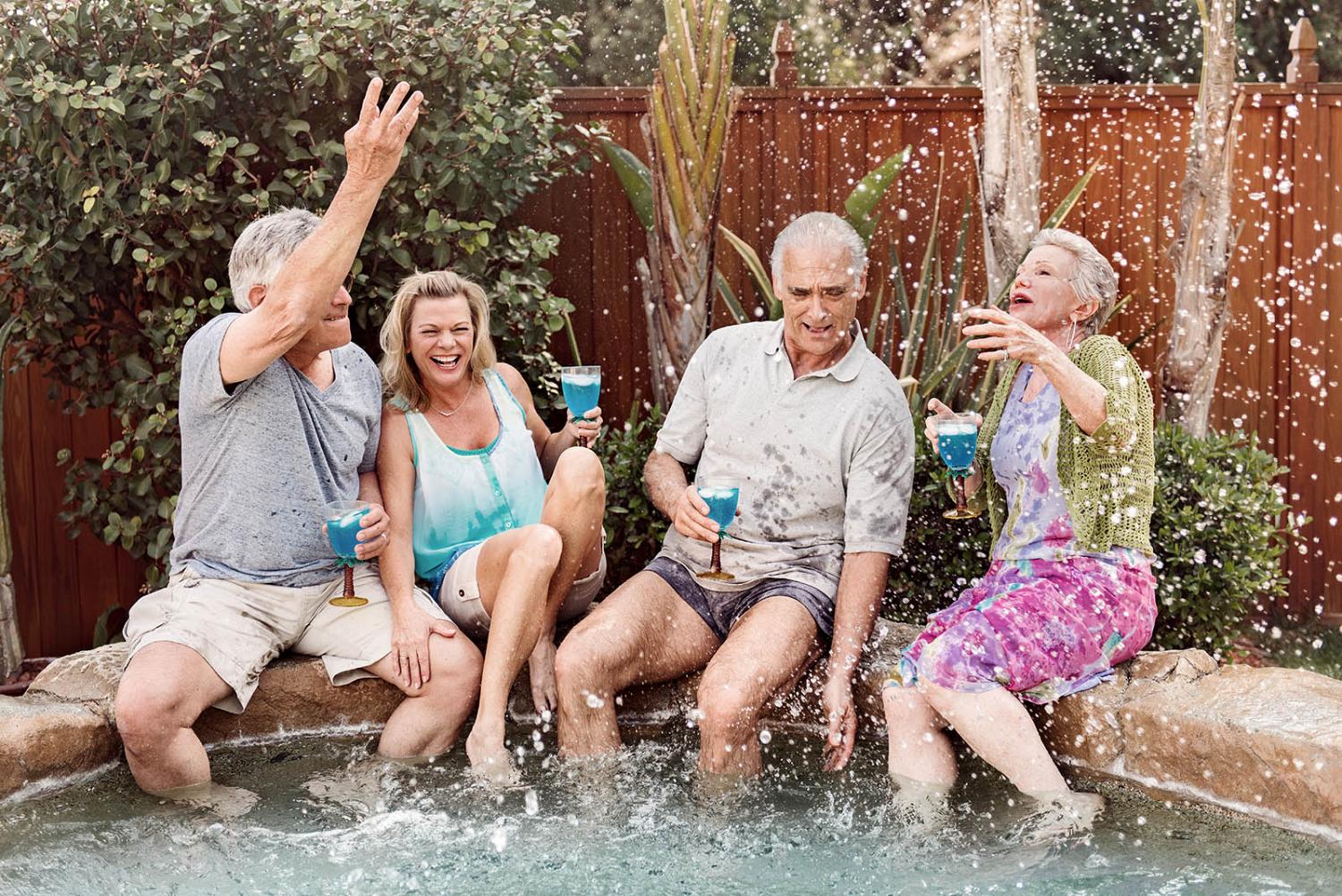 An alluring ambiance is vital for an unforgettable hot tub party. By focusing on lighting, decorations, and music, you'll create a captivating environment that will delight your guests.
Lighting: Illuminating the Night
Strategic lighting sets the mood, transforming your party space into an enchanting oasis. Consider ambient lighting options, such as string lights, lanterns, or tiki torches, to create a warm, inviting atmosphere. Waterproof LED lights, including submersible or floating varieties, can add a splash of color and intrigue to your hot tub.
Decorations: Immersing Guests in Your Vision
Adorn your party area with themed decorations that reflect your desired atmosphere. From tropical vibes to vintage elegance, your chosen theme should carry throughout your decor. Incorporate balloons, banners, and other party accessories to elevate the space further.
Music: The Soundtrack to Your Soiree
Music is instrumental in setting the tone for your hot tub party. Curate the perfect playlist, blending genres and tempos to keep guests entertained. Invest in waterproof speakers to ensure high-quality audio, and consider smart setups that allow guests to request songs or adjust volume.
By expertly crafting your party's atmosphere, you'll transport guests to a world of relaxation and fun, ensuring your hot tub party is an event to remember.
4. Hot Tub Preparation: Ensuring a Pristine Oasis
A well-prepared hot tub is essential for a memorable party. Attend to cleaning, maintenance, and temperature control to provide a safe, enjoyable environment for your guests.
Cleaning and Maintenance: Sparkling Waters Await
Cleanliness is paramount for a successful hot tub party. Scrub the hot tub and filter thoroughly, removing debris and buildup. Balance water chemistry by adjusting pH, alkalinity, and sanitizer levels to create a safe, comfortable soaking experience.
Temperature: Comfort Meets Safety
The ideal hot tub temperature for parties is around 100-102°F (37-39°C), providing a cozy yet safe environment. Monitor the temperature throughout the event, and remind guests to take breaks to prevent overheating.
5. Party Attire: Suit Up for Soaking Success
Encourage guests to dress appropriately for a hot tub party, ensuring comfort and style.
Dress Code: A Splash of Fun
Suggest a dress code that aligns with your party's theme. From tropical prints to vintage glam, themed attire adds a playful element to your event.
Fun and Functional Swimsuits
Remind guests to wear swimsuits suitable for a hot tub party. Recommend quick-drying, comfortable options that resist fading and stretching.
By meticulously preparing your hot tub and guiding guests on attire, you'll create a comfortable, enjoyable setting for an unforgettable hot tub party experience.
6. Food and Drinks: Satisfying Guests' Tastes
An enticing selection of food and beverages adds a delightful touch to your hot tub party. Offer a variety of refreshments and consider smart serving solutions.
Refreshments: Tantalizing Tastes
Serve finger foods and appetizers that are easy to eat poolside. Consider skewers, sliders, and small bites. Offer a diverse beverage selection, including water, soft drinks, and adult beverages, presented in a visually appealing manner.
Serving Suggestions: Poolside Perfection
Utilize waterproof trays and floating coolers for accessible refreshments. Choose disposable or reusable tableware that's suitable for a hot tub setting.
7. Games and Activities: Engaging Entertainment
Incorporate hot tub-friendly games and icebreaker activities to keep guests entertained and foster interaction.
8. Safety Measures: A Secure Soiree
Ensure guest safety with proper supervision and hygiene practices.
Supervision: Watchful Eyes
Appoint a designated lifeguard or supervisor to monitor the hot tub area, ensuring guests' well-being.
Hygiene: Cleanliness Counts
Encourage guests to shower before entering the hot tub. Provide extra towels and sanitizing stations for added convenience.
By offering scrumptious refreshments, engaging activities, and prioritizing safety, your hot tub party will be an unforgettable experience for all.
9. Photo Booth and Souvenirs: Memories to Cherish
A photo booth and souvenirs help guests remember your hot tub party long after it's over. Create a DIY photo booth and offer keepsakes for a lasting impression.
Setting Up a DIY Photo Booth
Design a fun, themed backdrop for your photo booth, complete with props and waterproof accessories. Encourage guests to snap pictures and share them on social media.
Party Favors and Keepsakes
Offer party favors that reflect your event's theme, like custom koozies, waterproof keychains, or mini beach balls. Personalized items create cherished mementos.
10. After-Party Cleanup: Refreshing Your Space
Efficient cleanup is essential for restoring your space to its pre-party state.
Draining and Refilling the Hot Tub
Drain and refill your hot tub to ensure fresh, clean water for future use. Rebalance water chemistry and clean the filter as needed.
Cleaning Up Decorations and Disposables
Remove all decorations and dispose of any waste, such as disposable tableware or leftover food. Store reusable items for future events.
By providing photo opportunities and keepsakes, you'll create lasting memories for your guests. With a thorough cleanup, your space will be ready for your next hot tub party adventure.
Frequently Asked Questions
How many people can fit in a standard hot tub?
A standard hot tub typically accommodates 4-6 people. Larger models can fit 8 or more. Consider your hot tub's capacity when inviting guests to ensure everyone's comfort.
What is the ideal duration for a hot tub party?
Hot tub parties generally last 2-4 hours. This duration allows guests to enjoy the hot tub without overstaying, while still providing ample time for socializing, eating, and participating in activities.
Can I add bubble bath or bath bombs to the hot tub?
Avoid adding bubble bath or bath bombs to your hot tub, as they can cause excessive foaming, clog filters, and disrupt water chemistry.
How can I make my hot tub party more eco-friendly?
Opt for reusable or biodegradable tableware, minimize single-use plastics, and use energy-efficient lighting. Encourage carpooling or provide information on public transportation to reduce the event's carbon footprint.
What are some alternatives for guests who don't want to use the hot tub?
Provide alternative activities and comfortable seating areas away from the hot tub. Board games, group activities, or a separate conversation area can cater to guests who prefer not to soak.
Conclusion
In summary, the essential elements for a successful hot tub party include meticulous planning, captivating ambiance, delicious refreshments, engaging activities, and prioritizing safety. Embrace the planning process and enjoy the journey, as it culminates in an unforgettable experience for you and your guests.