Have you been dreaming of owning a sauna? If you are, then you should be informed of what is the best 2 person infrared sauna currently available in the market.
An infrared sauna utilizes a combination of carbon and ceramic heaters, unlike the traditional one that uses steam from hot stones. It helps increase circulation and oxygen flow and remove harmful toxins as well.
Here are some of the 2 person infrared sauna reviews that will help you in making a knowledgeable decision during purchase:
Best 2 Person Infrared Sauna Reviews
1.  Maxxus Seattle Sauna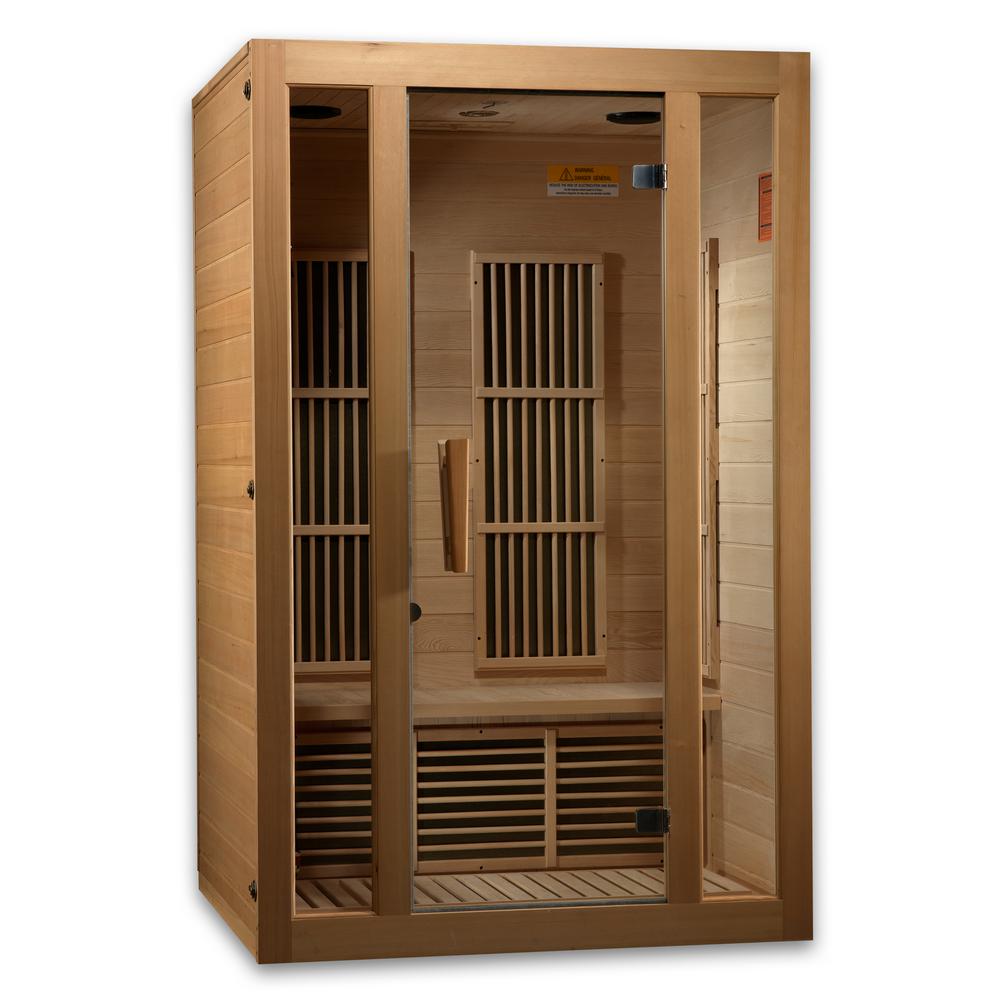 Feel closer to nature with the natural Canadian construction of this sauna. The beautiful wood exterior is made out of planks, which is considerably 40% compared to other sauna brands.
This sauna is perfect for home usage as it can be installed in several indoor locations such as closets, basements, or bedrooms. Feel further relaxed when using it as you can plug in the music of your choice with its speaker system and built-in MP3 connection.
This sauna can accommodate up to 6 people so the whole family could join the relaxing experience that it offers.
Features:
Timer
LED lights
Seating Bench
Control Panel
Doors
Vent
Adjustable temperature
110 Volts
1750 Watts
Value for money
It has a backrest that prevents skin from burning.
Easy to set up.
The auxiliary input is in the ceiling
2.  MG217HB JNH Lifestyles Joyous 2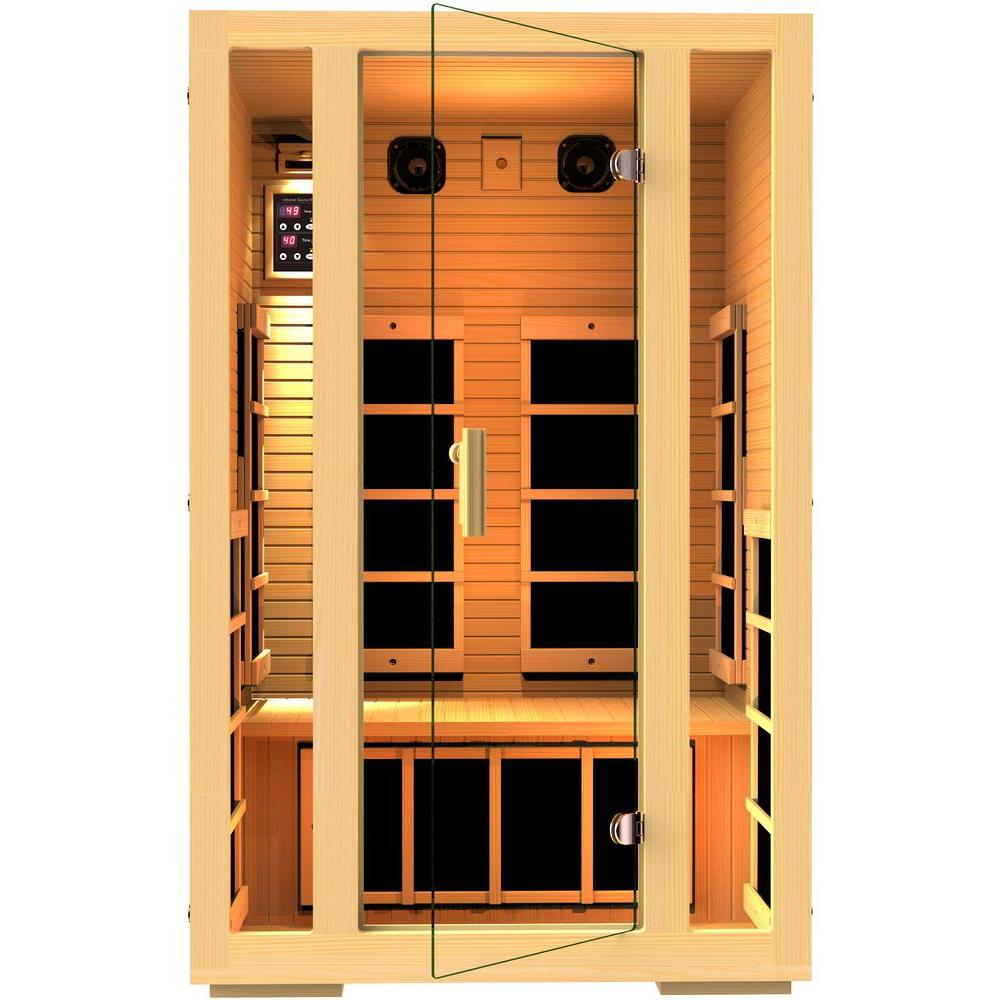 This infrared sauna has seven carbon fiber heaters. They are located strategically to achieve optimally and even heat coverage. It is made from 100% hemlock wood, which is unstained and untreated.
It has a no-fuss control panel with a digital interface. Temperature is easy to adjust, and the timer is straightforward to set up.
If you are a music lover and you want some tunes while inside your sauna, the MG217HB got you covered. It has 2 Bluetooth premium speakers and remote control. This means that you don't have to risk bringing your phone inside a high-temperature location.
Features:
Carbon Fiber Heaters
100% Hemlock Wood
Tongue and Groove Panels
Dual insulation
Tempered glass
Bluetooth sound system
Digital control panel
Timer
Easy to assemble with its tongue and groove panels
Convenient control panel
The temperature panel does not show the current temperature.
3.  NE2HB1 JNH Lifestyles Ensi 2
This unit is another one that is from the JNH lifestyle. It has almost the same features as Joyous 2. However, the most significant difference they have is in their EMF levels.
The EMF level of Joyous 2 is "Low EMF," while Ensi 2 has an "Ultra-Low EMF" rating. This means that the Ensi 2 generates lesser EMF radiation.
Aside from that, this unit has a slight difference in style, but it is still made with the same 100% hemlock wood.
Features:
Ultra-low EMF
Carbon Fiber Heaters
100% Hemlock Wood
Tongue and Groove Panels
Dual insulation
Tempered glass
Bluetooth sound system
Digital control panel
Timer
Low radiation emission
Easy to install and use
Beautiful design
On the more expensive side.
Temperature gauge does not indicate current temp.
4.  Venice Dynamic Sauna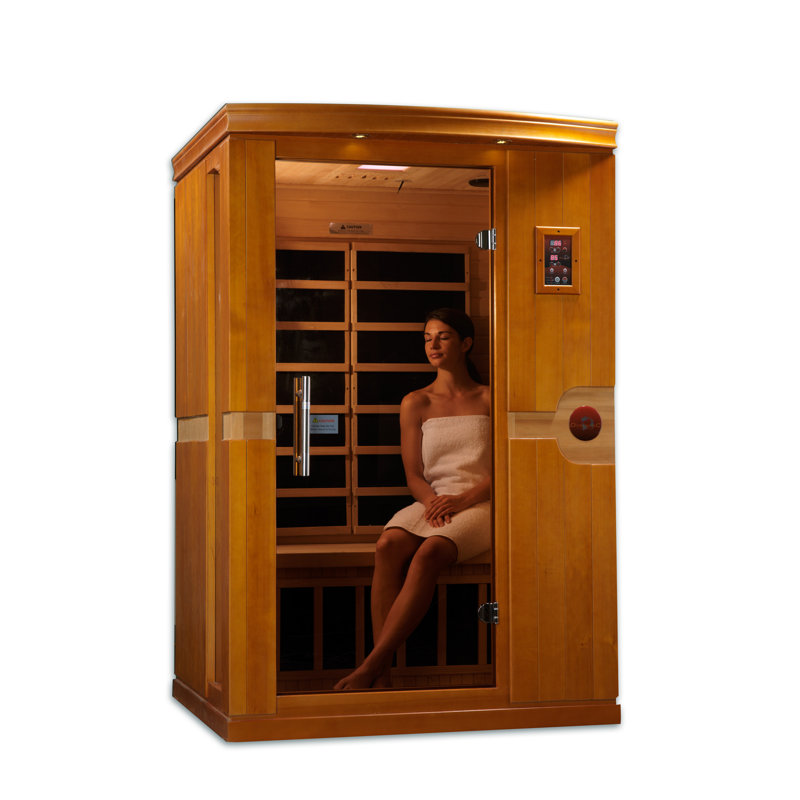 This two-person sauna has a 5mm interior and a 1.13-inch inner frame with wood plank exteriors. It is spacious enough for two people. Also, it has beautiful tempered glass side windows and doors for access to natural light.
It has a carbon heating system that has six panels that are strategically placed to assure even heating. Two boards can be found on the rear, one on each side of the wall, one on the bench, and another one on the floorboard itself.
Features:
Chroma lighting system
Dry Heat
Carbon heating system
Canadian Hemlock wood
Tempered glass windows and doors
Low EMF rating
Built-in speakers
Affordable compared to other brands
Easy to install
Dimming lights
Easy to control temperature settings
Doors and windows do not have insulation
5.  Medical Sauna Full Spectrum
Various expert medical professionals designed this sleek and luxurious sauna. It is fully loaded with all the features that you wish a sauna has.
It utilizes a Carbon heater technology and an infrared full spectrum heater. It also has interior reading lights and a premium sound system.
Aside from that, the interior space is much more spacious compared to other saunas. It is 100% possible to do yoga inside that sauna.
In terms of energy efficiency, this one runs on 120 volts, which will not shock your electric bill. Some can say that this is by far the best infrared sauna there is, but it does come with a big price tag.
Features:
Full-spectrum heaters
Hot and cold cleansing system
Insulated Airflow System
3D heat therapy
Natural hemlock wood
Clasp Assembly
Tempered glass door
AUX Connection
Bluetooth speaker system
Efficient energy
Straightforward touch control panel
Chroma Lighting
Omni-directional heating
Spacious
Jampacked with features
Easy to assemble
Purchase includes a free backrest, which other brands sell separately.
6.  Radiant Sauna 2-Person Hemlock Infrared Sauna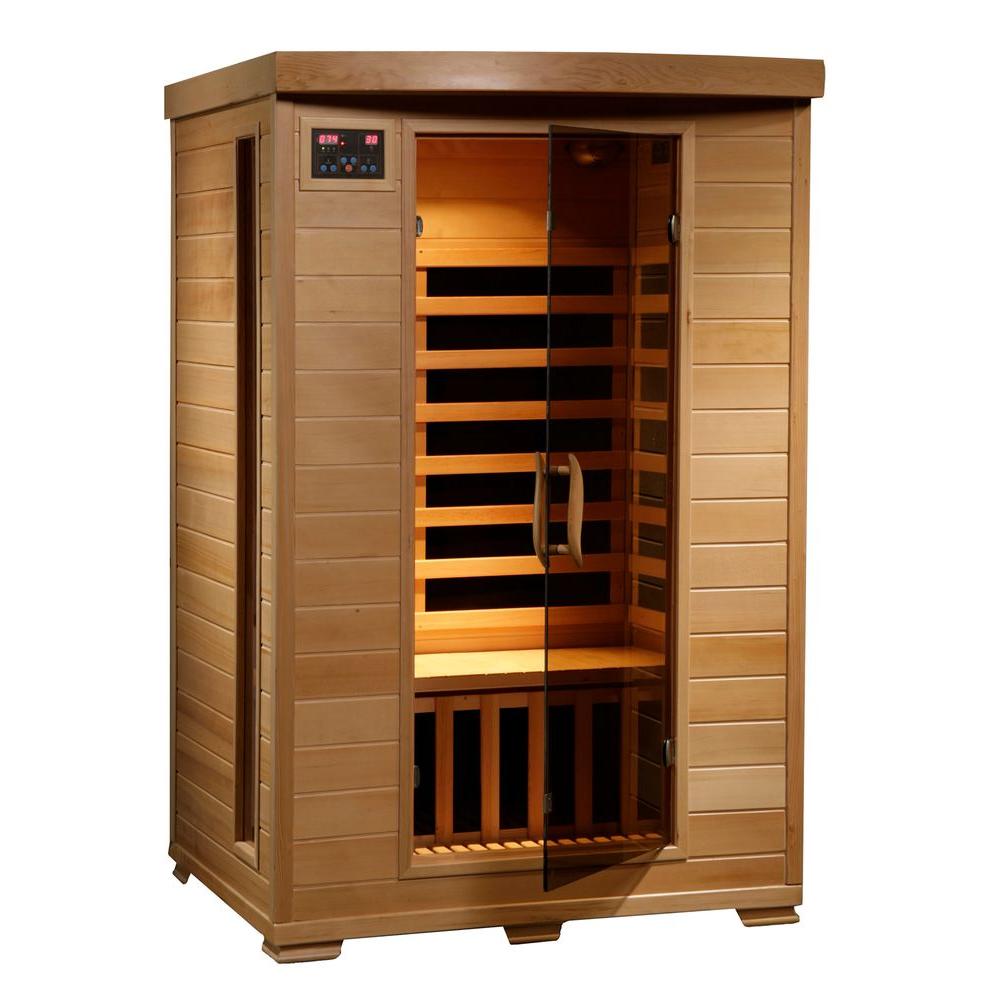 Getting a sauna from a company that offers a 7-year warranty is always a good choice. This means that you can worry less in case you experience difficulties in the future.
In terms of sauna quality, this model offers even and steady heating with its carbon heaters. It also has touch LED controls that make setting up your desire temperature convenient and easy.
Aside from that, you also get a bonus of oxygen ionizer, which helps purify the quality of your air.
Features:
Carbon Heaters
Built-in sound system
Touch LED Controls
Tempered glass door
Chromo lighting
Oxygen ionizer
Hemlock Wood construction
7-year manufacturer warranty
Responsive customer service
Comfortable design
Good quality of air inside the sauna
7.  Radiant Saunas 2-Person Hemlock Infrared Sauna with 5 Ceramic Heaters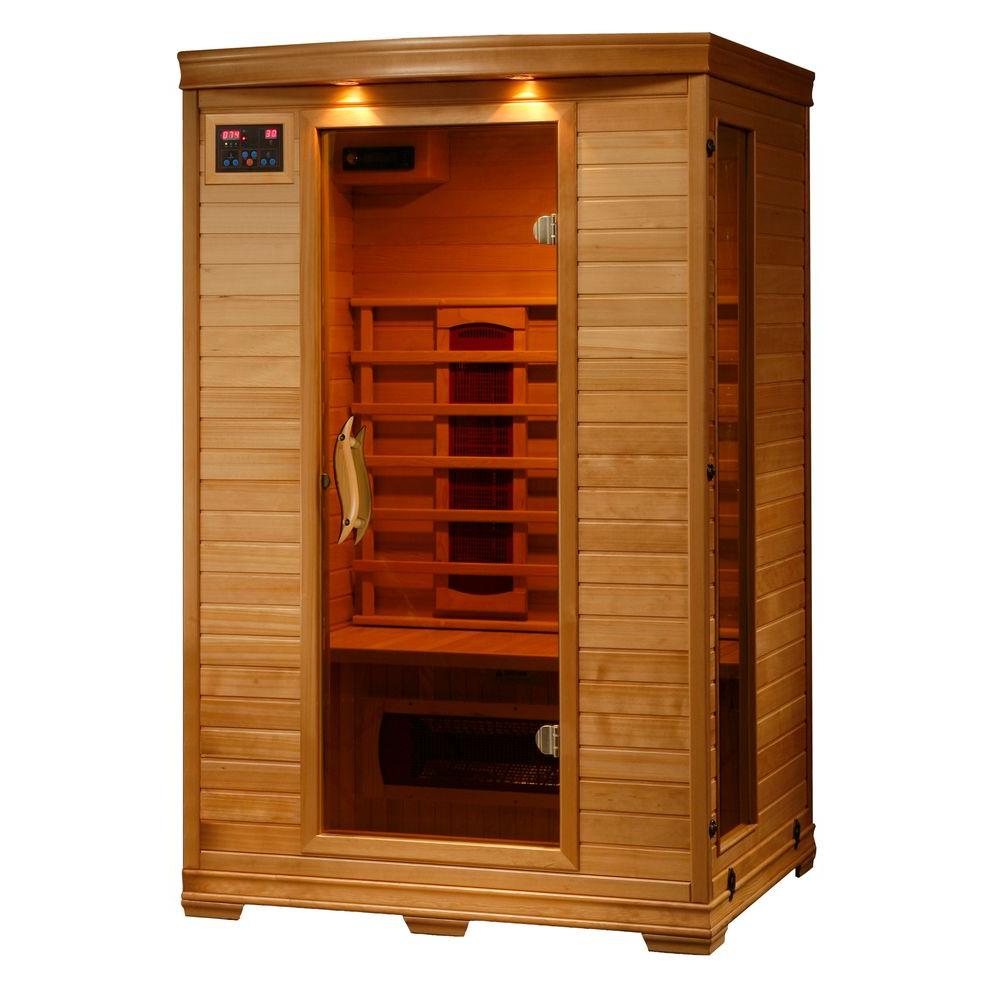 This 47.24" by 43" interior 2 person sauna has a rustic design and convenient features. It is made out of Canadian hemlock that has hypoallergenic and scar resistant properties. Aside from the beautiful finish of the wood, it also serves as another layer of insulation.
Aside from that, you can maximize your relaxation with its chromotherapy lighting and builtin sound system features.
Features:
Made out of natural Canadian Hemlock wood
Equipped with oxygen ionizer
Built-in sound system with aux input
Chromotherapy lighting
Wooden backrest and magazine rack
Intuitive Control panel
Carved handles
Affordable
Easy to set up
No installation instruction manual
8.  Andora Dynamic Sauna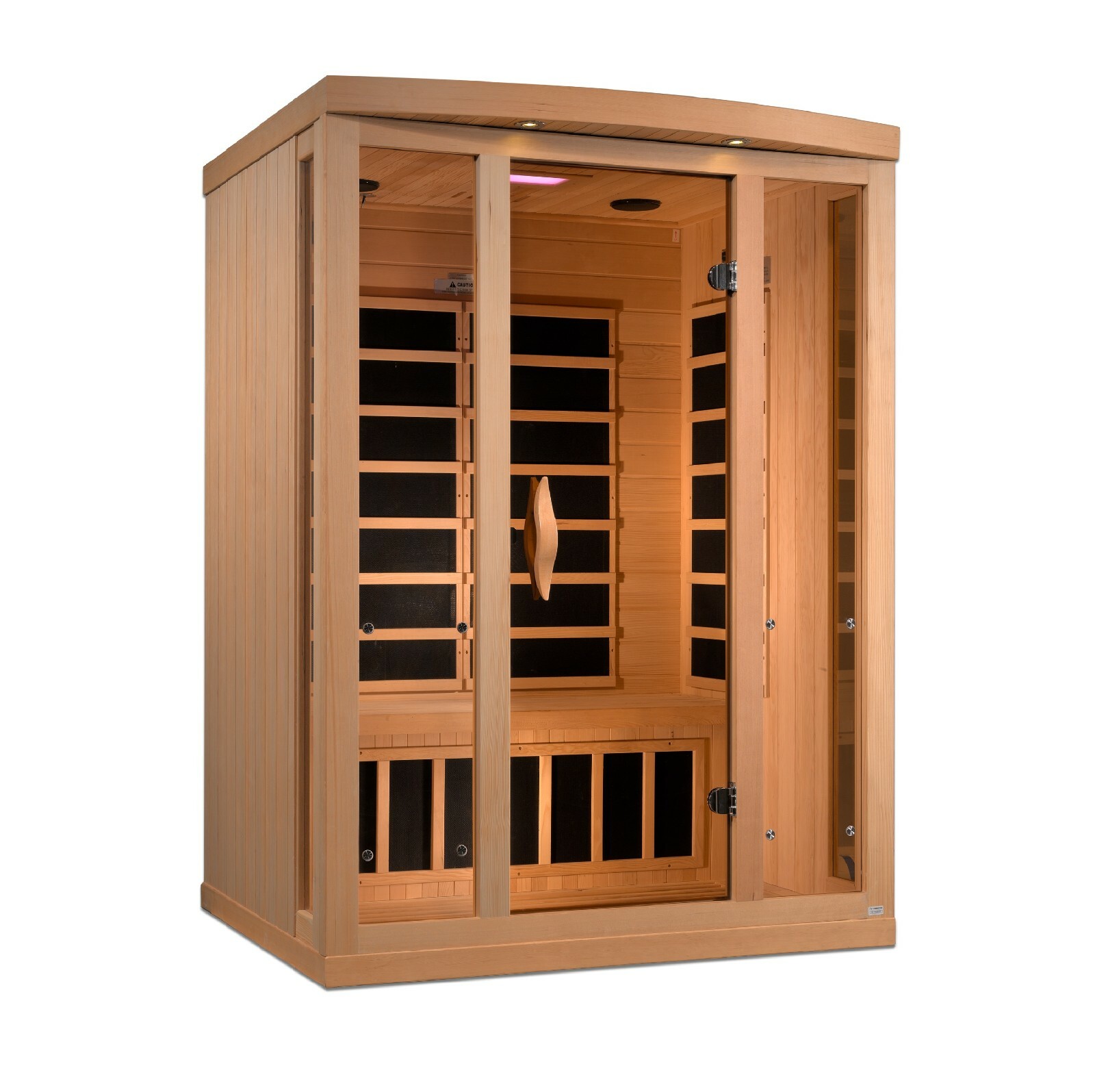 Here is another Dynamic sauna. Compare to the previous model mentioned above, this one is more affordable. Similarly, it can fit two-person, and it is heated by infrared carbon heating.
It is also made out of hemlock wood and has clear tempered glass windows on the side and glass door.
Features:
Two-person capacity
Soft-touch panel
Two speakers
MP3 aux connection
Clasp assembly
110V/15AMP
Chromo Therapy lights
Affordable
Easy to install
Effortless control panel
Unresponsive customer service
Check out: 2020 Model Dynamic 2-3 Person Near Zero EMF FAR Infrared Sauna NEW!
9.  Alicante Dynamic Sauna
Unlike the two previous dynamic saunas mention above, this one uses four dynamic Bio-Ceramic heaters. This type of heating system allows infrared waves to penetrate the skin to increase blood flow and remove toxins.
Features:
Bio-ceramic heaters
Soft-touch control panel
LED temperature display
Speakers and MP3 connects
Easy to install
Well lit interiors
Efficient heating system
Interior space can be too tight for two-person
Check out: Natural brown Dynamic "Luxury" 2 Person Low EMF FAR Infrared Sauna NEW!
10.  SunRay Sierra Infrared Sauna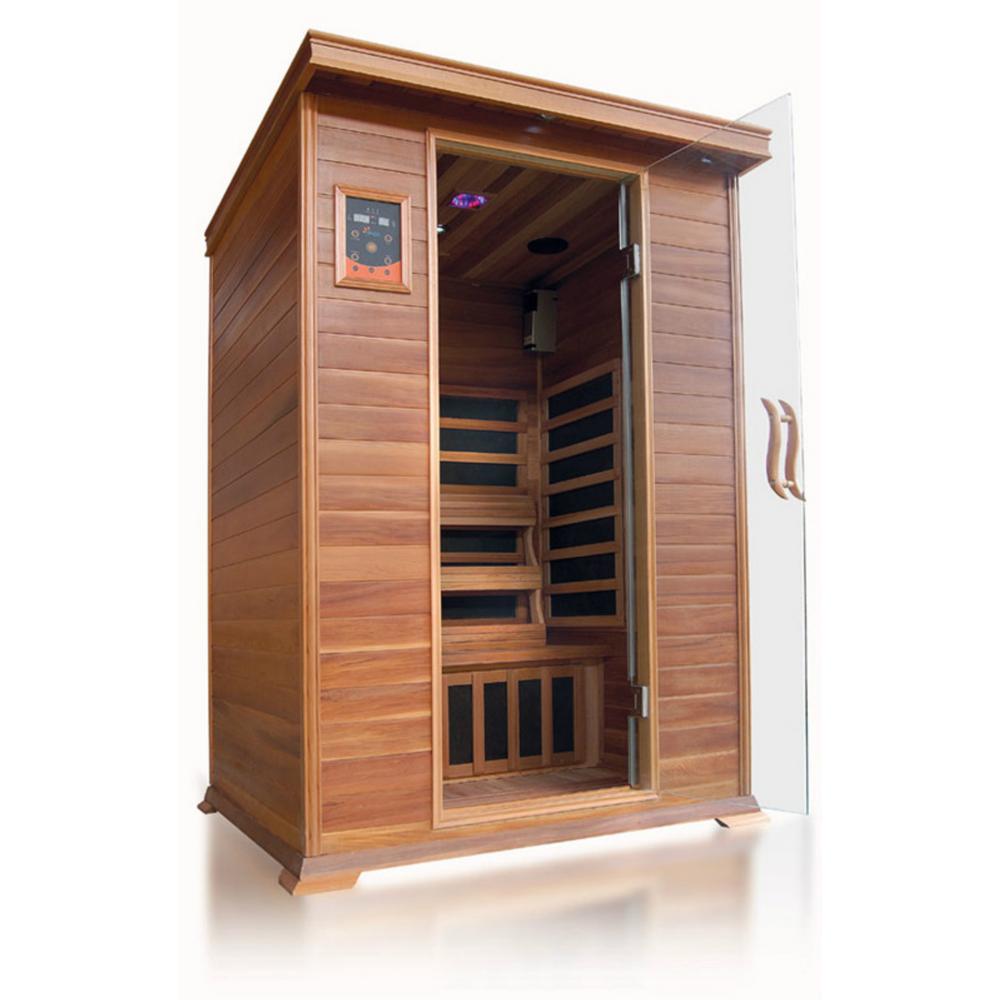 This charming, designed sauna offers more space compared to the other two-person sauna in the market. It is made out of Canadian cedar wood that does not only look great but also adds a pleasant aroma to the sauna experience.
It has a little to no EMF emission and seven carbon nano heaters that evenly disperse heat. It also has CSA/ETL certifications, which means that it has passed through Canadian and US electrical safety standards.
Features:
Seven carbon nano heaters
Dual LED control panels
Removable backrest
Chromotherapy lighting
Sound system
Oxygen Ionizer
Interior reading lam
Tempered glass
Cedarwood construction
Unique red color finish
Lightweight and easy to assemble
Has extra legroom
The free backrest is flimsy.
Conclusion
Most of the best two person infrared sauna is heated by carbon or bio-ceramic heaters, which are generally energy-efficient and have low EMF. Aside from that, these saunas are also easy to install indoors.
Hopefully, the pieces of information mention above have given you an idea of which best 2 person infrared sauna is suited for you. Although these saunas can be expensive, the benefit that you will take from it is priceless.