Poorly-maintained bathrooms pose a threat to household health. It becomes a breeding ground for mold and mildew, and may even cause infection. Removing mold regularly is both impractical and dangerous. The best way to do this is by getting only the best bathroom dehumidifier.
Prevent molds from growing by letting the air to move around. In turn, this can decrease humidity in cramped spaces.
List of the Best Bathroom Dehumidifier
It is hard to determine the best bathroom dehumidifier. There is a number that can be bought on the internet. Finding the perfect machine to suit your purpose depends on the size and state of the bathroom.
Here is a list of dehumidifiers and how they can fit in your household:
1.  Pro-Breeze Electric Dehumidifier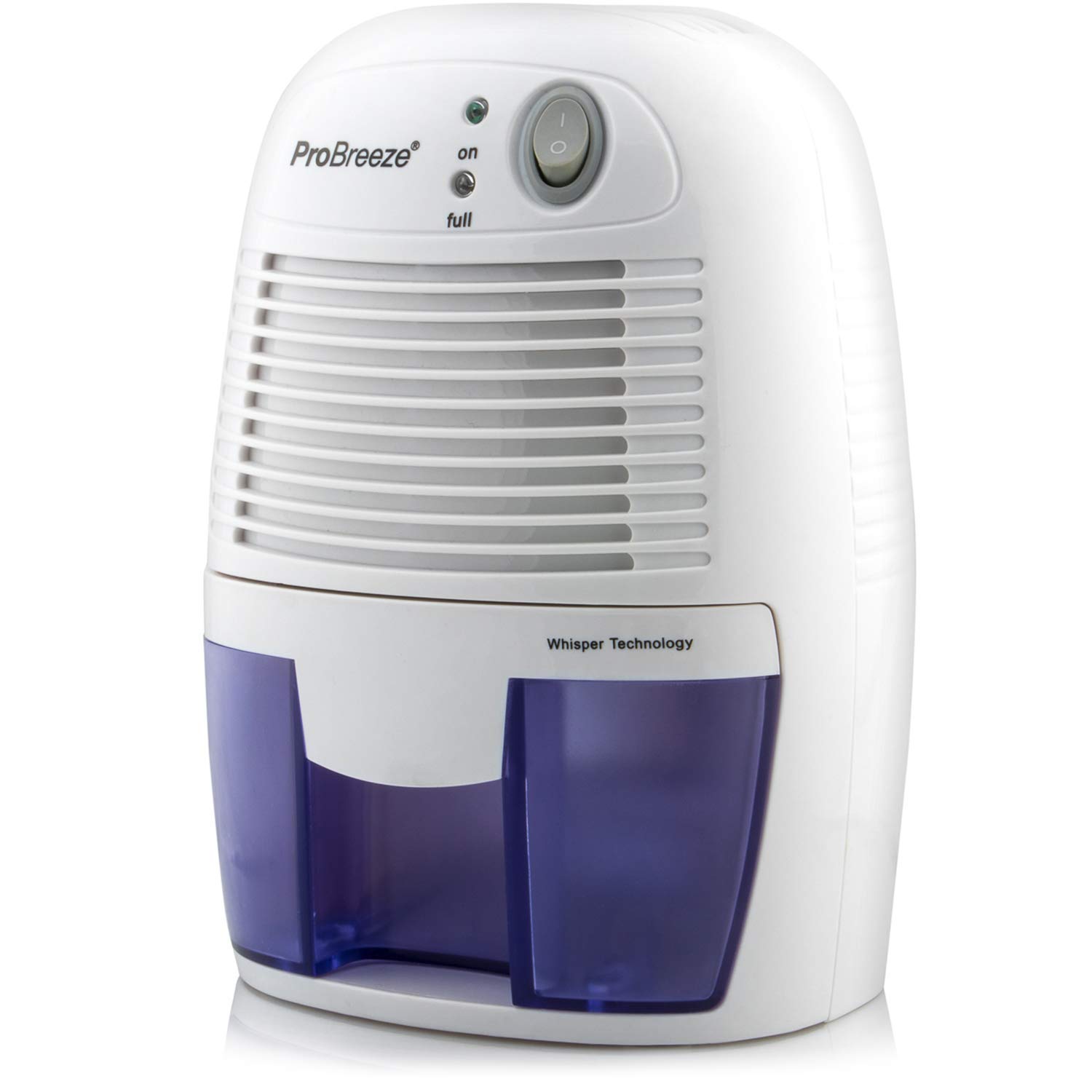 This machine is designed to remove moisture from home spaces. Pro-Breeze Electric Dehumidifier consumes low energy. It can extract as much as 9 ounces of moisture over a day storing it to an 18 ounce water tank. The product comes from a long line of machines. They have been making air cleaners and dehumidifiers for many years now.
It turns off by itself when full
The machine is energy saving
Uses advance tech to lessen noise
It is portable and lightweight because of its sizes
It has a LED panel that alerts user when tank is full.
The machine is perfect only for closets and cabinets or small places.
It is hard to remove water from the tank
It has a limited warranty of just one year
The machine requires the room to be sealed from outdoor air
It does not work well with a bathroom fan
2.  Frigidaire 30-Pint Dehumidifier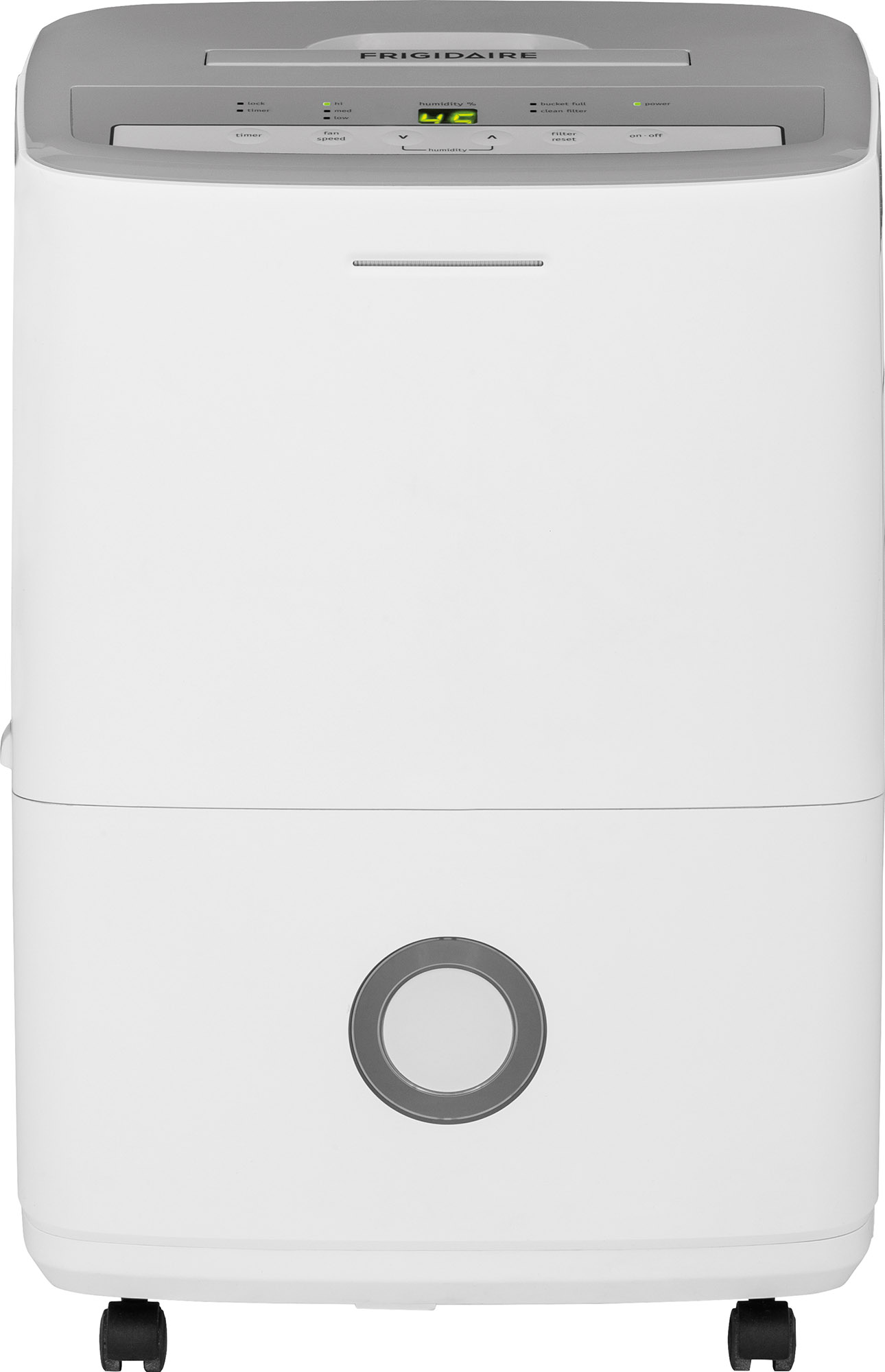 This machine doubles as a dehumidifier and an air cleaner. Frigidaire dehumidifier prevents the growth of mold and eliminates microbes in the air. It has a steady use option when placed next to a fitting drain. It can remove up to 30 pints of water each day.
The machine has wheels that allow users to move it from one room to another.
It has a humidity control that lets users set the exact humid levels in the room.
This machine is energy saving and is certified by Energy Star.
It lowers humidity level in the room and also kills the microbes in the air.
This model auto shuts off when water tank is full.
It only has 1 year warranty.
Replacement parts and customer service may be an issue.
After long use, the humidity reader can be faulty, faulty and can sometimes produce an error message.
3.  Keystone KSTAD50B Portable Dehumidifier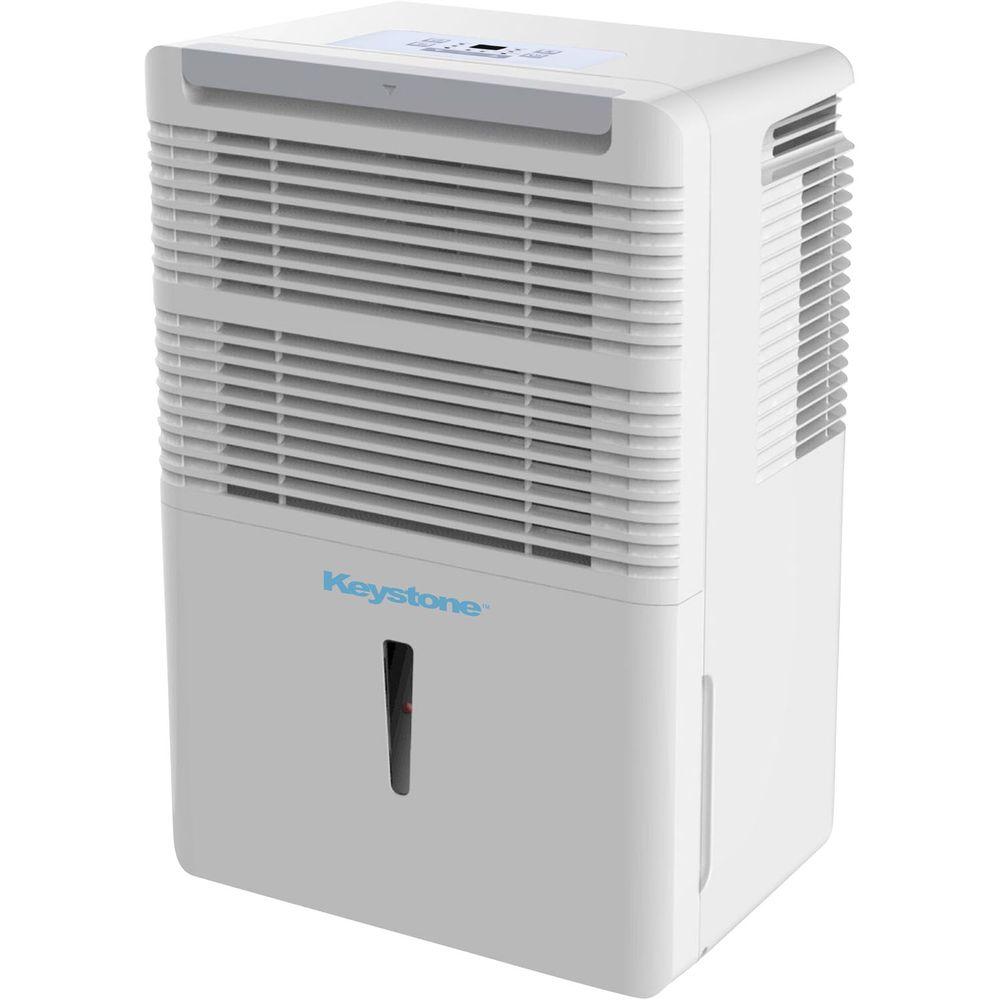 This machine can remove as much as 50 pints of moisture. It can work in an enclosed space up to 3000 square feet. Like other electronic humidifier, it has a LED display and water level indicator. The machine turns off when it reaches water level limit.
The machine is portable because of its small size and rolling casters
It can remove moisture even in a wide expanse of closed space
This humidifier has a steady drain option that can be used by plugging a standard hose
It has a removable dust cleaner making it easier to clean
The model saves preferred settings even during power outage
It is energy saving and is certified by Energy Star
It is nicely quiet
The booklet that comes with the product does not contain enough information
It only has a 1-year warranty
4.  hOmeLabs Dehumidifier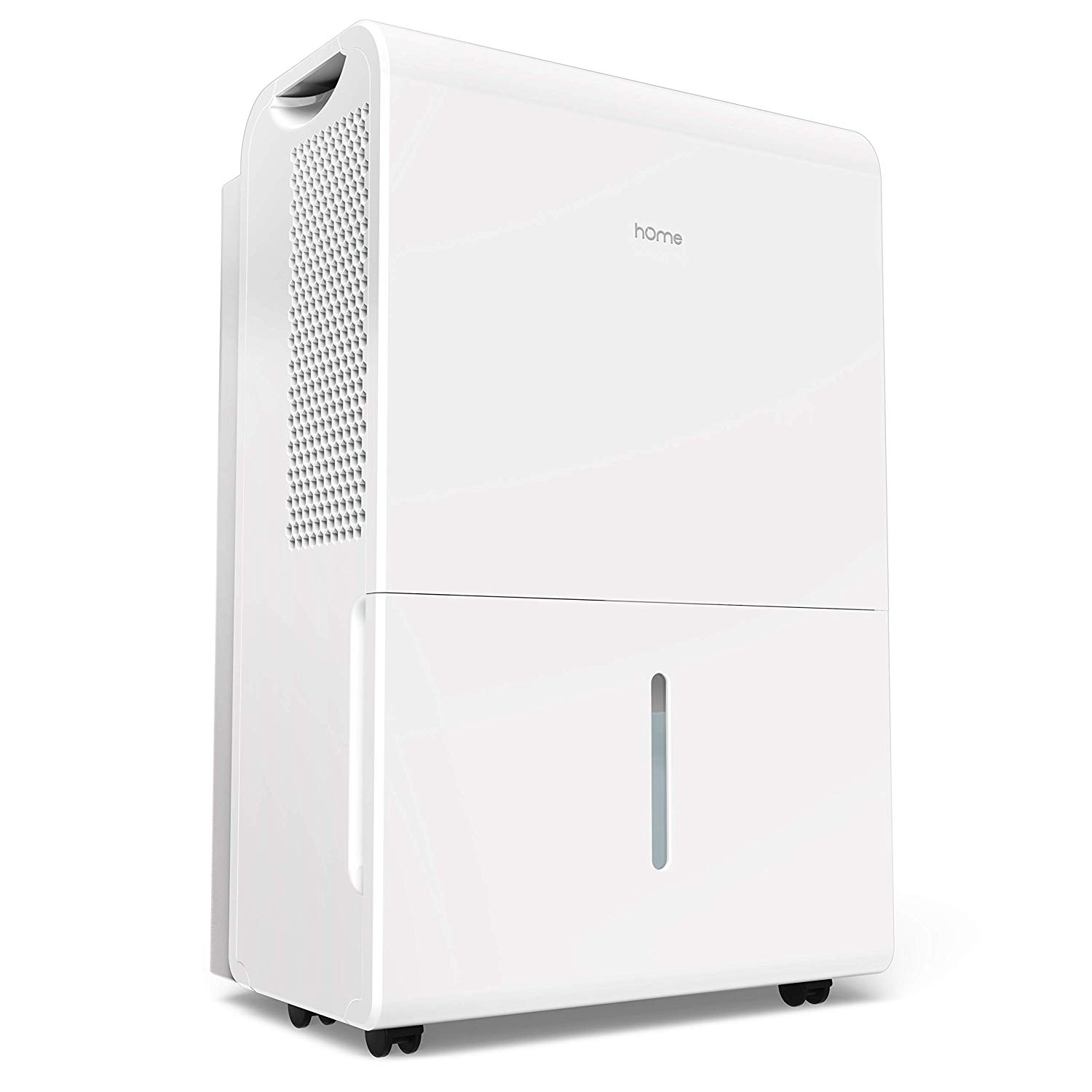 This machine comes from the group that prides its products to be hip, modern, and clean. hOmeLabs Dehumidifier removes as much as 70 pints of moisture a day. It is not meant to be used solely for home bathroom spaces. This humidifier is perfect for public bathrooms, basements, and large rooms. It also takes out the awful smell from the air.
It is designed to suck out moisture from big rooms
The machine is energy saving even earning an Energy Star proof
It has a 2-year warranty with an added 6-month option by simply logging in to their website
It is mobile as it has wheels and handles.
This humidifier is not loud as you would expect a machine that can dehumidify large rooms
It turns off by its own when full.
The auto-defrost option does not work as designed
Some parts cannot be replaced
5.  Tosot 30-Pint Dehumidifier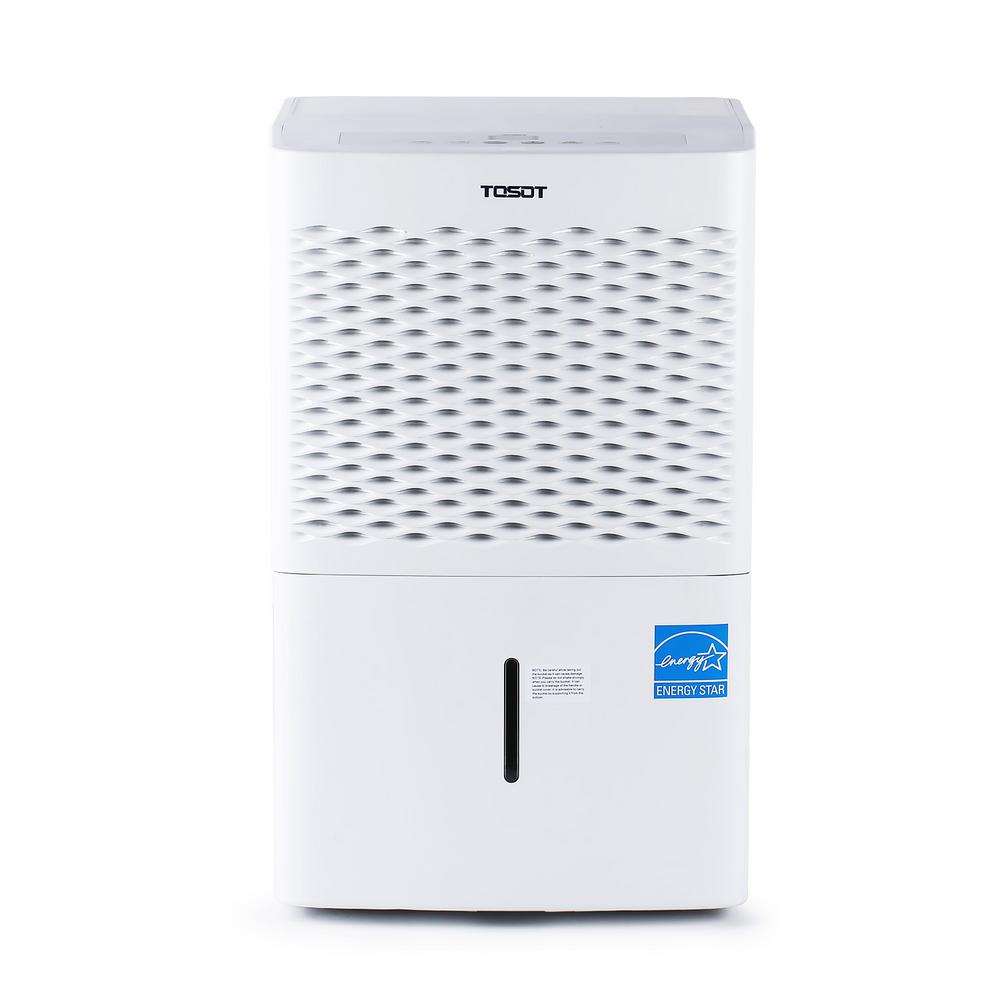 This machine is designed to suck the moisture out of as big as 1500 square-foot rooms. It can remove up to 30 pints of water to prevent mildew. Tosot's design helps prevent molds and allergens from forming. It recalled its settings even after a power outage.
It is a heavy-duty machine perfect for wide spaces
This machine is energy-saving and is rated with Energy Star
It works quietly amounting only to as much as 48 db
Tosot's smart machine design remembers its last saved settings
It has an option for steady drainage
The machine requires weekly cleaning for better operation
It only has a one-year warranty
Its inside pump can be an issue
It sometimes gives faulty humidity level reading
6.  Vremi 30-Pint Portable Dehumidifier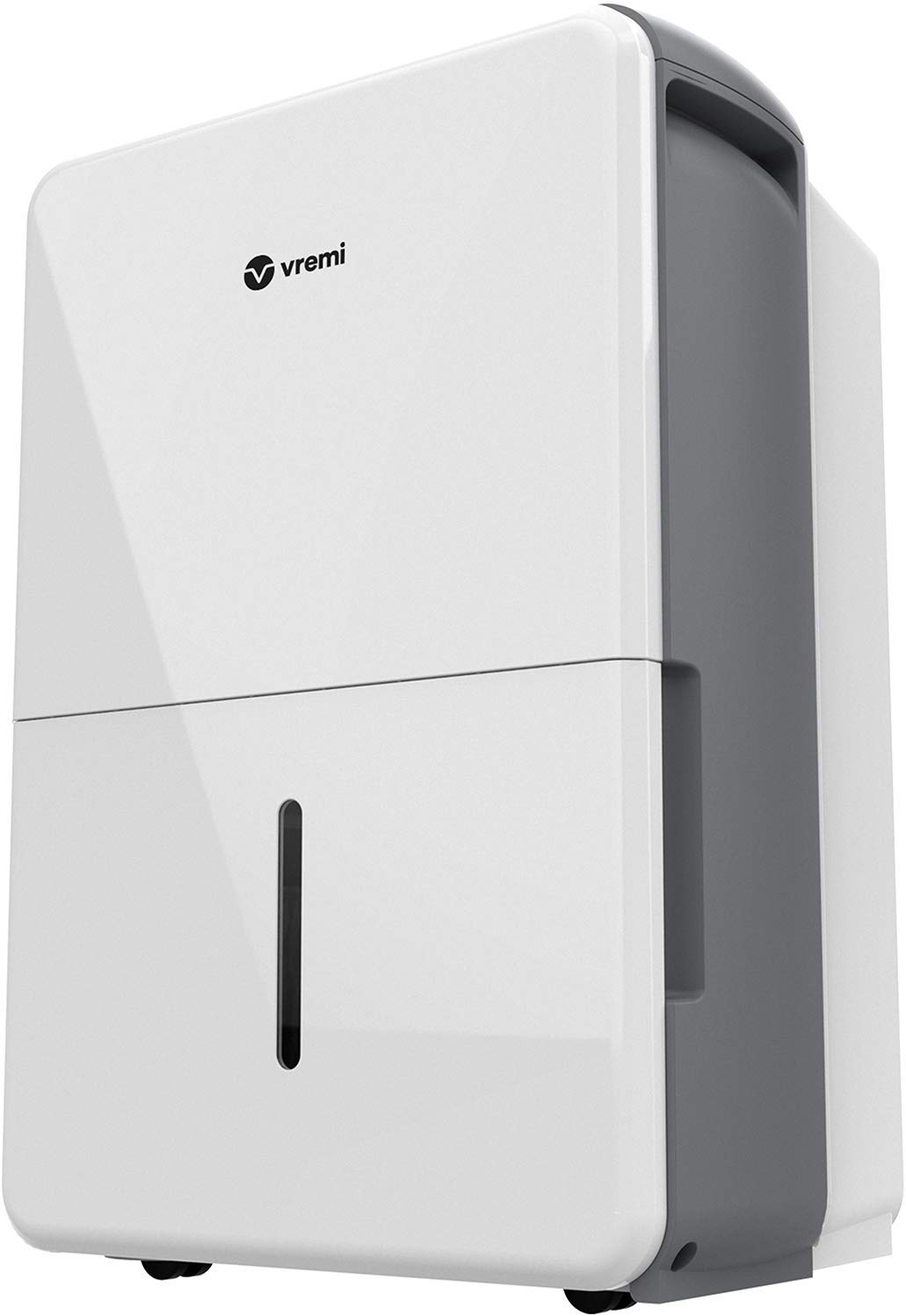 This machine is perfect for medium to large spaces. It can seep out moisture from a room as large as 1000 square feet. It is designed to look modern and easy to use. Users will find that they can control humidity level with ease.
It sports a sleek design that is easy to the eyes
The machine has wheels and handles that allow the machine to be moved to other locations
The machine is easy to use because of its LED display
It shuts off on its own when full
Steady draining option is part of the design
It consumes minimal energy despite the hefty job
Its filter is easy to clean
It only has a 12-month warranty
The machine can be loud compared to others in the market
7.  Inofia Portable Dehumidifier
This heavy-duty machine isn't exactly a bathroom humidifier. It can suck the moisture out of a 4000 square-foot room. It is designed to lessen both moisture and foul odor. This machine can suck out as much as 70 pints of moisture from the air.
It has a heavy working volume almost unmatched by any in the market
Built with a smart control panel
Users are allowed to set fan speed and sleep timer
It has an auto-defrost option for low-heat locations
The machine has an alert system that tells users when full
It has a 60-day money back system
The machine may require periodic cleaning compared to other machines
It only has a one-year warranty
The machine may emit the foul smell of burning plastic
8.  Ivation Compressor Dehumidifier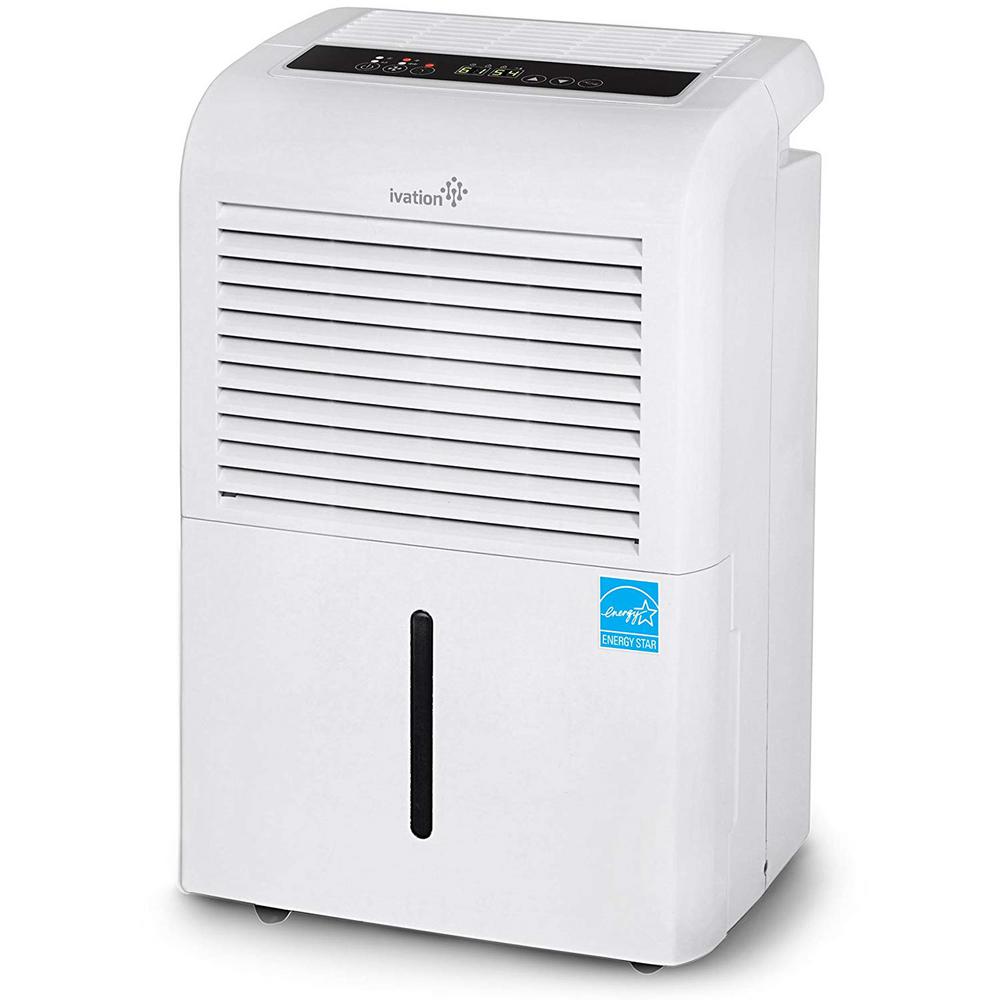 This machine is one of the smartest units that can be bought. Ivation machine has a humidity control that can be programmed. It can suck out the moisture out of as big as a 4500 square-feet.
It makes for a good humidifier for living and office spaces.
It is a heavy-duty hardware removing as much as 70 pints a day.
This machine doubles as a purifier that can stop the growth of allergens, odor, dust, mold and mildew
It is an energy saving unit despite its auto-defrost system
The machine shuts off on its own when its volume is full
It has a structured LED display that tells fan speed, timer, humid stat and other internal settings
Its user-friendly display allows the machine to be controlled easily
The machine comes with an extra-long cord up to 6-foot long
It has wheels allowing it to be moved from one room to another
It is easy to clean because of its tank design
It only has a one-year warranty
The machine is not as quiet as other machines in the market
Inserting hose for steady drain can be an issue
9.  Frigidaire 70-Pint Dehumidifier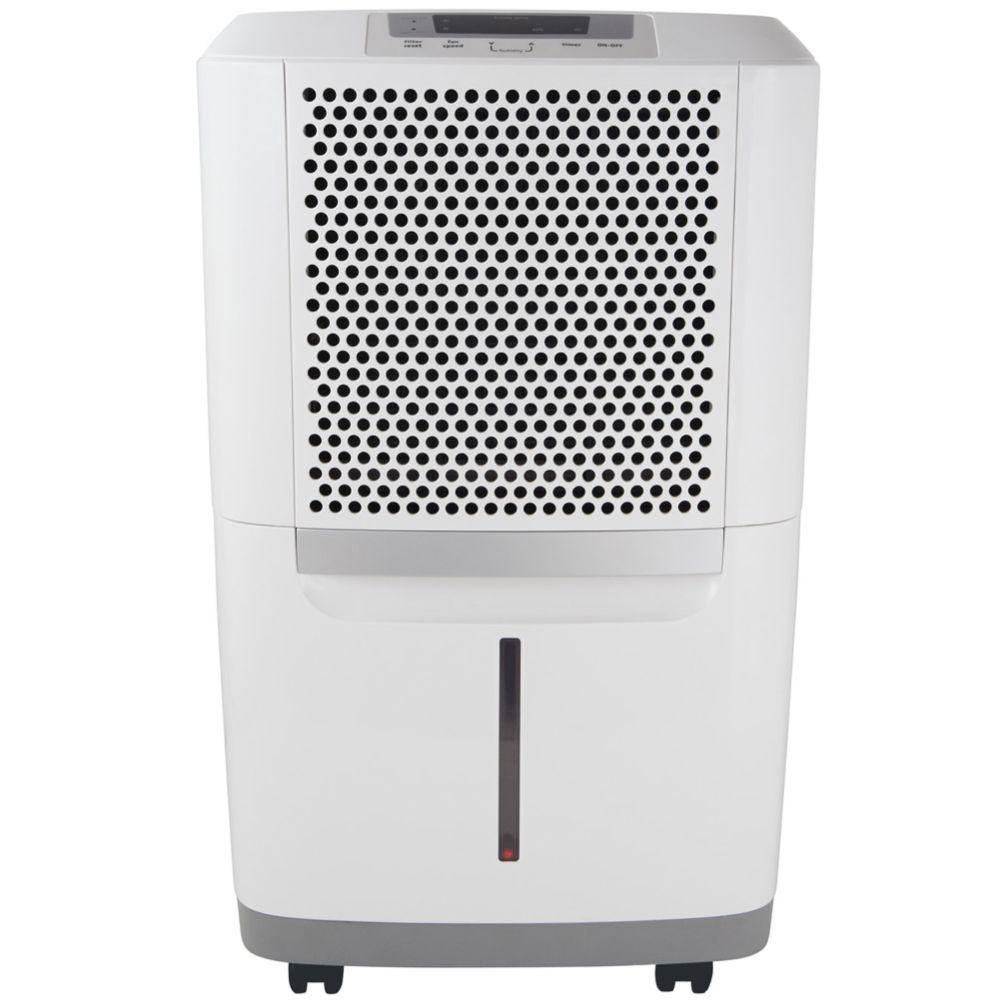 Frigidaire 70-pint is the brand's heavy duty version. It can remove as much as 70 pints a day. This comes with handles and wheels for portability.
It is certified by Energy Star
The machine is designed with a digital humidity read out
The controls include timer, control lock, and setting gear
This machine is user-friendly
It is portable and mobile because of its built-in handles and wheels
The machine comes with an error message when not used well
The humidity sensor can sometimes reflect faulty readings
Some bathroom dehumidifier reviews talked about its poor customer service
Choosing the Best Dehumidifier for Bathroom
High levels of humidity in the bathroom provide no comfort and could only pose danger toone'shealth. And sometimes, a bathroom heater just won't cut it.
The air quality suffers in places with high humidity. This can breed mold and mildew. Picking the best machine depends mainly on your space and your needs.
Here are some tips in picking the best available machines:
Choose the right unit size. If you plan to use it in cramped spaces like the bathroom, you will want a machine enough to fit in the free space.
Test the humidity level in your living space. Before buying a machine, check the humidity in your bathroom and note where you plan to use your machine. These machines have varied capacity so you'll have to pick one that is right for your space.
Check how much pint volume you will need. If your ceiling is high, you will want a higher-volume machine. For bathrooms, you can opt for lower volume.
Compare features and costs. No one machine trumps the rest. It depends on what is right for your living space. Other than the features listed in their page, you can also check out user reviews for more honest ratings.
If you think you will be draining out a lot of water, purchase a machine that has a steady drain option.
Check and compare wattage. Save energy and money by buying energy-saving models. Designs that save energy come with an Energy Star proof.
Maintaining the Bathroom Dehumidifier
These machines require regular cleaning. It takes simple steps to keep the machine in good working condition for longer use. Even the best bathroom dehumidifier will have a short life span if not maintained on a regular basis.
Make sure that the machine removes only the needed amount of moisture. Letting the machine perform a job more than it is designed to be can be a recipe for disaster. This can only send the machine to early rest. Humidity setting set too low may damage furniture.
Replace the filter in the same timeframe advised by the maker. A lot of these machines come with an air filter that helps the machine remove harmful debris in the air.
Clean the water tank every other week. Removing water from the machine's water tank isn't enough. Once every two weeks, you should clean the tank with soap.
Never short-cycle the machine. After turning the machine off, wait for 10 minutes before turning it on. Let the pressure in the system settle down to prevent the compressor from malfunction.
Always check the condense coils for build-up of ice. Some machine does not have a defrost function. Frost build-up often leads to the machine to not work as the makers intended.
Keep the exhaust grills and air intake clean. Dirty parts often lead to poor machine performance. Clean the grill that sucks humid air as it is prone to debris.
Make sure that the machine is placed at the right location. Even in cramped spaces like in the bathroom, make sure that the bathroom machine is at least a foot away from the walls. Do not allow outside air coming in to the room. This will force the machine to work more than it is supposed to.
Conclusion
If your intention is to simply keep the bathroom from growth of molds and mildew, buying a smaller machine is ideal. If you will be using a machine for other rooms, buying a heavy-duty machine is more practical.
There is no one best bathroom dehumidifier to trump the rest of the market. It all depends on your location and where you intend to use your machine for. Bigger floor area and higher ceiling will require high-power machines. These machines are more prone to impurities because of the smaller floor area. Aside from picking the best model, you should also follow the right steps to maintain the machine for longer product life.