Are you looking for the best bathroom heater that money can buy? Don't fret, because our buyer guide is here to help you out.
In this article, you will learn some things you should look for when shopping for a bathroom heater. Also, we would be reviewing some items that just might be the perfect fit for your home.
Reviews of The Best Bathroom Heater on the Market
1.  Panasonic FV-11VH2 Whisper Warm 100 CFM Ceiling Mounted Fan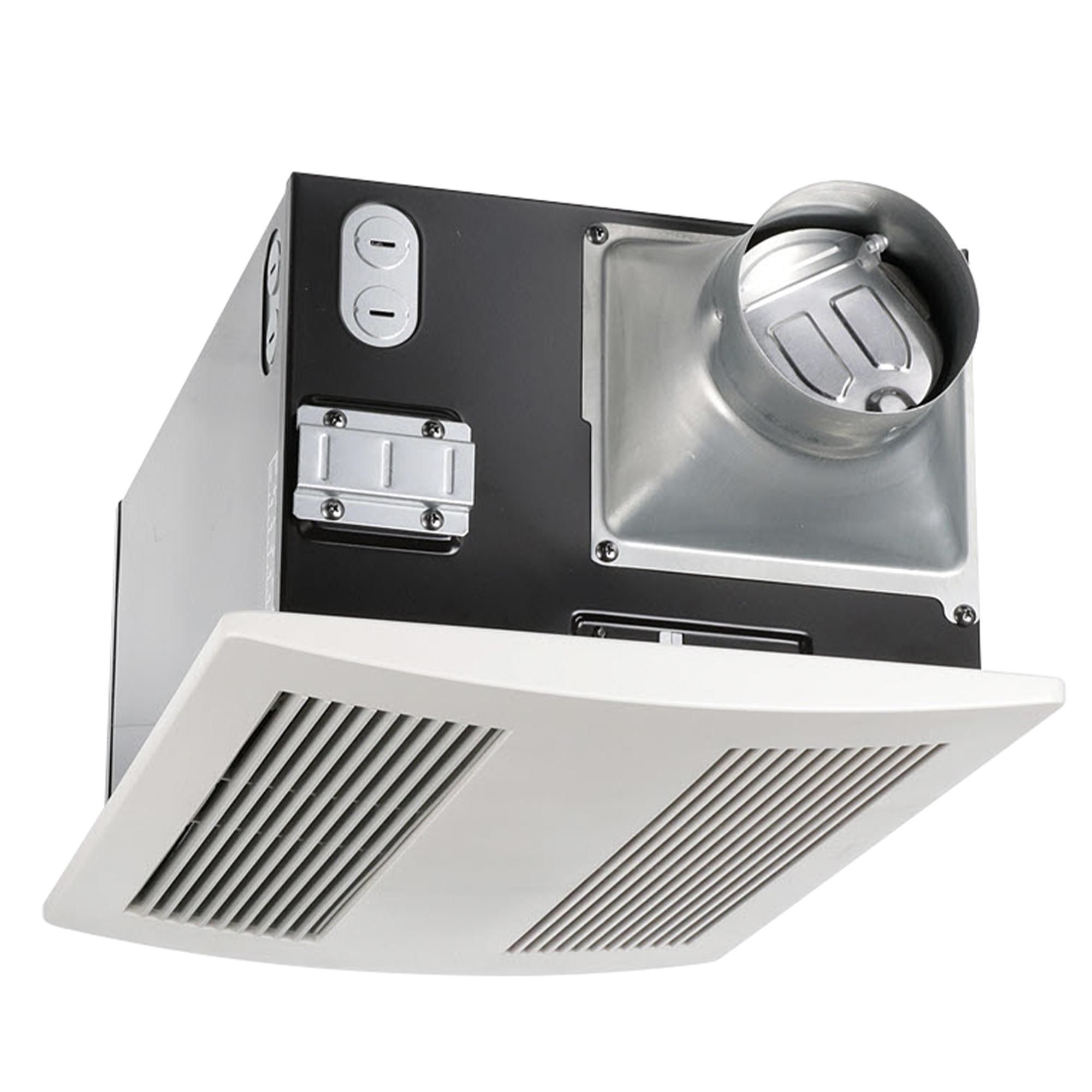 This heater from Panasonic is designed for ease of installation and efficient warming. Using high-quality components and a permanently lubricated motor allow for superior durability even during heavy-duty use and minimal maintenance.
This product utilizes a tubular, stainless-steel heating element with a maximum output of 1400 watts, and then combined with Nichrome wire with magnesium oxide for superior heat transfer. The blower wheel is designed to draw air from both sides of the heater for better heat transfer.
This unit from Panasonic has performance rated at 110 cubic feet per minute
The Pros of this Panasonic FV-11VH2 Whisper Warm 100 CFM Ceiling Mounted Fan
Effective and quiet heating
Both heater and fan work very well
Light and nightlight are both great additions
Cons of this Ceiling Mounted Fan
Installation made trickier by poor instructional manual
Pricier than most options
Read more: 9 of the Best Panasonic Bathroom Exhaust Fans
2.  Delta BreezRadiance RAD80L 80 CFM Exhaust Bath Fan/CFL Light and Heater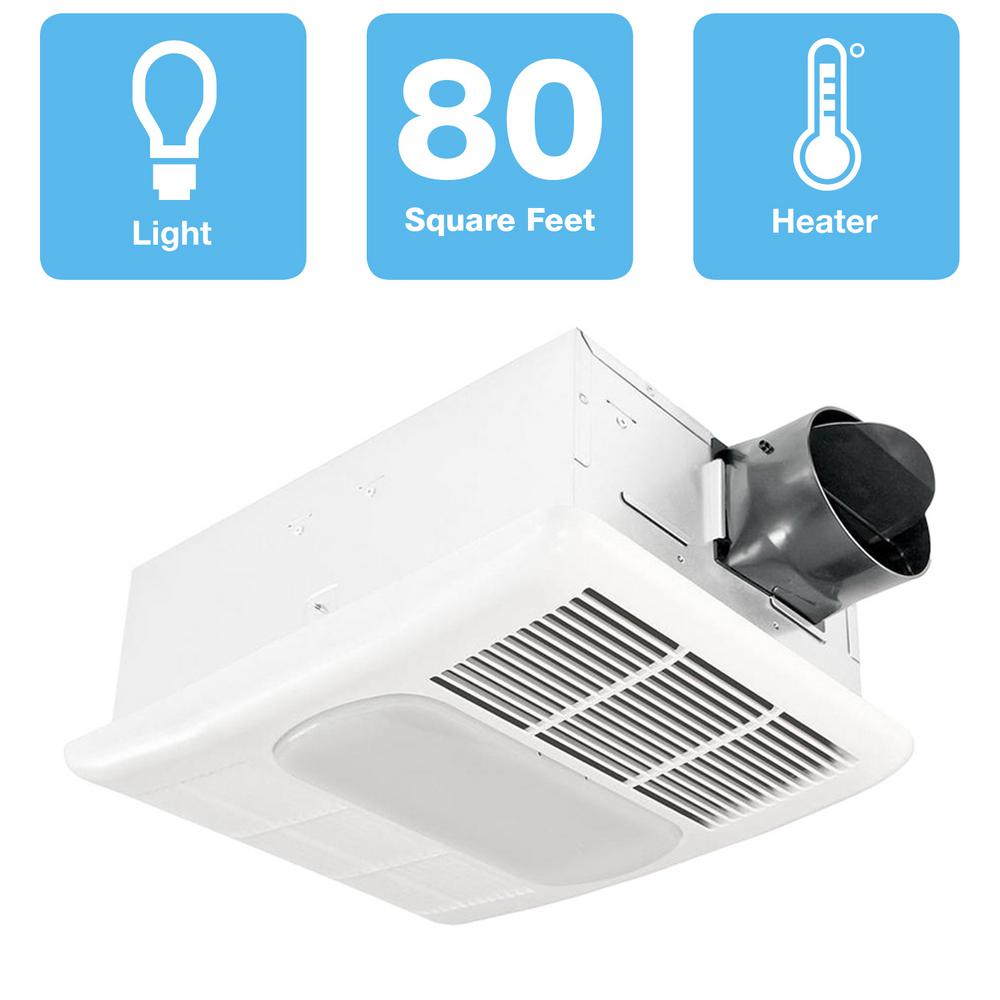 This heater is a machine that is built to last, thanks to its combination of a precision engineered brushless motor and a galvanized stainless steel construction.
It also comes with a built-in thermostat for improved energy efficiency, measured at 7.6 CFM/watt. Quiet operation is also assured with its noise generation measured at 1.5 sones.
Its optional CFL light generates bright light that will illuminate your entire bathroom effectively. The Delta BreezRadiance is Home Ventilating Institute (certified) for superior performance.
The Pros of this Delta BreezRadiance RAD80L 80 CFM Exhaust Bath Fan/CFL Light and Heater
Highly energy efficient
Fan and heater are both quiet and powerful
Cons of the Delta Bath Fan
Blowing direction not very ideal
Ducts and vents not included
3.  Aero Pure A716A MC 4-Bulb Quiet Bathroom Heater Fan with Light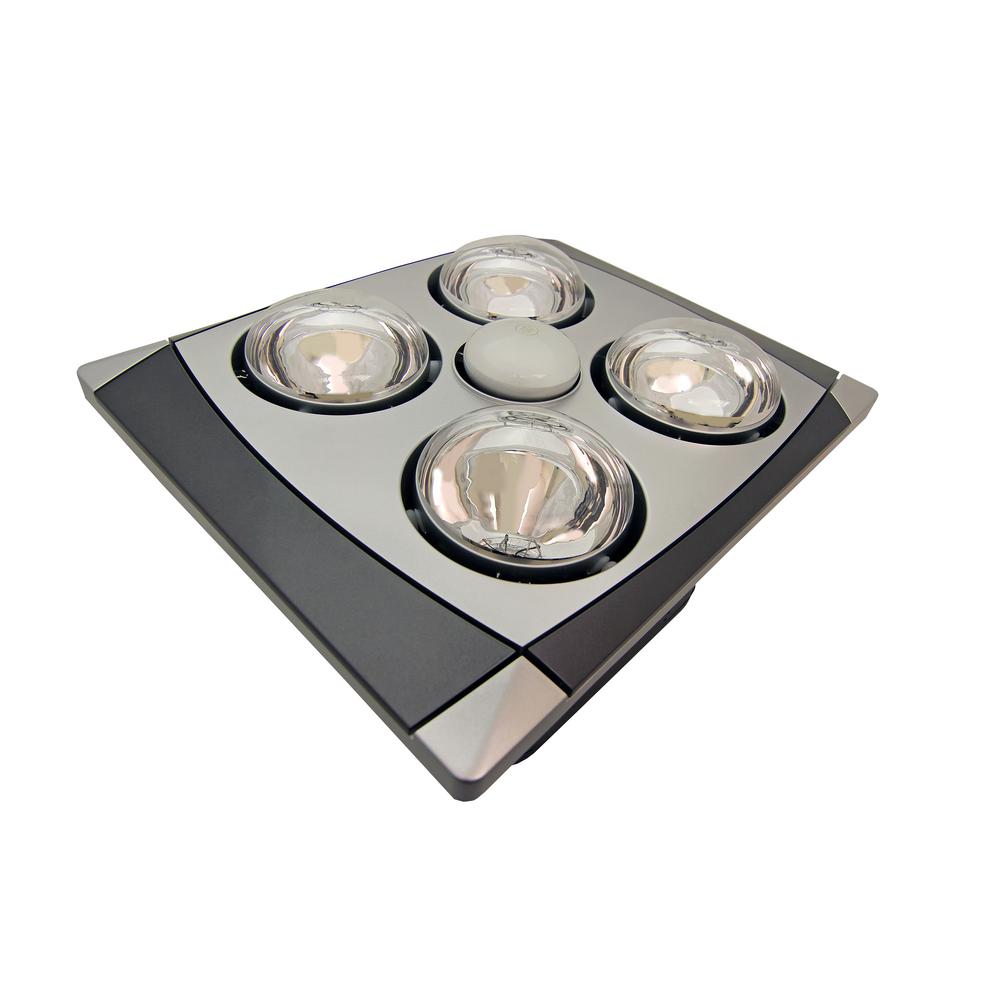 If you are looking for a great-performing yet unique-looking heater fan, then this model from Aero Pure is the one for you. This machine is arguably the best bathroom heater fan you can find on the market today.
Its motor and fan is designed to deliver heat quickly with minimal cold spots. The motor has a rated capacity of 90 CFM and the heater has a maximum of 1160 watts of power, promising quick and efficient heating.
It also comes with 4 anti-blast heat lamps and a 60W incandescent bulb that delivers superior lighting. Completing the package are mounting brackets, vibration-dampening steel housing, and easy-maintenance grilles.
The Pros of this Aero Pure A716A MC 4-Bulb Quiet Bathroom Heater Fan with Light
Heater + heat lamp = superior heat generation
Unique design adds style
Fan, heater, and light can be wired seperately
Cons of the Bathroom Heater Fan with Light
Cannot be used as a retrofit
Installation a little tricky
4.  Broan 655 Heater Bath Fan with Light Combination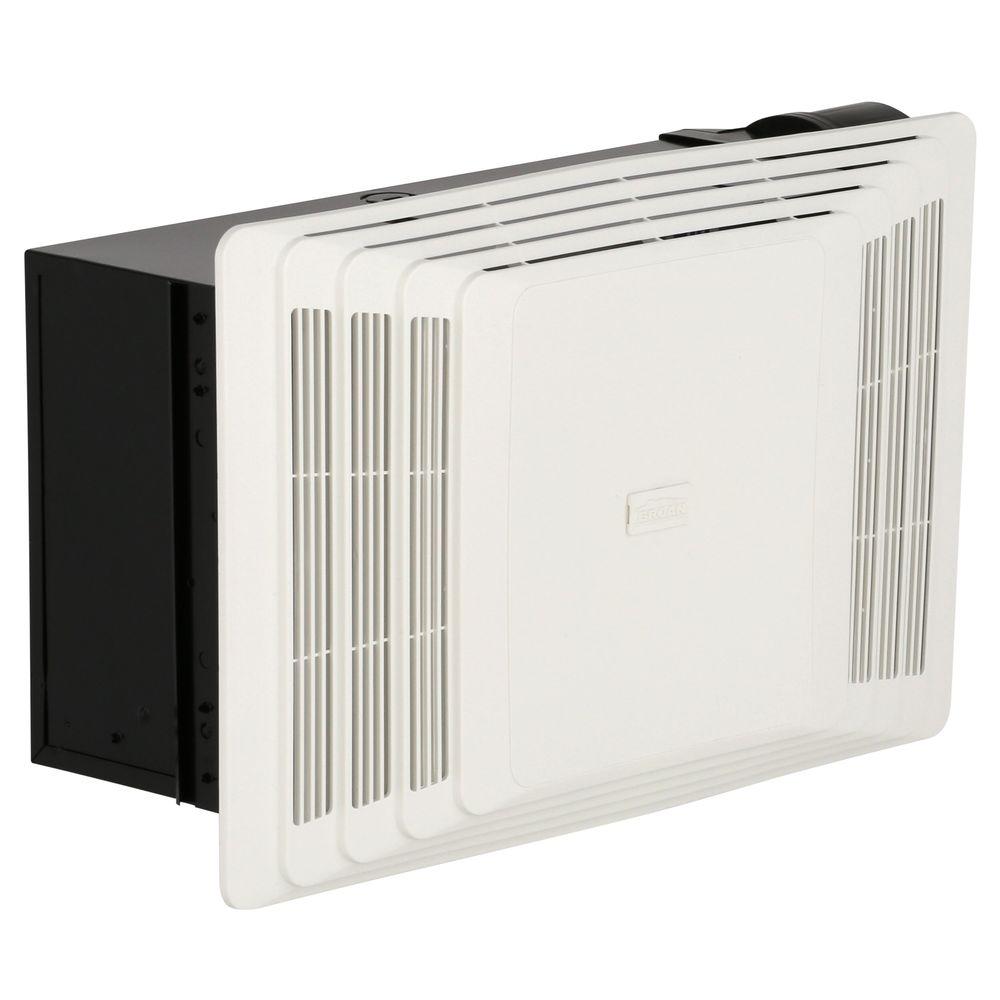 Its eye-catching white polymeric grilles give this heater a look that stands out. However, it has enough performance to effectively heat bathrooms of up to 65 square feet.
This Broan is equipped with a 1300-watt heater motor that provides even heating. It utilizes a pair of permanently lubricated motors that efficiently blow air around your bathroom.
Its combination of heater, fan, and light provides your bathroom with a warm and cozy feel. This machine is highly efficient and gets the job done quickly.
The Pros of this Broan 655 Heater Bath Fan with Light Combination
It's a heater that comes complete with features
Its luxurious style can fit into most bathroom profiles
Provides good value for the price
Cons of the Heater Bath Fan
Significantly noisier than other heaters in this list
5.   Holmes Digital Bathroom Heater Fan with Pre-Heat Timer and Max Heat Output
If you want a heater with no installation needed, this unit from Holmes is an ideal option. It has all the features necessary to make it a contender for the title of best bathroom heater fan.
Because this heater is portable, no installation is needed for you to use it. You can even use it in other rooms in the house if you want!
It comes with convenient features such as preheat timer, digital controls, and a programmable thermostat. You can also have this device mounted at your wall.
The Pros of this Holmes Digital Bathroom Heater Fan
Ideal for use in smaller bathrooms
Digital functions allow for simple use
No installation needed
Cons of the Heater Bath Fan
Its use is only limited for smaller bathrooms
Timer functions are a little off
6.  Lasko Bathroom Heater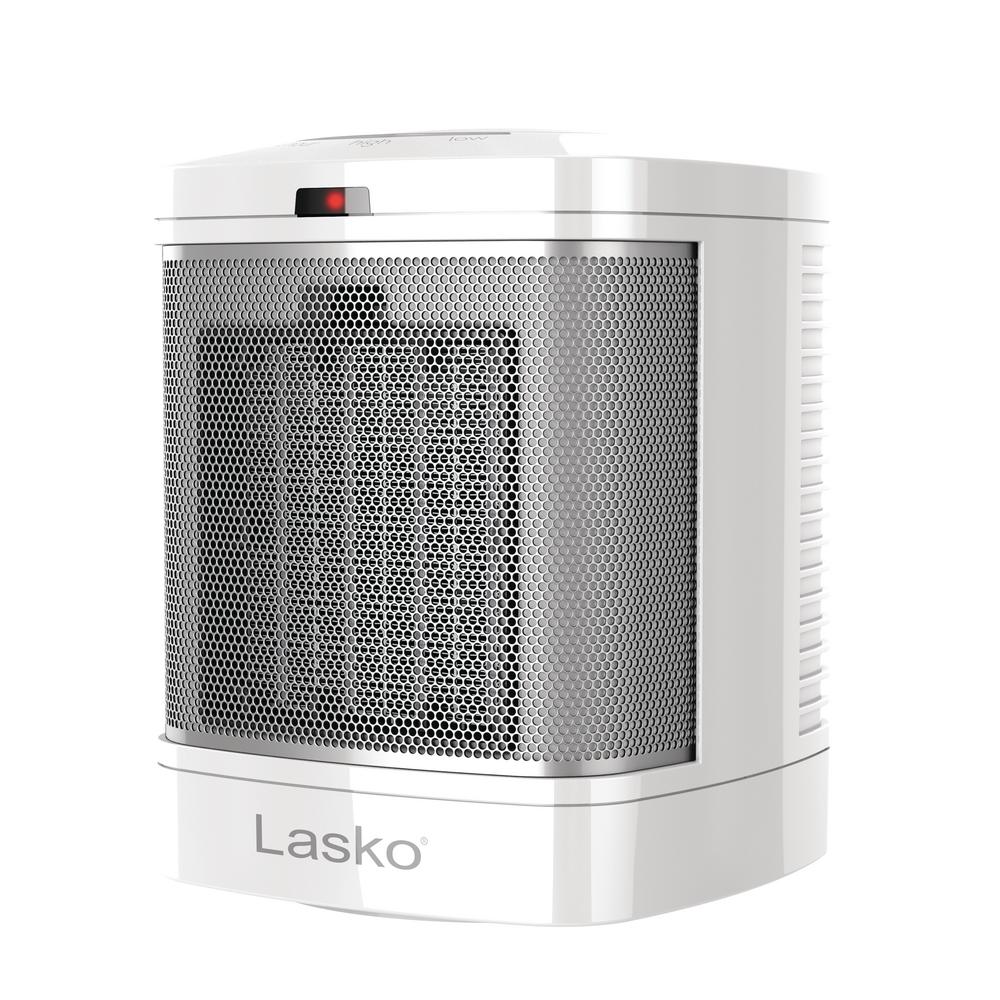 This portable heater from Lasko has an effective heating range of 225 square feet, making it perfect for use in bathrooms. Its compact design allows you to maximize your bathroom space while it's in use.
It comes packed with a maximum heating output of 1500 watts. It also has a Simple Heat function where it can provide 1 hour of high heat before it shuts off.
Its simple interface and intuitive settings allow for a user-friendly experience.  It also comes with a built-in automatic overheat protection that shuts off the device when it's overheating.
The Pros of this Lasko Bathroom Heater
Can heat up any room quite quickly
Relatively large operating range for a portable heater
Simple user experience
Cons of the Bathroom Heater
No thermostat, so you have to manually adjust functions as appropriate
Relatively noisy
7.  AmazonBasics 1500 Watt Ceramic Space Heater with Adjustable Thermostat
This room use thermostat from AmazonBasics can be the perfect fit for your bathroom. It may be small, but it is powerful enough to sufficiently provide heat for your bathroom
This fan can create heat in 3 settings: Low, High, and Fan. Maximum output is measured at 1500 watts, which should be more than enough to heat up small spaces such as home bathrooms.
It also comes with a thermostat that effectively regulates use for maximum energy efficiency. It even has a safety feature where the device automatically shuts down when it is about to overheat.
The Pros:
Portable and can be used in other rooms
Most of its functions work as advertised
Compact yet powerful
The Cons:
Generates a squealing noise
Must be used on a flat surface, otherwise, it will not operate due to a safety feature
8.  Seabreeze Electric Off the Wall Bed/Bathroom Heater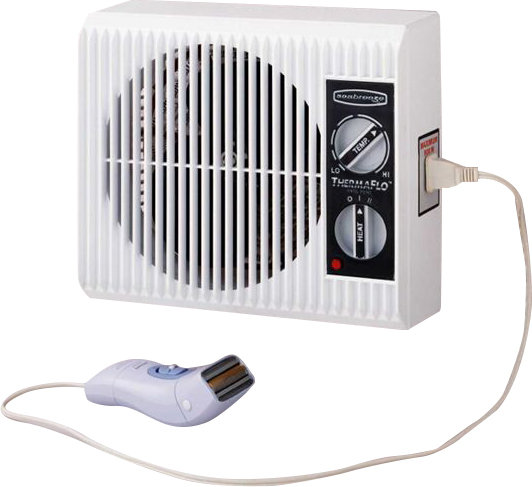 Designed for use in both bedrooms and bathrooms, this compact heater from Seabreeze requires no installation so you can use it straight out of the box.
It has a built-in thermostat and 2 heating speeds so you can easily adjust the amount of heat it generates. You can adjust its functions using 2 simple switches.
Using this product is as simple as plugging it into any traditional power outlet and turning on the switches. Its compact design can fit into just about anywhere, and you can even mount it on walls!
The Pros:
Performance is more than commendable
Its compact design allows for more versatile use
Simple controls allow for ease of use
The Cons:
Prone to shipping damage due to poor packaging
Bland design can interrupt the look of your bathroom
Things consider before buying a bathroom heater
Are you having a hard time choosing a device for your home? Here are some things you should look out for when shopping.
Heater Types
There are different types of heaters available on the market today. Here I guide to find the right bathroom heater fan for your needs and get maximum value for your money.
Portable heaters
Portable heaters are just like fans; you carry them to the room where you need heating, plug them on, toggle some switches, and they are ready for action. Portables specifically designed for bathroom use usually have features such as thermostats, timers, and moisture-safe construction.
The main advantage of portable heaters is you use them in your bathroom and at any other part of your house. The disadvantage is that they are usually not powerful enough to heat large rooms and they tend to be noisy.
Ceiling heaters
These are the heaters that you install on the ceiling. They are usually equipped with quiet, powerful motors that make them perfect for long-term, heavy-duty use.
The advantages of these heaters include: that they are powerful enough to heat up even large bathrooms and can have extra features such as exhaust fans and lights. Its main disadvantage is that they can be quite tricky to install, especially in some houses.
Features
Taking a closer look at the features will give you an idea which heater is the best fit for your needs. Here are some features that you should look out for while shopping.
Thermostat
The thermostat is an important consideration when shopping for a heater. Some devices come with a built-in thermostat, while others require the installation of a separately sold thermostat.
A thermostat feature allows you to set the ambient temperature you want for your bathroom. Furthermore, the thermostat shuts off the device once desired temperature is reached, helping you save electricity.
Exhaust fan
An exhaust fan is a must-have for ceiling and wall mounted heaters. The fan is usually installed together with the heater motor and ensures proper ventilation in your bathroom at all times.
A heater with a built-in exhaust system would usually require the installation of a separate duct system. Check out the user manual or ask your retailer about it.
Timer
While this feature is not considered a necessity, having a timer in your heater can prove advantageous for certain situations. With this feature, you can set how much time your heater will stay on.
A timer can help you save a lot of energy as it automatically shuts off after a certain time. There are some heaters that even have timers that you can preset what time it will turn on.
Safety features
Safety is very important when operating a device such as heaters. Overloading your heater can turn into a home emergency very quickly.
A system that automatically shuts off the device during overheating is a must-have. A tip-over function for portable heaters is also an essential feature.
Operational Coverage
Operation coverage is a very important consideration when shopping for a heater. Usually measured in square feet or square meters, get a unit that best approximates to the dimensions of your bathroom.
Getting a heater that's too small for your bathroom will result to ineffective heating. On the flipside, getting a heater that's too big will result to inefficient operation.
Conclusion
Based on our bathroom heater reviews, the devices mentioned above are the best ones currently available on the market. You cannot really go wrong with buying any of these machines for your home.
That said, as mentioned in our value section, it is important that the device you purchase actually fits your needs. Compare the features of each device to what your needs are, and then make a choice based from that.
That concludes our search for the best bathroom heater. Get the unit that best fits your bathroom and enjoy warm baths moving forward.