Electric heaters are one of the best options to keep your patio warm and comfortable. Since there are many different types to choose from, figuring out which is the best electric patio heater can be difficult.
Electric Patio Heater Reviews
Here are the top 5 electric patio heater reviews.
1.   Fire Sense Telescoping Offset Pole Mounted Patio Heater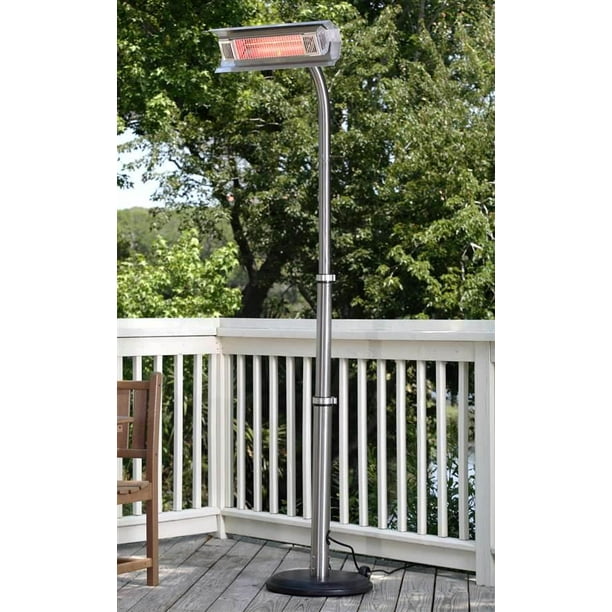 One of the best things about Fire Sense's infrared patio heater is that the base has a pedestal. Moreover, it's easy to move around since it has wheels on the base. When you're not using it, you can use their protective cover.
The telescoping feature allows you to easily adjust the height using the tension knobs. It's durable and long-lasting.
The only problem is that the assembly may not be easy for some. You might need to get assistance. You will also need a wrench to tighten the bolts.
Overall, the elegant design will surely fit into your home's landscape. It's also a good investment since they are functional and sturdy. It operates at a 90% heating efficiency.  This makes sure that none your energy usage is not wasted. It's inexpensive and can be used both outdoors and indoors.
Highlighted Features:
9 ft. heating blanket
Includes PVC cover
1500-watts
5,000 hours of lamp life
Includes wheel
year warranty
90% energy conversion
The Pros:
Adjustable telescopic pole
Includes wheels on the base
Lightweight
Durable
The Cons:
The cover may be too small
Needs assistance during assembly
2.     Hiland Black Freestanding Electric Patio Heater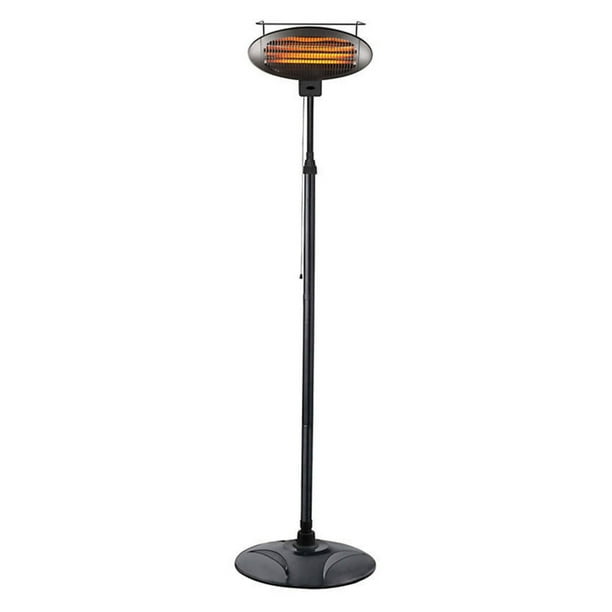 If you're worried you might knock over your standing heater, you need a strong base. Highland's Freestanding Patio Heater may just be the one for you. It has a huge base that's enough to support and balance the whole thing. The black finish makes it look sleek and stylish. You can also use it inside your home. All you need to do is to plug it into a socket.
It's a great choice if you're planning to heat a residential or a commercial area. The automatic overheat protection ensures that it won't become a fire hazard. It also helps you save energy. That's what makes it one of the best outdoor electric patio heater.
Since the heating range is up to 15 feet, they included a pull-string. This helps you easily control the heater even if you're a bit far away. The adjustable height and direction complete the whole package.
Hiland's Black Freestanding Electric Patio Heater is made up of steel and aluminum. It also includes safety bars. Although it isn't easy to knock over, it can still become unbalanced if the wind is too strong.
Highlighted Features:
15 feet range diameter
Indoor and outdoor use
Sturdy
Includes safety bars
Uses automatic overheat protection
Has a safety shut off
The Pros:
Hard to knock over
Has a pull string control
Includes safety bars
Overheating protection
Includes safety shutt off
The Cons:
Assembly instructions can be tricky
3.     EnerG+ Infrared Remote Freestanding Electric Outdoor Heater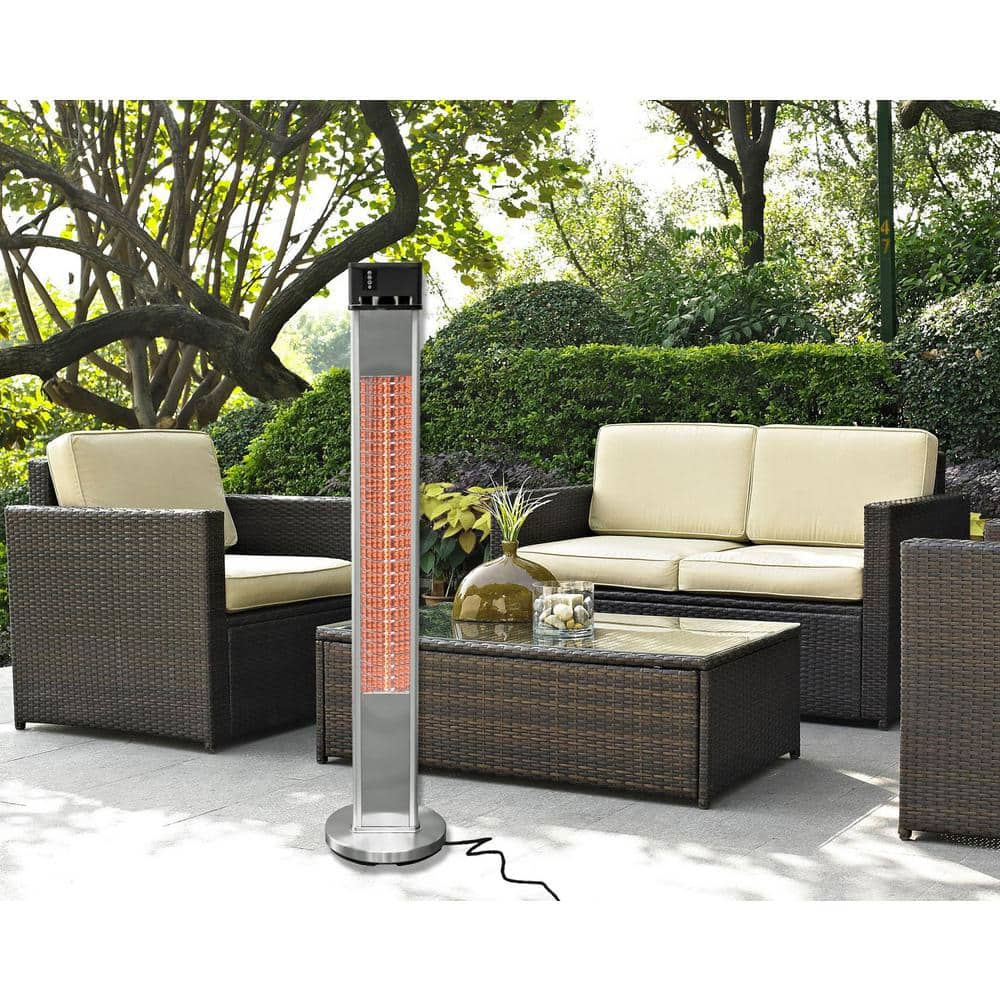 EnerG+ offers one of the best electric tabletop patio heater. This is great especially if you're worried your kids or pets could knock it over. It's safe to use in any type of space, whether you're in an enclosed area or outside. If you're going to use it outdoors, it has a 1P44 certified rating. That means it withstands wet environments. Moreover, it won't be affected by the wind very easily. You can still get decent heating even if it's windy outside.
It has a durable carbon coil bulb that can resist a fall. It's safe to use even if you're around pets or children. Even if it has a low operating cost, it still provides steady heat without being noisy. You can also easily control the heating settings with their remote. The heating settings you can choose from are from 500 to 1,500 Watts. It's pricier compared to other electric patio heaters. However, it's definitely worth the it. It's also not bulky.
Highlighted Features:
Outdoor and indoor use
IP44 certified weatherproof
Sturdy
Includes a remote control
Adjustable heating
Infrared
Includes overheating protection
The Pros:
3 heating settings
Includes remote control
Weatherproof
Includes overheat protection
Tip-over protection
The Cons:
A bit expensive
The heating range is smaller
4.     Comfort Zone Metal Indoor and Outdoor Electric Patio Heater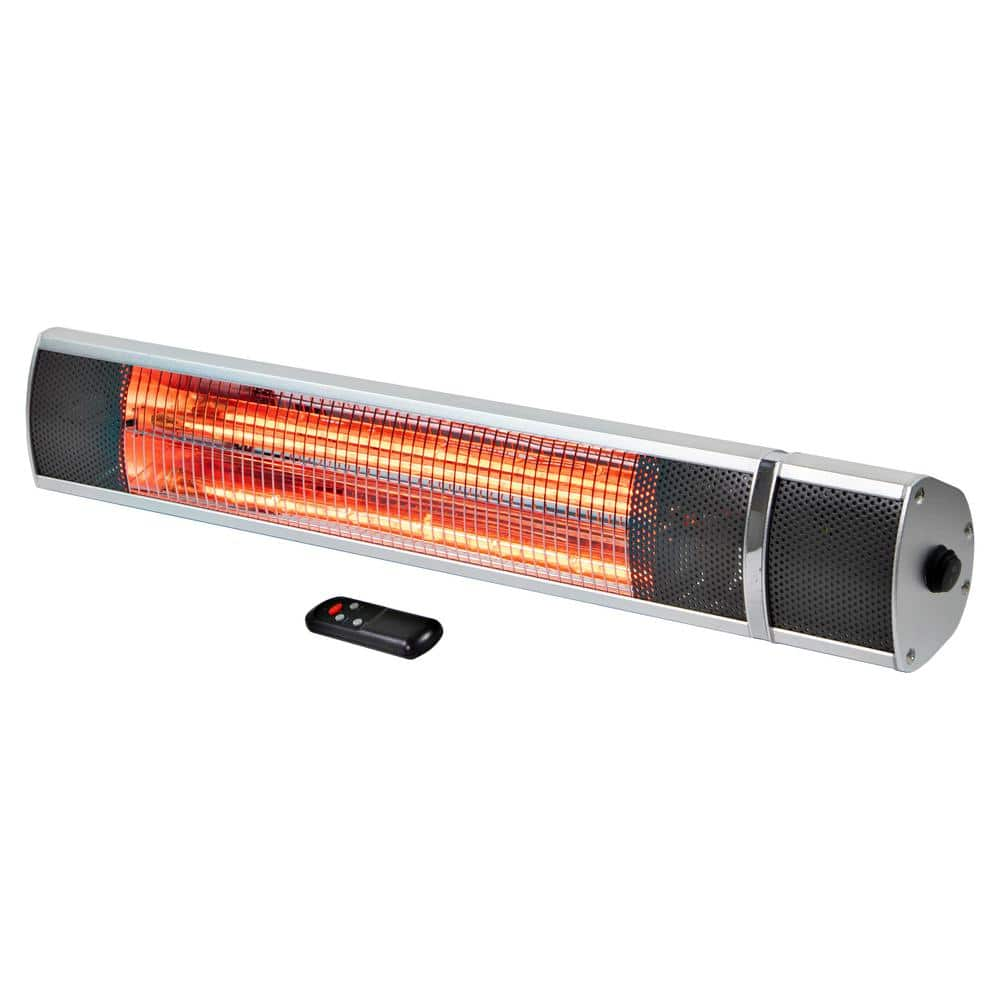 Another great electric patio heater manufacturer is Comfort Zone. It can be easily mounted on a stand or wall, making it easy to place around your home. You can also use it indoors or outdoors.
Most electric heaters that can be used outdoors or indoors often have non-weatherproof specifications. As for Comfort Zone's, this one has an IP65 waterproof rating. You can still have heating even during the rainy season. You also won't be needing to put it away after being used.
Moreover, it can also provide heating even if it's windy. It's efficient so it helps you get enough heating without having to use too much energy.
After being turned on, it automatically heats up. The remote control also allows you to adjust the settings easily. It's also safe to use. Since it can be mounted on a wall, kids won't be able to reach it easily.
Highlighted Features:
Adjustable heating
Mountable
Includes a remote control
Uses halogen golden tube for heating
Weatherproof
Heats after turning on right away
Sturdy
The Pros:
IP65 Weatherproof rating
Has a remote control
Includes 3 heating settings
Lightweight
Compact
The Cons:
Cord length is only 6 feet long
5.     AZ Patio Double Infrared Wall-Mount Electric Patio Heater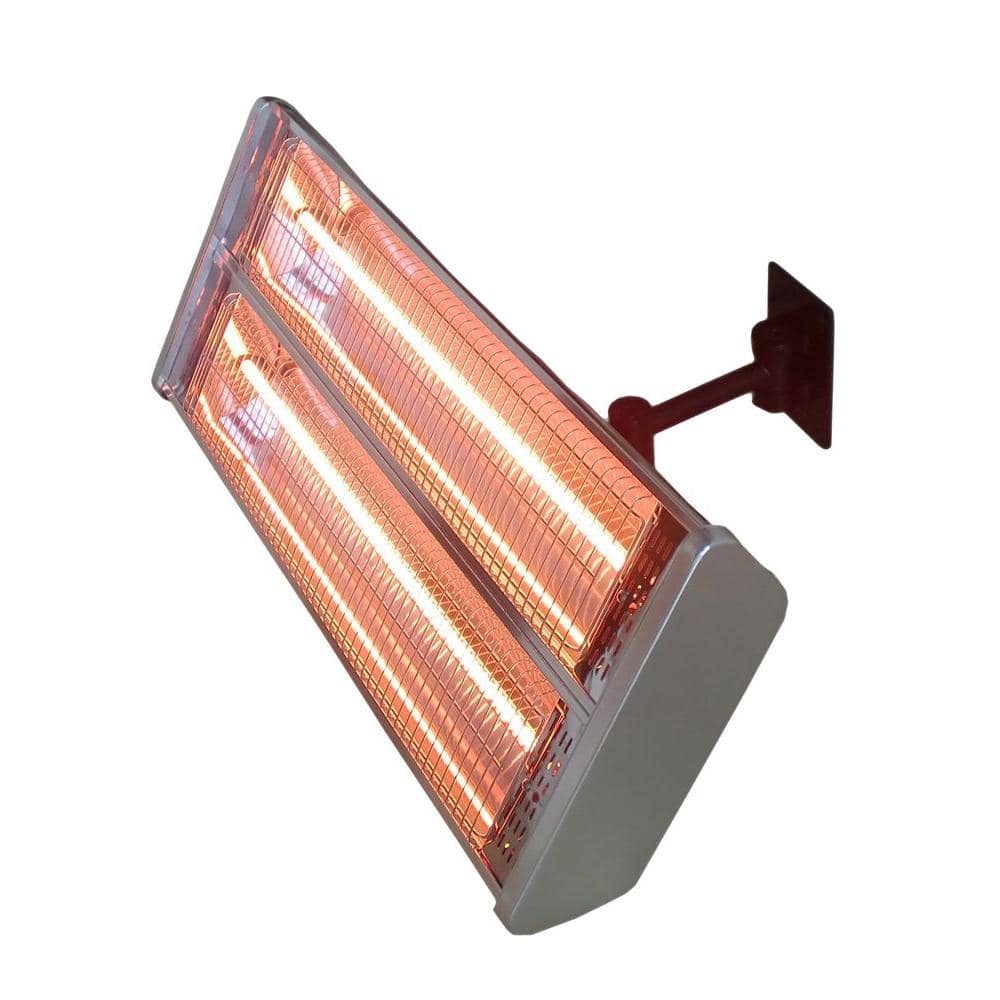 AZ is a well-known brand for heaters. Although most of their popular heaters are propane-powered, their electric heaters also deliver good results. It doesn't use up too much energy, so you don't have to worry much when you're heating. Moreover, it can be used both indoors and outdoors, making it flexible to use. You can place it easily on a wall or mount it on a stand.
The double infrared heating bulbs ensure that you can have a 15 square meter area heated well. You also won't be worried if it tilts since it has an anti-tilt switch and other safety features incorporated.
The best part about this is that you can easily control the temperature using their remote control. Even if they only offer two heating options, both provide enough heat, especially when used outdoors.
Highlighted Features:
Hi-output golden tube bulbs
2 built-in heating bulbs
Includes a remote control
Adjustable heating
Indoor and outdoor use
Has an anti-tilt switch
15 square meter heating range
The Pros:
Anti-tilt switch
Energy-efficient
Includes remote control
Heating can be adjusted
Can be mounted anywhere
The Cons:
Bulbs can't be replaced
Edges can be sharp
Electric Patio Heater Buying Guide
Electric patio heaters are not only more flexible, but they're also inexpensive in the long run. You can heat your patio without having to think about your carbon footprint. The best part about them is that they're more efficient with how your energy is used up. It also takes less time to heat.
To help you find the best electric patio heater for you, you'll need to consider these factors first.
Type
Before you buy, you need to figure out which type of electric heater you want to use. If you don't have enough space, we suggest using a wall-mounted or ceiling-mounted electric heater. If there aren't walls nearby, you should go for a freestanding or tabletop electric heater. These last two types are portable and don't need installations. However, you may need to assemble them.
Heating Area
How much space do you need to be heated? Is your area out in the open? Or is it partially indoors? These are important since they can make or break your purchase.
You need to know how much space you'd need to be heated. Your space's size will determine the type you need and how many heaters will be used.
Freestanding and tabletop heaters can heat in a circular radius while mounted heaters can give directional heating.
Also, keep in mind to choose an electric heater that will fit right into your area. Avoid choosing bulky ones if your space is small.
This will also determine where you need to place your heater. You can't just place them anywhere you like. If you want it to be efficient and optimal, you need to figure out which area in your patio it will work best.
For example, if you have a tub, you can place your heater in front of where you hung the towels so that they can be kept warm. If you're planning to have dinner with a few people, you can place it in the center so that it can heat as much space as it can.
Warranty
Warranties are important since you never know when your equipment can break down. This is especially true if you're using the electric heater for your business. Opt for brands that offer commercial warranties to make sure that nothing can disrupt your business.
Even if they are durable and low-maintenance, anything can happen. Before you buy from a brand, make sure to check out their warranty first. If you're not sure, you can always contact their customer service team.
Accessories
You should also check if they offer accessories that go with the electric heater. These include extra cord, bulbs, remote control, mounting brackets, and covers.
Covers are important since it protects your heater from the outside element. Even if most electric heaters are weatherproof, having an extra layer of protection can make them last longer.
Controls
The controls on your electric heater should be easy to see. It should also not be too complicated so you can operate it without a hitch. It's better if there's a wire or remote control so that you can change the heating settings without having to get close.
Cord
The cord should not be too short, especially if you have to mount them on a wall or a ceiling. Bonus points if there's an included cord storage on the heater so that they won't get in the way when they're not in use.
Flexibility
Are you planning to use the heater both indoors and outdoors? Then you'll need flexible ones. If you're planning to get a mounted electric heater, make sure that they have a mounting bracket included so that you can place them anywhere in your home.
For freestanding and tabletop electric heaters, opt for ones that have wheels on the base of the electric heater that are tall.
Cleaning
To make your electric heater last for a long time, you should know which type is the easiest to clean for you. Electric heaters in general are easier to clean compared to gas or propane electric heaters.
FAQ
Are outdoor electric heaters expensive to run?
Outdoor electric heaters need more energy to run especially if the temperature is low. If you keep it running for a long time, the cost will pile up. However, they are still cheaper compared to gas.
Are electric patio heaters better than gas?
Not only are electric heaters more eco-friendly, but operating electrical heaters also cost cheaper than using gas heaters. They also use less energy.
Can you use a patio heater under a covered patio?
Yes, you can use patio heaters even if it's in a covered patio. Just make sure it fits within the area and that you have the right type of heater.
How do I clean an electric patio heater?
You can clean your electric patio heater using a compressed air duster. This will help loosen the dry debris and dust. Make sure to check the slat and vents for any debris as well.
Final Words
The best electric patio heater for you will depend on what type you prefer and a few other factors. The 5 electric heaters we reviewed above are reliable, durable, and most of all, efficient.