It is important for your pool to have the right chemistry.
However, it is impractical to remove the water and add a new batch every time someone goes swimming. Luckily, you can use a pool kit to test properties like acidity and impurities, which can increase the level of infection in your pool and make it unsafe to swim.
However, there are so many models of electronic pool water testers out there, and finding the right one for your needs can be overwhelming. In this article, we will review some of the best pool water testers on the market and highlight their pros and cons. We have also included a buying guide to help purchase the best electronic pool water tester for your needs.
How to Choose the Best Electronic Water Testers
In order to help you decide which electronic pool water tester suit your needs, you need to consider the following factors:
The more tests that a device can do, the better it is. However, this can be always true in Olympic size pools or more. For smaller pools, having devices that can test more than the acidity and other impurities are a bit exaggerated. Those can probably cost you more.
Accurate results are always expected on electronic testers. But as time passes by, it will begin to decrease. By that time, you will need calibration.
If you want to select a water tester, choose the ones that are more accurate. Consider also those that requires less time for calibration.
Almost all electronic water testers have a digital display. They have a small LCD or LED screen on the device.
However, the recent testers are designed with 'smart technology'. These types of devices can connect with a smart phone or tablet and can notify you through an app.
Best Electronic Pool Water Tester Reviews
Here are some of the recommendable electronic water testers in the market. Let's evaluate each one of them.
1.      LaMotte ColorQ Pro 7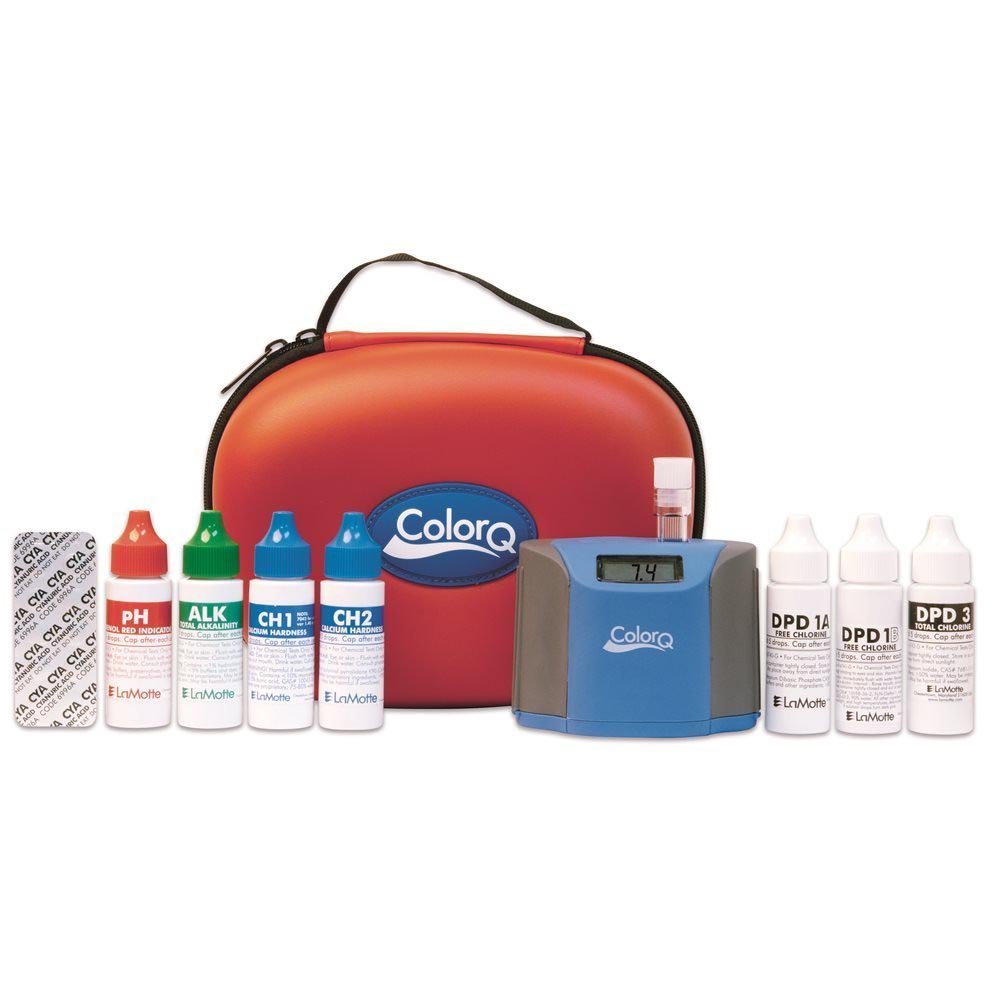 LaMotte is one of the companies that produce some of the best electronic pool water testers on the market. The ColorQ Pro 7 tester is capable of testing a lot of water properties. In order to get a reading, it uses a photometer and a liquid reagent is put in the pool. There is no need to understand the colors. This tester can test chlorine, bromine, acidity level, Cyanuric acid and calcium hardness
Features:
Dimensions: 1" x 1"x 1"
Weight: 1 lb.
Uses photometer for digital readout
Pros of this LaMotte ColorQ Pro 7 Digital Testing Kit
Affordable
User-friendly
Colorblind-friendly
Water-resistant housing
Comes with a case
Cons of the Electronic Pool Water Tester
Lacks instructional guide
2.      pHin Smart Monitor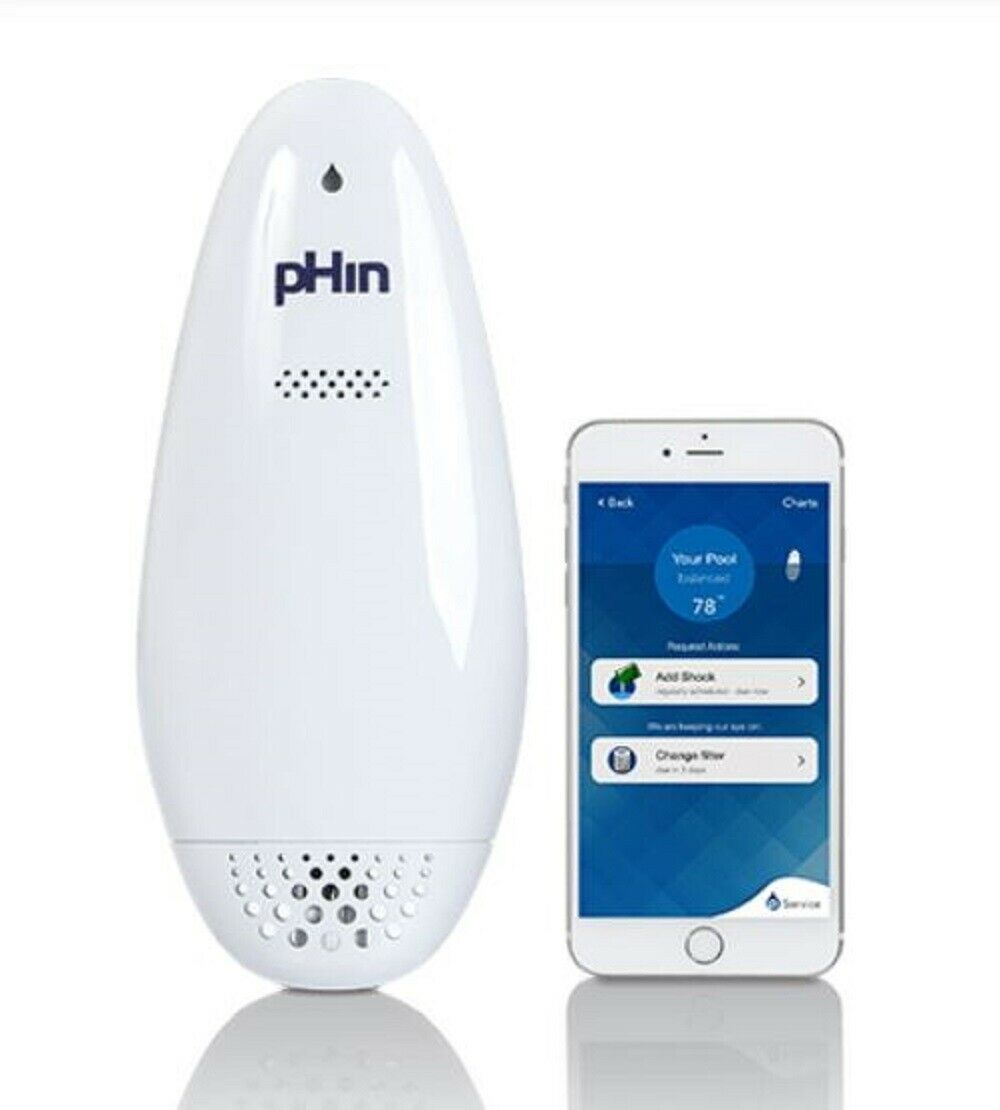 According to electronic pool water tester reviews, this tester is great to use on any pool. It has smart technology and can connect both on Android and iOS devices.
The best thing about it is that you don't need to worry about raw readings. The app of the tester will interpret the data. Furthermore, it notifies you how much you can adjust the chemicals. Not only it is perfect for swimming pools, but can also be used on hot tubs and spa baths as well. This is because it can automatically test water a 1000 times a week.
Features:
Dimension: 1.5"x 4.5" 10"
Weight: 0.6125lbs.
Uses smart technology
Pros of this NEW pHin Smart Monitor For Pools, Hot Tubs, & Swim Spas
Automatically gives optimal suggestions on chemicals
Works well with both Android and iOS devices
Tech support through monitoring
Can be applied on waters with chlorine, bromine and salt content
Lifetime warranty
Cons of the Electronic Pool Water Tester
There can be issues with connectivity
3.      PoolLab 1.0 Tester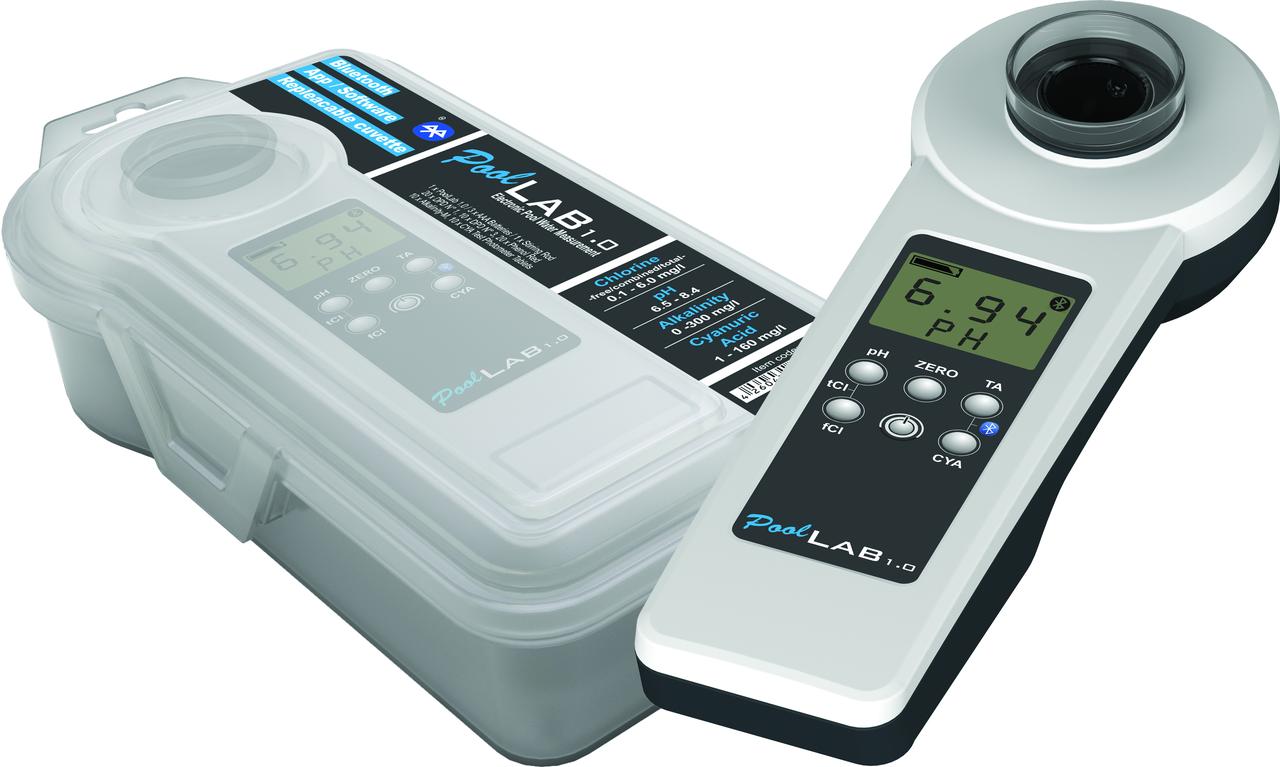 This tester is said to use triple wavelength photometer and Bluetooth 4.0 technology. It has 6 buttons that are designed to instantly access the data of multiple properties.
After testing the waters, the results will be passed to the app. Then, the app will recommend the chemicals' dosages. You have also an option to store the data on a cloud server and print the test results.
This model can test the pH level, chlorine, bromine, alkalinity, cyanuric acid, calcium hardness, active oxygen, ozone, hydrogen peroxide, total hardness, urea and PHMB.
Features:
Dimension: 10"x5"x 3"
Weight: 1.125 lbs.
Triple wavelength photometer
Bluetooth capability
Pros of this PoolLab 1.0 – Electronic pool and spa tester for water quality
Data can be stored to a cloud server
Data can be printed as it is
Quick-access buttons
Cons of the Electronic Pool Water Tester
Can give inconsistent results
4.      LaMotte 1749 Pro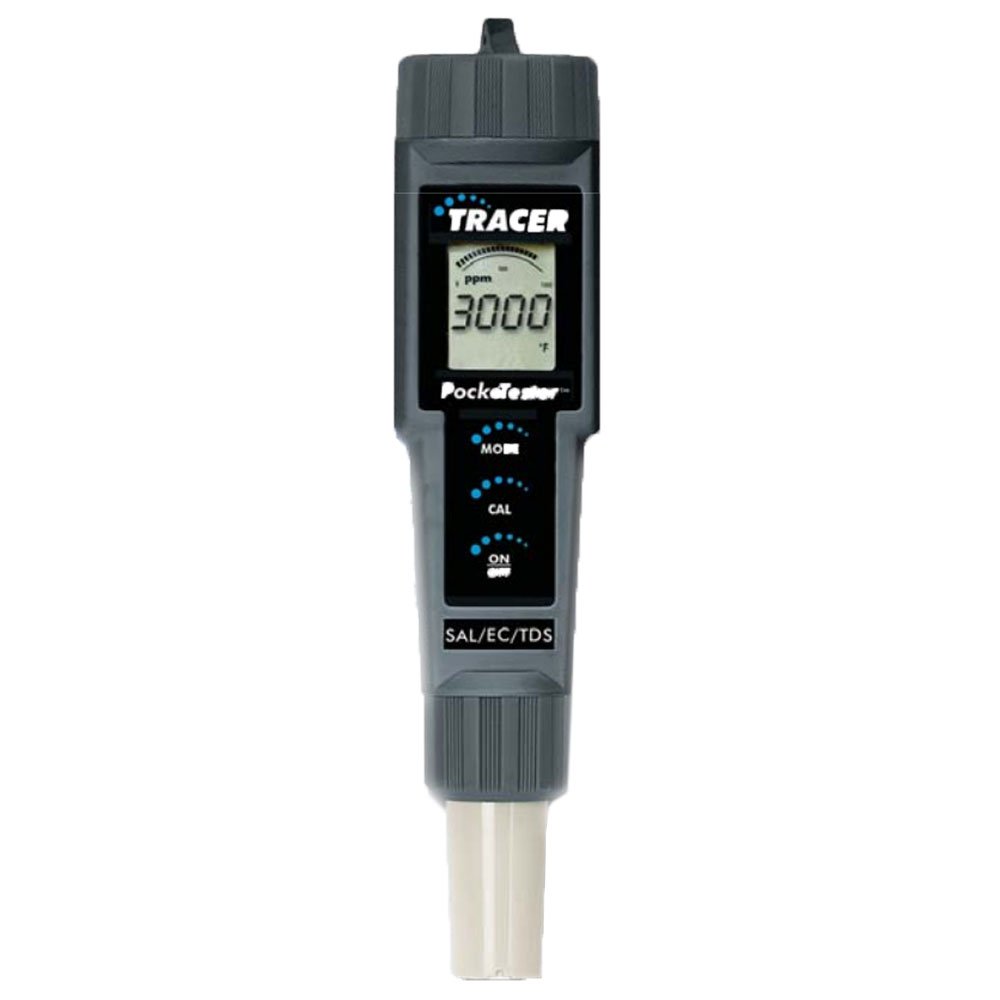 As another entry from LaMotte, this is the best electronic pool water tester that is designed for a professional technician. To use it, you need to probe it to the sample pool water.
The 'Salt PockeTester' tests the amount of salt in the pool. It can measure from a range of 0 to 9,999 ppm. There is a memory wherein you can store your results but limited only to 25 results. Additionally, the device also tests for TDS and temperature, which is not the case with most models on the market.
Features:
Dimension: 9"x2.7"x 1"
Weight: 0.49 lbs.
Pros of this LaMotte 1749 Pro Digital Salt TDS Temperature Tracer Pocket Pool Water Tester
Has memory to store 25 results
Can measure TDS
Packaged in a sturdy case with special calibration tool
Cons of the Electronic Pool Water Tester
Needs special calibration
5.      KKmoon Professional 4-in-1 Water Meter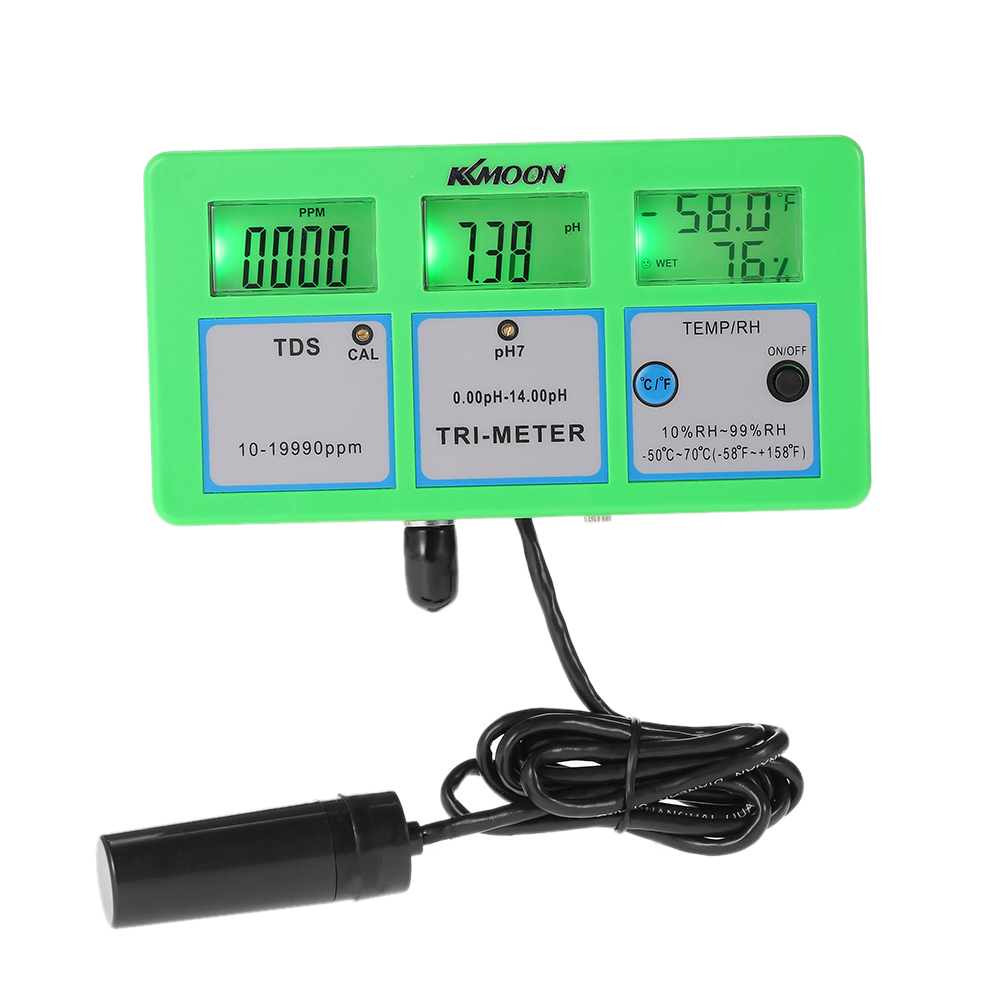 Electronic pool water tester reviews indicate that this device can test a lot of water properties. Besides testing the swimming pool, you can also use this water tester on hot tubs and aquariums.
The accuracy of the device is also very high. The readings for pH have a tolerance of ±0.1pH. Also, the reading for RH is 5%, ±1℃ for temperature and ±2% reading for TDS. Included in its packaging is a 4-in-1 quality electrode for sampling purposes. The batteries can be recharged and used up to 3 hours.
Features:
Dimension: 9.25"x6.3"x2.36"
Weight : 1.41 lbs.
Battery operated with a maximum of 3 hours usage
Tests:

ORP
pH level
temperature
CF
RH
TDS
Pros of this KKmoon New Professional 4 in 1 Multi-parameter Water Testing Meter
Includes a very useful 4-in-1 testing electrode
Can display very accurate readings
Cons of the Electronic Pool Water Tester
6.      Aqua Chek TruTest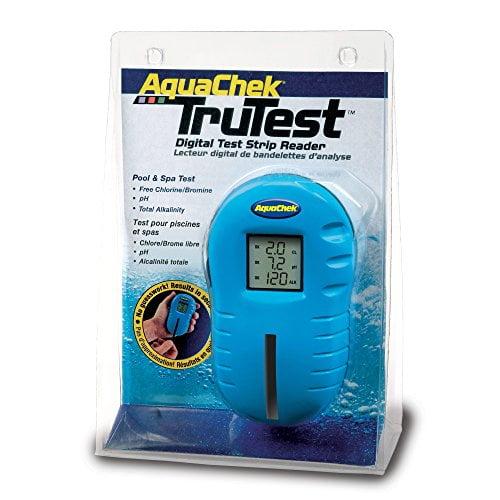 If you are looking for the best pool test kit, then this digital reader may be worth considering. It uses test strips in getting a sample and reads them in just 15 seconds. There is no need for color matching since the readings will be displayed on the LCD screen.
Some of the properties tested by this device include total alkalinity, pH level, bromine, and free chlorine.
What makes it stand out is its light weight and water-resistant design. The device is run by 2 AA batteries.
Features:
Dimension: 4"x1"x8"
Weight : 0.325 lbs.
Powered by AA batteries
Pros of this Aqua Chek Aqua Chek Trutest Digital Reader
Colorblind-friendly
Easy to operate LCD screens
Lightweight
Water-resistant
Cons of the Electronic Pool Water Tester
7.      Chlorine PH Tester Kit
Compared to the other devices in the list, this may be not the best pool test kit. However, it surely can compete with most brands in the market today. This device can be used widely ranging from home use to laboratory.
From the name itself, this tester is capable of testing 2 main water properties: chlorine level and pH level. The accuracy is amazing thanks to the help of a sensitive electrode sensor. Besides, there is no need to add chemicals during the testing process.
Features:
Dimension: 7.87"x5.91"x1.97"
Weight: 0.17 lbs.
Run by AA batteries
Can test chlorine and pH
Pros:
Durable shell casing
Can be use beyond swimming pool
Accurate with the help of a sensitive sensor
Cons:
Needs manual instructions for calibration
Frequently Asked Questions
Q:         Are electronic pool testers accurate?
A:          Nearly all electronic pool testers claim that they are accurate. However, you can only confirm that when they are used in actual situations. In order to truly test the accuracy of an electronic pool tester, you need to use at least 2 electronic pool testers from different brands. Check and compare the readings and see if they are almost the same.
Q:         How long should my electronic pool water tester last?
Basically, most test kits last for 1 to 2 seasons before they lose their strength.
Q:         How many drops are needed to put in a pool test kit?
A:          Some electronic pool testers rely on reagents in order to get samples. The amount of drops will depend on what property you will be testing for.
Usually, for chlorine, 5 drops of the chlorine indicator reagent is needed. For testing the pH level, 1 drop of chlorine neutralizer is okay. After that, 5 drops of red phenol indicator will follow it.
Conclusion
We hope that this comprehensive guide helps you determine the best electronic pool water tester for your needs. All the above electronic testers can do well in testing the water PH and chemicals of your pool to keep it safe for swimming.
When making your selection, ensure to consider also the size of your pool and the time you can provide in performing the testing procedures. If you have a tight budget, opt for digital pool water testers.