Are you ready to dive into the experience of owning your pool? Investing in the best above ground pool may be a great choice that you can consider. They have been a popular substitute for an in-ground residential pool since they were out in the market.
Deciding to own a pool in your house comes with several reasons. This may include increasing your place's aesthetic beauty, having a fun bonding time with your family, using swimming as a healthy physical activity, minimizing stress, and the like.
Why not have the best above ground pool in the market? Wilbar may help you meet your needs since it is easy to assemble and affordable. It allows you and your loved ones to have your holiday destination and oasis in the comfort of your home.
Why Choose Wilbar Above Ground Pool? 
Wilbar has been well-known for producing the best above ground pool since 1961. It has continually grown to be one of the largest pool creators across the globe. It brings you a wide collection of market-leading swimming pools within your residence.
The company is famous for using top-quality materials, namely aluminum, space-age resin, or solid steel, for a durable pool that you can use to fulfill your summertime escapade.
One of the positive feedback you can read about Wilbar above ground pool reviews is that it can be moved easily from one location to another. They can be disassembled into pieces and conveniently reassembled when needed.
3 Best Wilbar Above Ground Pool Products Review
Check out these Wilbar above ground pool reviews before purchasing the pool that would fit your needs and preferences:
1.  Wilbar Round Impressions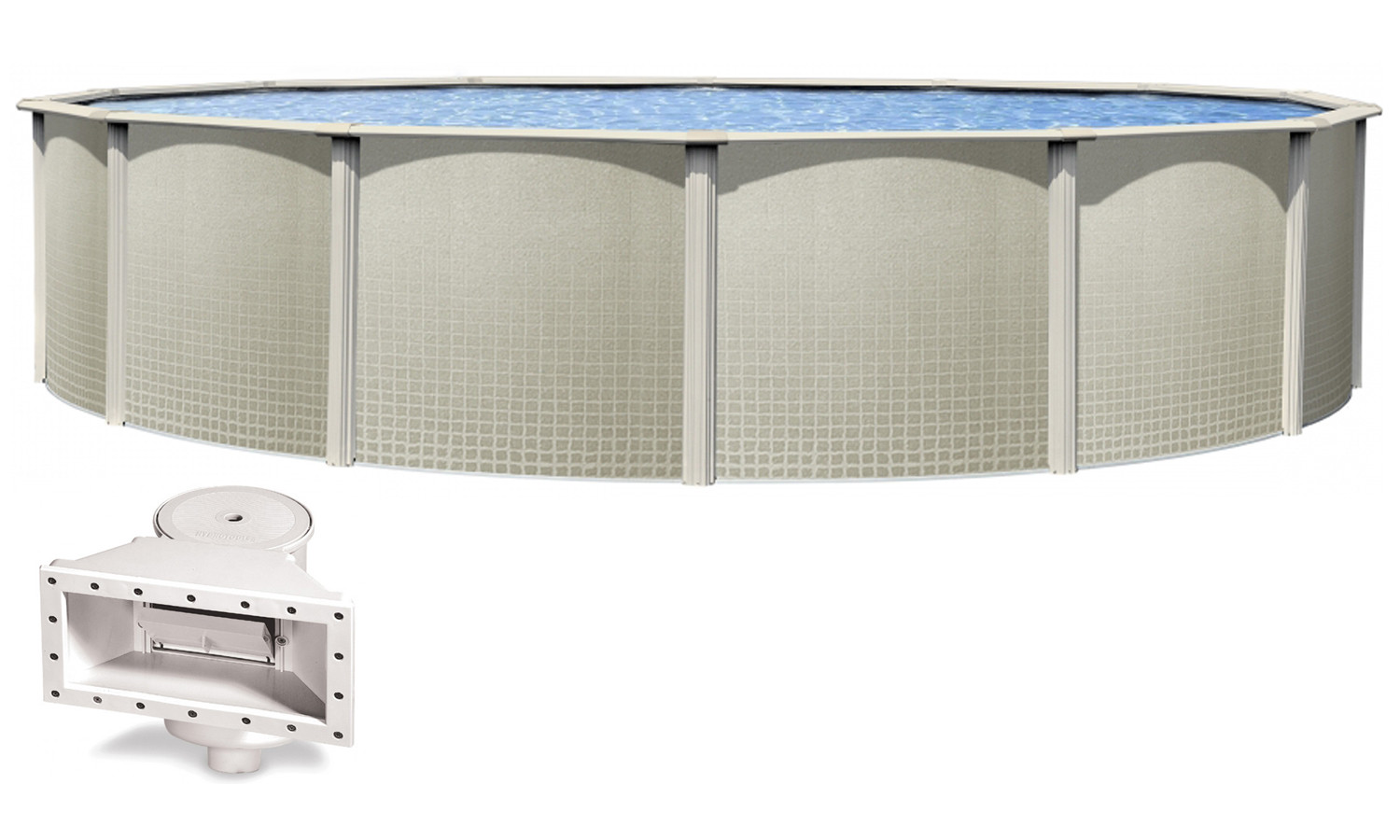 The light tan pool frame perfectly matches the wall's look, which can add beauty to your backyard. This stylish above ground pool is built with a strong steel wall that carefully underwent hot-dip galvanization for optimum protection. The frame is coated with resin to safeguard the steel from harmful elements and to make this pool last for several years.
The kit consists of a 20-gauge overlap pool liner, wide-mouth skimmer, and the pool itself. It has a filter system and ladder, but they must be purchased separately.
Highlighted Features:
Resin coated steel
Rock Island Pattern Liner
The Pros of This Wilbar Pool
Cons of The Above Ground Pool
The ladder and filter system needs to be bought separately
2.  Meadows Reprieve Oval Swimming Pool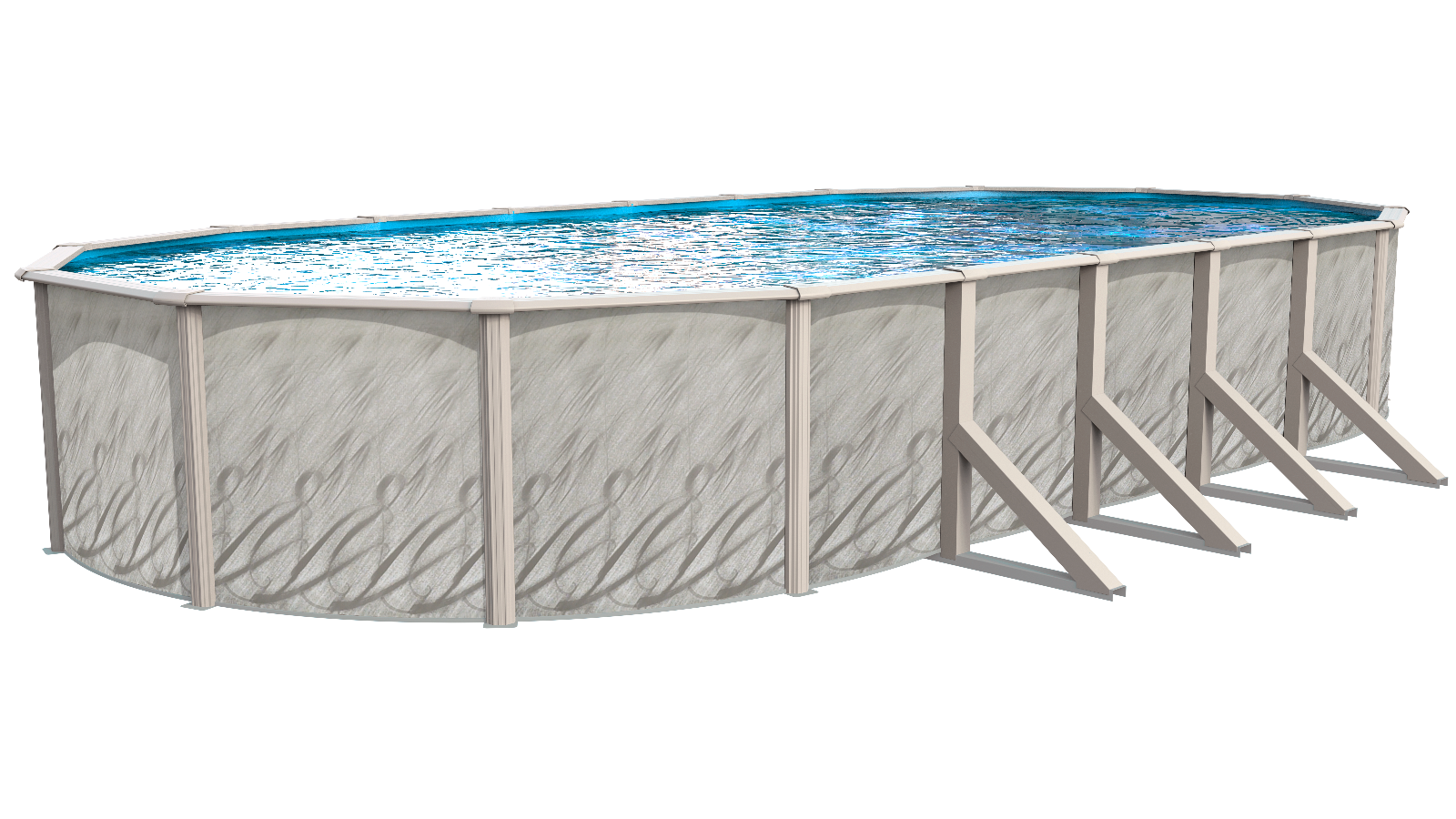 The champagne-colored frame of this pool gives off that elegant vibe that you will surely admire. The frame is coated with resin to defend the steel against destructive elements.
It was manufactured to have durable interlocking top rails for steady support and state-of-the-art vertical uprights. It comes with a wide-mouth skimmer to filter debris on the surface.
In an article on Wilbar above ground pool reviews, this swimming pool is covered by five layers of galvanization to keep the steel exterior from rusting. It is easy to install and has another protective coating to avoid getting damaged from the UV rays. This is considered as one of the most long-lasting pools in the market.
Highlighted Features:
With five layers of galvanization
Made of 100% virgin vinyl 
The Pros of This Wilbar Pool
Beautiful champagne-colored design
Cons of The Above Ground Pool
3.  Fallston Round Above Ground Swimming Pool

A pool with a beautiful steel wall to give you that relaxation you need, this is what this pool is about. It has nine-inch ledges and seven-inch steel uprights. This is not only aesthetically stunning but is very durable as well.
Highlighted Features:
Nine-inch ledges
Seven-inch steel uprights
The Pros of This Wilbar Pool
Cons of The Above Ground Pool
Frequently Asked Questions (FAQs) 
How long does a pool liner for above ground pools last? 
The durability of pool liners vary. However, the average lifespan of this tool is often around six to ten years. This can be changed easily and cheaply. You should replace your liner as soon as there is a leak.
How to drain an above ground pool?
Connect the drain of your pool to a regular garden hose. This will allow you to direct the draining water away from the pool.
Are covers needed for an above ground swimming pool? 
Yes. Covering your pool will help keep it clean from debris and falling leaves. A pool cover can decrease the need for chemicals to clean the pool water. It can also save you the money from using energy and having to empty or refill it from time to time. Pool covers also serve as a safety measure to keep small kids and pets safe when the swimming pool is not in use.
What is the ideal depth for an above ground pool? 
The depth of the pool or the height of the walls rests on your preferences. You must also consider the comments of those who will be using it. If you have young children, you may select a pool where they can safely stand up with their heads above the water level.
Bear in mind that pools are filled at 90% water capacity. Thus, you need to subtract roughly five to ten inches from the height of the top when calculating the height and depth of the pool walls.
When must I uninstall the above ground pool? 
Uninstalling an above ground pool must be done immediately when the weather is already cold, and the temperature starts falling below sixty degrees for three days in a row. It may be the time to close down the pool and store it away for your next use.
When to install an above ground pool? 
Above ground pools are highly recommended to be installed when the outdoor temperature is at least at sixty degrees Fahrenheit. This can aid in preventing the development of unwanted algae. You must also keep in mind to set up the pool when the surroundings are dry.
Which is the best shape for an above ground pool? 
The shape will depend on where you plan to set up your swimming pool. A round or square pool is ideal for a square-shaped area. In contrast, a narrow and long rectangular pool is perfect for a long and narrow place.
Round pools are encouraged if you are fond of having parties with persons sitting around it or in it. At the same time, the rectangular pool is suited if you need more area for swimming.
When is the ideal time or season to buy an above ground swimming pool? 
Out of season is the perfect timing if you want to purchase an above the ground swimming pool. You will likely get above-ground pools at a better price or an affordable rate during the mid-season, autumn, or winter. This is the time when stores are searching for ways to clean out their warehouses and stocks.
Conclusion 
Above the ground pools are often the best for individuals who want to save tons of money but want to own a pool at their own houses' comfort. Additionally, if you have a limited amount of space in your backyard, an above ground pool might just be the best fit for you.
These kinds of pools are very affordable compared to others, and they are usually easy to maintain and install. You just need to decide what pool to invest in by considering what is best for you and your family. You can always search more about Wilbar above ground pool reviews and do your research.