Are you on the lookout for the best infrared thermometer for your buck? Whether you need to find the best-infrared thermometer for cooking or the overall best non-contact thermometer for your particular needs, the chances are you will be left scratching your head and not sure of what to get.
The thing about deciding on the best infrared thermometer is what do you want to use it for? Are you a specialist in your field that needs something that is high-end with many different functions, or just the average guy wanting something to use around the house? Because the bottom line is that you get what you pay for. This does not mean that something on the cheaper side is not a good, or in fact, great choice! But rather that you may not actually need something at the top of the list with many functions. Your needs may very well dictate your end choice.
Infrared thermometer reviews
Going through infrared thermometer reviews is usually the quickest and easiest way of finding your perfect match when it comes to purchasing an infrared thermometer, as it gives you an idea of what other people think while taking a look at the different functions as well.
1.  Etekcity Lasergrip 800 Digital Infrared Thermometer
This infrared thermometer gives you complete control of your measurement area and can be used just about anywhere. This means it can be used for cooking, real estate, electrical, and even car maintenance purposes – simply by pointing and measuring. Taking a temperature is as simple as that.
What Customers Have to Say
The majority of customers found this product to be very handy, as it is as effective measuring both high and low temperatures. They also found it a great device to use during the winter, as they could measure the water temperature in their water pipes and make plans before it reached freezing point. It also works great on most surfaces.
The laser targeting system allows for better, more precise aiming
Simple to operate, just point and click
Measures extreme temperatures from -58 degrees Fahrenheit to 1,382 degrees Fahrenheit
The 16:1 distance-to-spot ratio means you have better control of the width of the surface you want to measure
Allows for the safe measurement of difficult to reach or hazardous objects
Uses a standard 9V battery
The unit automatically shuts off after 15 seconds, thereby increasing your battery life
Boasts an LCD instant-read display
May not give accurate measurements when measuring shiny sheet metal
2.  Nubee Dual Laser Optical Focus Temperature Gun
Kitted with dual laser pointers, this product gives a high-pressure reading while giving an indication of the ideal measuring distance as well.
What Customers Have to Say
Customers found this product to be amazingly accurate, although concerns were mentioned as to its suitability as an instrument for professional use. Home, private use, according to them, may be the best option for this product.
The dual laser pointers in this product allow for a high precision reading
It gives an indication of the ideal measuring distance
Gives accurate readings for current and maximum temperatures from minus 58 to 1076 degrees Fahrenheit
The instant read feature sports less than a second's response time
The auto shutoff comes into action within fifteen seconds of being idle
You can switch between Fahrenheit and Celsius readings
A battery and case with a belt are included in the purchase
The product allows you to measure moving, hazardous, as well as inaccessible objects
Lightweight and compact and easy to use
May be suitable for the home handyman but not for large-scale professional use
3.  Laser Temperature Non-Contact Thermometer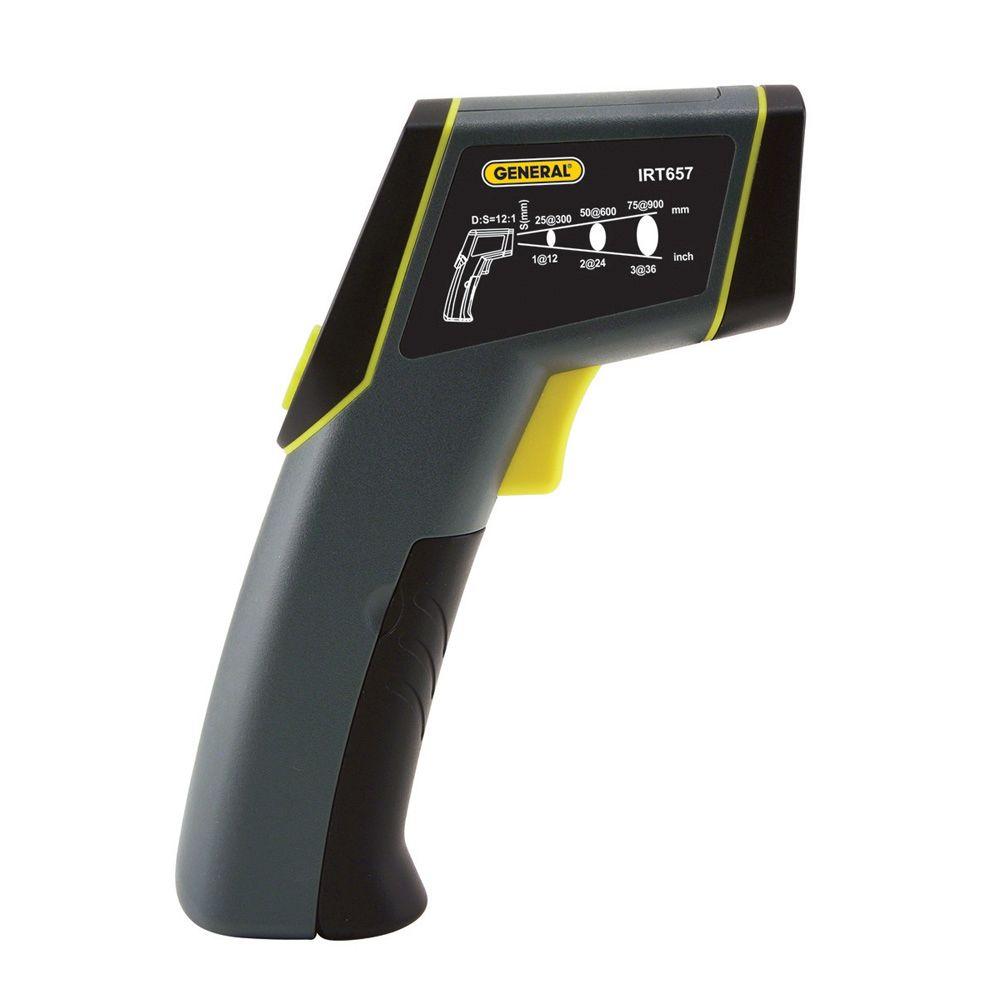 A product that is said by the manufacturer to achieve precise accuracy. The design compact sports a non-contact infrared thermometer and laser targeting system.
What Customers Have to Say
Customers, on the whole, were presently surprised by the great accuracy of the product – at a great price too.
Has a measurement range of between -40 degrees and 1076 degrees Fahrenheit
Sports an accuracy of approximately 3.6 degrees Fahrenheit above 32 degrees Fahrenheit, and approximately 5.4 degrees below 32 degrees Fahrenheit
The large, digital backlit LCD display provides easy visibility
The auto power off-trigger is active after seven seconds
The battery has a life of 50 hours when backlight and laser pointer are off
No negative client comments have as yet surfaced.
4.  Extech Instruments 630 Degrees F InfraRed Thermometer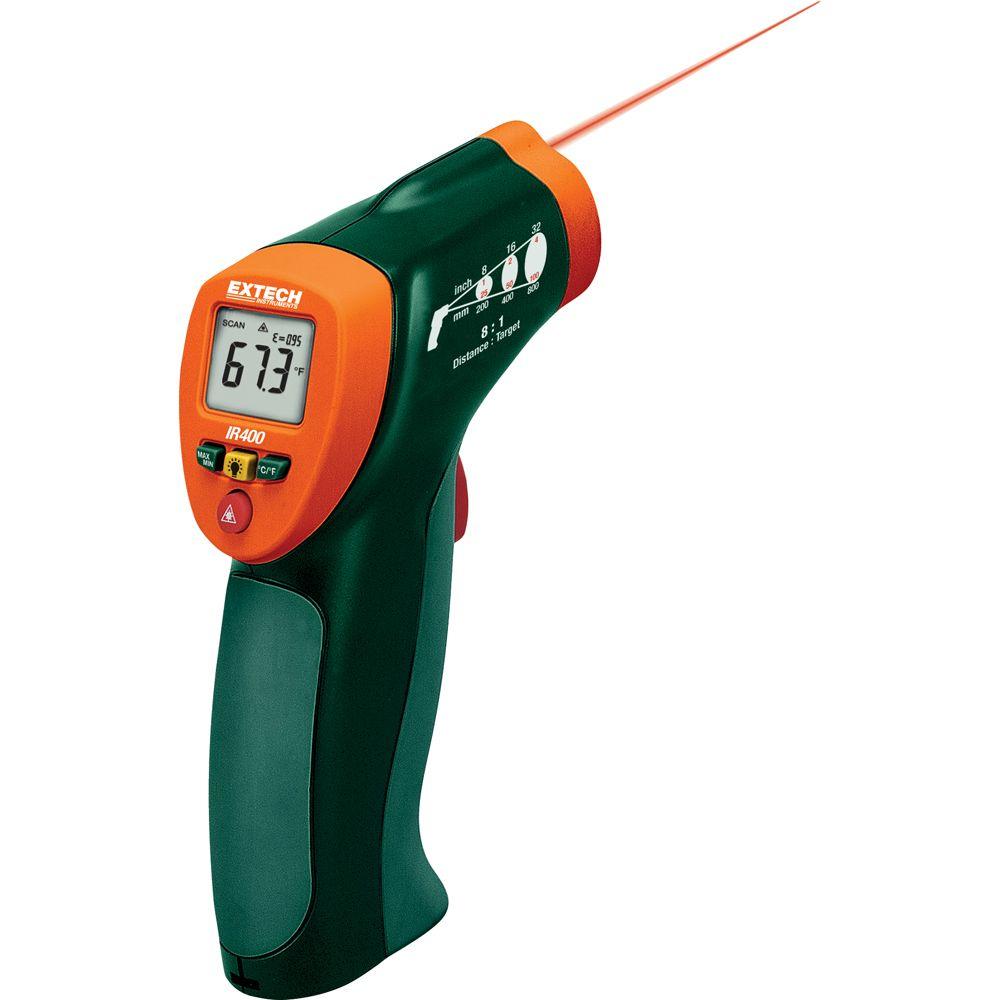 This compact thermometer can measure temperatures up to 630 degrees Fahrenheit. The built-in laser pointer can identify target areas and improve your aim.
What Customers Have to Say
On the whole, clients were very pleased with this product, as it gives them the ability to check thermal temperatures in difficult to reach places, thus helping them make decisions as to how to address the issue.
The backlighting illumination lets you take measurements at night or in areas where the backlight level is extremely low
The temperature measurement range is between -4 degrees Fahrenheit and 630 degrees Fahrenheit
It features an automatic data hold when you release the trigger
The 0.95 fixed emissivity allows you to cover up to 90 % of surface applications
The product comes with a 9-volt battery and case
No negative aspects have as yet been found
5.  Klein Tools Dual-Laser Infrared Thermometer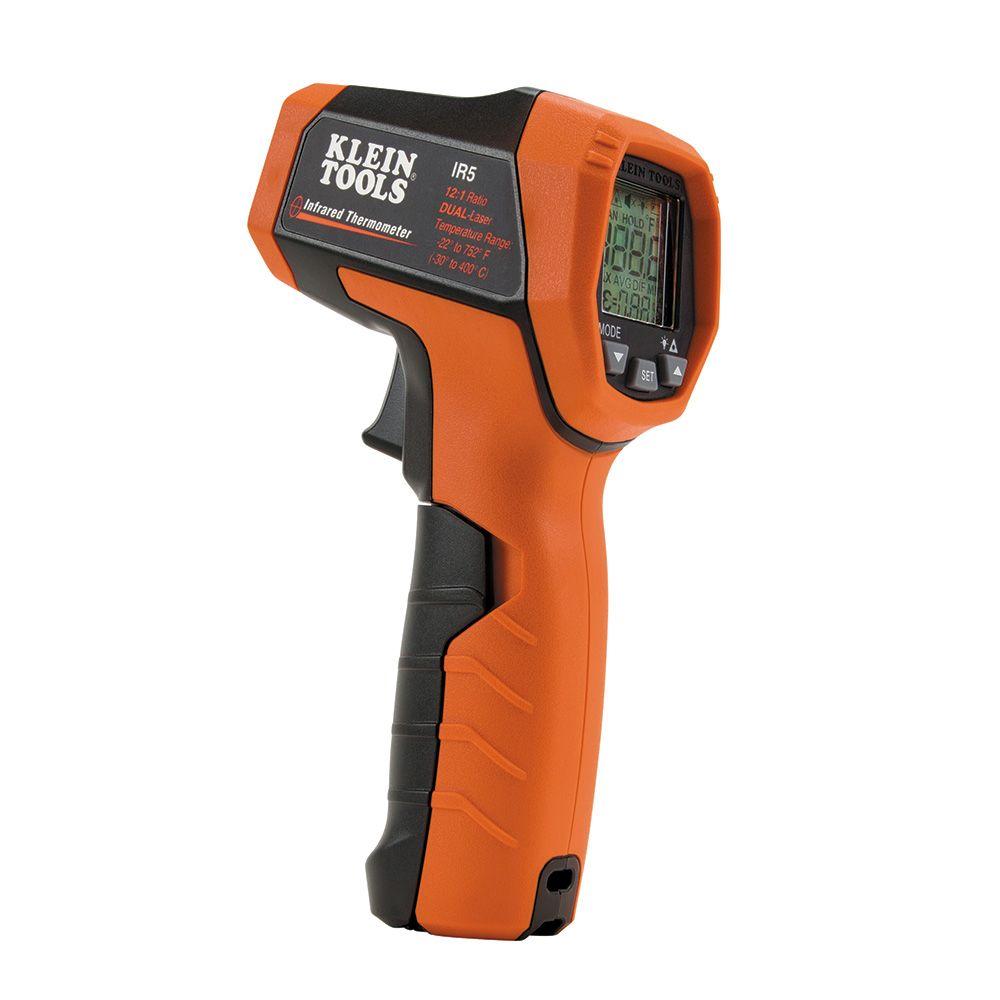 This is a professional dual-laser targeting infrared thermometer that provides not only a wide measurement range but also a tight distance-to-spot ratio. Kitted with dual targeting lasers and various calculation modes, different temperature measurement applications are easily facilitated.
What Customers Have to Say
Customers feel this is a good purchase if you understand how to use it correctly. They also feel it is a good price for what it does.
The product sports an optical resolution of 12:1
It sports an automatic power-off, high/low alarm, backlit display, auto-scan feature, and dual-laser targeting
The measurement range is from -22 degrees Fahrenheit and 752 degrees Fahrenheit with a drop protection of 6.5 ft.
The product uses a single 9-volt battery that has a life expectancy of 10 hours continuous usage
The product is sold with a custom pouch and battery
Some clients feel the readings are inaccurate. It could be due to them not using the product correctly.
6.  Commercial Electric AAA Alkaline Thermometer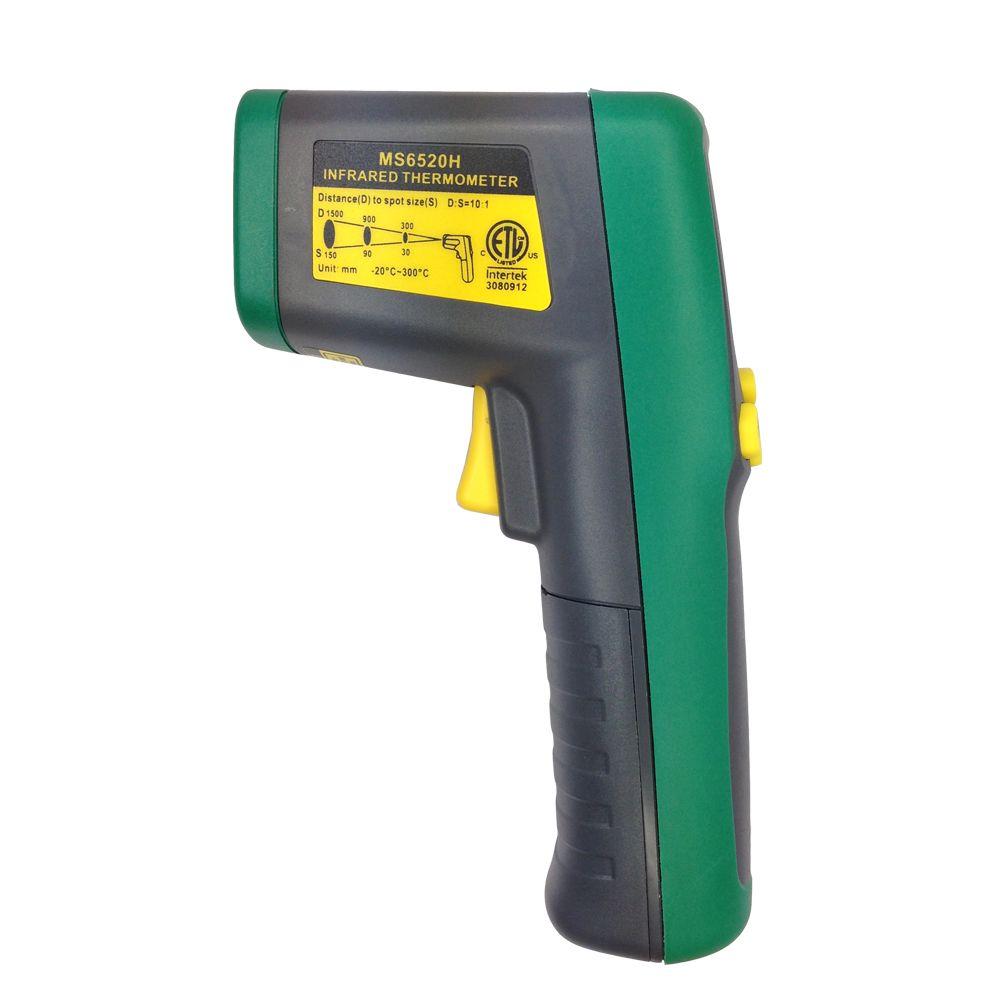 This infrared thermometer has a solid structure and is within a rubber shell. It also has a data hold function that allows you to save measurements for review at a later time.
What Customers Have to Say
Customers mention that this product works great and is easy to use.
The product features an on and off switch for the laser sight
It has an LCD and backlight display
The meter is able to display the maximum, minimum, and average values
Two AAA alkaline batteries are included with the purchase
It seems to not have a very long working life.
7.  PRO-SERIES Non Contact Infrared Thermometer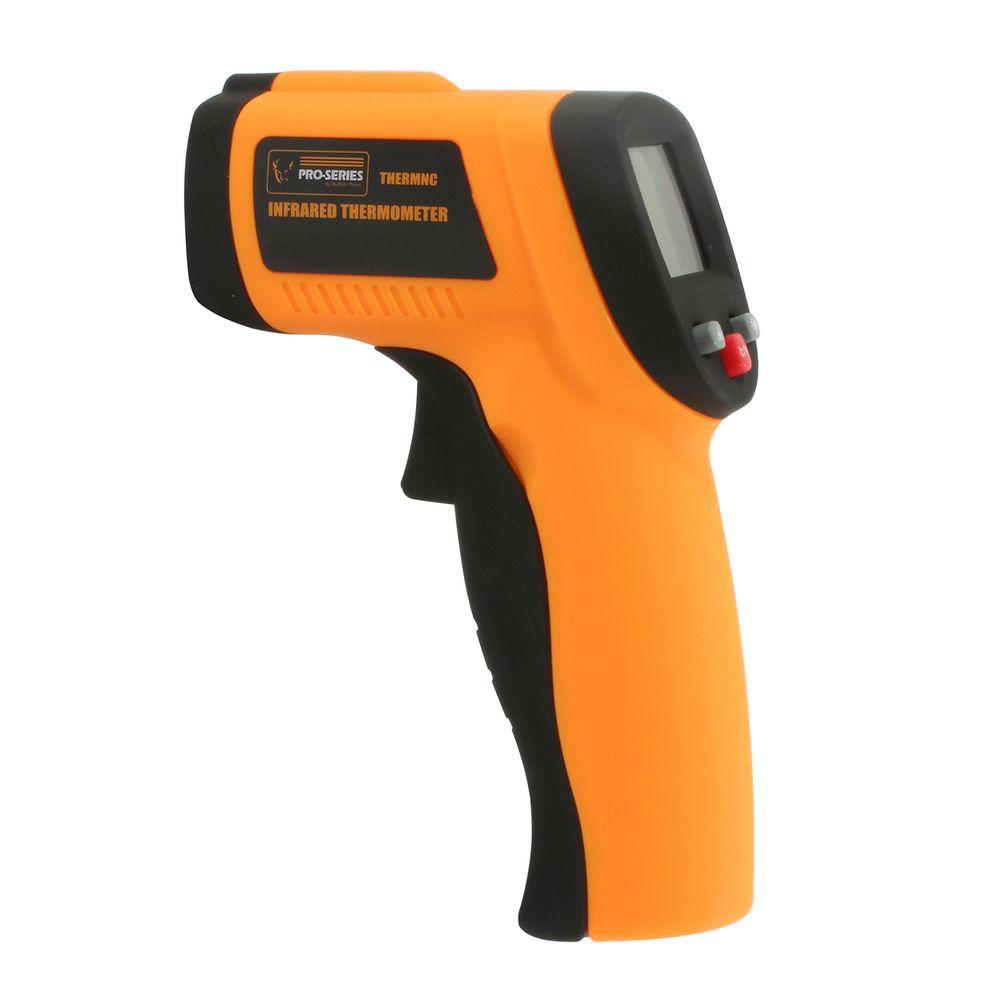 An infrared thermometer with laser sighting that allows you to get accurate temperature readings without having to actually touch the object, this product is great for measuring temperatures of electrical connections as well as cooking and heating surfaces.
What Customers Have to Say
Customers feel this product is easy to use, works great, and that the price is quite reasonable.
This product gives off a sound alert once you release the trigger
The reading is shown on the display for up to eight seconds after you release the trigger
The laser function allows for easy targeting as well as accurate readings
It features a blue backlit LCD display
Batteries are not included in the purchase and have to be bought separately
8.  DEWALT 12-Volt MAX Lithium-Ion Infrared Thermometer Kit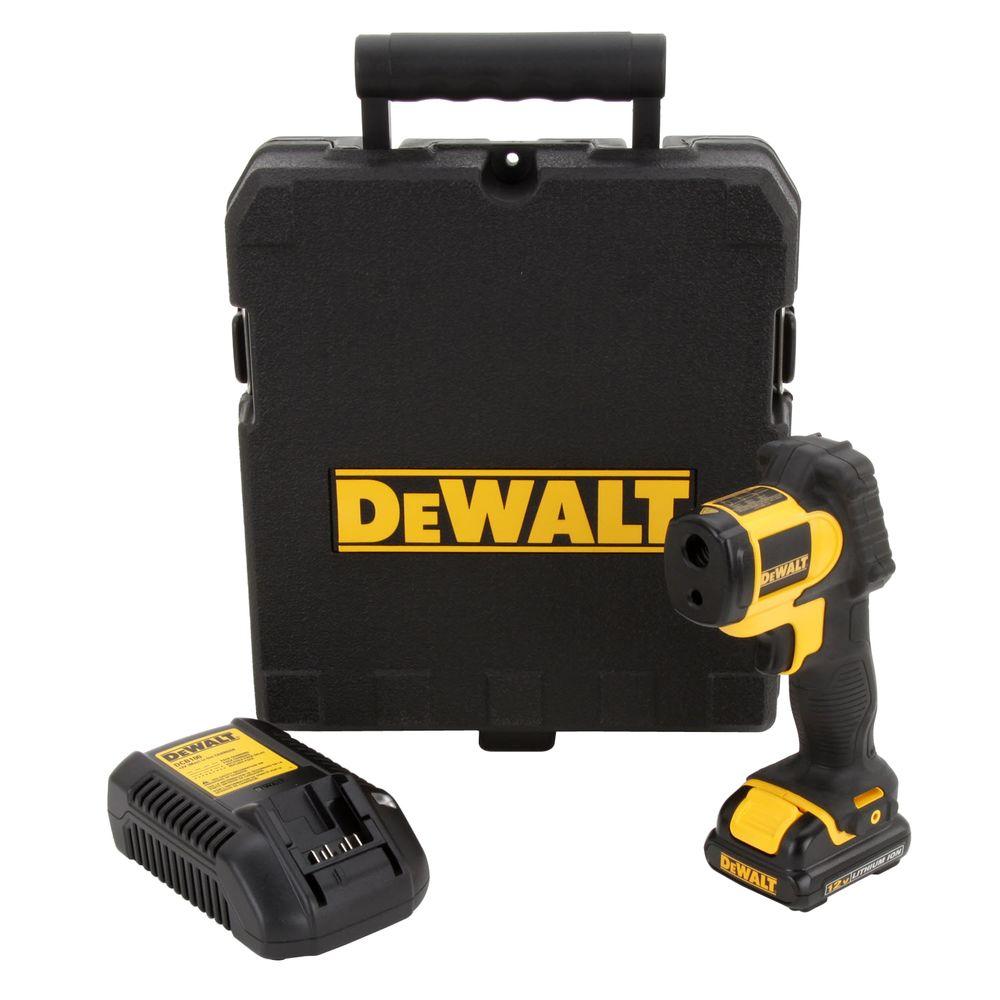 This is a great-working lightweight tool that gives a powerful performance. It also has a data storage facility, allowing you to go back to your readings later.
What Customers Have to Say
Customers feel this is a great quality, tough product, that works excellently.
The product has a compact, lightweight design
It measures temperatures between -20 degrees Fahrenheit and 932 degrees Fahrenheit
The data storage facility records maximum, minimum, and average temperatures
It sports a LED hot and cold indicator, enabling you to quickly find trouble spots
It provides accurate readings across a wide range of materials
A kit box, battery, and fast charger are included in the purchase
9.  General Tools Ultra Wide Range Laser Temperature Thermometer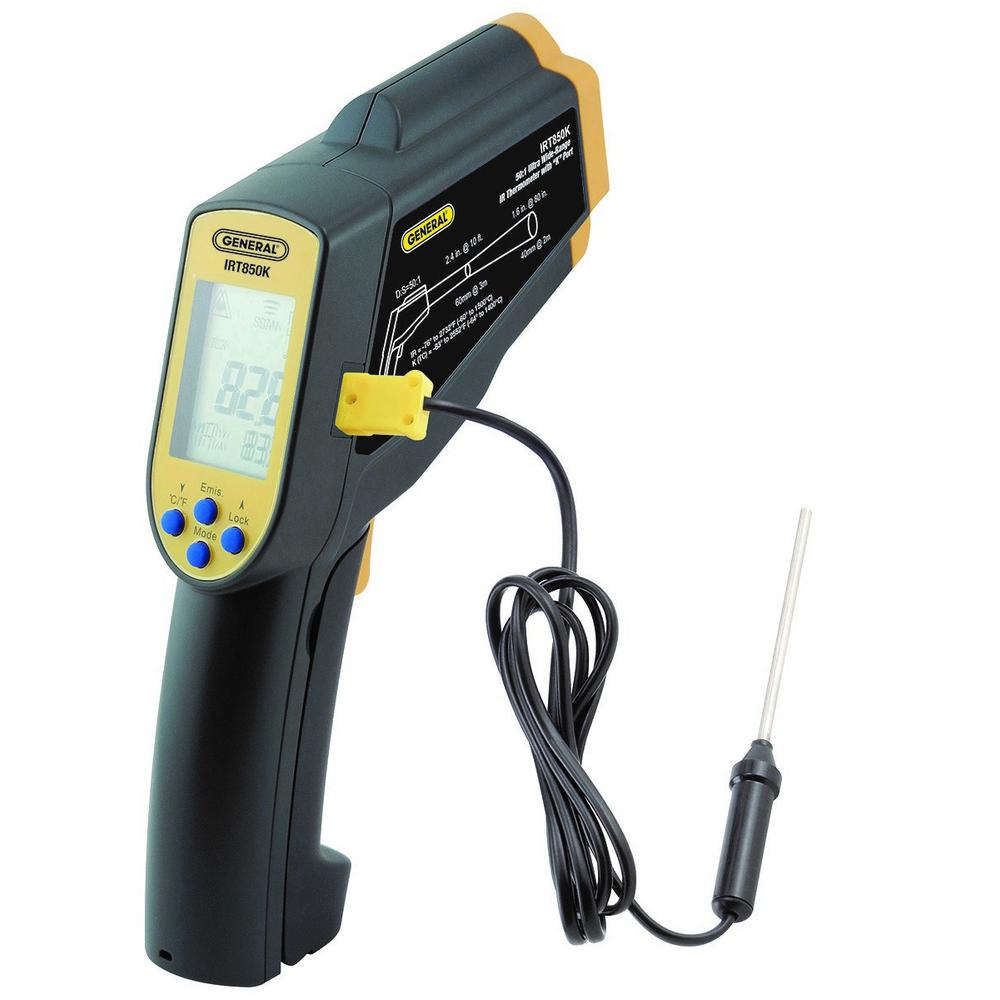 This product has an ultra-wide range infrared thermometer feature with a 50:1 distance-to-spot ratio and a "K" port for using an optional probe that measures surface temperatures.
What Customers Have to Say
Customers feel this is a great tool, sporting superior craftsmanship, that works well.
The industrial applications for this product include the operation and maintenance of furniture, heat exchangers, and hot water heaters
It sports a very wide IRT measurement range, starting at minus 76 degrees Fahrenheit right up to 2,732 degrees Fahrenheit
It has an IRT measurement accuracy of approximately 1.8 degrees Fahrenheit
It sports dual targeting lasers and adjustable emissivity
The releasing trigger holds measurements while the measure lock mode eliminates the need to squeeze the trigger in order to take your readings
The product stores and recalls 24 data sets
It has minimum, maximum, and average displays as well as adjustable high and low temperature alarm points
There is a built-in LED flashlight and a two inch digital backlit dual-readout LCD
Auto power off feature ensures a longer battery life
The product has its own tripod mount for easier use
The two AA batteries acting as this product's power source are not included in the purchase
10.  Fluke 568 Duel Infrared Thermometer
Fluke's 568 Dual Infrared Thermometer is probably one of the best IR and contact thermometers around. It has an innovative dot matrix display and a simple 3-button on-screen menu that makes all readings extremely easy.
What Customers Have to Say
Clients were impressed with the features, functionality, and style of this product. The overall feeling is that, although pricey, you definitely get what you pay for.
Taking complex measurements is made easy by means of the 3-button on-screen menu interface
It sports quick-navigate features that allow you to turn on and off alarms, start logging data, or to adjust emissivity
The tool features many more uses besides being one of the best IR thermometers around
The included FlukeView® allows for the easy analysis of data
Stored data can be downloaded via a USB connection
The product can be powered via your laptop via the USB feature
The product is compatible with all mini-connector Type-K thermocouples
You can easily measure a very large variety of surfaces due to the adjustable emissivity feature
Two backlight levels mean the product can easily adapt to different lighting conditions
The audible and visual alarms alert you to measurements that are outside your limits
Measures temperatures ranging from -40 degrees Fahrenheit to 1,472 degrees Fahrenheit
You can make contact thermometer measurements due to the Type-K thermocouple bead probe included in the purchase
The interface allows you to choose one of six different languages
If there are any, we could not yet find it
Conclusion
Finding the best infrared thermometer out of those reviewed, in our opinion, was not difficult. We most definitely go with the high-end Fluke 568 Duel Infrared Thermometer. While this product might be pricey, we liked the myriad functions that come with it, definitely making it stand head and shoulders above the crowd.