All parents know how much children love swimming. This is especially true during the summer when temperature levels are at an all-time high. Instead of taking your kids to the beach, why not bring the fun home where you feel safe and secure?
You can keep your children safe even while having fun this summer. You can treat them to the best kiddie pool right in your own backyard. This way, you do not have to worry at all about your kids being in a crowded beach. This article will help you find exactly what you need.
Here is a list of the top kiddie pool choices:
Kiddie Pool Reviews
1. Intex Kiddie Pool Summer Sunset.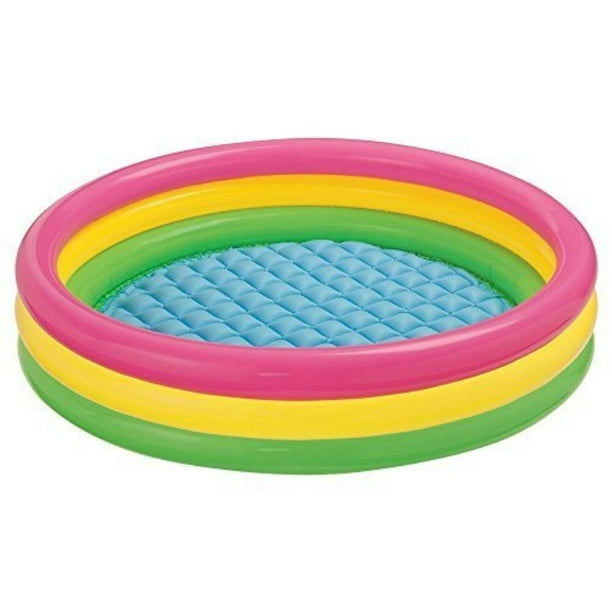 The Intex summer sunset pool is a 58" x 13" inflatable pool that works well for kiddie pool parties.
Customer Feedback:
This basic pool from Intex has received good reviews from parents. This is because it is one of the cheapest choices for small pools. Its small size is perfect for toddlers. It has three rings that can each be inflated individually. Some customers also use it as a substitute baby bath tub.
Pros:
Cheap price range.
12-inch thick pool wall with three colorful rings.
Made from vinyl.
Inflatable, and easy to stow.
Cons:
Takes time to inflate and deflate.
Vulnerable to punctures.
2. Intex Rainbow Ring Inflatable Center.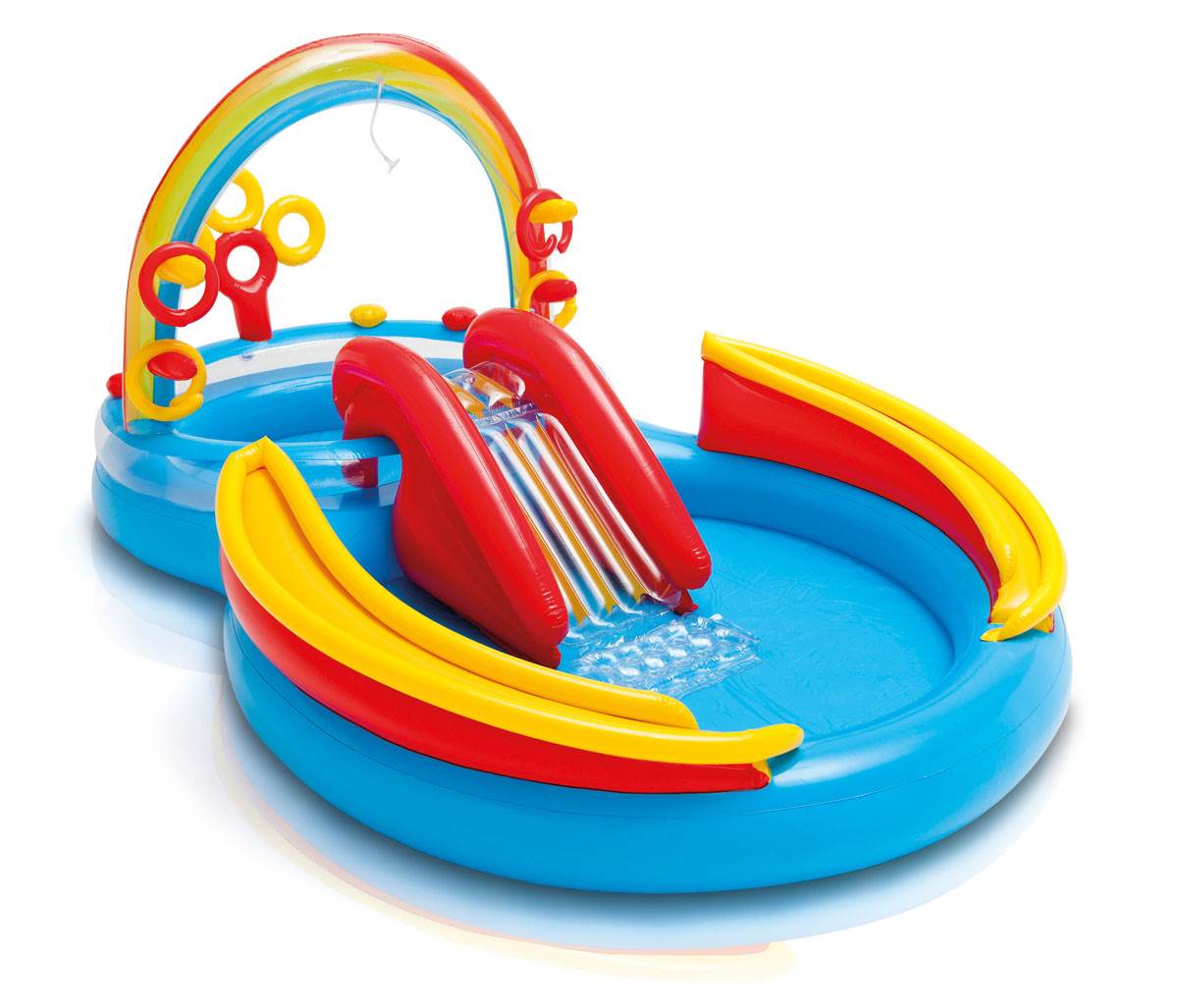 Intex's Rainbow-themed inflatable is a 117" x 76" x 53" pool for toddlers. It has a sizable wading area and four inflatable rings. Kids can play fun games in this pool. It also has a smaller shallow pool that's ideal for infants.
Customer Feedback:
Parents love how kids who are not yet ready for deep waters can now swim in this pool. The Intex Rainbow-themed pool is safe for kids of all ages. Children also enjoy its signature water slide. The pool has six plastic balls, a water sprayer, and a free play roller.
Pros:
Offers various fun games for kids to enjoy.
High water capacity of up to 77 gallons.
Can accommodate up to 5 toddlers.
Cons:
No pump included.
Takes time to inflate and deflate.
Slightly bulky for storage.
3. Intex Ocean Inflatable Play Center.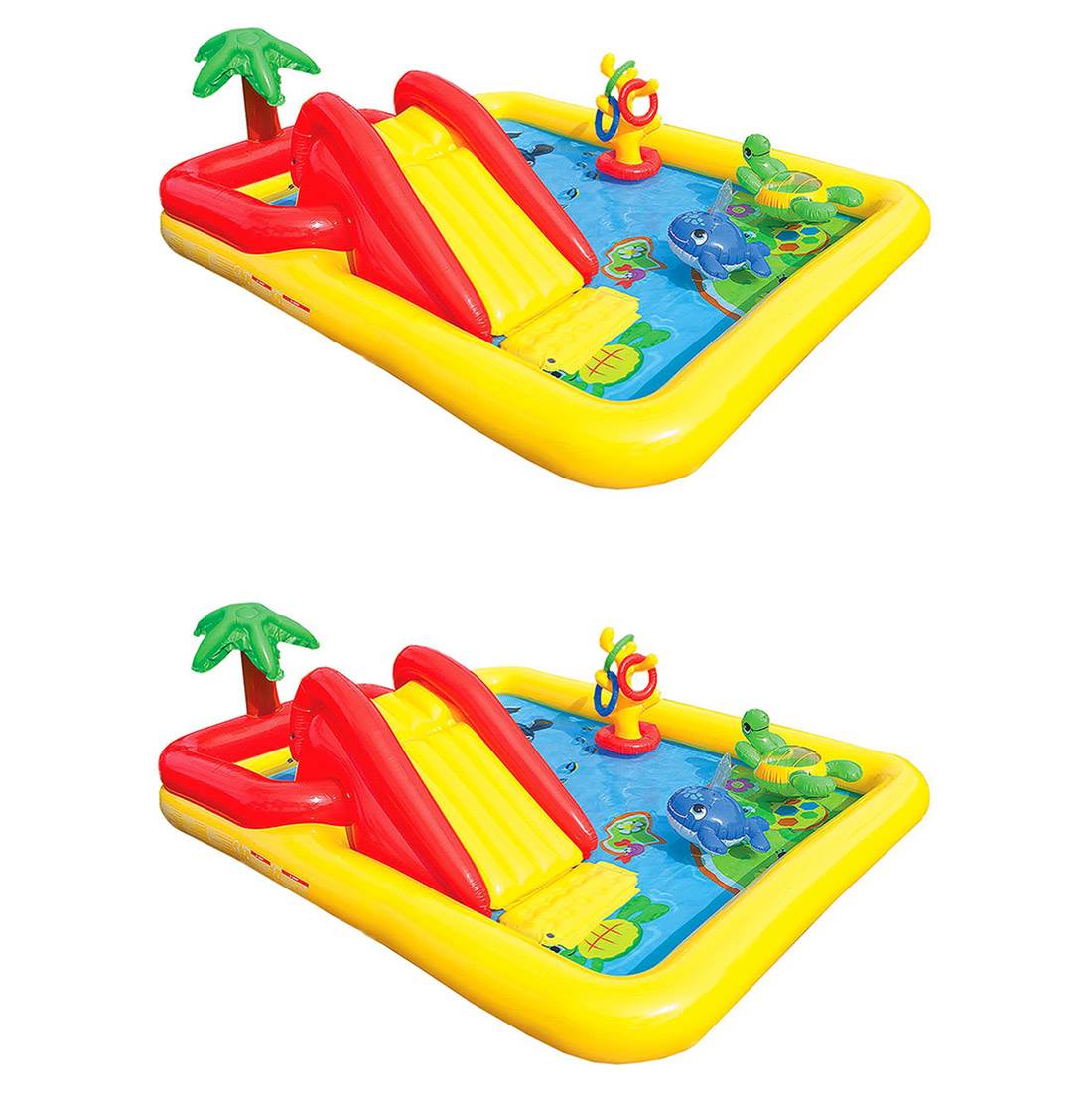 The Intex Ocean-themed pool has a small swim area for toddlers. It also has a large wading pool that is big enough for kids to swim and splash around in. It also comes with inflatable animal figures that kids will sure enjoy.
Customer Feedback:
This Ocean-themed pool got mixed reviews from parents. Users have cited cases wherein the water slide got ripped off. Others point out how the whole pool got deflated. Despite the negative comments, kids and parents alike still love the pool.
Pros:
Includes a built-in water slide, an inflatable palm tree, and a ring toss game.
Repair patch and air pump included.
Features a control valve that allows parents to adjust water flow.
Spacious pool size (100"x77"x31").
Cons:
Takes time to inflate and deflate.
Too bulky for storage.
4. Intex Dinoland Inflatable Play Center.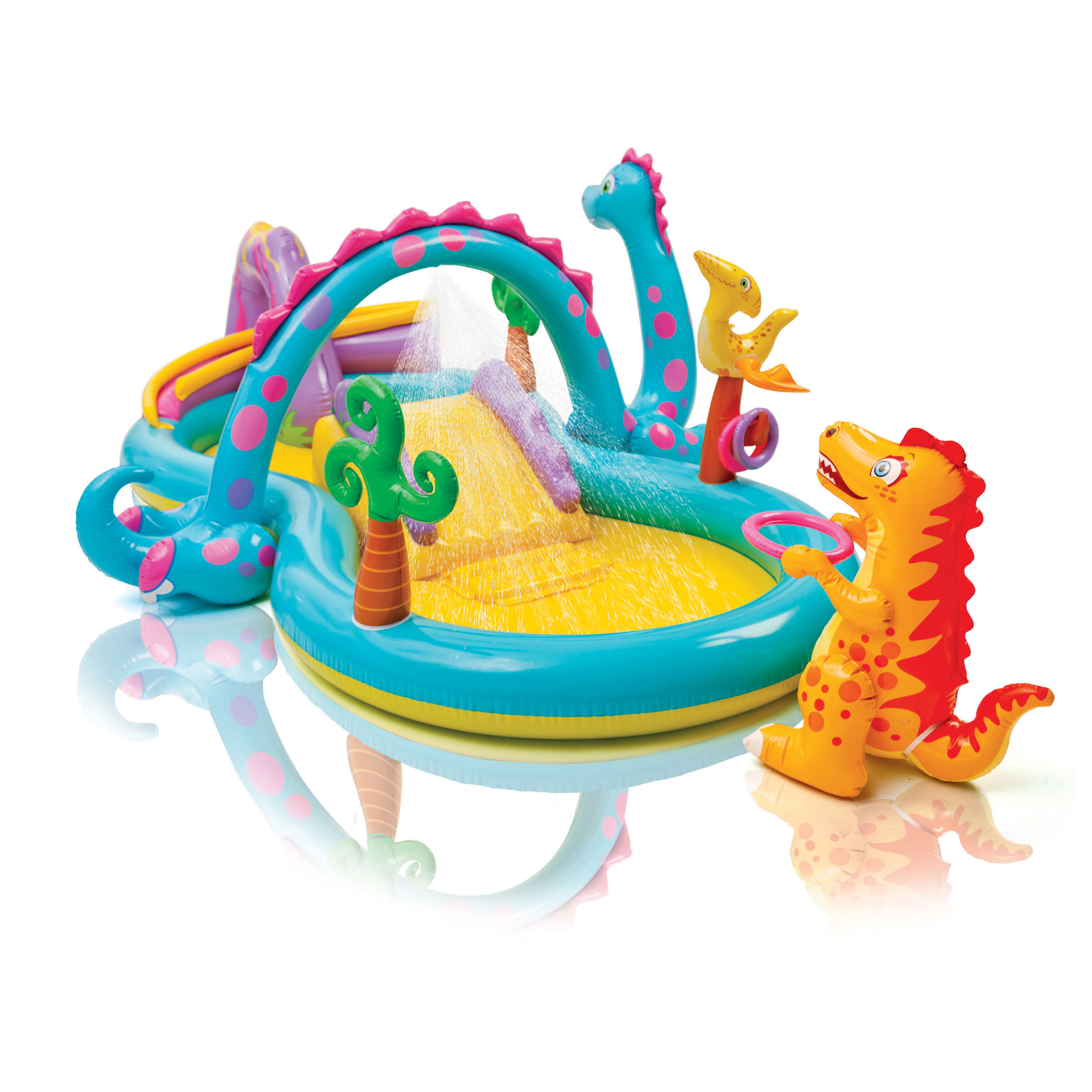 This Intex pool opens up to an inflated size of 131"x90"x44". The dino theme is a treat for kids of all ages. It has inflatable dinosaurs that serve as ring toss holders. This dino-themed pool is also complete with a water sprinkler and a slide.
Customer Feedback:
This blow-up kiddie pool is most loved by parents and kids alike. Kiddie and baby pool reviews from parents point out how much their children loved this dino pool classic. From its dinosaur-themed look to the thrilling games, this pool is a must-have for kids up to 2 years old.
Pros:
A water spray that keeps children cool even under intense summer heat.
Soft slide and landing pad to keep your kids safe from accidental slips.
High water capacity of up to 74 gallons.
Comes with inflatable dinosaurs including inflatable palm trees, T-rex and ring toss game.
Includes a smaller inflatable baby pool.
Cons:
Takes time to inflate and deflate.
Slightly bulky for storage.
No pump included.
5. Intex Center Clearview Aquarium.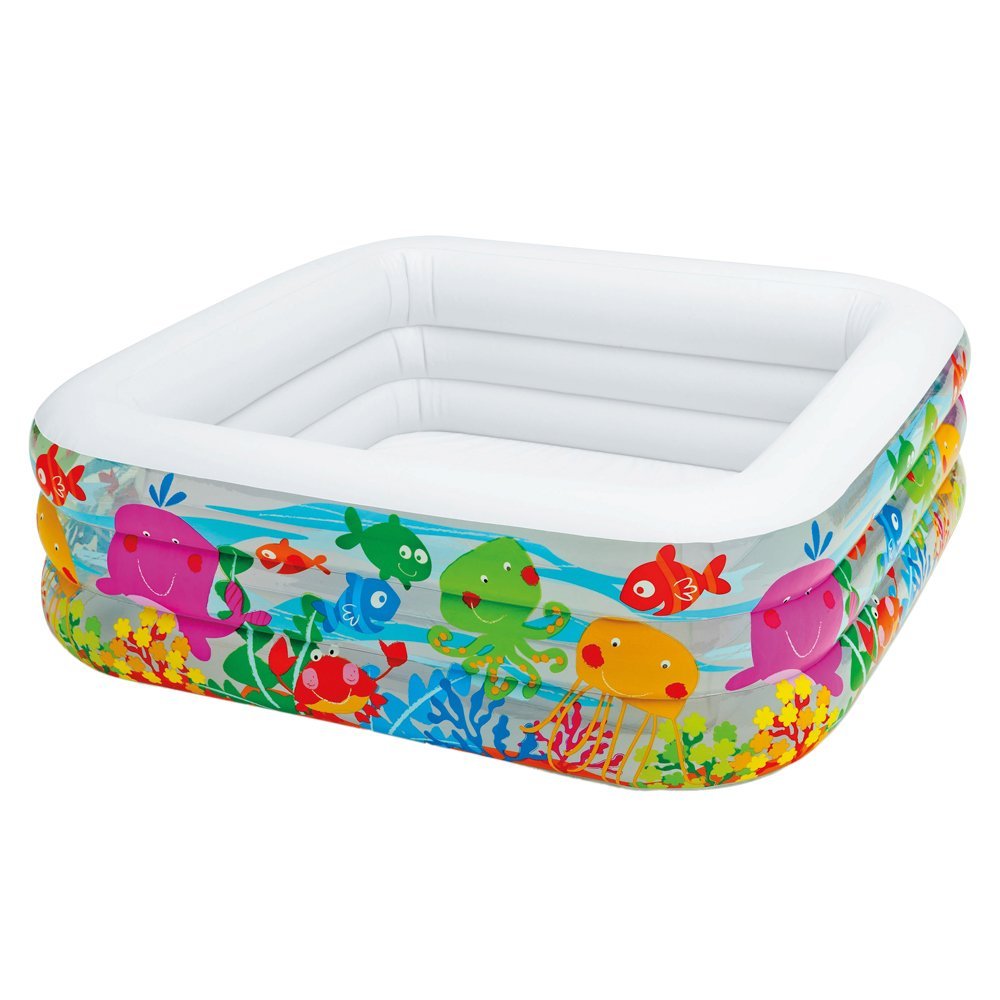 This 62.5"x62.5"x19.5" rectangular basic pool is perfect for kids aged 3 and up. This is one of the newest items in Intex's line of kids swimming pools. It is big enough for the whole family.
Customer Feedback:
The Intex Aquarium pool is made of high quality materials. A lot of customers love its strength and look forward to using it again for next summer. Its wide wading area is also perfect not just for kids, but also for parents to join the fun.
Pros:
Clear window design.
Repair patch included.
Spacious wading area.
Inflates and deflates easily.
Can fit up to 6 people including 2 adults.
Cons:
No air pump included.
Slightly more expensive than other inflatable pools.
6. Intex Swim Center Family.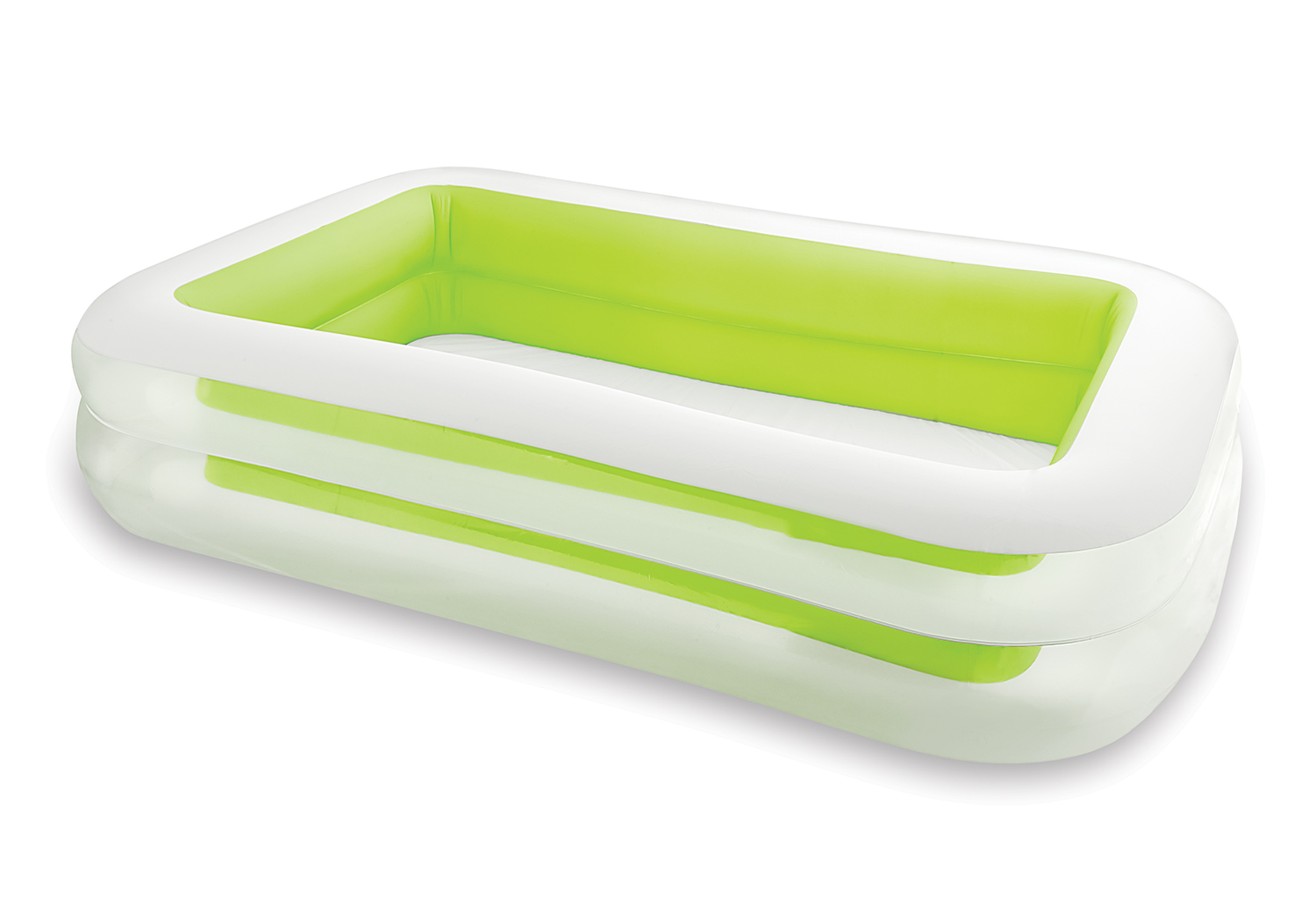 This 103"x69"x22" pool is made of inflatable vinyl. This family pool has a huge water capacity of up to 198 gallons. It is perfect for the entire family as well as for kids ages 6 and up.
Customer Feedback:
The Intex Swim Center Family pool is much loved by parents and kids. It can fit up to 4 adults and 3 toddlers. The family pool only fills up to 1-foot of water. But it's still perfect as a lounge pool for everyone to enjoy.
Pros:
High water capacity up to 198 gallons.
Repair patch included.
Equipped with 2 air chambers (double valve intake and free-flow exhaust).
Easy to stow and comes with its own shelf box.
Cons:
Takes time to inflate and deflate.
No air pump included.
7. Giant Inflatable Kiddie Pool (Rectangular).
One of the bigger Intex inflatable pools, this Giant Kiddie Pool measures at 120"x72"20".
Customer Feedback:
This product is preferred by customers for its strong construction. The giant kiddie pool can be re-used even after a full summer's use.
Pros:
Huge pool size for maximum play room.
High water capacity of up to 328 gallons (recommended water level of 75%).
Convenient drain plug included.
Cons:
No air pump included.
Takes time to inflate and deflate.
8. Intex Mini Frame Pool.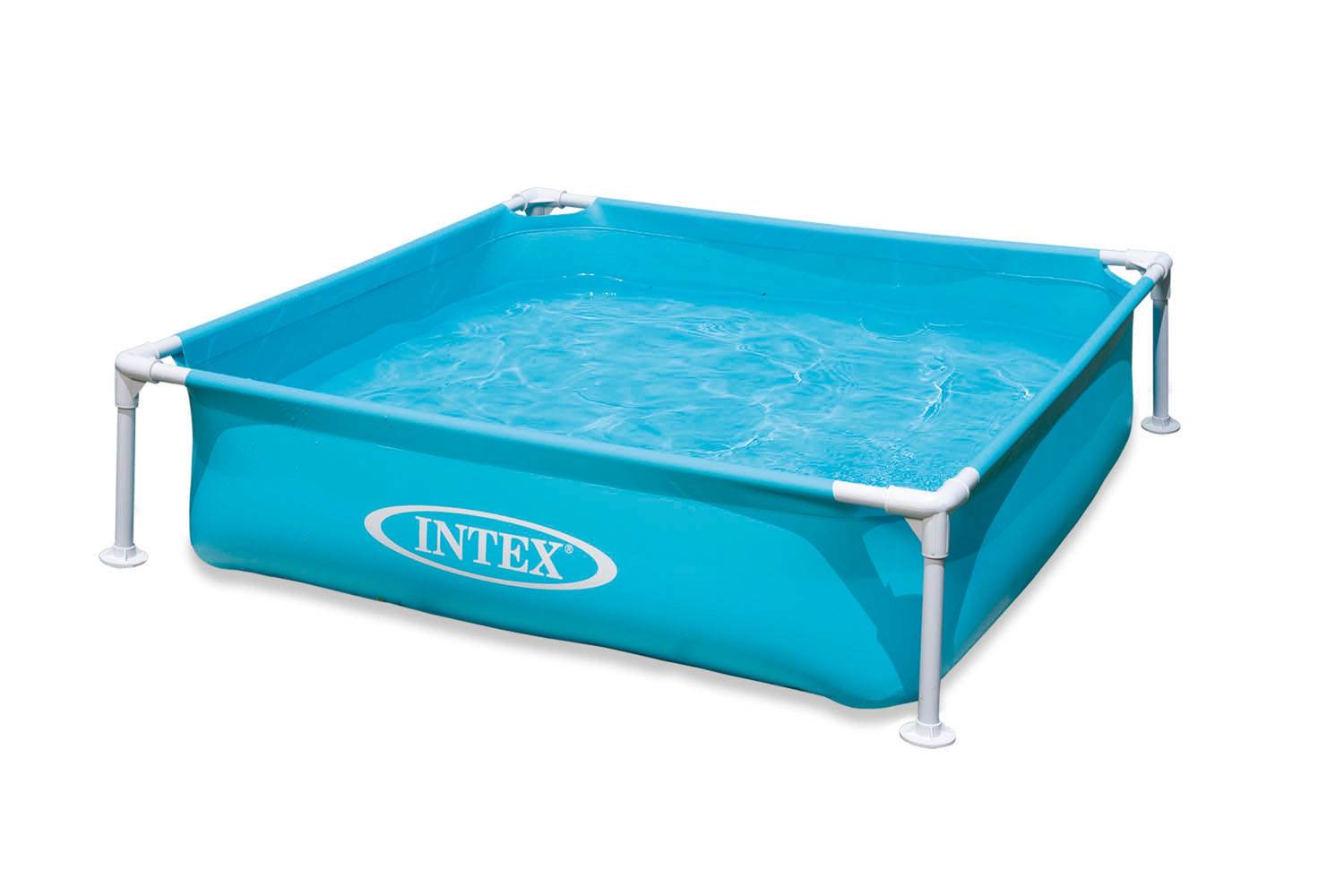 This frame pool is perfect for children aged three years old and up. The portable frame pool has an estimate size of 48"x48"x12". Its modest wading area allows for enough space for kids to move and splash. It can fill up to 1 feet of water depth.
Customer Feedback:
This frame pool from Intex offers enough play space for kids. It does this without the hassle of having to inflate and deflate the pool. While it doesn't offer what some of the best above ground pools do, it remains a smart choice for parents. This is true especially for parents wishing to save while allowing their kids to play without the risk of injury.
Pros:
Includes foam-padded horizontal beams designed for comfort and child safety.
Repair kit included.
Modest water capacity of up to 89 gallons.
No inflation and deflation needed.
Cons:
Things to Consider in Choosing the Best Kiddie Pool
Pool Safety. Pool safety is important for any parent planning to buy blow up kiddie pools. Make sure to check child safety features offered by the makeshift pools. For instance, frame pools must have padded beams to ensure that kids won't fall off its edges. You can also look for safety landing pads for water slides or some of the best baby pool safety measures.
Strength and Build. Each type of material used in portable pools has its own pros and cons. Inflatable pools are made of plastic. Plastic is a light-weight material and is perfect for easy storage and kiddie pool parties on-the-go. Frame pools made of vinyl are quite sturdy. But be sure to check the strength of its support beams. Make sure it can hold the right number of kids.
Size and Depth. Make it a point to check whether your child's age and height matches the pool depth. Make sure to always check the label. You have to make sure that the pool you buy is age appropriate. This is most important for babies and toddlers.
Price Range. Every consumer wants the best value for his money. You might think that the best kiddie pool would be really expensive. When you check your options, you would realize that even pools with the best features can be affordably priced.
Conclusion
With the vast choices of kiddie pools in the market, choosing the best kiddie pool could take considerable time and effort. If you truly want to find the best pool for you and your children, it is highly recommended that you look into the product's safety, strength, size and depth, and price range.
The clear winner in this review is the Intex Dinoland Play Center. It has the essential pool safety features such as a soft water slide landing pad. It is made of durable plastic and includes a free repair kit for patches. The pool has an impressive size to hold more adults and kids. It has a medium water depth for maximum play space. What consumers will love about it is that it comes at an affordable price range as well.