What's the best portable fire pit currently available in the market? We'll take a look at a dozen products and see which of them fits your needs. We'll review the pros and cons of each product and also give you some tips on how to buy your first portable fire pit.
Advantages of Portable Fire Pits
Some might say that fire pits are better stationary, but those who often camp out might beg to differ. Portable fire pits do have advantages over the fixed ones.
Portability. The main purpose of having a portable fire pit. Having one means that you can have a camp fire wherever and whenever you want.
Easy to use. Portable fire pits are designed to be easy to use. Gas fueled ones can be fired up with a twist of the knob. Wood fueled once are designed to be easily lit up.
Safe. Portable fire pits are designed to contain the flame inside. That means you need not worry about burning your patio furniture or yourself, or starting a forest fire. You also have more control on the size and intensity of the flame as you would on an open camp fire.
Choice of fuel. Some portable fire pits are gas fuelled, which means you need to bring along a gas task. Although it might be an additional burden, it also means a cleaner, more controlled flame. Other portable fire pits require wood or charcoal to provide heat or cook.
Reviews of the Best Portable Fire Pits on the Market Today
What's the best portable fire pit currently available on the market? We'll take a look at a dozen products and see which of them fits your needs. We'll review the pros and cons of each product and also give you some tips on how to buy your first portable fire pit.
1.  Outland Firebowl 883 MegaOutdoor Propane Gas FirePit
A great alternative to labor-intensive, traditional campfires, the Outland Firebowl 883 is safe to use. It is also portable enough to carry anywhere. The fire pit is made from high quality and sturdy steel. The enamel finish and protective powder coating ensure lasting durability.
24 inch diameter durable cover that is weather and UV resistant
Reaches 58000 BTU for intense barbecuing
No mess campfire. Dirty ash, bothersome smoke and expensive firewood is a thing of the past. Propane fueled campfire is the future.
No assembly. Set it up in minutes. Easy to use. Enjoy the smokeless and clean flame courtesy of the all-weather fire bowl.
Campfire ban? No problem. This fire pit is CSA approved. Please check with your area for other restriction rules.
Complete kit. Comes with a 10-ft hose and 20 pound propane tank
Uses a lot of fuel. A full tank of propane is only good for a day.
Doesn't heat up as much.
Prone to rusting even if covered.
Gas leaks. Connection to propane tank is not good.
2.  Fire Sense 29-Inch Folding Fire Pit
The folding fire pit comes with a 29" painted, heat resistant steel fire bowl as well as folding legs for portability. It has a cooking grate, wood grate, and fire screen made from heat resistant mesh. The folding fire pit is also equipped with a screen lift tool and a carrying bag.
Goes with you anywhere. Ultraportable, collapsible, and compact. That's the Fire Sense 29-Inch Folding Fire Pit. Put it in the trunk or stow it in your RV. You get crackling, contained fire whenever and wherever you want it.
Full size. It might be packable and portable but all the essentials are here. This portable fire pit comes with a screen lift tool, spark screen, cooking grate, and fuel grate.
Pack when not in use. Not every day is a camping day. Good thing you need only to fold the legs of this compact fire pit and stow in your closet or garage. Vinyl carry bag is included.
It's one of the cheapest and best portable fire pit for camping for its price.
You get what you pay for.
Poorly packaged
Cheap materials used
3.  Heininger 5995 58,000BTU Portable Propane Outdoor FirePit
Whether you are on a camping trip or in a tailgating party, the Heininger 5995 fire pit is the perfect centerpiece for you outdoor adventure. Use it in your patio, backyard, at the beach or an RV park. It will give you and your family enough warmth for the night. It is smokeless and burns clean.
Easy to use. No need for fire-building skills, firestarters, firewood, or even patience. The Heininger 5995 Outdoor Fire Pit is foolproof.
Smokeless and windproof. Now you don't need to shift position when the wind changes. Constant 58000 BTU means you don't have to huddle near the fire enough to burn your pants.
Easy to carry and lightweight. At 23.4 lbs, the Heininger 5995 is light and easy to move around. The included 10 ft. hose means you have a complete kit that's easy to assemble and disassemble.
Tank valve safety device. Saves fuel and keeps you safe. Opening the valve too fast triggers the safety device, so you don't use up too much fuel or burn yourself in the process.
Materials not durable enough
Rusts easily
The valve is a bit loud, making it not appropriate for a quiet camping at night.
4.  Camp Chef Redwood Port. Pro Fire Pitt
Sharing great times and stories while getting warm around the Camp Chef fire pit makes for an unforgettable night outdoors with your family or friends. With its adjustable flame-control dial, you can keep your flame at the right size – great when cooking hotdogs or roasting marshmallows! The decorative pine tree cutouts sustain the feel of the outdoors.
Easy to use and smokeless. Fueled by propane and also adaptable to natural gas. Fully adjustable using the flame control dial. Matchless ignition for fuzz-free fire starting.
12 lbs of lava rocks included helps radiate and disperse heat from the burning fuel. Safety shutoff valve means safer camping and keeps the pit from burning too much fuel.
Kit includes extendable roasting sticks, 5 foot hose, regulator, propane tank, and carry bag.
19 inch dia. fire pit. 13 inch height. 55000 BTU per hour heat output.
Durable materials. Safety rings, nickel coated and heavy gauge steel.
Needs more lava rocks to reach desirable heat
Not enough heat when camping during colder seasons
it's a bit small for groups of more than 3
Shows a bit of rust after one year of use
5.  Pleasant Hearth Martin Extra Deep Wood Burning Fire Pit
The Pleasant Hearth Martin fire pit is sure to help you impress your guests when entertaining them in your backyard or patio. The deep fire pit features the CirculAir system that allows better oxygen circulation by raising the fire wood. This results to a consistent fire. The mesh panels keep the sparks from escaping.
Sleek look. Looks good and performs even better. Get that comforting aroma and relaxing sound of burning fire wood. The robust yet sleek shape and the rubbed bronze finish make the Martin stylish yet functional.
Grill your food. Campfires are not just for heating your body but your belly as well. The included chrome cooking grid turns that bonfire to a barbecue party. You need not worry of burning your food, thanks to the deep bowl design. It's probably the best portable wood burning fire pit
Keep it burning. The exclusive CirculAir system of the Martin helps keep the oxygen circulating around the pit ensuring a bigger, more consistent fire.
Not packed well enough. Some customers received products with dents.
Dumping the ash out can be bothersome.
Paint easily flakes off just after a few uses
Material used is not durable enough
6.  BioLite FirePit Outdoor Smokeless Fire Pit Grill
With the BioLite Outdoor fire pit, you can enjoy the warmth, feel, crackle, and smell of a genuine wood campfire – but without the smoke. It can accommodate as many as 4 standard-sized firewood logs while creating highly efficient flames using its patented airflow technology.
You can conveniently carry it to your camping trips.
Nice Design. Gives you that outdoor vibe.
Perfect for outdoor grilling parties
Smoke-free. Enjoy all the benefits of traditional wood campfire, but without the smoke
Easy and convenient to use and clear.
Airflow system with 4 fan speed settings allow you to control the flame's intensity. You can do it via the power pack or via the free iOS or Android BioLite Energy app. Now that's a high tech fire pit.
It sometimes fails when used improperly
Doesn't generate power; you need to use a solar panel or charge it at home
7.  Tuscola Firebowl Steel Wood Burning Fire Pit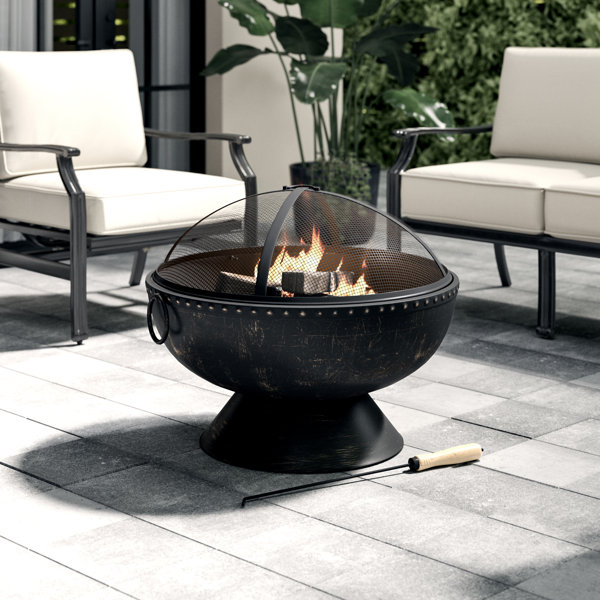 With the Tuscola Firebowl fire pit, you can transform your backyard, porch or patio into an instant social hub! The contemporary design with a distressed bronze finish offers the perfect touch to complement your home. It comes with two handles for convenient transport, and it is perfect for your outdoor adventures because of its weather-resistant build.
Nice stylish design. Something you can be proud to put in your patio. The deep fire bowl, the classy finish, and the dome design makes the Tuscola Firebowl Steel Wood Burning Fire Pit a conversation starter.
Spark screen. The included spark screen ensures there are no wayward sparks which may ruin your furniture or burn you.
Easy to transport. The two side handles make it easy to move around to make way for more space or to transfer the fire pit to any place you want it to be.
Weather resistant. Using materials that are weather resistant, it's built to last.
Some customers missing some parts when delivered
Rusts easily only after a few months of use. Might not last long.
The faux gold streaks might not be liked by all. Most customers still prefer a plain black finish for their fire pits.
8.  Sedgwick Steel Wood Burning Fire Pit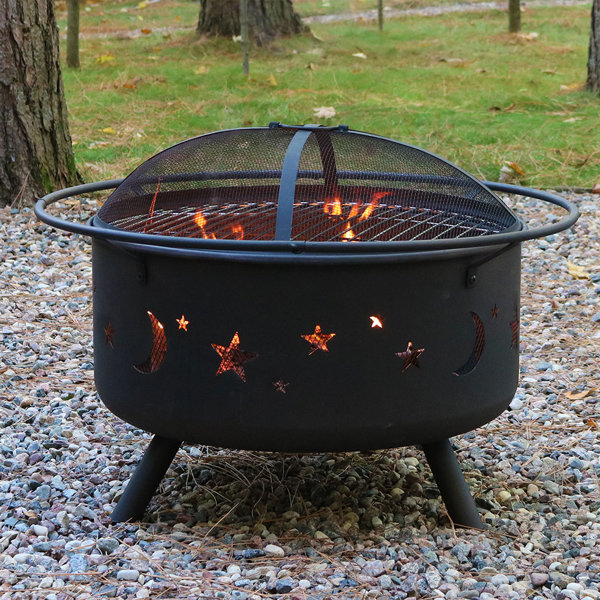 The wood-burning fire pit from Sedgwick is made from high-grad steel. It comes with a high-temperature rustic patina paint finish to ensure. The high quality fire pit is made for functionality and durability. It is portable and safe to use on a wooden deck. Just make sure to use a heat resistant barrier before placing on a wooden deck.
Budget friendly. It is more affordable than most other models in its class.
Sound and smell of burning wood. It provides a genuine feel of an outdoor campfire.
Larger fire. You can control the size of the fire, and make it bigger when necessary.
Easy to operate. Using the fire pit is simple; no complicated instructions.
Active monitoring required.
Can be tedious to clean up ashes after use.
Gathering wood and starting the fire can be time-consuming.
Smoke smell may stick to clothing.
9.  Maui Steel Wood Burning Fire Pit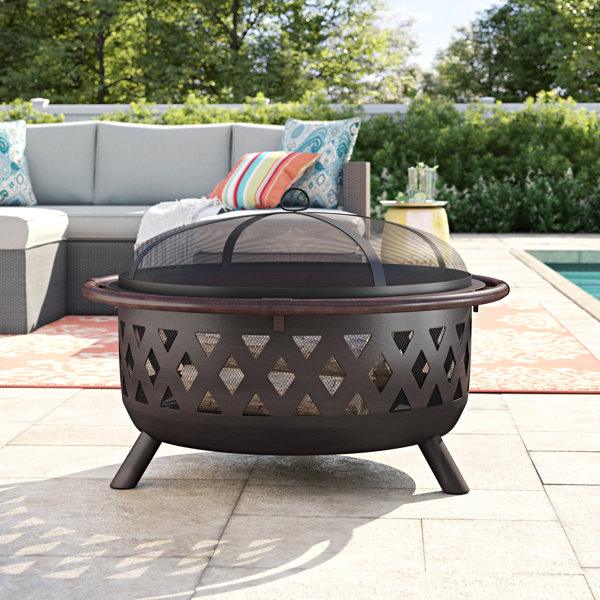 Get the genuine sounds, smell, and warmth of a campfire – right in your own backyard! The Maui Steel fire pit will make you feeling all fuzzy while snuggling near the fire with your favorite book or a loved one. Easy to assemble, the fire pit includes a weatherproof cover and a spark screen.
Includes fire pit tool, all-weather cover, and spark screen. Everything you need for that perfect camp fire in the woods or just out in your own patio.
Classic design. The Maui Steel Wood Burning Fire Pit will accentuate your patio perfectly with its ornate cross-weave pattern and deep bronze fire bowl. Beauty meets function.
Easy and light. It's light enough that you can move it around and easy to assemble, making it very portable.
The large size means you can make a large fire for larger groups.
Great value for the price. Probably the best portable fire pit (wood fueled) basing on customer reviews
Some customers receive products that have dents
Bottom gets too hot. Use on non-flammable surface or it might cause fires.
Rust spots start to appear even when the product is covered when not in use. Might not last long.
10.  Annie Crossweave Steel Wood Fire Pit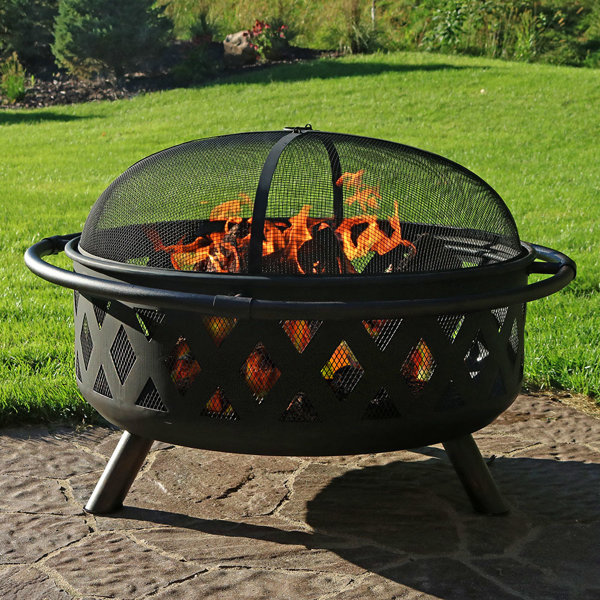 The Annie Crossweave Steel Fire Pit offers enough space for the perfect size of fire you need. It is designed for easy tending and cleaning, and it comes with a free fire pit tool and cover. But, it is not intended for use on a wooden deck, unless you place a fire proof pad for safety. The durable steel fire pit comes with a decorative design to enhance the look of your backyard or patio.
Easy to assemble. The Annie Crossweave Steel Wood Fire Pit can be assembled even by the elderly making it very portable.
Looks beautiful on your patio. The choice of materials as well as the classic design make it a beautiful addition to your patio.
Sturdy and durable. This fire pit is sturdy and durable enough to last a long time. Made of high grade steel and finished with high-temperature paint.
Complete with spark screen to keep flying embers from burning your patio furniture or starting a forest fire when you're out camping in the woods.
Deep and wide fire bowl holds more firewood for larger, longer lasting fires.
Some customers receive dented products.
Paint easily wears off after only a few uses.
Requires a fireproof base since the bottom heats up easily.
11.  Super Sky Steel Wood Burning Fire Pit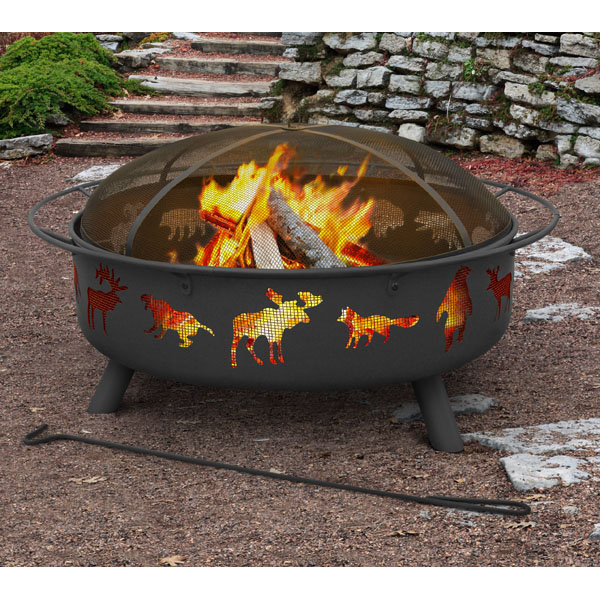 The Super Sky fire pit comes with stylish and unique cutouts that provide the perfect nighttime ambience. The 36.5", large-sized bowl provides a 962 square inches. burn space that is bigger than the normal fire size. Package includes a free fire poker and spark screen.
Large pit, large fires. With a 36.5 inch bowl diameter, large fires are possible because you have around a 962 sq. in. burning space. This size is perfect for big families or groups.
Durability meets ease of assembly. Made of high grade steel, the Annie Crossweave Steel Wood Fire Pit is very sturdy. Three legs are added for support and stability. Although it's big and tough, this fire pit is still easy to assemble.
Beautiful side cutouts. The side cutouts not only help circulate the air to provide larger fires, but also projects nice silhouettes of wild animals. This makes the fire pit perfect when camping out in the woods.
Rusts easily because of the cast iron material. Needs more maintenance compared to other fire pits.
Water collects at the bottom after a rain.
12.  Bonfire Stainless Steel Wood Burning Fire Pit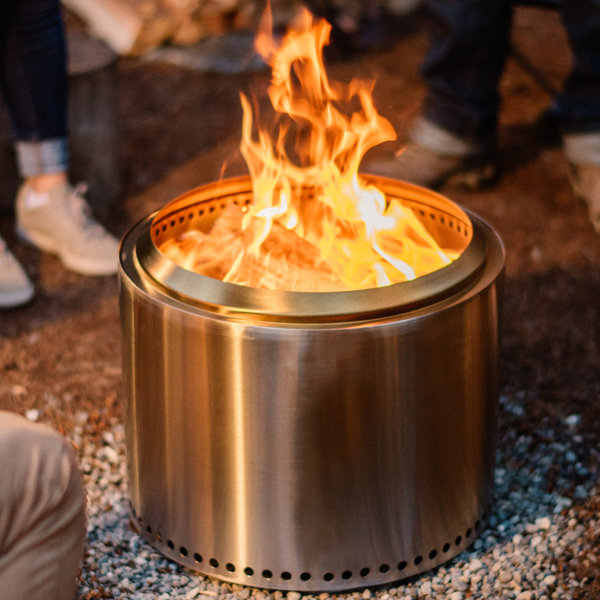 The Bonfire Stainless Steel Fire Pit boasts of its reputation as the most unique fire pit in the world. This is because of its minimalist outdoor design and its ability to push the limits of combustion airflow efficiency. Best of all, its meticulous engineering allows you to enjoy a unique campfire experience. You and your family or friends will be mesmerized by the flames as you enjoy bonding moments together.
Unique minimalistic design. It's the most distinctive design on the list of these portable fire pit reviews. While others use steel or bronze as main material, this one uses stainless steel. Rust is a common complaint on fire pits, but definitely more on this one.
Designed for airflow efficiency for a more efficient combustion, thanks to the unique double wall that translates to ultra-clean gasification. The experience you get from using the Bonfire Stainless Steel Wood Burning Fire Pit cannot be duplicated by other products.
Burns cleaner. Use fire wood without the smoke because of the efficient airflow.
Durability meets good looks. If you're into modern design, this is the perfect fire pit for you.
Lack of weatherproof cover means limited usage
Ash gathers at the bottom too quickly reducing its efficiency
Portable Fire Pit Buying Guide
Now that we've seen 12 of the best portable fire pits available on the market, we've learned what makes each one stand out and also what they lack. So how do we select a good portable fire pit?
Know what you need. Each portable fire pit has its pros and cons, as well as ideal uses. If you're looking for more than a plain fire pit to warm your camping night and you plan to cook, go for a product that includes a grill and specifically designed for grilling.
Materials used. We all need something that will last a long time and this includes portable fire pits. Although most, if not all fire pits are made of metal, the durability of the product will still depend on the grade of the material used. Cheap fire pits use thin metal sheets that are prone to dents. Heavy gauge steel may make the fire pit not easy to move around, but the end product is sturdier. To prevent rust from creeping in, most fire pits are painted with a temperature resistant paint. While this can slow down oxidation for a time, it won't last forever.
The main feature of a 'portable' fire pit is how easy you can carry it around and assemble. Setting up your fire pit should not take a lot of your time. It should be up and available in less than a couple of minutes. The same goes when packing it up.
Fire pits should be built rugged and maintenance should be minimal. If you find cleaning and caring for your portable fire pit too tedious, then it might be time for you to look for another brand or model.
Conclusion
So which among the list can be considered the best portable fire pit? Well, it will all depend on your preferences.
What is the usual size of your group? Larger fire pits can provide more heat for more people.
Do you want to cook or grill food over the flame, go for a dual-purpose pit that can be fueled by fire wood or charcoal.
How often will you carry your portable fire pit to a camping site? Lighter materials mean it will be easier to carry around. Some can even be folded and come with a carrying bag.
These and maybe even more factors will decide which the appropriate portable fit for you.