A rain shower head is specifically engineered and designed to deliver the optimal shower experience to all its users. What's even better is that it has cool features like choosing different settings, such as a drenching rain shower or a saving sprinkle mode.
If you are planning to revamp your bathroom to make it a more suitable place for shower relaxation purposes, then a good rain shower head should be on your list of to-buy items.
Advantages of a rainfall shower head
Now, you might be asking yourself, what makes a rainfall shower head so special anyway? Well, there are several advantages that you can get from buying a rainfall shower head as compared to just sticking to the traditional shower heads.
Here are a few benefits that you can enjoy:
More Water Flow
Because these shower heads are designed to emulate the way rain falls, you can expect more water to flow out of the showerhead. That way, you will be completely drenched in water. Taking a bath under a rainfall shower head will be exactly like taking a bath in the rain but only with cleaner water.
Wider Coverage
Most of the mainstream rainfall shower heads have very wide faces with many holes. That is because these shower heads are designed to have a wide coverage. This adds to the overall experience of being close to taking a bath in the rain. You will have your entire body soaked not leaving any part out of the water.
Calming Feel
For the more traditional showers, you might have felt pain when the jets were spraying too strong. Well, with rainfall shower heads you won't have to feel that anymore.
Rainfall shower heads can spray out water the way the sky lets out rain drops. You will feel every drop of water trickle on you calmly making you more relaxed when you take a shower.
Customized Water Patterns
Lastly, these shower heads usually come with customized water patterns to fit the way that you want to take a bath. As mentioned above, the best ones have at least 4 shower patterns for you to choose from.
The good news is that there are some that have more than four. With a number of patterns to pick, you can really enjoy your shower exactly the way you like.
What Features Should You Look For?
By knowing what to expect from the best rainfall shower heads and by knowing their advantages over traditional showers, let's go more into the details of how to choose a good shower head.
If you really want the best of the best, then you must have a list of criteria that you can follow.
This is where our buying guide comes in handy.
Our buying guide lists down some of the most important things that you should take into consideration when you buy a rainfall shower head.
Always keep these factors in mind when making your pick:
Material Used
The first thing that you have to take into consideration would be the material used for making the shower. This is important because it determines the durability of the shower head. While a lot of older models make use of plastic, metal ones are more recommended since they last longer. They also have a nicer finish that will look better with your bathroom.
Flow Rate
The next thing you have to take into consideration is the flow rate. Now, the flow rate refers to the water pressure used to spray water. Obviously, a higher flow rate will mean a stronger force pushing the water out. If you are considering buying a rainfall shower head, then you will not want one with a flow rate that's too high otherwise the shower won't be very relaxing. The best flow rate for relaxing rainfall shower heads would be around 80 PSI. Anything higher won't be very comfortable anymore.
Water Efficiency
The water efficiency is determined by how much water is being used per minute. This is also directly related to the flow rate. When choosing a rainfall shower head, you'll want to find one that sprays only 2.5 gallons of water per minute. Any more would severely affect your water bill.
Number of Spray Patterns
As mentioned above, there has to be at least 4 spray patterns for you to choose from. The cool thing about rainfall shower heads is that there are many patterns available for the showers. Most brands just pick 4 out the many choices for their products. You just have to choose the patterns that appeal to you the most and pick the brands that have these patterns.
Other Features
Lastly, you can consider the other features that the shower head provides. Other features would usually refer to the features that make the shower experience more relaxing.
Some of these features include a LED light that indicates the temperature of the water or maybe a small mist generator that's built in the shower. You can check out these other features while looking at your desired products and choose the ones that appeal to you the most.
What is the best rain shower head?
When determining which rain shower head is the best, you need to take a look at the features. For us, the best rain shower must meet a certain standard when talking about features.
So, when you're making your choice, make sure you pick the one that has these functions:
Dual Function
Dual function showers are in right now because they give you the convenience of having one stationary shower and one handheld one which you can use for focusing on certain parts of your body.
Gone are the days when you only can choose one. There are many showers that have dual functions for your convenience.
Shower Pattern
At the very least, your shower must have 4 shower patterns including a full rain pattern. You should have the choice to have the pattern you like. The best shower head will have a whole range shower patterns that you can choose with special emphasis on full rain types.
Full Coverage
Lastly, a good shower will have adequate coverage. Coverage usually refers to the shower head's size. A good size will be able to fully cover your body not leaving any place dry. This is ideal for the best rain shower head.
The Top 15 Best Rain Shower Heads (Our Most Recommended Brands!)
 1. FabricMCC Rainfall Round Shower Head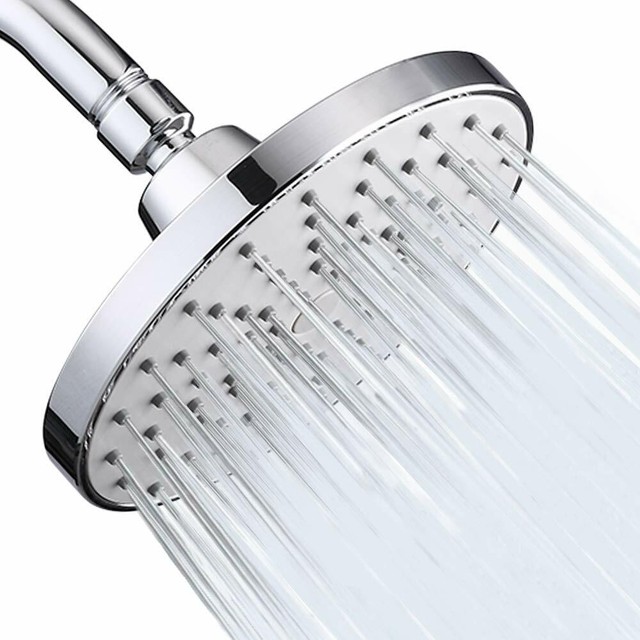 This is one of the best shower head brands on the list as it is also one of the most luxurious. It is very sleek and thin, giving it a very modern design ideal for any bathroom. It has high-quality standard features and has a very nice finish. It is the dream luxury shower head for anyone who loves beautiful interior designs for their bathroom.
It has the perfect amount of water pressure for your shower experience.
It is made out of very durable plastic with a chrome finish, making it leak and drip proof.
The chrome finish also gives it a very classy and sophisticated design.
It is very durable and has a very long shelf life.
It has controls that can easily regulate the water pressure.
It has very small nozzles, making it feel like you are really experiencing a rainfall while you shower.
2. Vida Alegría Spa Shower RAIN Oil Rubbed Bronze Style Shower Head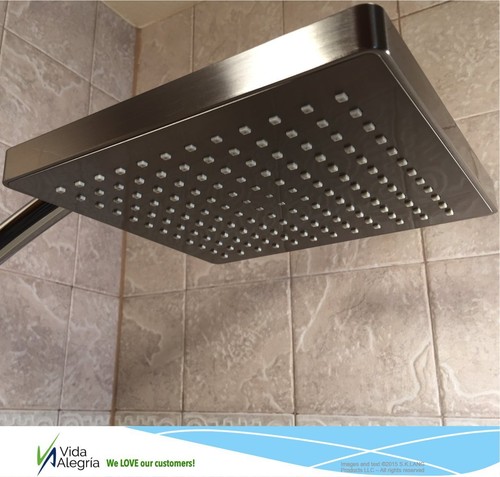 When it comes to durability and solid installation, this brand is definitely one of the best rainfall shower heads that you can find on the market. It also has a lot of other cool features and accessories such as the Shower Arm Extender that you can buy along with this shower head.
It has 144 jet nozzles that spray simultaneously to give a very refreshing rainfall
It has very flexible nozzles that you can easily de-clog with a simple flick of the finger.
It is made out of oil rubbed bronze for adequate coverage and straight shooting water flow.
It is also made out of highly durable brass to prevent any leaks or drips.
This solid brass material also gives it a very long shelf life.
It has standard water pressure when you take a bath.
It is extremely easy to install.
3. SR SUN RISE Luxury Square Stainless Steel Shower Head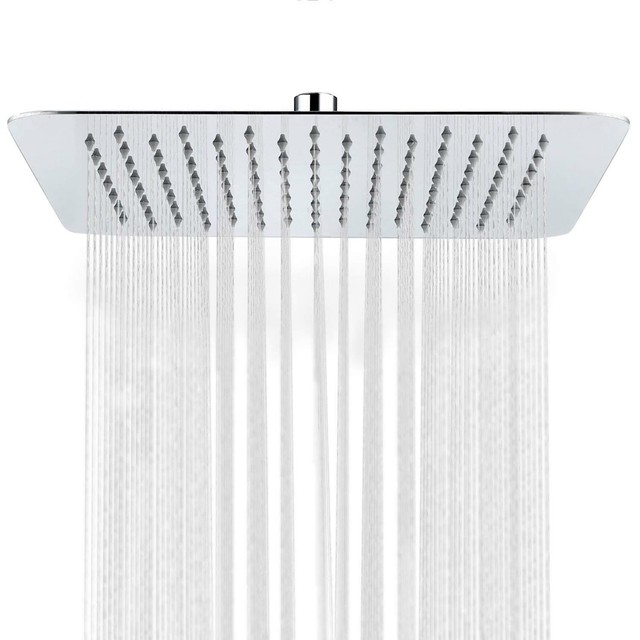 This brand of shower head is a strong high pressure shower head that is good for people who like to take long showers. It's most known for its consistent power and amount of water. It is able to spray out in just one time. This makes it one of the strongest shower heads that you can find on this list.
It has an easy wall mount feature that allows for very easy installation.
It makes use of an air energy technology, which makes it able to retain its power even when it is not in high-pressure mode.
It has a number of silicon nozzles that allow you to de-clog them easily to prevent build up or dirt or limescale.
It has a chrome plate finish, which gives it a very classy and modern type of look.
The chrome plate also ensures that it is quite durable and can resist corrosion.
4. Arzo Touch Clean Rain Can Shower Head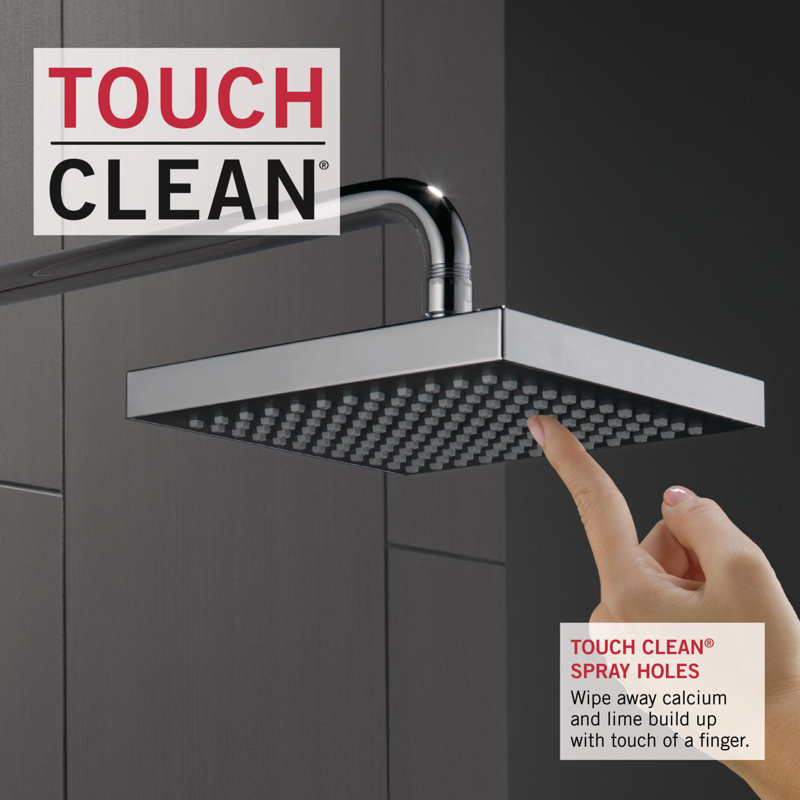 The Arzo Touch Clean Shower Head is a simple yet high-grade shower head that is durable and sturdy. It has standard features and quality, but it is mainly known for its long shelf life.
It has soft rubber nozzles that allow you to unclog all of the limescale, calcium, and dirt buildup in the shower.
It has a soft rain setting that allows you to experience a calm and gentle type of shower.
It has a single function rain can type of architecture.
It has a high shower head height.
5. Premium Velocity Multi-Function Rain Shower Head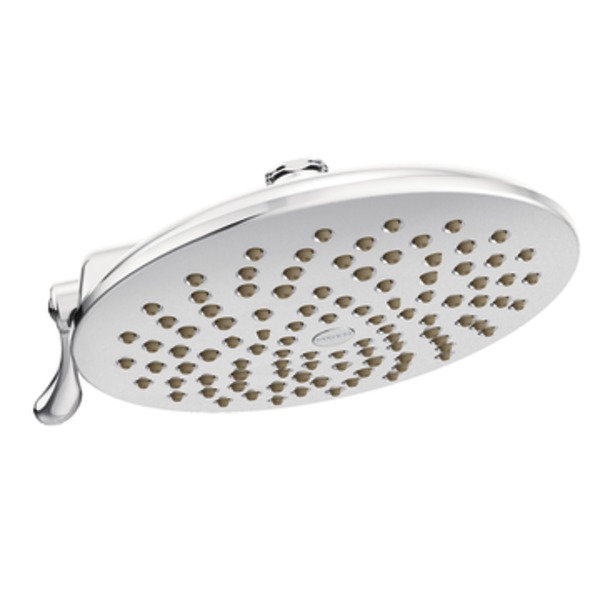 This popular rainfall shower head is manufactured from only the best materials to ensure its quality and durability. Not only is it fully functional, but it also has a really sophisticated finish, giving it a nice design. Plus, it has the patented self-pressurizing immersion feature specially created by Moen.
It has a multi-function full spray feature for higher concentration.
It has the patented self-pressurizing immersion feature by Moen, allowing it to spray water three times as powerful as other brands on the market.
The best rain shower head with high pressure for a total shower experience.
It comes with a mounting fixture for easy installation.
It comes with a lifetime warranty in case you need to change defective parts or need repairs.
6. American Standard Rainfall Volume Shower Head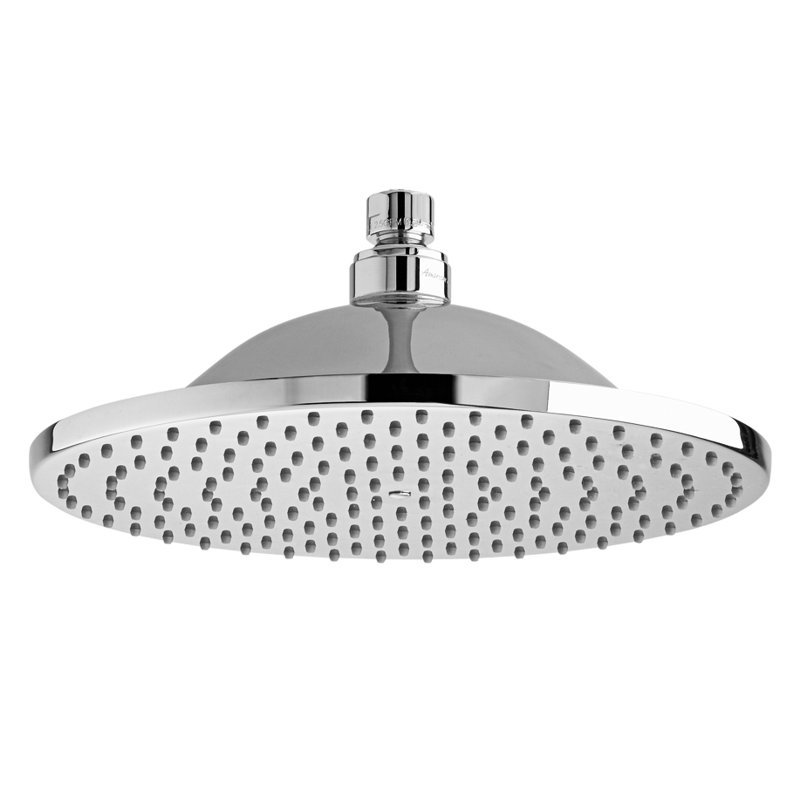 American Standard's Rainfall Shower head is one of the best waterfall shower head brands for calm and soft showers. It is specially made to give full shower coverage without too much power. This allows for a very calm and relaxing shower experience.
It has a very solid brass construction for durability.
It has an adequate flow rate.
It has a very nice polished finish, making it a great decoration for your bathroom.
It is one of the more affordable luxury rainfall shower heads.
7. Grohe Starlight Rainshower Retro Shower Head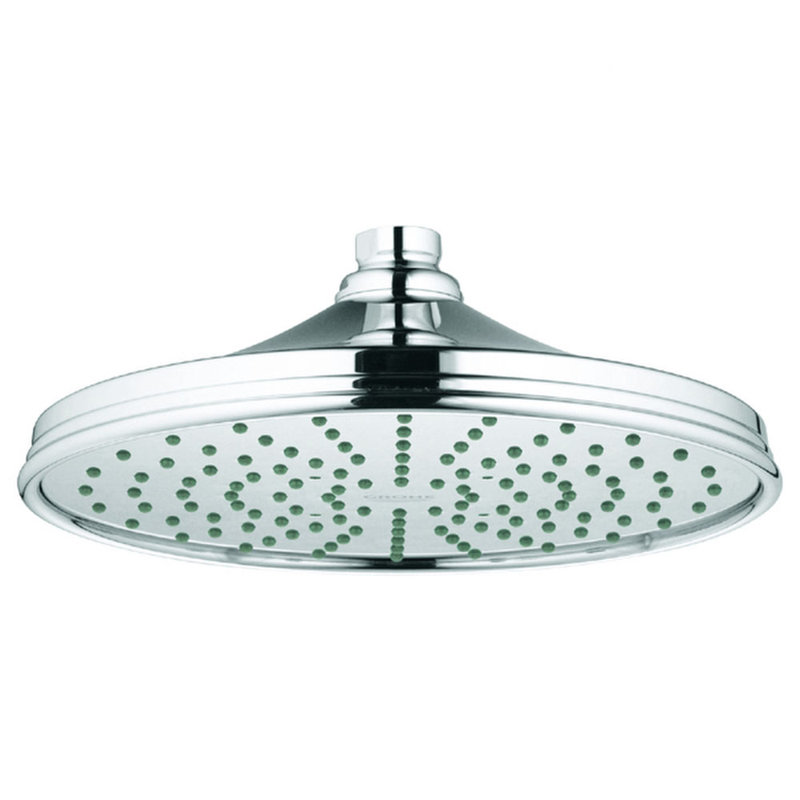 This brand is known in rain shower head reviews as one of the most stylish rainfall shower heads. It has a wide range of shower modes and even has one of the most breathtaking designs for any shower. Most importantly, it carries the patented Rainshower Jumbo feature, which allows full coverage and full power.
It has 120 soft spray nozzles that allow you to unclog any limescale or dirt that's stuck in the hole.
It has adjustable spray modes for more variety.
It has a very retro design that can blend in with most interior designs.
It has a special anti-lime cleaning system to get rid of any limescale in any part of the machine.
It has a Rainshower Jumbo feature that gives you full coverage, thus keeping your whole body wet.
It is made out of very sturdy and durable brass material.
It has the Grohe Starlight finish making it look very classy and making it have a long shelf life.
The shower head has a very strong PSI flow starting at 7.
It comes with a ceramic sealing disk
8. Hansgrohe Raindance C 240 Shower Head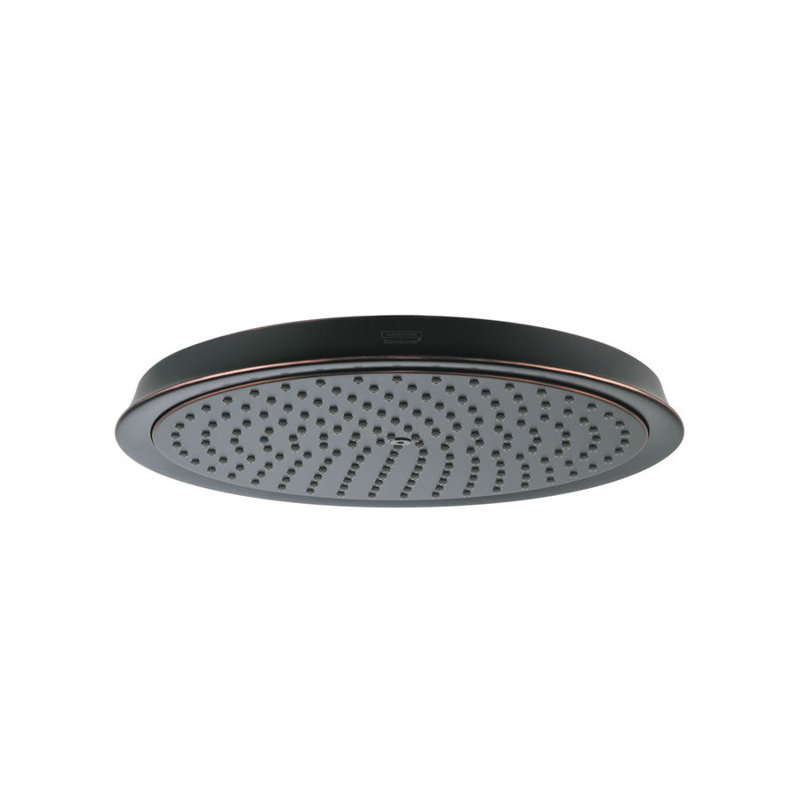 There are a lot of good rainfall shower head reviews about this brand for good reason. Its primary feature would be its cleaning and filtering system due to its QuickClean technology. It is able to clean off dirty water and all kinds of residue. It also comes with flexible nozzles to take out limescale.
It has a very big spray face for higher coverage.
It uses an AIR-injection technology for higher power and pressure.
It comes with a female inlet.
It has a Quick clean technology for quick and effective cleaning.
It has a no-clog spray channel for preventing limescale build.
It has a RainAir spray mode.
9. Dreamspa 3-Way Rainfall Shower Head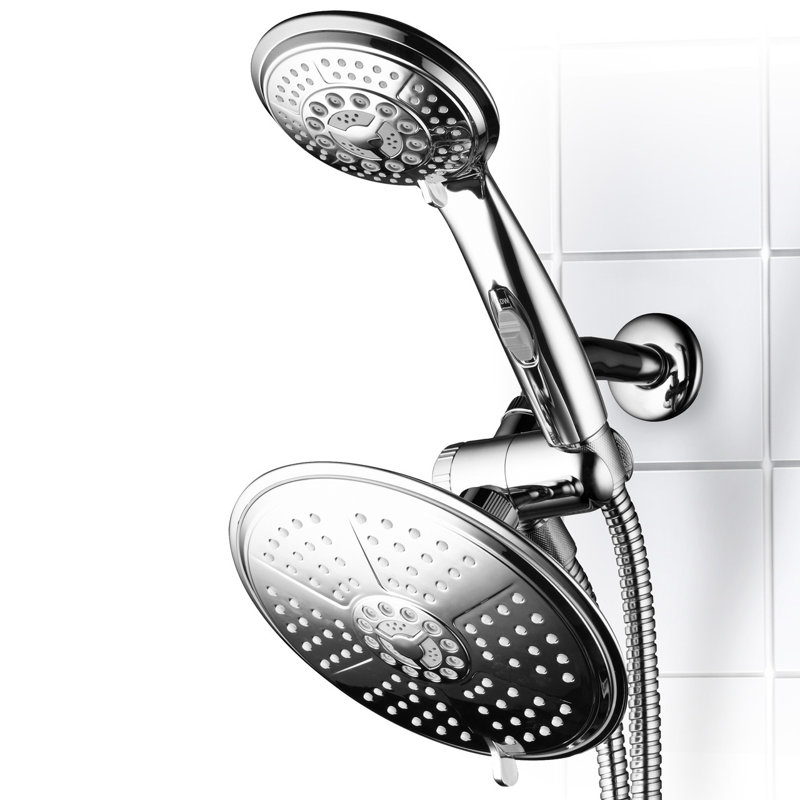 This Dreamspa 3-Way Rainfall Shower Head makes use of two luxury heads along with a handheld shower head which can be used together. It has 6 shower modes that allow you to enjoy different shower patterns. It is also really easy to install and has a really cool looking design to boot.
It has a very nice chrome finish that allows it to be very durable and have a very nice design.
It has a very powerful spray.
It comes with a handheld shower that you can use.
It has 38 enjoyable shower patterns that you can easily switch from.
It has main settings for the shower such as power rain, mist, pulsing massage, rain, rain mist, and economical water saver mode.
It has a very easy installation.
10. Showerhaus Starburst Rainfall Showerhead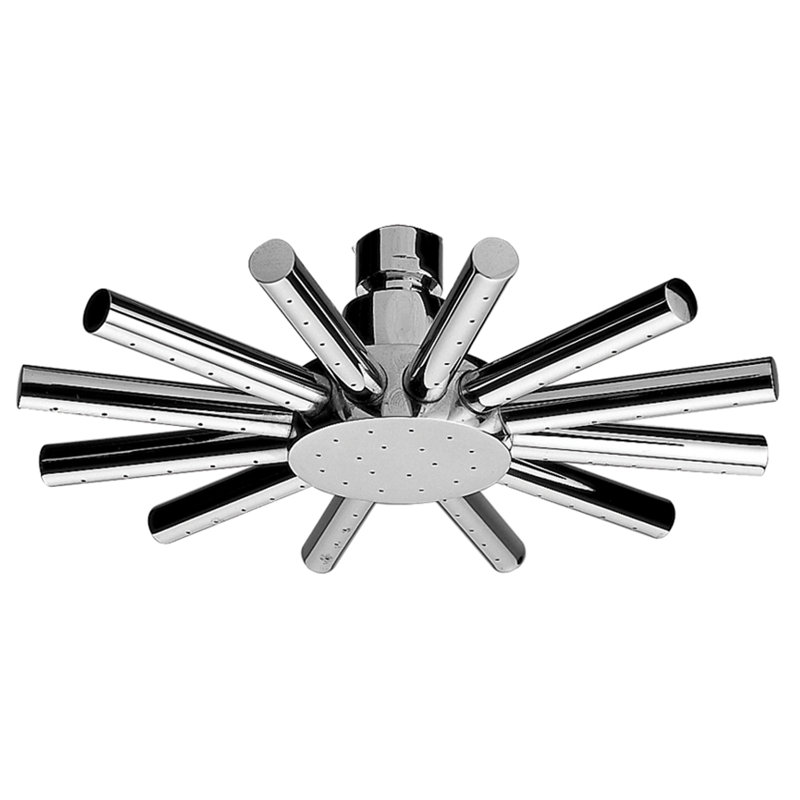 The Showerhaus Starburst shower head is a very popular rainfall showerhead that is very lightweight and extremely easy to install. It is also very durable and has a long shelf life.
It is made from the popular Showerhaus collection.
It is made out of pure and solid brass, making it very durable.
It uses a very relaxing rainfall mode for high coverage.
It has an adjustable ball joint.
11. Alfi Ultra Thin Square Rain Shower Head

This brand of shower head is one of the most popular ones on the market recently, according to a lot of rainfall shower head reviews. It is very stylish as it has a very sleek design and has a very thin architecture. This gives it a very simple but sophisticated design. The shower itself is very light, which makes it easy to handle and maneuver.
The body of the shower head is made of stainless steel for long shelf life and durability.
It has a long but wide square design for coverage purposes.
It has a swivel adapter for you to change the angle of the shower head.
It has flexible nozzles, allowing you to unclog all the dirt inside.
It comes with 169 nozzles for a total rainfall experience.
It can be installed easily to either a wall or ceiling.
It has a diverter volume control faucet.
12. Sumerian LED Rainfall Showerhead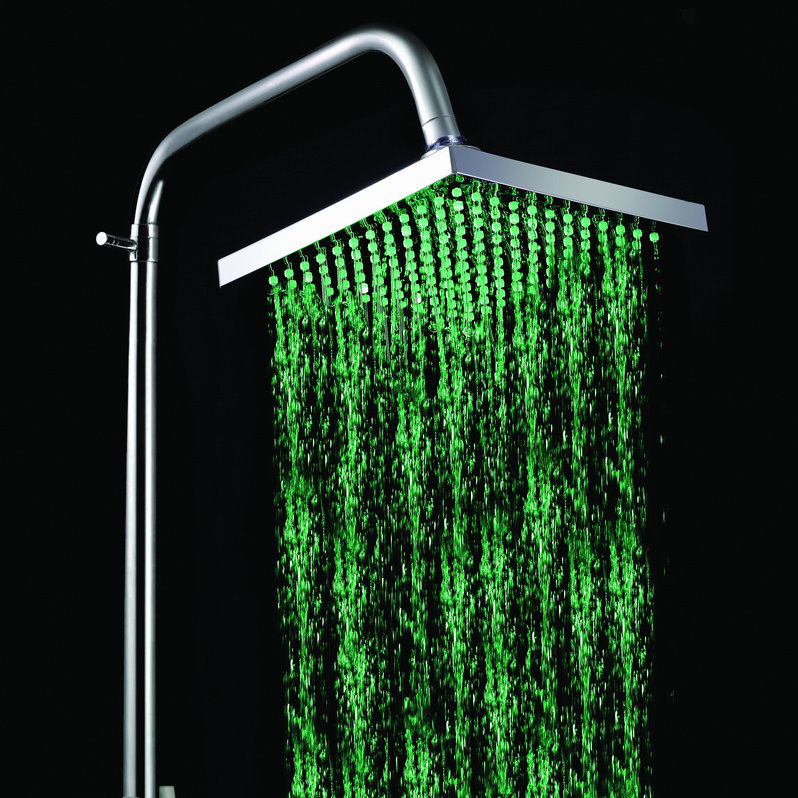 The Sumerian LED Rainfall shower head is very unique in a sense that it includes LED lights. It has standard shower head functions but with very beautiful aesthetics. It is guaranteed to give you an awesome shower experience.
It comes with various colored LED lights for your preference.
It is made out of A grade ABS material.
The LED light is automatically activated once the shower is turned on.
It has a chrome finish which allows for high durability.
It has a very efficient temperature sensor.
13. Danze Mono Chic Single Function Shower Head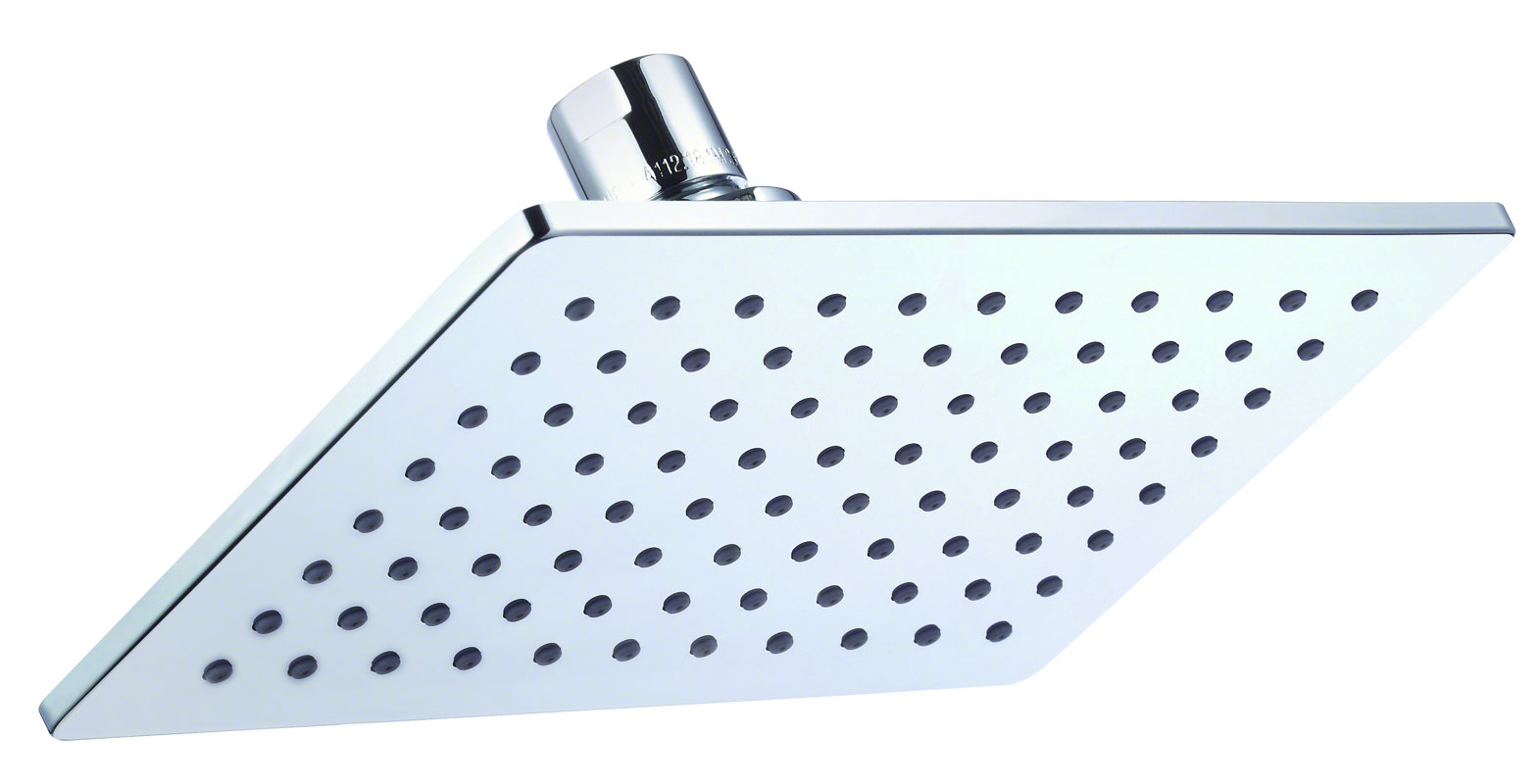 This simple shower head is a rectangle shaped head with a special air injection technology. It is also a single function shower head with a strong sprayer.
It has a long rectangular head for good coverage.
It has a brass ball joint for easy angling.
It is a single function strong spray.
It uses air injection technology.
14. Kohler Contemporary Rainhead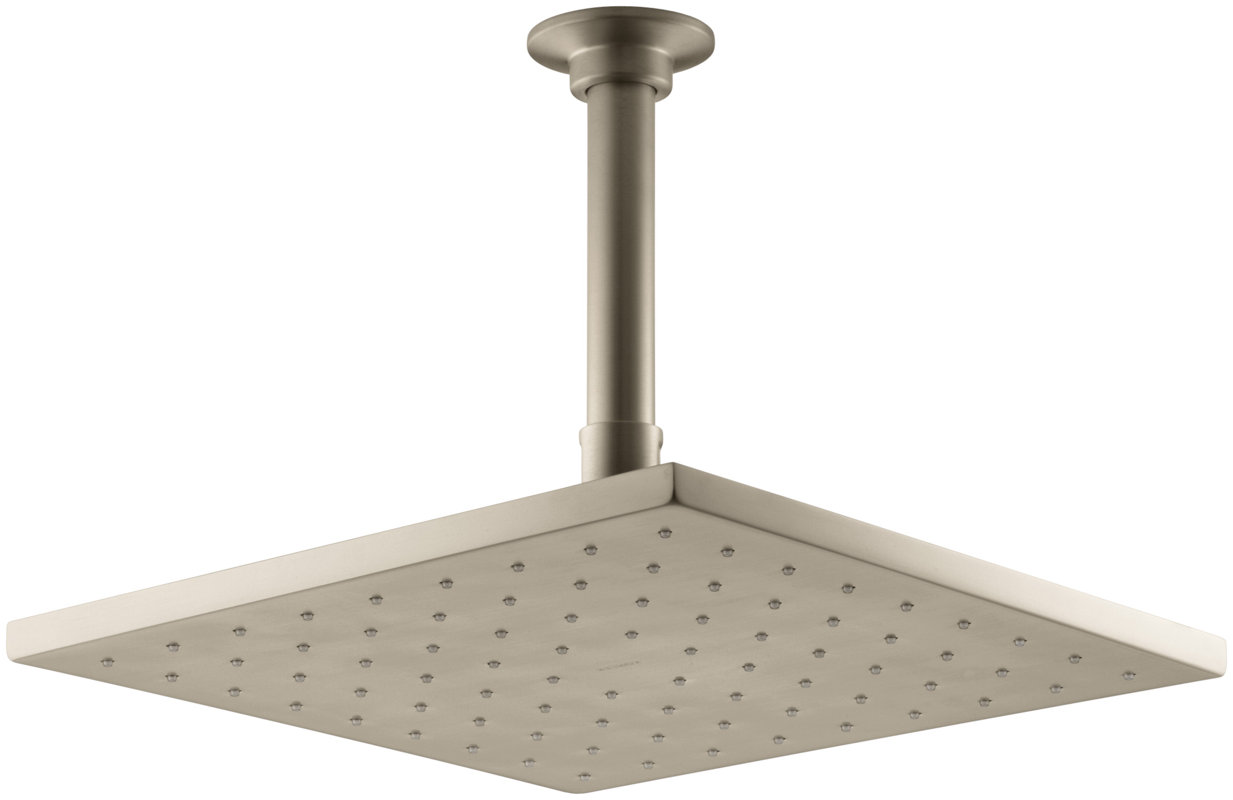 This Kohler model is most known for its Katalyst air induction technology, which enables the shower to spray out large water droplets. This gives very high coverage and powerful pressure.
It makes use of an innovative Katalyst air induction technology.
It has a very high-pressure flow rate.
It has a very modern design.
15. Kingston Victorian Shower Head Support Combo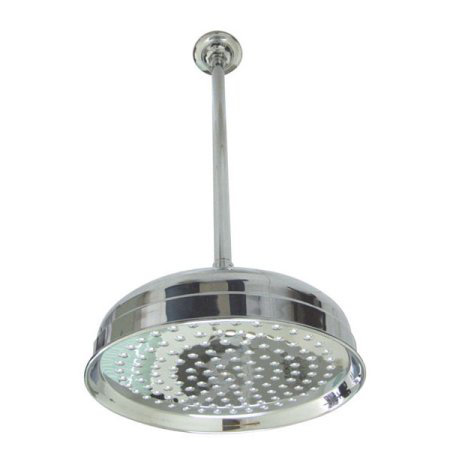 Just as the name implies, this Kingston model has a Victorian design. Not only does it have a very classy Victorian design, but it also has a very sophisticated rain drop pattern, which makes you feel like you are taking a shower in the rain. It is also mountable on the ceiling adding to the full effect of the shower.
It has a vintage Victorian design.
It comes with a raindrop shower pattern.
It has a high flow rate.
It is very lightweight.
It has a total of 66 nozzles.
Frequently Asked Questions
After discussing the buying guide, you might still have a few questions at the tip of your mind. To help you out, we've compiled a list of some of the most common questions that people ask us about rainfall shower heads plus the answers.
Check them out below:
What is rainfall shower head?
To put it simply, a rainfall shower head is a type of shower head that sprays water in a way that emulates rain drops.
How much does a rain shower head cost?
This will really depend on the brand that you're planning to buy. However, they would usually range from $30 to up to $300. The price would also depend on the features that the individual product has.
Is a rainfall shower head good?
Yes, it is definitely a good type of shower head. Compared to traditional ones, it is more relaxing and has a better coverage.
What is the best brand for shower heads?
Some of the best rain shower head brands include Moen, American Standard, Kohler, and Hansgrohe.
What is the most powerful shower head?
When we talk about power, we usually refer to flow rate. The Moen Velocity model is one of the more powerful rain showers that you can find in the market.
How big should a rain shower head be?
A decent shower head size would have a diameter of approximately 9 inches. That's enough to fully cover your body in water. 
Conclusion
These 15 products are some of the best rain shower head brands that offer great value. These 15 brands, while having their own pros and cons, are all top quality products that are very popular among customers. While others think that rain shower heads are not that necessary, but taking good showers is a luxury that we all deserve.
Ready to bring your shower experience to the next level? Get a rain shower head today! Let us know what you think of this article. Leave us a comment below!