A shower is just a shower, right? And a shower enclosure is just a shower enclosure. Well, not if you are remodeling. When remodeling, you want the best shower enclosures for your buck, and deciding on what is right for you takes time, planning, and a lot of research.
Buying Guide for The Best Shower Enclosure
Have you got a hard time deciding which best shower enclosure to buy? Let this guide steer you to the right decision.
Here are the things to consider before buying a shower enclosure:
Bathroom Space
You might be wondering, "Why do I need to consider my bathroom's space when buying shower enclosure?"
Well, common sense dictates that size is key to having a balanced and well-designed bathroom space.
You have to evaluate how much space do you have for the enclosure. If you got quite a limited space, a permanent opaque enclosure may not be ideal as it has a tendency to make the area even narrower.
Also, you have to take into account the space for door opening and other features that you would want to have, such as handle, towel racks, and shower caddy.
For small to medium-sized bathrooms, a 2-wall shower enclosure is popular as you only need one side for the panel and the other for the door.
Shower Enclosure Shape
Aside from the space, of course, you have to think of the shape of your enclosure. The most common and the classic shapes are the square and rectangular enclosures.
The square shape is the best shower enclosure for most bathroom spaces. The shape is practical and can be easily installed in the corner of the room.
However, recently though, the quadrant and offset shower enclosures are starting to catch the attention of many. The quadrant enclosure can fit between two walls but has a curved door panel. Meanwhile, the offset is perfect for large bathroom spaces.
Shower Enclosure Door
So now maybe you've decided on the shower enclosure shape that you want. By this time, you should bear in mind the style and design on your shower door enclosure.
The most practical and space-saver pick for me is none other than:
The sliding door shower enclosures are the best option for those who want to maximize the space of their bathroom. The 2 doors basically just slide in and out from the corners of the enclosure.
Still the pivot door (the standard/normal door type) remains a great choice for spacious baths.
Shower Enclosure Features and Ranges
There are actually two popular type of ranges to choose from, namely the modular and the all-in-one.
So, what's the difference between the two and which is a better choice?
The modular enclosure is the best shower enclosure for those who want to mix and match the style and fixtures of your showers. This means that you get to decide on the enclosure, as well as the panels and door.
Enclosure Finish
Lately, glass style shower enclosure has taken the market by storm.
But did you know that there are various finishes for a shower enclosure?
Find out what the 3 popular choices for shower enclosure finishes:
Transparent- simple, classic yet elegant. A transparent shower enclosure is common in hotels and resorts. In addition, this type can be integrated in any bathroom interior.
Mirror- Using mirrors can widen up the space of a bathroom but make sure of the placement.
Smoked- This is what most bachelor bathrooms have in common. You know it's a man's bathroom when you see contemporary yet timeless grey or black tint glass.
Best shower door/enclosure reviews
Here follows a few of what our team deems some of the best shower doors and shower door enclosures around.
1.  Dreamline Prime Quadrant Shower Enclosure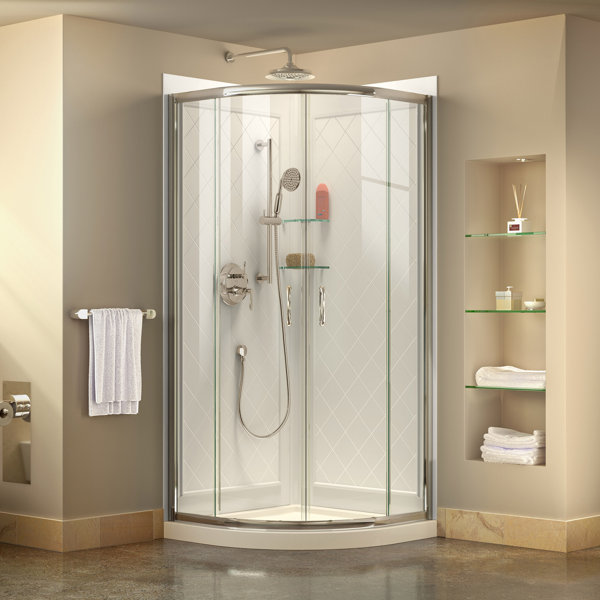 Dreamline Prime Quadrant Shower Enclosure is true to its word, a prime product that only offers the best features. This one includes a white base with only the front portion of the enclosure installed with tempered clear glass.
This enclosure also includes a shower shelves and a sliding door to save space.
Best Features:
This is the best shower enclosure for those who want an easy to install item for mid-sized bathrooms.
The tempered glass used is of great quality which can resist high temperature.
The door is also frameless to make the shower space look spacious.
What's amazing is that the door installation is reversible.
It is suitable for apartments and even studio homes.
2.  VIGO Square Shape Shower Enclosure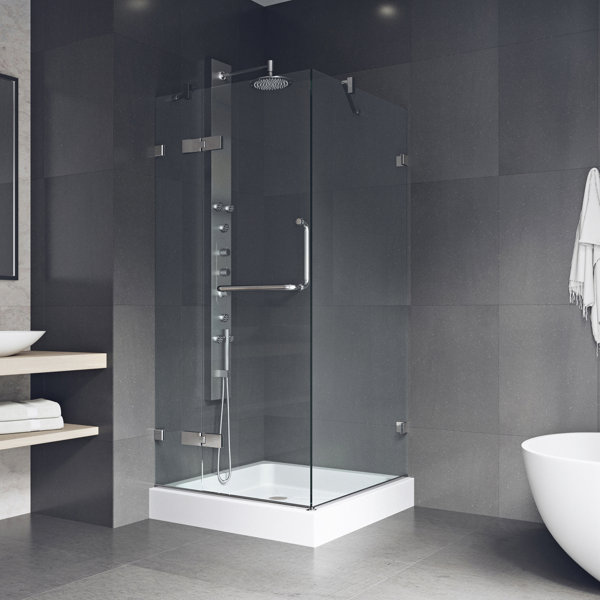 Square shower enclosure is perhaps the most popular shower enclosure shape since the product first came out in the market. The shape itself is ideal for movement so that you can fully enjoy your shower.
This is built with a clear and high-quality glass material; tempered glass to be specific. The shower enclosure also has a built-in base. The door for this item is the standard hinged door, so make sure to plan the placement so as not to obstruct anything.
Best Features:
The tempered glass used here is certified and proven to be leak-free.
The door also has a magnetic catch, which actually help close the door tightly.
The base is made from acrylic which is reinforce with fiberglass.
No complicated cleaning routine is needed to maintain this product.
Can instantly make your bathroom luxurious despite having medium space.
3.  VIGO Quadrant Shower Enclosure
VIGO is committed to bringing the product that their customer wants. So, when people demand a space-saving version of their square shower enclosure, they offer the quadrant version.
This quadrant shower enclosure is also built from clear lass with acrylic base. The door, however, is no longer the hinged one. Rather it makes use of a round sliding door.
Best Features:
IT has a true contemporary design that would look absolutely stunning in any modern bathrooms.
The model brings a fun twist to the classic square shower enclosure with its frameless sliding door and exceptional functionality.
Its pristine aesthetic is well-loved by many interior designers.
The frame finish is available in two beautiful colours, chrome finish and stainless steel finish.
The door installation for this one is on the left.
4. VIGO Gemini Neo-Angle Shower Enclosure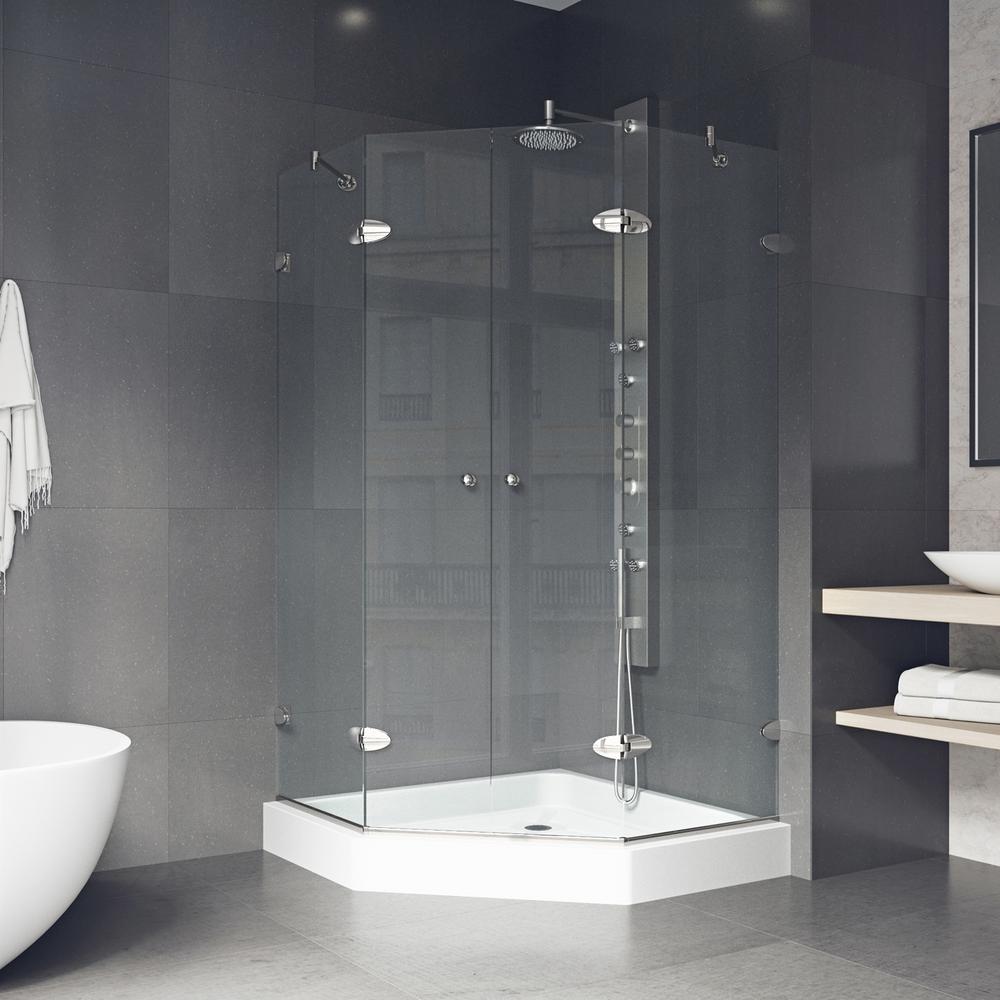 With its clear glass panels and brushed nickel finishes, this shower enclosure fits into any difficult corner perfectly. Add to this the low profile base, and your bathroom becomes a stylish haven.
Product features that need mentioning include:
Best Features:
Easy to install
Leak proof protection
Clear PVC strips and full magnetic catches ensures a watertight seal
The double doors in the French design add a stylish touch
The central opening leads to easy access
Door handles and other shiny additions are made of brushed nickel solid stainless steel
Holes are pre-drilled for handles and other features for ease of installation
Semi-frameless enclosure with pivot shower doors
You can see Neo Angle Shower Enclosure Installation on Youtube:
5.  Sterling by Kohler Intrigue Neo-Angle Shower Enclosure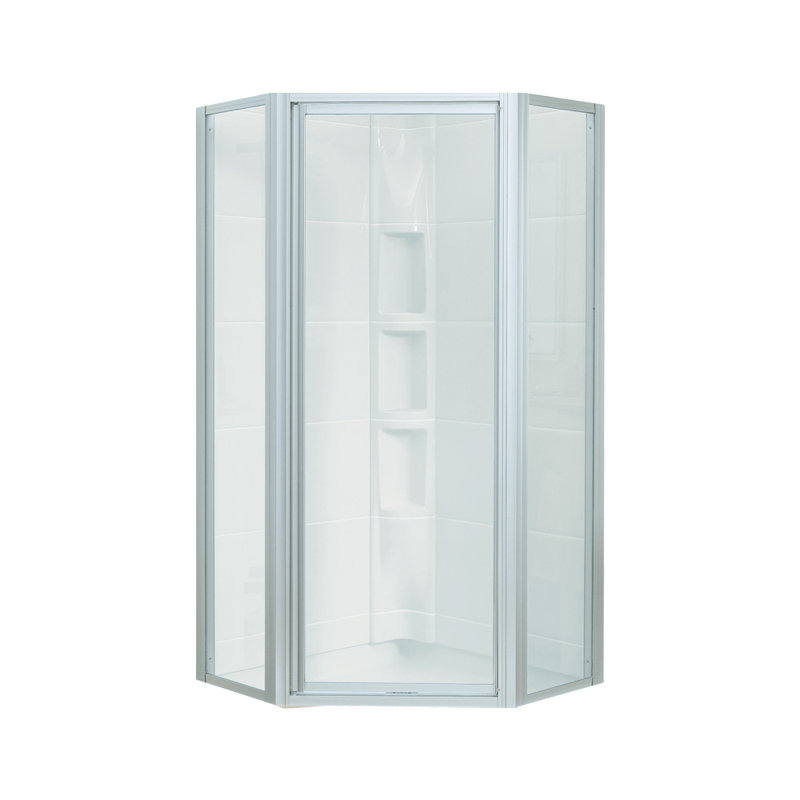 This luxurious shower enclosure which is the brainchild of Sterling by Kohler is unique but worth it.
A lot of people may not like the unconventional shape of the shower enclosure but for those who want to bring something fresh and new to the table will definitely love this one.
It is a quadrant shape enclosure but has a fixed glass panel that is divided into 3 sections. The frames are all in white, as well as the backdrop.
This one is framed so I wouldn't suggest this to small bathroom spaces.
Best Features:
The door installation for this shower enclosure is reversible.
Its shape is quadrant with neo-angle.
The glass type is not ultimately clear but rather a rain glass.
Made from the USA so the quality is guaranteed and tested.
A lot of people praised this enclosure for its precise engineering coupled with durable materials.
6.  Ove Decors Premium Quadrant Shower Enclosure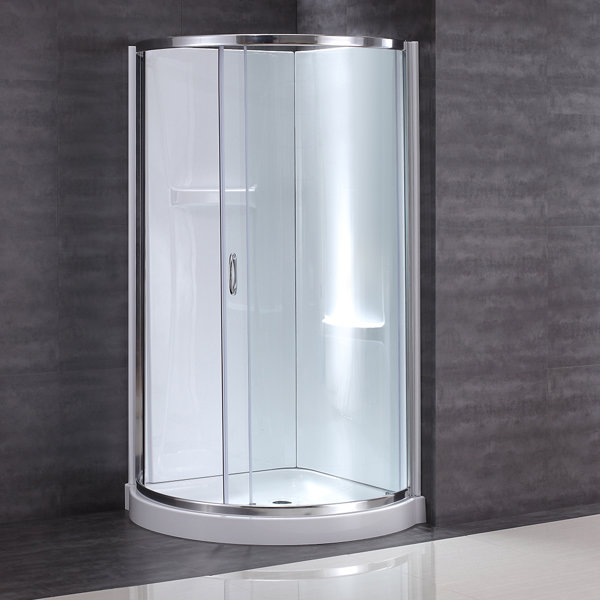 One thing that sets Ove Decors apart from the other shower enclosures from this list is its all-in-one features.
It includes a shower base and drain, plus all the materials used in this product are all premium quality. This is a quadrant round shape enclosure with a semi-frameless design. The door is sliding and has a reversible installation.
Best Features:
As mentioned, it's prime selling point is its amazing features, from the base, handle, and other fixtures.
The design even allows adjustment for square walls.
It is also very easy to install and maintain.
Looks modern but will not get out of place if your bathroom has a vintage feel.
This is also more spacious than the other usual corner shower enclosures.
7.  Aston Langham Rectangular Shower Enclosure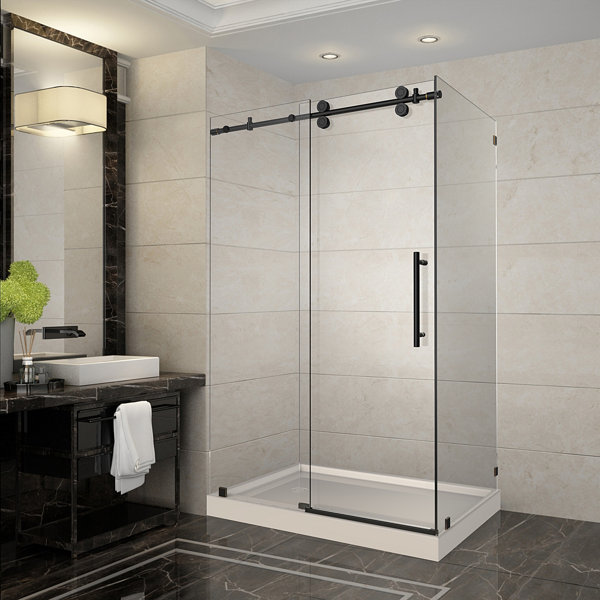 Last, but definitely not the least, on our list is this Aston Langham Shower Enclosure. This is a rectangle shower enclosure equipped with a base and clear tempered glass panels.
This is quite spacious, so it matches well with medium to big bathroom spaces. Unlike the usual chrome or stainless steel finish, this one has got a unique detailing of oil rubbed bronze steel finish.
Best Features:
This is part of the Langham collection by Aston, which aims to give a stunning and functional shower enclosure collection.
The door is reversible, may it be right or left installation.
This is a certified product that receives a certification from ANZI.
Has a lot of space and can fit in 2 people inside.
The door is a sliding type to save space and not obstruct pathways.
And the most incredible thing is that it has a 2-year warranty service.
It also has a frameless structure which makes the enclosure look even more luxurious.
8.  SUNNY Quadrant Shower Enclosure
To give you functional shower enclosure without sacrificing style and space. This is what the Sunny Quadrat Shower Enclosure wants to offer.
This clear and transparent enclosure is made from tempered glass with a frameless sliding door feature. This fits the corner of your bathroom and only takes a small space, approximately 36 7/10″ x 36 7/10″ x 71 4/5″ (WxDxH) in size.
Best Features:
The clear yet durable glass open up the space so that small bathrooms won't look even narrower.
The curve design and the double sliding door also makes access into the shower easier.
The entire enclosure is supported by a rustproof and waterproof stainless steel handle.
The door has seals that prevent water from leaking outside.
This type of shower enclosure is easy to install.
Plus, it is quite easy to clean.
9. DreamLine Enigma-X  Frameless Sliding Shower Door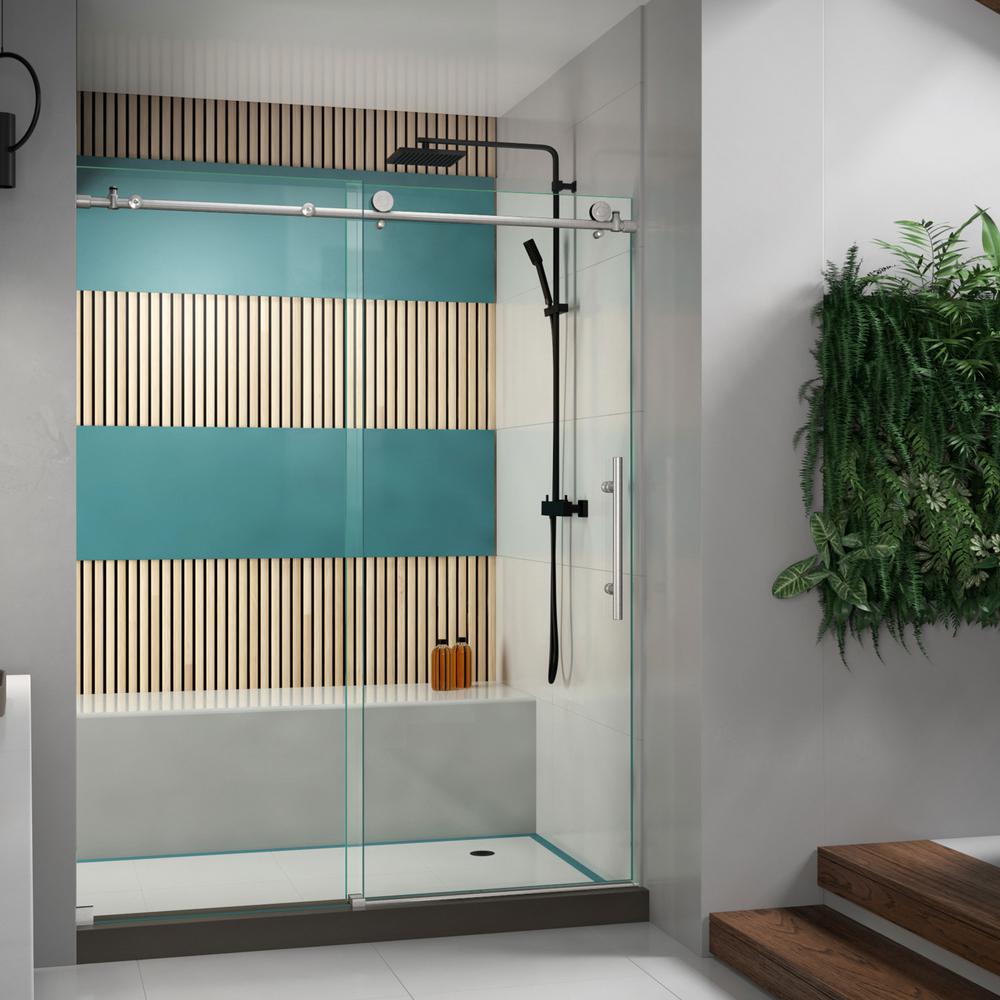 A sleek, fully frameless design combined with quality finishes makes the DreamLine Enigma stand out. Professional installation, though, is a requirement.
What caught our attention:
Best Features:
A walk-in door with stationary side panels
Hardware is finished in brushed stainless steel
Thick, 2/8 tempered glass
Clear glass anti-limescale coating makes maintenance a breeze
A width adjustability of 56 to 60 inches
Door is reversible for both left or right-hand opening installation
See DreamLine Enigma Shower Enclosure Install on Youtube
10. DreamLine Aqua Fold 33.5 in. Width, Frameless Hinged Shower Door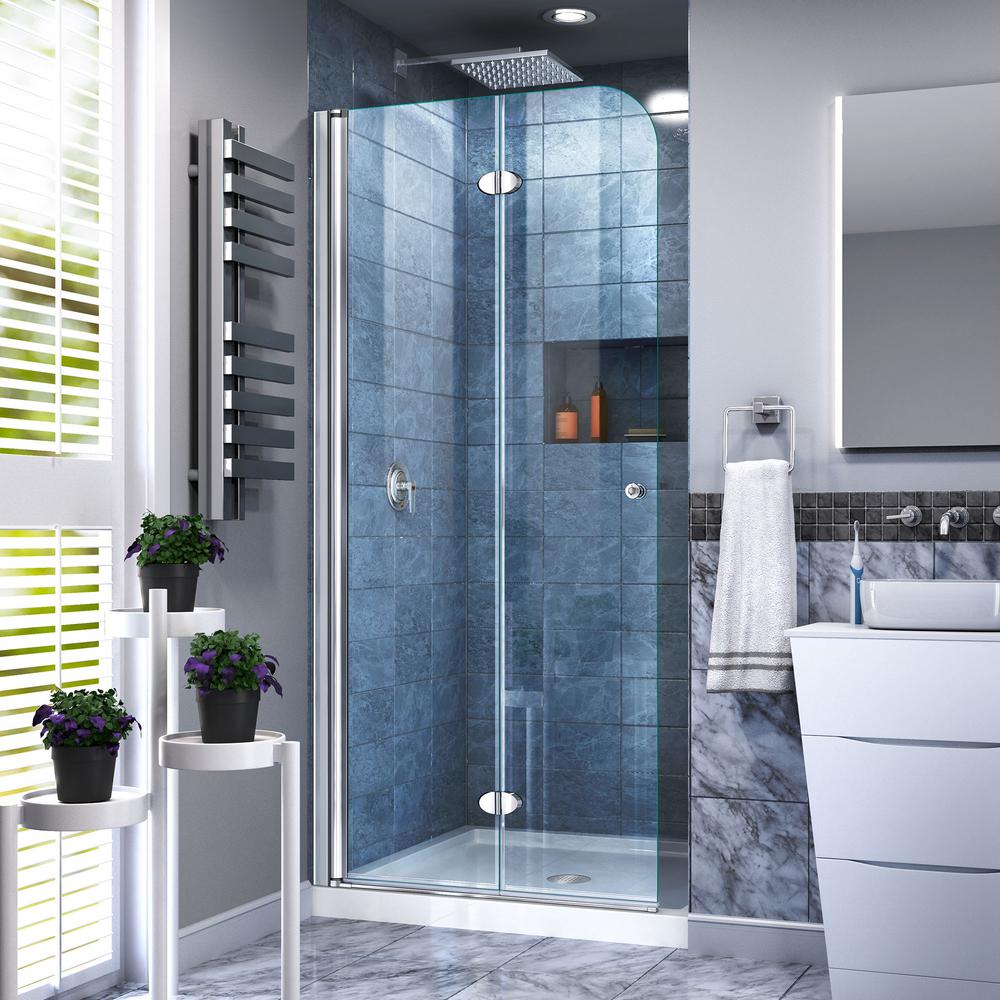 If space is a minimum, the DreamLine Aqua Fold provides the finishing touch of style!
This shower door ticks all the right boxes where elegance is a premium while space is lacking.
Features ClearMax protective glass coating for that extra touch
Brushed stainless steel hardware finishes
Door is of a self-centering pivot type that allows for rotation both into and out of the shower
The bi-fold design allows for a wide entry but uses the minimum amount of space
The anodized aluminum wall profile allows for up to a 3/8 inch adjustment
The shower screen is made of ¼ inch ANSI certified clear tempered glass for optimal strength
It is suitable for both right and left wall installation
11. SUNNY SHOWER Frameless Glass Sliding Shower Door
When space is no object, and streamlined elegance is your desire, the Sunny Shower ticks all those boxes. Although relatively easy to install, professional installation is required. Product details that caught our eye:
Best Features:
Hardware is elegantly finished in brushed stainless steel
The bottom track is easy to get to and clean
Doors are made of ¼ inch tempered safety glass
Although it fits most standard 60-inch shower bases, a base is not included in the purchasing price
The product has sliding doors that slide both ways, making access easy
Comes with both a top and bottom rail, a two-way wall channel, towel bar, and knobs
Reversible door opening features, i.e. can be fitted for either left or right door
12. WaaGee Pivot Radius Framed Bath Tub Shower Door
When you have a bath in your shower but do not want a shower curtain, this bathtub shower door offers you the ideal solution.
What we liked about it:
Best Features:
The door is made of ¼ inch safety clear glass
Hardware has a high quality chrome finish
The kit has an added towel bar
Product is easy to install
The 180-degree pivot radius allows for an 180-degree door rotation
Can be fitted either to the left or right of your bathtub
The Benefits of a Shower
We have all heard that a nice warm bath before bedtime is relaxing and that adding certain salts and potions has a beneficial effect. But did you know that a shower has a list of benefits of its own?
Taking a hot shower in the morning, according to research, is believed to boost your creativity, and get you ready for the day. Similarly, a nice warm shower before bedtime helps you go to sleep easier. However, you should not take a warm shower immediately before bedtime at it could disrupt your sleeping pattern. So you need to make sure you have some time to cool down before climbing into bed, otherwise, apparently, your sleeping patterns are disrupted. Who knew that?
But if you find that difficult to believe, go read up on the research yourself! It specifically mentions that a warm shower, followed by a cooling down period, induces sleep! Besides the benefits a night time shower gives you, getting cleaned up before bedtime has other health benefits attached. It clears the (facial) skin, reduces your chances of getting breakouts, helps to guard against the formation of wrinkles, and it helps to actively help your night time moisturizer work better!
In Conclusion
The best shower enclosures are usually those that fit into the specific space they are designed for. To this end, choosing the best shower door for you is a matter of preference.
Of those we reviewed, our clear winner is the DreamLine Enigma-X 56-60 in. Width, Frameless Sliding Shower Door. It's sleek, contemporary design gives any bathroom that extra 'something', while the quality finishes and frameless design spell luxury. Add to this the anti-limescale finish for easy cleaning, and any homeowner who is house-proud yet hates the hassles of cleaning will think twice before buying a different shower door.