The best shade sails are practical in decorating your lovely home or bringing a touch of comfort to that outdoor gathering you've been planning. These ready-to-install covers can be put up and taken down with ease. When no longer in use, they're also easy to store because they're lightweight and foldable.
In this article, we're going to talk about the best shade sails you can find on the market and how to pick one that suits your needs.
Shade Sail Benefits 
Having a shade sail has a number of benefits. First, it keeps you safe and comfy outdoors. Second, it adds coolness without having to buy an air conditioner. When positioned in areas where sunlight hits, it can significantly reduce the temperature inside your home. Then there's the aesthetic benefit it offers. There are even shade sails that feature distinct designs meant to complement the theme of your home.
Things to Consider When Buying Shade Sails 
Now that you're aware of your options and the benefits shade sails can give you, you can now start looking for the shade sail you need. But before you do, let me give you some tips on how to choose one.
1.  Make a plan
The first step is to "know" the area the shade sail is meant for. For example, you have to measure the space's parameters, so you can determine what size and shape the sail should be, and decide to which you'll anchor it to identify what hardware you'll need).
2.  Budget
Next, know how much you're willing to spend on it. Shade sails of higher quality are considerably more expensive, but the protection and comfort they provide are worth it.
3.  Style
As mentioned, functionality and style can go hand-in-hand. The touch of beauty well-designed shade sails can provide is worth considering, especially if it'll cover a space for parties and other gatherings. Remember, you can combine sails of different colors and shapes to achieve a fancy vibe.
4.  Material/Fabric
The material you choose depends on your purpose of buying a shade sail. There are materials that are waterproof for outdoor activities that have to carry on regardless of the weather. There are also those meant only to provide UV protection whenever you want to enjoy the warmth of the sun without the risk of damaging your skin.
Also, never forget durability. Always find the product the gives the best value for your money.
Installation
Once you've bought a shade sail, you'll need to know how to use/install and take care of it. Here are some tips:
1.  Identify the layout
Shade sails can be positioned horizontally flat (all corners are of the same height), horizontal with corners that vary in height (which is the most visually pleasing), vertically (like a shield), or in a slant position (occurs with overlapping sails).
2.  Placement
Before you begin the installation, know first what the area is intended for, then consider the direction of sunlight and wind speeds. Next, consider the size of your sail, the strength of the structures to be used as anchor points, and if the area can be inserted with those structures/posts (in case there are no existing ones). Make sure to talk to the proper authorities regarding the installation when necessary.
The next step is to identify where in the structures you should put the mounting points, except when they're already available. Remember to leave a space between the corners of the shade sail and their anchor points for the hardware you need to create the correct tension that'll stretch out the sail perfectly.  This step is critical. If you feel like you need to consult with an engineer, do so.
3.  Hardware needed
The last step is to know the hardware you'll be using. Make sure to get the right screws, hooks, chains, and other extensions, turnbuckles, etc.
Once you cover these steps, you can start inserting your posts and installing your shade sail. Note, though, that this is only meant as a guide. Be mindful of the instructions that come along with the product.
10 of the Best Shade Sails on the Market
1.  Coolaroo Triangle Shade Sail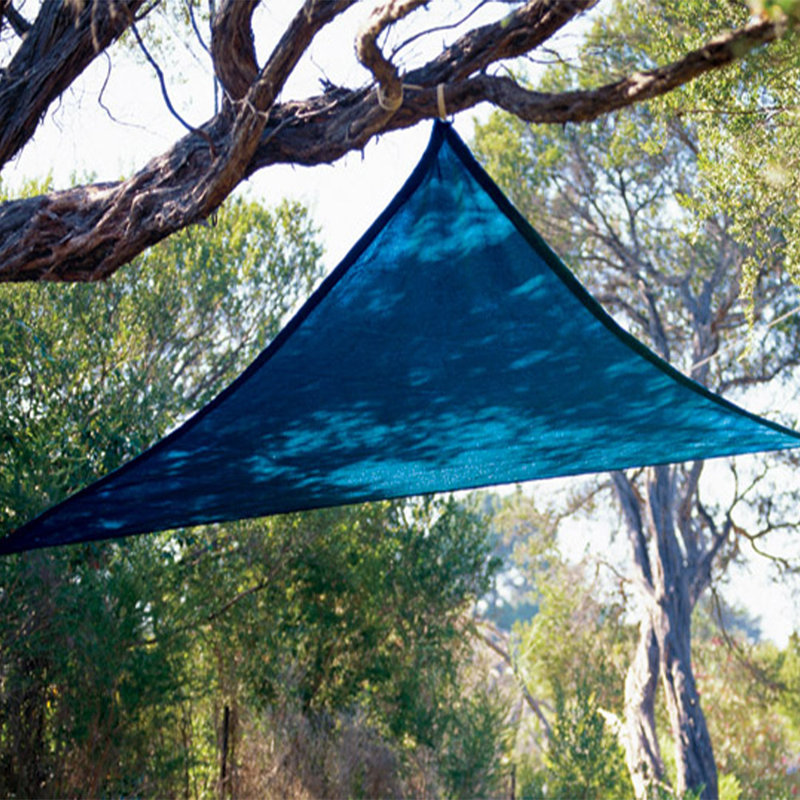 This shade sail's weight (around 2 lbs.) and dimension make it easy to carry around, making it ideal for outdoor spaces and activities like camping or picnicking. It has eyelets and comes with ropes to make it easy to secure to anything. It's a playful way to block UV rays, and it even comes in different colors. It can be easily washed by soap and water and is resistant to tearing and fading.
Highlighted Features:
Easy to put up and take down so it's ideal in providing temporary shade for the outdoors
It can be easily attached to poles, columns, or trees nearby
It can block harmful sunlight
Portable
Easy to install; no assembly required
Resistant to mold and mildew
Easy to clean
Durable
UV-resistant
Can be too small if you want more area covered
May not provide enough shade for outdoor gatherings
2.  Colourtree Waterproof Rectangle Shade Sail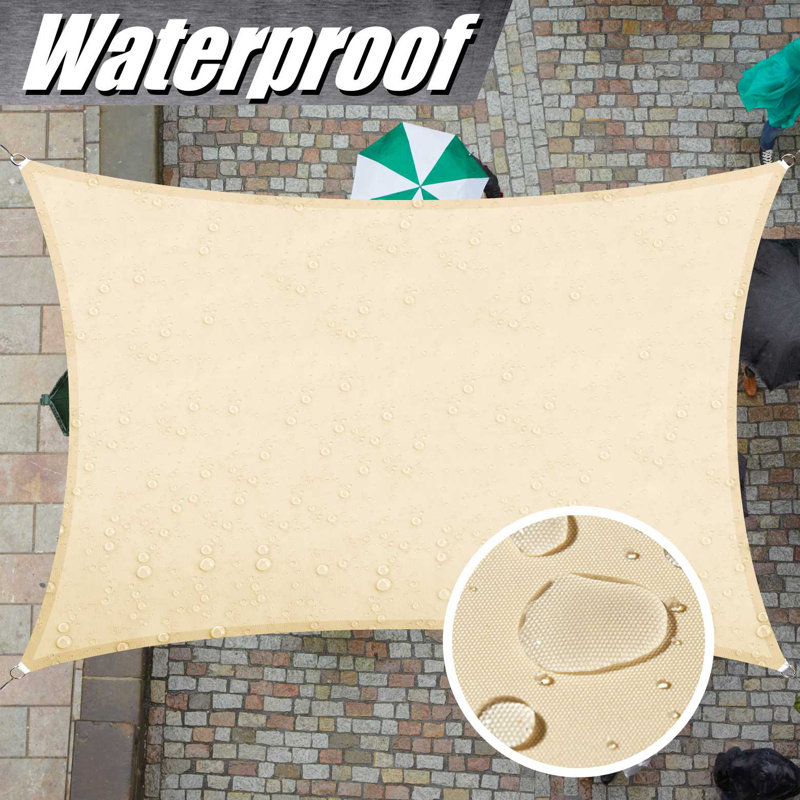 This Colourtreeshade sail is perfect for outdoor gatherings and spaces. Since it's waterproof, it's usable under any weather condition. While meant to be set up permanently, it's inexpensive and easy to install.
It's ideal for activities and areas where there's prolonged exposure to the sun. It can provide the best sun shade to help avoid the harmful effects of sunlight like sunburn and the risk of skin cancer. It's made from sturdy polyethylene fabric as well for further durability.
Highlighted Features:
This shade sail can provide cover, come rain or shine
It's made from sturdy HDPE fabric that provides protection for long hours under the sun
Waterproof
Easy to install; no assembly required
Can cover larger spaces
Provides UV protection
Water can puddle on top when not installed properly
Installation kit not included
Color fades overtime
3.  Love Story Triangle Sun Shade Sail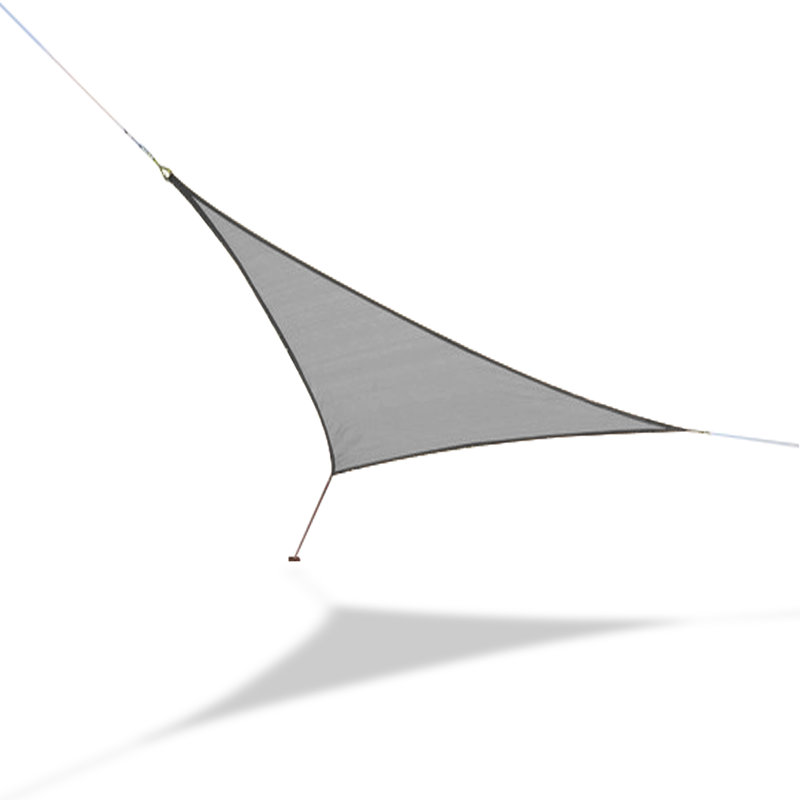 Add coolness, comfort, and shade to your patio, garden, and poolside during hot summer days using this fun shade sail from Love Story. It's breathable and easy to wash with soap and water. It has stainless steel rings at every corner and comes with ropes so it'seasy to install and detach.
You can add playfulness to your space with the various colors available. You'll surely find the one that compliments your existing color palette.
Highlighted Features:
This shade sail is great for small spaces and gathering
It can be used in any area where it can be attached to certain structures
It's relatively small so it's portable and convenient to install, clean, and store when not needed
Easy to install and clean
Comes with durable ropes
UV-resistant
May be too small if you want more coverage
Installation kit sold separately
4.  Aleko Rectangle Sun Shade Sail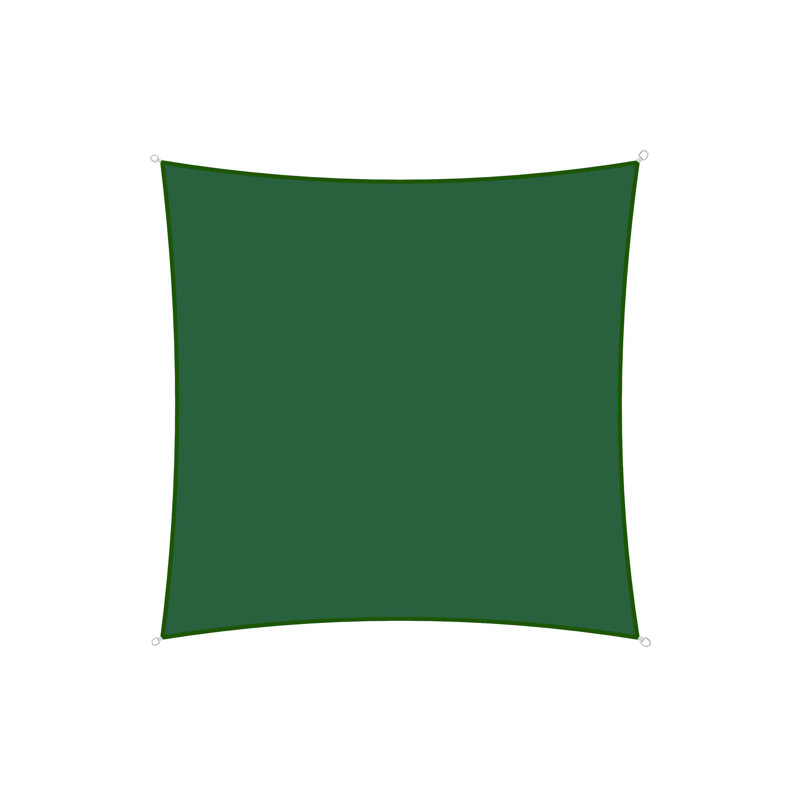 Style and functionality can go together in this rectangle shade sail by Aleko. Aside from having a modern design, it's durable and waterproof so it can withstand high temperatures and various weather conditions. Apart from that, it's breathable to provide coolness in your garden or poolside.This chicsun protection can be easily anchored to poles and columns. It's also easy to take down when necessary.
This shade sail is a great alternative to covered porches, play areas, and a canopy tent. It has steel D rings at every anchor point. With proper tension applied, the durable material will not sag, wrinkle, or flap. Lastly, it's resistant to mold and mildew and can be washed with soap and water.
Highlighted Features:
It can be easily anchored to nearby structures
If there are no existing structures, you can use them with stakes
The material is durable and it has steel rings so when installed properly, it won't flap when strong winds blow
Versatile
Easy to install; no need to assemble
Easy to clean and maintain
Provides UV protection
Installation kit not included
5.  KhomoGear Rectangular Sun Shade Sail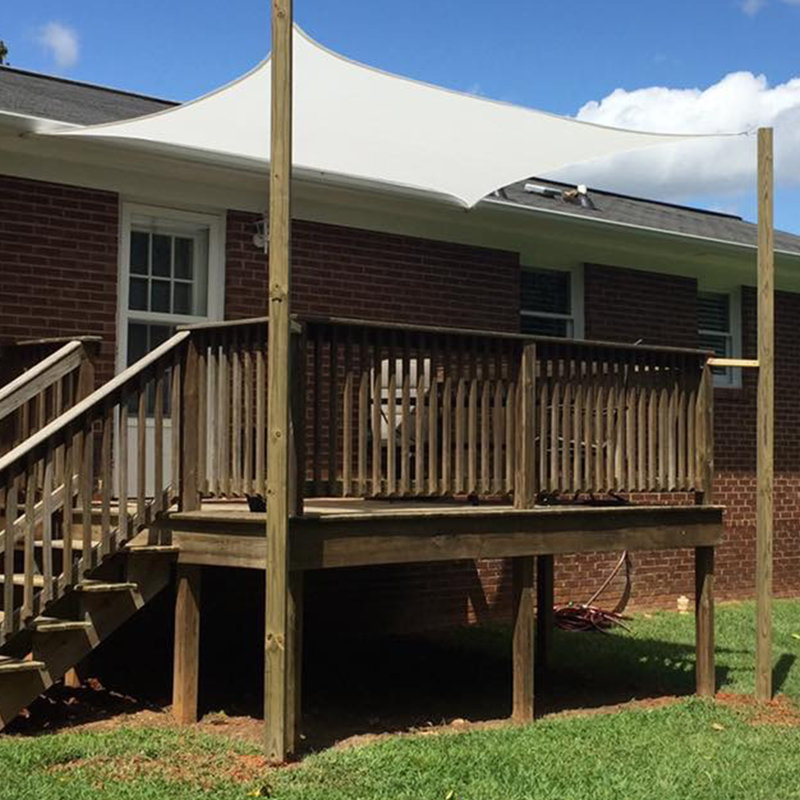 Made from breathable, heavy high-density polyethylene (HDPE), KhomoGear's sun shade sail is meant to provide coolness and comfort to get you through hot days. It can withstand moisture and extreme temperatures. It also provides protection from the sun's damaging radiation. Aside from your backyard or porch, you can carry this portable sail to other outdoor areas by the pool or driveway. It's great for picnics and camping.
Highlighted Features:
This shade sail is designed for good air circulation
When cleaning this shade sail, you can use a common detergent and spray bottle. Just don't spray water at high pressures to avoid thread damage
Portable
No assembly required
Can be cleaned with soap and water
Blocks 95% of UV rays
Installation kit not included
Can't be machine-washed
6.  Shade&Beyond Triangle Sun Shade Sail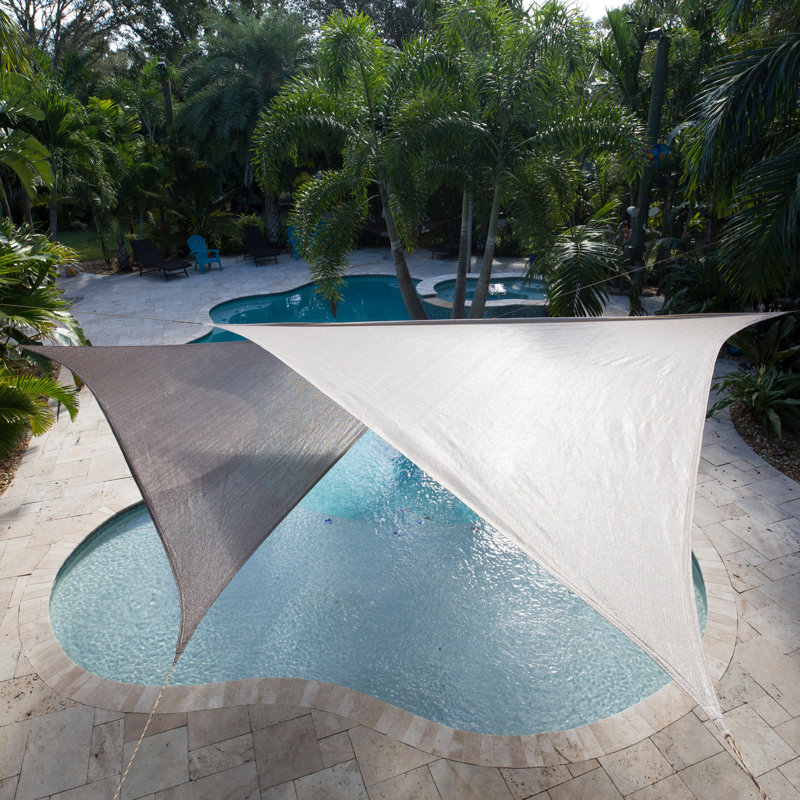 Shade&Beyond makes shade sails in various sizes and colors. Their products are made from high-density polyethylene fabric with UV protection, making them a bit shiny and fabulous. The shade sails are durable and sturdy, thanks to the curved edges and steel D rings in every corner.This shade, in particular, is ideal for outdoor spaces.
The material is designed to be breathable. It allows air and light to pass through for better air circulation which makes the covered space breezy and comfortable. Water also passes through it so it doesn't puddle on top. You can use soap and water to clean it. However, using the washing machine and dryer is not advisable.
Highlighted Features:
Since you can't use the washing machine to clean it, use spray bottles or low-pressure hose instead. Make sure the detergent you use is mild and the brush is soft.
When installing the sail, leave a distance of a 0.5 to 2 feet between the rings and the poles (or to whatever you secure it) to give room for the hardware. Make sure you know the measurements of the outdoor area to identify the size of the sail you need.
Portable
Durable
No assembly required
Breathable
Provides UV protection
No hardware kit included
Can't be machine-washed
Not waterproof
7.  Royal Shade Square Outdoor Sun Shade Sail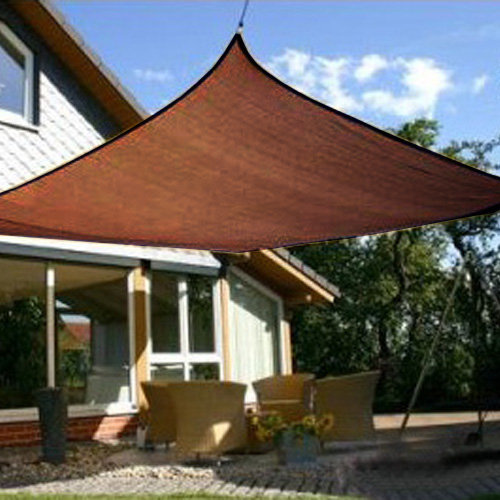 This shade sail has curved edges for better installation to prevent it from sagging at the center. However, you can also opt for ones with straight edges. It's made from 100% HDPE which blocks up to 95% UV rays. Its fabric is neatly woven to allow the breeze to pass through, making your space cool and comfy.
It also means it doesn't catch too much wind which reduces its tendency to flap. It also allows water to go through so it doesn't gather on top. The shade sails come with steel rings attached to all corners, and the seams are well-stitched to keep it in good shape. It's ideal for providing shade for outdoor activities.
Highlighted Features:
Make sure to measure the area you plan to cover before choosing this product. Upon installation, leave a distance of ½ to 2 feet between the rings and the structure you'll anchor it to.
Under normal use and weather condition, this shade sail can be last up to 5 years.
Easy to install
Provides UV protection
Sturdy when installed properly
Breathable
No hardware kit included
Not waterproof
8.  Outsunny Rectangular Shade Sail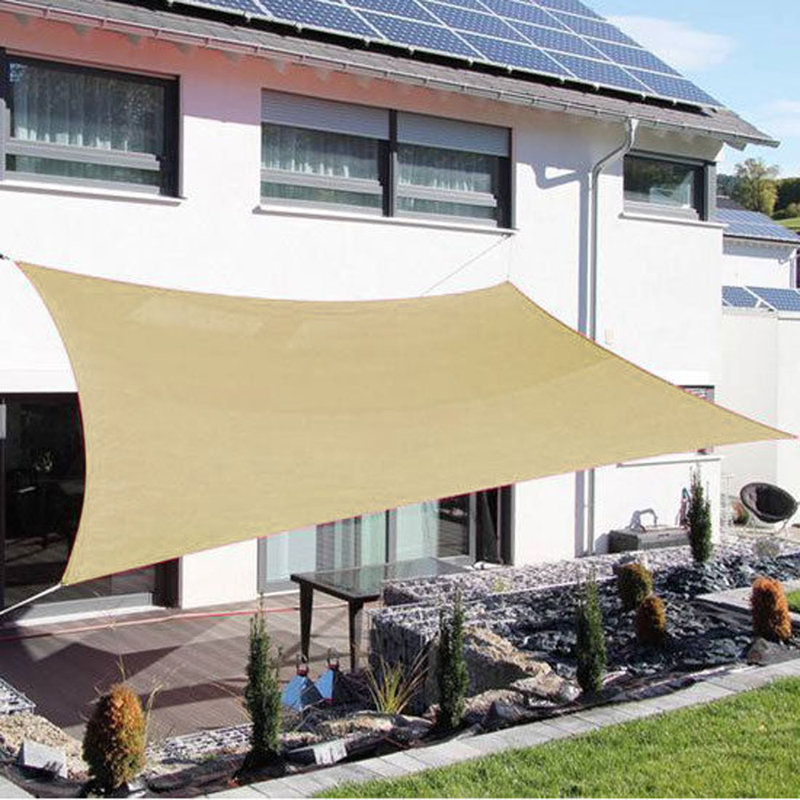 Outsunny's shade sail is another economical way to provide coolness and shade to certain areas of your home. Made from breathable, woven high-density PE, this shade sail can bring the temperature down by 6 degrees by blocking 95% of UV light. The high-standard fabric doesn't rot and is resistant to mold, mildew, and rust.
The product comes with steel D rings, ropes, and a carrying bag which makes it portable and easy to secure to existing structures. It's also light and foldable for easy storage. You can use water and detergent to clean it.
Highlighted Features:
Outsunny has shade sails that measure up to 20×16 feet so it can cover huge areas so take measurements of your area first. If the sail's too big, you might find it hard to secure it.
It can significantly decrease temperature so it's one of the best shade sail to use for outdoor activities that run for hours.
Portable
Easy to install
With UV coating
Durable
Easy to clean, maintain, and store
9.  Shelterlogic Heavyweight Square Shade Sail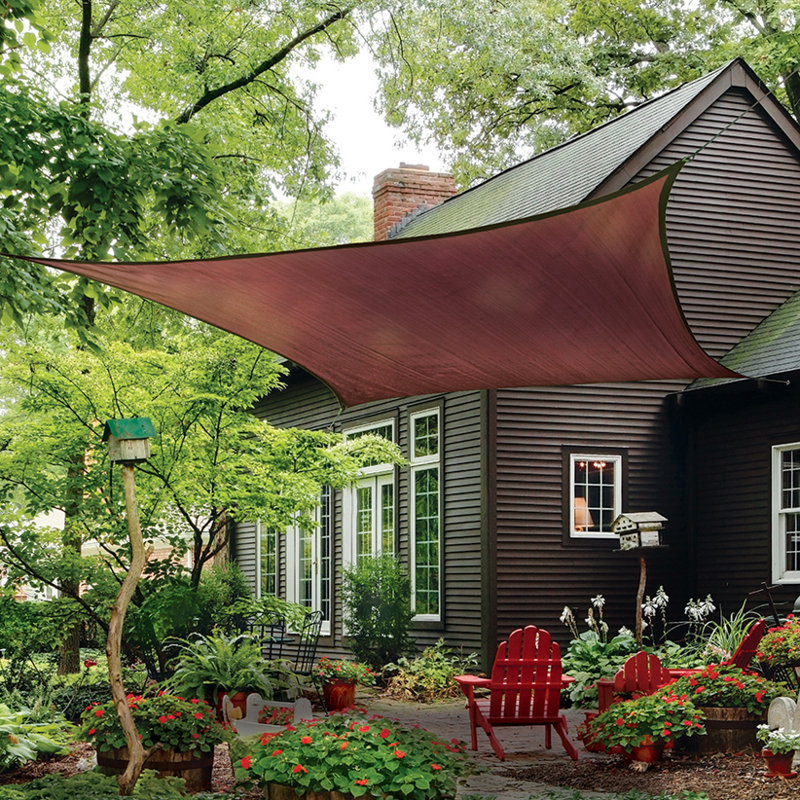 Another install-it-yourself shade sail is brought to us by Shelterlogic. This durable shade sail is crafted from knitted PE. Its premium fabric can protect you from 90% of UVA and UVB sunrays. Water can pass through the materials, preventing it from being collected in the middle.
The product has steel rings in every well-stitched corner. It comes with ropes, bolts, and other hardware needed for installation. With the instructions provided, you can put this sail up in minutes. It's a portable shade you can bring to cover and design any outdoor space and living area.
You can also mix or overlap sails of different shapes to create your own style.
Highlighted Features:
This is probably the most convenient product because of all the hardware that comes with it.
Make sure to leave at least a ½-foot distance between the steel rings and the pole/tree upon installation.
Comes with a hardware kit included
Portable
Ready to install
Blocks UVA and UVB sunrays
10.  Amgo Square Sun Shade Sail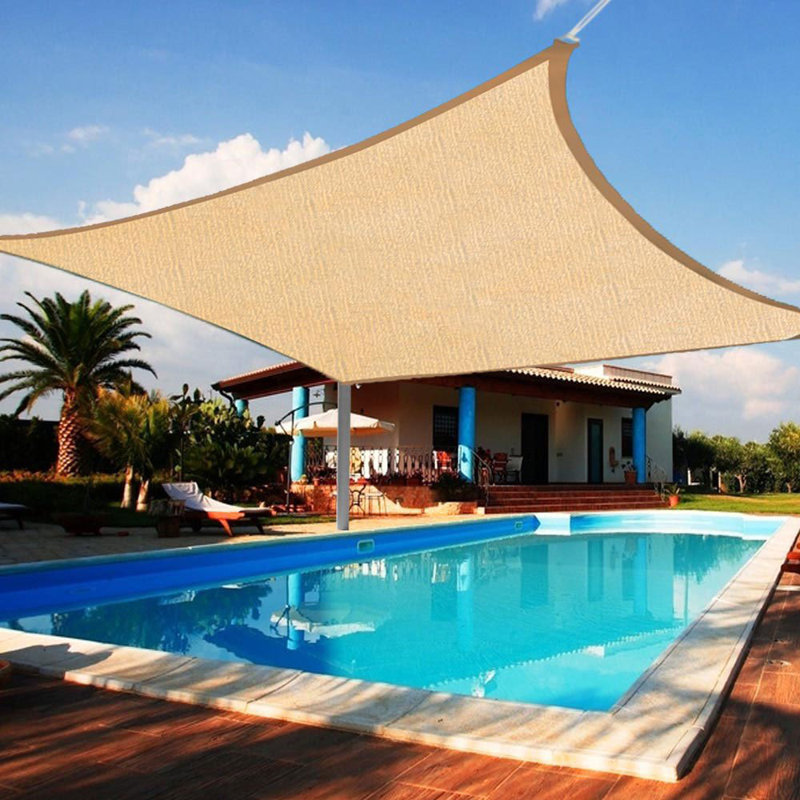 The last shade sail review in this article is that of Amgo's square shade sail. From one corner to another, this sail measures 16×16 feet. The edges are curved a little bit to make sure they don't sag in the middle, making it appear at its best.
The fabric is penetrable. It allows water and air to pass through to avoid puddles on top and reduce the possibility of flapping when strong winds blow. As a result, it supports air circulation and adds coolness to its covered area. On top of that, it also reduces the risk of UV rays by blocking 95% of it, making this sail perfect for outdoor parties.
Highlighted Features:
The product comes with a turnbuckle than can be adjusted from 6 inches to 12 inches.
If extensions aren't used, the sail should be up to 1 foot shorter than the gap between the anchor points.
Breathable
Doesn't sag
Portable
Easy to install
Provides UV protection
Not waterproof
No hardware kit included
Conclusion
Even after your options are narrowed down to the best shade sails available in the market today, choosing one is still not an easy task. In order to make up your mind, you need to identify the features that matter most to you.
The choice is relatively easy for those who want to push for outdoor affairs regardless of the weather. Clearly, out of the best shade sails featured in this article, only the waterproof ones will qualify. But for those who only care about sun protection, it's a bit trickier.
Regardless of your choice, I'm sure having your own shade sail will prove beneficial and expense-worthy for you.