Lounging in your porch on a lazy summer day or a breezy weekend morning can be a nice stress reliever. However, it becomes even better if you do it on a porch swing. With the best porch swing, you can have really relaxing moments while enjoying the cool breeze outdoors.
In this article, we'll tackle some porch swing reviews of the finest products on the market as well as a guide on how you can choose the best swing for your porch.
Best Porch Swing Reviews on The Market: Top 12 choices!
1.  Charlton Home Porch Swing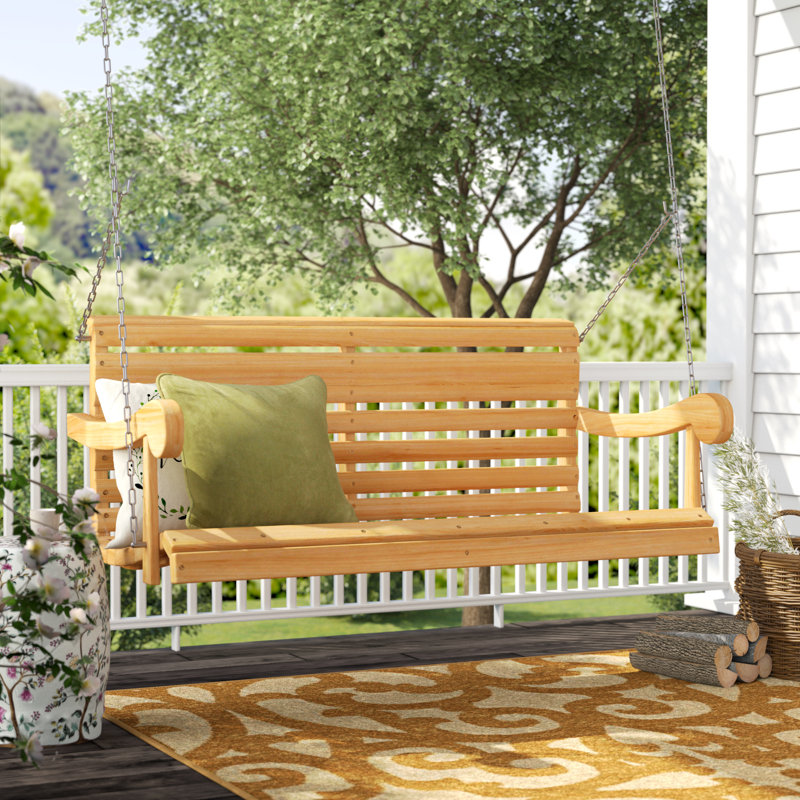 This high quality porch swing is made of cypress wood for superior durability. It can be easily hung outdoors with the help of its adjustable chains and zinc fasteners. Meanwhile, if you're looking for a good-looking porch swing, you don't have to worry as this comes with a rich yet natural design.
It can hold up to 500 pounds and a maximum of 3 persons. There are even cushions included in the package. Of the things I like about this, one that I surely love is its quick and easy assembly. It only took less than an hour, and I even did it alone. Needless to say, it's one of the best garden swings out there, especially if you're looking for a lightweight option.
Offers added comfort with its smooth edges and contoured back
Durable and sturdy construction
Includes cushions in the package
The wood may deteriorate quickly due to the lack of wood preservative
2.  Belleze Swing with Stand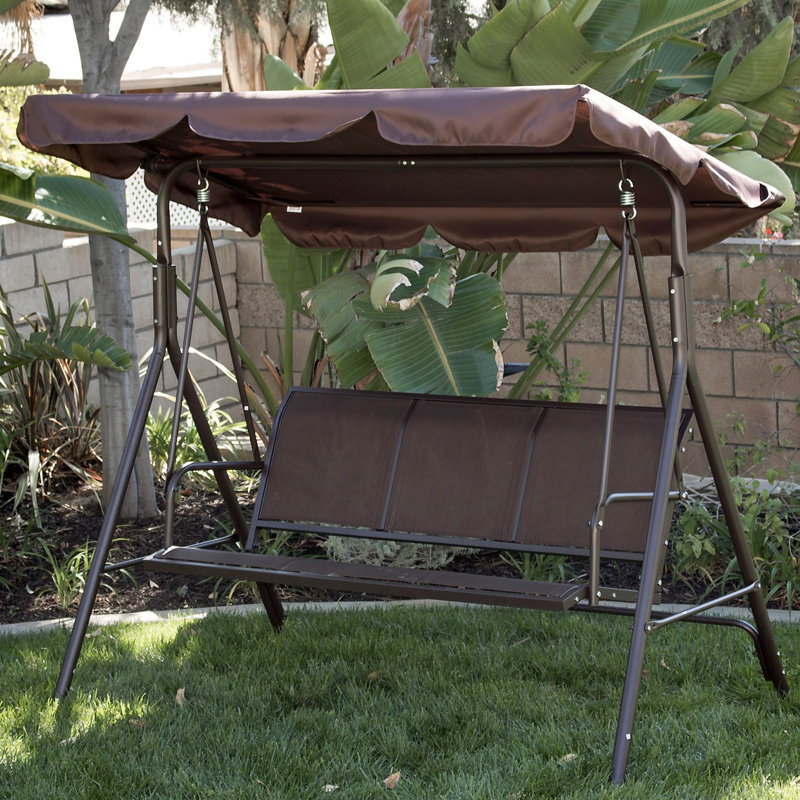 Ideal for relaxing by your outdoor hot tub or above ground pools, this patio swing from Belleze makes for an excellent option for an outdoor swing. One of its notable features which I really love is its stand.
Compared to the other swings, this one doesn't need chains and hanging. You simply have to place it on a spot somewhere in your yard and everything's good to go. That aside, it comes with a contemporary design and a coated finish. Its polyester cushion can be easily removed and cleaned. It's also designed to resist the elements and last for a long period of time.
Comes with an adjustable canopy
Quick and easy setup
Durable construction made to resist the elements
Since it's lightweight, it might not be as stable and can be easily blown by strong winds.
3.  Tarawa Porch Swing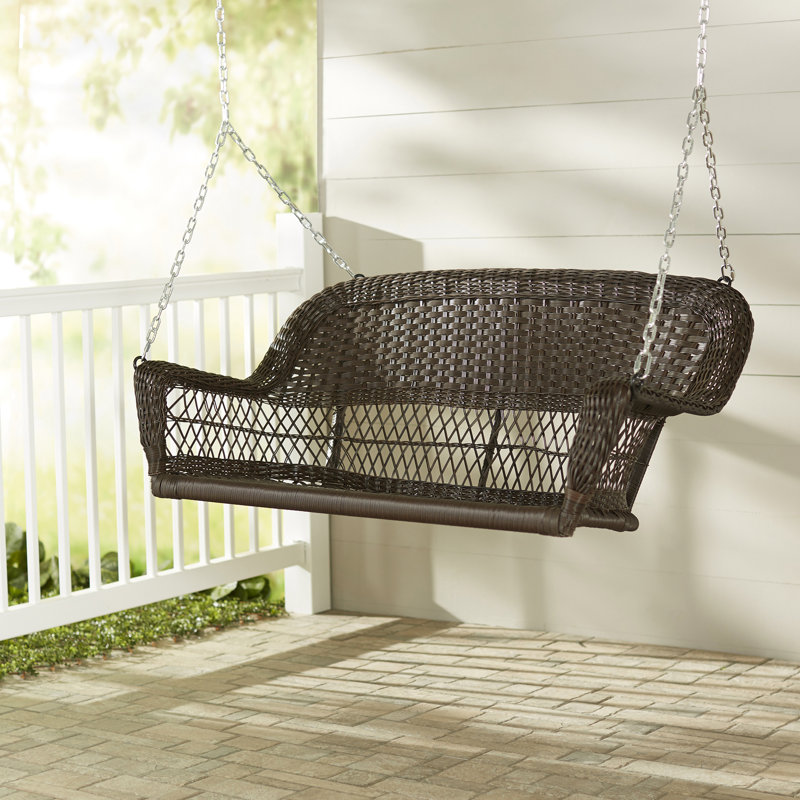 The Tarawa porch swing can offer you a really relaxing and convenient experience outdoors. It features a strong steel frame construction which is then covered with resin wicker for a strong and durable build quality.
The resin is flexible and resistant to certain elements such as rust, water, and even fading. This simply means that you can hang it outdoors without worrying about its quality deteriorating due to the elements. Although it can only support up to 300 pounds, I really love the fact that it's really quick and easy to clean.
Comes with a nice color and material
Durable build quality
4.  Arianna Hardwood Swing with Stand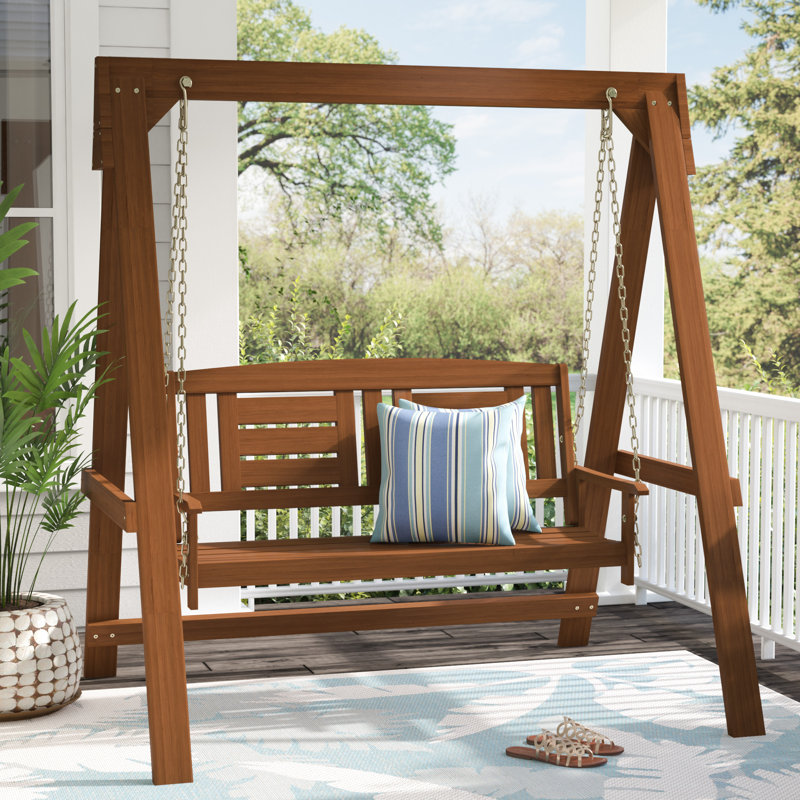 If you're looking for yet another porch swing with a stand, then this one's for you. As the name implies, it's made of solid hardwood that comes with a teak oil finish that can easily complement the design of your house.
Design aside, I really like the fact that it's resistant to rust and has galvanized steel chains that can hold up to 400 pounds. Assembly is quick and easy as well, taking only less than an hour to completely set up. It makes a nice lounging area right next to fiberglass pools.
Quick and easy setup
Comes with heavy-duty chains
Can resist rust and water damage
The wood material may not be as durable as the others
5.  Amelia Porch Swing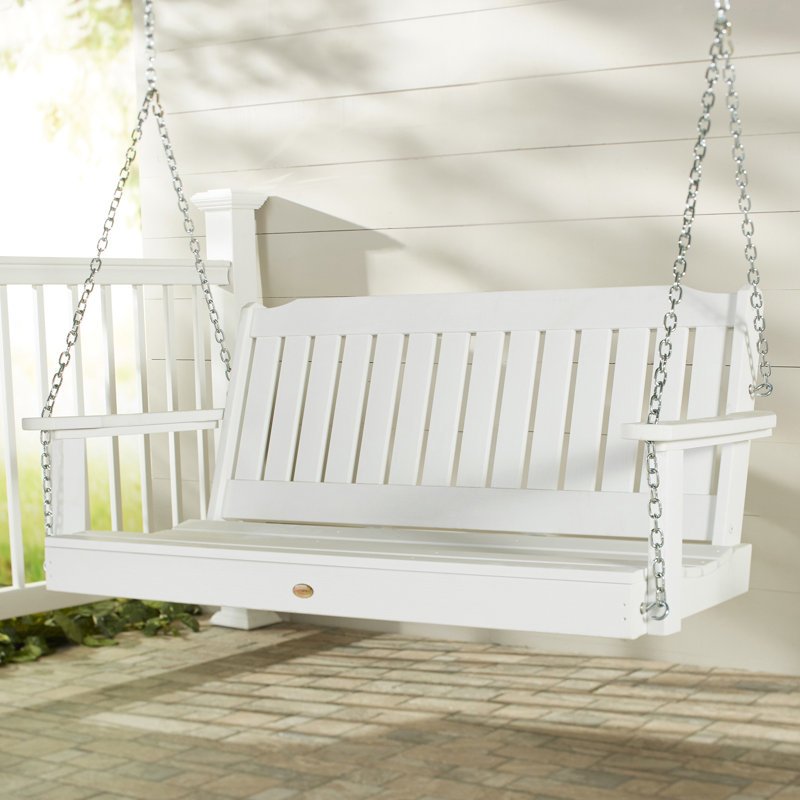 Compared to the other porch swings on this list, the Amelia porch swing is actually made of synthetic wood. This only means it can easily resist weather, dirt, and water damage while still giving it that natural wooden appearance. This also means you can leave it outdoors without having to worry about deterioration.
It comes with a zinc-plated chain for easy hanging. However, you'll have to purchase hooks so you can suspend it. Regardless, it's a really nice option for an outdoor swing. I really love the fact that it can hold up to 500 pounds, making it ideal for 2-3 persons.
Made of a durable synthetic wood material
Can accommodate up to 500 pounds
Resistant to weather, dirt, and rust
Its plastic material may not be appealing to some
6.  Soucy Wicker Porch Swing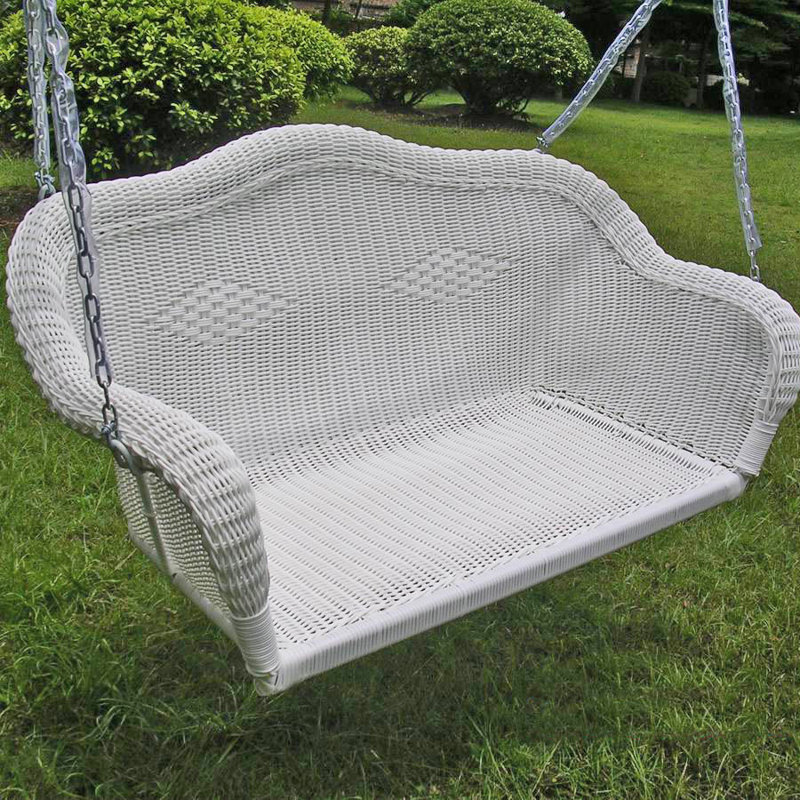 Another product that's made of resin wicker, the Soucy porch swing offers a nice blend of style and functionality. It features a variety of options so you can choose the right finish for your house. Also, I really like the diamond lattice pattern which no doubt adds to its overall appeal.
The swing comes fitted with a steel frame and allows two people to sit on it. It can also hold up to 450 pounds. Due to its wicker resin construction, you can rely on its weather resistance, superior stability, and fading protection – features that you'll have to consider in the best porch swing products.
Made of durable wicker resin
Can resist external elements like weather and dirt
Comes with a heavy-duty chain
The size can be too small for large people
7.  Dixie Seating Company Porch Swing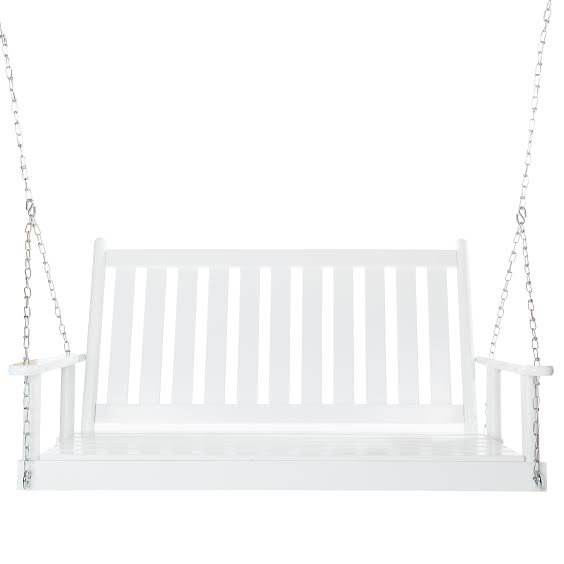 This porch swing from Dixie Seating Company can provide you with a relaxing and comfortable lounging experience on your porch. It's made of solid wood to ensure a durable construction that can last for years.
It also comes with heavy-duty chains and ceiling joist hooks so you can set it up easily without any problems. Although it's not as heavy-duty as the other swings (can only hold up to 350 pounds), it's still a solid choice for a porch swing nonetheless. What I like is the variety of design and color options it comes with.
Available in a number of choices
Lightweight yet durable construction
Can only hold 2 persons with a maximum weight limit of 350 pounds
8.  Vineyard Porch Swing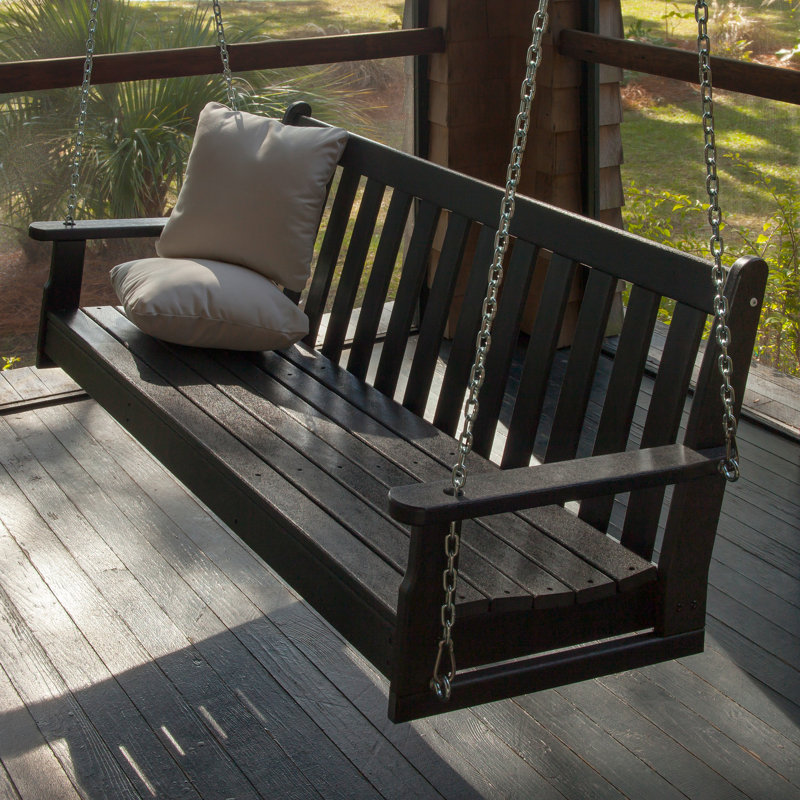 The Vineyard porch swing allows you to enjoy a relaxing outdoor moment with its calm and gentle motion. With this, you can surely have an enjoyable leisure time whether in your lawn or next to your outdoor sofas.
What I love about this swing is its weather-resistant construction which is designed to resist and withstand external elements like rain and sunlight. It can also resist corrosion, stains, and other environmental stressors. Additionally, it's made of 100% recycled plastic which is certainly a plus for eco-friendly individuals.
Eco-friendly recycled plastic construction
Can support up to 3 persons
The assembly process might be difficult compared to others
9.  Avoca Porch Swing with Stand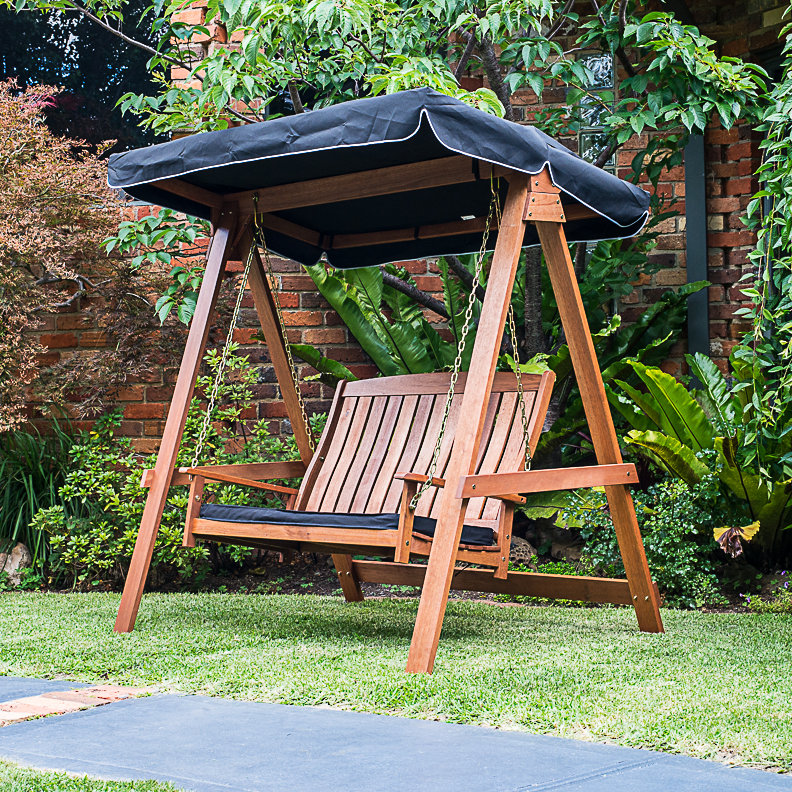 The Avoca porch swing features a stand which allows you to set it up just about anywhere you want given that there's enough space. I really like its solid wood construction which can easily complement the look of my garden and house.
Aside from that, you can surely rely on its durability and longevity. It's basically a 2-person seater. However, it can support a weight of up to 600 pounds, making it ideal for heavy-duty use. It also comes with a solid frame, a chain, and cushions for added comfort.
Sturdy and durable build quality
Comes with smooth edges and a curved back
Contemporary design with a natural appeal
Despite its large weight capacity, it's quite small as it's capable of holding only 2 people
10.  Rohrbaugh Outdoor Swing with Stand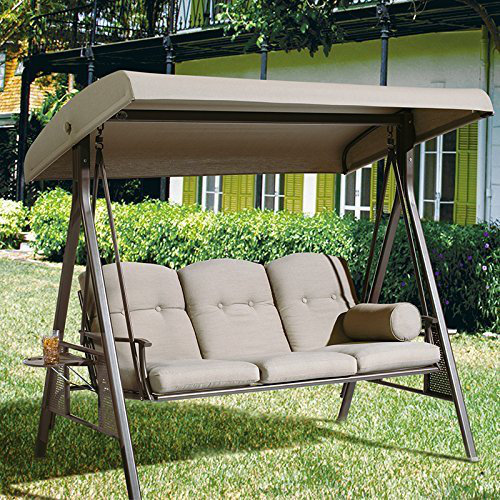 Designed to provide seating space for 3 persons, the Rohrbaugh porch swing features a durable steel frame along with a polyester fabric that's made to resist UV rays. With this, you can assure that it has a solid quality and durable construction to let you enjoy lounging on your porch.
It can hold up to 600 pounds without any problem. I also love its canopy top which I can easily adjust to provide me with a shade and protection from the sun. Lastly, it comes with a teapot on its side so you can enjoy your cup of tea or coffee while chilling outdoors.
Fairly large, capable of holding 3 people at once
A convenient teapoy on its side lets you enjoy drinks while lounging
Comes with cushions and frame included
Its adjustable canopy top removes the need to use a patio umbrella while relaxing outside under the sun
The assembly process can be quite tricky and time-consuming
11.  Andover Mills 3-Seat Swing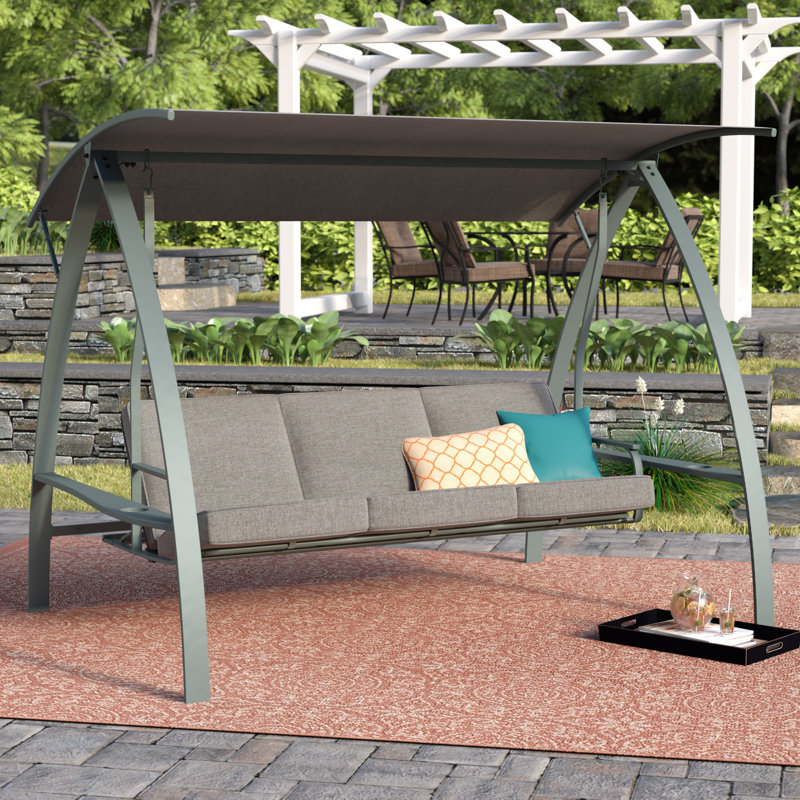 Yet another 3-seater porch swing, the Marquette swing provides enough space to allow 3 people to sit on it at the same time. It's got a really durable and solid construction with its powder-coated steel. Additionally, the frame is curved to give space for the canopy and the swing.
What I like is its premium and modern design. It can be adjusted accordingly so you can sit, recline, or lay back. There are cushions included for a more comfortable lounging experience, an adjustable canopy to protect you from the sun, and built-in cup holders at its sides.
Features a locking mechanism
Its adjustable design allows you to sit down or lie back to relax
Adjustable and removable canopy top
Its metal frame can get scratched easily
12.  Amish Heavy Duty Porch Swing
This heavy-duty porch swing allows you to enjoy a relaxing moment outdoors. It's made of durable red cedar which makes it resistant to decay and even insect damage. Compared to other porch swings, it's really easy to assemble. It also comes in a superb color and design, making it perfect for your backyard.
What I love about this swing is that there are cup holders located on its sides to let you enjoy your cup of tea or coffee conveniently. The edges aren't too sharp either, ensuring that you can safely and comfortably enjoy lounging on it.If you're looking for the best outdoor swing, this would make a solid choice.
Can hold up to 800 pounds
Comes with hanging chains included
Appealing and comfortable design
The chains might be too short
How to Pick the Right Porch Swing
Before you purchase a porch swing, you have to consider a few important factors first. These will help you find the best patio swing that can meet your needs. These are the following:
1.  Comfort
First and foremost, you have to prioritize comfort above anything else. A porch swing is intended to give its user a relaxing and comfortable experience while lounging outdoors. If your chosen swing fails to deliver that, then it'd be just a waste of money.
Ideally, you want to pay close attention to the type of material used for making the porch as well as its quality. Most high quality porch swings on the market are made of either solid wood or cotton for maximum comfort.
2.  Material
Talking about the material, it's important to go for a porch swing that's not made only of a comfortable material but one that can complement the style of your house as well. Most swings are made of solid wood like cypress, oak, and cedar. Depending on the wood used, your swing can either be heavy or light.
Also, since porch swings that are made of wood tend to have a contemporary design, they can easily fit with any design in your yard.
3.  Durability
Durability is also another important factor you should always consider when buying a porch swing. Since it goes into your outdoor space at all times, you need to pick a swing that can withstand even the harshest weather conditions such as heavy rains and sunlight.
Also, if you're going for a 3-seater model, you need to make sure that the build quality is excellent so there won't be any risk of the chains snapping.
4.  Size and capacity
Most porch swings in the market are designed to accommodate two people at once. However, there are also 3-person variants as well. When choosing a porch swing, you have to pick an appropriate-sized model depending on your needs. If it's too small, then you'll be compromising your comfort when lounging on it. Meanwhile, larger porch swings can provide you with more space in exchange for an added price.
Another thing to consider is its weight capacity. Some models can hold around 300 pounds, while others can even accommodate up to 800 pounds.
5.  Style
Porch swings are available in three different styles: wooden, wicker, and those with a canopy. A wooden swing is an excellent choice if you're looking for a more conventional approach. Meanwhile, a wicker swing is ideal if you want a swing that can resist external elements with ease. On the other hand, if you want some extra shade while you're out there in the sun, then a swing with a canopy is the best choice.
Conclusion
The products we included in this list are among the best porch swings you can find on the market. If you want to have a relaxing and comfortable lounging experience outdoors, then don't hesitate to buy yours now.
However, before you decide to make a purchase, make sure you consider the factors mentioned above first.