If you've read a few Coleman Helsinki reviews online, you will know that their 7-person hot tub is one of the most raved about products from Coleman. It is not only perfect for group relaxation, but the quality is also top-notch.
In this brief product review, I will break down all the essential things you ought to know about this product.
Bestway Helsinki 7-Person 81-Jet Inflatable Hot Tub Review
Product Overview
The Coleman Helsinki 7-Person Hot Tub offers exceptional relaxation for up to 7 adults. This inflatable tub features a wooden print which I imagine to surely look great in your backyard. Additionally, given that this hot tub is inflatable and easily portable, you can choose to install or remove it from your yard any time you want.
This inflatable hot tub is a proud product by Coleman, a Chicago-based outdoor products manufacturer. This company produces premium-quality outdoor leisure merchandise and they are most especially renowned for their camping gear products.
Pros of this Coleman Helsinki 7-Person Hot Tub
This inflatable hot tub is big enough for 7 people to sit comfortably.
As it is an inflatable tub, dismantling and storing it is very convenient.
This hot tub features a rustic wood print that surely complements any outdoor space.
This hot tub inflates within minutes and rapidly heats up the water for a maximum of 104 degrees.
It comes with a cushioned flooring and 81 pieces of air jets for optimum comfort.
Cons of the Inflatable Hot Tub
Given that this hot tub is fairly large, it might take up a huge space in small yards.
I found that the kit does not include detailed instructions for installation.
Due to the lack of sufficient installation instructions, setting up this tub can take a while.
Given the exceptional comfort and relaxation this inflatable hot tub offers; I think that it gives a good bang for the buck.
Who Is This Product For?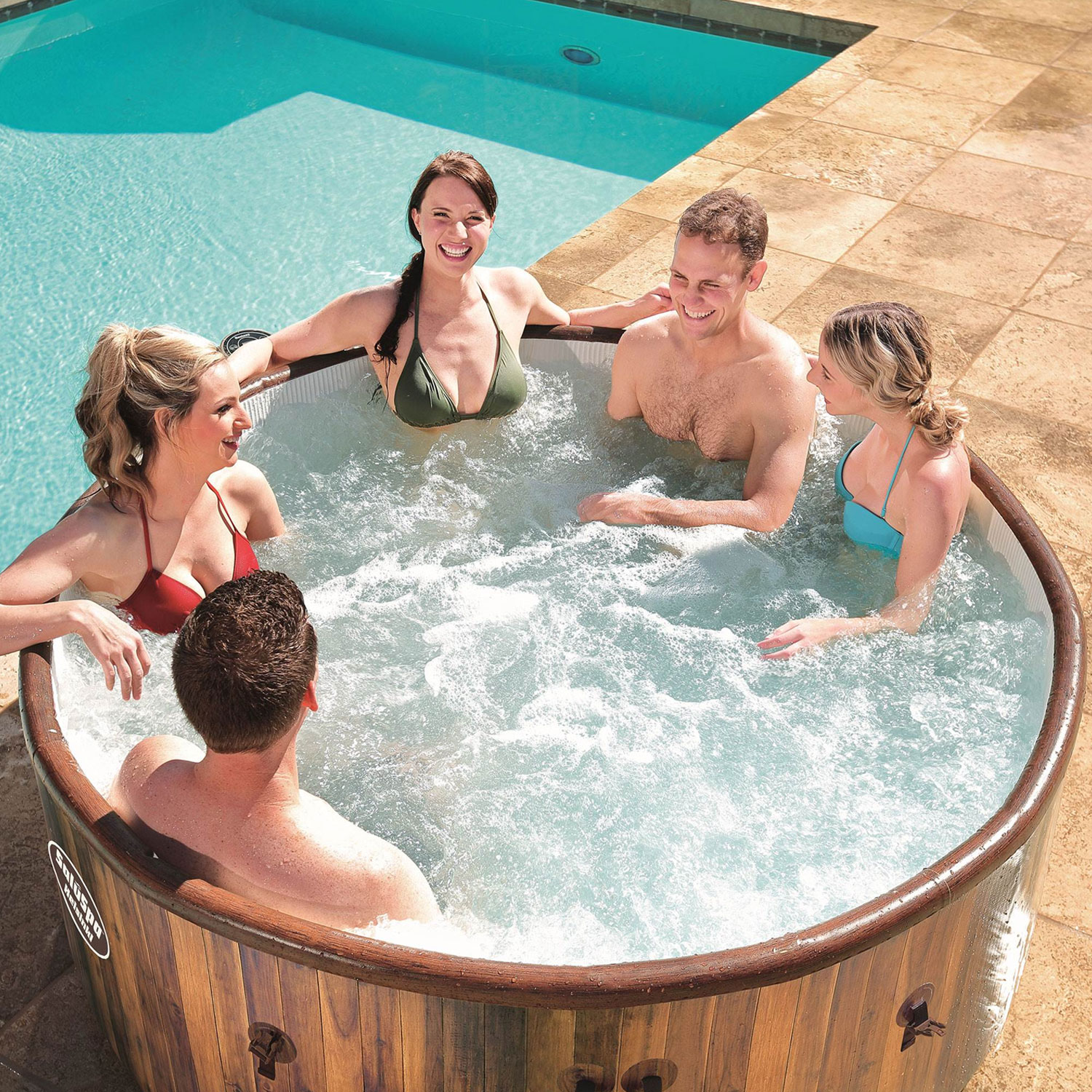 Because this hot tub can fit up to 7 adults comfortably, I think that it is perfect for families or groups of friends. Additionally, because it is inflatable, it is great for those who want to own an outdoor hot tub that is easy to install and dismantle whenever necessary.
Key Features and Benefits
7-Person Capacity
This hot tub allows up to 7 adults to sit and unwind comfortably. The massive size of this tub makes it perfect for families and groups of friends.
Air Jets
The air jet massages you as you relax in the tub, thus, making the experience even more pleasurable. This feature is perfect for people who need an added relaxation when using a hot tub.
Rapid Heating
The rapid heating feature of this hot tub makes it convenient and energy-efficient.
Digital Control
This hot tub comes with a digital control system that allows you to relax and choose your preferred settings conveniently.
Sanitation Tools
This inflatable tub comes with a chemical dispenser and two types of VI filters to help keep your tub clean and free from impurities.
Complete Kit
The product kit also includes a hand pump, a spa pump, a cover, and a repair kit.
Coleman Helsinki 7-Person Customer Reviews
I and my family loved this inflatable tub. It was easy to assemble and it was engineered very well! – Lisa P.
So far, I am fairly satisfied with this tub's performance. I just wish it came in various colors and print patterns. Vivien U.
The product is alright. I just did not like that it did not come with detailed instructions. Took me almost 2 hours to assemble. Kath O.
This inflatable has been one of my best investments this year. It is huge and made with sturdy materials. Kris B.
Frequently Asked Questions & Additional Tips
Does this hot tub come with a seat inside?
This inflatable tub doesn't have a seat inside. However, it comes with a cushioned floor where you can comfortably sit.
Can I use it outdoors in freezing weather?
Given that this tub's recommended lowest ambient temperature is 40°F, I do not recommend using it outdoors during freezing conditions.
Does this hot tub come with lights inside?
This hot tub model doesn't come with lights.
Final Verdict
If you are looking for an inflatable hot tub that offers the utmost comfort, relaxation, convenience, and efficiency, then I think the Helsinki 7-person hot tub by Coleman might be the best inflatable hot tub for you.