Generally, a steam shower is a small, enclosed room equipped with a steam generator that heats the water so you can bathe in the steam. Because of this, a steam shower can promote both physical and mental wellness.
However, despite its many benefits, finding a steam shower that works best for your needs and blends well into your bathroom can be challenging.
Luckily, Maya Bath has been producing top-notch steam showers that come with high-end accessories to give you a luxury spa experience.
This article will explore two of the best steam showers from Maya Bath in these Maya Bath reviews.
Why Maya Bath
Maya Bath has increasingly become famous for producing fantastic shower steams and other essential bathroom accessories like tubs and vanities.
Founded in the US, the company has built a good name in the industry. It has become a favorite among homeowners that want a luxurious bathroom.
Maya Bath steam showers combine the convenience of a regular shower with steam's calming power. They are perfect for individuals that want an entire spa experience in the comfort of their homes.
Product Reviews
If you're looking to learn more about Maya Bath and what they have to offer, check out these Maya Bath reviews, featuring two of their best steam showers on the market.
1.  Maya Bath 64" W Framed Sliding Steam Shower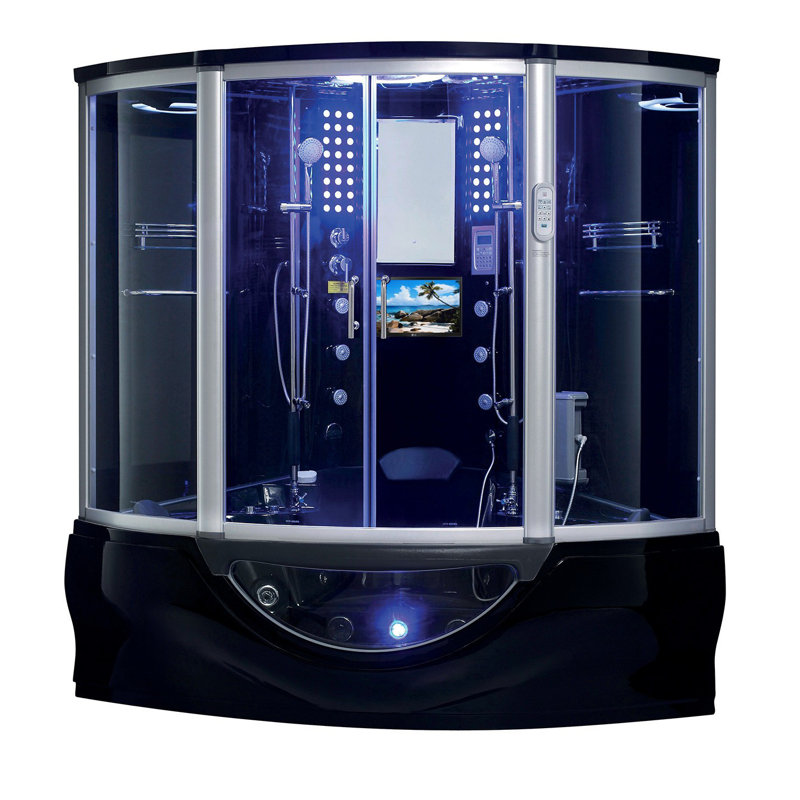 If versatility is important to you, then the Maya Bath 64" steam shower may be worth considering. This item not only functions as a steam shower but as a bathtub as well.
It is packed with impressive features that will always make your shower experience exceptional and something to look forward to.
Does the thought of listening to your favorite music or entertainment excite you? Well, you will be pleased to know that this steam shower is equipped with a TV, MP3/radio, and a telephone. According to Maya Bath reviews, these extra features add to the usefulness of this steam shower.
The addition of a 12-inch LCD TV will keep you entertained without compromising on functionality. Plus, the built-in display screen is easy to read, and you can control it with ease in the steam.
This unit also comes equipped with a 5kw steam sauna generator strong enough to steam up the enclosure. Another spec that makes this unit the best steam shower is the inclusion of sliding doors. In most cases, hinged doors may not do well in specific bathroom setups because of unavoidable obstacles.
Suppose this is the case with your bathroom. In that case, this model will make it easy to enter and exit the shower without causing any damages thanks to its sliding doors. Furthermore, the sliding doors can be space-saving.
When it comes to appearance, this steam shower is attention-grabbing. It will undoubtedly be the focal point for your bathroom. It is crafted from glass and comes with a black finish that complements the décor of most bathrooms. 
Maya Bath reviews show that the LED lighting adds to its overall beauty. Therefore, if you are after a shower with a striking appearance, the Maya 64 inch framed round sliding steam shower should suffice. 
Highlighted Features:
Material: Glass
Dimension: 88" H x 64" W x 69" D
Weight: 800lb
Type: Steam shower
Shape: Round
Generator: 5KW steam generator
Frame Type: Framed
Doors: Sliding
Finish: Black
Included: Shower base, shower door, ceiling, back wall panel, drain valve
Pros of this Maya Bath 64" W Framed Sliding Steam Shower
Aesthetically-pleasing
Sliding doors for easy access and exit
Built-in modern devices
5Kw steam generator
LED light settings
Simple installation
Cons of the steam shower
Might be on the heavier side
2.  Maya Bath 51" W Framed Round Sliding Steam Shower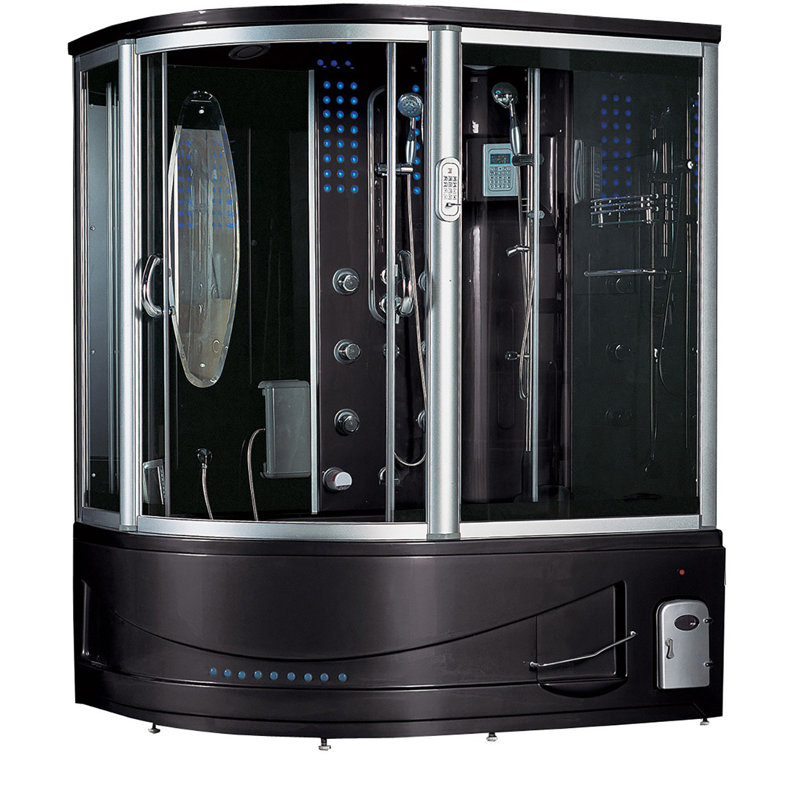 This steam shower from Maya Bath measures 51" by 51" with a height of 88 inches. This shower has adequate room for two people to sit and enjoy the shower together comfortably. The shower is constructed from glass and features a sleek finish.
Something to note about this steam shower is that it comes with a computerized LCD control display that gives you access to all the critical features. From the control panel, you can quickly turn the power on/off, FM radio, fan, lights, and much more. You can customize your setting and select your preferred shower experience effortlessly.
As for the performance, the 4-kilowatt generator lets you turn your shower into a luxurious spa experience. It is also designed with a rainfall shower to give a tropical rainfall experience. It is also surrounded by blue LED lighting to provide you with an incomparable shower experience.
Better yet, this steam shower is designed with a ventilation fan that helps to maintain the air density and heat in the steam shower at the desired level. Furthermore, there is a fog-free mirror that remains tip-top shape even in the steamiest condition. Consequently, you won't have to worry about the build-up of moisture.
The door features a sliding design and prevents you from hitting something each time you step in and out of the shower. This is also an excellent feature if you have limited time in your bathroom. 
Highlighted Features:
Type: Steam shower
Dimensions:88" H x 51" W x 51" D
Door type: Sliding
Generator: 4kw
Shape: Round
Overall weight: 800lb
Included: Shower base, shower door, ceiling, auto drain, back wall panel
Pros of this Maya Bath 51" W Framed Round Sliding Steam Shower
Modern touch screen
Includes LED lighting
Convenient sliding doors
Fog-free mirror
Features ventilation fan
Cons of the steam shower
The unit needs two dedicated 220V lines, which are hardwired
Conclusion
If you are looking for a spa experience at the comfort of your home, these two Maya Bath steam showers are an excellent place to start.
These two steam showers in our Maya Bath review will not only upgrade your bathroom but also cause you to relax after a long day. Just ensure that you keep in mind the essential features and make sure that it suits your bathroom's specifications.