Allow yourself the luxurious decadence of a steam shower room in your own home. In many instances, your shower enclosure can double up as a steam shower cabin merely by attaching a different shower head and making a few other changes. For those more inclined to decadence, you can install a full steam shower unit and cubicle for your relaxation pleasure while upscaling your bathroom as well.
In order to help you decide on the best steam shower around, we have compiled a few steam shower reviews and some additional information to help you decide which is the best home steam shower for your purposes.
Best Steam Shower Reviews
There are very many different steam showers to choose from, so we have made our selection using a cross section of different steam showers.
1. Ariel Platinum DZ959F8-BLK-L Steam Shower
Indulge yourself in the pure relaxing pleasure of the Aerial Platinum left side model steam shower. With all the pros of a 6KW steam generator and the added health benefits, you no longer need to to the gym or spa to experience this pleasure.
The special features of this steam shower include:
Six (6) body acupressure massage jets
A handheld shower head as well as rainfall ceiling shower
A 6KW steam generator that produces high temperatures within two minutes
Overheat protection
Chromatherapy lighting
An aromatherapy system
An installed FM radio
220 Volt installation
A teak wooden floorboard finish
2. Luxury KBM 9001 Bathtub, Steam Shower Room Enclosure
If you want all the bells and whistles in your steam room, then this one is most certainly for you! Including a bath, rain shower head, hand held shower, and more added extras, this free-standing unit certainly ticks all the boxes you could possibly dream about! Plus, leakage is prevented by means of a water proof plastic belt around the shower room.
Features that really impressed us include:
A large monsoon rain shower head
A multifunction sliding hand-held shower and rinser
Pulsating back jets to get to those difficult to reach spots
A 3kw steam generator
A rectangularly shaped bathtub with comfortable head rest
Six body massage jets
Computer panel controlled FM radio
Hand free phone
Loudspeaker and microphone
Fluorescent lighting ceiling lamps (blue)
Remote control
Fog free mirrors and glass
Copper colored faucets and accessories with chrome plated trim and handles
Ozonator
Ventilator fan
3. Constar Steam Shower Room with Whirlpool Tub
When space is an issue, the combination steam shower and whirlpool tub is the ultimate luxury. Not only do you get the benefit of a relaxing whirlpool tub with all its benefits, but the added advantage of a steam shower as well. If you want your pie and you want to eat it as well, this combo is the ultimate in luxury solutions.
The brilliant features included:
A whirlpool tub and roof made of 4mm thick acrylic capped ABS for easy cleaning
A reinforced tub bottom
Standard functions include: on/off switch button, faucet, pillow, a water pump, and electronic heat protection
Steam room walls consist of 5mm tempered glass
Rubber seals negates the need for silicon for waterproofing
Steam room features a rainfall shower, multi-functional sliding handle shower, 6 back massage jets, a computer control pad, FM/CD connector, hand free phone receiver, loudspeaker, digital timer/temperature display, roof light, foot massage feature, ventilation fan, and fog free mirrors and glass.
4. Kokks 42″ x 42″ x 83″ Corner Shower Enclosure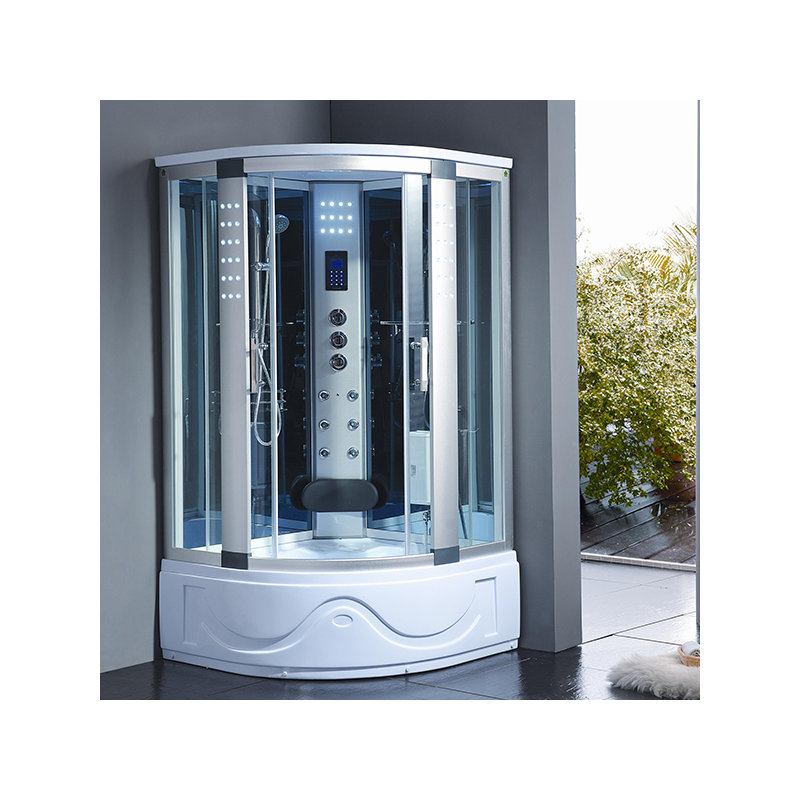 This large, luxury, free standing unit is packed with many features that will set your heart on fire and ease your tired muscles at the end of the day. The added extras are a sure-fire winning solution for even the most difficult to please person.
The many features found in this unit include:
6 body massage jets
A computer controlled touch panel
An MK-117 steam generator
Fog free mirrors and glass enclosure
A telephone answering system
Blue fluorescent lights (background and overhead)
A ventilator fan
FM Radio and loudspeaker
A pre-installed mixer valve
5. Eagle Bath Sliding Door Steam Shower Enclosure Unit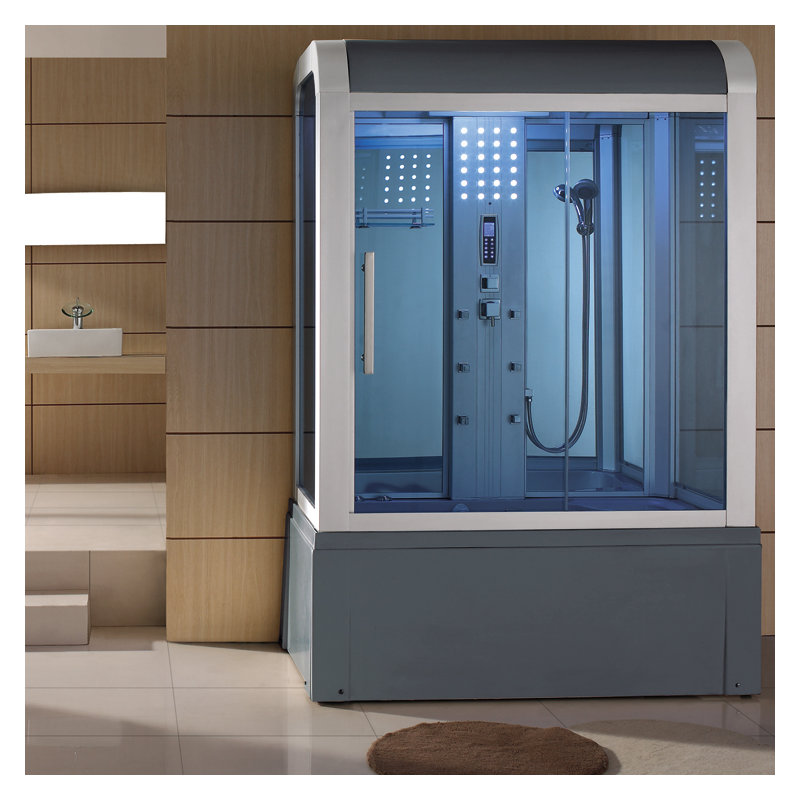 These unit are fully loaded, sporting all the extras that add to your relaxation (and therapeutic) pleasure! The hydro-massage jets are designed to enhance your steam shower experience. Indulge yourself and relax in this steam bath enclosure, free from your work problems and concentrate only on yourself.
The features that make this one a winner:
A tempered glass surround
A self-cleaning steam generator
6 body massage jets
A computer control panel with a timer
A rainfall shower head
A circulation fan
Built in seating
An extra hand-held shower head
A temperature sensor
Fits on a bath tub (which is included)
6. Arial Bath Platinum Sliding Door Steam Shower with Tub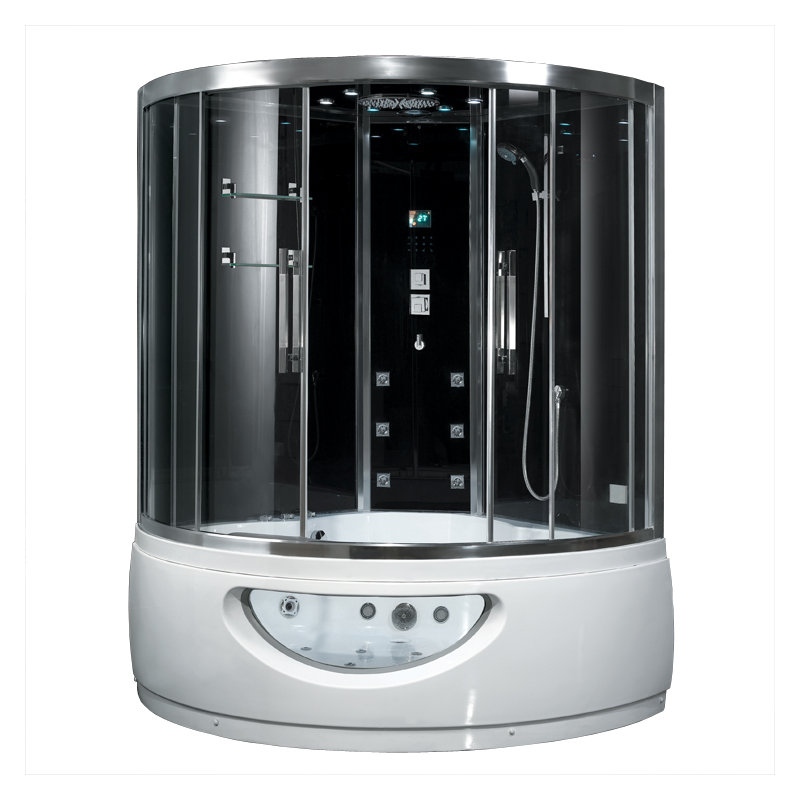 Sporting a contemporary design for the discerning home owner, this shower and tub combo ticks all the boxes. The epitome of style, this unit gives you a bathtub and steam shower combination, making it the perfect addition to the bathroom where space of limited but style is the requirement.
The features of this combination bath and steam shower include:
A computer control panel with a timer
A drain with a trap is included
Has an overhead rainfall shower and separate hand held shower head
Chromotherapy as well as aromatherapy function
Includes overheating protection
Has a built in FM radio
Includes built in seating
Surrounding clear panel tempered glass
Sports a neo-angle, sliding door design
Shower base included
Includes whirlpool massage jets
Steam sauna has a self-cleaning function
7. Lifetime Bath Mind Relaxation Spa Massage 2015 Milano Acrylic Steam Shower Unit
The Milano steam shower unit gives uncompromising quality with a 100% spa experience. The manufacturers thought of and incorporated a host of relaxation principles in the design, including acupressure therapy, a foot massage, and even an aromatherapy feature.
This product is unique because:
MP3/MP4 compatibility
FM radio with audio frequency output
A high-quality speaker system
Unit is reinforced with durable fiberglass backing
Has a solid aluminum alloy frame
Tempered glass surround
Storage shelves
Contains a 4-liter fridge for beverages
Computerized LCD control display (for power, lights, fan, radio, and so on)
Includes an aromatherapy steam box
Ozone sterilization equipment
Steam shower is self-cleaning
Fog free mirror
Removable foot massage
Fluorescent mood lighting and underwater LED lights
8. Maya Bath Superior Steam Shower Sauna With Jetted Jacuzzi Whirlpool massage
Talk about pulling out all the stops! This unit not only has every conceivable feature but you get to watch your favorite movie or game while chilling out in stylish comfort. The red of this unit spells one thing: decadent luxury at its best!
What makes this unit stand out:
Steam shower and hydro massage bath unit in one
Features a 12" digital TV
Has a touchscreen control panel
Is Bluetooth compatible
Has a 5KW steam generator and thermostatically controlled water temperature for your added comfort
Transparent from window
Tinted glass and stainless steel hinged doors and fixtures
10 acupuncture jets
16 whirlpool jets
Fog free mirror
Foot massage feature
Fluorescent mood lighting
Hands-free telephone
Underwater LED lights
Hand grips
A pedal drain
A waterfall inlet
An emergency alarm
Rainfall ceiling shower
Water resistant remote control
FM radio and surround sound speakers
Ventilation fan
Storage shelves
Automatic safety shutoff
Health Benefits of Using a Steam Shower
The stressful lives we lead today often leaves us with health problems, aching muscles, and stressed out. A steam shower, in the not so distant future, may not be seen only as a luxurious indulgence, but a health necessity.
That being said, steam showers offer many health benefits:
1. It eases the symptoms of cold and flu
2. It improves your circulation
3. It helps relieve muscular aches and pains
4. It relaxes the body, helping get rid of the stress most of us suffer from
5. It may increase your pulse rate and increase your metabolism
6. It is great for opening pores in your skin, helping you get rid of toxins
Things to Consider Before Buying a Home Steam Shower
There is no getting around the health and relaxation benefits you get from a steam shower.But before you go ahead and purchase one, take the time to consider the following points.
An enclosed space that is insulated: When you install your shower, you need to remember that it will be totally enclosed and insulated. This is to keep the steam inside, while the door needs to be water-tight
Take note of the maximum ceiling height: If your ceiling is higher than the height of your steam shower unit, or your ceiling design is not standard, you may need to add a higher rated steam generator because of the added volume.
Your seating: Make sure your seating is slightly sloped for comfort. You may spend a lot of time in your steam shower, so making sure your seating is comfortable is important
The floor Ensure you have a non-slip floor. Slipping and falling is a health hazard.
Your plumbing: Before installing your steam room of choice, make sure to ensure your plumbing connections support it.
Your power requirements: Make sure your steam shower complies with your home's electric requirements. You may need to install a separate circuit breaker for your steam room.
Tips on Using a Steam Shower
Hydrate: Even although a steam shower is wet heat, you can still easily dehydrate. So drink plenty of water before taking a steam shower.
Preheat: Activate the steam shower function about ten minutes before getting in because it does not easily get to the maximum heat when someone is inside it.
Be quick about getting in: Keep the door open as short a time as possible so that steam and heat does not escape.
Turn on the extras: Once you relax in your steam shower, turn on the optional extras such as the radio, aromatherapy function, etc.
The grand finale: You can sit in your steam shower for anything between fifteen to thirty minutes. Once you are nicely relaxed, turn off the steam function and turn on the shower. Once done, open the doors to allow the steam out.
Hydrate: You lose a lot of water via sweat. So to ensure you do not faint or get a headache, make sure to drink a glass or two of water after your shower.
Conclusion
Picking the best steam shower from the roundup is a difficult task. Each unit has its own unique qualities that make it an excellent option. However, if we had to pick only one, the prize would go to the Maya Bath Superior Steam Shower Sauna With Jetted Jacuzzi Whirlpool massage. It has just about every luxury imaginable, with a few extra thrown in. The extra storage shelves, television, and emergency button (a great safety feature), just gives it that extra edge over its competitors.