Allow yourself the luxurious decadence of a steam shower room in your own home. In many instances, your shower enclosure can double up as a steam shower cabin merely by attaching a different shower head and making a few other changes. For those more inclined to decadence, you can install a full steam shower unit and cubicle for your relaxation pleasure while upscaling your bathroom as well.
In order to help you decide on the best steam shower around, we have compiled a few steam shower reviews and some additional information to help you decide which is the best home steam shower for your purposes.
Health Benefits of Using a Steam Shower
The stressful lives we lead today often leaves us with health problems, aching muscles, and stressed out. A steam shower, in the not so distant future, may not be seen only as a luxurious indulgence, but a health necessity.
That being said, steam showers offer many health benefits:
It eases the symptoms of cold and flu
It improves your circulation
It helps relieve muscular aches and pains
It relaxes the body, helping get rid of the stress most of us suffer from
It may increase your pulse rate and increase your metabolism
It is great for opening pores in your skin, helping you get rid of toxins
Things to Consider Before Buying a Home Steam Shower
There is no getting around the health and relaxation benefits you get from a steam shower.But before you go ahead and purchase one, take the time to consider the following points.
An enclosed space that is insulated: When you install your shower, you need to remember that it will be totally enclosed and insulated. This is to keep the steam inside, while the door needs to be water-tight
Take note of the maximum ceiling height: If your ceiling is higher than the height of your steam shower unit, or your ceiling design is not standard, you may need to add a higher rated steam generator because of the added volume.
Your seating: Make sure your seating is slightly sloped for comfort. You may spend a lot of time in your steam shower, so making sure your seating is comfortable is important
The floor Ensure you have a non-slip floor. Slipping and falling is a health hazard.
Your plumbing: Before installing your steam room of choice, make sure to ensure your plumbing connections support it.
Your power requirements: Make sure your steam shower complies with your home's electric requirements. You may need to install a separate circuit breaker for your steam room.
Best Steam Shower Reviews Consumer Reports
There are very many different steam showers to choose from, so we have made our selection using a cross section of different steam showers.
1.  Ariel Platinum Shower Enclosure with Whirlpool Bathtub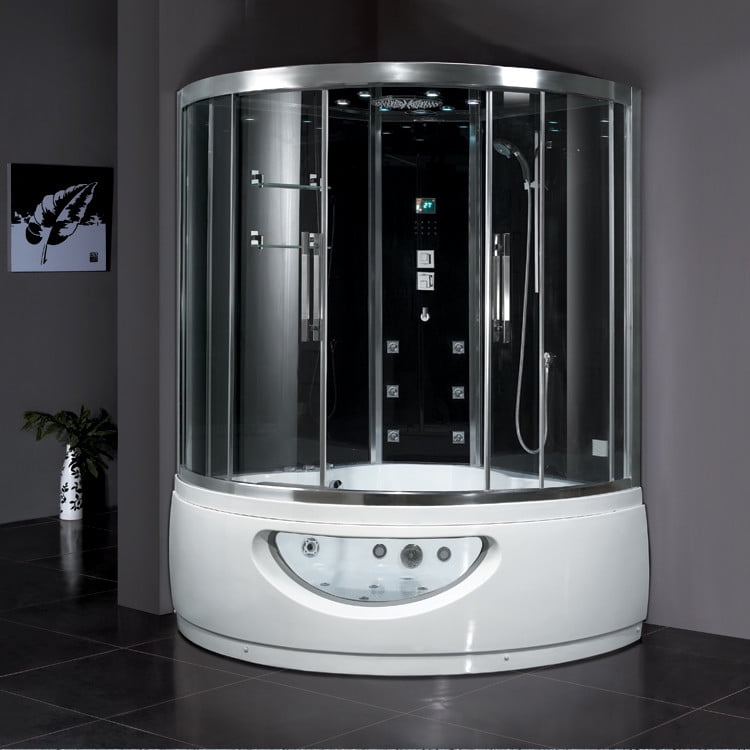 This is Ariel's top-grade modern-themed whirlpool tub system that has steam and a shower enclosed in a curved glass enclosure.
It also includes an aromatherapy system. Furthermore, the model is best placed in the corner of your bathroom.
Highlighted Features
It has a rain showerhead as well as a hand shower.
There is a total of 6 shower jets and sprays for the hydromassage.
A 6kw compressor powers the system's steam sauna.
The enclosure comes with built-in FM radio speakers
The shower disperses steam using a ventilation fan.
To monitor functions, there is a computer panel with an adjustable and resettable timer
The system includes a rough-in valve innovation
Pros of this Ariel Platinum Shower Enclosure with Whirlpool Bathtub
Comes with a drain assembly
Slide bars and wall supplies are incorporated into the design
The glass is easy to sanitize and disinfect
The Cons:
The product's cost can be a bit expensive
The model requires larger bathroom space
Read more: Top Featured Products in Ariel Steam Shower Reviews
2.  Mesa Steam Shower Reviews
The best steam shower from Mesa comes with different designs meant to provide an extensive range of services, including body relaxation. The soothing heat gets to the body muscles, acting as a body energizer and a pain and ache reliever.
Advantages:
The device releases a soothing steam
User-friendly
Easy to install
Whirlpool tub at the bottom for easier operation
Disadvantages:
The ones that come with a stand may hurt your feet if you use them for a long time
Made of acrylic which may not fit your bathroom decor
Key Features:
A jetted tub that features ten acupunctures
Ten whirlpool jets
Highly efficient steam engine
LCD computer control panel
Built-in FM radio
Foot massager
Read more: Mesa Steam Shower Reviews You Can Trust
3.  Maya Bath 64" W Framed Sliding Shower Enclosure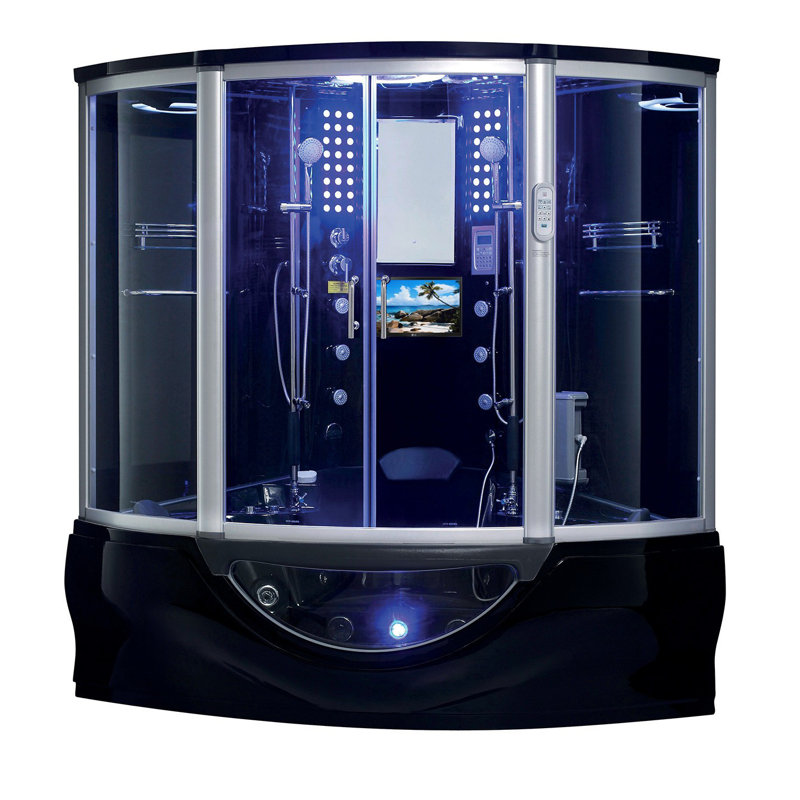 If versatility is important to you, then the Maya Bath 64" steam shower may be worth considering. This item not only functions as a steam shower but as a bathtub as well.
It is packed with impressive features that will always make your shower experience exceptional and something to look forward to.
Does the thought of listening to your favorite music or entertainment excite you? Well, you will be pleased to know that this steam shower is equipped with a TV, MP3/radio, and a telephone. According to Maya Bath reviews, these extra features add to the usefulness of this steam shower.
The addition of a 12-inch LCD TV will keep you entertained without compromising on functionality. Plus, the built-in display screen is easy to read, and you can control it with ease in the steam.
This unit also comes equipped with a 5kw steam sauna generator strong enough to steam up the enclosure. Another spec that makes this unit the best steam shower is the inclusion of sliding doors. In most cases, hinged doors may not do well in specific bathroom setups because of unavoidable obstacles.
Suppose this is the case with your bathroom. In that case, this model will make it easy to enter and exit the shower without causing any damages thanks to its sliding doors. Furthermore, the sliding doors can be space-saving.
When it comes to appearance, this steam shower is attention-grabbing. It will undoubtedly be the focal point for your bathroom. It is crafted from glass and comes with a black finish that complements the décor of most bathrooms. 
Maya Bath reviews show that the LED lighting adds to its overall beauty. Therefore, if you are after a shower with a striking appearance, the Maya 64 inch framed round sliding steam shower should suffice. 
Highlighted Features:
Material: Glass
Dimension: 88" H x 64" W x 69" D
Weight: 800lb
Type: Steam shower
Shape: Round
Generator: 5KW steam generator
Frame Type: Framed
Doors: Sliding
Finish: Black
Included: Shower base, shower door, ceiling, back wall panel, drain valve
Advantages:
Aesthetically-pleasing
Sliding doors for easy access and exit
Built-in modern devices
5Kw steam generator
LED light settings
Simple installation
Disadvantages:
Might be on the heavier side
Read more: Best Maya Bath Steam Shower Reviews
4.  Steam Planet Galaxy Deluxe Review
There's no doubt that you are getting a quality shower system with Steam Planet Galaxy Deluxe. This product is the best steam shower for your home and it can fit two persons inside.
This product has been manufactured by Stem Planet that has been in the market since 2004. Since establishment, the company has focused their business on high-end sauna rooms and other bathroom equipment.
You can be assured that Steam Planet's products are a winner in your bathroom and the Steam Planet Galaxy Deluxe is no exception. If anything, this unit received the 2015 Platinum ADEX Award for Design Excellence.
The Pros:
It looks good with an oak shower grid with 2 matching removable seats
It has a built-in UPC-Certifiedanti-scald faucet
Built-in entertainment
Easy to install
The Cons:
You need to assemble the unit on-site (inside the bathroom)
You will need to purchase additional parts like the shower base and ½ inch male national pipe thread for the hot and cold shutoffs
Key Features:
Dimensions: 60″W x 40″D x 87″H
Finish: Polished aluminum
Black tempered walls
Clear glass doors
12 body massage jets
Key Features:
Shower and Massage Options
According to Steam Planet Shower reviews, the 12 body massage jets that target key body parts is quite impressive. With this shower, you have the option to use either the 8" rainfall shower or the handheld shower with various water spray settings.
Quick Heating and Self Draining Steam Generator
Quickly shift to steamer mode upon thanks to the 4.2KW steam generator that automatically drains afterward. As a bonus feature, you can pour essential oils in its aromatherapy steam outlet.
Soothe your mind with music using the built-in FM Radio or wireless player where you stream from any device. Enjoy the Chromotherapy LED Lighting for an ambient experience.
Read more: Steam Planet Steam Shower Review You Can Trust
5.  Royal Home Showers Rectangle Sliding Shower Enclosure
The Royal Home Showers rectangle sliding steam shower is manufactured by the Royal Home Shower company. This company is known to offer top-quality shower designs that will give you a soothing shower experience. This steam shower is incorporated with shower and leisure technologies to help enhance your relaxation time.
Advantages:
Adequate space for two people to enjoy a steam shower together
Comes with luxury shower features
Highly durable
Functions well without a steam generator
Includes all internal plumbing components
Disadvantages:
Its large size may not fit in smaller bathrooms
A steam generator is not included in the shower
Installation may require professional help
Key Features:
This unit is designed with body jets that apply adequate pressure to your body to give you a total relaxation feel. The jets massage you while showering and improve blood circulation to heal sore muscles. The foot massager is another great feature that your feet will appreciate.
If you enjoy entertainment while showering, then you will most likely appreciate this unit. It is designed with built-in FM/AM radio for this function.
LED lights enhance your steam shower experience. Chromotherapy can have great benefits to both your physical and mental health. They can stimulate your senses to help your mental well-being.
360-Degree Wall Enclosure
Another great spec is the 360-degree wall enclosure that eliminates the need for floor or tiled walls. This is a cost-saving feature.
This unit is crafted from ABS plastic and steel beams for ultimate durability. It is also backed by fiberglass.
Read more: Rectangle Royal Home Steam Shower Reviews: Is it worth it?
6.  OB Shower with Foot Massage and Hydro Jets
People with limited bathroom space prefer the corner steam shower with a sliding door. This means that this product can be put beautifully in the corner of your bathroom, taking only a small space.
This, too, boasts outstanding features and a contemporary look. Moreover, this steam shower has everything you need to have a complete steam shower session.
Best Features:
We absolutely love the fact that it has only 3K watts steam generator, which helps save energy a lot.
Also, the 6 massage jets are placed in the right places.
You will also enjoy its overhead, full rain shower head, plus the multifunction handheld shower.
The shower is tightly closed, so water leakage is not a problem.
All the accessories and fixtures of this product are made from premium copper material.
7.  Kokss Corner Shower Enclosure with Hydro Massage Jets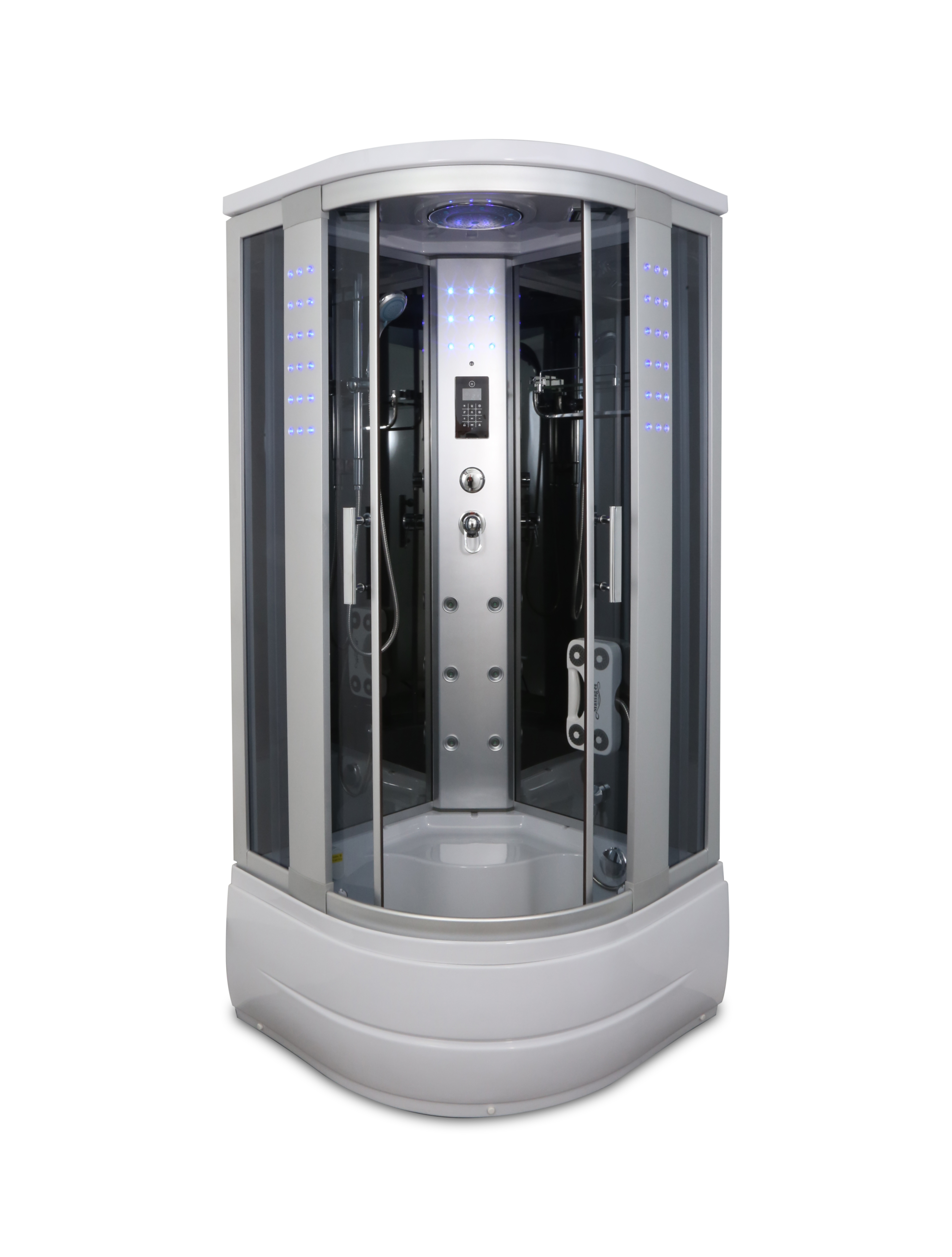 Small but powerful— that is exactly what we love about this shower enclosure. Powered by 110V at 50Hz/60Hz frequency, you know this is worth the purchase.
A lot of people seem to confuse this one to a steam shower, but this is not. Although it has all the other features except the steam. It is favored for its powerful hydro massage jets and rainfall shower head.
If you would love a corner shower with LED lighting, sliding glass door, and multi-function handheld shower, you better check this out.
Best Features:
It has powerful, smart hydro massage jets, which helps promote good blood circulation.
Plus, it also features a foot massage that soothes your aching feet.
The multi-function 2-in-1 shower head can be used as an overhead shower and handheld shower.
Controlling this enclosure is also quite simple, thanks to its touch-screen display control.
To complete your relaxation mood, this shower steam enclosure has LED lighting that is proven to improve your mood and boost energy as you take a shower.
The interior is very contemporary wit mirrors and glass as the primary materials.
A lot of people also reported that the doors are well-made that water doesn't leak.
8.  Athena Luxury Corner Shower Enclosure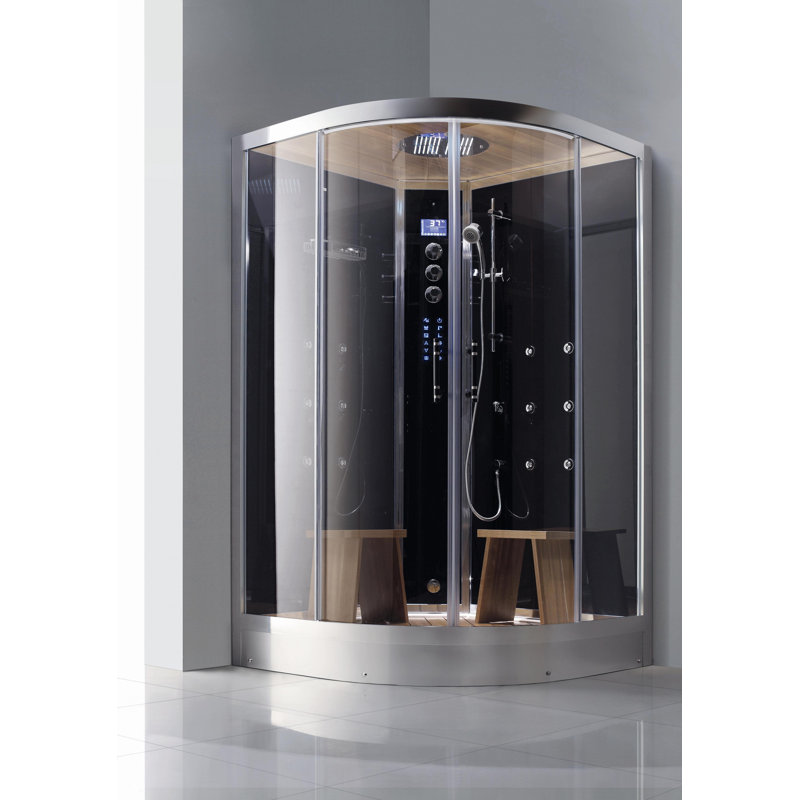 This freestanding corner steam shower enclosure is designed to suit any Mediterranean and modern homes. The combination of glass and nickel & chrome finish gives it a unique sense of style that you usually find in luxury bathrooms.
Sleek and slim but can fit up to people inside, perfect for couples. The silver lining that frames the glass sliding door complements well with the shower's black and wooden ceiling.
Best Features:
This is a solid, luxurious corner steam shower that can fit 2 people inside.
Features easy-to-use LCD control pad 4.5kW steam engine, and 12 acupressure body jets.
The jets are positioned strategically to give you the best shower massage ever.
It also has a C shower and a rainfall ceiling shower.
If you want to make the most of your shower time, this also features chromatherapy lighting and an aromatherapy port.
9. Eagle Bath Sliding Door Shower Enclosure Unit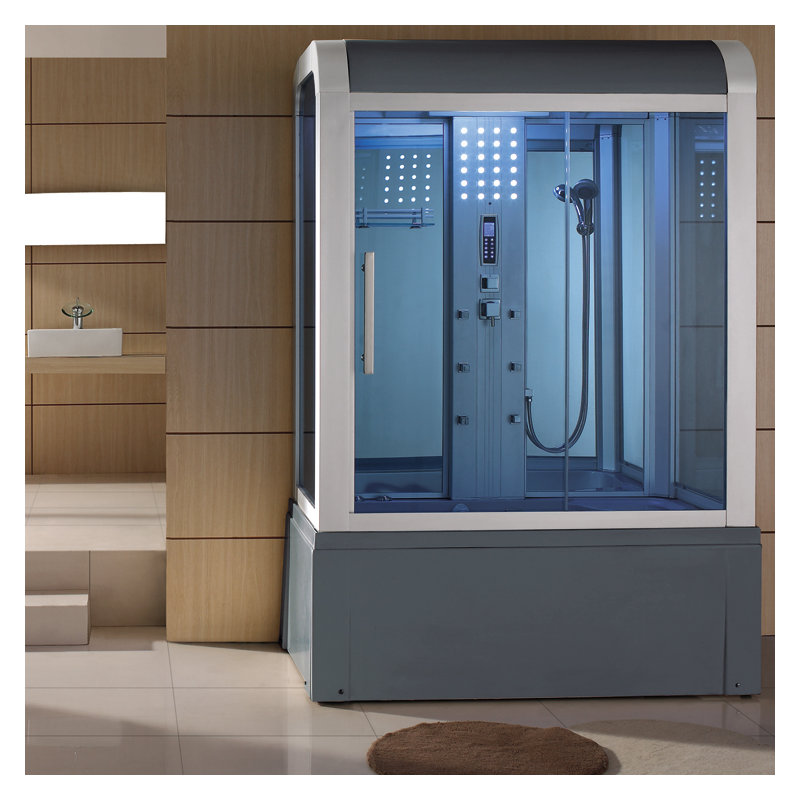 These unit are fully loaded, sporting all the extras that add to your relaxation (and therapeutic) pleasure! The hydro-massage jets are designed to enhance your steam shower experience. Indulge yourself and relax in this steam bath enclosure, free from your work problems and concentrate only on yourself.
The features that make this one a winner:
A tempered glass surround
A self-cleaning steam generator
6 body massage jets
A computer control panel with a timer
A rainfall shower head
A circulation fan
Built in seating
An extra hand-held shower head
A temperature sensor
Fits on a bath tub (which is included)
Tips on Using a Steam Shower
Hydrate: Even although a steam shower is wet heat, you can still easily dehydrate. So drink plenty of water before taking a steam shower.
Preheat: Activate the steam shower function about ten minutes before getting in because it does not easily get to the maximum heat when someone is inside it.
Be quick about getting in: Keep the door open as short a time as possible so that steam and heat does not escape.
Turn on the extras: Once you relax in your steam shower, turn on the optional extras such as the radio, aromatherapy function, etc.
The grand finale: You can sit in your steam shower for anything between fifteen to thirty minutes. Once you are nicely relaxed, turn off the steam function and turn on the shower. Once done, open the doors to allow the steam out.
Hydrate: You lose a lot of water via sweat. So to ensure you do not faint or get a headache, make sure to drink a glass or two of water after your shower.
Frequently Asked Questions
Can you take a regular shower in a steam shower?
Absolutely! In fact, some steam shower enclosures have bathtub too so that you'll have more options. You can also choose to just use a regular shower or start the steam shower using the control panel, depending on what you feel like having.
How much does it cost to put in a steam shower?
Overall, you'll need to secure around $2,000 as the minimum budget. Some models have expensive initial price, plus they need professional installation which can addmore to the cost. Therefore, $2,000 to $6,000 budget is ideal. Of course, the more luxurious you want your steam shower to be, the more expensive it gets.
Is a steam shower the same as a sauna?
No. There's quite a difference between the two. Although both help warm up your body, they differ in the type of heat that is produced.
The sauna produces dry heat while the steam shower generates wet or moist heat. However, both can open your pores, soothe and ease muscle fatigue, and also help you relax. In addition, sauna encourages more sweating than steam bath because it has higher and drier environment.
Sauna is ideal for those who want to relax their muscles and lowers blood pressure. Meanwhile, steam bath is perfect for detoxification process and relaxation.
Do steam rooms burn calories?
Yes, it does help you burn calories. Since the condition helps you sweat a lot, you actually lose some of your body's calories.
Spending about 30 minutes inside the steam shower enclosure can help you burn 40 to 60 calories. However, you need to constantly use the steam bath for weeks before results can be noticed.
Does a steam shower need a vent?
No. A vent is not necessary to use your steam shower enclosure. As it has a steam condition, the system actually condense the steam back to its liquid form so that it can be drain away.
However, you can choose to use a ceiling mounted bath fan to control the humidity and moisture level inside.
Conclusion
Picking the best steam shower from the roundup is a difficult task. Each unit has its own unique qualities that make it an excellent option. However, if we had to pick only one, the prize would go to the Maya Bath Superior Steam Shower Sauna With Jetted Jacuzzi Whirlpool massage. It has just about every luxury imaginable, with a few extra thrown in. The extra storage shelves, television, and emergency button (a great safety feature), just gives it that extra edge over its competitors.